Fishing In Wales - March Sea Fishing Report (29/03/2023)
It's been a really rough few weeks this March, with bad weathering hampering a lot of sea fishing activity. Things start to happen in March and into April though.
Rays form the focus of many anglers' attention, both afloat and from the shore. Monknash Vale of Glamorgan is throwing up lots of spotted rays now. Blonde's are also starting to show in bigger numbers. A good example below of a big blonde ray caught by Richard Cox, bottom left on a sandeel bait in the Penarth area. John Fishlock below right, with a nice thornback from Cardiff foreshore. John also had a bonus codling.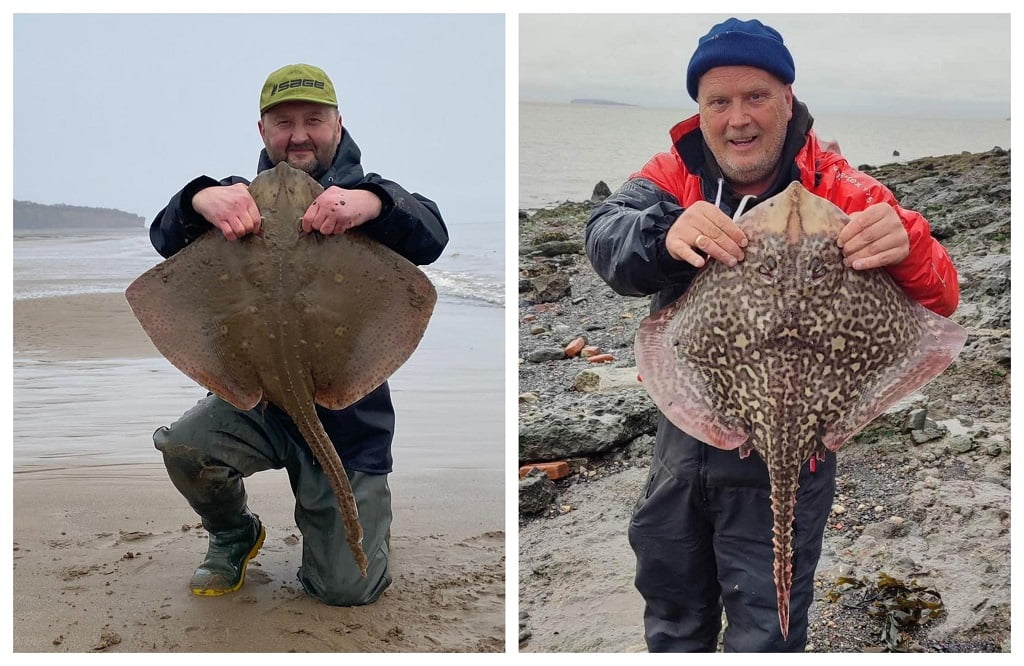 Tim Hughes spent a few days on the coast at the Knap and around Barry Island. He was rewarded with some blonde rays and of course dogfish, despite the poor weather. A few nice shore caught cod are showing up on the Barry marks in with the rays, including Friars Point and White Light.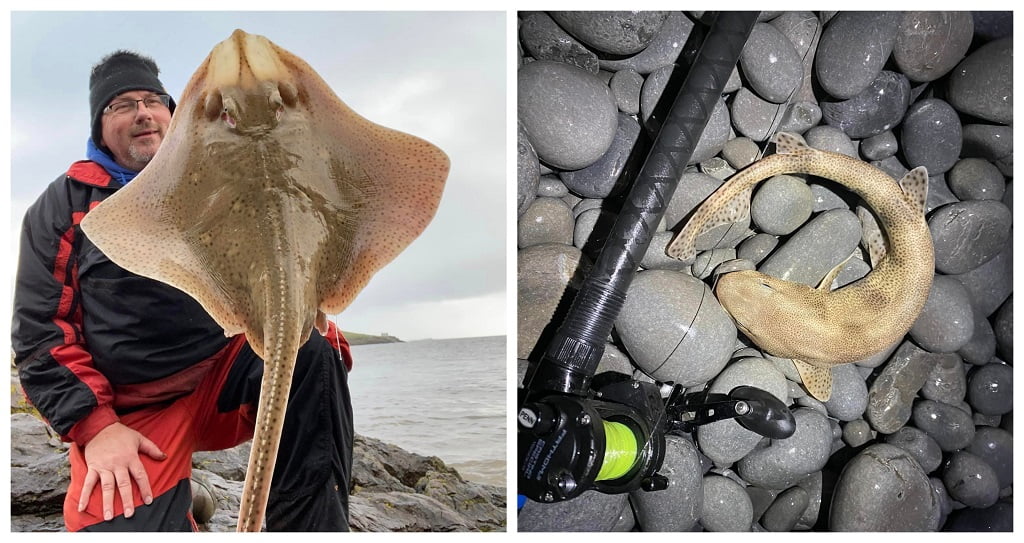 The Severn Bridge Bristol Channel marks are still throwing up plenty of codling.
Young Max Worsey landed his PB Bass over the weekend, whilst fishing the Shore League at Marcross. This lovely bass was caught on a sandeel and bluey cocktail, Great catch!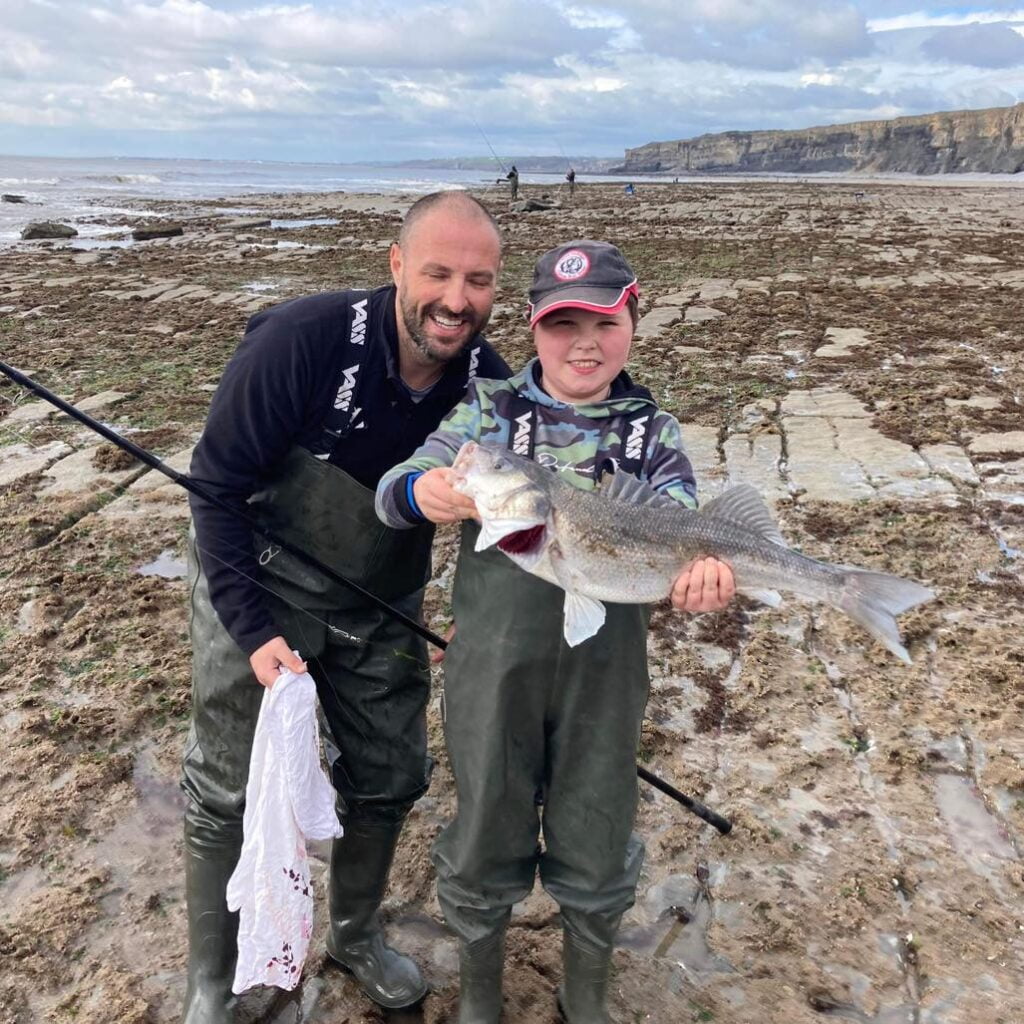 Dogfish are very prevalent at the moment, with huge catches in areas such as the Mumbles, Swansea. They can provide good sport and it beats a blank.
Holyhead breakwater in North Wales has been producing lots of big bull huss. Morfa at Conwy has been producing a few nice bass. Pensarn beach has been a hotspot for whiting recently, along with the odd rockling.
Looking ahead to April – and hopefully better weather – all around the Welsh coastline anglers will be catching rays, flounder, dogfish, conger, huss and increasing numbers of bass. The latter can be caught from both our many classic surf beaches and rock marks, especially at the latter when the crabs begin their spring moult.
Cardigan Bay sees the first run of tope, again big females heavily in pup. Black bream will start to arrive by the end of the month. North Wales will be expecting the first tope, along with smoothounds, spurdogs and plaice.
Fishing In Wales - January/February Sea Fishing Report (07/02/2023)
January is traditionally a prime month for catching big cod throughout South Wales. Increasingly, however, anglers are keen to target other species, especially spurdogs, which can be caught in huge numbers fishing the deeper marks off the Glamorgan and Gower coastline.
Further west rock anglers target double figure bullhuss, whiting, conger and even, if the weather remains mild, an occasional bass from the surf. The tip of the Lleyn Peninsula is another noted bullhuss mark, while the Menai Straights offers sheltered fishing for whiting and codling.
February is arguably the toughest month for sea anglers. Spurdogs remain in abundance, and it is worth remembering that many of the very biggest cod caught off the Welsh coastline have been taken this month, an example of that can be seen below, Garry Addis with a new PB of 20lb 8oz taken in a boat just off Cardiff Foreshore.
In February large numbers of flounder start to arrive on our surf beaches, while targeting more broken ground offers the chance of an early ray plus the inevitable dogfish.
Mumbles pier has proved to be a great venue for a beginner or for an action packed day out –  check out our video below. Sadly since this was shot in January the pier has closed temporarily for renovation, but it is worth fishing at nearby Knab Rock at high water for very similar fishing.
After heavy rainfall during the middle of January, the fishing for shore and boat anglers on the Bristol channel were hampered by the huge quantities of fresh water finding it's way out to sea. But since the weather has settled, we have seen some nice bags of codling appearing.
Paul Melvin had a fantastic session on board the Charter boat 'Tuskar 2' skippered by Hayden Ross, using a mixture of fresh worm and frozen squid.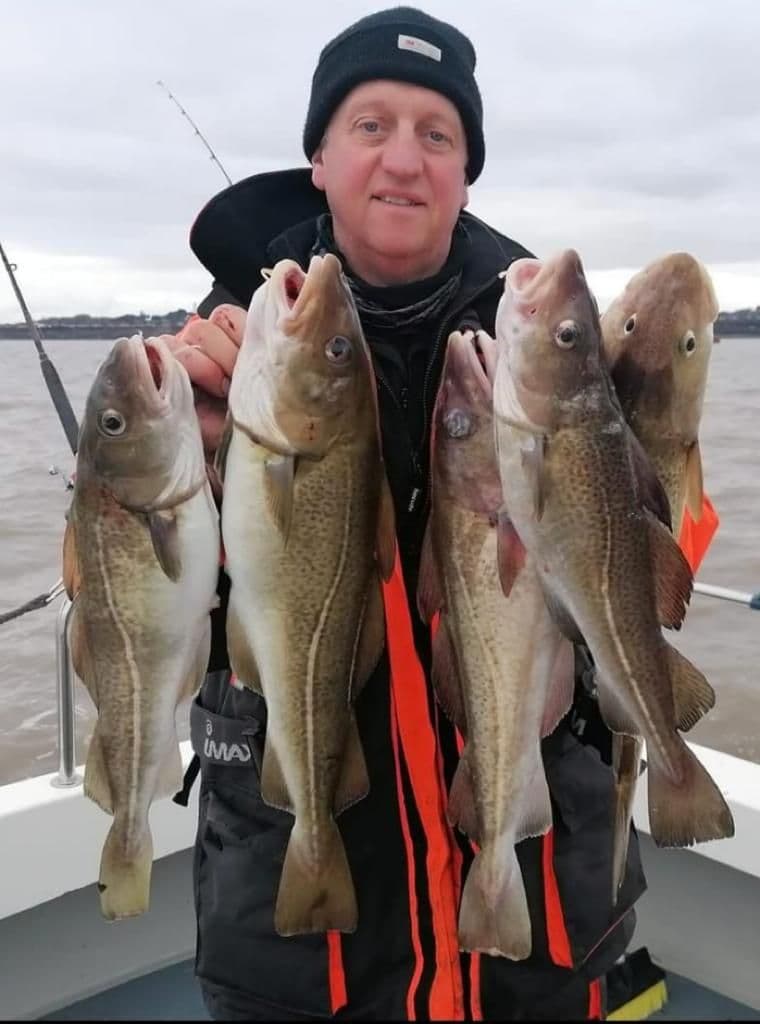 Bass are still being caught regularly around Welsh coasts, our milder winters are keeping them inshore. We have heard of an 8lb 3oz bass captured on Penarth pier. Please note, all bass must be returned in January, February and December of 2023. After March 1st you can keep bass of over 42cm, with a bag limit of 2 fish per day.
Plenty of big bull huss are being caught, especially Menia straits Anglesey and West Wales marks. Sea fishing guide Gareth Griffiths below, with a cracking bull huss captured last week.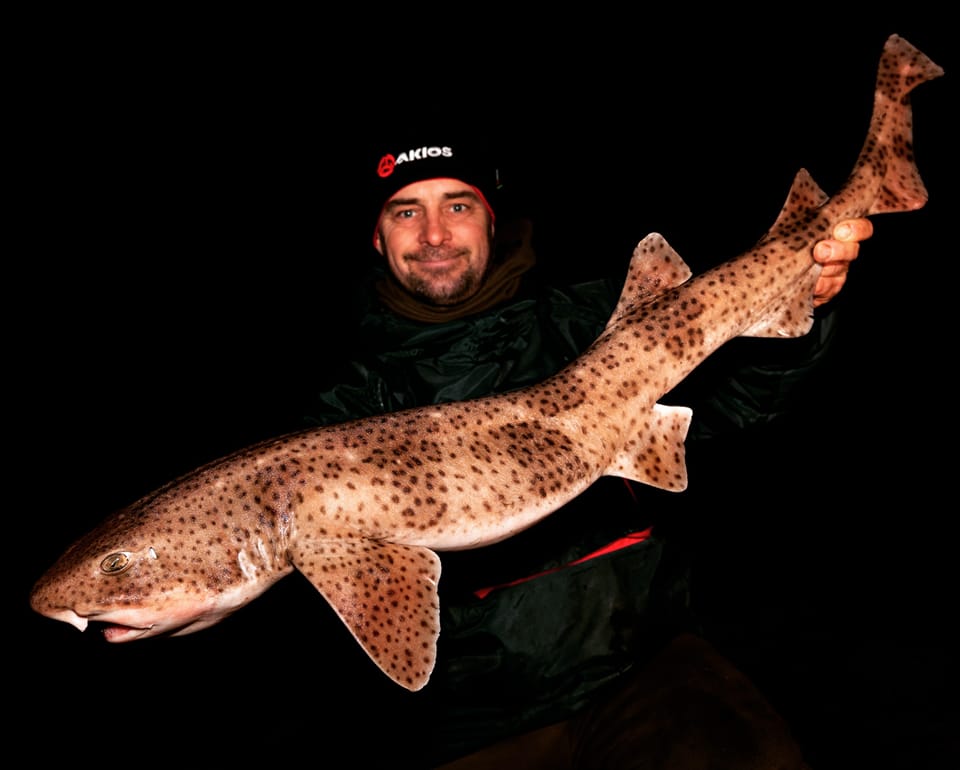 Fishing In Wales - December Sea Fishing Report (14/12/2022)
Through December many anglers will be focussed on cod and whiting, though plenty of other species can be found at rock marks, including bull huss and conger.
Offshore many anglers' fish almost exclusively for cod, but can expect rays, huss, conger and others. Provided not too much fresh water is running, this is prime time for estuary flounder.
Winter codding has kicked off in the cold, wintery nights. Anthony King with a 17lb shore caught giant below, from a Bristol Channel Mark.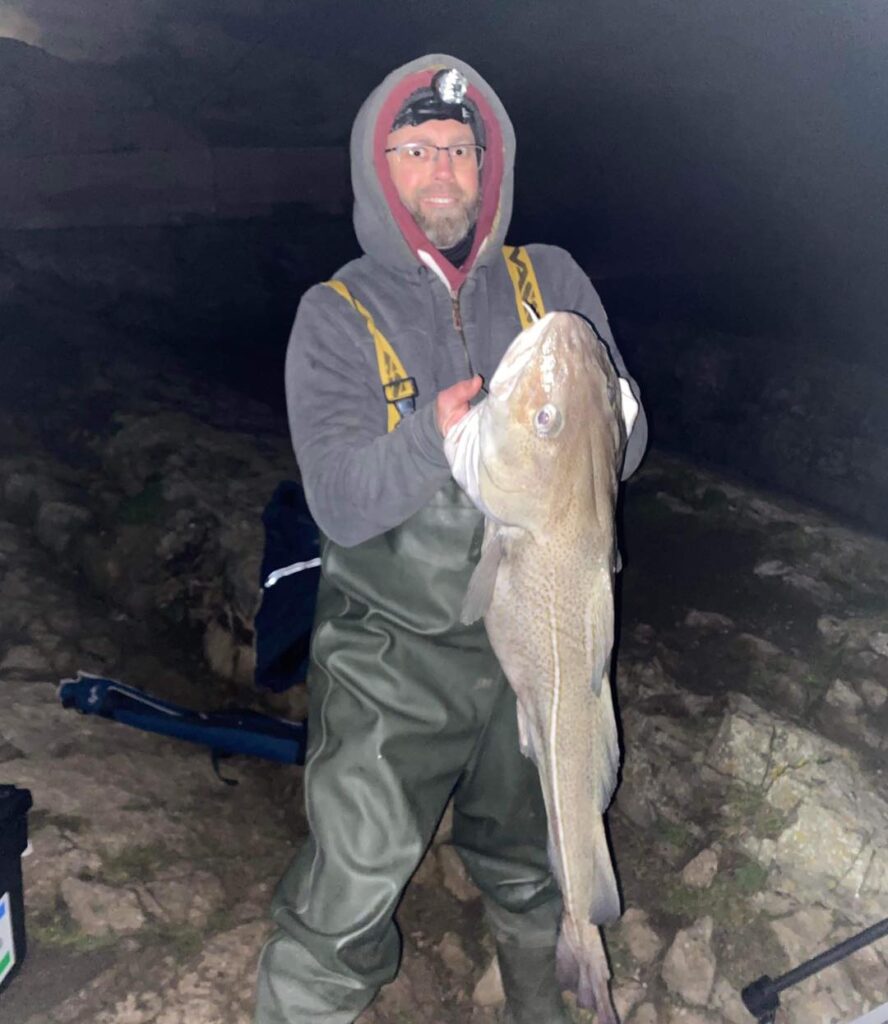 Lots of coddling are coming out on the boats, Ben Beal, below out on the White Water Charters, SWSA Christmas get together. It is a great time to get on a Welsh charter, with the weather being so settled. You can find them all here.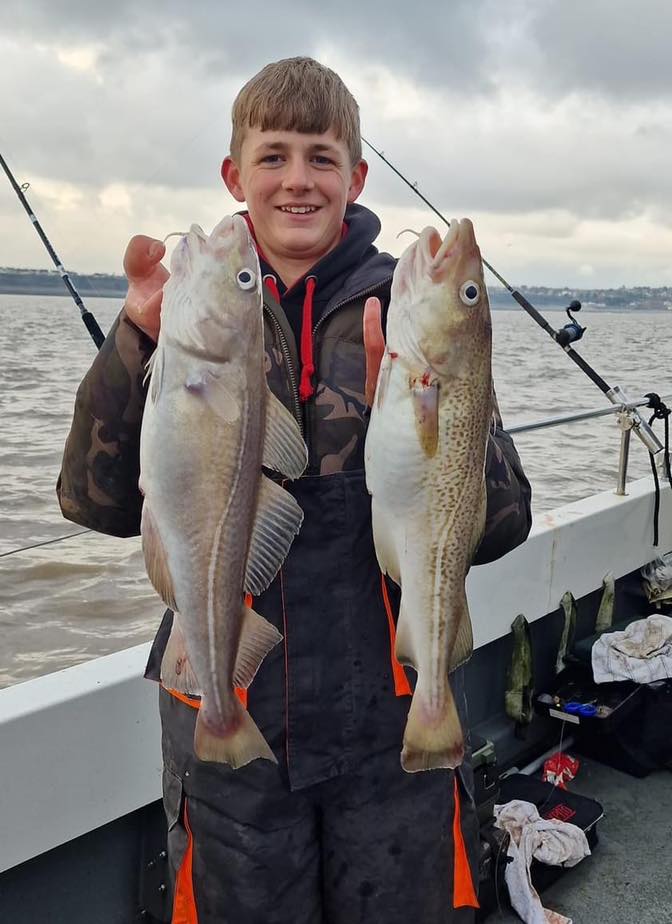 Despite cold conditions bass are still to be found around our shores, even in December, as water temps have been above 8 degrees. Joe Shaw, the man behind Catch and Cook Kayak Fishing below, with an 8lb lure caught bass from Pembrokeshire.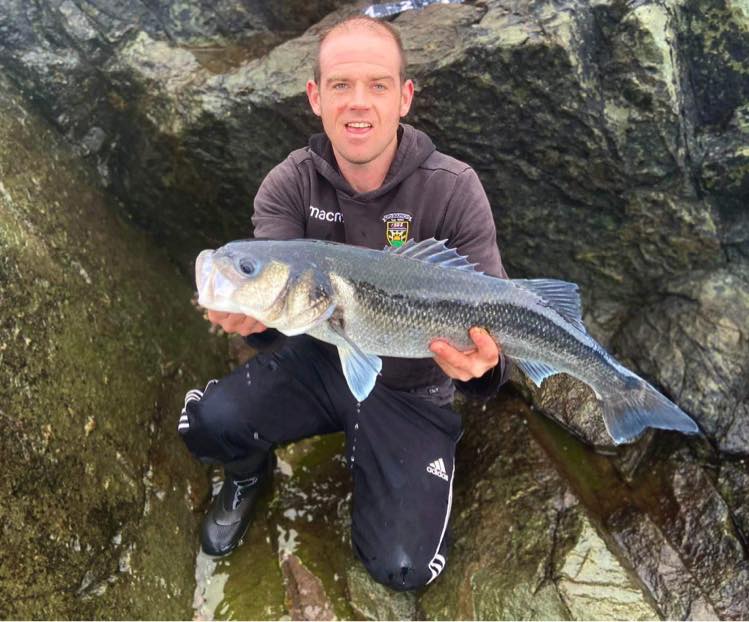 Another venue that has been good for bass is Barry Dock, where fish can be caught on lure and bait right through the winter months.
Conwy estuary has been producing coddling and whiting in good numbers. Mostyn beach has reports of 20 plus whiting. Holyhead breakwater is also a good bet for whiting in prolific numbers and Anglesey marks are still producing thornback rays.
West Wales marks have been producing big conger, bull huss and still the odd bass, even the odd shore caught tope.
Sea Fishing Report - October 2022 (19/10/2022)
October is a transitional month that sees the summer species go on a final feeding binge before moving offshore, along with the welcome arrival of the winter species. A great time for bass, especially if we experience an Indian Summer when the fishing can be outstanding. If the weather remains settled this is the month many of the largest sharks are caught offshore, too.
Estuary fishing for flounder gets underway. The first codling and whiting move inshore. Absolute peak time for catching the various species of ray, notably the increasing number of blonde ray off the Glamorgan coast. Richard Cox and Ben Beal of Garry Evans Tackle (below) with blonde rays from the Sand Spit at Lavernock. Caught on a pulley pennel rigs baited with large sandeel.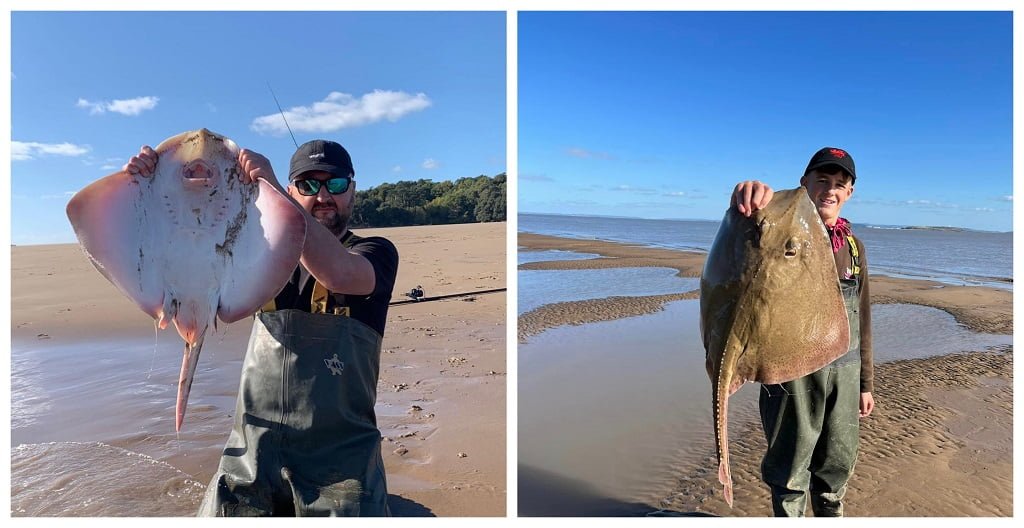 Swanasea West pier has been producing lots of big bass, with some fish to 9lb 11oz reported recently. Mumble pier is also a good spot at this time of year, after a recent fire it has now re-opened and is fishing well. Marks around Dale in Pembrokeshire are also producing good bass, as is Cardigan bay around Aberystwyth and Towyn.
Anglesey and Llyn peninsula are still fishing well for summer species, including wrasse, gurnard, wrasse and thornback ray.
Cod season is starting up, with some really good signs already. Fishing Guide Gareth Griffiths (below) had this double whilst fishing a mark near Sulley. A few other doubles have been reported. A fair number of codling are being caught around the Severn bridge area, black lug being the best bait.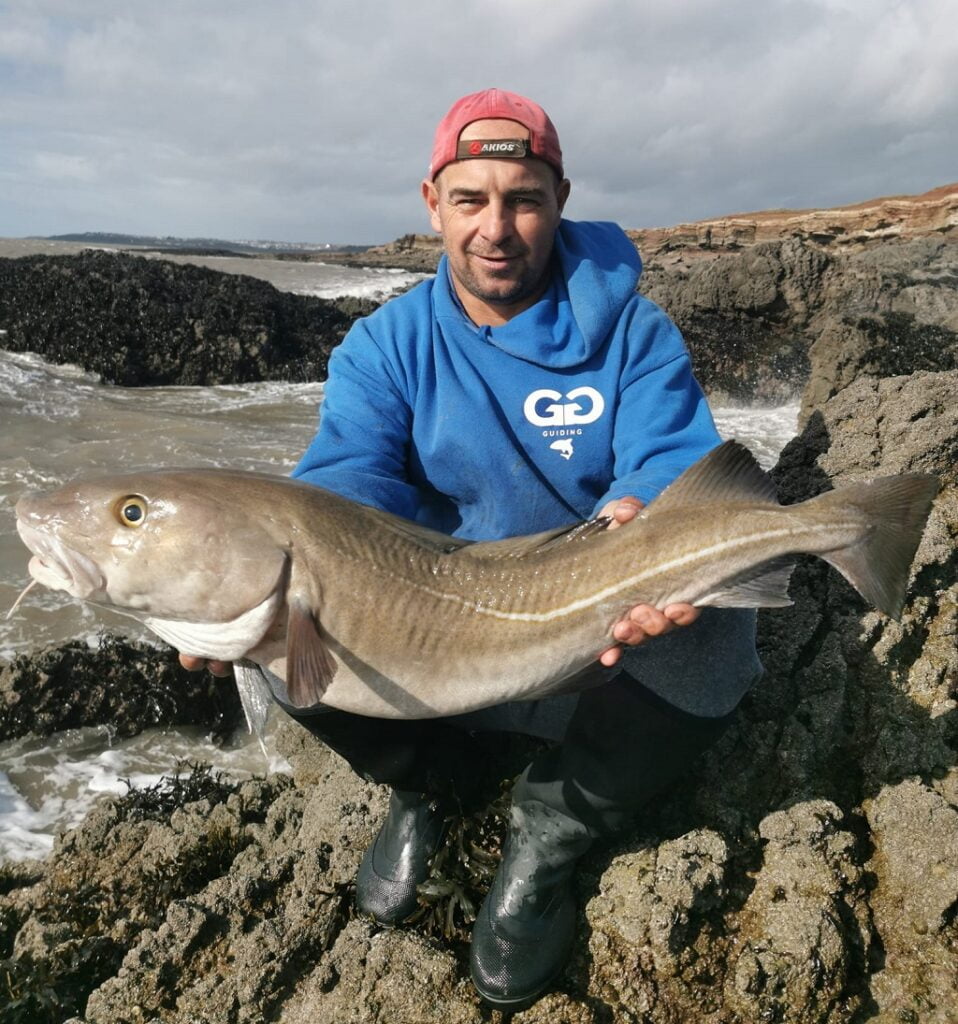 A giant 900lb tuna has been caught in Welsh waters, the biggest fish recorded on rod and line. Simon Batey and friend Jason Nott caught the Atlantic bluefin tuna off the Pembrokeshire coast. The huge 9ft (2.82m) fish was caught, measured and then released while fishing in an area of the Irish Sea known as the Celtic Deeps, approximately 30 miles off the west Wales coast. During the hour-long struggle, Mr Batey passed the rod to Mr Nott, from Cwmaman, Rhondda Cynon Taf, while working with skipper Andrew Alsop. It was measured from the nose to the fork of the tail while a globally recognised formula then gives an approximate weight. Video of the fish below.
Andrew Alsop, of Rhoose, Vale of Glamorgan, captains one of only six boats in Wales licensed under the new tuna catch and release tagging (Chart) scheme.
Well done to everyone involved in bringing the Bluefin Tuna sport fishery to Wales! It is sure to be a big draw for angling tourism in the future.
Sea Fishing Report - September (05/09/2022)
For the sea angler September can often be the most productive month of the year. September is the month bass anglers' dream of. The shark fishing will be at its absolute peak, the mullet fishing will be excellent, and general fishing from rock, beach and offshore the length and breadth of the country will deliver tremendous sport, with summer species still in evidence and a peak time for catching rays.
It's been a good summer for bass fishing in Wales, with plenty of good sized fish found all over Wales, with lure anglers doing well in the clear waters which haven't been clouded by rainwater with the rivers being so dry. There have been multiple catches of Bass on lures from Port Talbot long arm, Ogmore estuary, Pembrokeshire Dale area, Aberystwyth and Anglesey plus many more locations.
Check out the two double figure specimens below, Darren Jackson Port Talbot area and John Webb from Holyhead breakwater. Both around 12lb.

Bass fishing will continue to be excellent for the next few months, right through autumn and into early winter since the water temperatures will remain high for some time yet.
Wrasse fishing off rock marks can also be good in autumn at this time of year, Jake Jones below with a cracker from the Pembroke area around Manobier.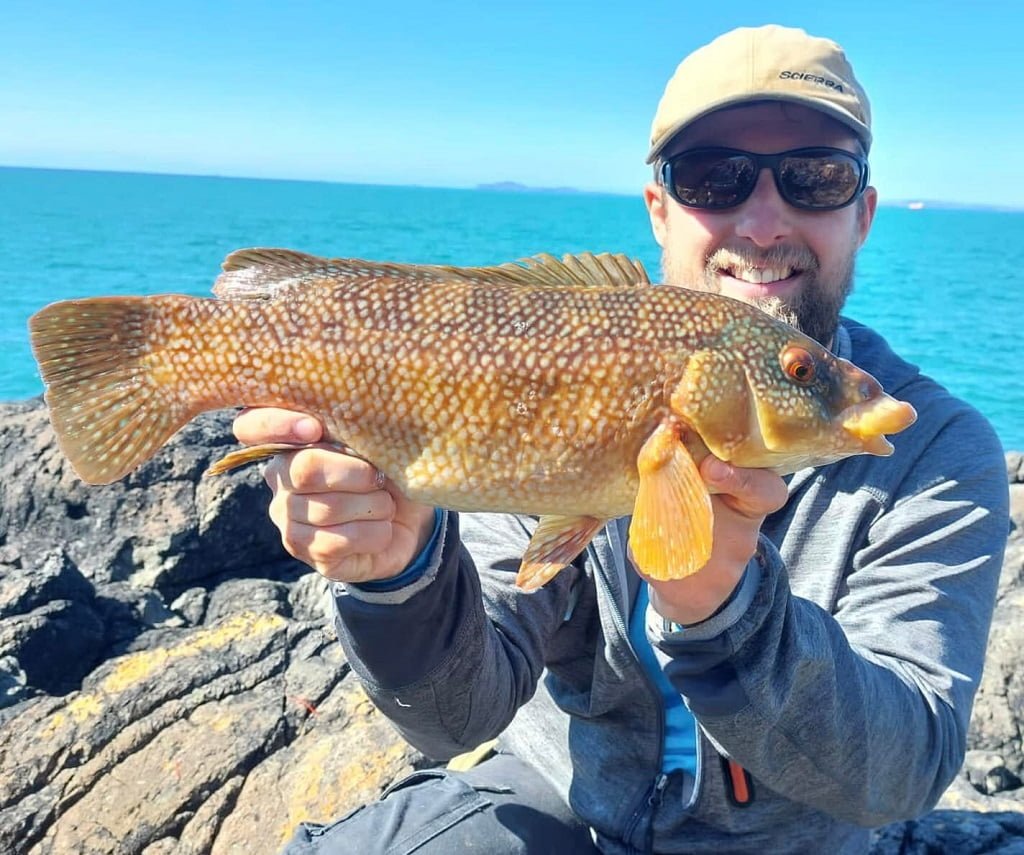 Charter boats from all over Wales are reporting various summer species – rays, mackerel, bull huss and in the Celtic deeps blue shark. Below, Terry Bromwell with a Bull Huss caught on a private boat and also a big Blonde ray from the Glamorgan coast, taken on Tusker 2 Charter.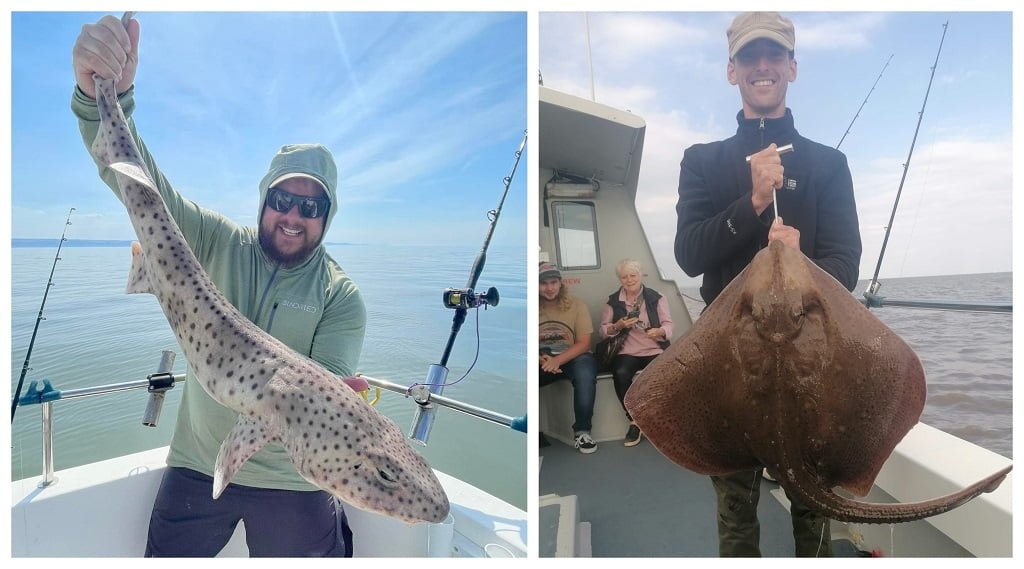 Tope are a fantastic sporting fish, especially when caught from the shore. John Tyzak visited recently with Rob Redman, a local fishing guide, in the Barmouth area. The result was a shore caught specimen of over 30lb on a mackerel flapper, which also accounted for some nice bass on the same night.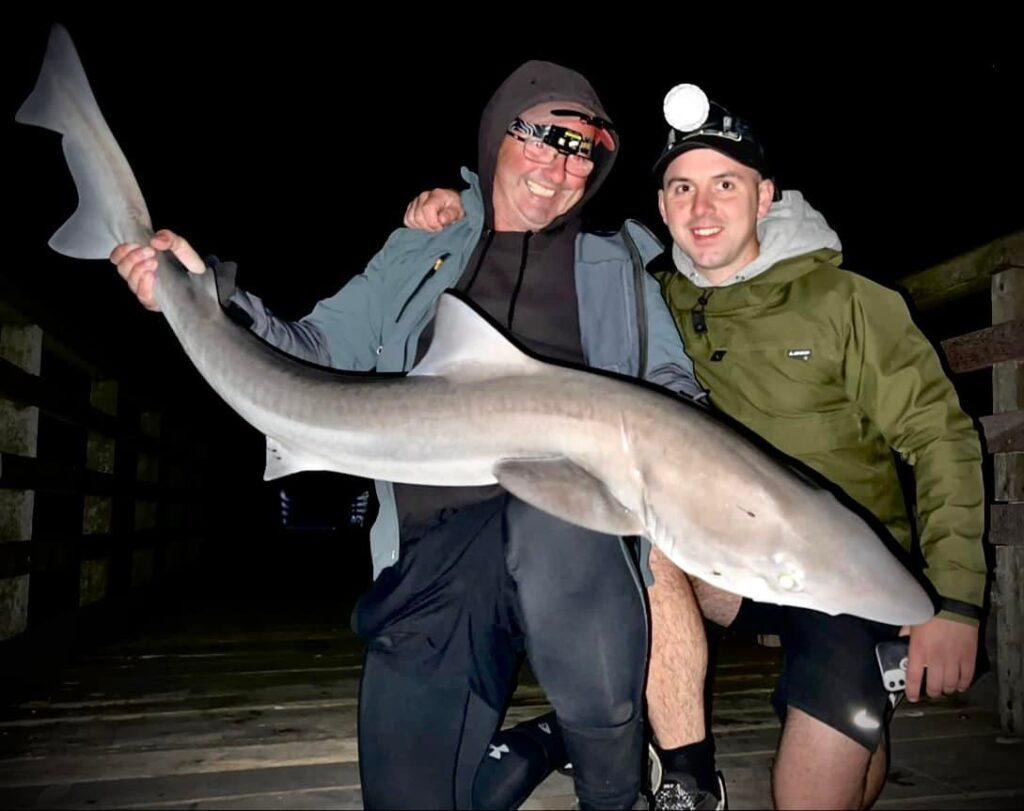 Prospects look great for the coming months, so get out there and enjoy the Welsh coasts!
Fishing In Wales - June Sea Fishing Report (28/06/2022)
June has been a fairly settled and warm month for the most part, great conditions for the Smooth-hounds! Vale of Glamorgan coasts have been rife with hounds, marks such as Newton Point, Sker and Morfa beach have all been worth visiting. Further west Bury Port has also been a hound hotspot. Ben Beal (below) with a PB at 11lb 15oz.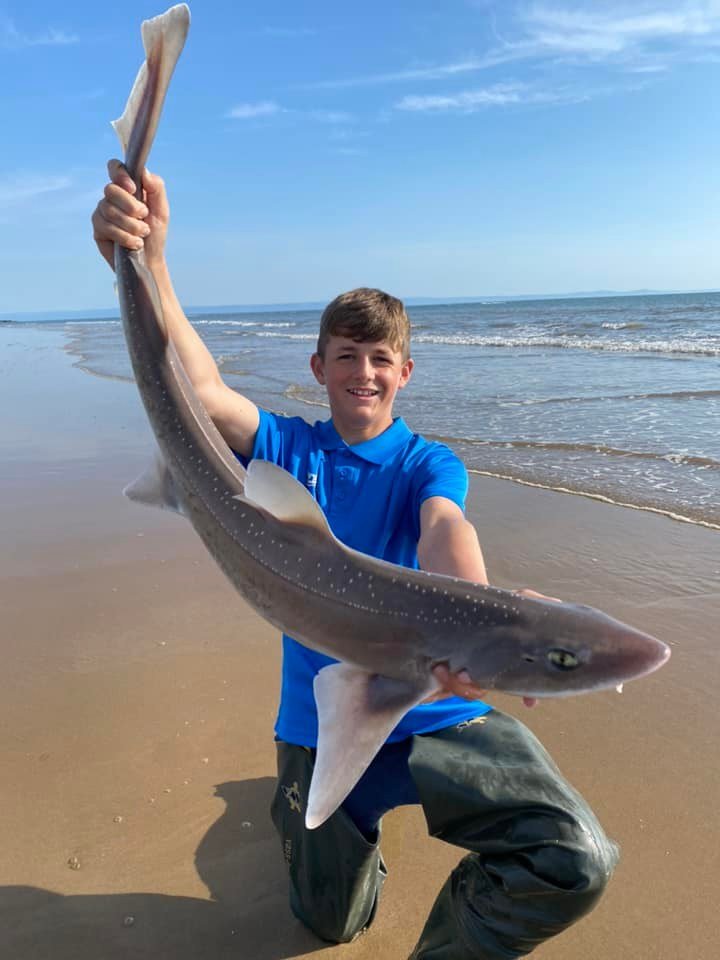 Bass have also been figuring highly in the catches, especially from rock marks in the Gower and Pembrokeshire. Jake Jones (below) reports a bumper catch of bass on lures from the Gower along with some bonus mackerel.

Bait fishing from rocks or surf will produce bass, and as the water starts to clear, so will lure fishing. For the very best fishing you should look to target fish at dawn and dusk, or better still fish at night. Offshore; June is a magical month. Fresh mackerel for bait will be widely available and with fresh bait catch rates will soar for tope, bream, bass, rays, smoothounds. Offshore wrecks will be at their peak. With July ahead, Wales marks the beginning of our shark season. Blue sharks move inshore averaging 70-100lb, though much bigger fish are commonly taken. A few years ago one boat fishing out from Milford Haven released 57 blue shark in one day!
Golden grey mullet will be found in large numbers at many southern and western surf beaches, as will thin and thick lips. Mid Wales, Clarach and Abersytwyth are fishing well, plus Barmouth area up to Harlech in the various estuaries where you can expect a lot of bass, mullet and also flatties.
Below Daz Jackson with a cracking mullet and also a bonus bass, from Port Talbot area.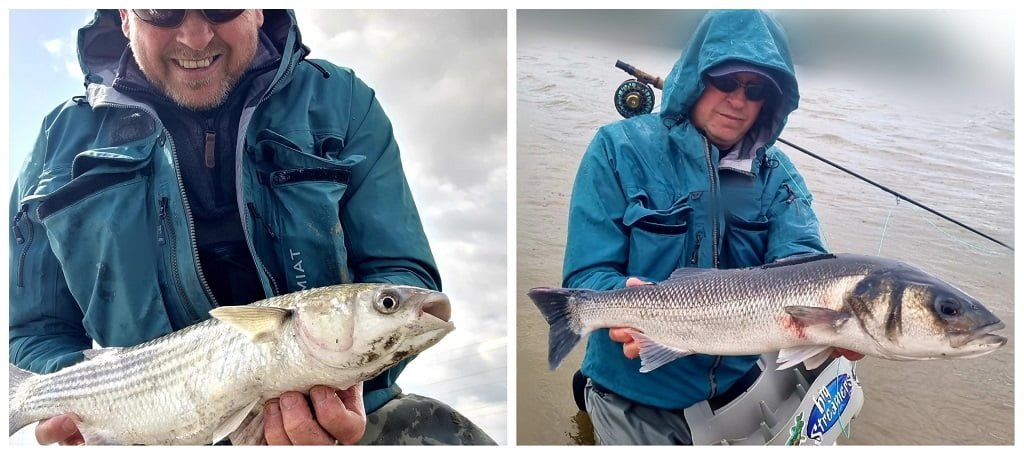 Charter boats are reporting good catches of all the summer species, Bream, mackerel, bull-huss and of course bass are now being caught in Cardigan bay and around Anglesey and Llyn Penninsula.
Amlwch breakwater produces corkwing wrasse, ballan wrasse, pollack, pouting, scorpion fish and dabs to LRF lure tactics. There are also garfish and mackerel about now, good fun on lures/feathers. Pwllheli throws up a variety of species off the rock marks, including conger, huss and thornback rays. If you want a North Wales hound, Talacre near Holywell is always worth a try.
Mario Asprou (below) has now been confirmed as the new Tope shore caught record holder – the 82lb 10oz monster was caught off from Stumble Head, Pembrokeshire. Congratulations Mario!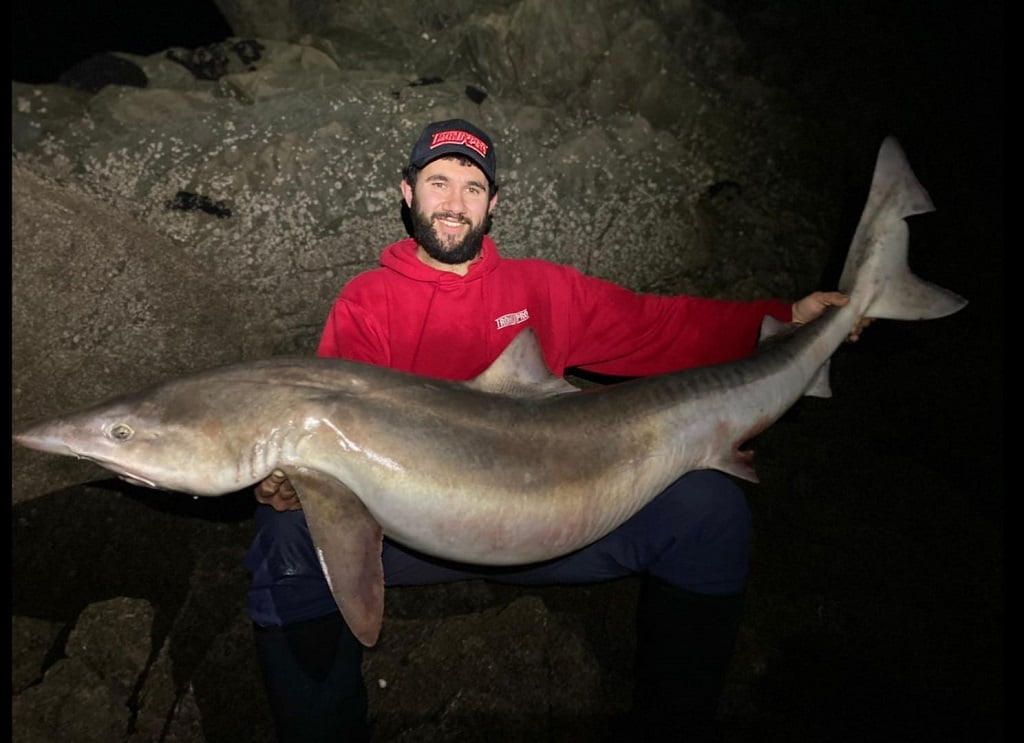 Fishing In Wales - April/May Sea Fishing Report (18/05/2022)
April and May 2022 have seen a lot of good ray fishing so far, with decent small eye, blonde and spotted figuring in the catches. Marks such as the Knap, Monknash and the sand spit at Penarth are worth trying, always a good chance of a ray, make sure you bring some sandeel with you. Anglesey and Lleyn shore and boat marks are also experiencing the main ray species in numbers. Bristol Channel charter boats are in full swing with many big blonde rays starting to show. Below – Ben Beal with some nice Welsh rays from Barry.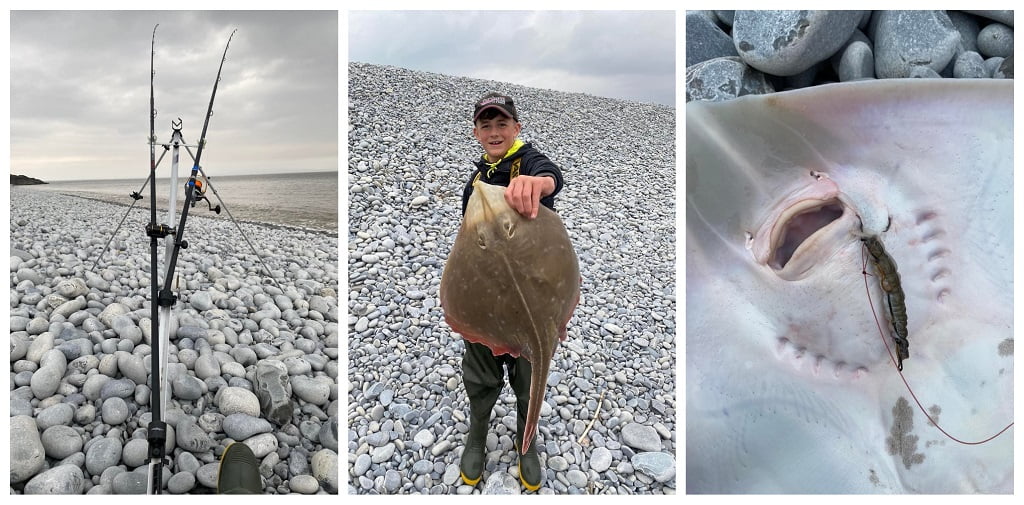 As we write this in mid-May the Smooth-hounds have begun their annual appearance all over Welsh coasts. This hard fighting species is strong fighter and well worth fishing for. Marks such as Morfa at Port Talbot, Aberafan, Mumbles, Knab rock and Llantwit Major are all now starting to produce hounds in good numbers. In North Wales Talacre can be a prolific Smooth-hound area at low tide, a long walk but worth it. Prestatyn is also worth a try for hounds in early summer. Peeler crab is a favoured bait for them, the smell draws them in very quickly. That said they will also take baits such as squid, mackerel, bluey and sandeel. Below – Tim Hughes with Smooth-hounds from Vale of Glamorgan coast.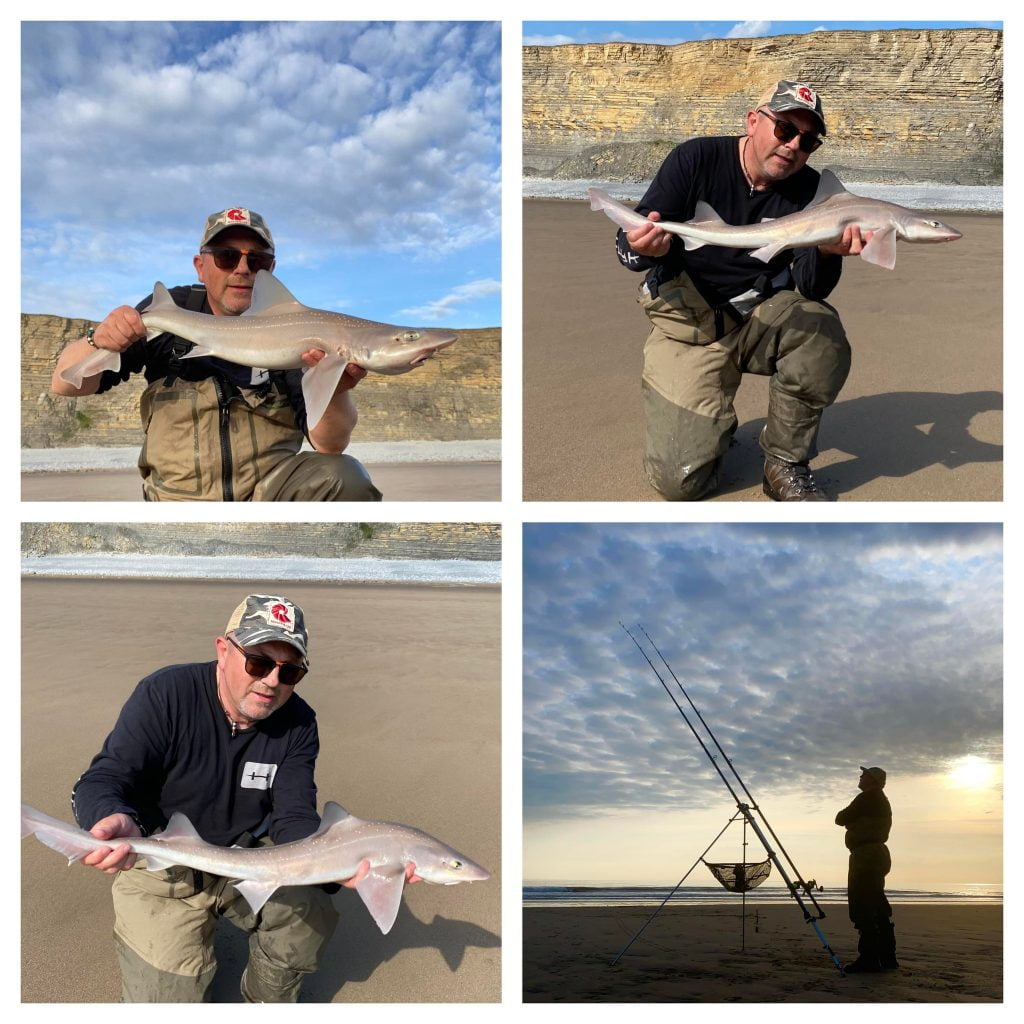 Tope are also making a big appearance now, from West Wales marks and charter boats in particular, there have been reports of monster Tope to over 50lb caught from the shore in Pembrokeshire.
All around the Welsh coastline currently anglers will also be catching flounder, dogfish, conger, huss and increasing numbers of bass. The latter can be caught from both our many classic surf beaches and rock marks, especially at the latter when the crabs begin their spring moult. Reports of lots of school bass to 46cm  already. We have also heard of many mullet being caught, Daz Jackson below with a fine specimen from Neath estuary area.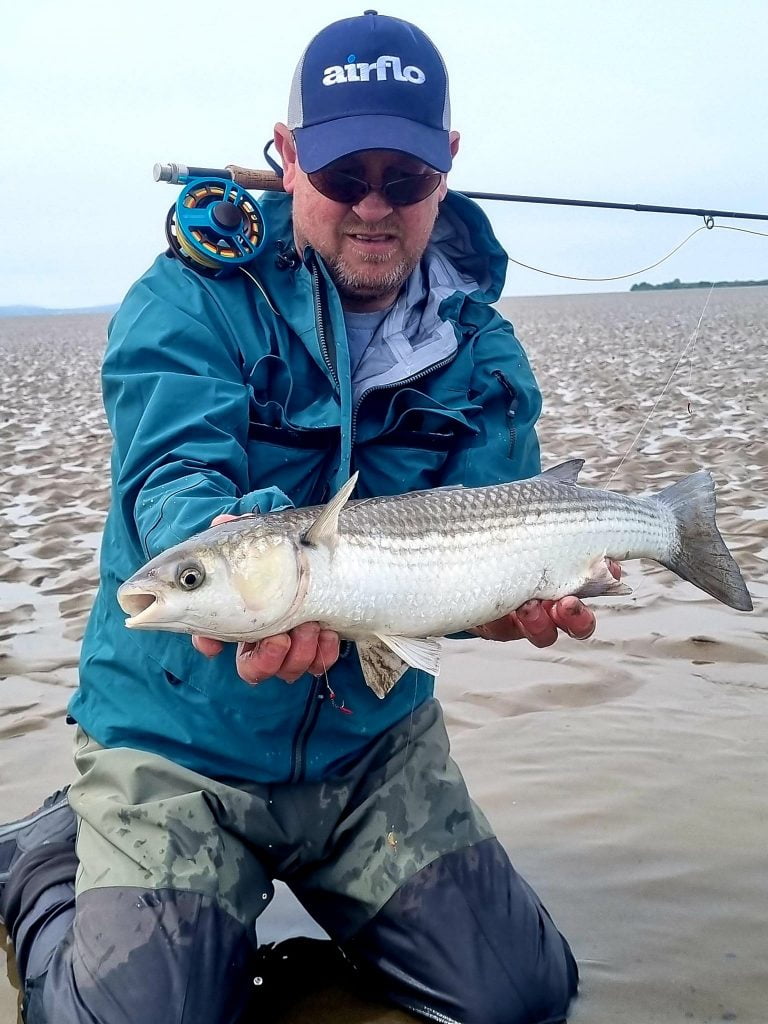 Fishing In Wales - March Sea Fishing Report (28/03/2022)
March is a fairly slow month for sea fishing overall, with rays being the main species along our coasts. Check out the 12lb 7oz Thornback ray below captured from the Knap at Barry, and also a nice Blonde ray from Tuskar 2 out of Penarth, weight 17lb by Matt Hawkins.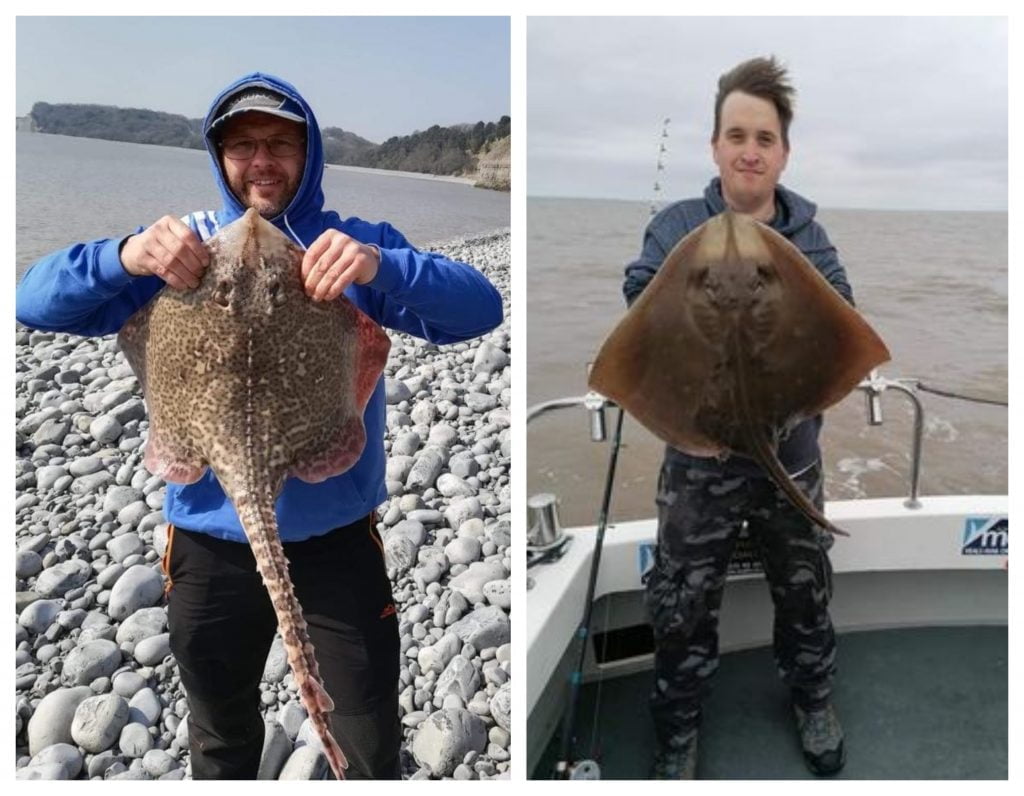 Other species include dog-fish and conger eel. Spring cod are still out there, with good catches being reported from some of the charter boats operating in the Bristol Channel.
Bass have been reported already, which is good news! Anglers in Pembrokeshire have reported catches already, Jonathan Williams bottom left with a west Wales lure caught fish from March. Sean Thomas, bottom right, reported bass to 6lb on a recent session from south Wales mark near Port talbot. Bass fishing should only get better from now.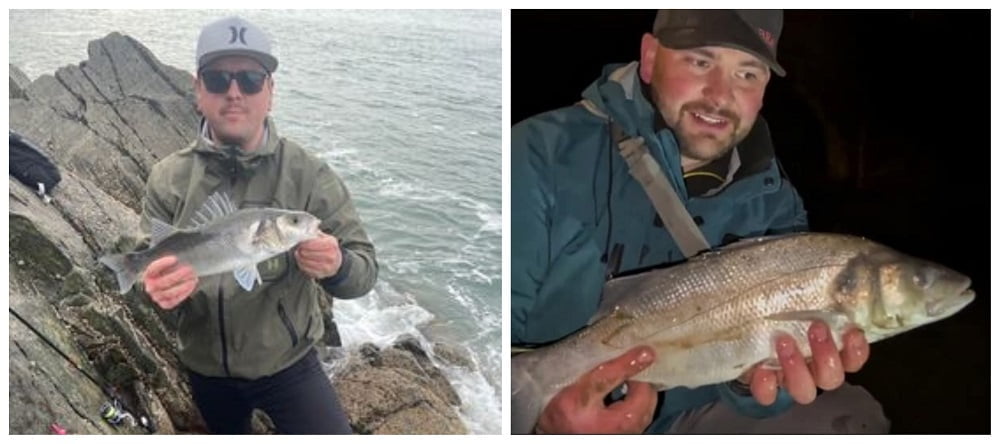 There have also been catches of school bass, thornback ray and flounder off Anglesey and Pwllheli
Few anglers fish our surf beaches in March and early April, which is a shame, as this is the month when some of the biggest surf caught specimens are taken; sandeel is a top bait.
Mullet have also been spotted in south and west Wales, this must be due to the warm weather of late.
In recent years March and April has yielded some of the biggest smoothounds of the year, including specimens of over 20 lbs. However, these are heavily pregnant females so please treat them with care, and release as quickly as possible. As we head into April the hounds should start showing up in good numbers and offer sea angler most welcome sport.
Fishing In Wales - Sea Fishing Report February 2022 (23/02/2022)
February is arguably the toughest month for sea anglers. The horrendous weather has put a stop to fishing over the past week, and the swells will continue to be dangerous for days to come on certain marks.
For charter boat anglers Spurdogs remain in abundance, and it is worth remembering that many of the very biggest cod caught off the Welsh coastline have been taken this month. Large numbers of flounder start to arrive on our surf beaches, while targeting more broken ground offers the chance of an early ray plus the inevitable dogfish.
Some nice bass have been caught, brace below for Drew Abraham weighing 4lb and 7lb from an undisclosed south Wales mark. It seems with our warmer climate bass of this stamp can be caught all year round – and can crop up at random at a wide variety of locations.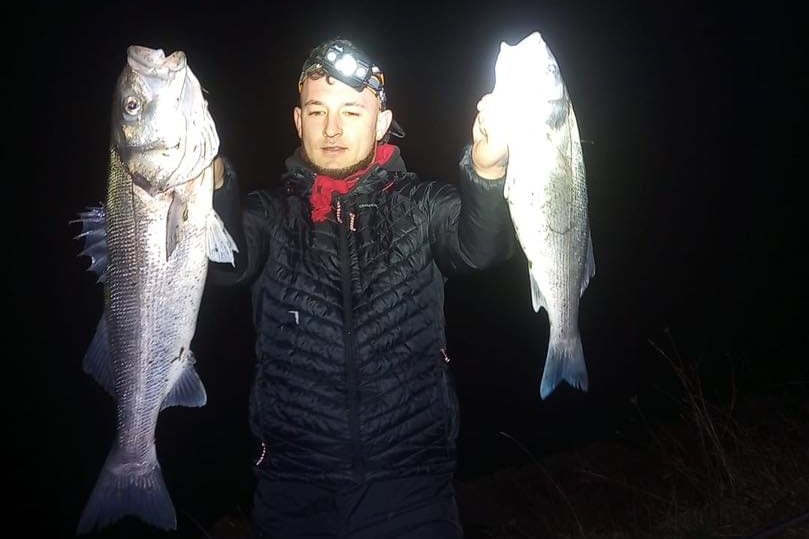 Codling are coming off Cardiff/Penarth area, 8 reported from the beach to the side of Penarth pier of around 1lb in weight by Chris Short in the aftermath of storm Franklin. There are also a few spotted ray coming off the south Wales coast. Codling to 3lb and small congers are also being reported in Bristol channel and marks between Barry and the Severn Bridge. Rhosneigr beach at low water is also producing codling, with several reported recently.
Before the storms some big cod were caught including the 18lb 2oz below, caught on the Sea Leopard out of Penarth marina on 4th February. As the seas calm, Charters will be back in action with a vengeance, you can look up every skipper in Wales here.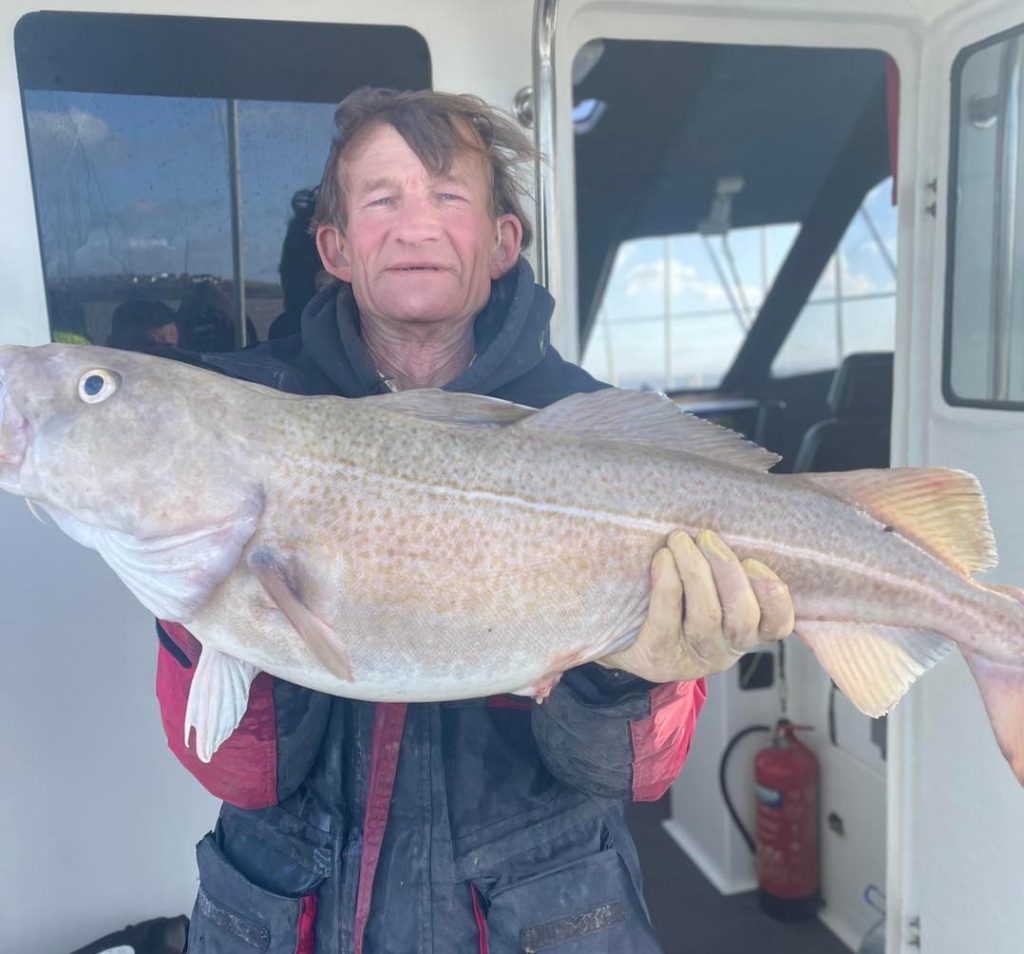 Flounder are a winter staple in the many estuaries of Wales, as long as freshwater isn't pushing through at a rate of knots. Jake Jones and Friend Sam (below) had some nice flatties on the Usk estuary at Newport, near the A48 bridge just before the floods, best one 31.5cm.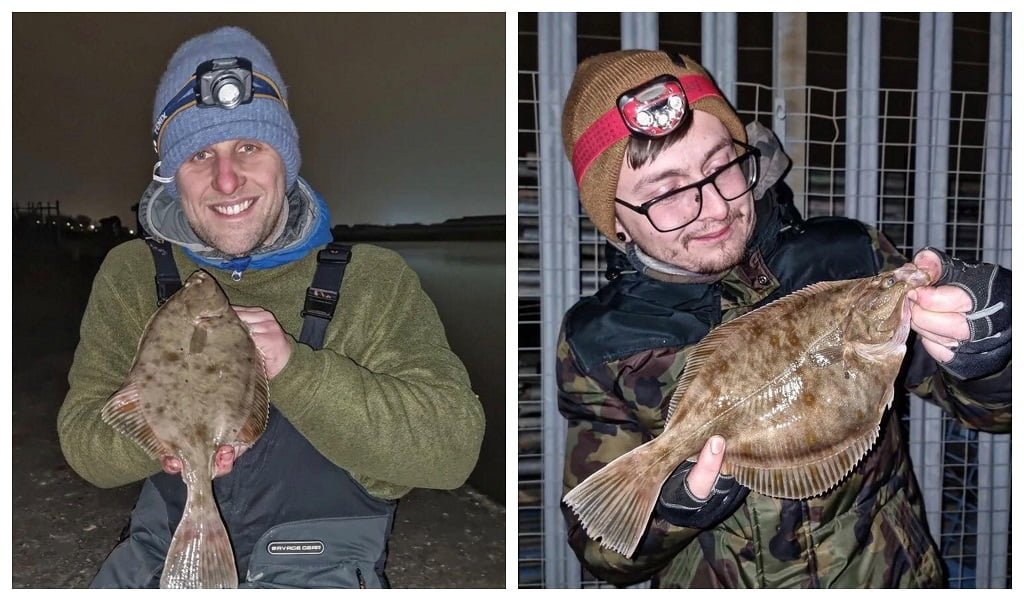 Whiting are still about at this time of year, reliable whiting marks include Aberystwyth, Pensarn, Mostyn Dock and Mumbles Pier.
For a full list of sea fishing marks in Wales, you can explore our map here – click on the pin for the mark, then click 'find out more' to take you to the entry.
Fishing In Wales - Sea Fishing Report January 2022 (18/01/2022)
January is traditionally cod season and we have seen some really good fish so far. There are reports of many double figure cod, especially on the Bristol channel based charter boats. Below: Darren Ryan of Sea leopard charter with a cracking brace of cod.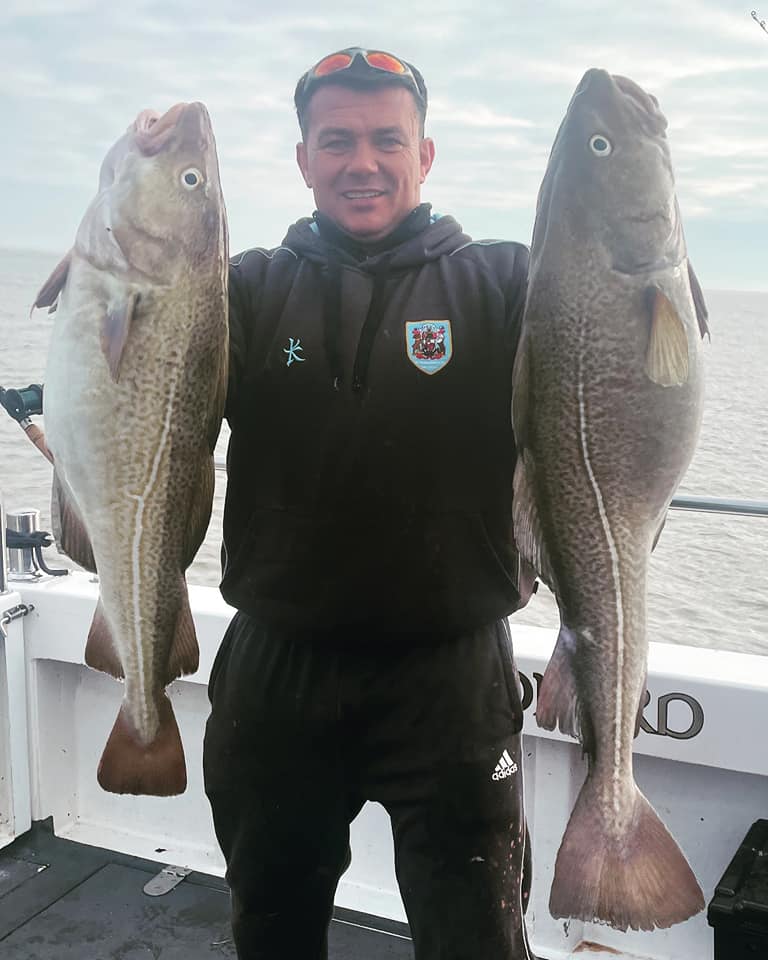 Blonde, small eyed and thornback rays are still figuring highly in the catches, with some good ones being caught off the usual South Wales marks such as Lavernock sand spit. Ben Beal captured a new PB ray on the spit recently, a cracking blonde of 19lb 8oz.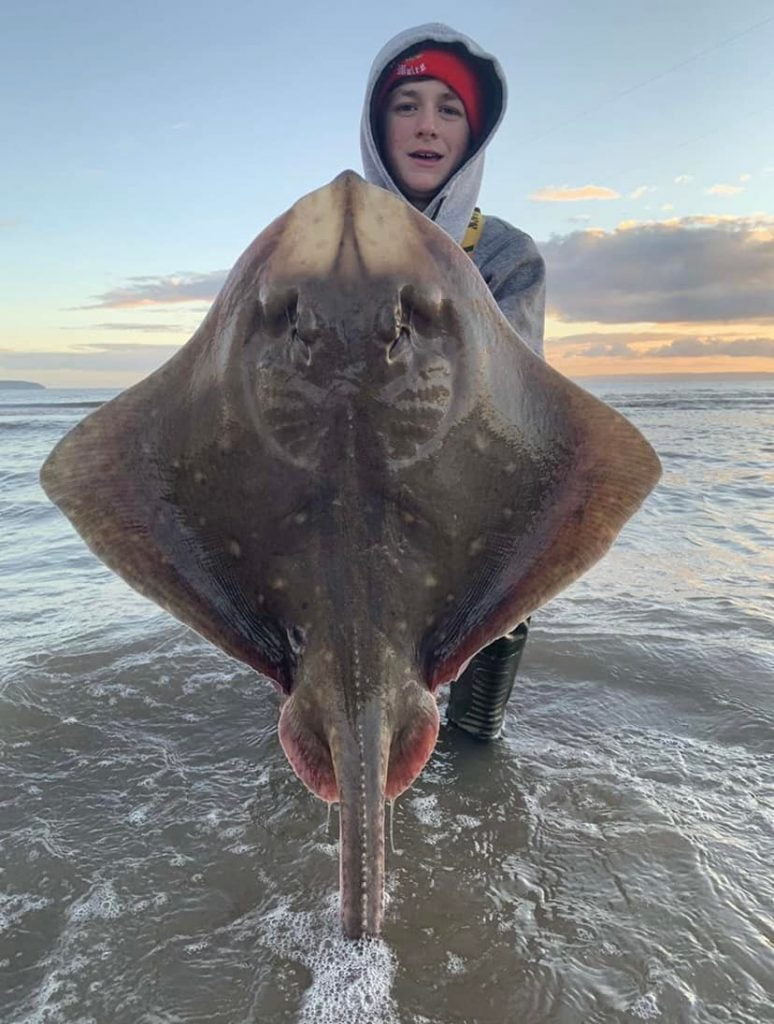 There are still some bass about and even smooth-hounds, which says a lot about our increasingly warm winters.
A potential shore caught record tope was captured in late December in Pembrokeshire. The 82lb Specimen was captured by Mario Asprou. An incredible capture and a fish of a lifetime! (Image credit TronixPro)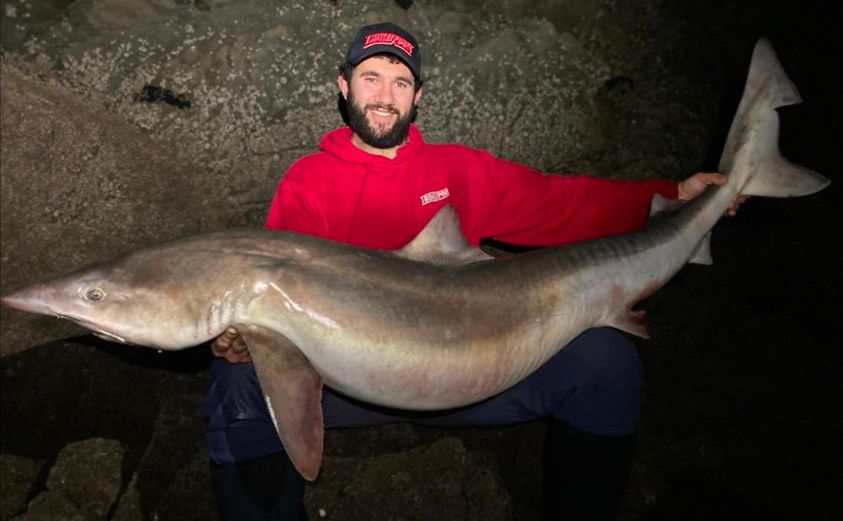 Fishing In Wales - Sea Fishing Report November 2021 (23/11/2021)
November is traditionally cod season and it has indeed started with promise. There are reports of many double figure cod between 10lb and 16lb being caught off Welsh coasts, especially around Barry, and Cardiff to Redwick area. A fantastic example below, 12lb 5oz captured by Jon Henson.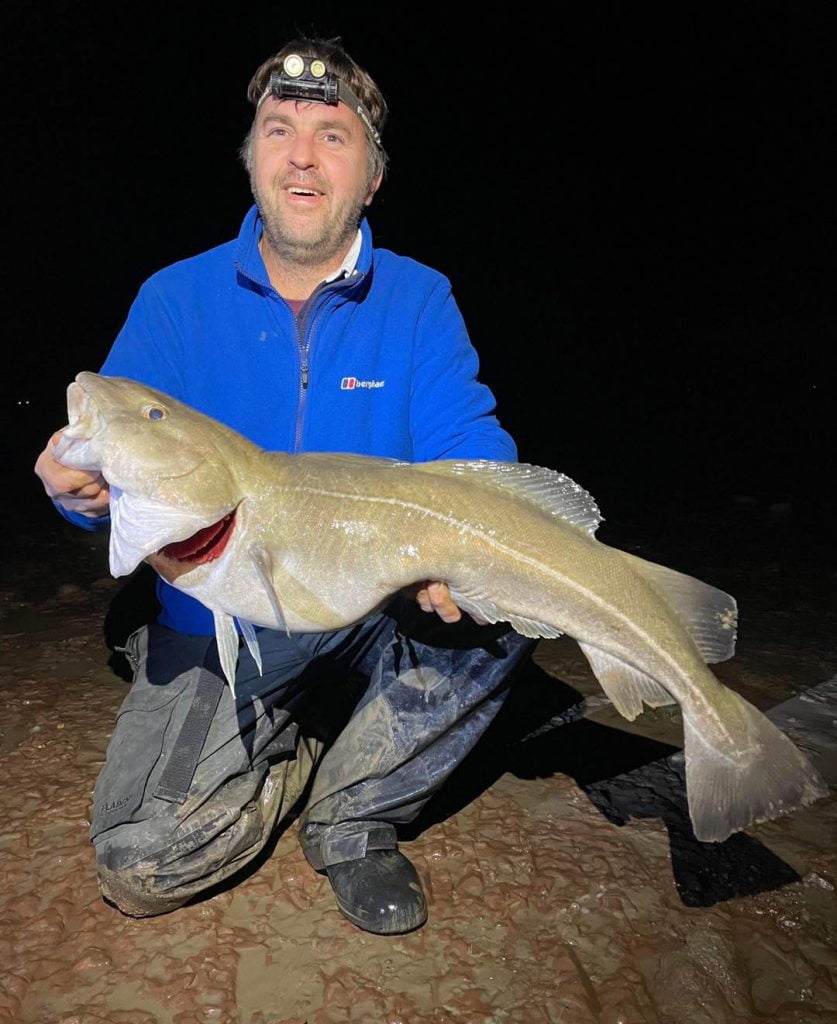 The recent CBYC cod fishing competition out of Cardiff bay saw a good number of big cod caught, 20 or so double figure fish made the weigh in stand, with the winning fish at 16lb 6oz. Although there was some controversy over the weigh in process with boats stuck in log jam outside the barrage gates. Cod prospects will continue to be excellent, with cold high pressure weather continuing to dominate the forecast.
Blonde and small eyed Rays are still figuring in the catches, with some good ones being caught off the usual South Wales marks such as Sully Island. Also expect to catch conger and late bass, which will figure in the catches well over the next few weeks. Check out this cracking 12lb 4oz bass caught by Dean Roper near Sully, which was returned.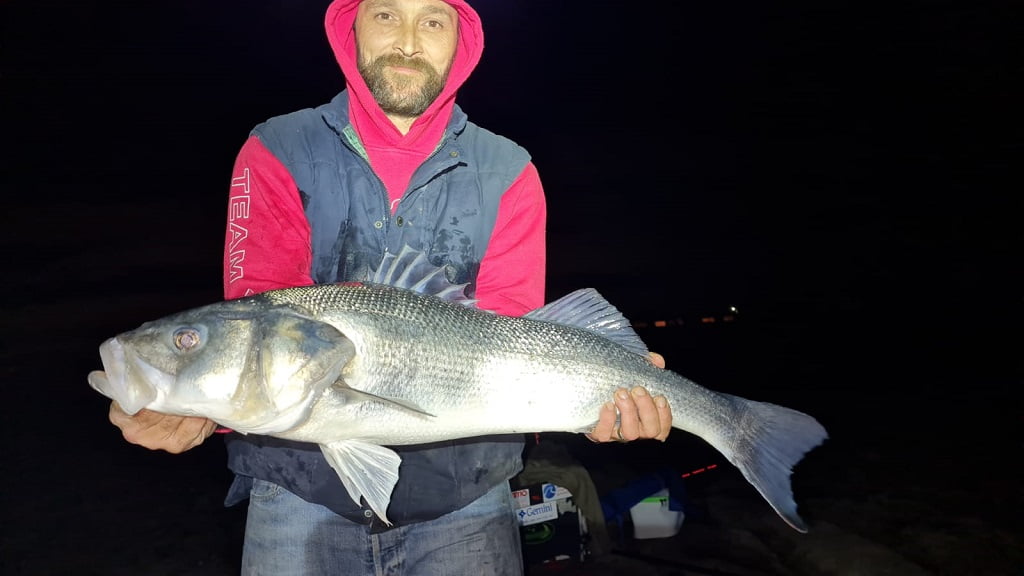 As well as south Wales coast, Pembrokeshire and Anglesey will be some of the best areas for early winter bass. Bass can also still be found in the estuaries of mid-Wales such as Aberdyfi and at Abersytwyth, where you will find bass along with whiting and plentiful dogfish.
The llyn peninsula is fishing well for bull huss and some late tope. Trefor and Nefyn beach are good places for a codling, or a late bass. Pwllheli is producing huss and congers, as well as dabs and whiting. Overall, November has seen some excellent sea fishing in Wales and it should continue next month.
Fishing In Wales - Sea Fishing Report September/October (20/10/21)
September and October so far have been good months for bass fishing. We have had many reports of superb bass off Welsh coasts, including multiple catches of fish on lures from Port Talbot long arm, Ogmore estuary, Pembrokeshire Dale area, Aberystwyth and Anglesey. Guide Mathew Rickard recently reported 40 bass to 5.5lb around the Towyn area from his boat.
Mullet have also been showing in the catches, with some great numbers beings seen on the south Wales surf beaches of late, especially to the fly rod – Darren Jackson below.

For the rest of October and indeed November prospects for bass and mullet will be excellent as the sea takes a long time to cool down, providing of course we have some pleasant weather. There are still some mackerel about in Cardigan bay and even some garfish, which can be caught on rock marks float fishing.
The first cod of the year are showing in the Bristol channel – check out the 12lb cod (below) from Barry area, caught by Steve Parsons.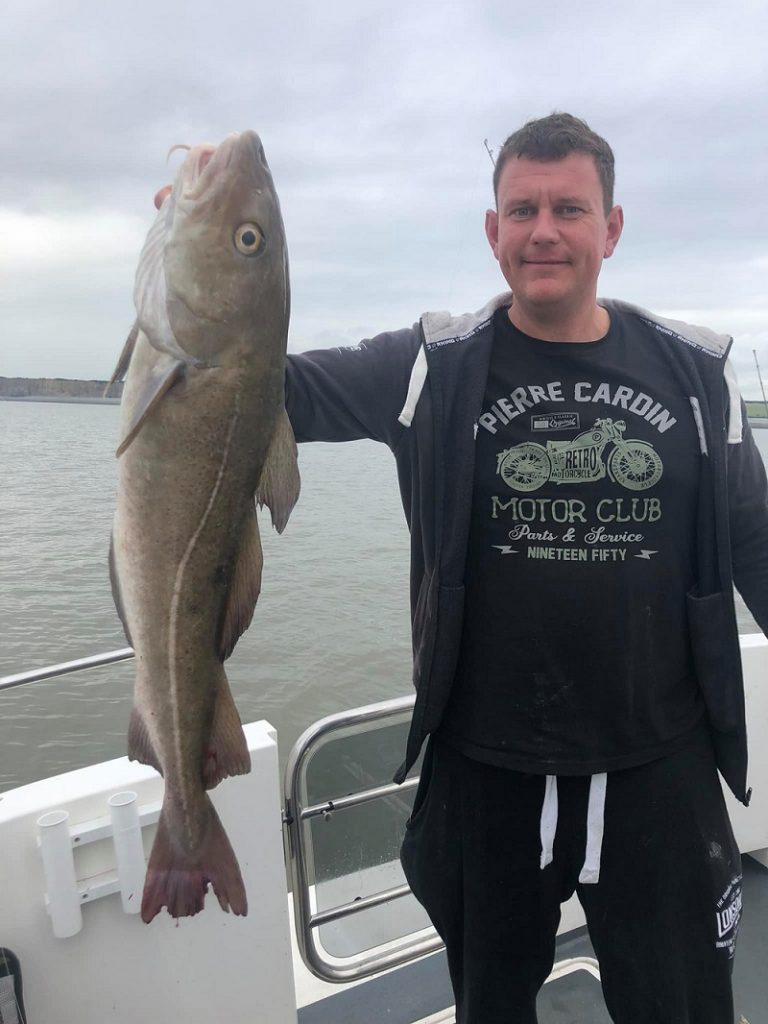 There are also lots of summer species still about – especially rays and the odd smooth-hound, as caught by Terry Bromwell (below) off Porthkerry from a friend's boat. The sand spit near Penarth is fishing really well for rays – good chance here of a double figure blonde.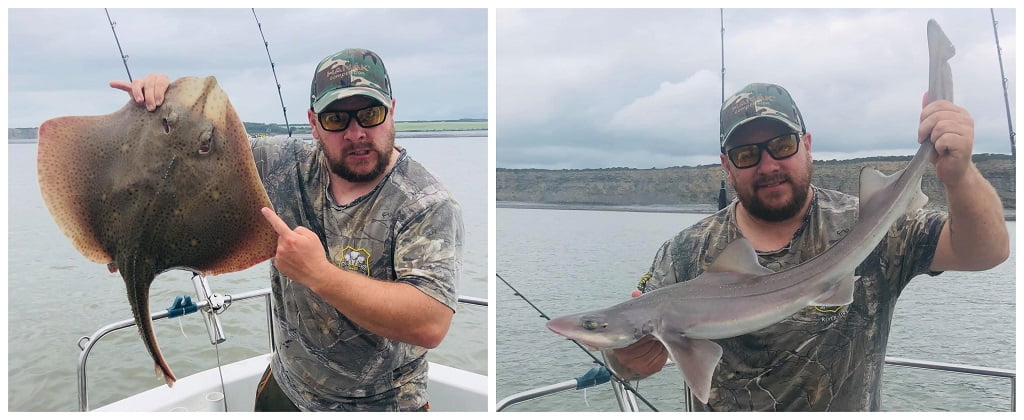 Mumbles pier Swansea is producing well, with tub gurnard featuring regularly in the catches. Also bull-huss and the usual dogfish.
In North Wales the llyn peninsula is fishing consistently for a variety of species – including huss, conger, pollack and mackerel, plus a few tope still to be caught from the shore off deep rock marks.
Out of Rhyl charter boats such as Jensen Sea Angling are reporting dabs, whiting, dogs, rays, huss and bass, with action being fast and furious. Up the coast at Traeth Pensarn anglers are catching bass, small rays and lots of whiting.
For November into December cod should start to show up more and more as the summer species move away. But for now you cannot beat October as a fantastic month, when nearly anything can be caught off Welsh coasts.
Fishing In Wales - July/August Sea Fishing Report (18/08/2021)
While the freshwater fishing suffered during the heatwave of July, sea fishing in Wales was booming, with many of the usual summer species being in abundance – including smooth-hounds, various rays, mackerel, tope, bull huss, conger, flounder, Mullet and even blue shark. Below: Tim Hughes enjoying Monknash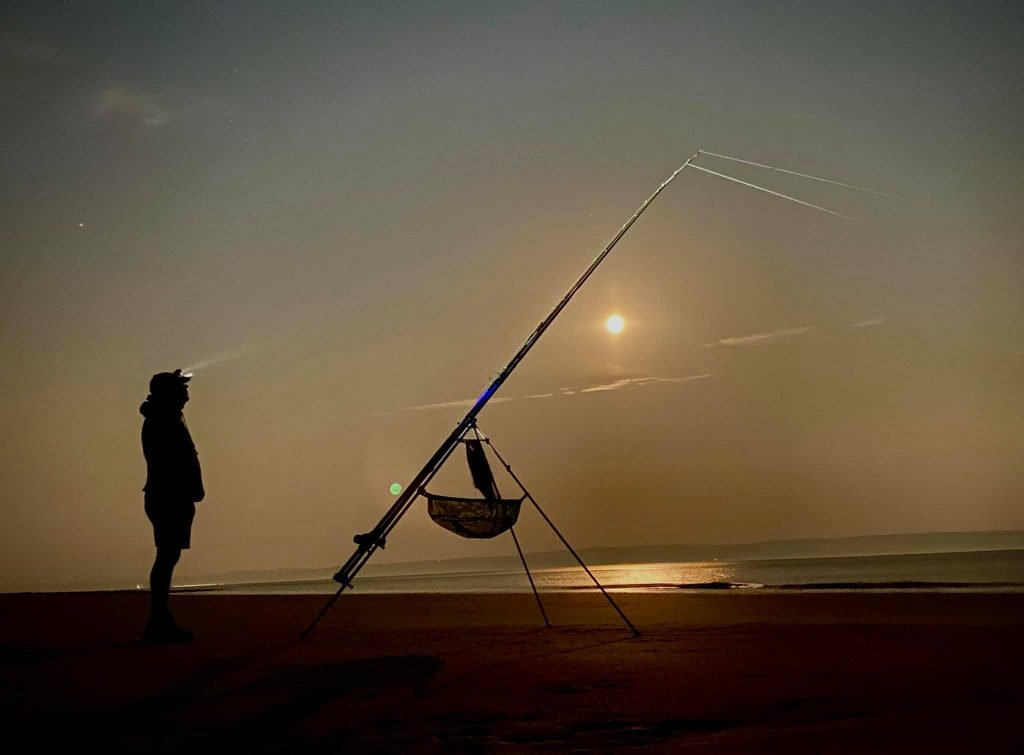 Bass fishing with lures and bait and also wrasse fishing was very productive – and will continue to be so well into late summer. In mid Wales, Clarach and Abersytwyth are fishing well, plus Barmouth area up to Harlech in the various estuaries where you can expect a lot of bass and also flatties.
Some of marks on the Glamorganshire coasts fished well for bass, including on the lures thanks to the Bristol channel being clearer than usual due to the lack of rain. Below: Jake Jones with a Llantwit bass.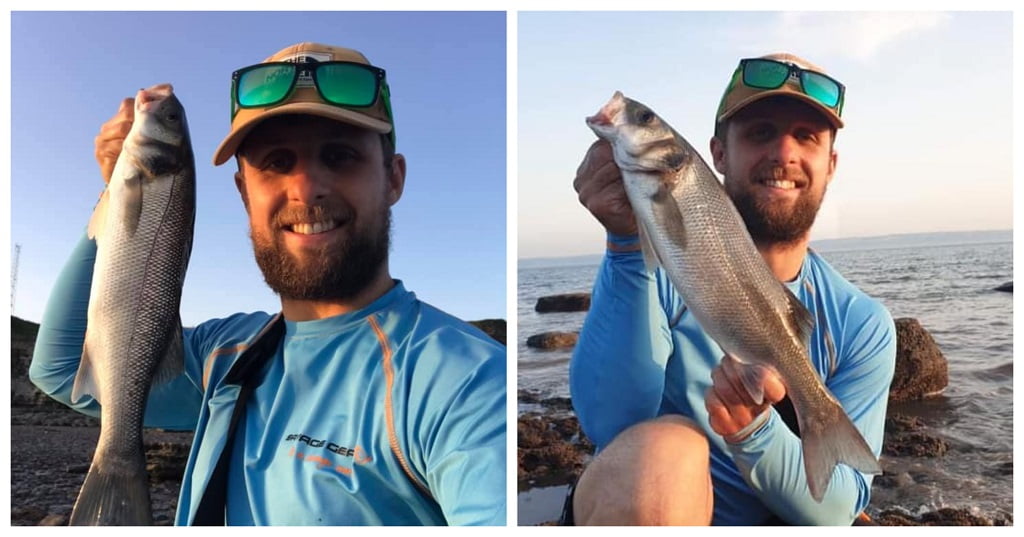 Talking of the Bristol channel, Jeremy Wade visited Wales for an Angling Trust event. Some great fishing was to be had on charter boat Tusker 2, with real medley of species coming to the net – including rays, conger and bass. Now is a great time to hire a skipper and enjoy some fantastic action afloat. A lot of skippers are offering inexpensive family friendly 4 hour trips with all tackle supplied, so well worth taking the family out to enjoy. Below: Jeremy Wade fishing out of Cardiff bay (on a cold early August day!)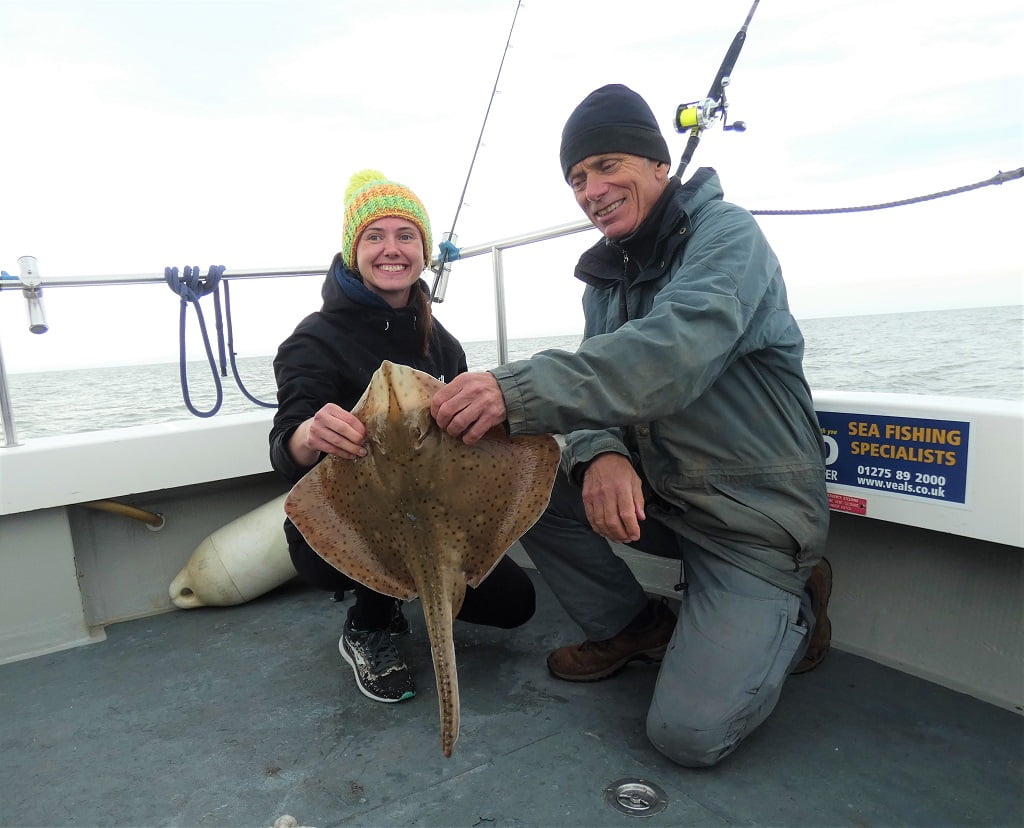 In north Wales Pensarn is fishing well for bass, as is Hell's mouth off the Llyn Peninsula. Off Anglesey there is plenty of action almost everywhere, including Amlwch for some nice wrasse off the rocks and Moelfra for bass.
Prospects look great for the rest of August into September – expect more of the same with summer species – especially bass and rays – to be featuring heavily in the catches. For the adventurous then a charter trip to the Celtic deeps out of Pembroke for blue sharks should be on your bucket list for this month and for the next if the calm weather holds.
Fishing In Wales - June Sea Fishing Report (30/06/2021)
Early June was tough due to the weather, but it soon improved allowing for some fun charter boat fishing. Tope started to appear in the catches, especially in Cardigan bay. We joined Epic Fishing along with Rob Hughes (below) and Julian Lewis Jones for a great day on the tope in early June. Full report can be read here.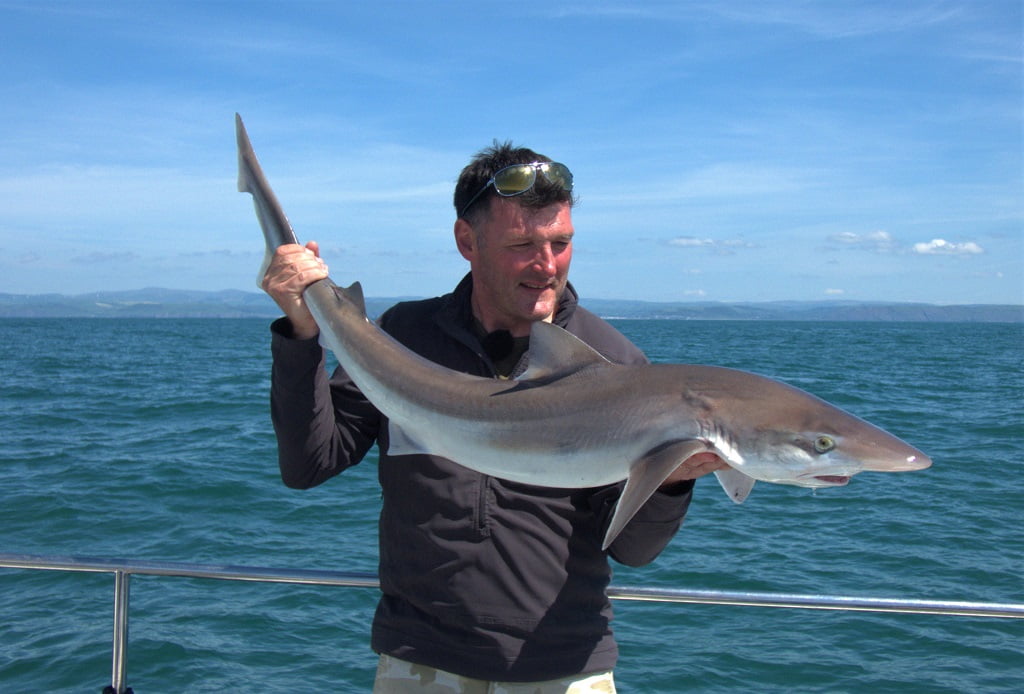 Bream, mackerel, bull-huss and of course bass are now being caught in Cardigan bay – great fishing, make sure you make the most of it while the weather lasts!
Smooth-hounds are being caught almost all over Wales currently, with the Vale of Glamorgan area perhaps being the most productive part of the coast. Many of these hounds can run into double figures. They fight hard and provide tremendous summer sport. Rays of all species are also about in good numbers, and marks such as Monk-Nash and Ogmore deeps are throwing up rays regularly.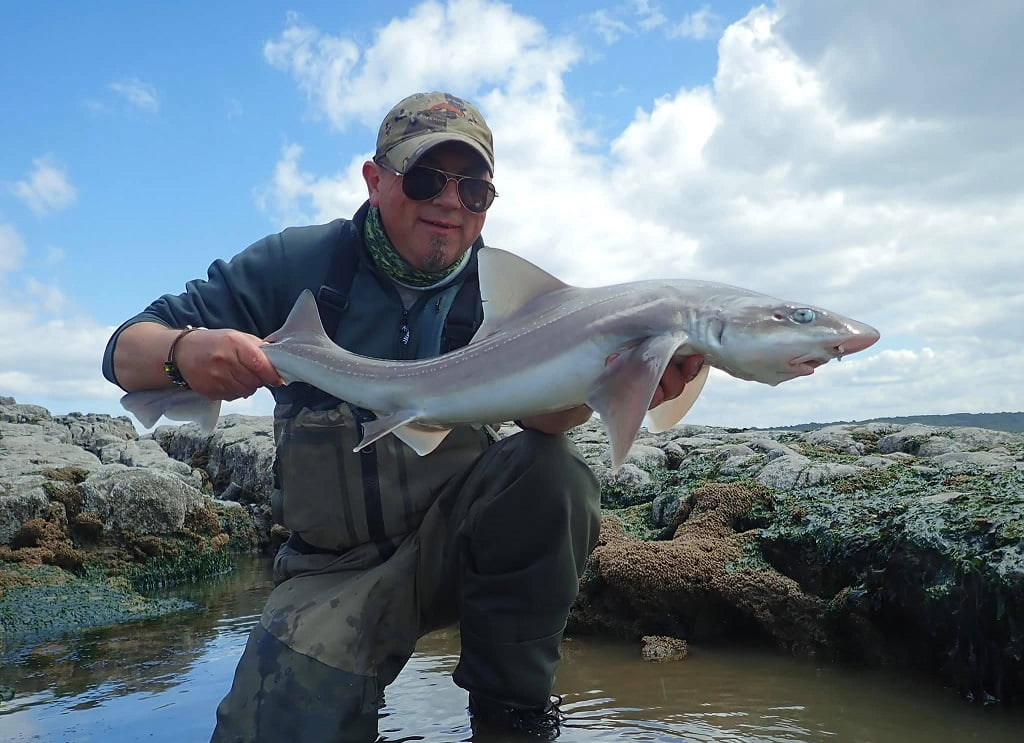 Pembrokeshire is producing some nice wrasse on the rock marks, often to lure fishing methods such as soft plastic jigs. This method of course also catches bass and pollack at marks such as St David's.
Regarding bass fishing, Milford Haven Marina is fishing well for them – peeler crab being the best bait. Llansteffan beach near Carmarthen is another bass hot-spot reports of over 20 bass in a session here recently. Ogmore estuary at Southerndown is another great location – especially if fishing lures at dusk as the tide floods in. Abersoch is fishing well for bass on the Llyn peninsula. Fishing In Wales contributor 'Daz' is having a great bass season, fishing the Port Talbot area from the shore and afloat. He's had a ton of bass on lures and the fly recently – one of many below!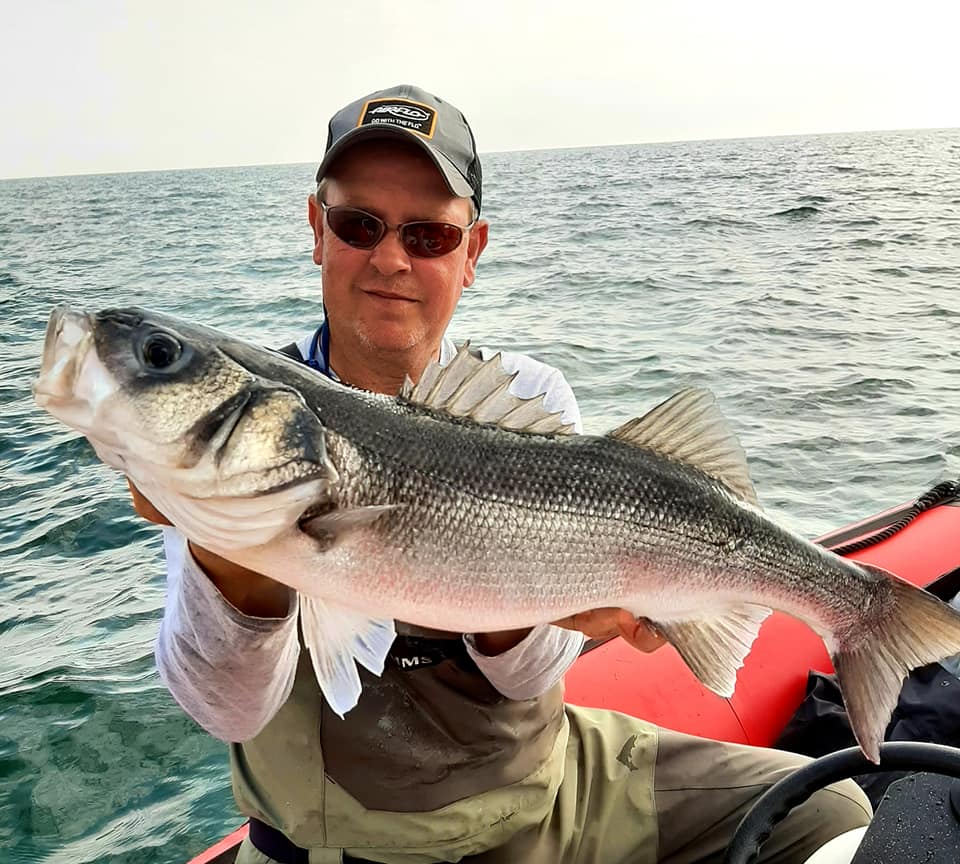 Anglesey has been producing some fine sea fishing for a mix of species, Amlwch breakwater producing corkwing wrasse, ballan wrasse, pollack, pouting, scorpion fish and dabs to LRF lure tactics. There are also garfish and mackerel about now, good fun on lures/feathers. Pwllheli is producing a variety of species off the rock marks, including conger, huss and thornback rays. If you want a north Wales hound, Talacre near Holywell is worth a try.
July should be great for all of the summer species – especially on the charter boats. You can find all of the Charter skippers in Wales here.
Fishing In Wales - May Sea Fishing Report (25/05/2021)
May hasn't been a pleasant month so far, wind and rain making it tricky. For those who have fished it's been cartilaginous fish city – with rays, smooth-hound, bull-huss and dogfish featuring most frequently in the catches, with bass, flounder, conger and pollock also appearing.
Below: A selection of the species being caught all over Wales currently (pics Hayden Ross)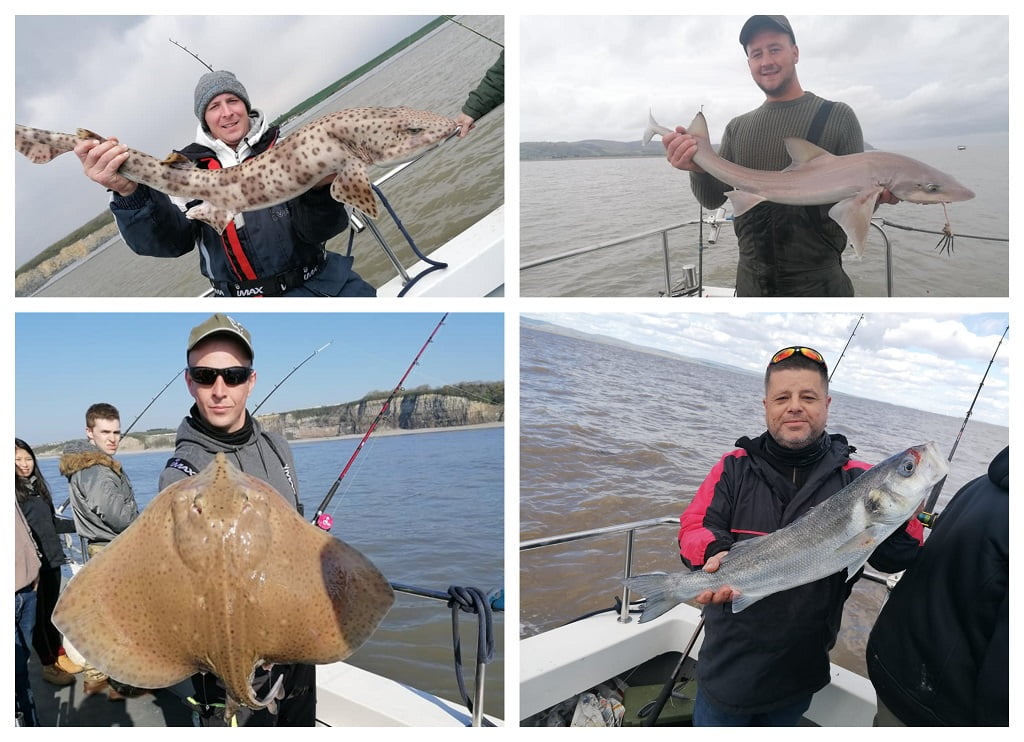 Along Glamorganshire and south Wales coasts Barry at the Knap has been producing rays to double figures and the odd surprise bass to nearly 6lb. Penarth pier is seeing thornback rays and dog fish. Mumbles pier has been producing hounds as well as the usual doggies. Swansea west pier has been producing big bull huss – a big drop net is an essential here. Monknash is producing rays, but you might struggle to get through the endless doggies there. Tim Hughes (below) with a Monknash ray.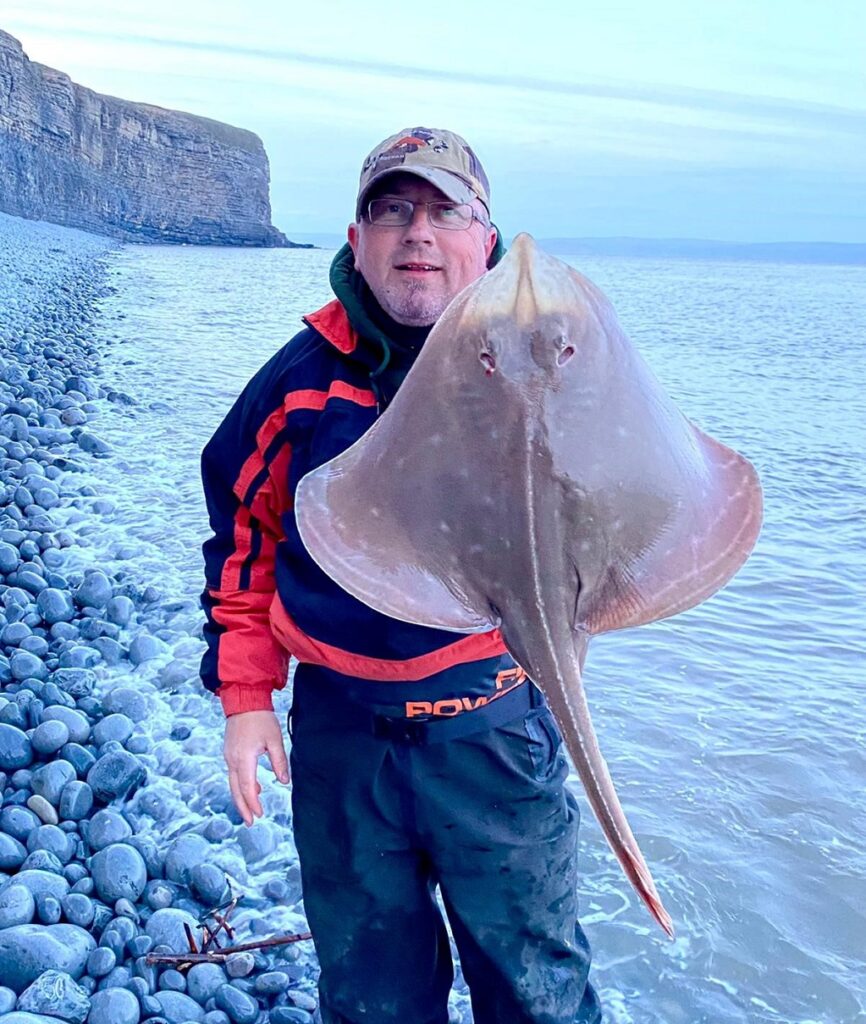 Down at Pembrokeshire, Pollack are being caught on some rock marks, Joe Shaw below, caught this cracking 7lb pollack whilst fishing one of his local marks using soft plastic lures.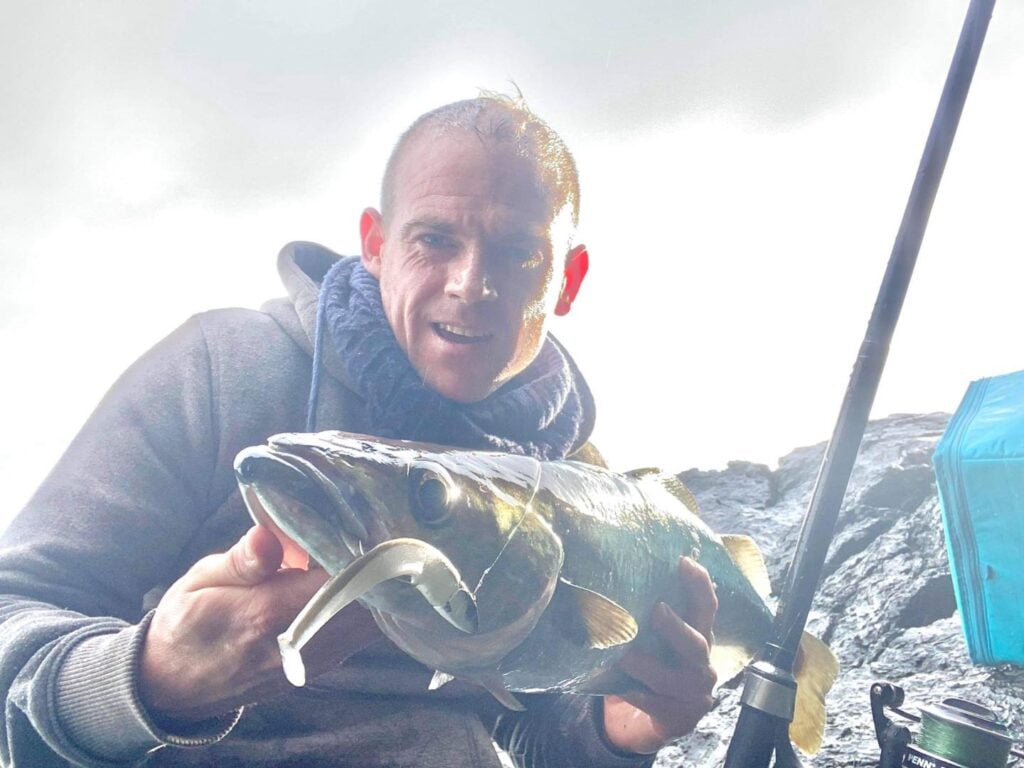 On the north Wales coast, Talacre and Mostyn has been producing rays, dabs and dogfish, with smooth-hounds starting to show up, although its been a bit slow. These marks however should start fishing much better when the rain stops. Holyhead breakwater is producing lots of big bull-huss into double figures, the back wall particularly productive. Any fish bait (sandeel, mackerel, bluey etc.) fished in low light conditions should pick them up. Expect also to run into conger.
All of the charter boats have been having fast and furious action – whenever the weather has allowed them to get out. Again, focus is on rays, hounds, bull huss and dogfish. Eyes are on tope for next month, as it warms up. Bass fishing should start coming into its own soon, with the estuaries and marks off west Wales and Ceredigion producing fish to bait and lures.
Fishing In Wales - March/April Sea Fishing Report (21/04/2021)
With travel restrictions eased in late March sea fishing activity has increased substantially, with lots of anglers hitting the beaches and rock marks all over Wales. For charter boats, confusingly, they seem to have been classed as ' Outdoor attractions' (same category as theme parks) so it seems they will have to wait to officially resume operating on 26th April.
From what we gather it was a disappointing cod season, with an absence of larger fish and numbers of codling. Of course with reduced fishing activity and no charter boats this is hard to gauge. A few codling are still coming out.
The fishing in the early spring is generally quite slow, and water temperatures are very low for time of year.  But things have picked up with plenty of rays of all species being caught, some early smooth-hounds and some large early season bass, which can be caught using peeler crab. Dogfish are out in force and are literally crawling up the rods at many of the popular marks. A few Conger have been also caught, along with some bull-huss.
Image below of a big spring bass from Llanelli area: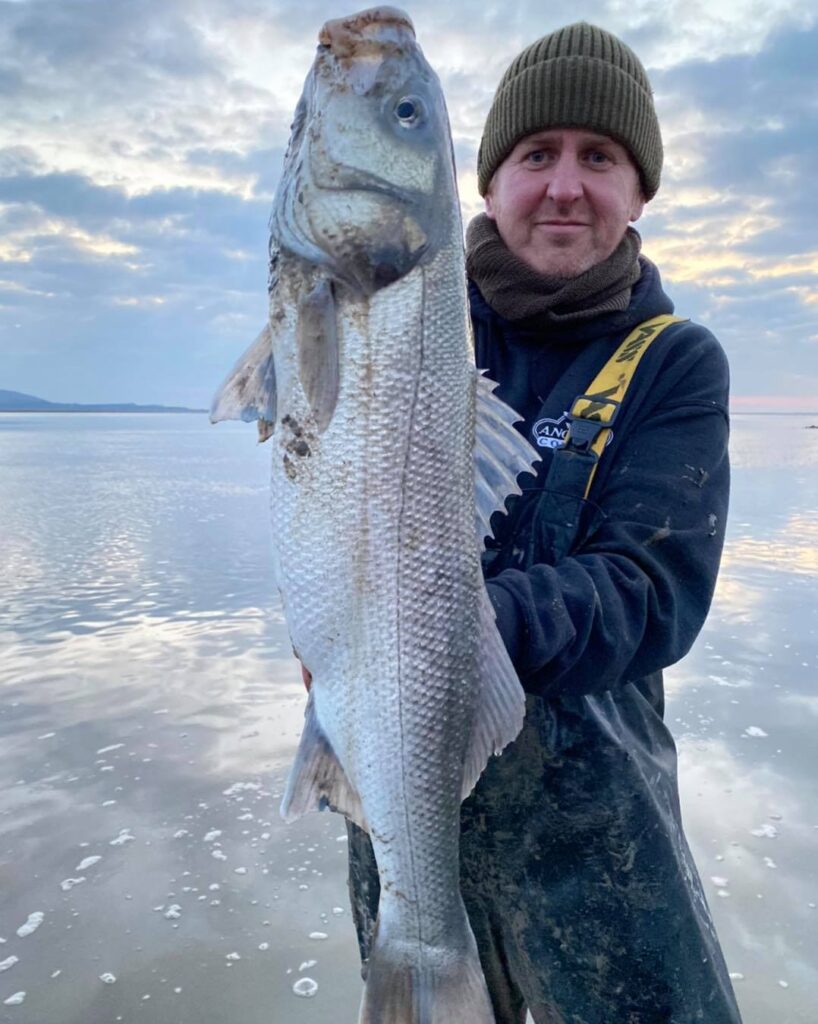 Good marks at the moment for a mixture of species include Witches point, Pendine sands, Ogmore deeps, Aberafan and Barry off the points. Marks at Aberystwyth, Knab rock, Monknash and Cardiff barrage have all been pretty slow. This should of course change with some warmer weather – smooth-hounds in particular will continue to build in numbers, alongside more and bigger rays. Bass fishing will be on the horizon with warmer temperatures, spots to look out for will include the Gower beaches, the estuaries of mid-Wales and Pembrokeshire.
It will be really interesting to see how the charter boats fare when they are allowed out again.
The pictures below show some of the fish being caught around Welsh coasts currently. (Image credits Foreshore Fishing Facebook page)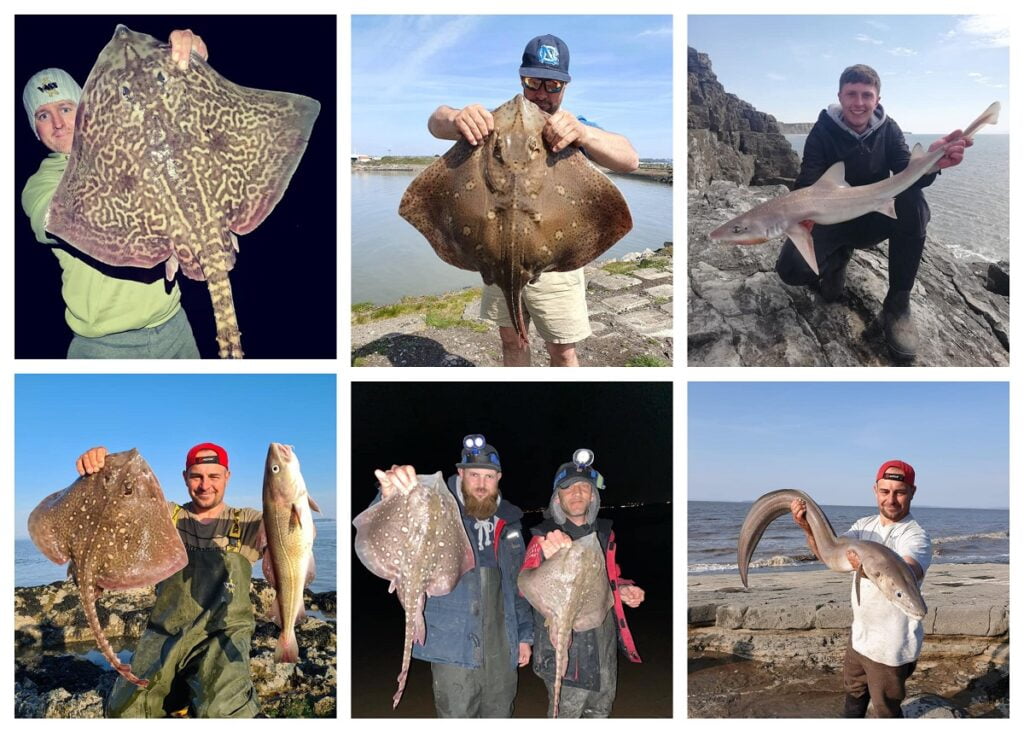 Fishing In Wales - November/December Sea Fishing Catch Report (16/12/2020)
The winter Sea fishing started well – some really nice cod were caught in November from the shore and on the charters.
The shore fishing for the cod has really slowed down the past week or two, there is a lot of debate about why this is, including trawler activity or that the fish have moved offshore and to the other side of the Bristol channel to feed. The boats however are still doing really well for the cod, provided the weather allowed them to get out. To find a charter boat in Wales check out our dedicated page.
Cod from Tuskar 2 boat Cardiff bay.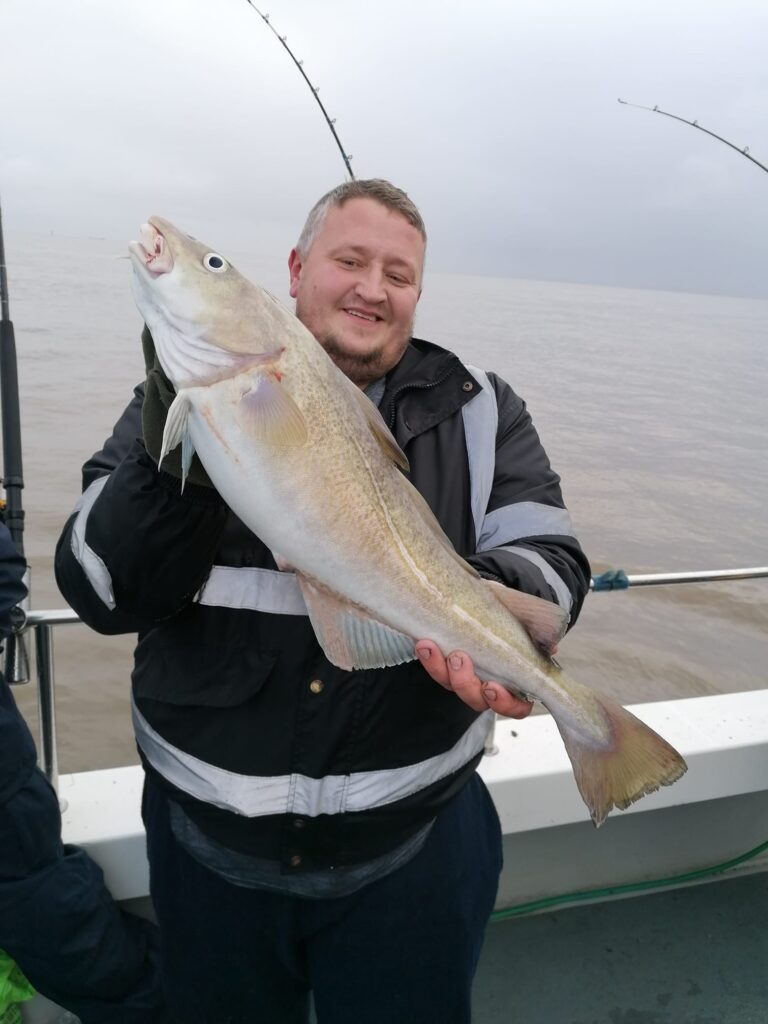 We've heard of some really big pouting being caught this year – many over 2lb which is a specimen size. Robert Cole of WFSA had a great day on the pouting on a charter out of Pembrokeshire, check out the mega pouting below, proper specimens.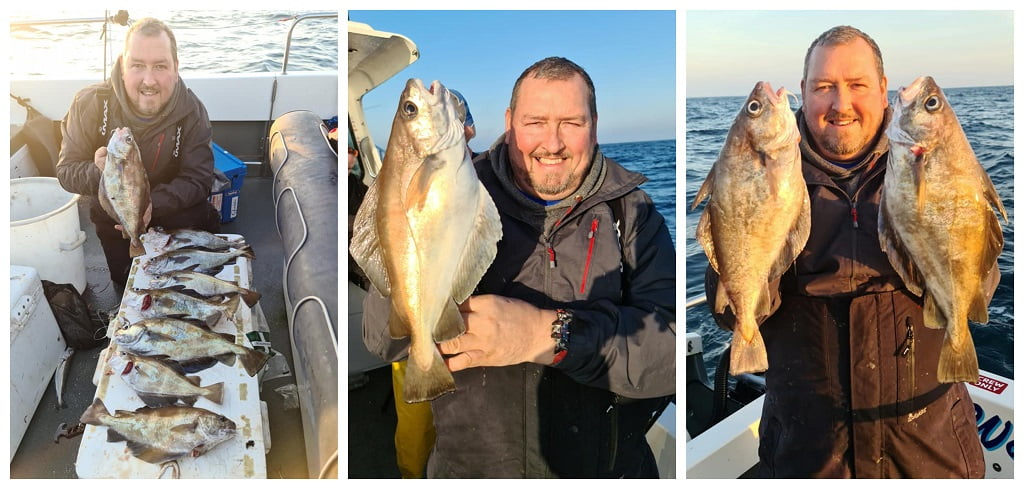 It's been very mild so most summer species are still about – including rays into double figures from Cardiff foreshore area. The nice 11lb 11oz thornie below was captured by Paul Clayton of Chepstow. Blondes to 20lb are still being reported to charter boats and at the Sand spit Lavernock. A few bass are still being reported at various marks, for example at Ogmore.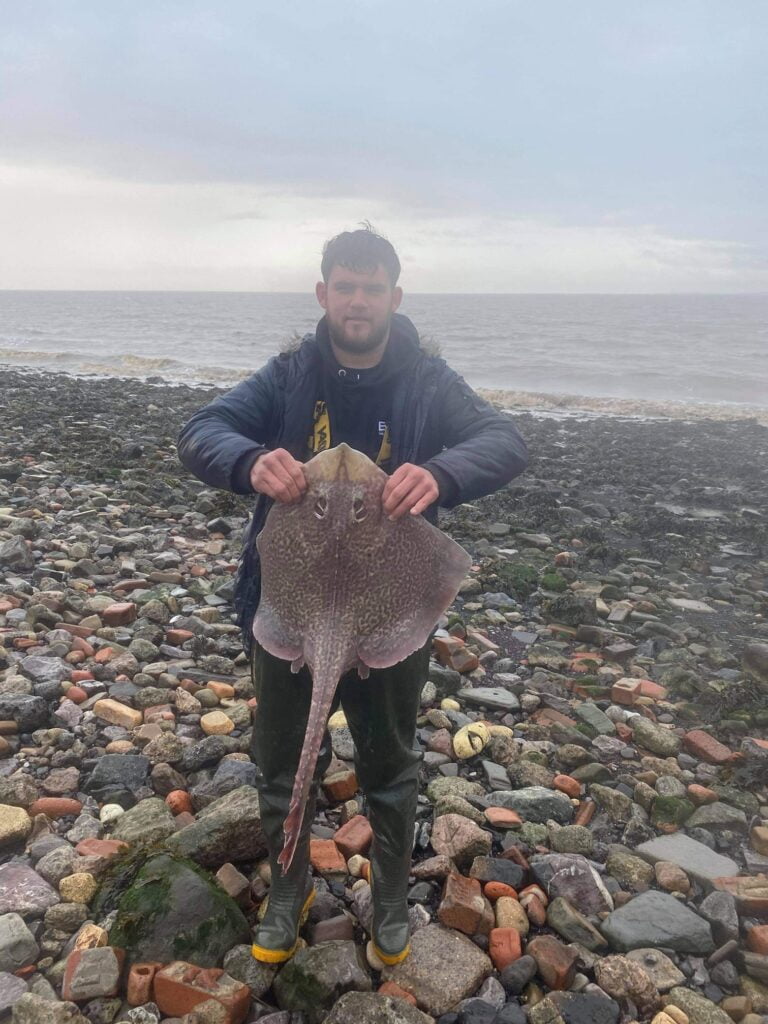 Predictably there are lots of doggies about and also whiting in good numbers, especially Swansea area around the mumbles, Aberystwyth and Penarth pier. Although small these fish provide good sport. Charlotte Bullen (below) of the lady Hookers club had a good session with 17 doggies and 6 whiting at Swansea.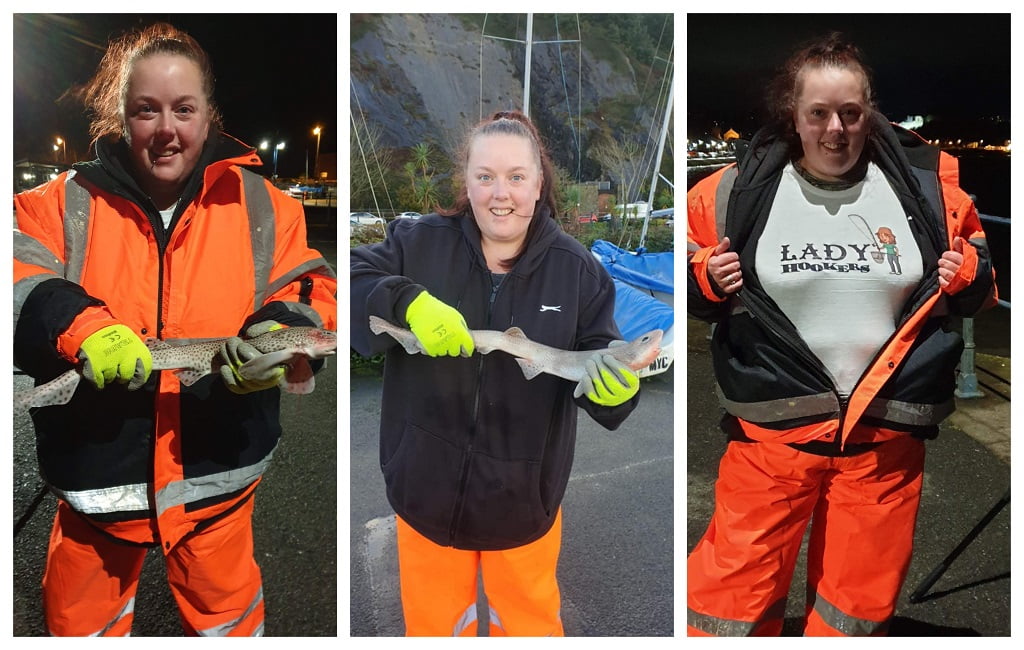 The Cardiff barrage has been a bit slow according to reports, although we hope this should pick up soon with some cold weather.
Winter charter boat fishing out of Milford Haven and St David's during the calm cold spells has been very productive. Lots of species about including herring, pouting, mackerel, ling and pollack.
Julian Lewis Jones fished out of St David's recently and had some great action winter wrecking, which is a relatively new thing. Should the weather be calm and cold it will be well worth a try. Check out the images below of Julian's successful day with skipper Padrig Rees of Blue shark charters.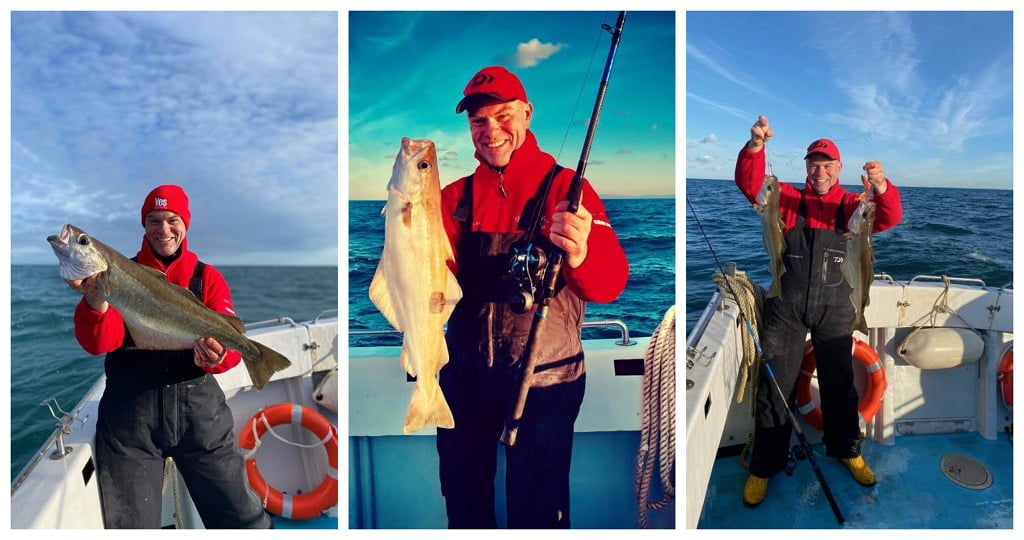 Fishing In Wales - October Sea Fishing Catch Report (20/10/2020)
October is a great month for bass fishing. We have had many reports of great bass fishing, including multiple catches of fish on lures from the Port Talbot area by 'Daz' Jackson, who fishing with his son Ben has had several sessions with over 20 fish.
The area around Mid Wales has been fishing well, With Hywel Morgan fishing around Aberystwyth and Matthew Rickard (fishing guide) around Barmouth catching plenty of bass with his clients. Bass fishing will carry on for another month or two at least, so don't hang up the bassing rods quite yet!
Image: Client of Matthew Rickard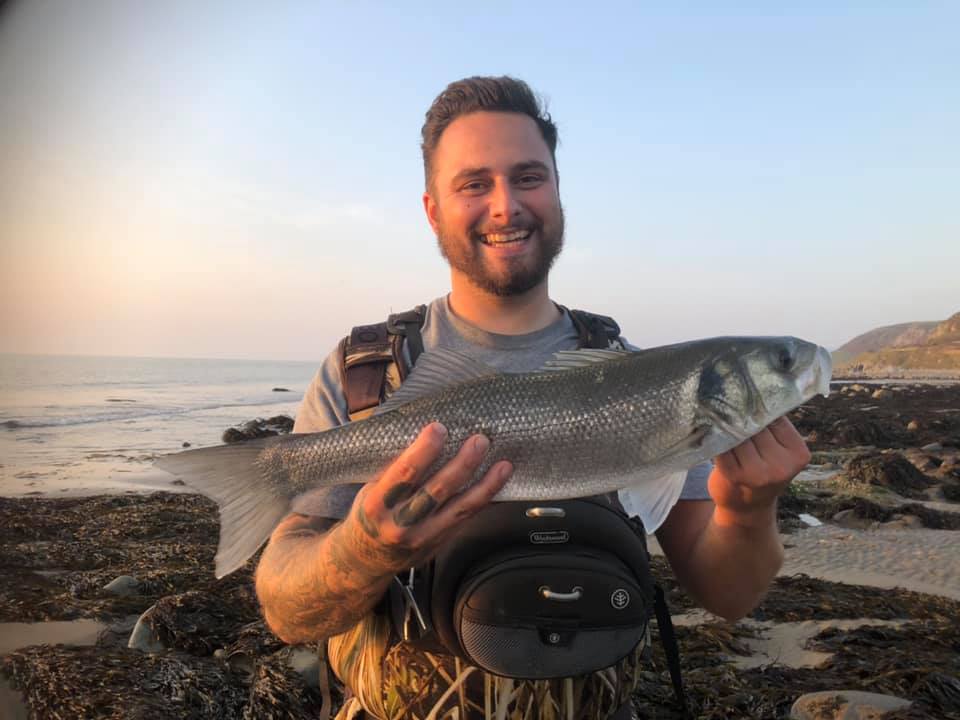 Charter boat angling has been on fire, with big rays still being caught in the Bristol channel, as well as conger and the odd late hound. Picture below from Tusker 2 charter customer Simon Holmes with a fantastic 21.5lb blonde Ray.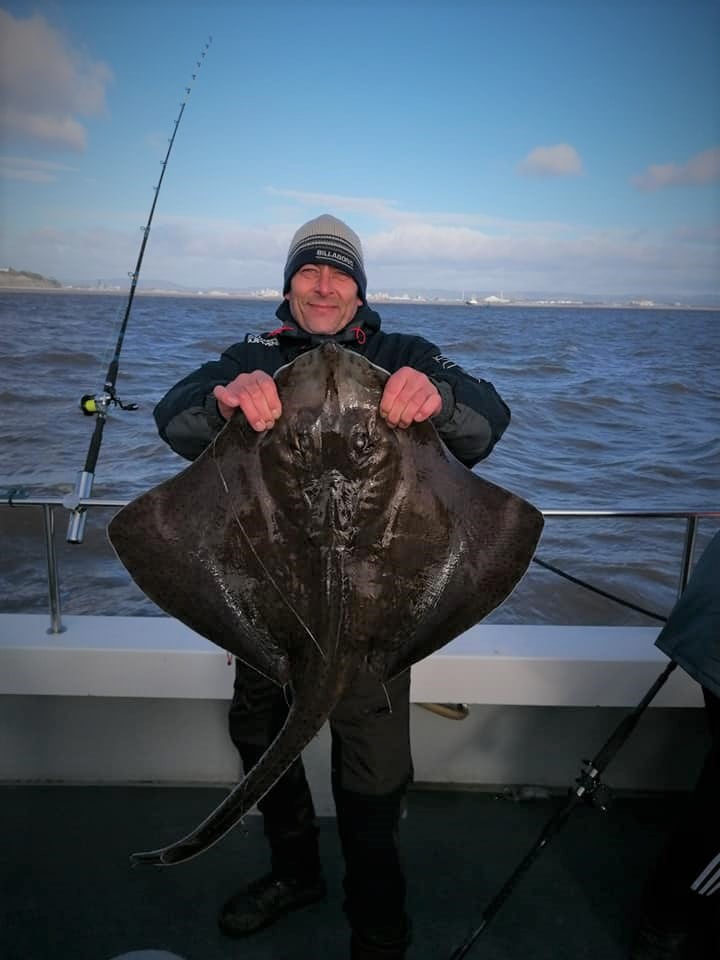 Cod fishing is now underway, with some nice cod and codling showing up in the catches especially south Wales marks such as Cardiff foreshore, llantwit major and Ogmore deeps. The cracking double below was caught by Shaun Tucker at Ogmore recently.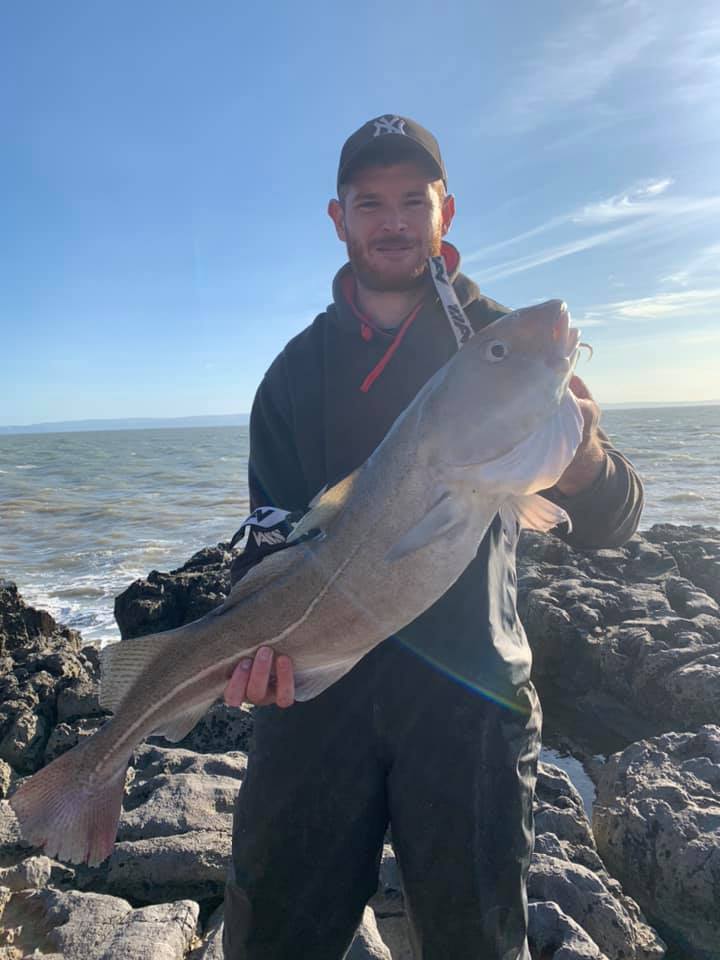 Due to COVID-19 virus a national 'Fire break' lock-down is coming to Wales from 6pm 23rd October to 9th November. This is going to affect angling, since you will not be allowed to drive to fish, only walk from home if you are fortunate to be near a suitable mark on the coast. Charter boats will be closed during this time, and anglers from outside Wales will not be allowed to visit. More details can be found here.
Fishing In Wales - September Sea Fishing Catch Report (22/09/2020)
The sea fishing in Wales in September has been fantastic with lots of fish about, including a a mixture of all of the summer species such as bream, bass, rays, smooth-hound and even some early cod. Its a great month for sea angling so make sure you get out there.
Epic Fishing trips Newquay reported over 150 bream recently, with Cardigan Sea Angling Club.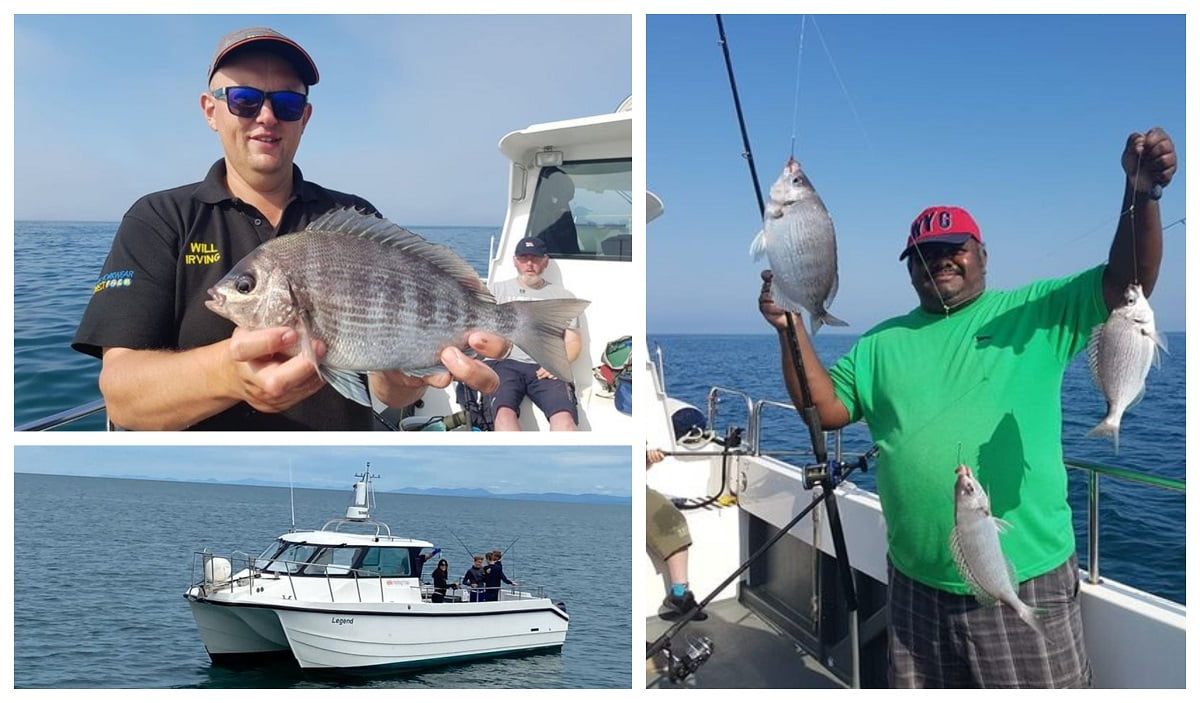 Tuskar 2 Charters out of Cardiff bay landed over 100 fish at Aberthaw including some cracking double figure rays. There are also tope, hounds and some big early cod being reported in the Bristol channel, which bodes well for the cod fishing this autumn.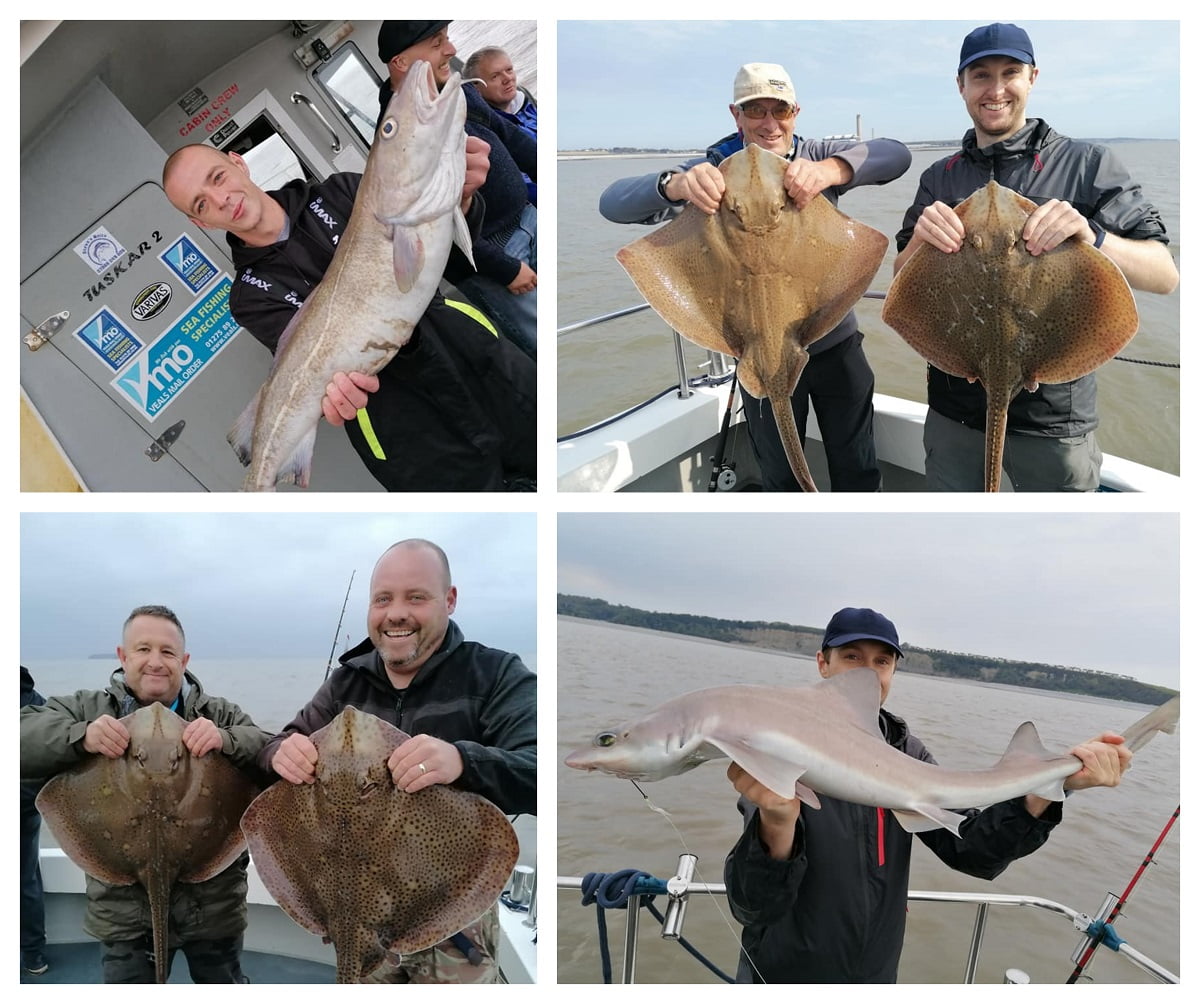 The bass fishing continues to be great off the Ceredigion coast. Hywel Morgan has been fishing for them regularly using lures, and is doing well. Check out the specimen caught yesterday whilst fishing on a friends boat near Aberystwyth.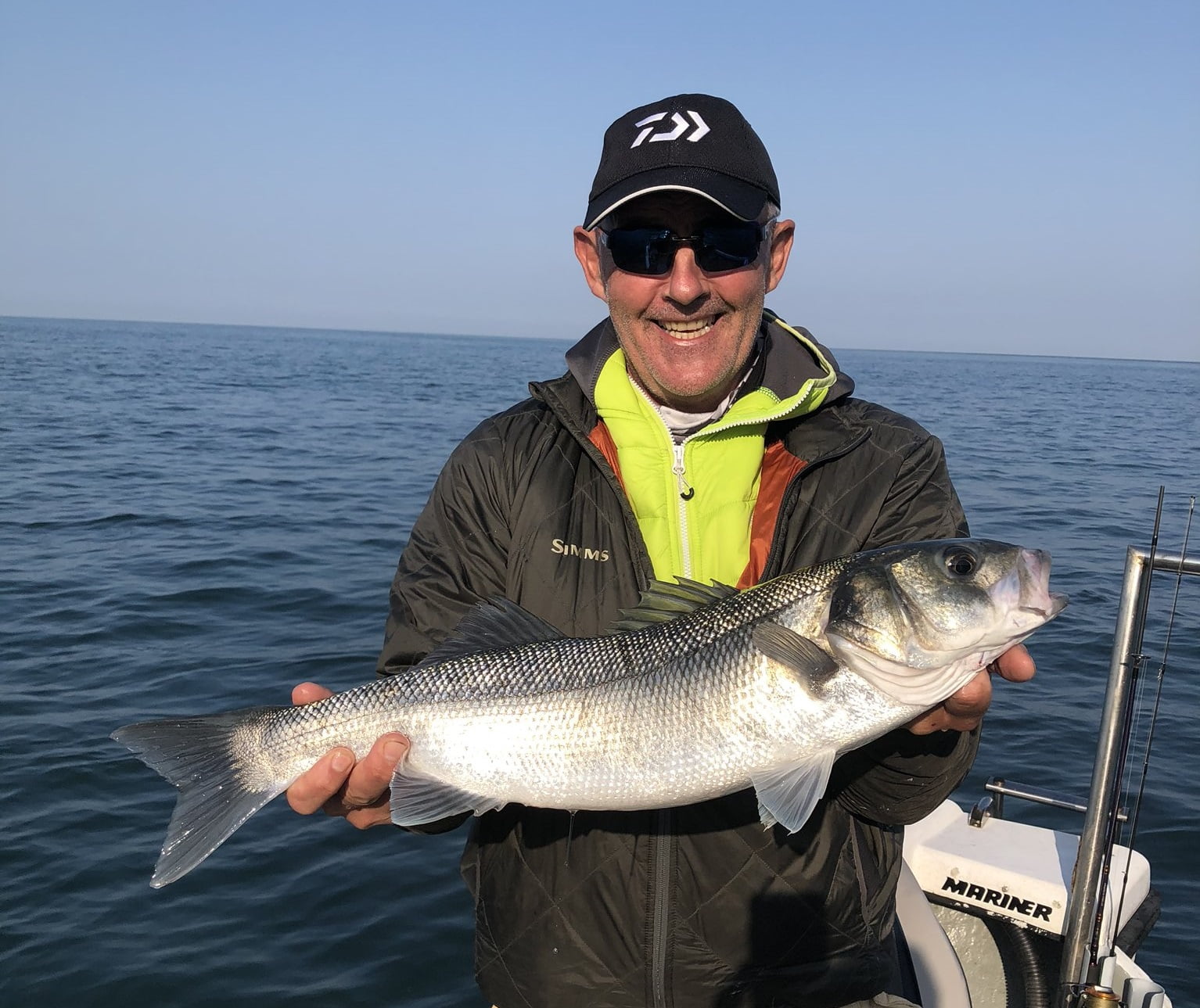 Bass fishing will be getting even better in October – its one of the best months if we have fine weather, so don't hang up your bassing rods yet!!
Wrasse fishing off rock marks can also be good in autumn at this time of year. The lovely fish below was caught by Lloyd P of Garry Evans Tackle in Cardiff on a lure off the Pembroke coast recently.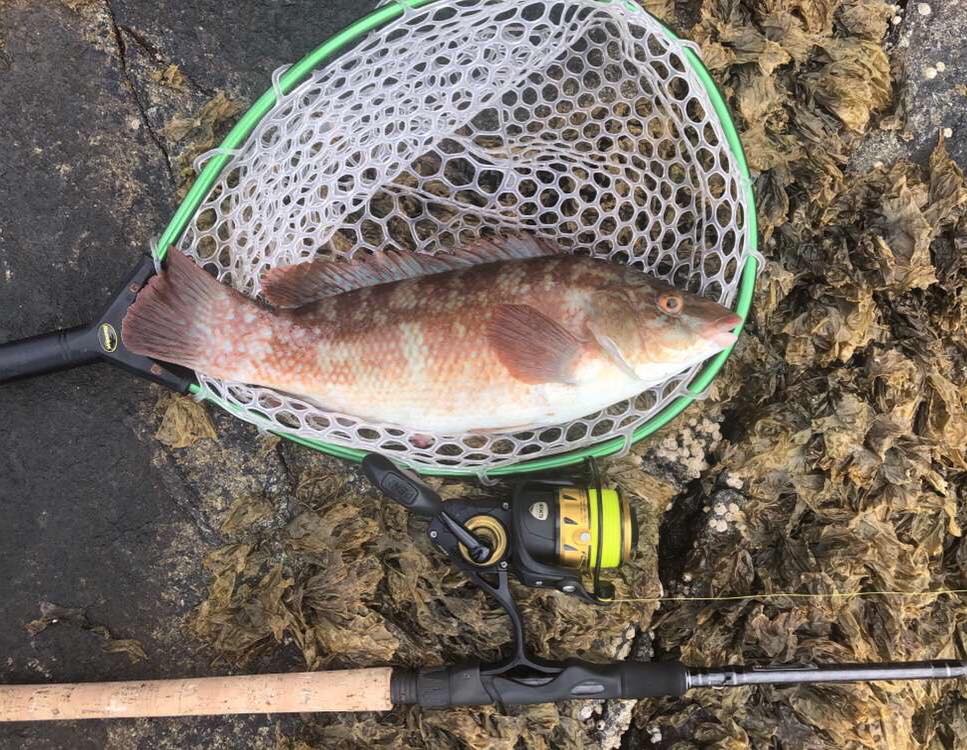 On the mullet front, Anglers such as Darren 'Daz' Jackson have been catching well on the fly and using bread. Check out the lovely mullet below, caught by Daz recently off the coast near Port Talbot, part of a 9 fish haul.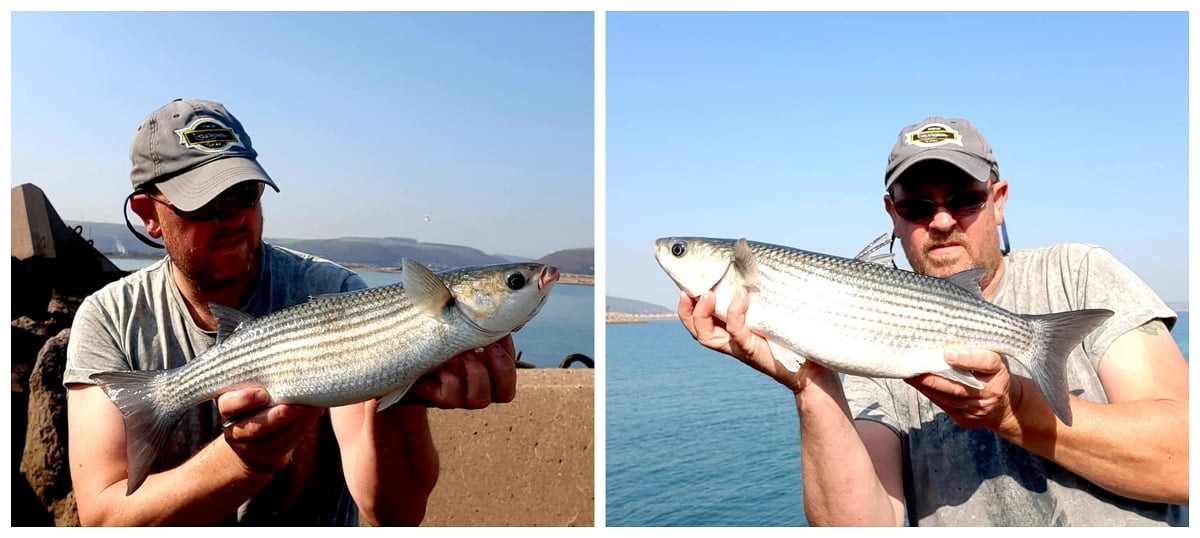 Fishing In Wales - July/August Sea Fishing Report (19/08/2020)
Sea fishing has remained good through July and August – Smooth hounds and rays are still there to be caught in good numbers, especially off the South Wales coast at places like Monknash and Sker point. Best baits  for the hounds are peeler crab, but sandeel and squid will also work.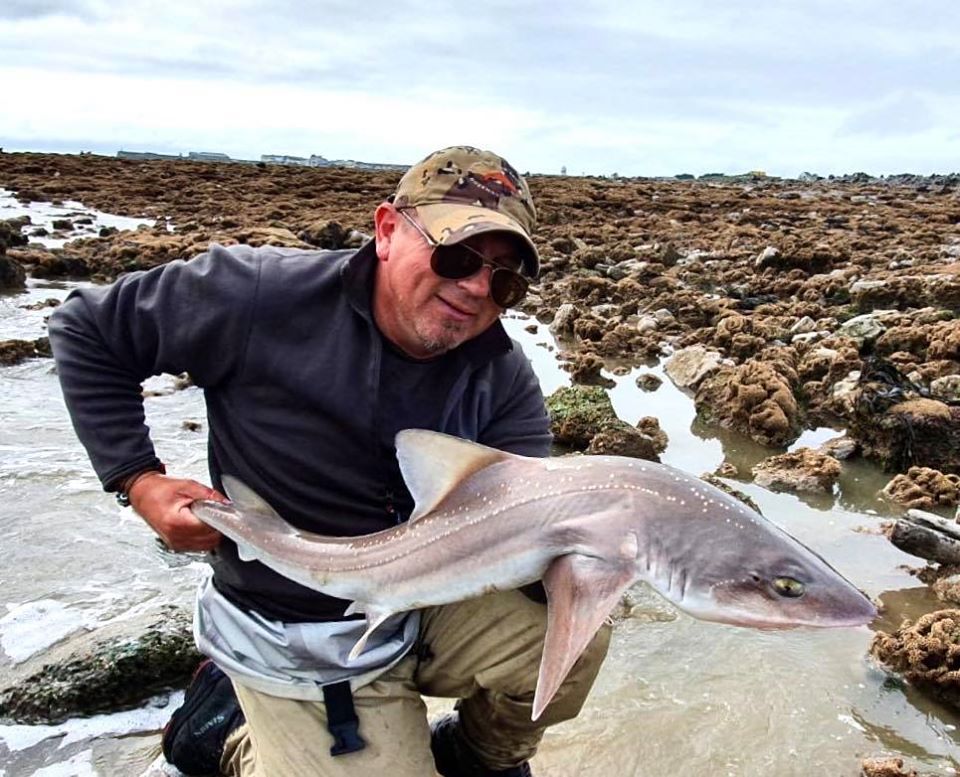 The National Mullet Club held a fish-in at Swansea on 8th and 9th August, which went well with quite a few caught. There do seem to be a few more mullet about this year off the Welsh coast.
Bass are now here in force – they are being caught all over Wales. August is a really good month for them, especially lure and fly fishing whenever the weather is settled. Check out the nice bass below captured by 'Daz' Jackson a Welsh saltwater lure/fly specialist.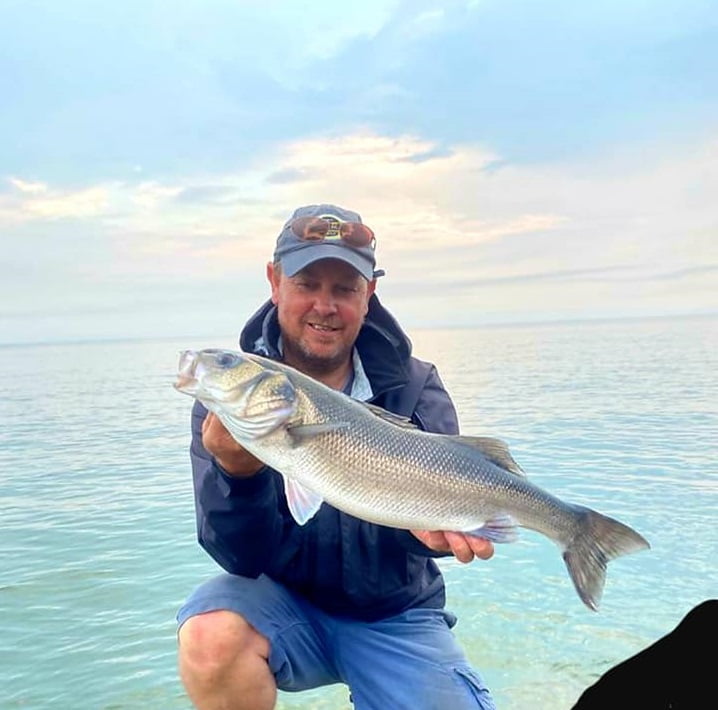 Boat fishing in Wales is now back after a long lay off due to COVID (bear in mind the Welsh Government guidance) Skippers are reporting great catches of mackerel, tope, bream, rays and smooth hound. Look out for a film we made with Epic Fishing Trips Newquay in the near future, we had some great fishing out in Cardigan bay with them.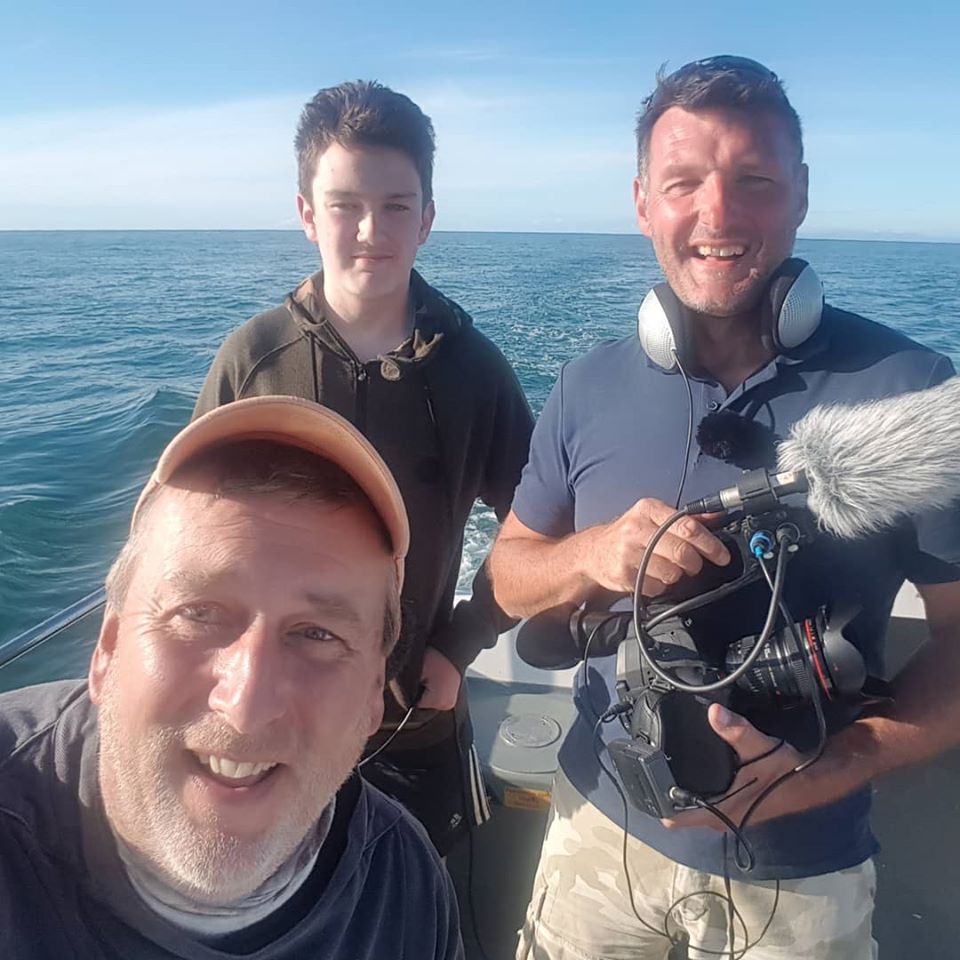 For those with a kayak now is great time to get out and try for the bass. David Hoppe has had some great sport off the North Wales coast recently using flies and lures.