Tope Fishing in Wales: Epic Fishing with Epic Fishing!!
Tope Fishing In Wales: Ceri Thomas reports on tope fishing out of New Quay, where the fishing is simply epic.
New Quay in west Wales is a simply stunning location. Situated between Cardigan and Aberystwyth it's the perfect place to visit for a family holiday, with many amenities locally, including a lovely intimate beach and harbour, with great food and hospitality all located in easy reach.
I've spent a fair amount of time enjoying New Quay's sights and sounds with the family myself over the years, but have never actually fished in the surrounding sea. I'd heard of some fantastic opportunities for numerous marine species, and in particular tope. I had been meaning to tick tope off my bucket list for some time, so when an opportunity arose thanks to a kind invite from Tim Harrison of Epic Fishing Trips it didn't take much persuading for me to head west on a glorious June morning.
After an easy 1 hour 45 minute drive from Cardiff I met up with angling film producer Rob Hughes on New Quay's harbour wall at 9am. The conditions looked fantastic; warm sunshine and light winds greeted us, just perfect for two fair weather sea anglers like us!

In the harbour dolphins jumped and cavorted in the sun, simply amazing to see. I got lucky with the camera and managed to capture an action shot – check out the image below. What a start to the day – and it would get even better.
We were soon joined by Julian Lewis Jones, well known for his acting roles in productions as varied as Torchwood, Aquaman and Invictus, and of course for his many angling productions for TV, including the recent 'Psygod I pawb' for S4C. A patron of the Welsh Federation of Sea Anglers, Julian's foremost passion is sea angling in his home waters of Wales. A vastly experienced saltwater angler, today he was going to help us catch a few tope for the camera.
We would be fishing for the day on Epic Fishing Trips, a clean, modern and professional charter boat run by Tim and his wife Corrine. We were warmly greeted by both of them on the breakwater and helped aboard the boat. After a helpful briefing about the boat and safety procedures we headed out into the inviting crystal-clear waters of Cardigan bay in search of tope.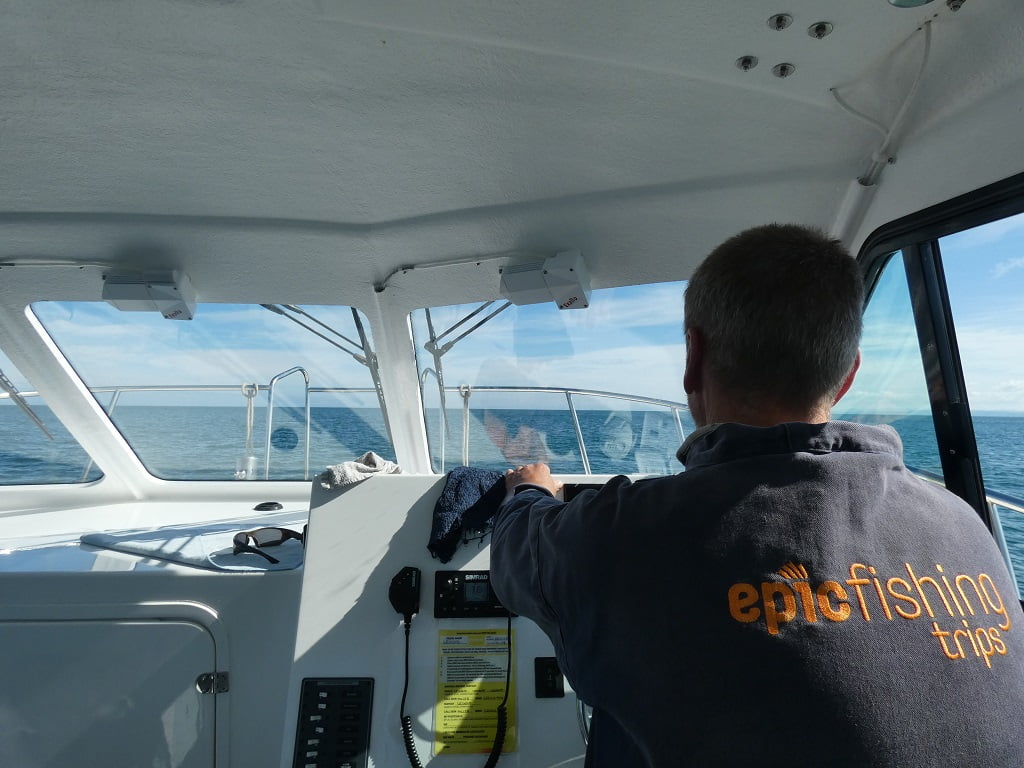 As we journeyed to the first fishing spot it was clear just how organised and efficient Epic Fishing was. All fishing tackle on Epic is supplied – so no need to worry about bringing your own. I could see that the rods and reels provided aboard Epic had been looked after and were all in full working order, with reels topped up with quality line and hooks nice and sharp, with end tackle appropriate for the job.
Our route westwards into Cardigan bay took us out past the gloriously rugged Welsh coastline, with expansive views to Barmouth, Aberdovey, Snowdonia and the Llyn peninsula all within our sights. After about an hour journey we reached our first mark. Tim explained we would catch some bait and also a variety of species just for the fun of it.
Tim drifted us over the mark in search of bream and mackerel, that we would use for bait. A few drops of the feathers and a mixed bag started of species came to the boat – including a lovely cuckoo wrasse for Rob, some nice bream for Jules, plus some poor cod, a miniature species similar to a pouting.
We didn't bring up any mackerel on this spot (Tope's favourite food) but thankfully Tim had a good stash of frozen bait on board.

Soon it was time to rig up for the tope, with big circle hooks and super-strong hard-mono traces the order of the day. The beauty of fishing with an experienced Skipper like Tim is that everything can be done for you if you wish – from rigging up to bait presentation, Tim will ensure you get it right.
With much anticipation we lowered our tope rigs into the sea and set out the reels with the ratchet on. Tim explained that tope will pick up the bait and then run with it. If they feel a resistance, they are liable to drop the bait, so the drag must be set to allow free running without the line over spilling. Once the fish has made a confident run and can be considered 'on' it's then a case of tightening up so the circle hooks can find its mark in the corner of the fishes mouth.
It wasn't long before the action started – Julian's reel started to scream and he picked the rod up. The fish tore line off with a rate of knots, but when the line was tightened, the fish felt it came off! Amazingly the tope followed the bait back to us on the retrieve and then circled the back of the boat in plain view. It took again as Julian held his nerve and let the bait sink back down. The fish ran hard, but once again came off! Three times more this happened, very cagey behaviour for tope but extremely exciting nevertheless.
With all the missed runs, Tim decided to take us to another spot, just 2 miles away. This he told us was a great mark and he wasn't wrong. From the off things started to happen, with the first tope falling to one of Jules rods. It was a great fish well over 20lb.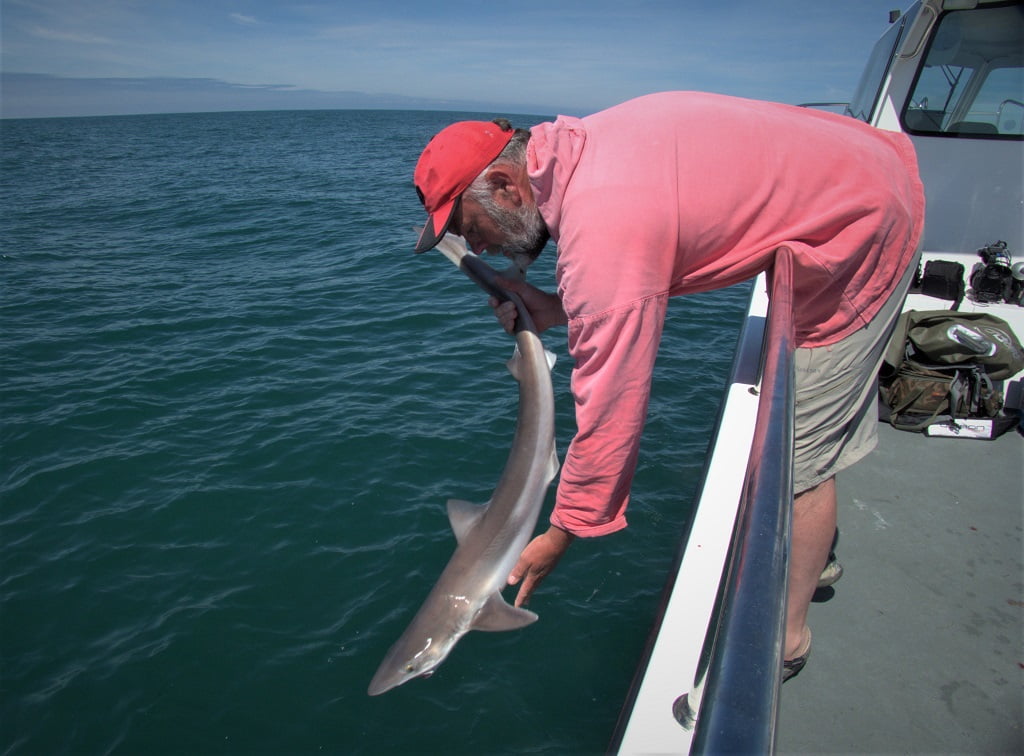 The action carried on thick and fast – with several tope hitting the boat in quick order. Myself and Rob experienced a run and had our first tope each, both of which were well within the 30lb+ class. I have to say it was one of the hardest fighting fish I'd come across, especially with the tide running fast.
Tope are incredibly powerful and need to be played with care; unlike a lot of sea species they go like express trains! It was a real team effort to get them into the boat, but with Tim on hand to expertly land them there were no tangles or dramas, just adrenaline and excitement.
Joining in on the action were many large bull-huss – basically a giant dogfish, or more correctly the greater spotted dogfish – as opposed to the lesser spotted variety. Unlike tope the bites were slower and more plodding, but exciting even so. We had some really big ones, including a real monster to one of Julian's rods – estimated at 16lb+ it was a new PB for him.
With so much action it could easily have descended into chaos, but with a skipper like Tim everything was kept organised and calm, with everyone working together to clear the decks and reel up the other rods as soon a fish was hooked. Great teamwork and full credit to Tim's professionalism.
Rob even had a try with a carp rod – and succeeded, despite the fish taking him to 150 yards in several powerful runs. Thankfully with the fish under control, after 10 minutes a fit and healthy 40lb tope came to the boat for a quick photo, great sport on light tackle.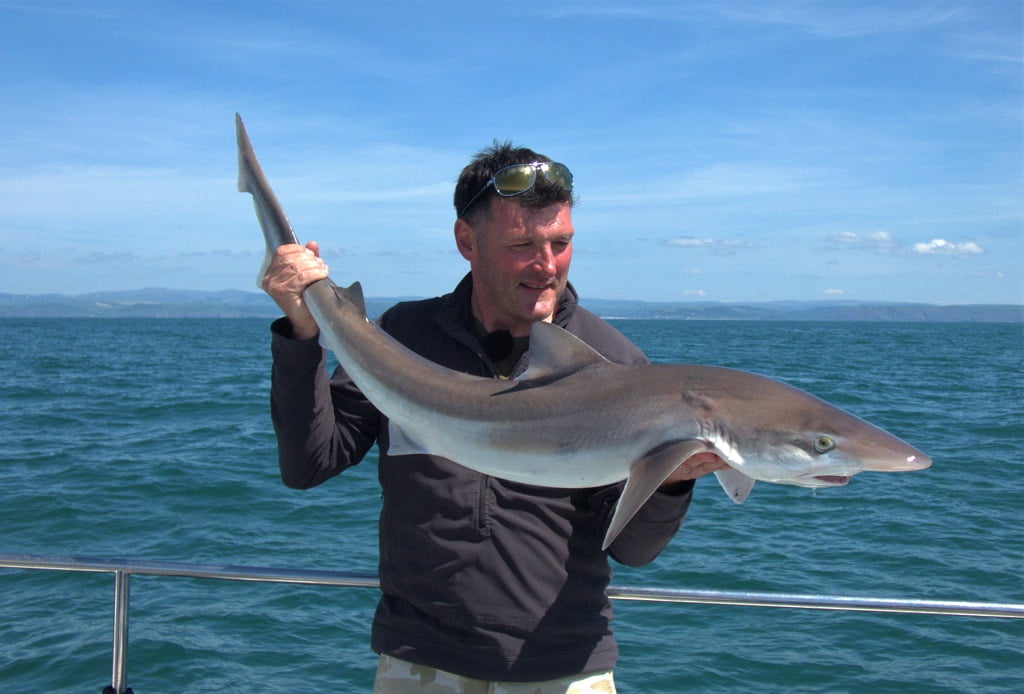 Not long after, there was an almighty scream of a ratchet at the far end of the boat. Jules picked up his rod once again – another tope was on and running hard and fast. After several minutes of battling the fish to the boat, Tim worked his magic again and got the fish aboard safely. This one the biggest one yet! Julian posed for a quick pic – it was a truly mighty fish and another new PB for him, estimated weight of 50lb plus. Da iawn Jules!!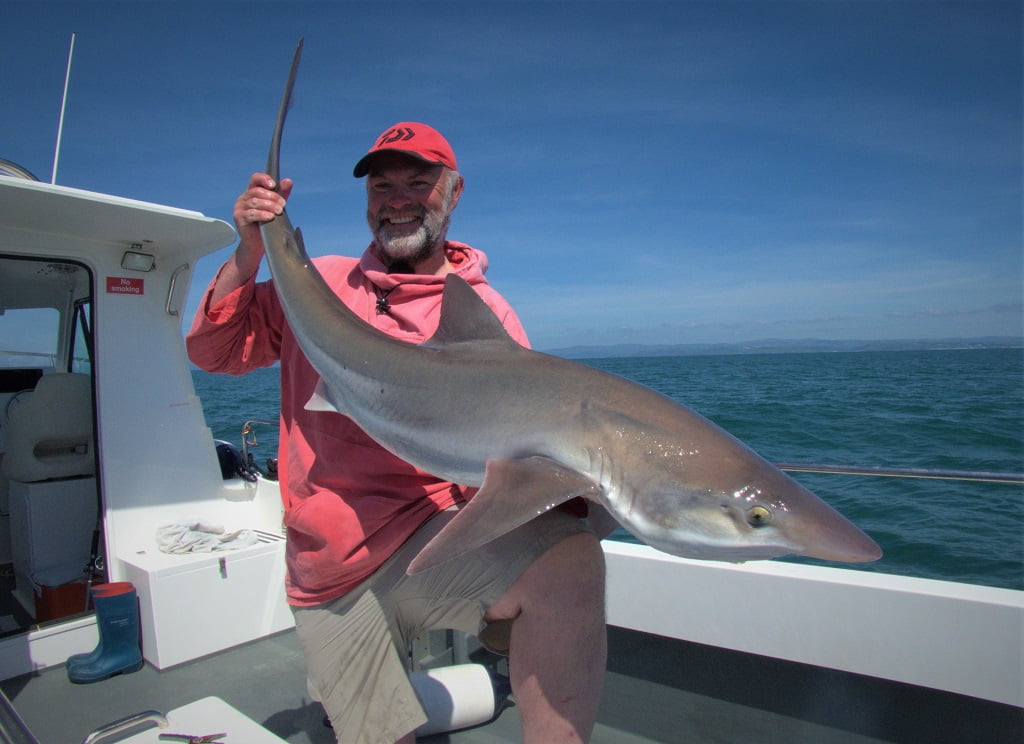 Time flies when you are having fun and eventually it was time to head back in. It had been a proper fun day out; with great company, wonderful weather and an experienced skipper who knew exactly where and how to get us into the fish. Just perfect!
On our way in we reflected on the action – we'd landed 7 good tope, with many more runs and missed bites adding to the fun. With the bull-huss and other species thrown into the mix, it was truly excellent sport and a real testament to the quality of the fishing that we have here in Wales.
I'd highly recommend Epic Fishing's services to any angler; whether you enjoy coarse, game or sea, are a beginner, or indeed a seasoned angler looking for a new experience. Whatever your skill level you will be in great hands with Tim. I'm looking forward to the next trip already!

Words & Images: Ceri Thomas

You can book a tope fishing trip in Wales with Epic Fishing here.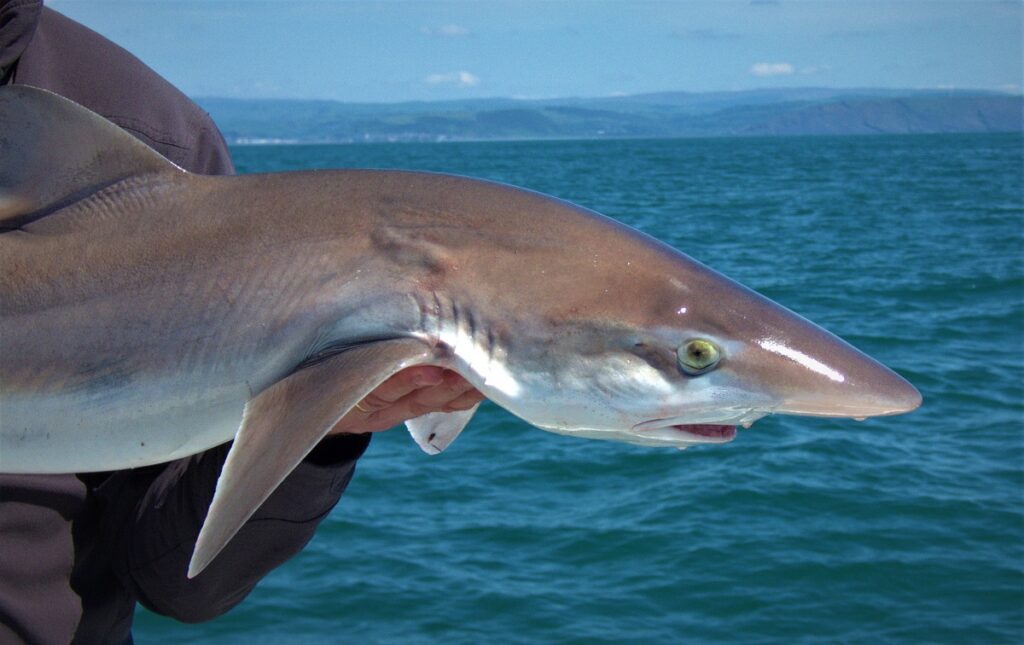 YouTube Channel
Did you know Fishing in Wales has a YouTube channel?? With over 40 game, coarse and sea fishing videos ready to watch, we will be uploading many more videos showcasing the best of Welsh angling over the coming months. So why not SUBSCRIBE HERE to keep up to date with video content as it lands…