Wrasse fishing In Wales
Dave Lewis regales on the joys of Wrasse fishing around the Welsh coastline and shares tackle and techniques required for catching this bold and beautiful species.
There's no finer way for the shore bound holiday angler to enjoy a couple of hours sport on a baking hot summers afternoon than sat on a remote and rarely fished rock headland while fishing for gloriously coloured wrasse amidst deep kelp filled gullies, gullies that surge with gin clear water straight out of the Atlantic.
The Welsh coastline boasts many such rock fishing venues, venues that arguably offer some of the finest summer rock fishing you'll find anywhere in the UK.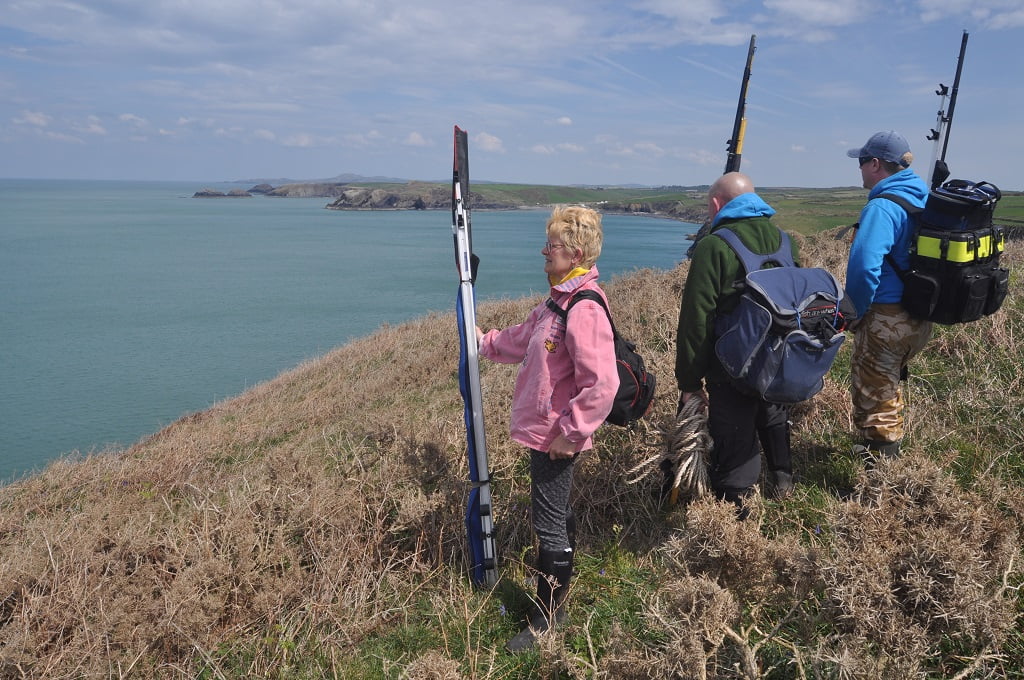 Where to find Wrasse?
Big, bold and beautifully marked, ballan wrasse are a species that are more than capable of putting a satisfying bend in even the beefiest of fishing rods, and unlike so many other species, bright sunshine and clear water are absolutely perfect conditions to fish for them.
Key components for a productive 'wrasse hole' are relatively deep and preferably clear water, which can often be found within easy casting range. The magnificent Pembrokeshire coastline perfectly meets this criteria, especially the area around St David's.
Located a short drive out of St David's, Whitesand Bay is a classic surf beach that is noted for producing bass. Park at the beach car park and follow the Pembrokeshire coastal path for a short distance and you'll soon find a series of comfortable rock ledges that following a bit of a slide and scramble (though not especially difficult climb down) are easily accessed and comfortable to fish from.

Wrasse fishing rigs
Now let's be totally honest here, if you are the sort of angler who cringes every time you lose a terminal rig, then in all honesty wrasse fishing is probably not for you. If you are not regularly getting hung up and snagged on rocks and kelp, then you are not fishing in the right place for wrasse, but the quality of sport on offer more than compensates for a few lost terminal rigs. That said, fishing for wrasse from the shore is as difficult or as easy as you wish to make it, and I am of the firm opinion that the easier you keep things the better.
There are all manner of different types of terminal rig you can use that are specifically designed for rough ground fishing, all of which will no doubt incorporate some form of rotten bottom rig that hopefully will result in just the loss of the lead whenever you get snagged.
The golden rule with all rough ground rigs, be they paternoster, pulley or straight forward running leger, is that they should be tied using the minimum of components. The more swivels, booms, links, bait clips and other fancy injection moulded gizmo's you use, then the more likely you'll get snagged, and the more your wallet will hurt each time you break off another rig.

Perhaps the most functional, straightforward and cost effective rig a holiday angler can use for wrasse is one of the many types of three to six hook 'mackerel rigs' that are widely available in shops at most coastal towns and villages. These are cheap, effective and in addition for catching mackerel they are great for catching wrasse and pollack, and a wide range of other species too.
Wrasse fishing bait and technique
Throughout much of the country crab, either peeler or hardback, is the bait of choice for the rock fishing wrasse specialist, but not here in West Wales. Over the years I have fished this area for wrasse on many occasions, often in the company of very successful local anglers, every one of whom has unanimously confirmed that hereabouts king ragworm is the number one bait of choice for wrasse.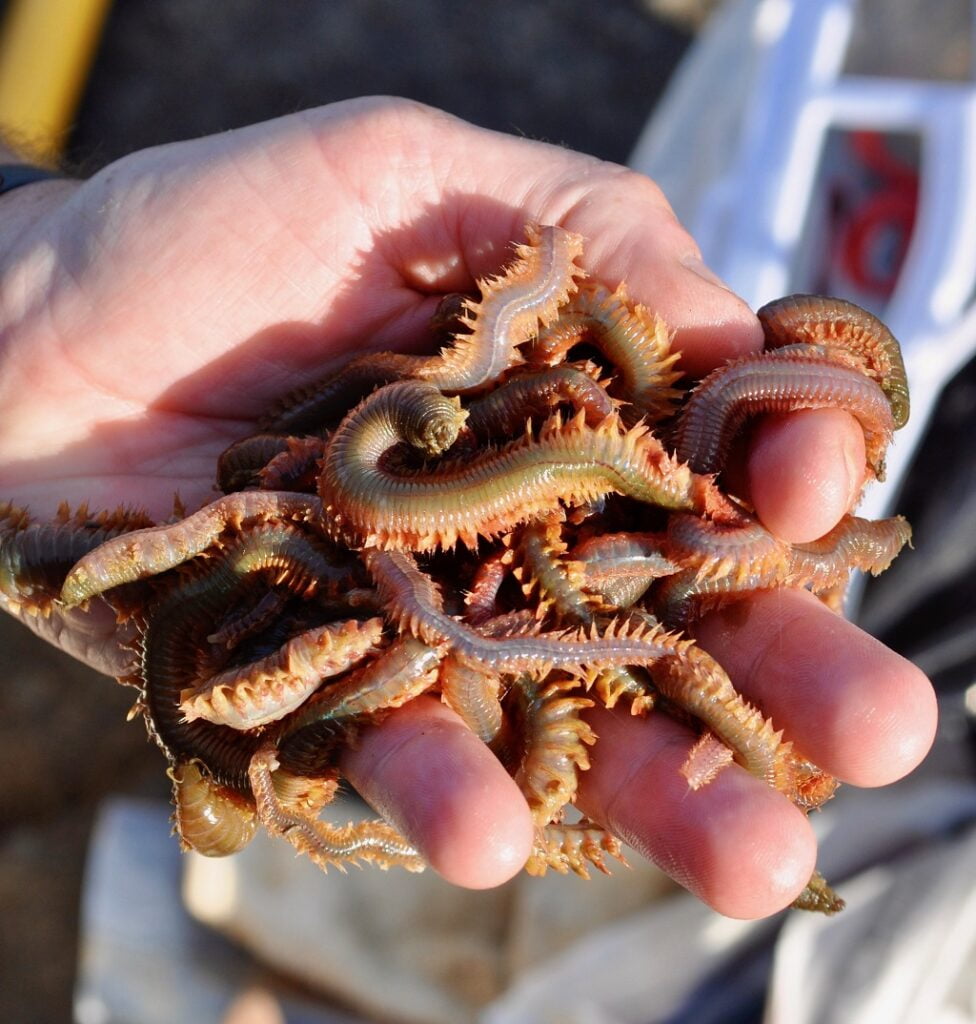 The actual technique of catching wrasse from the shore could not be easier. Simply bait each hook of your chosen rig with a worm and lob it out in front of you, ideally into any kelp filled gullies or other obvious deeper holes. At some marks of the deeper venues simply dropping straight down below the rod tip will produce fish.
Wrasse bites are far from subtle rod wrenching affairs, so it is advisable to hold your rod! Set the hook by lifting firmly as soon as you feel a bite, then immediately wrestle the fish out into open water. Failing to do this will invariably result in the fish finding secure sanctuary within the rocks or fronds of kelp.
Wrasse in south-west Wales regularly top 4lb, which is a superb fish for any angler to catch from the shore. In addition to ballan wrasse you can occasionally catch an exquisitely coloured cuckoo wrasse. Wrasse are generally regarded as being inedible please ensure you release your fish as soon as possible. Other species you might encounter fishing here during the summer month include pollack, mackerel, garfish, conger eel, dogfish and huss.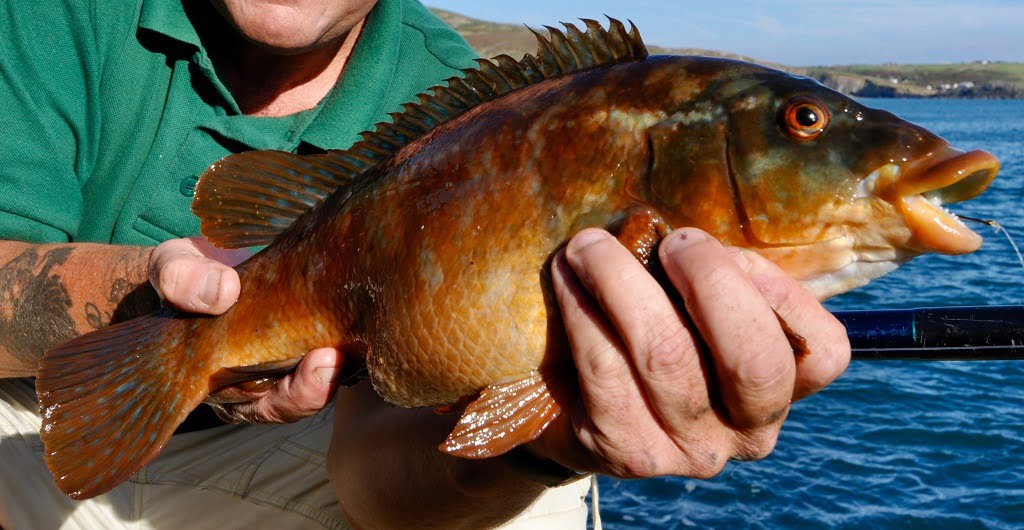 Scaling down and using smaller hooks, again baited with ragworm, will produce corkwing, goldsinny and rock cook wrasse, along with a plethora of other species.
Safety first
Take extra care whenever fishing from exposed rock marks, especially following rain when many venues can become very slippery. Be sure to wear suitable footwear such as a pair of walking boots, and until you get to know an area stick to the more accessible venues. All rock marks should be avoided whenever there is any onshore wind or swell, and be careful not to get cut off on exposed rock outcrops by a flooding tide. Ideally fish with another angler or two, but at the very least make sure somebody knows exactly where you intend to fish, and when you expect to return.
Directions

To fish the area drive into St David's then follow the signs for Whitesand Bay where you'll find a car park with a nominal daily charge. Follow the coastal path until you find a likely looking, accessible spot, and its odds on you'll not have to wait long for the first wrasse to bounce your rod tip!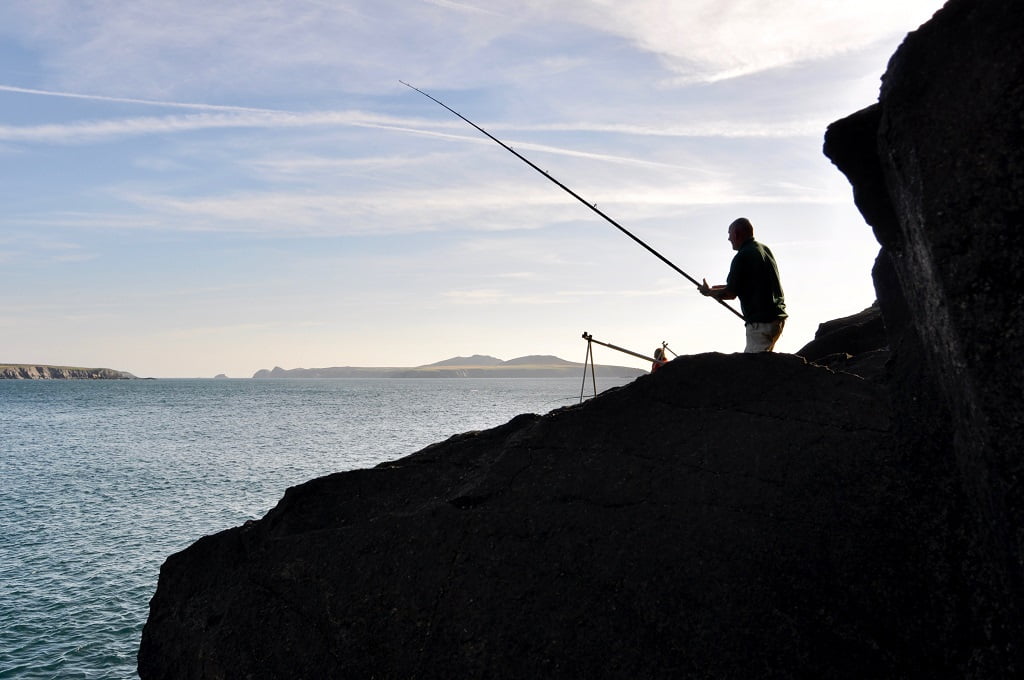 This feature was originally published in the 'Wild Fishing Wales E-Zine'. Reproduced with permission of NRW.
Words & Images by: Dave Lewis