Long Weekend Fishing Breaks in Wales – Fly, Coarse & Sea Adventures!
Wales is the perfect place to head for a short fishing staycation, especially for a long weekend with friends, or as part of a family getaway, where you can easily fit a few days fishing into a holiday.
Wales is easily accessible from all parts of England and has an abundance of fishing opportunities for game, sea and coarse anglers, always in breath-taking scenery. If you live in Wales then visiting another part of Wales for a change is a great option – there's just so much variety here for any type of angling.
In this article we take a look at three 'long weekend' options for fly, sea and coarse anglers.

Spring – Wild trout fishing in the Brecon Beacons
Some of the best wild trout fishing in Wales can be found in the Brecon Beacons and neighbouring Black Mountains. Here several iconic Welsh rivers provide superb habitat for brown trout, with the added attraction of over a dozen trout reservoirs in the vicinity. May must be the best all-round month to visit this part of Wales, but April and June can also be excellent.
Day 1 – River Usk
Day 2 – Talybont reservoir
Day 3 – River Monnow
Day 1 – The Usk: Quite rightly one of the most famous Welsh trout rivers, the beautiful Usk is in its prime in spring. Expect to catch distinctive heavily spotted brown trout averaging nearly 1lb, with fish of 2 to 3lb a real possibility. It's well worth booking an exclusive beat of the Usk through the Fishing Passport, which is linked to the Fishing in Wales 'Book Fishing' page. These beats are often quite underfished with the potential for some big trout. There are also plentiful angling club options available, such as Merthyr Tydfil AA, Gwent AS, Brecon Town and Usk Town, all of which represent great value.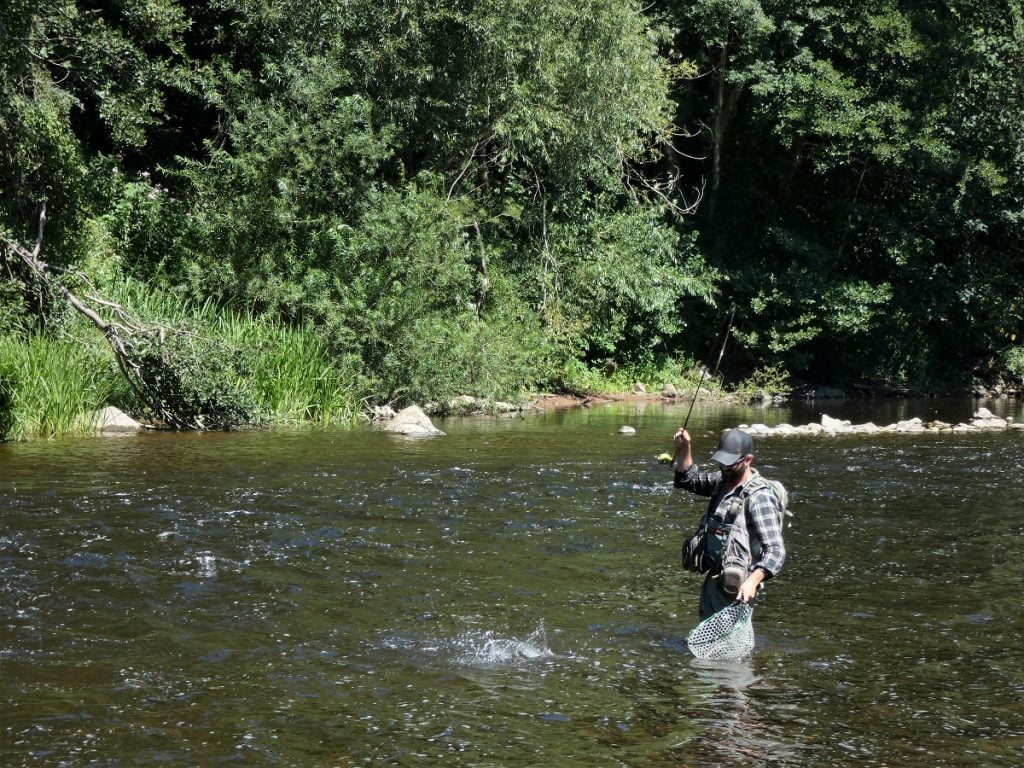 Day 2 – Talybont reservoir: Tal-y-bont is one of many excellent reservoirs in the Brecon Beacons and can be considered the crown jewel. At over 300 acres this reservoir has free rising golden wild brown trout of a high average size. The lake record is said to be 14lb landed by a European tourist some years ago. The best times are early morning and evening, or on a windy overcast day, 'cast and step' loch style with traditional patterns will work well. Day ticket fishing can be booked online with the Fishing Passport.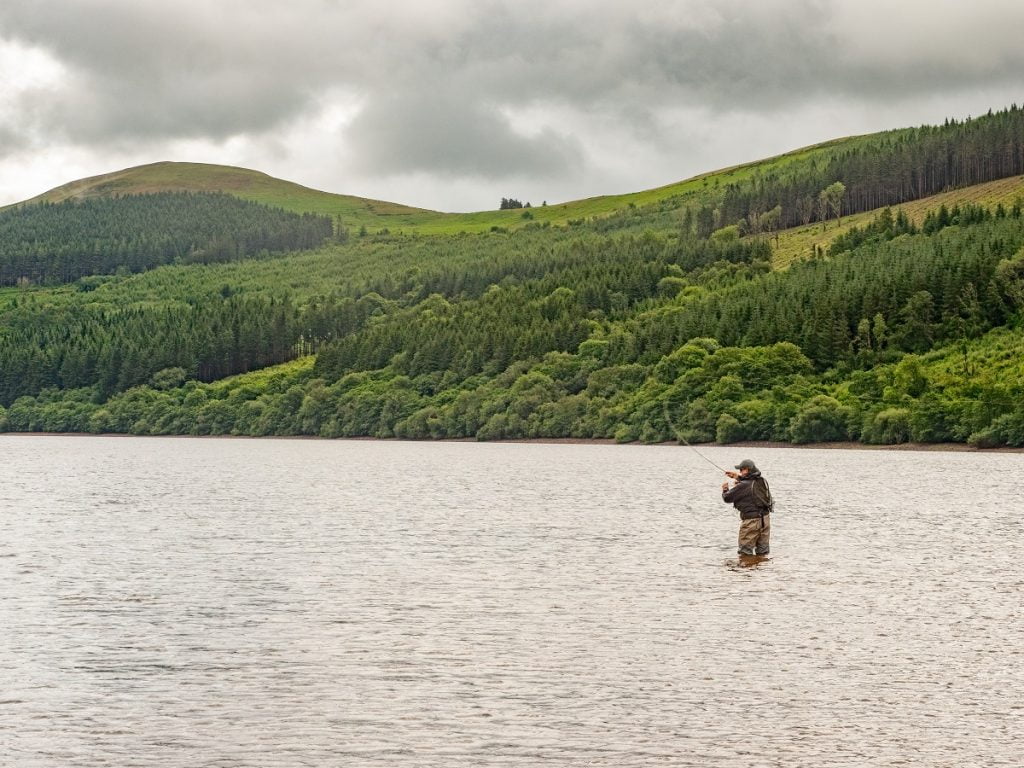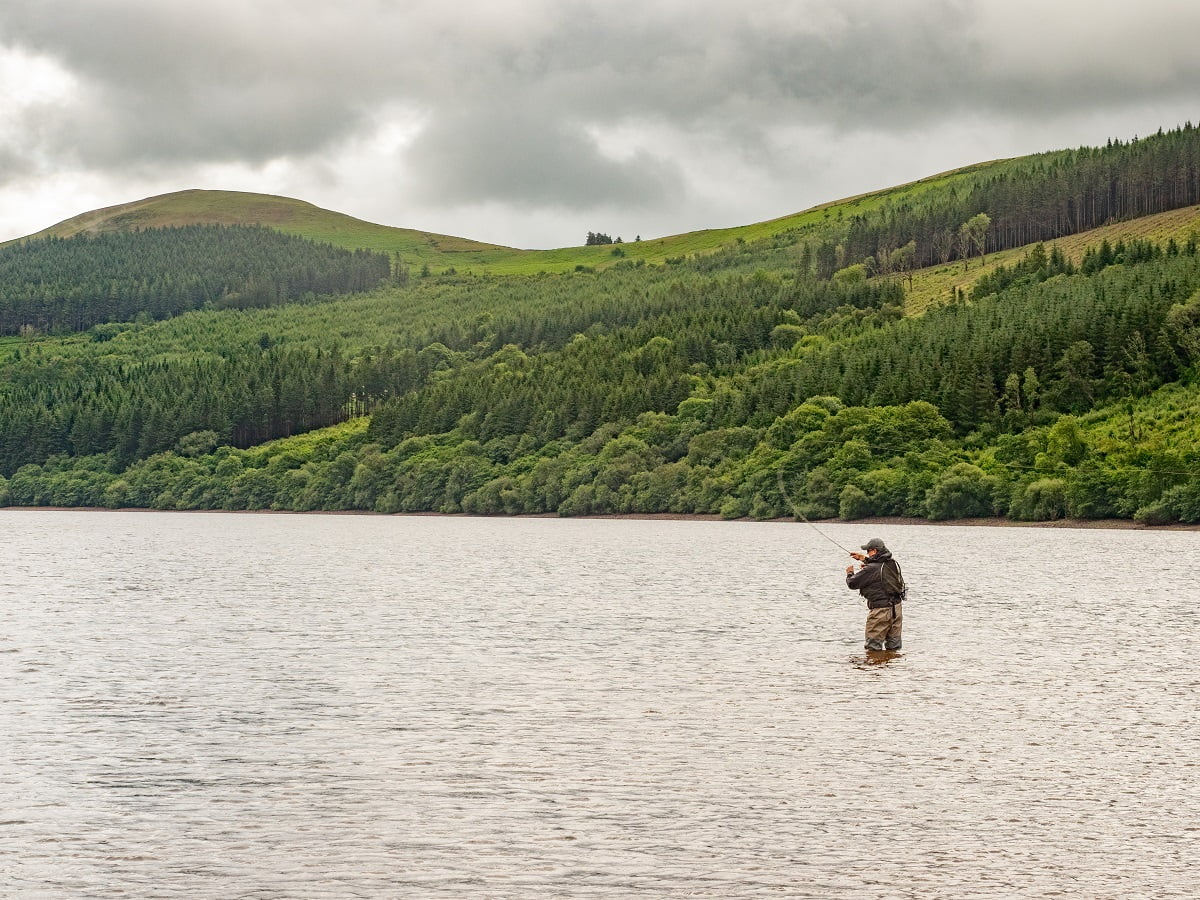 Day 3 – The Monnow: Forming the border between England and Wales for most of its length the Monnow offers fantastic wild trout fishing. And you'll struggle to find a prettier river anywhere. This tributary of the Wye has ample fish holding pools, riffles and in-stream cover. The river has been enhanced further by the hard work of the Monnow Rivers Association making it a first-class trout fishery. The Monnow has been a 'closed shop' until fairly recently, but there are excellent stretches now available on the Fishing Passport, who offer 'Wild Stream' beats on the upper river plus several premium beats lower down such as Skenfrith. Welsh angling clubs such as Gwent Angling Society, Glamorgan Anglers and Monmouth ADAS also have good stretches that are worth fishing at mayfly time.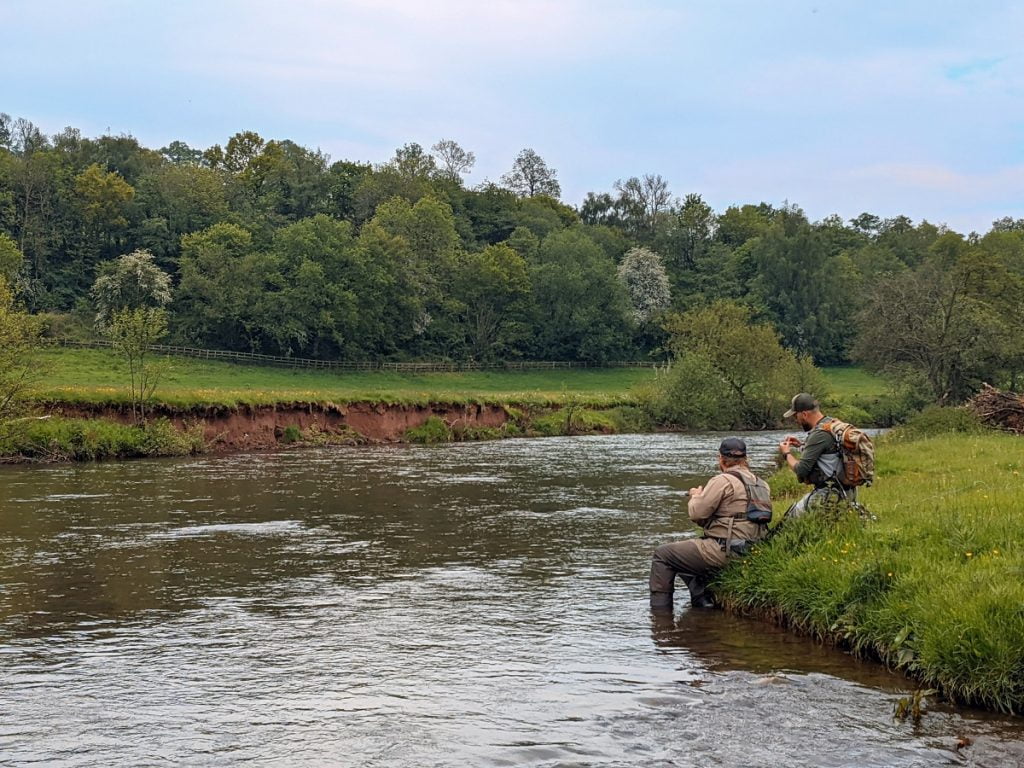 Where to stay:
Why not base yourself in a grand country hotel such as Glanusk Estate for the ultimate luxury fishing break? Alternatively, you could go camping and enjoy a budget friendly weekend; there are plenty of inexpensive camp sites in the area. In the middle ground there are numerous B&B's and guest houses around Brecon and Abergavenny, which offer hospitality and food at reasonable cost.
What to bring:
A 9'' #5 fly rod with a floating line will do it all. For dry fly on the river to fishing wet flies on the reservoirs. Waders (preferably breathable) are another essential. For the rivers bring dry flies imitating various upwing species, including olives, brook duns and mayfly. A Selection of weighted nymphs is also a must. For Talybont bring Traditional wet flies, generalist dry flies and small dark lures.
Summer – Sea Fishing adventure in west Wales
Surrounded on three sides by the ocean Wales has wonderful sea fishing almost everywhere you go, but west Wales is one of the prime spots, where sea fishing can be enjoyed as part of a family friendly break.
Day 1 – Tenby Mackerel fishing
Day 2 – Bass fishing Pembrokeshire
Day 3 – Charter boat fishing, tope or blue shark in the Celtic deeps
Day 1 – Mackerel Fishing Tenby: What better way to spend a day out with the family than mackerel fishing? Tenby is a wonderful place to come for a fun mackerel trip, with several charter boats offering great value trips from the easily accessible harbour. And after a successful few hours feathering Tenby is a lovely place to unwind and enjoy some great pub food and a pristine beach.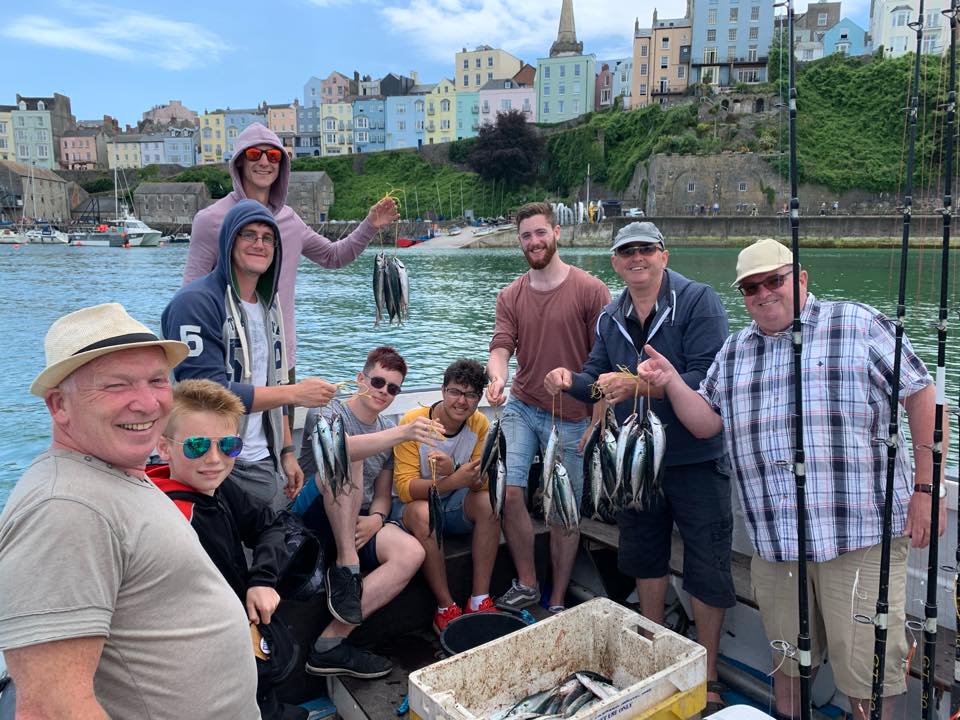 Day 2- Bass Fishing Pembrokeshire: The dramatic Pembrokeshire coast is one of the best bass fishing spots in the UK, especially favoured by lure anglers thanks to its crystal-clear waters. There are many productive bass marks to choose from around St David's, Dale, and Newgale – to name but a few, but hiring a bass guide for a day is often the best way to enjoy some fabulous fishing. For a list of guides head to the dedicated Fishing In Wales page.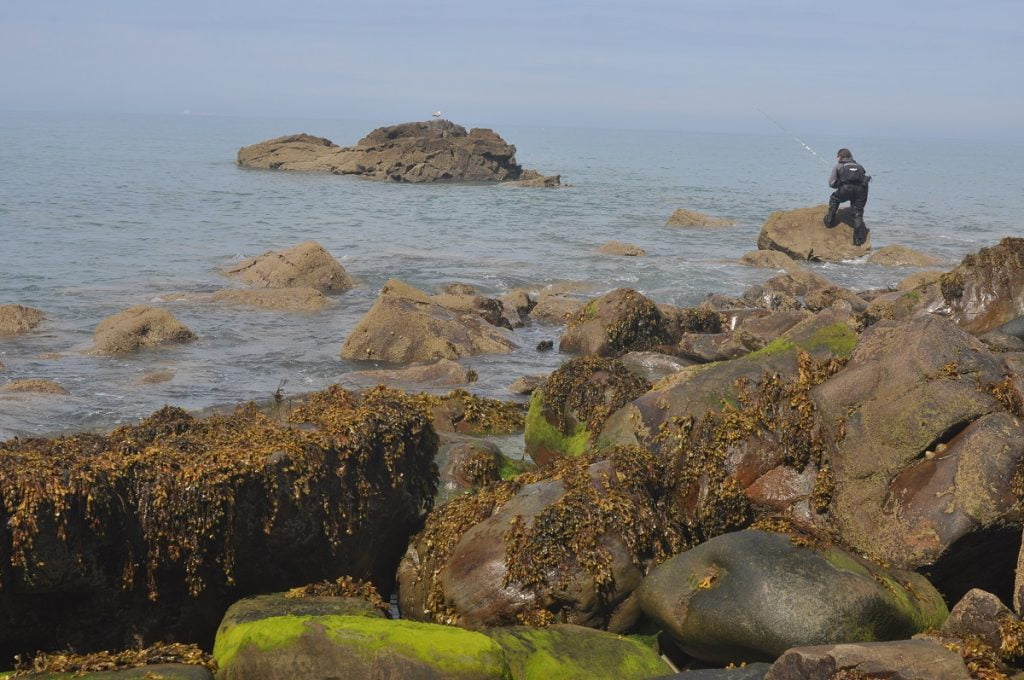 Day 3 – Charter boat sport fishing: West Wales has fantastic charter boat fishing from coastal towns such as New Quay, Milford Haven, St David's and Pembroke dock. A day on the tope is highly recommended – these hard fighting fish are plentiful in early summer and action can be fast and furious. West Wales is also a premier spot for shark fishing – late summer offers incredible fishing in the Celtic deeps for blue and porbeagle shark, no need to head abroad for that big fish thrill!! There are many other species to try for on a west Wales charter, including bull-huss, bream, pollack and coalfish.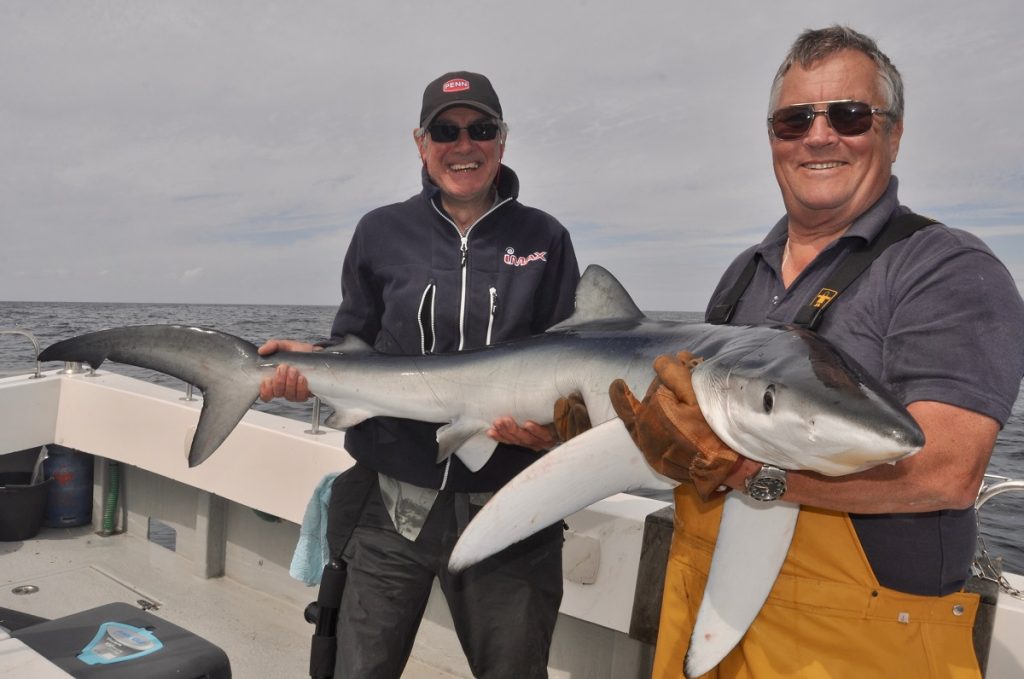 Where to stay:
West Wales has just so many options, with caravan parks galore, campsites, B&B's and of course plenty of holiday cottages to choose from. The towns of New Quay (below), Haverfordwest, Narberth, Saundersfoot and Cardigan are all within easy reach of great sea fishing. The Visit Wales website is the best place to head for accommodation options in the area.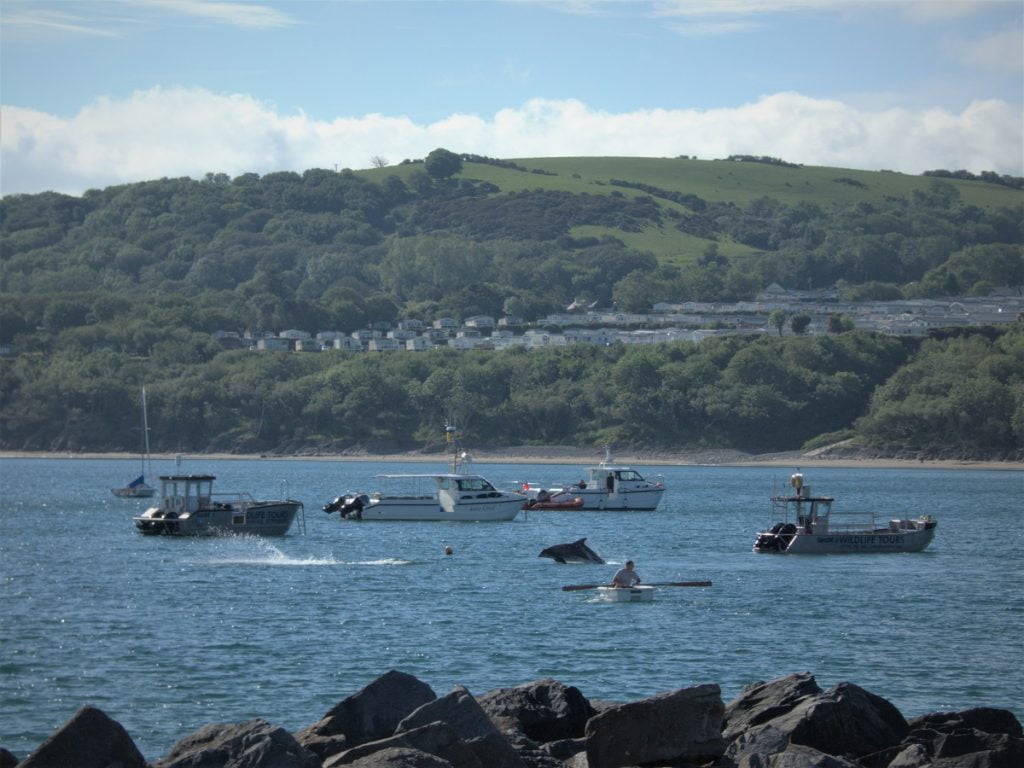 What to bring:
The beauty of sea fishing in Wales is that you don't have to bring a lot! Charter boats can supply all of the tackle as part of the package – whether its for shark or mackerel, a good skipper will have everything covered. If you must bring something, an 8 to 10 foot spinning rod and a reel fitted with 12lb mono will do the job for bass, plus a basic selection of lures including tobies, dexter wedges and sand-eel soft plastics. But that's just an option – if you hire a bass fishing guide all the kit can usually be supplied.
Autumn – Coarse fishing in the Wye valley
As the mellow days of autumn draw in, where better to spend a long weekend than in the tranquil Wye valley or on one of its many tributaries? A truly stunning time of year when the quality of the fishing compliments the scenery.
Day 1 – Wye barbel fishing
Day 2 – Wye Pike fishing
Day 3 – Trotting on the Irfon for grayling
Day 1- Wye Barbel Fishing: Autumn can be a great time for barbel on the Wye. Whether it's float fishing with luncheon meat or fishing a cage feeder and pellet, barbel feed hard in the autumn and fight hard too. Barbel can be found throughout the Wye from Erwood to Tintern, the average size is typically 5 to 8lb, with plenty of them. Double figure fish are becoming more common each year. The Wye around Monmouth and at Symonds Yat gorge is particularly scenic with brilliant fishing, there are many options here including Adam Fishers Angling Dream's and club waters, which include Monmouth ADAS, Glamorgan Anglers, Newport AA, Redbrook AC and Caerphilly AA. You'll most likely run into a sizable bonus chub when barbel fishing – 3 to 5lb chub are commonplace.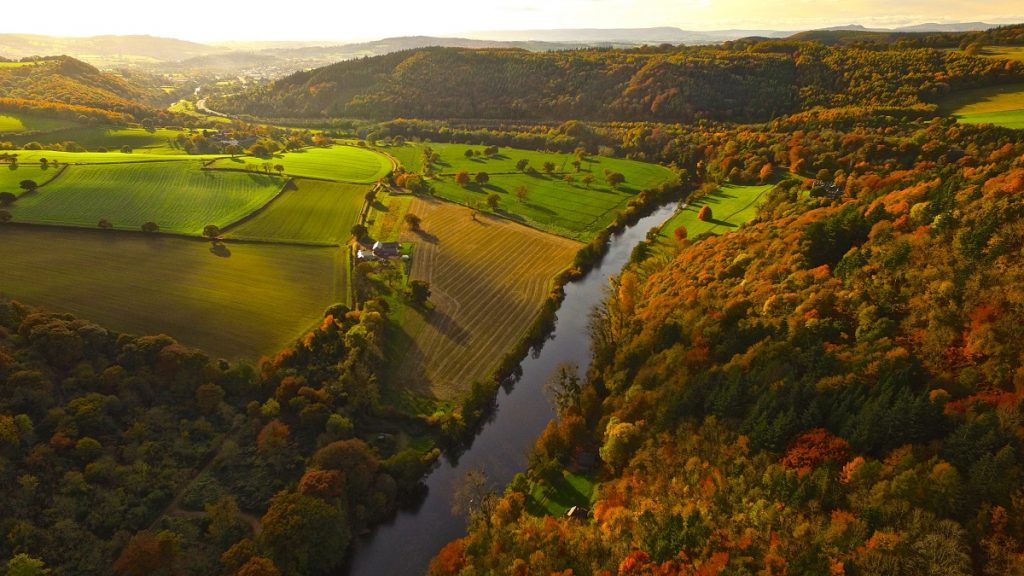 Day 2- Pike Fishing: The Wye is famed for big pike, with doubles and 20's regularly reported. Fish into the 30's are not unknown, with the Wye record being a creditable 39lb. With falling temperatures, the big girls come out to feed from October onwards. As mentioned above, around Monmouth is a good place to start, you'll find pike on many of the beats that hold barbel, just look for deeper, slack water with plenty of cover. A roving approach will pay dividends, drop a float fished sardine or herring into likely areas. Your reward could be a fighting fit 20lb plus river pike.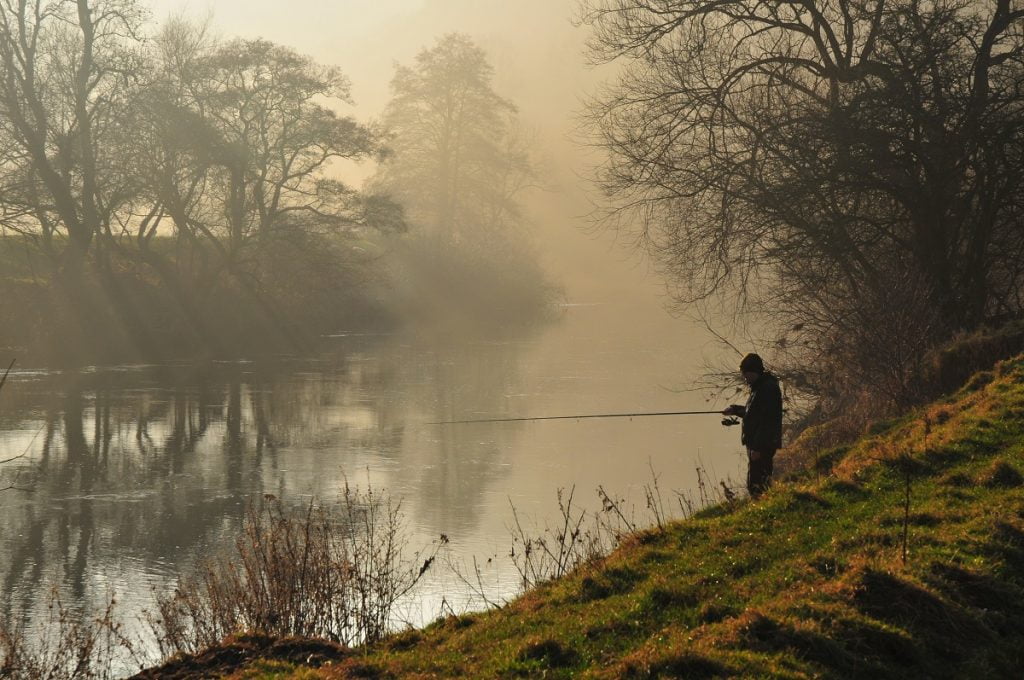 Day 3 – Trotting for grayling: The Wye catchment has some wonderful grayling fishing, and the Irfon must be the jewel in the crown, running through ancient woodland for the most part. Autumn is a prime time for grayling and the prettiest season to fish for them. Trotting a float is a fabulous method for grayling, simple and enjoyable. There are many beats on the Fishing Passport that offer grayling fishing, and these can be booked online. Other fisheries include the Groe Park & Irfon Angling Club at Builth Wells and the Cammarch Hotel stretches at Llangammarch Wells.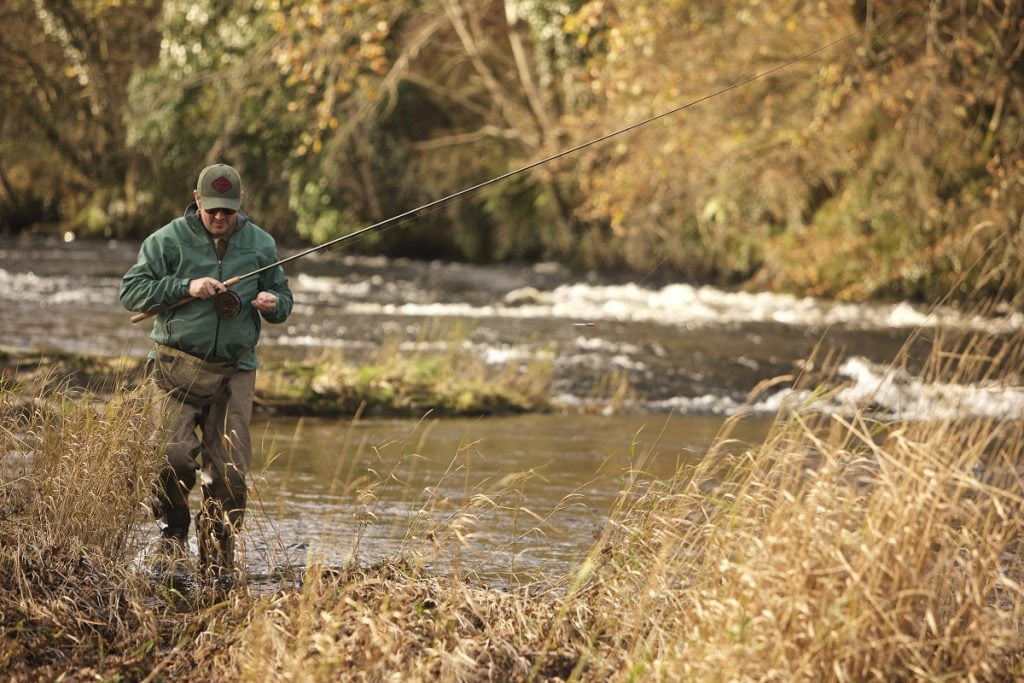 Where to stay:
Monmouth is a good base for fishing on the lower Wye and for an excursion to the tributaries. The area has hotels and guest houses in abundance. You can also find several caravan, camping and glamping sites locally, and many eateries and riverside pubs to relax in after a day on the water.
What to bring:
For barbel (and chub) an 11 or 12 foot specimen rod rated from 1.5lb to 2lb Test plus a baitrunner reel fitted with 12lb mono will be fine. Bait should include tinned meat and fish-based pellets. For pike, a 10 foot rod of 2.5lb to 3lb TC is ideal for float ledgering on the move, sardine is the favourite bait. In either case, ensure you bring banks sticks, unhooking mat, forceps and a 42'' landing net with a long handle. For grayling, a lightweight 12 foot float rod and a centrepin reel fitted with 4lb line will be a pleasure to fish with, using a wire stemmed avon float. For bait maggots or brandling worms will do the trick. A set of waders will come in handy – especially for trotting.
Further reading
In this feature we've barely scratched the surface – the possibilities in Wales are endless – from the llyn fishing in Snowdonia, the Glamorganshire coast and the rivers of Ceredigion, to the sea fishing off Anglesey and the llŷn peninsula – there is just so much to explore.
For more information take a look through the 'Fishing In Wales' website where you'll find everything you need to know about angling in Wales.
Words: Ceri Thomas
Images: Dave Lewis (DL) Adam Fisher (AF) Ceri Thomas (CT) Alan Parfitt (AP)