Fly Fishing the River Usk & Tributaries
With Welsh rivers now opening on March 3rd, why not plan an early season trout fishing trip to the famous River Usk or its tributaries?

Here Denise Ashton of the Wild Trout Trust writes about fishing her favourite Welsh rivers and includes plenty of great tips and advice for visiting anglers.
The River Usk rises near Sennybridge and flows through the Brecon Beacons National Park, past Brecon, Crickhowell, Abergavenny and Usk town (all of which make excellent bases for fishing the river) before entering the sea near Newport, just a short distance along the M4 from the Severn bridge. It is well known for high quality trout and salmon fishing, but there are no grayling and coarse fishing is very limited in the river.

The excellent trout fishing (much of it available on a day ticket basis), accessibility, beautiful landscape, good food and accommodation make it a perfect destination for those living in the south and east of England.

The trout in the Usk are almost all wild so please practice careful catch and release so that the trout go on to spawn and grow for you to catch again one day.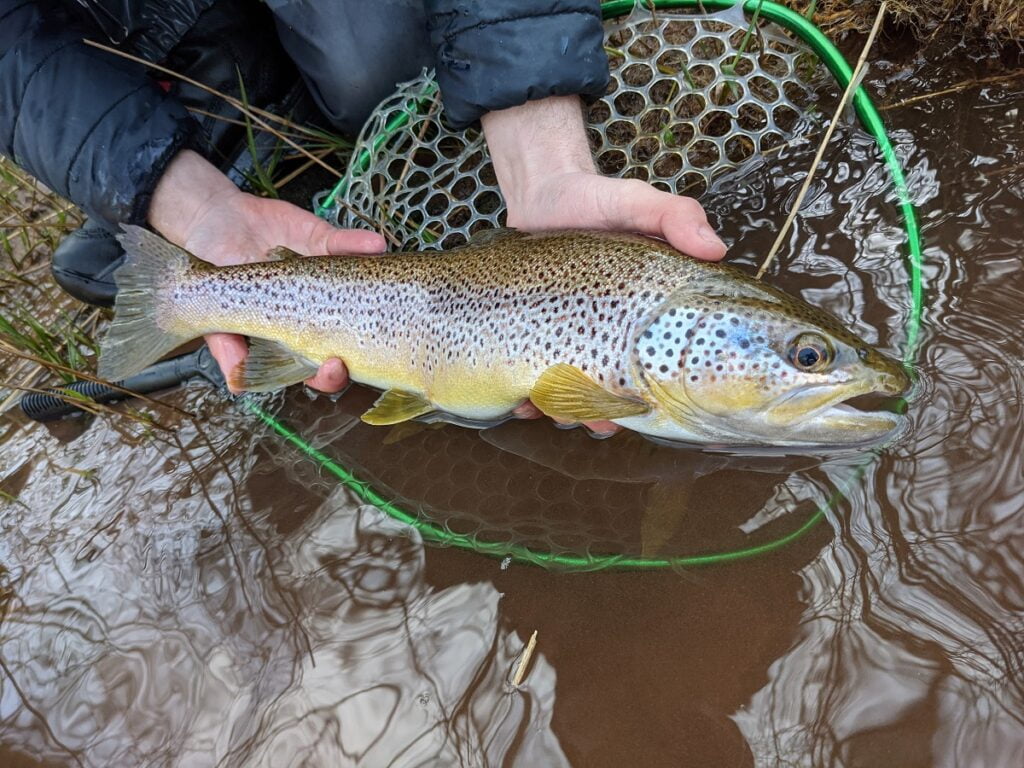 I used to live in Hampshire, a short distance from the famous chalk streams, and enjoyed sight fishing for trout in gently flowing water amongst beds of water crowfoot. Every March, I would travel to the Usk (where the seasons opens earlier – 3rd March), desperate to get on the water after a long winter of no trout fishing. In the early season, fishing activity is limited to the middle of the day (11am -3pm) so a day trip to the lower river was feasible. A bit later in the season, when warmer weather extends the fishing day, I would move up the valley, eventually staying overnight to make the most of the evening fishing.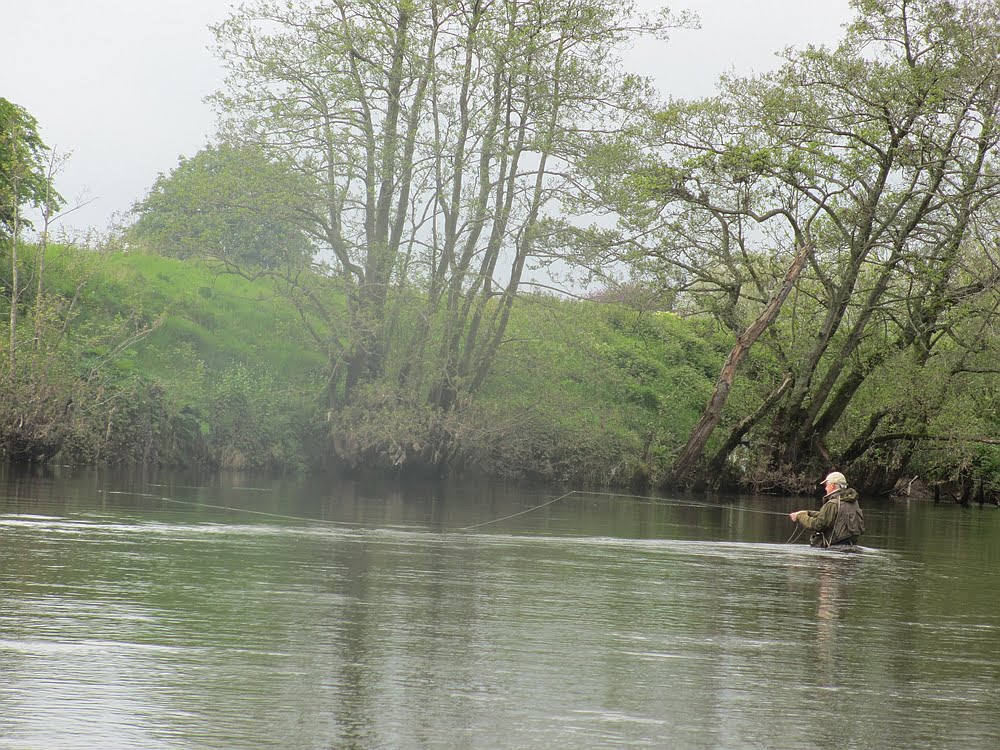 I grew to love the fishing so much on these trips that I left the placid chalk streams behind and moved to live near Sennybridge, just ten minutes from a rather livelier upper River Usk.
I am not an expert angler, nor an expert on the Usk, but I can share with you some of the places I like to fish, and places to stay and eat on a journey up the Usk valley.
Opening day: Unless it was obvious that the river was in spate, I headed for the fishing closest to the Severn Bridge. The River Lwyd is the tributary that enters the Usk at its lowest point near Newport, and there is great fishing with Pontypool Angling Association available at a very reasonable cost.

The Lwyd is a decent sized small river that, in the early season at least, doesn't require a tiny rod and bow and arrow casts but can be easily fished with an 8ft 6 or 9ft 4 weight rod. It shows its urban nature only by the eclectic collection of junk deposited by winter spates in a few places. The river is actually very rural in parts, flowing through woods strewn with wood anemones. Wading is sometimes tricky if water levels are high but there are plenty of places to get in, make a few casts and get out. Even on the coldest days, a trout or two of modest size was generally caught on a dry fly.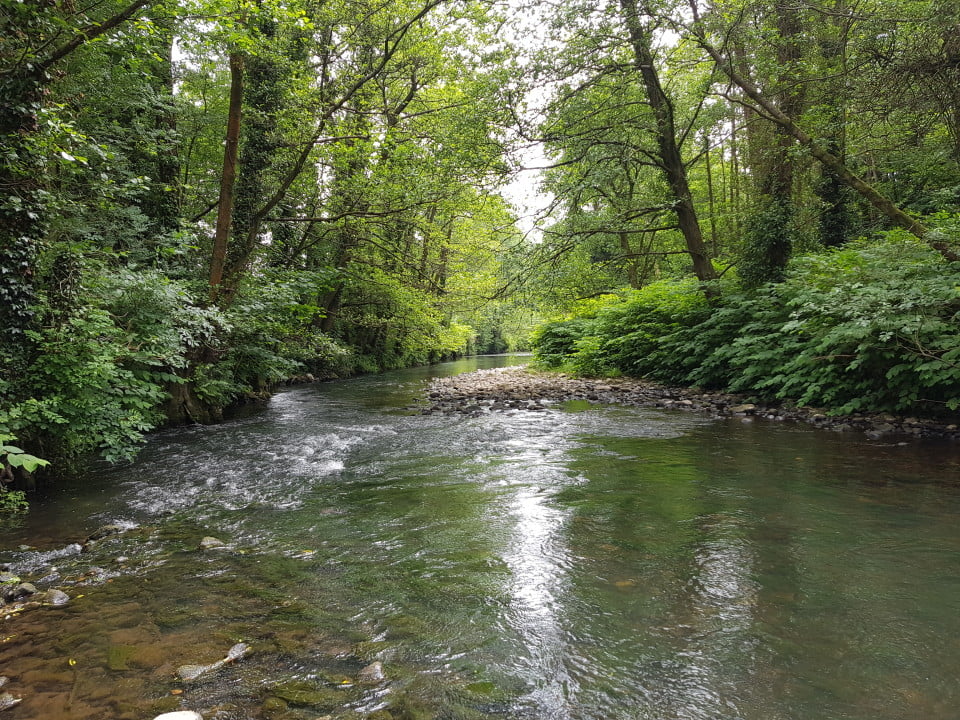 The main river Usk in its lower reaches (between the tidal limit and Usk town) is excellent salmon water and is one of the few places I have seen numbers of salmon running in off the tide, and even managed to catch one.

There are a few sea trout (or, more correctly, sewin, as we are in Wales) caught in the lower river, but not really seriously fished for because the received wisdom is that there are very few sea trout in the Usk (and the Wye). However, these lower reaches hold some excellent trout which rise freely to good hatches of fly. One of the very enlightened and welcoming clubs on the lower river is ISCA Angling Club, which has members who fish for both trout and salmon. No day tickets on their waters, but day tickets are available at Chainbridge from the Fishing Passport and on the Usk Town waters from Sweets Tackle Shop. Sweets is an idiosyncratic institution and a not to be missed experience.
Moving upstream, between Usk town and Abergavenny, I have had some frustrating hours fishing at Old Clytha on the Fishing Passport. Frustrating because on the few occasions I have fished this water it has usually been in April and there have been blizzards of adult grannom flying upstream. I am clearly too late for the emerger stage when the trout are most likely to be feeding and too early for the egg laying stage when they might take an adult. A combination of lack of experience and bad timing on my part, but it is clear there are some good trout here, and it is a lovely beat for salmon or trout if you don't mind the odd dog walker. There is a good pub nearby – the Clytha Arms – for when the frustration gets too much.
The river turns west towards Abergavenny, and much of this section is club water. Two clubs are worth a mention. The Merthyr Tydfil Angling Alliance (MTAA) has a couple of beats on the Usk with day tickets available via the Fishing Passport, but membership at £65 a year is such fantastic value for money I would suggest joining as a member so that you have access to their reservoir and Taff fishing as well as the Usk beats.

Gwent Angling Society (GAS) has all the elements of a truly excellent angling club. Not only do they have some great water, but they have a really helpful website with lots of good information for members and non-members alike, and they make a real contribution to the promotion of angling through their open day (usually held in June and well worth a visit) and other activities and to the conservation and management of the River Usk. No day tickets on the GAS waters but guest tickets are available.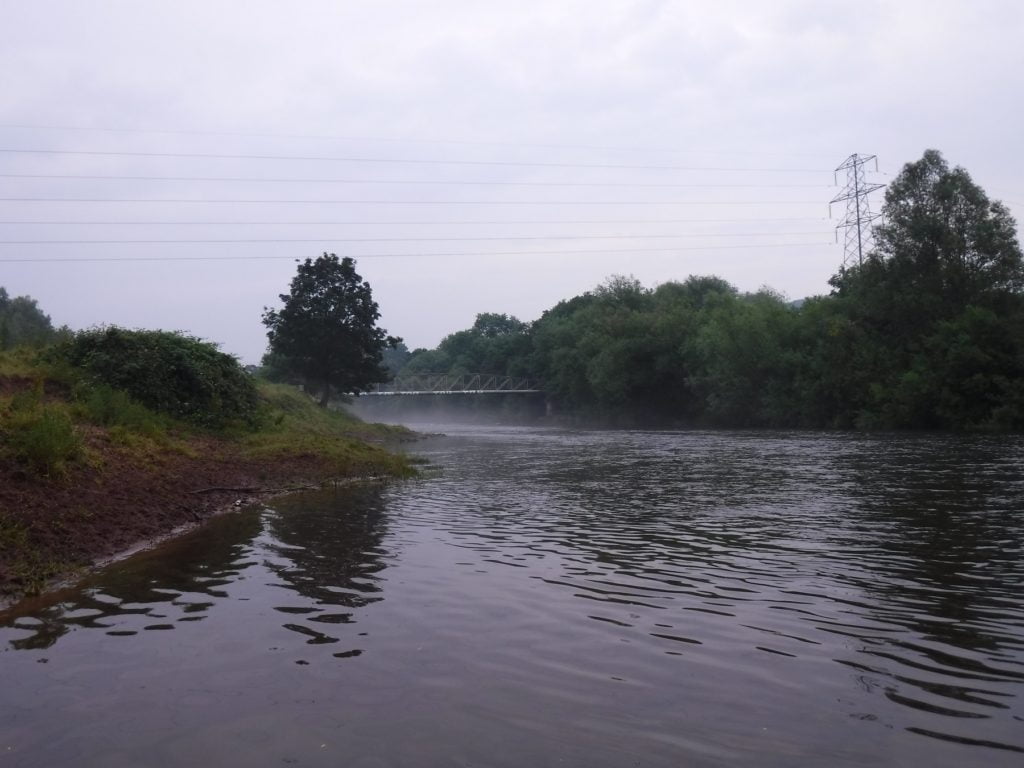 Around Abergavenny, we enter serious foodie territory, so take the opportunity to make a weekend of it. The standard of food in pubs like the Walnut Tree, Hardwick, Angel Hotel and the Crown at Pantygelli makes a trip to this area worthwhile for both fishing and eating. A little further upstream, Crickhowell is a great place to stay. The Bear is a bit of a fishing institution, but the Dragon is also very good for food and accommodation – smaller and quieter than the Bear.

Or push on upriver a little further and treat yourself to Gliffaes Hotel. This is a lovely family run country house hotel in a beautiful setting on top of the hill with their own stretch of river below and a fantastic afternoon tea. A fishing weekend at Gliffaes and the nearby Glanusk estate rival anything that Hampshire can offer.

Both Gliffaes and Glanusk have day tickets available direct from them or via the Fishing Passport and although they are close together, they are very different. At Glanusk the wading is easy and the gradient is perfect to provide some long glides as well as faster riffles. Just upstream at Gliffaes the river is livelier with a steeper gradient and more bedrock to negotiate in places. There are good glides and pools as well as fast riffles and pocket water. Justin Connolly is a good guide based in this area.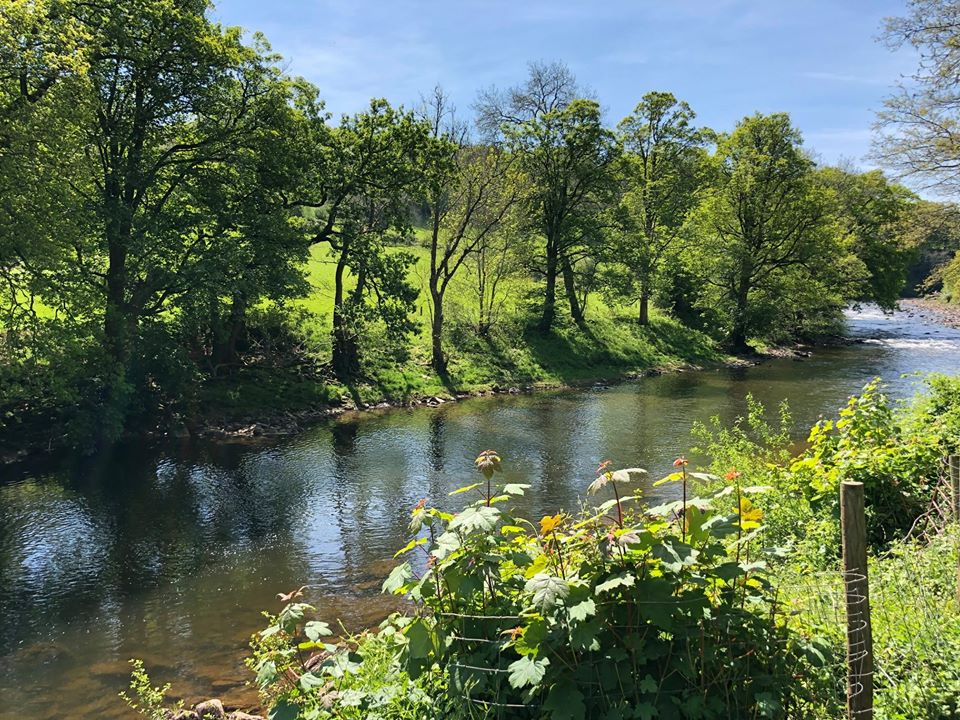 From Gliffaes upstream to the source of the river you will need felt soled wading boots and studs on a good number of the beats. Please make sure you either keep a pair of boots just for the Usk or thoroughly check clean and dry and, ideally treat with Vircon too. Felt soles are necessary for safety but carry a high risk of transferring disease and non-natives.
The river between Tal y Bont bridge and Brecon has a well-deserved reputation for big trout and much of the fishing is exclusive. Just below Tal y Bont bridge is one of my favourite beats – Ashford House. After opening day on the Llwyd, Ashford House is the beat that I would head to most frequently during March and April for the large dark olive and March brown hatches. The lower part of the beat is hard to access so I tend to ignore the first field and walk upstream to the first riffles where the banks are a bit less steep and the pace of the water is just perfect for trout.

The March brown hatches can be remarkably prolific and the river can suddenly come alive with rising trout. This always seems to happen just as you start eating your lunch. You learn to keep a close watch on the river whilst you eat. Be prepared to abandon your half-eaten sandwich on the bank as the hatches are often very short. The other reason that I love Ashford House is that I have seen more otters here than anywhere else on the Usk and I have had some memorable close encounters. I don't stop fishing if I see otters, other than to stand and watch for a few minutes. I still catch trout even when they are close by.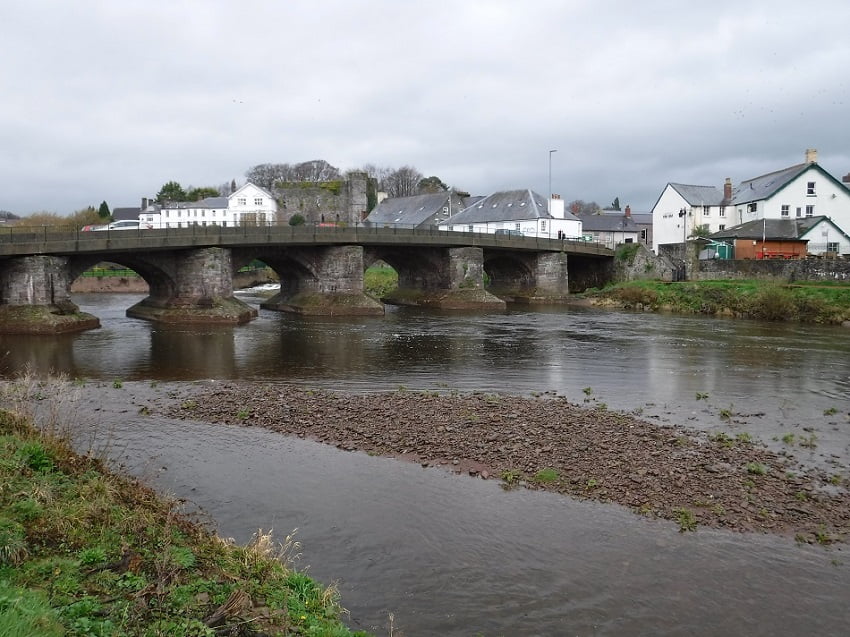 Around Brecon and upstream is considered the upper river, and this is where I now live and spend most of my time fishing. There are lots of Fishing Passport beats, all of them are excellent for trout fishing but they vary in terms of ease of wading and of access. The beat descriptions in the Fishing Passport are accurate and worth reading carefully if you are concerned about wading on bedrock (red sandstone can be treacherously slippery, especially if the slabs are sloping) and the banks on some beats can be steep in places and require a bit of scrambling to get out. Getting in is always easier than getting out, although bum sliding down the bank in waders can get out of control and result in a less than stealthy entry to the river.
A quick run through some of the beats around Brecon and upstream:
Just below Brecon are two beats which have are easy access and wading, Dinas and Abercynrig. They are popular and quite short beats so often booked together. I have not had many memorable days on these beats compared to the Brecon Town Water, which is very easy access and wading.

When one of the locals told me to try the Town Water, I must admit I was a bit sniffy. On a sunny day you are surrounded by dog walkers and it is the busiest beat I have fished on the Usk, but the fish are strangely co-operative and I don't think I have ever blanked there. The trout I have caught averaged around 12 inches, which is relatively small for the Usk, but they readily take dries, nymphs and spiders and seem remarkably unspooky.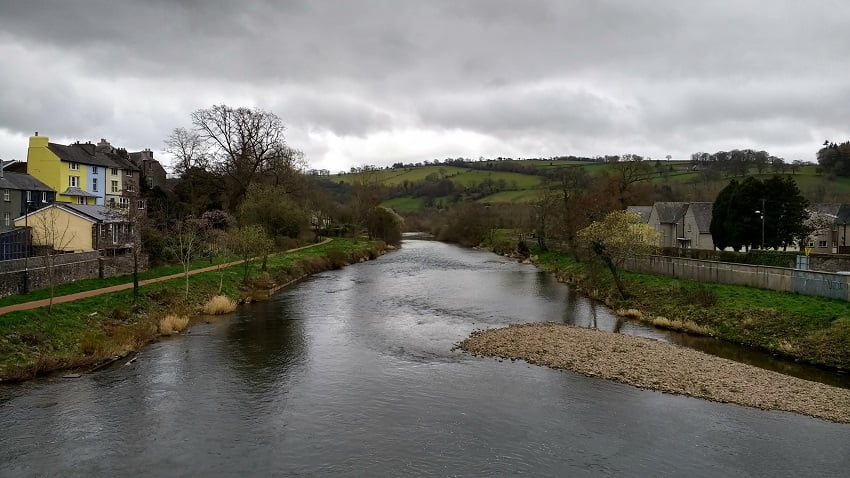 Above Brecon the gradient increases and, for me, the river becomes a lot more interesting. It is still a good-sized river but the faster water and steep, wooded banks make the fishing feel more like scaled up small stream fishing than big river fishing. This doesn't mean the fish are small – there are good numbers of 3lb fish above Brecon but catching them has taken a long period of apprenticeship for me. If you want to catch bigger fish, my suggestion is to take advantage of the half price evening tickets from the Fishing Passport on these beats in the summer, and fish until dark on beats such as Fenni Fach. Even if you don't catch a big trout, you will be entertained by the Daubentons bats who flit around your knees as you wade and occasionally pick up your fly from the water and put it down again. Being on the river at dusk on a summer's evening is very special.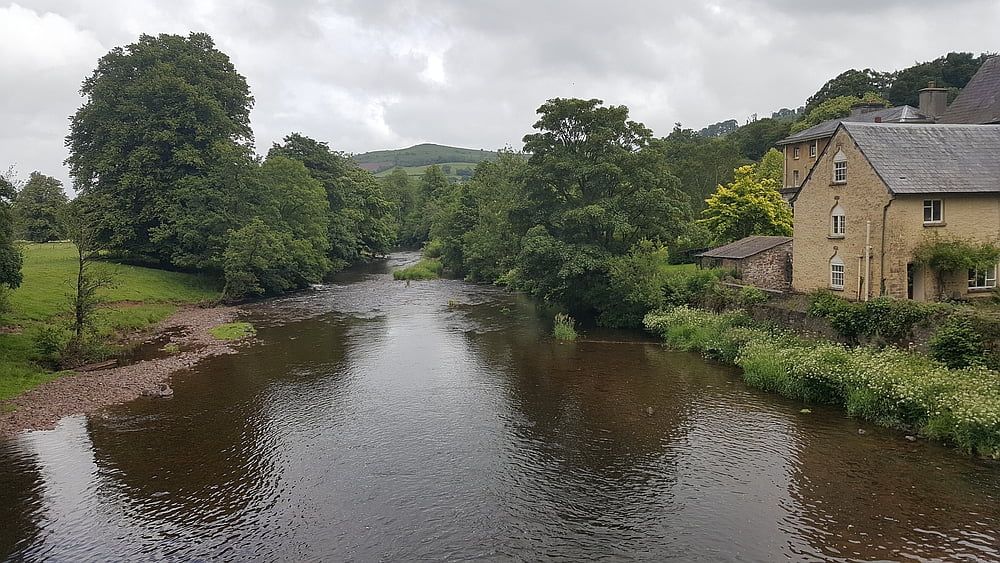 There are a good number of upper Usk beats on the Fishing Passport. They are all quite different, but all are good! Penpont is very popular, probably because access and wading is easy and you get a glimpse of the lovely (but private) Penpont house and gardens. When I host auction lots for the Wild Trout Trust auction, I usually take the winning bidders to Penpont and I cheat by taking along cakes from the excellent International Welsh Rarebit Centre in nearby Defynnog. Great lunches as well as cakes. We are beyond the reach of the Gastro -pub now, but there is good straightforward (and cheap) pub food and a warm welcome at my local pub, the Shoemakers Arms, which is about three miles north of Sennybridge at Pentre Bach in the Cilieni valley.
The next beat upstream on the main river is Cwmwysg Ganol. It has a very interesting section of bedrock 'gutters' and pockets which are best fished with a long rod (10ft or longer) and short line. If you know how to land big fish on a tenkara rod, then fish tenkara, but the fish can be challenging to land in the fast current. Be prepared for some stumbling about on the slippery, rocky banks too.
Upstream again to Cefn Rhosan Fawr. A really good long beat which includes some tributary fishing (Cilieni and Senni) and some easy access and wading as well as steeper banks and slippery bedrock. It is a very pretty beat, with a couple of good-sized waterfalls providing a perfect place for a picnic. The lower section of this beat seems to hold a good population of trout from 10 inches to 18 inches. I always start at the lower end of the beat and have never managed to get to the top, but having spent a lot of time on short chalk stream beats I have not got out of the habit of fishing slowly. It depends on the conditions but I am generally more of 'sit and watch until a fish rises' angler than a 'cover the water' angler.
And finally, the top beat on the Usk from the Fishing Passport is Pantyscallog. The river here is noticeably narrower and the gradient is more pronounced. The lower section has some steep, wooded banks that require some mountain goat techniques to negotiate. Before I took up fishing I did a lot of hill walking and a bit of scrambling (but not proper climbing) so I rather enjoy the challenge, but it's not for everyone and it can be avoided. Some good- sized trout have been caught on this beat but I haven't yet served enough of my apprenticeship yet to find them. A section of the beat runs below the A40 between Sennybridge and Llandovery. This can be a busy road on a sunny summer weekend but the river is in a little gorge at this point and the road and civilisation could be a hundred miles away.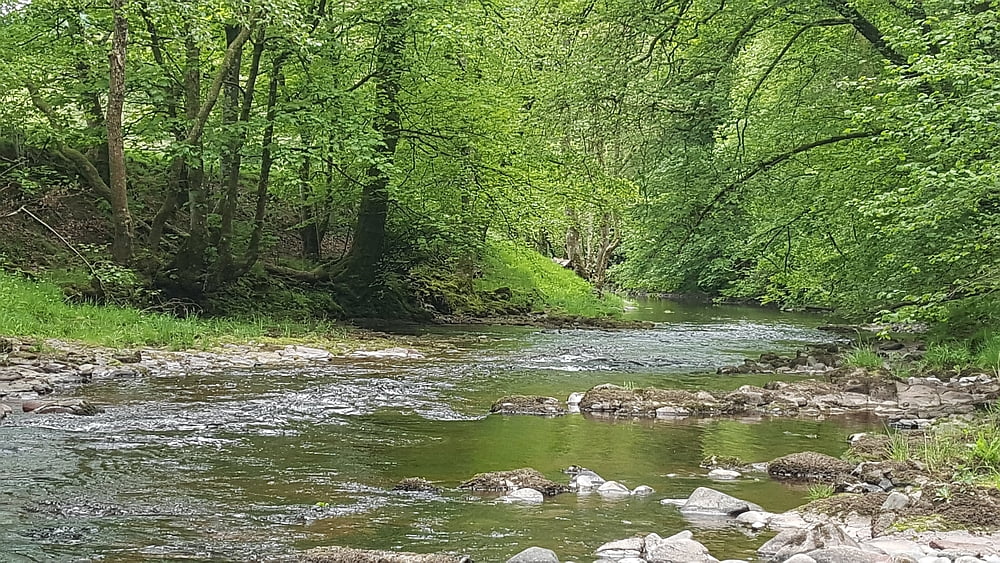 The Usk is spate river and the water level makes a huge difference to the fishing. I am not a great one for keeping records but I do have a note of the fishable limits for the upper Usk, based on the NRW Trallong gauge. Based on this gauge, I think of 0.65 as the upper limit, which is borderline fishable. Once it gets to down to 0.20 it is probably too low, slow and warm to fish safely.

Welsh Water / Dwr Cymru release water from the Usk and Tal y Bont reservoirs in the summer to keep the levels up a little – huge thanks to the Wye and Usk Foundation for negotiating this agreement. In warm, dry summers, the water temperature can still get too high to fish by the end of the day, so do take a thermometer. I don't fish if the water temperature is above 17 or 18C as trout caught and released may not survive the stress of warm water and low oxygen levels.
If the river is running high and coloured, it helps to have a Plan B. Head upstream if the spate is tailing off or fish one of the reservoirs. Usk reservoir is stocked with rainbows and has some lively perch. Crai (£12 cash in an envelope, drop in the letter box in the farmyard) and Tal y Bont (via the Fishing Passport) are all wild trout, and the fishing is excellent.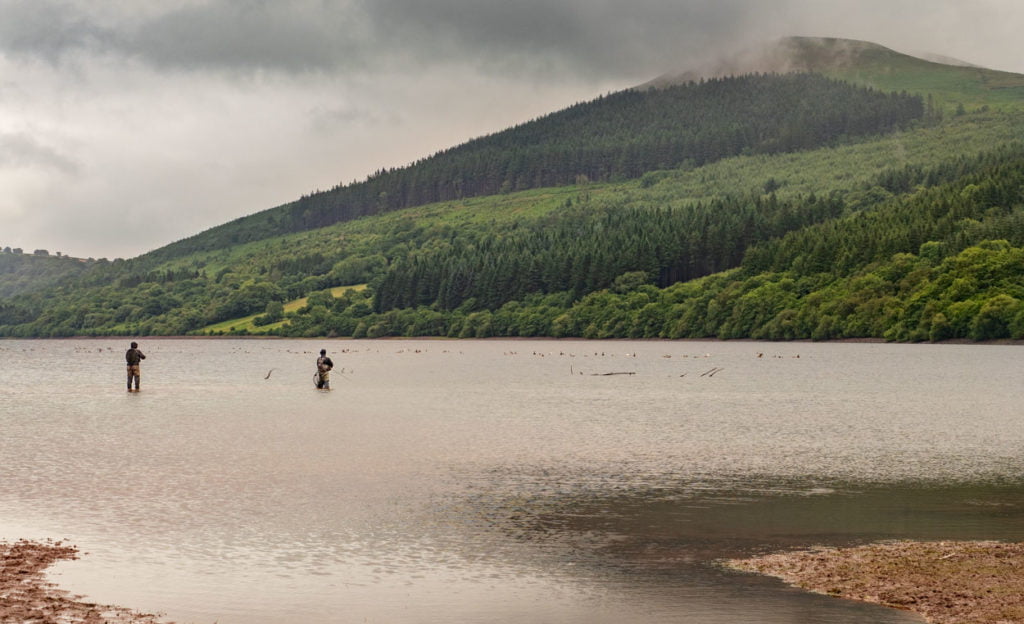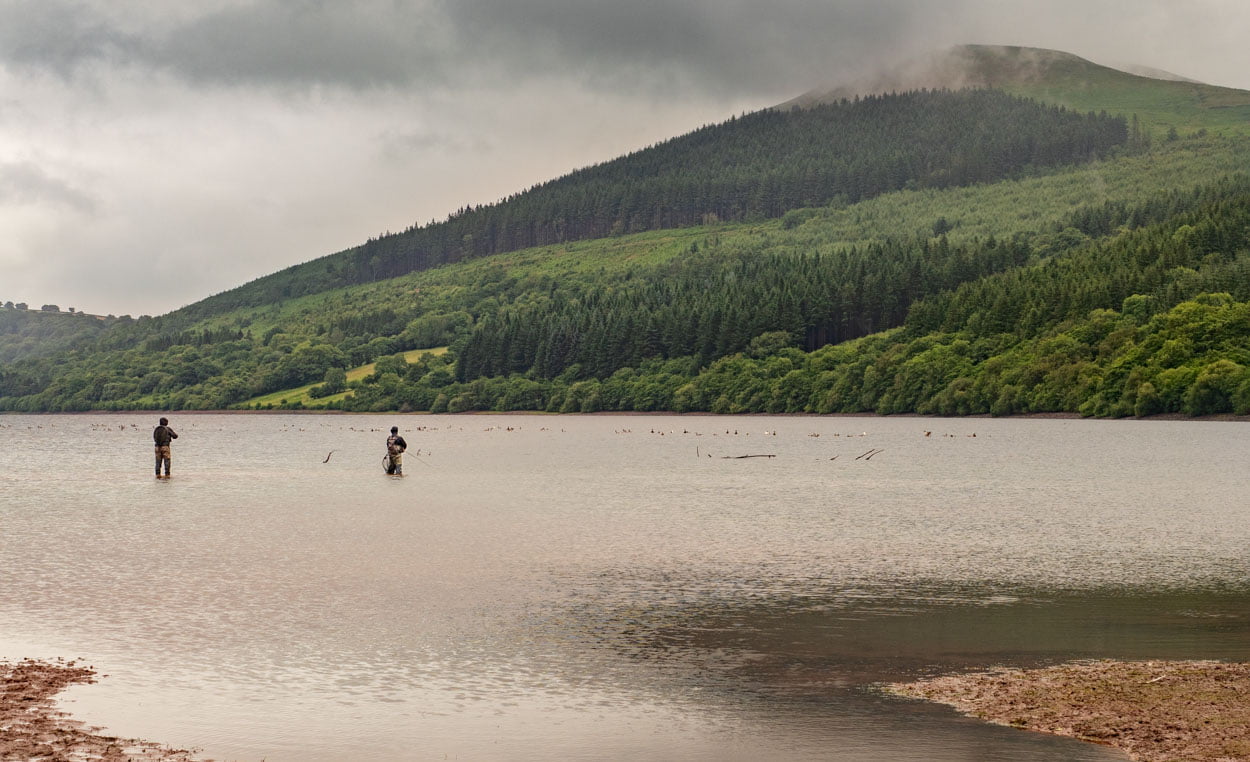 Tal y Bont is my favourite. Wading the top end of the reservoir near the inlet stream in the wind and rain is not everyone's idea of fun, but the setting is glorious and I love it and the fish seem to like taking a dry fly on the top of the wave in these conditions. There is good birdwatching here too – the only place I have seen and heard a grasshopper warbler. Tal y Bont fish are not all small by any means so bring a net.
There are many 'Wild Stream' tributaries to the Usk available on the Fishing Passport. Too many to mention here and the subject for a future blog post.
Words: Denise Ashton
Images: Denise Ashton, Ceri Thomas, Alan Parfitt