A Fisherman's Journey – Fly Fishing in Wales with Tony Mair
Have you ever been committed enough to complete a challenge spanning a whole country? Tony Mair decided to catch a river trout from all 22 'counties' in Wales; a mission that he eventually completed across several adventure filled seasons. Here Tony talks about his inspiration – a love of fishing in Wales, its people, hospitality and its prolific wild brown trout.

I have never wondered why I love fishing in Wales so much!

I first cast a fly on the town waters in Brecon as a complete novice, but encouraged to do so by another 'newbie' in 1961 at Orchard House in Christ College, one Jonathan Gout, and we could because our school had six rods on the Town Water of the River Usk, and I could be one of those thanks to my Dad, who knew nothing about angling of any sort, but got me kitted out at the angling shop on Llanfaes Bridge, which of course, nearly sixty years on, is now a tea shop, or something else!
So many years later, and now a confirmed trout 'nutter', after a career enjoyed in many parts of the world, it was toward retirement from the executive 'stuff' that I was able to consider what could follow. I like a challenge, and one of mine became…well why not try to catch a trout in every County in Wales? Inspired by Charles Rangeley-Wilson, the 'Accidental Angler'.
To engage in how many Counties there are in Wales misses the point of what I hope to inspire. There were fewer until 1994, then many more, and all who remember 'Glamorgan' will understand that I love the lyricism, so Welsh, of the newer, like Blaenau Gwent, and Torfaen, and Rhonda Cynon Taf…and for my challenge there were now 22.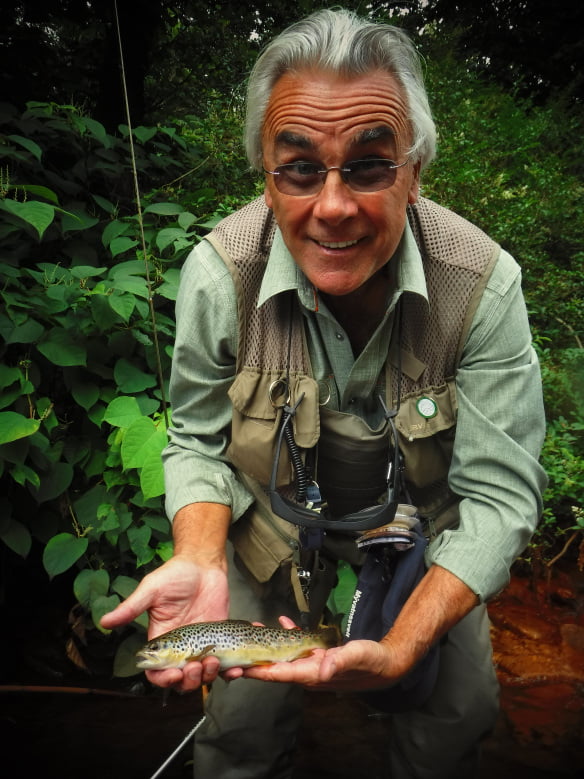 Wales – A Land of Plenty, of rivers, that is!

I am unashamedly a wild brown trout man. Not for me the sewin (sea trout), so adored of anglers in the south west and in the north of the Land of our Fathers.

I could no longer stay awake to fish at 3am than fly to the moon. I did try once with Jimmy Devoy at Gliffaes' Llandetti beat, and after he had caught two, I discovered that I had been casting a fly less leader in the dark for half an hour before!

Brown trout abound in Wales and this needs to be shared, for Wales is a 'heaven' for those who are 'salmo trutta' adorers.

Every county in Wales offers lovers of wild brown trout opportunities to catch them in just so many rivers and streams… and if you want to understand the possible, the new Fishing In Wales site will excite you.
Wales – A Land of Plenty, of great Angling Clubs, that is!

Inevitably many Welsh trout streams are in land which is privately owned, but access to the vast number which are not, is easier than you may think.

To begin with the organisation which spawned, so to speak, the Passport Schemes, The Wye and Usk Foundation, through its own means offers fishing in the bigger catchments of the Wye, the Usk and the Severn; as well as the South and South West, and a few in the Dee catchment in North Wales.

In other areas, much fishing is controlled by the local Angling Club, a list of which can be found here. Many offer day or weekly tickets, or for the bolder, an annual subscription, can be bought for a surprisingly modest sum, which is why many Welsh anglers are members of half a dozen clubs, giving an unparalleled variety of streams and beats within a short distance of home. Ignore a 'no day ticket' suggestion. I secured a most generous response to most of my pleas!
Look out also, for fishing charity auctions. The WUF, the Monnow Rivers Association, and the S&TCA, all provide a fighting chance of getting onto protected waters in their, usually, Springtime events. The MRA auction is particularly worthwhile, as the Monnow is mostly private!
Wales – A Land of Plenty, of conservation, that is!

The work of the WUF has been well chronicled but less well so, is that of some of the bigger Clubs.
The Monnow River Association is a model for what endeavour can achieve to deter invasive species, and their case, the dreaded Japanese Balsam.

The Pencoed & District AC, near Bridgend, decided to wild/re-wild their fishery, stopped stocking, and whilst losing two thirds of their membership, won, and succeeded in creating a beautiful fishery, the Ewenny.

The Vale of Clwyd Angling Club, in Denbighshire, is relentless in its pursuit of river improvement, and use detail and data to test and verify what it hopes to achieve in monitoring peel and WBT catches.
And my new discovery, the Taff, which after years of industrial neglect, has now, with much help from the Merthyr Tydfil Angling Association, a head of stunning wild browns, a few of which I have been privileged to net.
Wales – A Land of Plenty, of fishing experiences, that is!

I have been nearly knocked off my feet by the unexpected roar of an RAF, or maybe an USAF fighter jet, testing its pilot's skills flying at ridiculous speeds along at just a few hundred feet above me, in the Usk valley in Powys, and the Dovey valley in Ceredigion. No wonder I blanked sometimes.

And I have fished with a Champion and Captain of the Welsh Rivers Fishing team, Terry Bromwell. Never a fan of competitive fishing, when I watched what is possible, I marvelled and sought to learn how I could develop my own skills to net a few more than I do.

Have you ever spread your unzipped wader jacket, to protect your host from a downpour which is threatening to swamp the BBQ grilling a tenderloin of local beef you have looked forward to all morning. Monnow River Man prevailed, and the steak sandwich was delicious, as was the Wye Valley Ale which accompanied it.
Catching 'Trout in the Town' is possible in Wales, and my largest wild brown came from the Taff in Merthyr – a beast which in April weighed in at 3lbs, so goodness knows what it would have been after Spring gorging!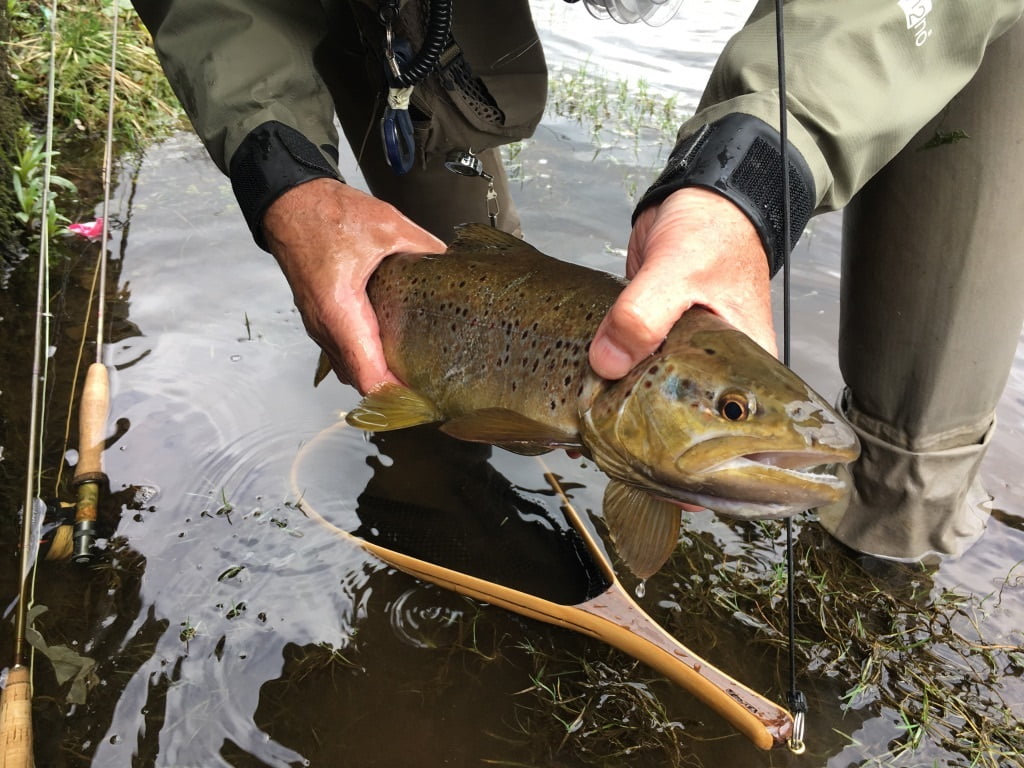 Wales – A Land of Plenty, of fishing characters, that is!

To name names, seems invidious, and why him or her, and not him, or her? Many have helped me in the quest, and I thank Paul King, Terry Bromwell, Ade Nash, The Drummer Boy, Eliot Penn, Patrick Lloyd and Tony Rees. As well as David Thompson and Mark Roberts and so many more.

Two friends stand out. Jimmy Devoy, steel worker turned fishing guide, is the man who taught me really how to fish the Usk and we have known each other for nearly thirty years. Thank you, Lord James! And my fly tyer of choice, Dan Popp… his sparsely dressed emergers, have caught for me on all types of rivers, and in many countries. His flies work!
Wales – A Land of Plenty, of spectacular venues, that is!

The revolution and transformation of the Valleys streams in the South, post industrialisation, has to be seen to be believed. I saw the Taff in the 60's when it ran black with coal wash and today… a minor miracle of clear water and invertebrate life and big fish.
Where there are sea trout, there are brownies. And some of these streams shout out at you…'sea trout'. As a brown trout man I find them intimidating to fish, but at the same time they are marvellous – the Loughor in Swansea; the Cothi in Carmarthenshire; the Elwy and Clwyd in Denbighshire seem to be amongst the best. But then I have not fished the Teifi and the Towy!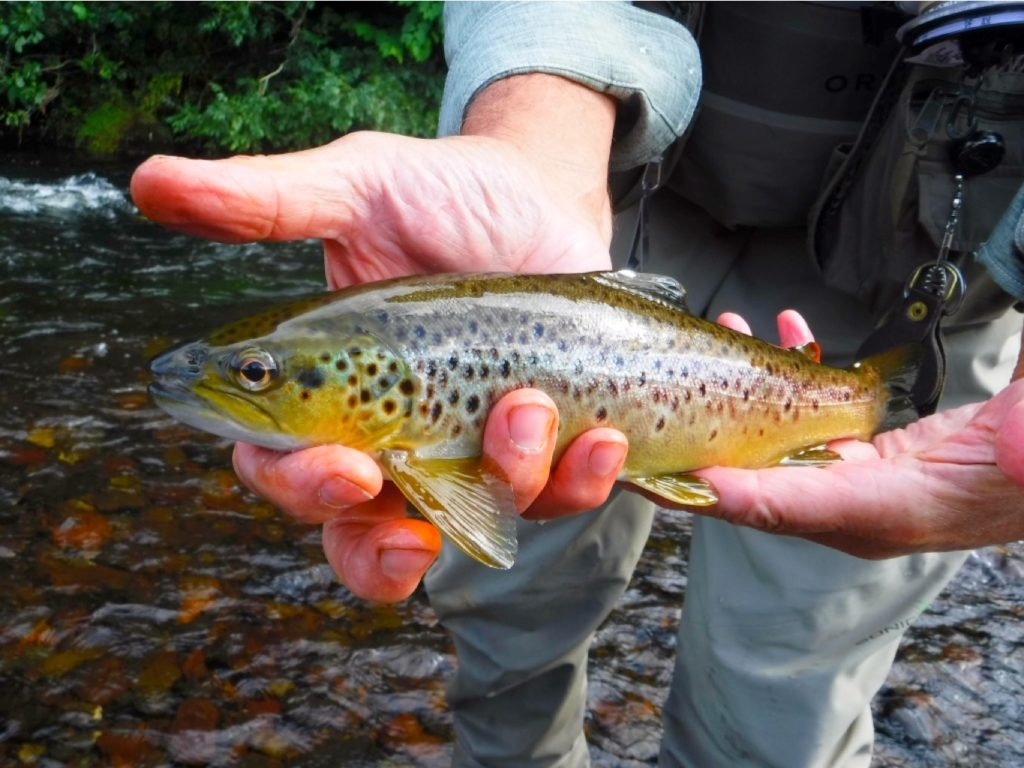 Wales – A Land of Plenty, of hostelries, that is!

Without doubt, my favourite fishing hotel is the Gliffaes Country House Hotel, where I have stayed for so many years, and there are others. Caer Beris near Builth Wells, which Mr Crabtree enjoyed, but to find the best of what Wales has to offer, scan the print version or digital version of 'Welsh Country', which will reveal hotels and B&Bs for all tastes, as well as a selection of great restaurants offering the best of Welsh cuisine.
And finally….

Aberystwyth is about as far as you can get in Wales from my home in London, yet still less than half a days drive. To experience the joy of this lovely country, head to Rhayader and take the A44 toward Aberystwyth, and drive slowly to take in the Cambrians at their best, seek out the source of the River Wye, up here a tiny stream, or divert to the Teifi pools to see where Wales' best loved trout river begins its journey…
Wales IS a Land of Plenty for all we Fishers and I encourage readers to explore and enjoy the possible…. Fishing in Wales.
'Piscator-Non-Solum-Piscatur' – "It is not all of fishing to fish"

You can read all about Tony's fishing travels through Wales on his blog – Land of my fathers a fisherman's journey.
YouTube Channel
Did you know Fishing in Wales has a Youtube channel?? With over 40 game, coarse and sea fishing videos ready to watch, we will be uploading many more videos showcasing the best of Welsh angling over the coming months. So why not SUBSCRIBE HERE to keep up to date with video content as it lands…