Small Stillwater trout fisheries in Wales
Come the end of autumn most reservoirs close their doors until the spring and all rivers that don't have grayling present are left to rest. At these times the winter can seem drawn out, but the small stillwaters come to the rescue to beat the winter blues.

They're not everyone's cup of tea, but they are an important part of the game angler's season, especially in the winter months where avenues are limited and with there being one always fairly close to home they
offer a convenient haven for some winter sport.

One day you could be fishing dries on a glorious, sunny day then scratching the bottom on the next as a bitter wind takes hold. Remain flexible in your approach and take everything from your floater through to your fast sinker, as you may need all in one day.

Read the conditions and even pick your days accordingly. Watch other anglers, especially the successful ones; what are they doing right? Watch the unsuccessful ones; what are they doing wrong? If they're not catching on one method then try something completely different, as it often becomes a robotic process.
10 Trout fisheries to try in Wales
In no particular order, here are a few fisheries worth a cast during the winter months, where often the trout fishing is at it's very best.

Tan-y-Mynydd Trout Fishery – Moelfre, Abergele, Conwy, LL22 9RF
Tan-y-Mynydd (meaning "under the mountain") is a trout fishing haven. The immaculately cared for grounds are set in the easily accessible, beautiful and tranquil North Wales countryside. Each of the three 'fly fishing only' pools has it's own unique features and challenges. They are fully stocked with a variety of trout (rainbow, brown, blue and tiger).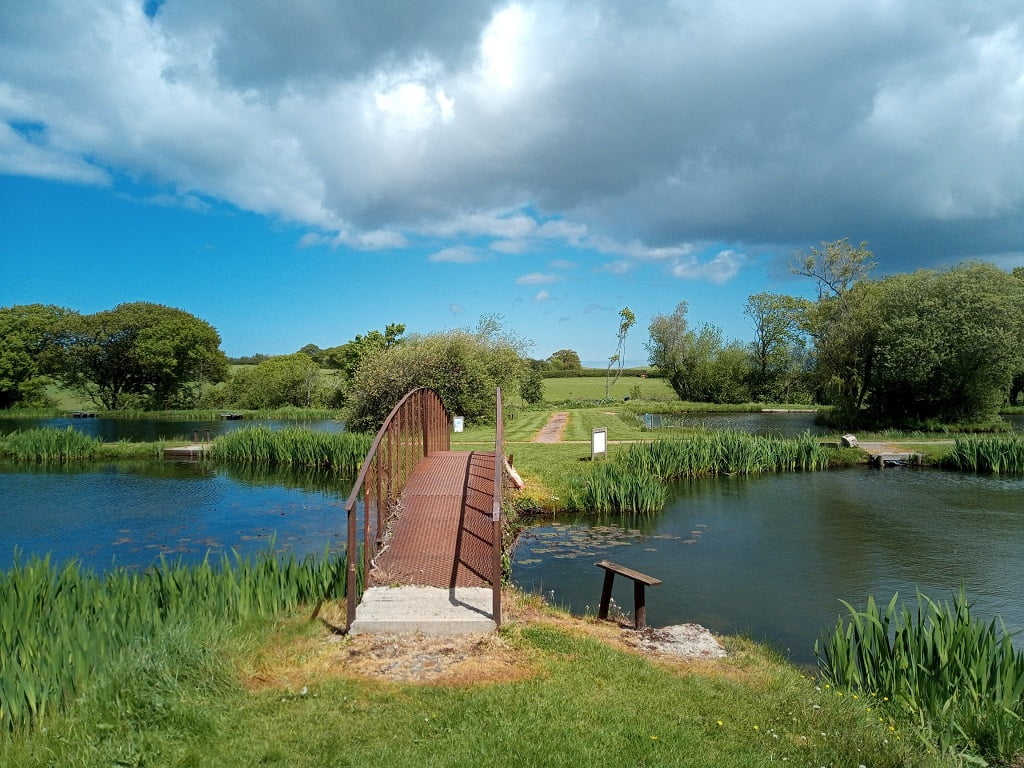 Graiglwyd Springs Trout Fishery – Penmaenmawr near Conwy
This well established Troutmaster fishery has gained a national reputation for excellence in fly fishing and is open throughout the year. The two and a half acre lake is located on the edge of the Snowdonia National Park in scenic and picturesque surroundings. At Graiglwyd Springs Trout Fishery stocking occurs regularly. The trout range in size from 2lb to 22lb, with doubles included when stocking. Several different species of trout are stocked including Blues, Rainbows, Tigers and Browns which helps to give variety to a day's fishing. The trout are reared on site which explains their hard fighting nature.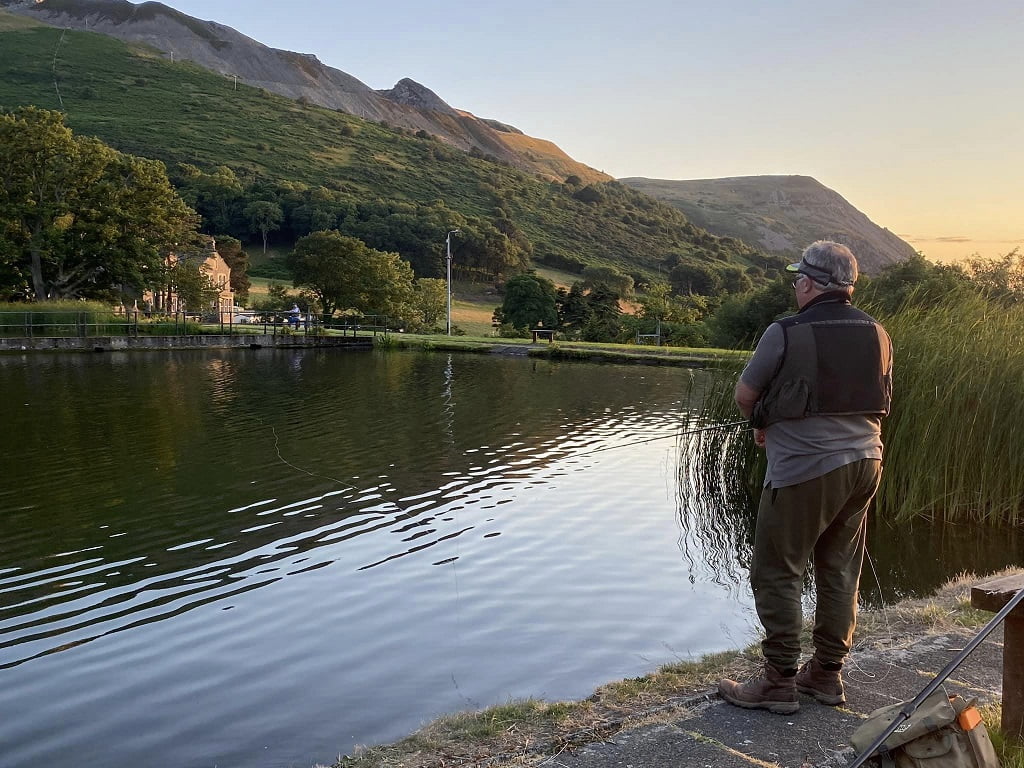 Garnffrwd Trout Fishery – Llanelli SA15 5BB
At Garnffrwd Park, in the heart of West Wales you will find a superbly designed and landscaped 5 acre lake set in beautiful woodland surroundings. The lake holds good sized rainbow and blue trout (many in double figures) and also brown and tiger trout. There is a comfortable lakeside lodge with Christine's Cafe and a small tackle shop to stock up on flies and other essentials.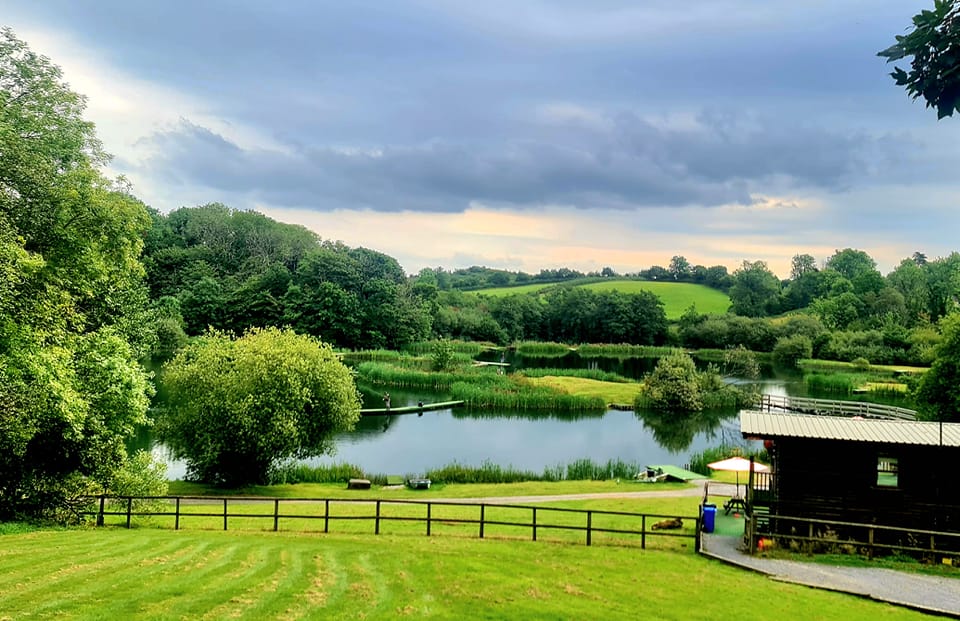 Papermill fishery – Fforestfach, Swansea, United Kingdom, SA5 4NL

Paper Mill Fishery is stocked with specimen rainbow and brown trout. The Lake was created in 1994 by owners Mark and Debbie Vickery. It is an ideal lake for all levels of anglers from beginners to experts, with free tuition sometimes available on the weekends. The lake is trickled stocked on a daily basis with a base stock of 1lb1/2, 2lb and 3lb rainbow trout and various sizes of larger fish. The fishery record currently stands at 23lb 11oz for rainbow and 17lb 11oz for brown, double figure fish are often captured. Booking on this catch and kill venue is usually required, get in touch via the Facebook page.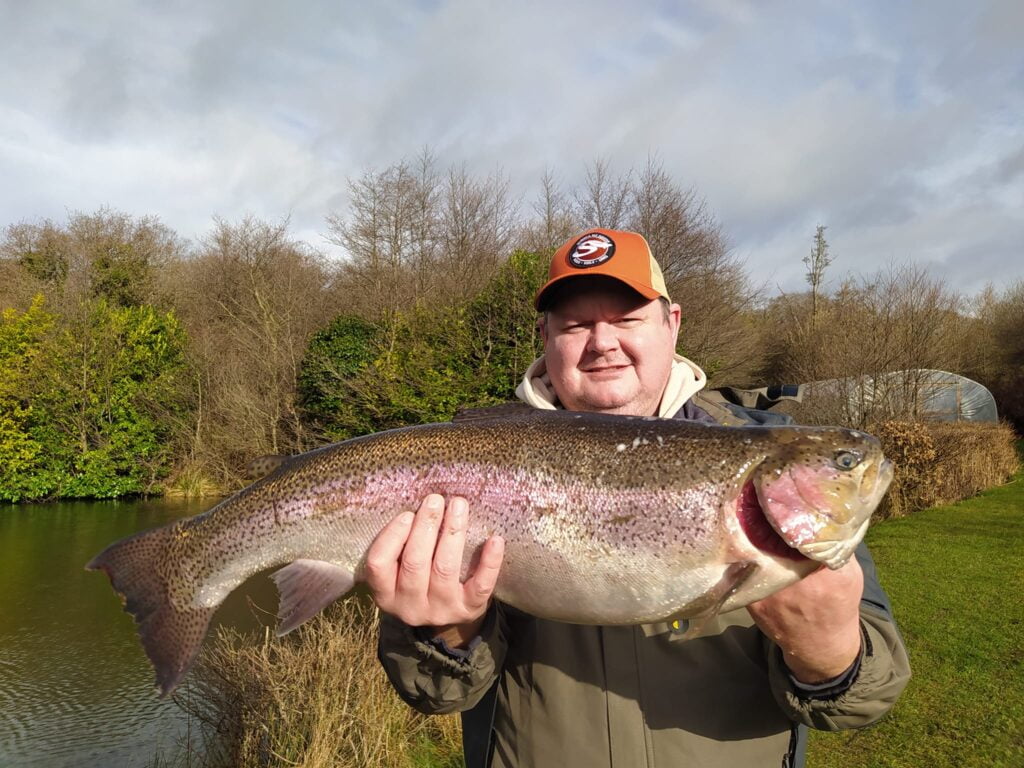 Abernant Fishing Lake – Aberdrychwallt Farm, Pontrhydyfen, Port Talbot SA12 9SN
Abernant is an established trout fishery where anyone can come and fly fish the daily stocked 4 acre lake. Near Cimla Neath. Open 8am to 5pm. Closed Mondays.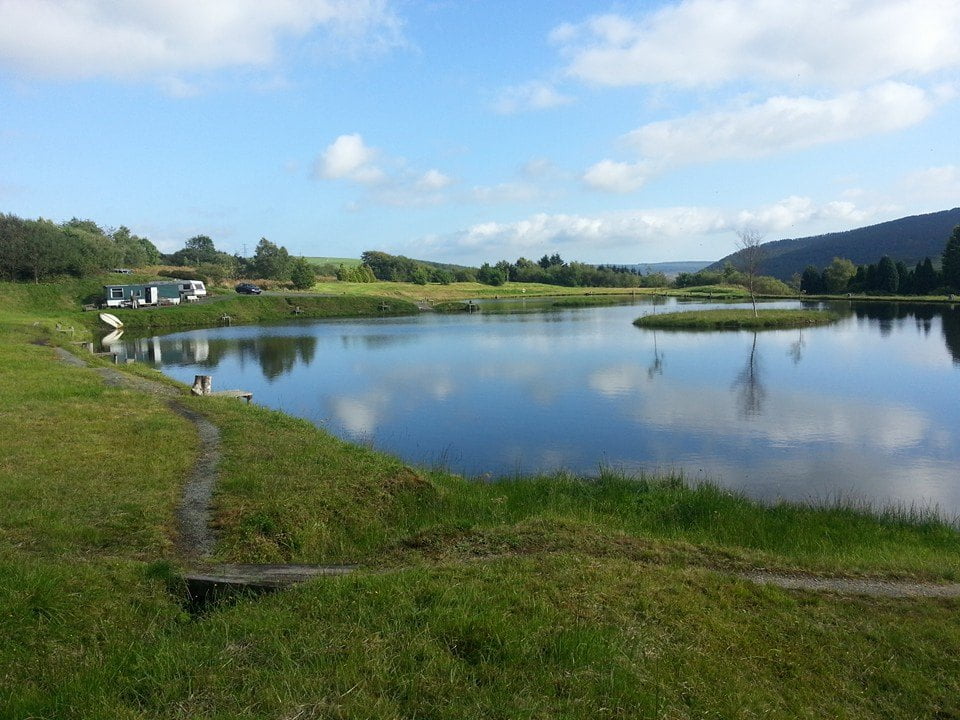 Nine Oaks Angling Centre – Craigfryn, Oakford near Llanarth SA47 0RW
Nine Oaks Fisheries lies on the edge of Oakford hamlet ("Derwen Gam" in Welsh) about 2 miles inland from the Cardigan Bay coast in Ceredigion, West Wales. Nine Oaks has 3 trout fly fishing lakes, which are small but intimate, with a wide variety of features. The trout lakes contain mainly Rainbow and Blue Trout from 2lb, plus brown trout which must be returned. Catch and release and catch and kill options are available. This under-rated fly fishery is well well a visit if you are in the area.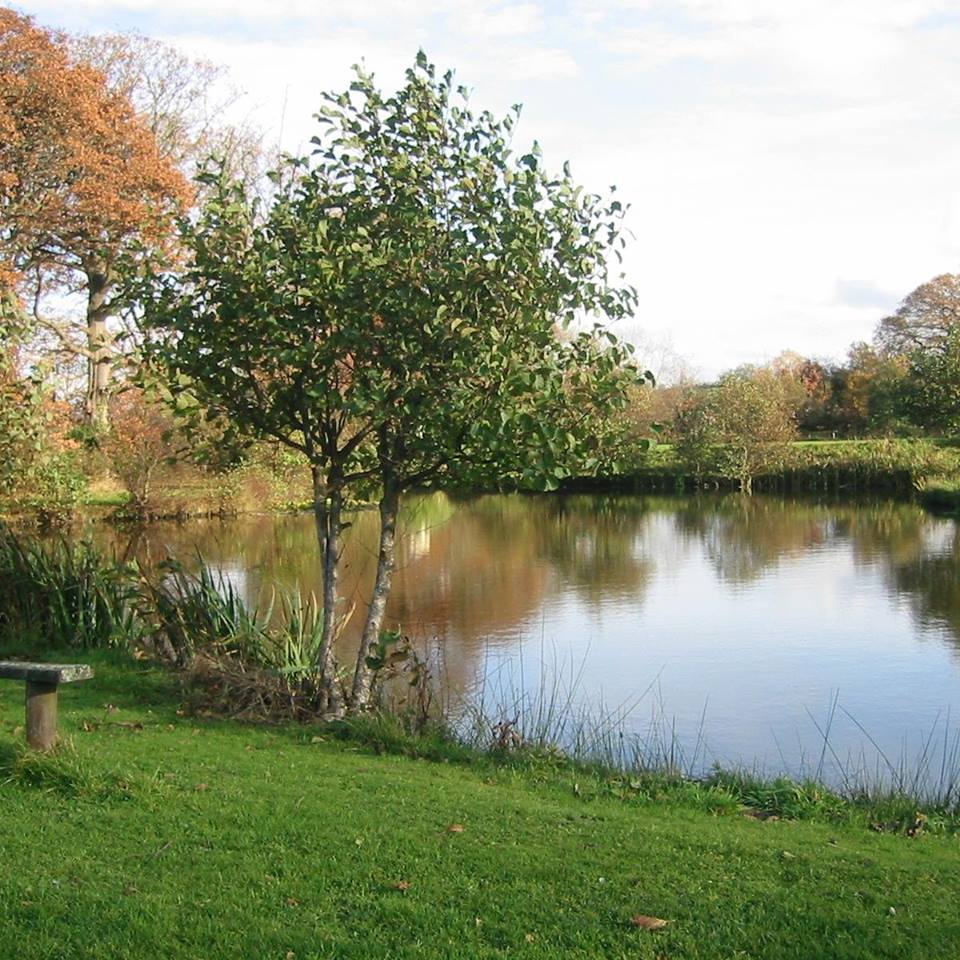 Pantybedw Fishery – Nantgaredig, Carmarthen SA32 7LH
Pant Y Bedw Fishery is a beautiful site located in a rural but very accessible location with extremely good access from the A48/M4/A40. Pant Y Bedw Fishery lakes are nestled in a natural bowl surrounded by woodland on 3 sides. 7 acre Challenger lake is currently stocked with rainbow and blue trout, minimum size 2lb and after the hot summer and high water temperatures the fishery is open again this autumn and has stocked with hard fighting, cracking Exmoor rainbows.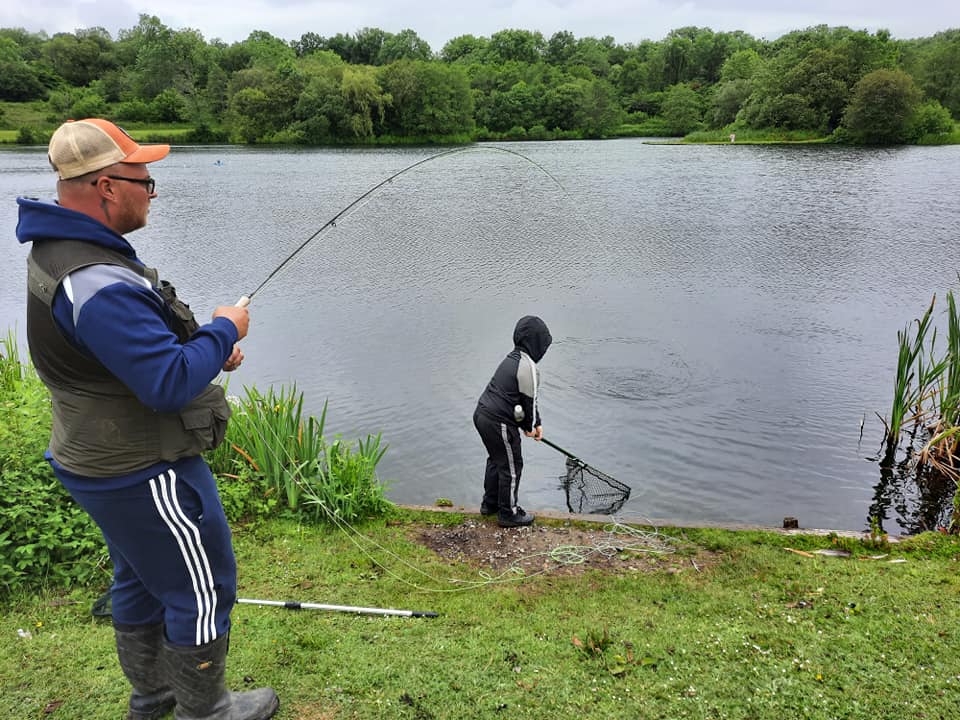 Eisteddfa Fishery – Pentrefelin, Criccieth LL52 0PT
Eisteddfa Fisheries has 3 fishing lakes. The trout lake is well stocked with Rainbow Trout from 1lb to 3lb with double figure fish always a possibility, especially brown trout. It extends to an acre in size, with 20 well spaced pegs. Both fly and bait fishing are permissible on this lake. This lake has an average depth of eight feet and at its deepest goes down to fifteen. A lovely venue to enjoy with all of the family.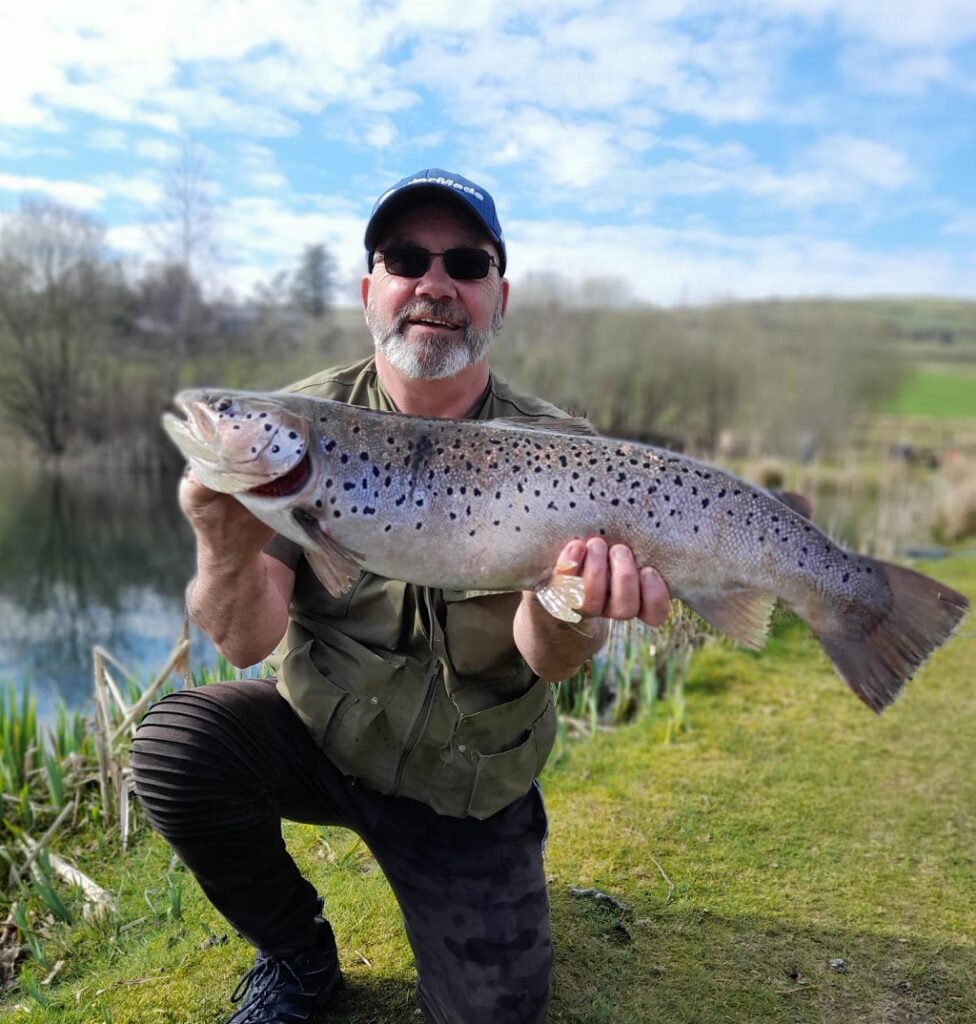 Chirk Fishery – Chirk, Wrexham LL14 5EW
Chirk Fishery consists of two lakes for fly fishing. The fly fishing lakes and bait pool are regularly stocked with rainbow, brown, brook, golden, blue and tiger trout. The fishery rears its own stock and also supplies nation wide. Running through the fishery is the River Ceiriog, a tributary of the Dee, which is stocked with brown trout and can be fished on a day ticket, fly only. This scenic fishery is well worth a visit in the cooler months and is incredibly scenic for a relaxing day out.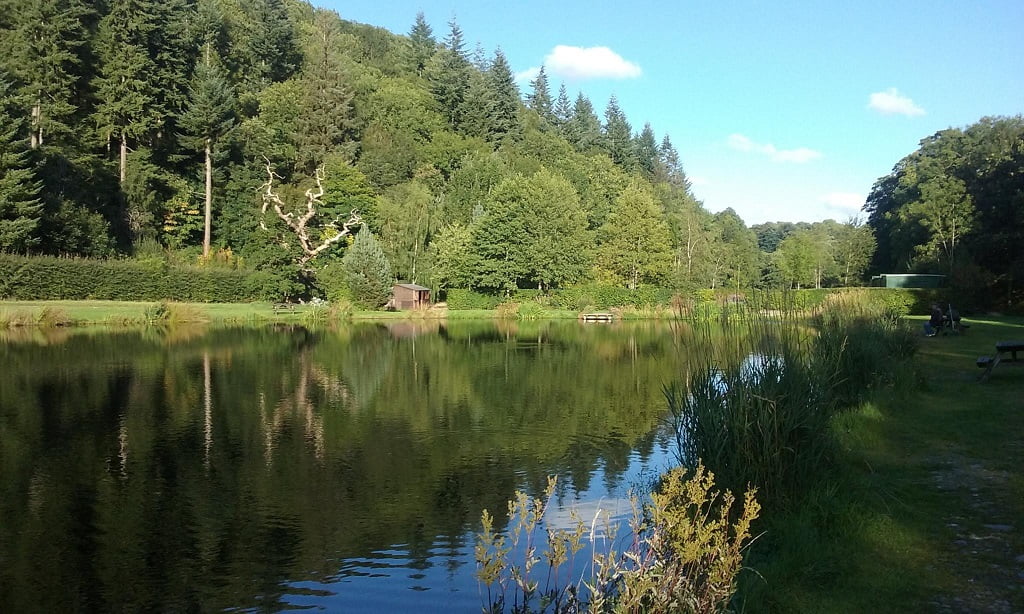 Wal Goch Fishery – Nannerch, Mold CH7 5RP
Wal Goch Fishing is a trout fishery that offers a great day out to fly fishers whether you are an experienced angler or just starting out. The crystal clear spring fed lakes are located in a quiet, picturesque little valley, providing our visitors with a truly wonderful setting. The lakes are stocked regularly with hard fighting, full-finned Rainbow Trout; these range in size from 1.5lb right up to double figures and offer anglers the prospect of excellent sport.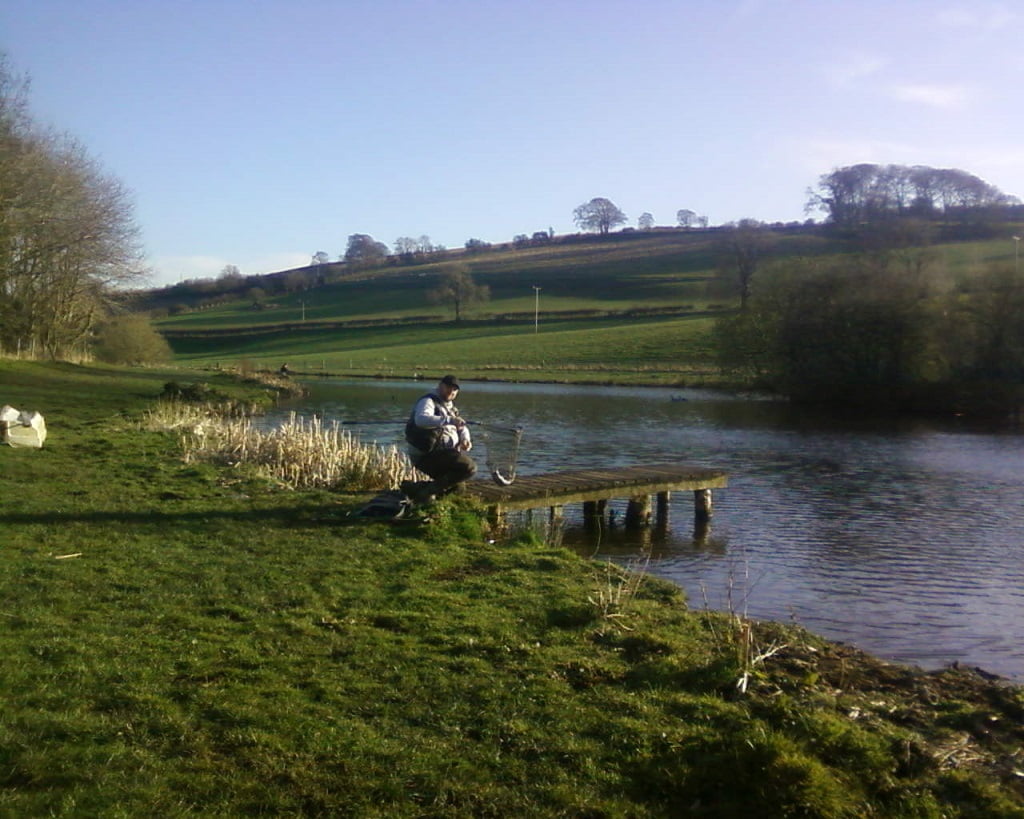 There are many other fisheries scattered all over Wales and there will be one within easy reach of you. Check out Fishing In Wales for write-ups on game fisheries along with images, videos and contact details.
YouTube Channel
Did you know Fishing in Wales has a YouTube channel?? With lots of game, coarse and sea fishing videos all ready to watch, showcasing the best of Welsh angling. So why not SUBSCRIBE HERE to keep up to date with our video content as it lands…