Winter Stillwater tactics at Garnffrwd
There may not be as many stillwater fisheries around the UK as there once were but what we do have in Wales is quality waters.
One of these fisheries is Garnffrwd located in West Wales set in beautiful wooded surroundings up on a Carmarthenshire hillside. It is one of the first to open its doors to anglers and next year sees its 35 year anniversary.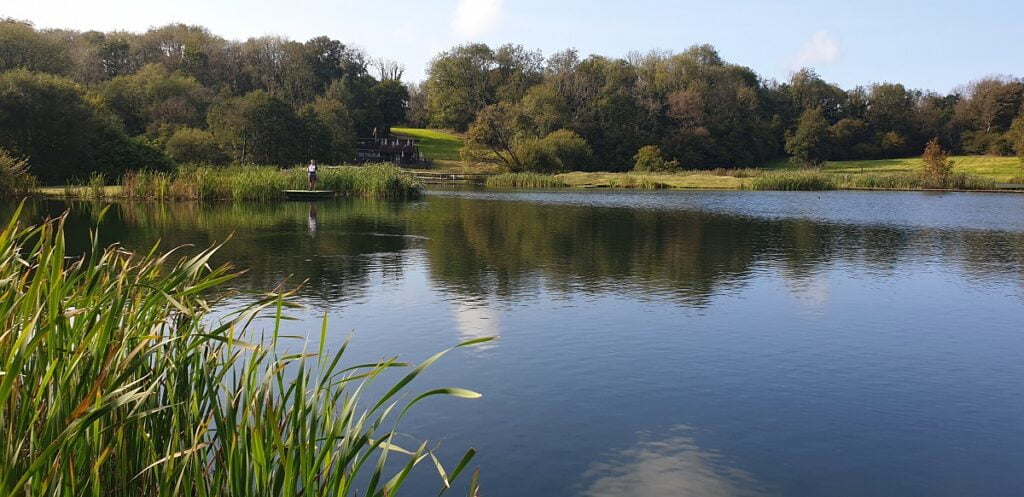 Over the years I have fished all the Stillwater's in Wales with my work as an angling photojournalist for various national publications. Quality rainbows and browns can be had from north to south, east and west, some waters also have golden trout, blues and tigers. Garnffrwd is just one of these venues, but recently it has one other strain of trout on my bucket list, a spartic.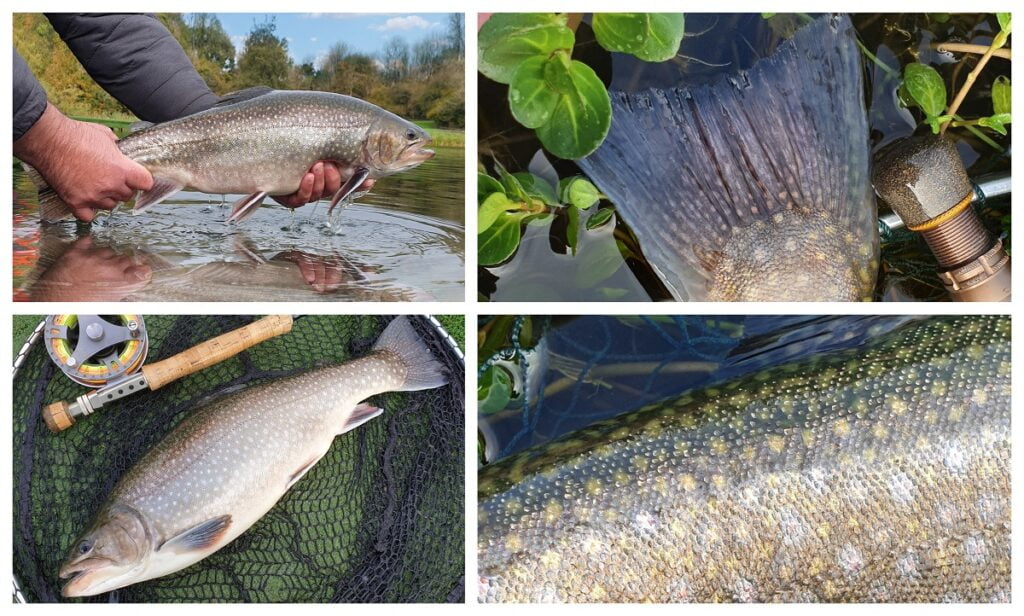 The Spartic is a cross between a brook trout and an arctic char, and Garnffrwd is one of the few waters that stock these stunning fish, so on a cold but clear October morning I head west along the M4 in the hope in connecting with one of these relatively new additions to the Stillwater scene.
The day
At winter time it does not pay to get up early as there is no advantage in doing so. The temperature of the water is usually too cold for any activity. It is not until mid morning that the temperature warms up and fish get active. So first things first for me is to get a good breakfast inside me and this is exactly what I did at Garnffrwd this morning. A cuppa and chat with owner Jamie before tucking into a full Welsh breakfast with lava bread and cockles, Christine's speciality, a must try.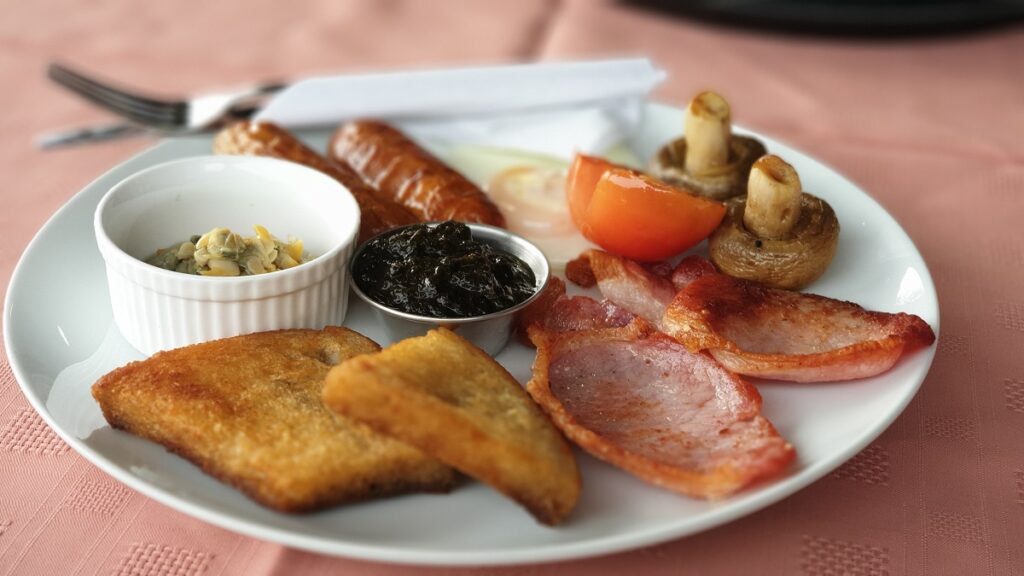 Always worth chatting to the owner or manager of the water before fishing if you can as you can learn so much on flies, tactics and areas which are fishing well. Saves a lot of time, especially when the days are short.
I set up 2 rods, it's more important I feel to do this at winter more than any other time of the year as a hatch at this time can happen quick and be over in a short window of time. Usually around mid day when the temperature favours any fly which is likely to hatch.
My first line of attack is to head over to the dam corner, one of my favourite spots on the lake and the deepest. I set up with a clear intermediate, 10ft of 6lb fluorocarbon with an olive damsel gold head. I make long casts out into the lake leave time to sink then make a slow figure of eight retrieve. I tend to fish slow in cold conditions as often fish done like to chase when temperatures are low. I make a fan of casts searching in an arc the water in front of me as this is a good way of putting your fly in front of the fish without it having to move far to take the fly.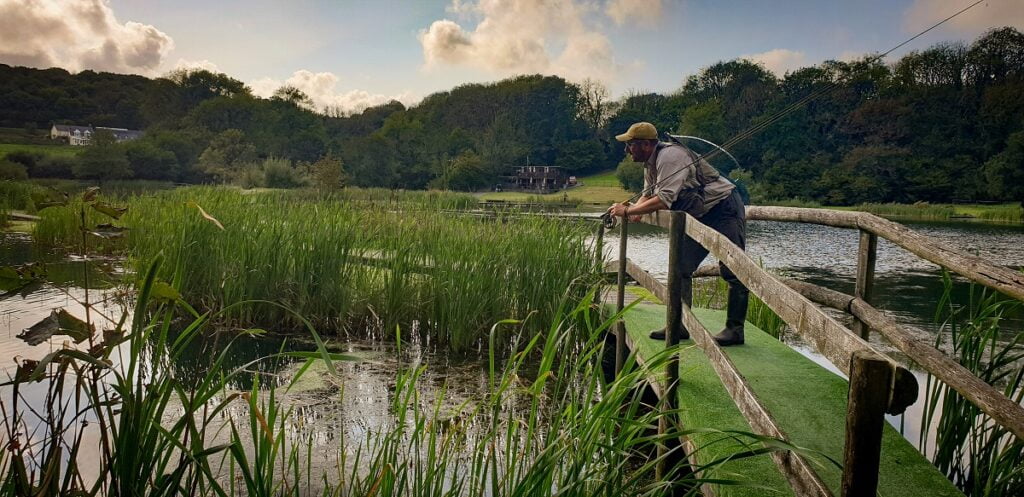 During the next hour or so I get 2 taps close in at the end of the retrieve. So I concentrate on last few feet, pause then lift the rod slowly jigging as I lift, a great method to induce a following fish. This is especially the case if your fly has marabou in the dressing, gives life and pulsates as it makes its way to the surface. It wasn't long before this method produces a fish with a fine rainbow around 3lb thrashing on the surface before throwing the hook.
Around mid day things were warming up and as expected a few fish start showing on the surface, I instantly reel in and change to the other rod which was loaded with a 5 weight floating line with two dries, a black hopper on the dropper and a shuttlecock on the point. I have found these two patterns to be the best combo while fishing dries as not only is the hopper a good dry buzzer imitation it also imitates a terrestrial fly blown on the water, whereas the cdc shuttlecock is a great pattern for a hatching midge pupa sitting in the film about to hatch. Straight away I was getting interest in my hopper and it wasn't long before I was connected to a hard fighting Spartic trout around 3lb. After a lively battle, slipped into my waiting net, I was over the moon and what stunning looking fish these are, with their delicate magenta spots. After a few photographs I slipped her back, it's good to see fish returned in the winter, as they swim off strong as they recover well in cold water.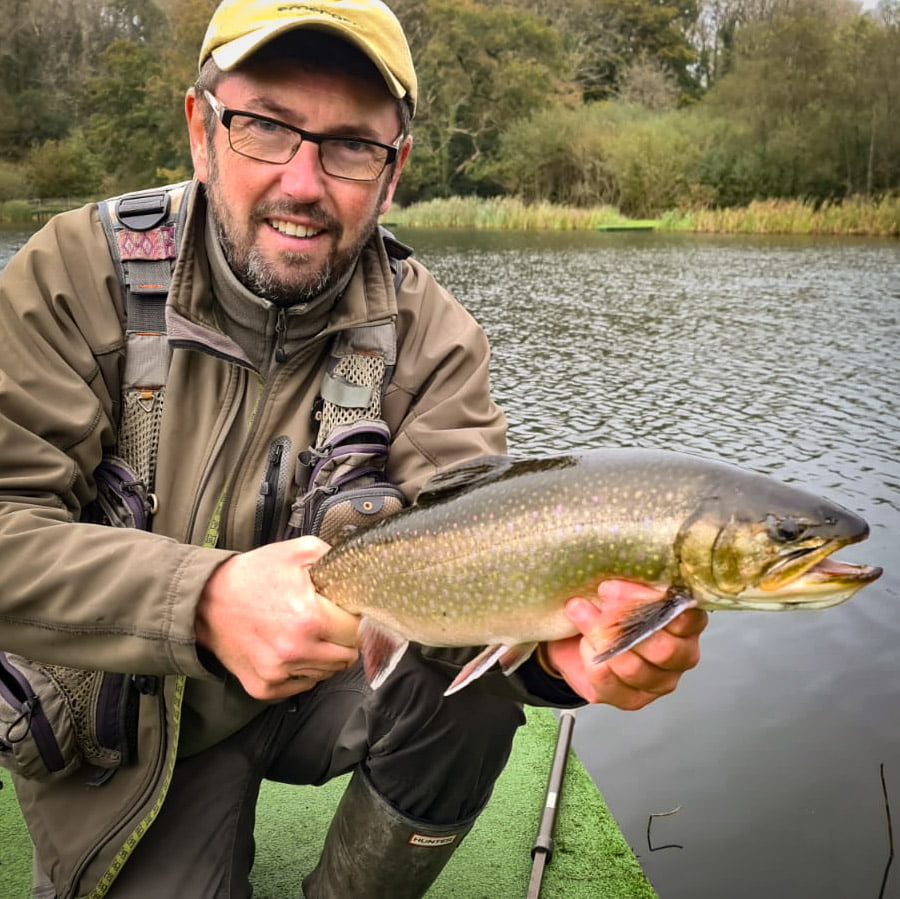 After a few more casts, takes dry up so I decide to move around 50 yards along the bank as I could see a few fish showing. As the fish are not very active in cold weather it pays to move around and not to stay in one place too long, this time of year you need to cover plenty of water to find the fish.
As I was getting to the platform I could see that there was one fish consistently feeding close in, I crept over got on my knees made my cast. A delicate rise followed for my hopper once more, I lift and instantly she darted out into the lake screaming line off my reel. After a few attempts to swim under the platform I eventually netted her. Another fine Spartic, this time a touch bigger I estimate around 4lb.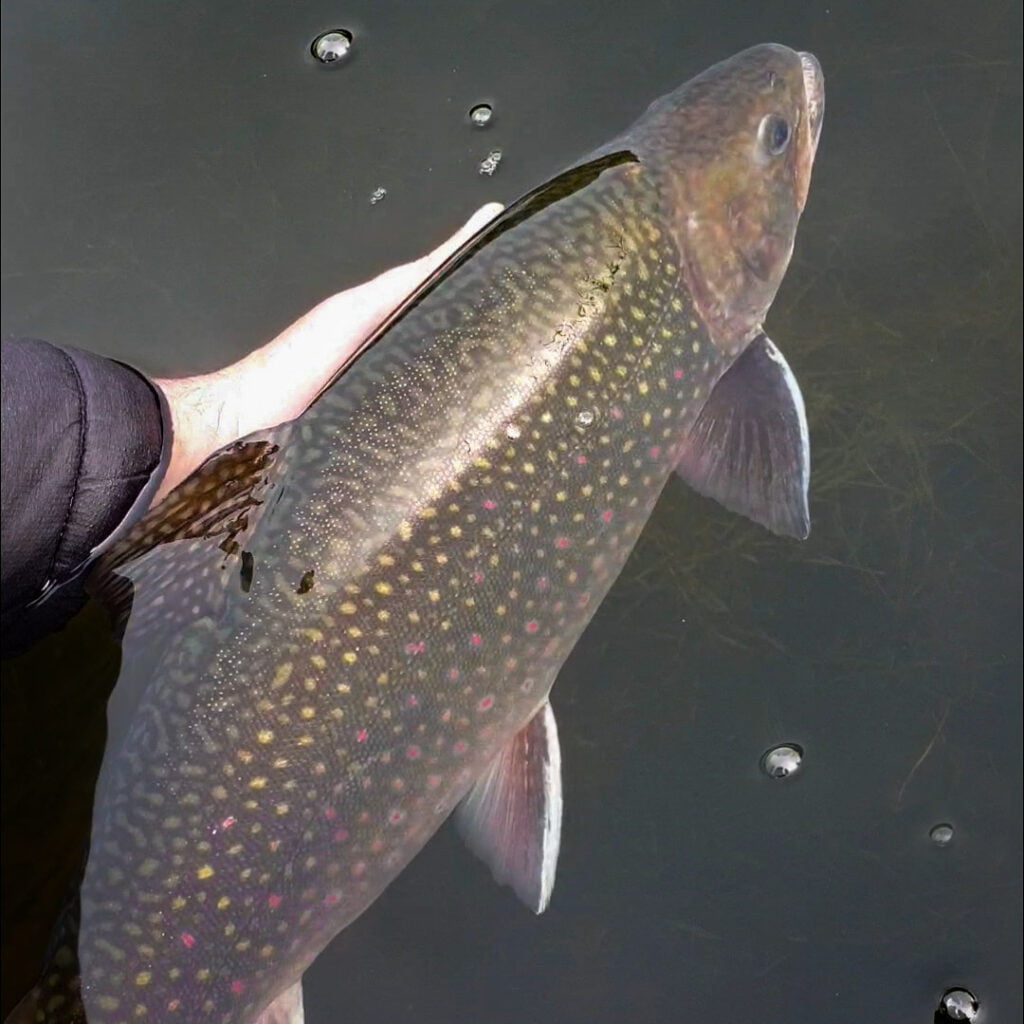 I had two more later that day before the temperature dropped and sport ceased. Would have been happy with the one Spartic but to get four was unexpected, all coming to the dries.
Another thing worth mentioning is that browns also love early winter for they have a tendency to go off the feed in summer so when they feel the temperature drop they start to feed to pack on weight for the winter months. Although I didn't tempt any on my visit this time, I will be back soon. I think the introduction of Spartic result in plenty of sport and activity in the colder months, probably down to the arctic char side of their genetics.
Garnffrwd is very much an imitative water and for those anglers who enjoy a thinking approach and surface sport this is the water for you. It is has an abundance of natural feed and insect hatches. April time here is something else with its olive hatches, but that's another story.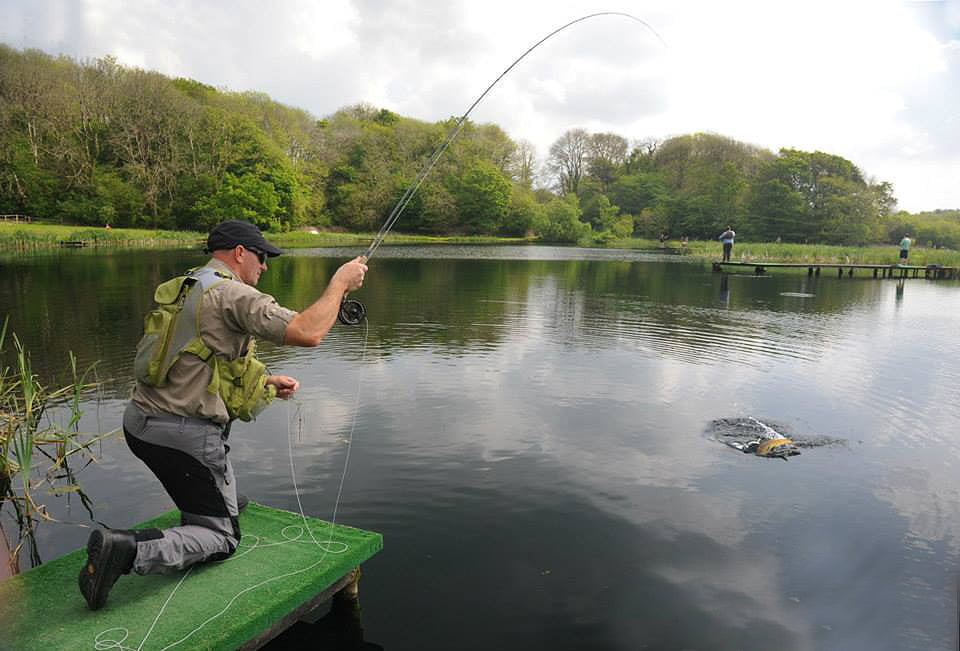 Stillwater Tactics and set ups.
Set up 1
Rod, 10ft #7 Intermediate line with a 10′ to 12′ leader with an attractor pattern such as a gold head damsel, catswhisker or a black tadpole.
This method usually pulls the fresh stock fish. Cast out a long line leave it sink for 10 seconds or so then either strip the line back in short pulls. Also worth changing speed of retrieve and stop/start to induce the fish to take. My preferred method is figure of eight as you are constantly connected to your fly.
Set up 2
Rod, 10ft #5 A lighter line for more delicate work, for takes are often gentle, so a sensitive switched on method is called for. Dries or buzzers. My top two go to dries are a black cdc, and a black hopper usually the hopper on the point. Make sure to degrease the leader I use fullers earth. For nymphs my choices are Hares Ear and Diawl Bach, my top tip for nymphing is you can't retrieve slow enough and ideally fish with a wind coming from the side and the ripple will help you keep in touch as the line bows around.
Set up 3
Rod, 10ft #5 Bung or sight indicator, personally I don't use blobs or worms but yes on their day are proven fish catchers. I prefer to use buzzers, black epoxy especially and if fishing two will have a bloodworm on the point. This method often takes better fish, natural feeders.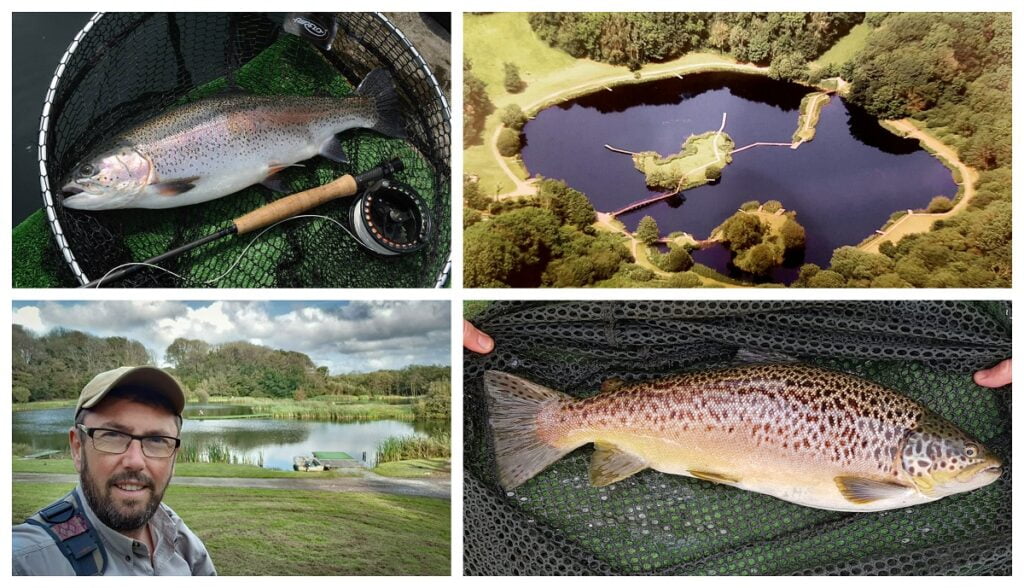 Link to Stillwater fisheries in Wales.
https://fishingwales.net/game-fishing/

Listen to Ceri's podcast on Garnffrwd here: https://castingwithcerijones.com/castingwithcerijonespodcast/episode13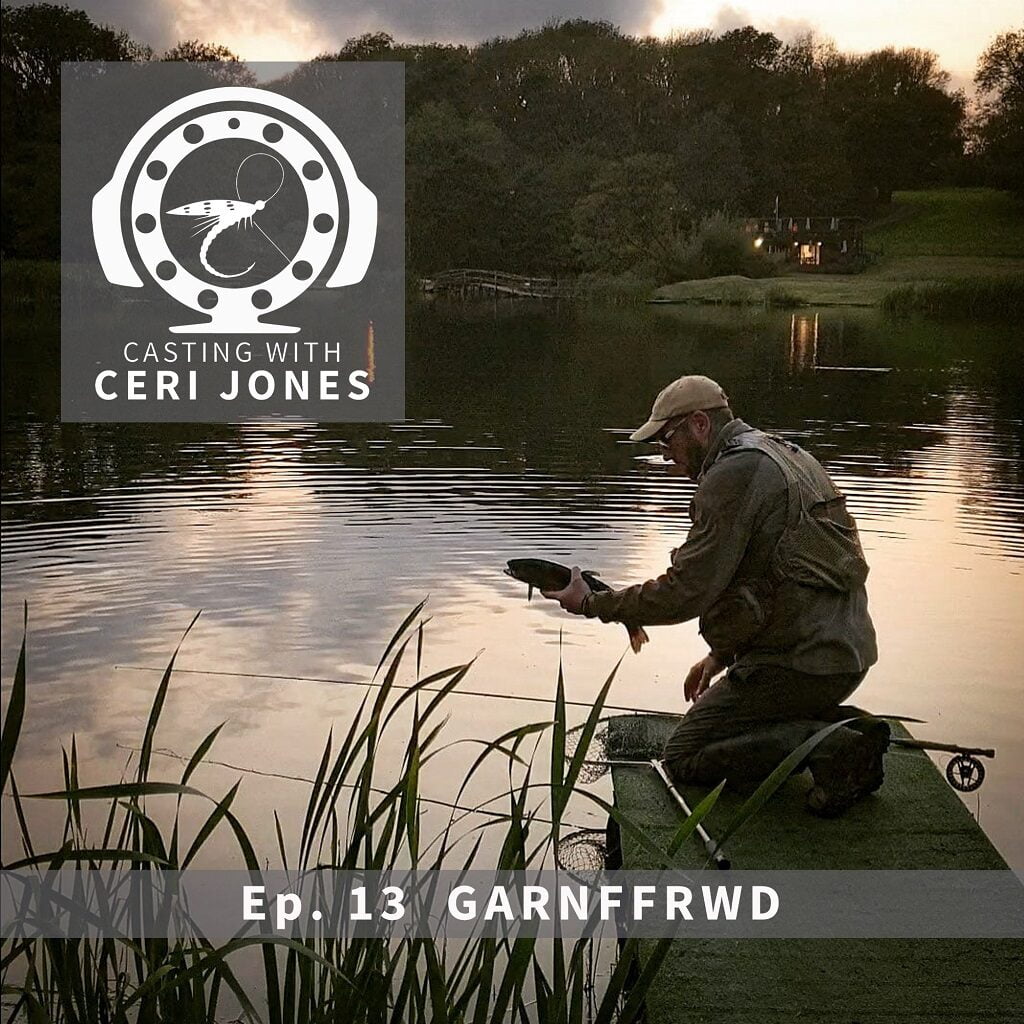 Words & Images: Ceri Jones