Sea Fishing Paradise: Short Breaks in Wales

International saltwater journalist Dave Lewis looks at sea fishing breaks closer to home – and where better than Wales?
In recent years an increasing number of sea anglers have spent the winter months looking forward to enjoying what for many has become an annual or even a biannual event; a short angling break.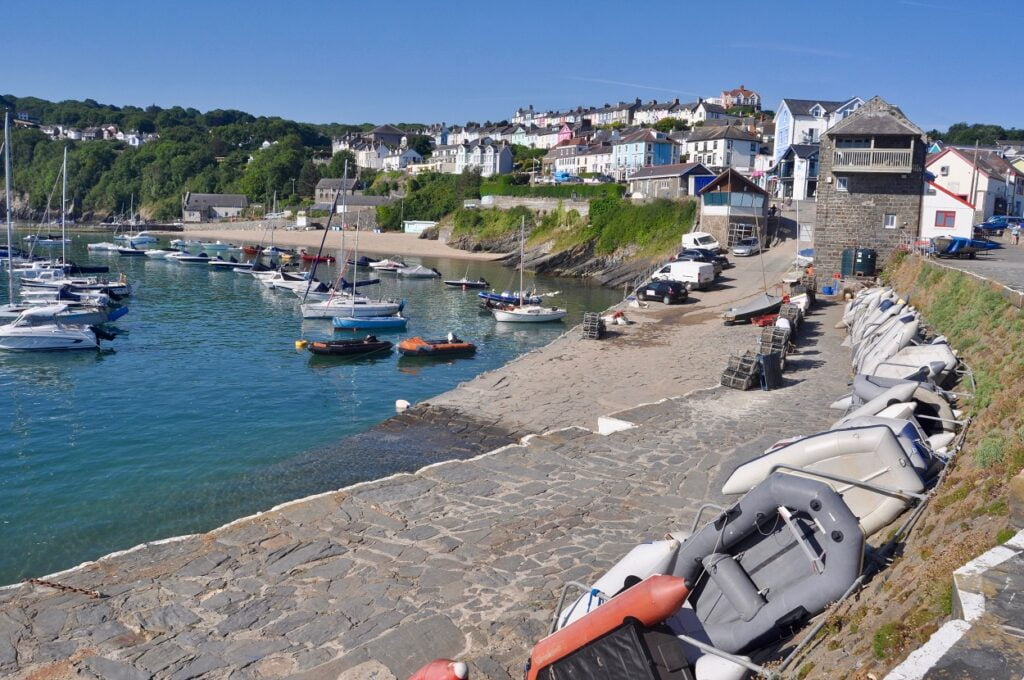 Ireland and Scotland have long been popular destinations for such trips, which typically vary in duration from just two or three days up to a week. Others set their sights on destinations that are slightly further afield, such as including Norway, Iceland, Spain, Portugal or France.

Making the necessary bookings associated with these trips used to involve little more than a few clicks of a mouse, and for many the planning was actually a big part of the overall enjoyment of their trip, until 2020 turned the world on its head.
For reasons which everyone will be only too familiar with last year saw the world descend into chaos. The travel industry in general and airlines in particular had an especially tough time, and it is hardly surprising that consumer confidence in booking a fishing trip pretty much anywhere took a massive hit. As I sit writing this blog that horrible year is almost at an end, and finally there appears to be some light at the end of the tunnel in the form of an effective vaccination.

However we are told that it will likely take many months before everyone has the opportunity to have a vaccination, so much uncertainty remains as to exactly where and when you can and cannot travel. If you are an angler hankering to once again pack your tackle and set off on a trip somewhere, anywhere, like I am, but you don't as yet have the confidence to travel abroad, why not book yourself a 'staycation?'
If you are looking for a great angling destination Wales is the perfect choice. Easily accessible from all parts of England, Wales has an abundance of breathtaking scenery, natural beauty, wonderful food and, of course, many truly amazing angling opportunities.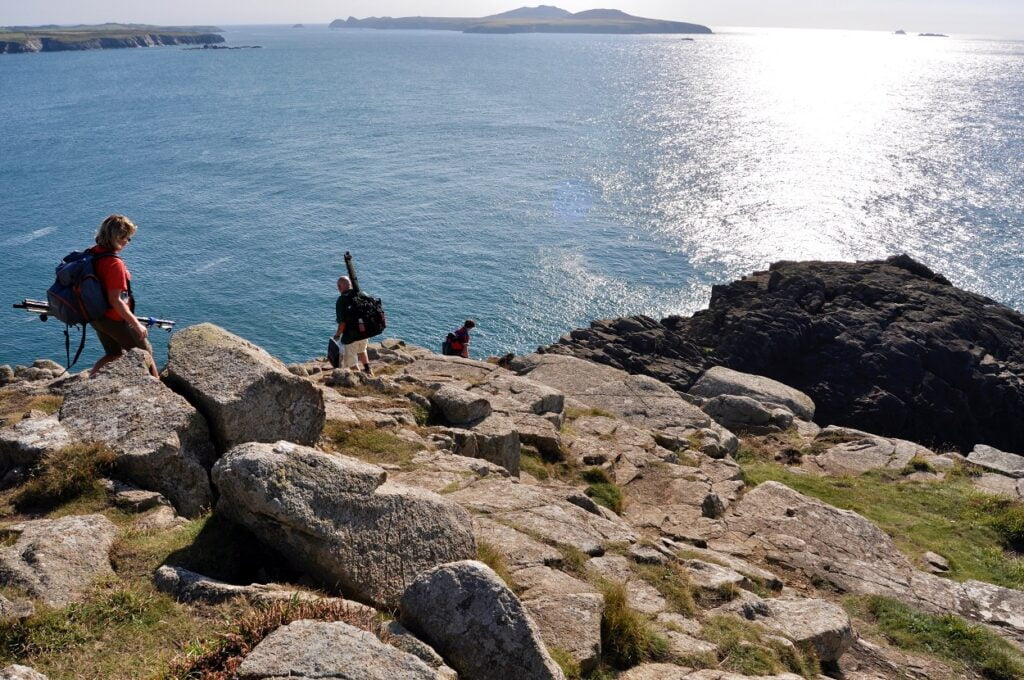 Regardless of whether you prefer to fish offshore or keep your feet firmly on land and cast from the rocks or beach, if you want a designated fishing trip or simply a trip away with a partner during which you can spend some time fishing, or if you're looking for an affordable B&B or a chic boutique hotel, you'll find exactly what you are looking for right here in Wales
Our capital city, Cardiff, is widely regarded as being one of the great tourist cities of Europe. Conveniently located less than a half hour drive along the M4 from the Severn Bridges, a little more than two hours from Central London, Cardiff really is the perfect choice for either a short or a long break, mixed in with with fantastic shopping, a multitude of dining options, accommodation to suit all budgets and, of course, first class sea fishing.
Just a short drive or taxi ride from any city hotel will take you to one of several locations within Cardiff Bay, from where you can board one of several excellent charter boats to take you fishing out in the Bristol Channel for the day.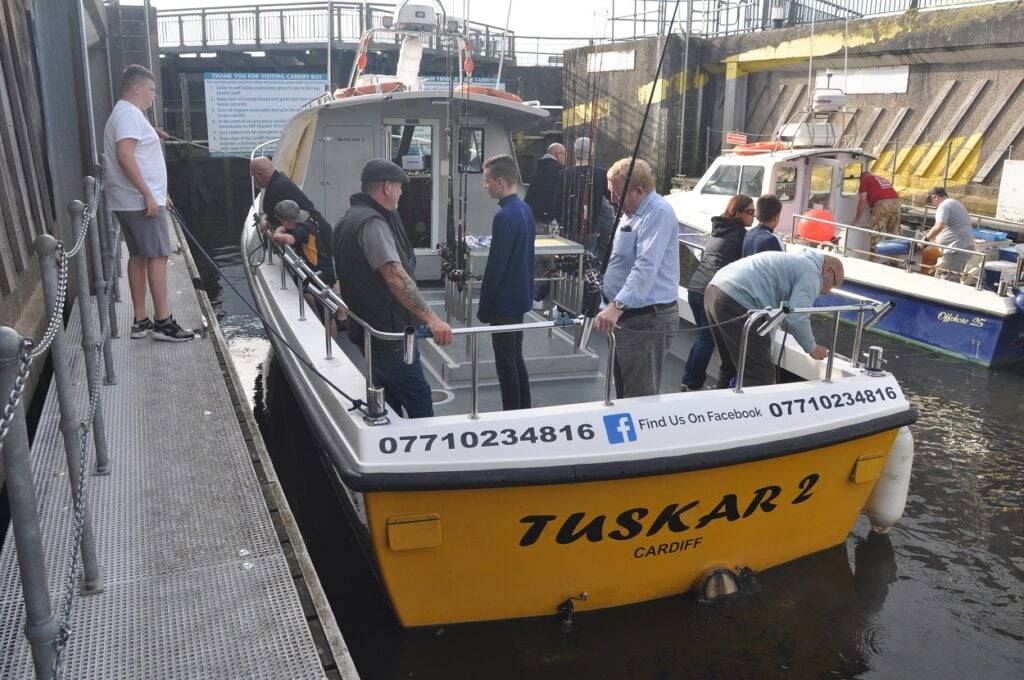 Depending on the time of the year you will be able to choose from a wide variety of different species to target including cod, bass, various species of ray, smoothounds, conger eel, tope and many more.

Shore anglers, too will find several excellent venues from which to fish within a short travel distance of the city. Why not spend a day maxing out the breaking strain of your fishing line while your partner spends an equally productive day maxing out your credit cards, before sharing your experiences over a fine meal at a great restaurant!
Head further west and our coastal scenery becomes more spectacular by the mile. The Vale of Glamorgan Coastline, Gower, Carmarthenshire, Pembrokeshire-the UK's only coastal National Park, Cardigan Bay, the spectacular Llyn Peninsula, Anglesey and our northern which sits in the shadow of the Snowdonia National Park, all provide a different perspective on outstanding natural beauty and wherever you decide to base yourself, you'll never be far away from equally outstanding fishing.
Bass are arguably the most popular species with many of the UK's sea anglers, which is hardly surprising are not only are these beautiful fish wonderful sport to catch, but almost always they are caught while fishing amidst the most stunning surroundings. You can catch bass all around the Welsh coastline and throughout almost a full twelve months of the year, but spring, summer and the autumn months are undoubtedly the most productive.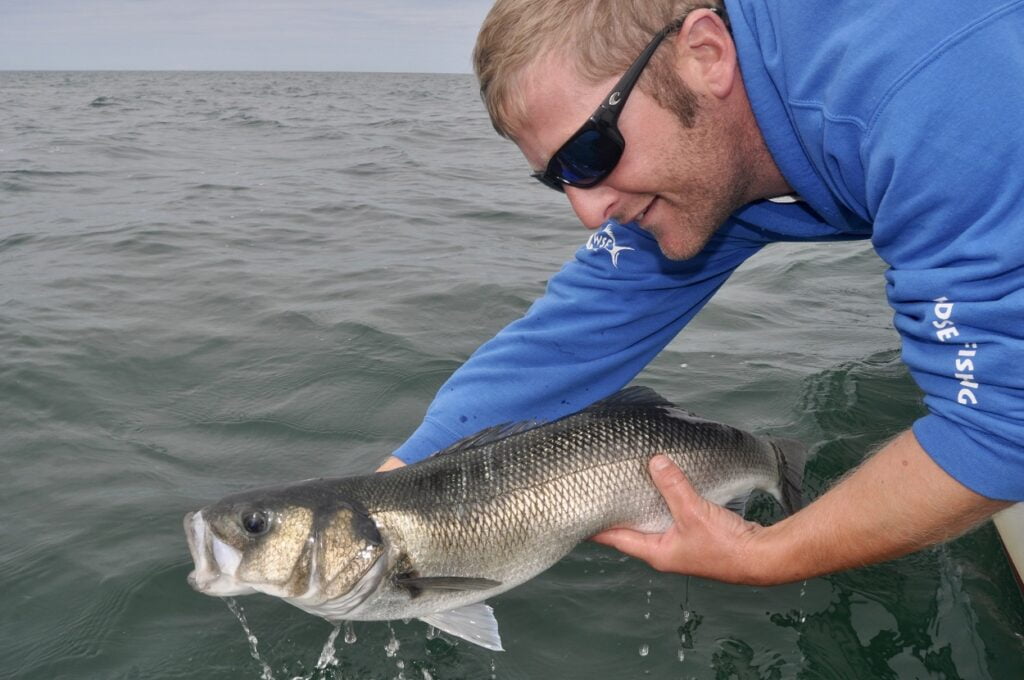 Bass are very much a shore anglers fish that can be caught from a variety of different marks including open surf beaches, remote rock marks, sheltered estuaries and even busy harbours, breakwaters and piers. Access to many of our very best bass marks is facilitated by the Wales Coast Path, which covers a total distance of some 630 miles from the Dee Estuary in the north to the mouth of the River Wye in the south. Regardless of your angling requirements and range of mobility you'll find good vehicular access adjacent to many areas of the coast path, from where you'll be able to fish in both comfort and safety for bass. The only issue will be deciding on whether to fish baits, lures or even fly fishing?
The more adventurous among you might decide to park your car and then hike to fish at more remote areas of the coast, one of our tidal islands perhaps? Sully Island just to the west of Cardiff, Mumbles Head at the western end of Swansea Bay, or the magnificent Worms Head and Burry Holmes islands on North Gower coast, provide some of the best if not the best bass fishing you'll find anywhere within the UK. These islands are accessible for a short period over low water, so make sure you confirm the exact tide times and range of accessibility from a reliable source, such as the coastguard or a local tackle shop.

In addition to bass, rock venues are also hugely productive for many other species including pollack, cod, conger, dogfish, huss, wrasse, pollack and mackerel. Even tope are increasingly are being targeted with success by anglers fishing in both the south west and north west of our country.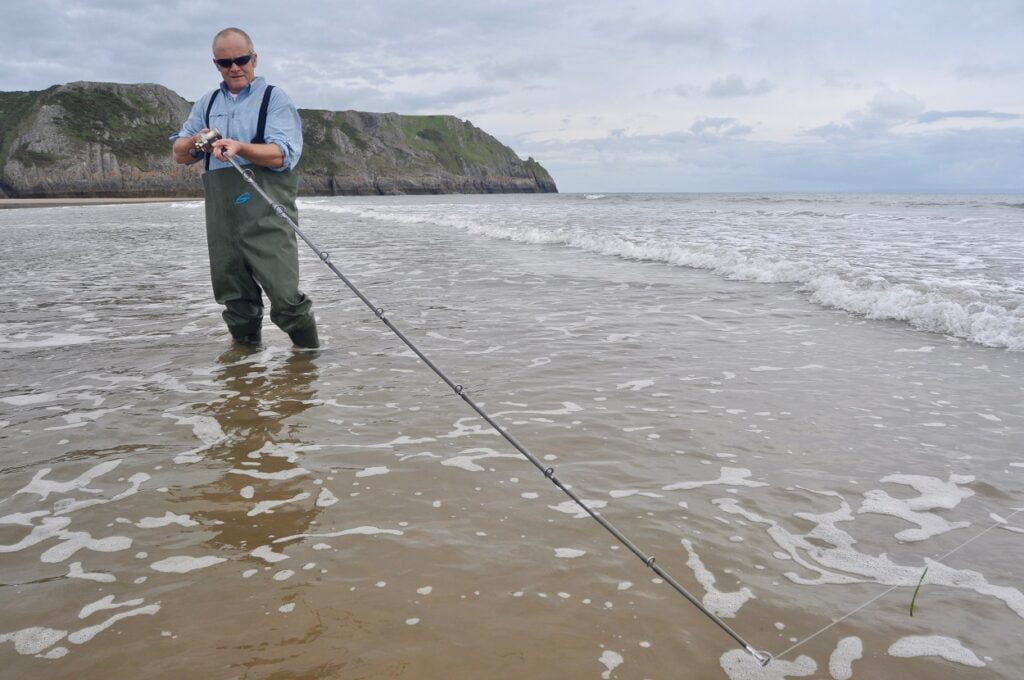 Wales is well known for its golden sand beaches, many of which are also noted bass marks. Many anglers regard standing in the surf while holding a rod, feeling the surge of each wave pulling powerfully around their legs while waiting for a fish to grab the bait to be the absolute cream of bass fishing, I certainly do, this really is a wonderful way to fish! Best of all beach fishing is an activity that all of the family can enjoy! Other species that can be caught from Welsh beaches include flounder, plaice, turbot, sole, various species of ray, golden grey mullet, codling and whiting.
Since the turn of the millennium West Wales, more specifically the various harbours and marinas within Milford Haven, have been recognised as being the starting point for anglers wishing to experience the very best shark fishing available anywhere in Europe. From May right through until the autumn boats set out to drift for these apex predators, which often can be caught in huge numbers. Daily catches in excess of a dozen fish or many more released per boat each day are far from being regarded as in any way unusual unusual.
Blue shark are the most prolific species, with fish averaging between 40-80lb providing excellent sport. Blue shark in excess of 100lb are caught most days, and specimens weighing well over 200lb are caught every year. At certain times of the year porbeagle shark are also encountered, and even thresher and mako shark have been caught in our waters in recent years. That's a total of four species of fish weighing in excess of 100lb that you can catch off the coast of Wales. In addition to sharks, charter boats fishing from Welsh ports catch a large variety of other species, indeed it would be easier to make a list of those species that cannot be caught off the coast of Wales, rather than those that can!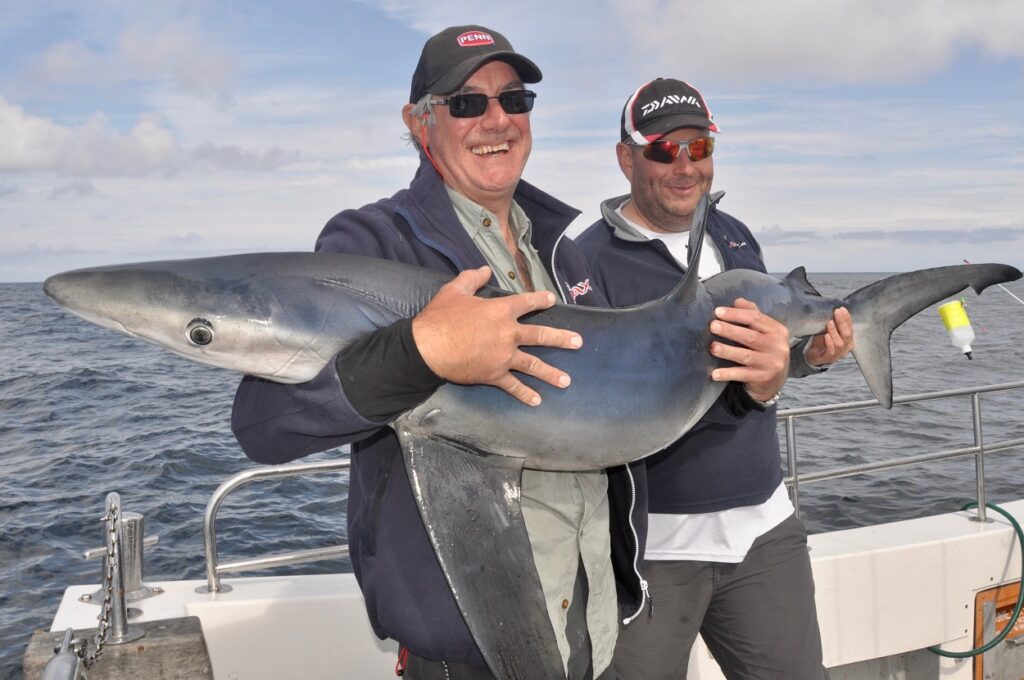 Charter boats fish at anchor using bait, or on the drift using either bait or lures. Key advice when booking a charter trip is to contact a skipper at your chosen port at the earliest opportunity, so that you can discuss your requirements, he will be to confirm the various options that will be open to you. Quite often charter boat skippers work very closely with one or two local accommodation providers, which makes organising your trip just that little bit easier. And, of course, who better to recommend somewhere to dine after a great day fishing than a local boat skipper; you might even be able to provide the main course!
So, finally, we have a glimmer of light shining at the end of what has been a very long and very dark tunnel, with most of us looking forward to once again being able to live our lives in the way we choose.
Of course any return to normality is not going to happen overnight, with most of us expecting some weeks or more likely months of uncertainty.
Rather than thinking of this situation in anything other than negative terms, which I know will be incredibly difficult, think of it as an opportunity, an opportunity to explore angling options closer to home.

Wales has always been on your doorstep, perhaps now is the perfect time to come and visit us?

Words & Images: Dave Lewis