River fishing in Wales for wild trout – a fly fishers paradise
Louis Noble is an advanced fishing instructor and contributor for Trout & Salmon Magazine. In this feature he takes a look at the excellent river fishing in Wales for trout.
Wales is a fly fisher's Paradise where wild brown trout can be found in streams and rivers the length and breadth of the country. Throughout mid-Wales and into every corner, from the rejuvenated rivers of the traditional Welsh industrial valleys to Snowdonia, and from the Dee to the Teifi, wild brown trout thrive, displaying significant diversity in appearance and mottled beauty as they adapt to changing backgrounds.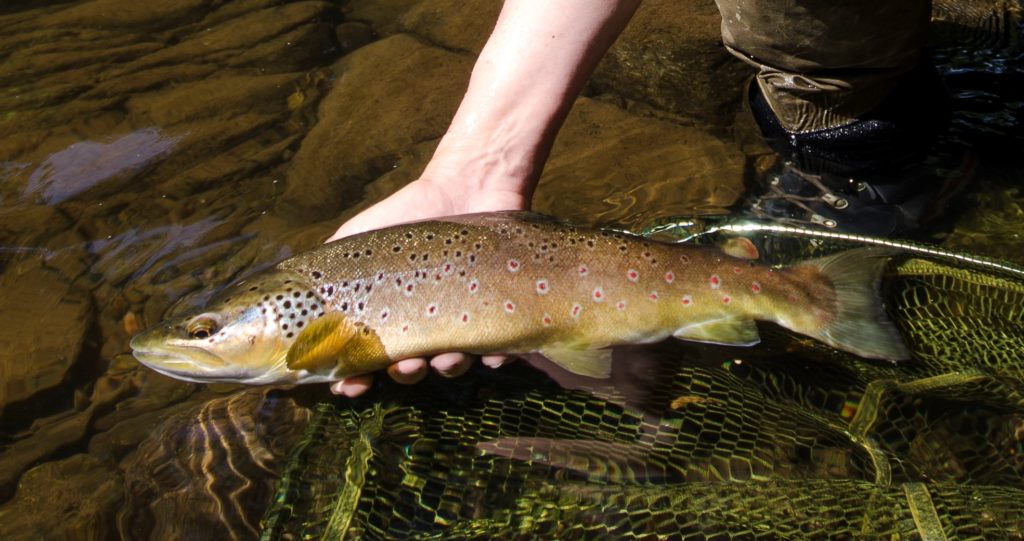 A survey of all the brown trout rivers of Wales would require a very large book so, as a preamble, I will confine myself to commenting on but a few. The Usk, lying in the middle to southern region is known to some as "God's Own River" and the Teifi in the west as "The Queen of Game Fishing Rivers", whose upper reaches have been described as a Welsh chalk stream. In the north we have the Dee, once described as 'the Fairy River' and just as enchanting. From its source above Lake Bala ( Llyn Tegid) it widens and runs through beautiful rolling countryside and thence to the spectacular scenery of the Vale of Llangollen.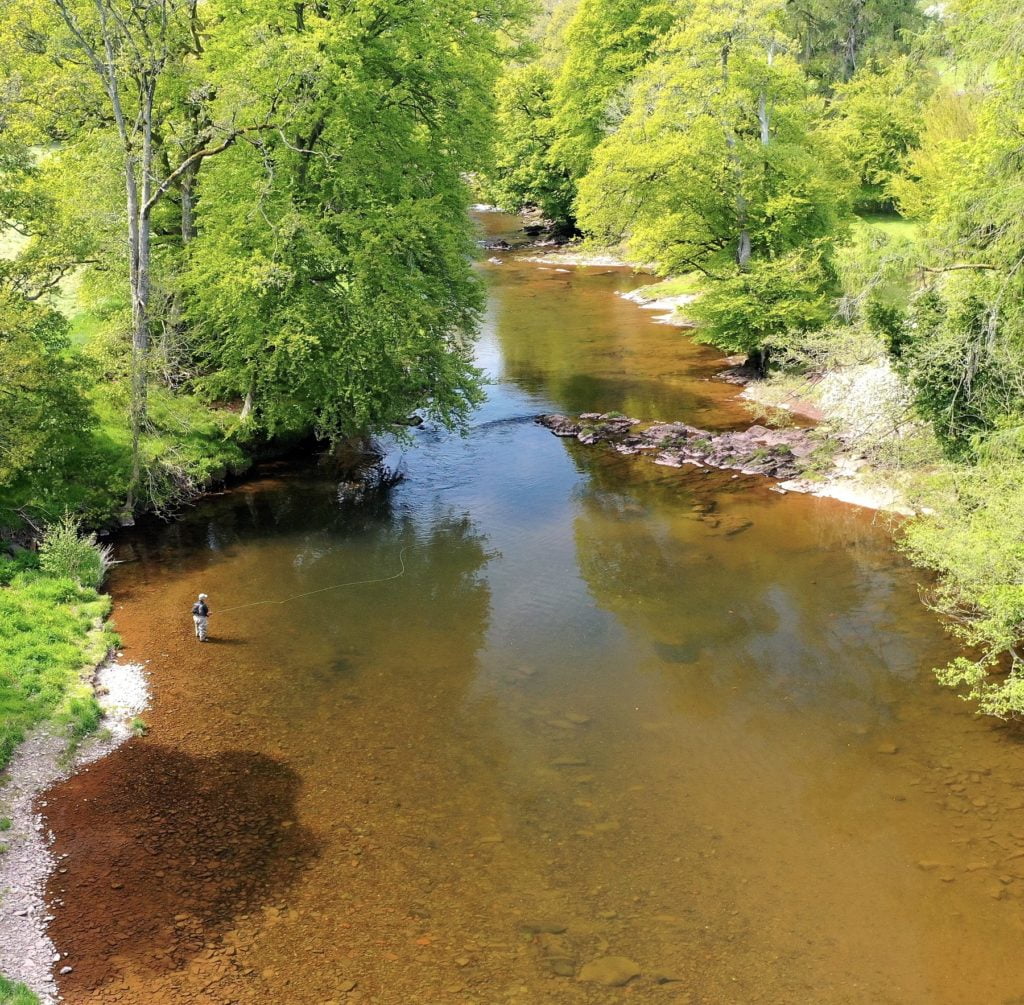 In mid Wales we find the start of the mighty Severn, Sabrina to the Romans, which after Caersws twists through gentle plains. We then have the Wye, the most spectacular large river in Wales. From the upper reaches at Llangurig to Hay-on-Wye can be found some of the finest fly fishing on any river in the UK. In addition to the main river there are significant tributaries such as the Irfon.
All of these rivers descend through areas of great scenic beauty and offer some of the best brown trout fishing in Wales, and days and evenings spent in these beautiful valleys are always rewarding. Wild trout for the most part, these native trout have long held a special place in angler's hearts. A good average size of fish can be expected but some rivers are capable of producing trout of up to five pounds. On the Usk for example the average fish is of around a pound, but fish of two, three and four pounds are reported most seasons.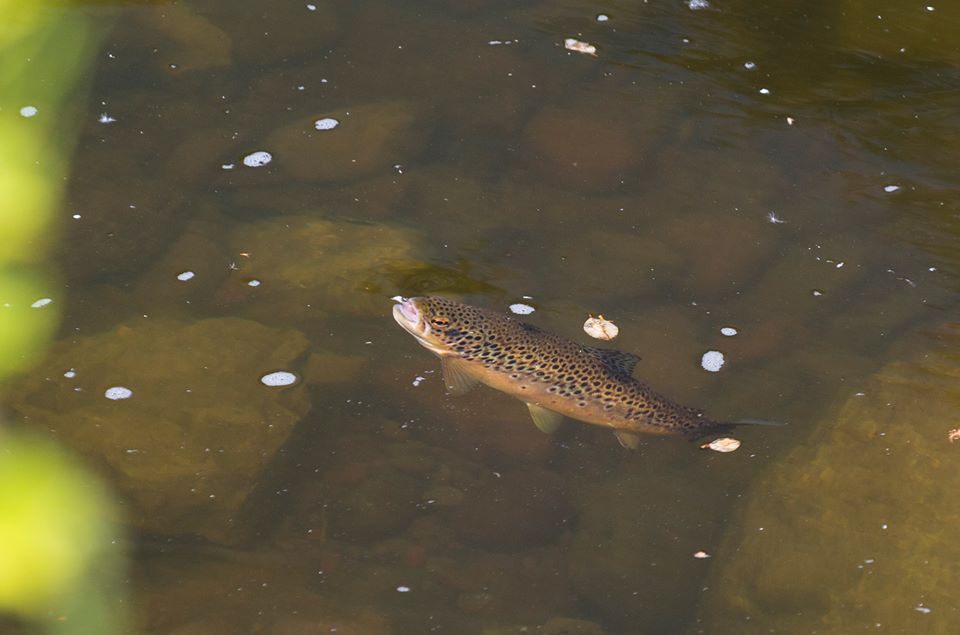 By way of contrast, the rivers of the South Wales Valleys offer a special kind of experience. In settings which are often much more urban, their restoration has been wonderfully successful, with the Taff around Merthyr Tydfil for example, now having an excellent population of insect life which has led to some fine trout fishing, and some big fish too, all the way down to the capital city Cardiff.
From the tumbling upland streams to the tranquil middle reaches of the great spate rivers Welsh water quality is excellent, and this contributes greatly to the abundant and diverse invertebrate population. Without this we wouldn't be able to enjoy such excellent sport from the wonderful wild brown trout.
Thankfully trout stocks are abundant in Wales, but to maintain our superb fishing we would like to encourage a 'catch & release' policy which will help to sustain stocks. Please handle them as little as possible and with wet hands – if this can be done without removing them from the landing net so much the better. Let's get pleasure from seeing them swim away unharmed.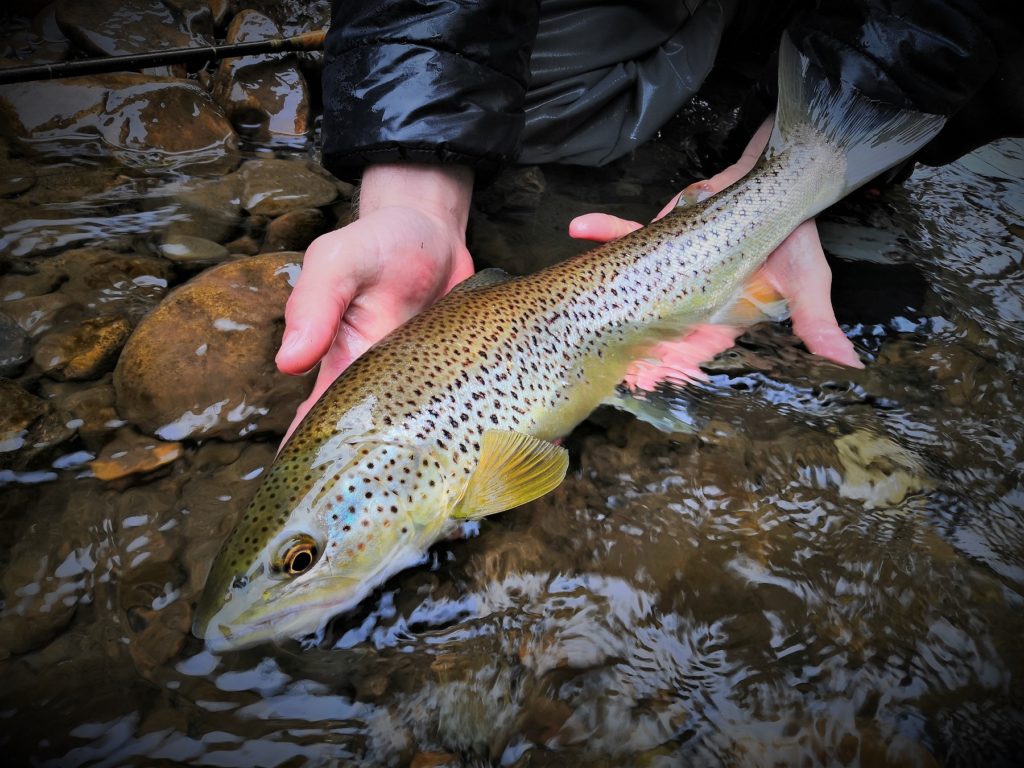 River fishing for trout seasons, fly hatches, tackle and techniques

The trout season on Welsh rivers runs from March 3rd to September 30th and techniques/fishing times should be varied as the year progresses to get the best results. Unless conditions are particularly harsh March and April can provide excellent sport with traditional wet flies, also known as spiders. However, I've seen good hatches of flies in a snow storm with trout feeding greedily, presumably packing on weight and condition after the winter months so really it's worth going out in all but the worst conditions. High coloured water would generally rule it out though. Spider fishing is quite relaxing as the cast is usually made across the stream and the cast of flies allowed to drift downstream but under control.
Few patterns of fly are required for the early season as only a few notable species will be hatching. The Large Dark Olive will continue hatching from Winter into Spring and the Waterhen Bloa, Greenwell's Glory, Snipe & purple and Hare's Lug & Plover will cover all eventualities, size 14 is ideal and normally three flies are used on the cast.
The effective fishing window in these early months is short, often only between mid-day and mid afternoon.
Dependant on weather conditions, late March and early April can witness hatches of the spectacular March Brown which when hatching can drive trout mad, fortunately the majority of our stony Welsh rivers have them. The hatch can be as short as twenty minutes and only happen twice a day so you need to be ready. Although floating flies will be seen the trout prefer to take the emerging insect and a March Brown spider pattern fished wet can be deadly.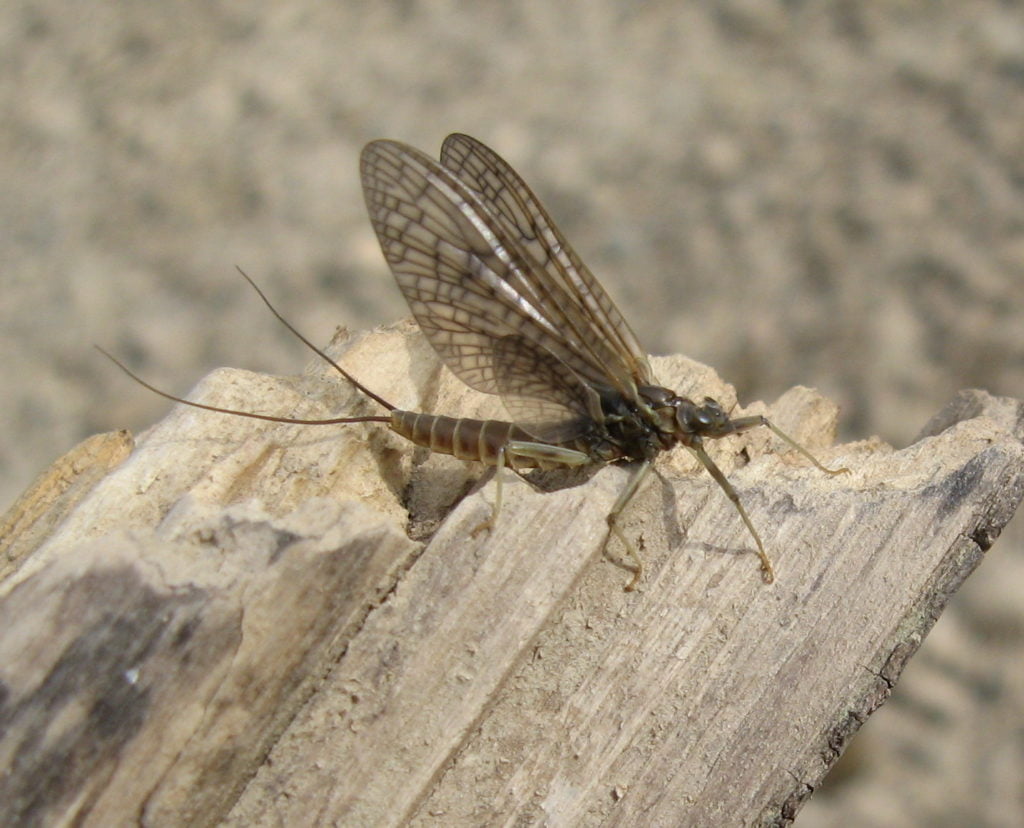 Mid to late April sees the appearance of another significant fly, the Grannom which can be seen in huge swarms as they hatch, again driving the trout wild. This is the first sedge/caddis of the year and looks like a small grey/brown moth. As with the March Brown, hatches will be sudden and short lived but hugely exciting. A wet spider pattern such as Partridge & Green will do well plus some of the closely imitative emerger patterns available today. This early season sport can be hugely rewarding and I commend it.
As the season progresses different species of flies will be seen although some are more relevant to certain rivers. We can normally expect to see the Large Brook Dun, other species of smaller and lighter Olives, the Olive Upright , the Yellow May Dun, the true Mayfly, Stoneflies and Sedges. Rather than a team of spiders although still effective in fast water, dry fly tends to be the favoured technique as trout are willing to rise. On the rougher streams and rivers trout are usually happy to take a 'general imitation' such as the Gold Ribbed Hare's Ear, Baby Sun Fly, Black Gnat or Grey Duster but on larger rivers like the Wye and Usk the fish are truly demanding and our patterns must be very good imitations. This is surely what makes fly fishing such a fascinating sport. The number of fly patterns available is huge and confusing – for excellent guidance on patterns relevant to Welsh rivers I would suggest that you visit the website of The Gwent Angling Society where the best imitations of flies mentioned above will be found.
There is also another technique particularly useful for the early season, although excellent at anytime and that is 'duo', often called New Zealand style where a nymph is suspended below a generally large and very buoyant dry fly. An ideal pattern is the ever popular Klinkhamer and good choices of nymph would be the Pheasant Tail and Gold Ribbed Hare's ear, both with tungsten beaded heads of approx 2-2.5 mm. The tippet of approx' 3lb.bs is generally about a metre long and normally tied to the bend of the dry fly or perhaps an integral nylon loop. The combination is fished effectively in the same manner as single dry fly and the large dry fly acts as a bite indicator. The nymph is the primary bait although fish will take the indicator.A very effective method and great fun.
The early Summer months of May and June can give sport all day but as the heat of July/August arrives the best tactic is often to fish either very early in the morning or late in the evening, often into darkness.

September is often the best month – those final 30 days can produce bigger than average fish, often in splendid spawning colours. Like the spring, expect good fishing all day in September, with hatches of olives and falls of terrestrial insects ensuring surface sport. If there is a September spate, expect frantic action to nymphs or wet flies as the fish push upriver.
So far I've only mentioned wet/spider fishing , dry fly and 'duo' but recent years have seen an upsurge in nymphing techniques such as Czech and French leader, generally promoted by Winter grayling fishing. However, these relatively short line multi fly techniques can also be deadly for trout particularly in the faster shallow runs. Strictly speaking though, if conditions are good and rising fish can be seen the dry fly will be more effective.
The final technique to consider especially for those seeking the very large trout mentioned earlier is 'streamer fishing' where large prey fish imitating lures are used, often on a sinking line to probe the depths of the larger rivers. Large trout are cannibals and this relatively modern method is perhaps the best way to find them.
With regards to suitable tackle, on the larger rivers a 10ft #3 rod is ideal for wet fly or nymphing and a 9 – 9ft 6" #4 or 5 for the dry fly and 'duo'. For the smaller streams such as tributaries of the upper Usk around Sennybridge and the Edw of the upper Wye a rod of 7ft will be more appropriate.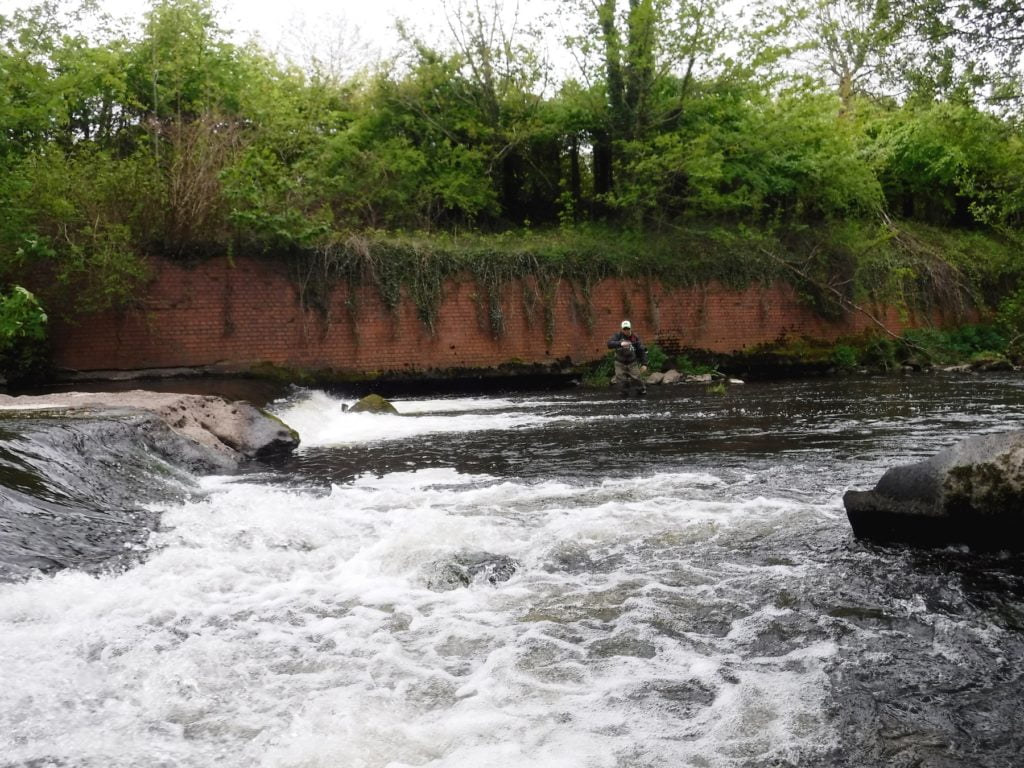 A few Welsh rivers to try:

I hope this article will encourage you to sample our superb trout fishing and that the information is helpful. I will close by listing my favourite rivers, with information on availability:
River Dee – Many day ticket options, the area around llangollen is particularly scenic.
River Wye – The upper reaches are easily fished on the Fishing Passport. Also, good stretches with angling clubs such as Rhayader AA.
River Usk – Most of the river can be fished on the Fishing Passport. Various ticket options online. There is also good club water, for example with Merthyr AA or Crickhowell and District.
River Severn – Great fishing in the upper reaches. Various inexpensive day tickets available from local outlets.
River Taff – Has superb fishing offered by several clubs, including Merthyr AA, Osprey fly fishers and Glamorgan Angling club. Tickets available from local tackle shops or in the case of Merthyr stretch, you can join online.

Words: Louis Noble, Advanced Professional Game Angling Instructor.
Images: Louis Noble, Tim Hughes, Ceri Thomas, Adam Fisher (Angling Dreams)
YouTube Channel
Did you know Fishing in Wales has a YouTube channel?? With over 40 fly fishing, coarse and sea fishing videos ready to watch, we will be uploading many more videos showcasing the best of Welsh angling over the coming months.
So why not SUBSCRIBE HERE to keep up to date with video content as it lands…