Llyn Fishing at Blaenau Ffestiniog
North Wales has so many fantastic mountain lakes to fish that the choice can be bewildering. There are numerous angling clubs offering easy day ticket access, one of which being the Cambrian Angling Association based in Blaenau Ffestiniog. They have a mix of 14 or so llynoedd (Welsh for 'Lakes'). Some of these are a long trek into the hills, but there are several that are quite easy to reach, with roadside access or just a short walk.
On this occasion on a bright June day myself and good friend Alan 'Parf' Parfitt decided to try some of the mountain lakes on the eastern side of the town, where from the looks of it access would be pretty straightforward according to directions on the angling clubs website.

The three lakes we picked out on the map had names that sparked the imagination: Llyn y Manod – 'lake of fallen snow', Llyn Dwr Oer – 'lake of the cold water' and Llyn Dubach – 'little black lake'. Would there be a snowy mountain, cold water and a black lake up there? Or any fish? We would find out.

Parking for these lakes was easy – right on the main Street in Blaenau Ffestiniog itself, the A470, which happens to be the main road through Wales. Tucking ourselves into a parking spot outside a row of terraced houses, we donned rucksacks holding the gear and began our journey. Opposite our parking area was an opening into a track that led the way up a steep incline. This rough road (or maybe an old slate wagon track) must have been trodden by thousands of quarry men on their way to work in years gone by.

It was a sunny and almost windless day, perhaps not the best for fishing but ideal for photographs and not unpleasantly hot. On the way up the views of Blaenau Ffestiniog and the neighbouring mountains were magnificent. Way down there 'the town that roofed the world' was framed beautifully by rugged hills and abandoned slate tips, a stunning location.


The track was very easy to walk, and although fairly steep we soon reached the first llyn after just 20 minutes. An old mining reservoir, Llyn Dwr Oer is said to hold fish according to the Cambrian AA club website and the Fishing Passport (where we had booked our tickets online). The lake was tiny, crystal clear and knee deep. From what we could see (every stone on the bottom!) it appeared to be completely fishless. The water did look cold though. Perhaps the fish only come into the lake from the inflowing streams at times of higher flows? Who knows.

From here we decided to press on to Llyn y Manod, a 10 minute walk to the right of Dwr Oer.
Our first view of the lake was breath-taking. The llyn of 20 acres or so was wedged dramatically between the two mountain peaks of Manod Fawr and Fach, with Trawsfynydd Reservoir beyond in the distance; very impressive.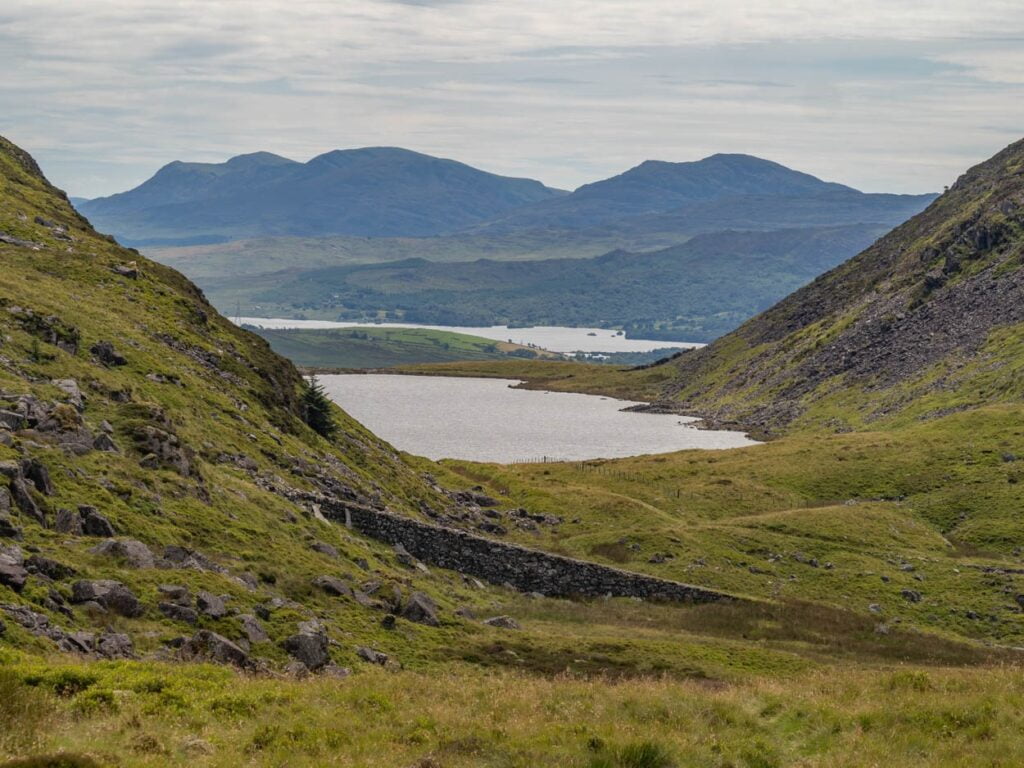 On a gloomy driech day I'd imagine this could be a solemn, moody place, but today it was very inviting, with the welcoming shrill of a peregrine falcon and call of ravens breaking the silence. The water was gin clear and the boulder strewn shores shelved off into bottomless depths in places.


As we reached the top end we came across two young ladies, who had evidently been wild camping that night. ''Have you seen any fish?'' I asked. ''yes – loads jumping, but only at night or early morning''. That sounded promising.

We headed round to the far end of the llyn, the lee side, which appeared shallower and had some attractive bays and points. As we rigged up we saw a dimpling rise in front of us. I put on a single coch-y-bonddu wet fly and a long 18 foot leader (a good tactic for a bright day) and out it went. Second cast I was in! A small one, barely the size of my hand, but incredibly beautiful. Likewise, Alan was soon into the action, a modest trout skipped across the surface, which he held up quickly for a photo.

Before long we'd landed what may have been a dozen, in just half an hour of fishing. The lake of the fallen snow wasn't going to give us anything bigger. It literally swarmed with small obliging trout, which would make the venue ideal for a beginner (fly, worm and spinning is permitted) I called over to Alan: ''Well, we can stay here all day and catch hundreds of these – or change lake''. And off we went, to Llyn Dubach.

Dubach lay under a crag to the left of Dwr Oer, about a 20 minute walk from Manod. Again, nothing too strenuous, just a gentle uphill pull on a good path. Dubach was a charming lake, the crag rising above the water dominating the setting. The lake had a slight peat stain and some weed in it, but it certainly wasn't black. There was no sign of any fish for the first half an hour, but eventually we spotted a rise and soon connected with a fish, a nice one of about 8oz. For a spell, the fish rose quite freely along the lee shore, picking off terrestrial insects being blown onto the water. From there on in we started to catch quite a few, with several half pounders and one of about 3/4lb.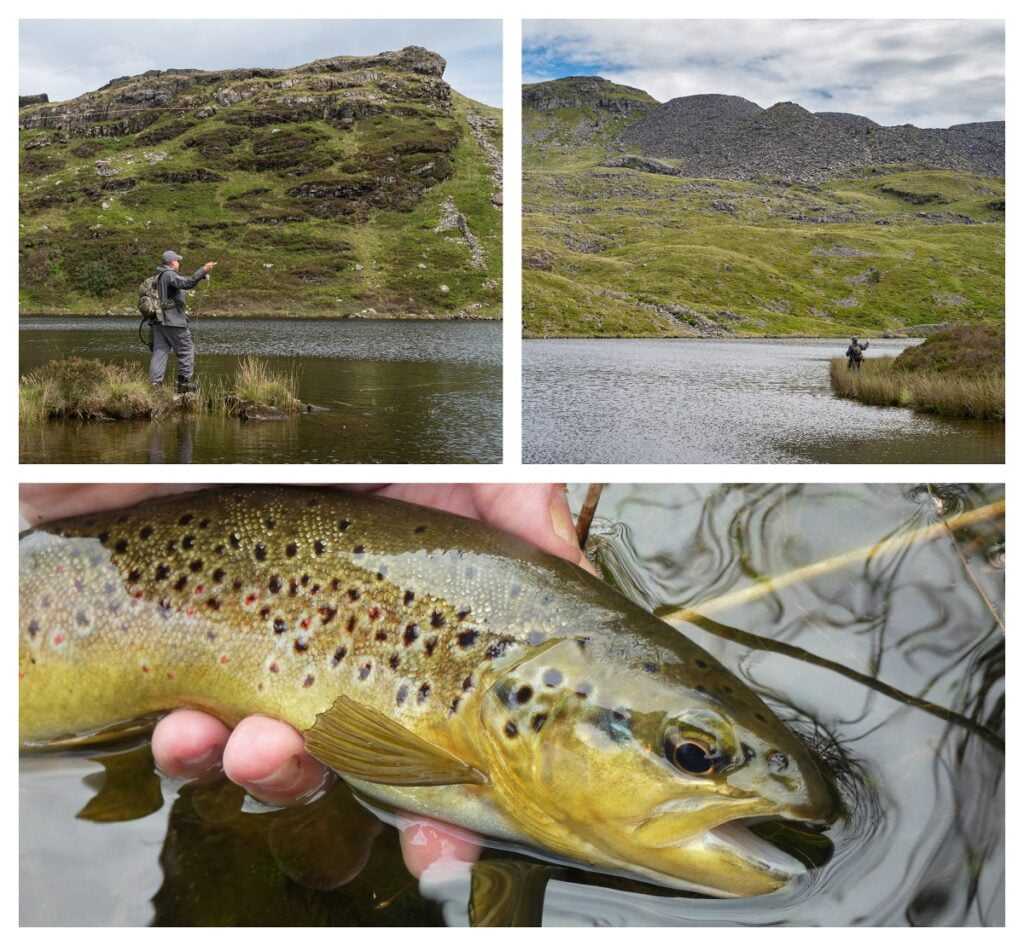 It was a lovely place to fish with a stone causeway that separated the lake into two halves, 'Dubach fach' being very small and weedy, therefore tricky to fish properly, although I did see a rise amidst the reeds. It would probably be fishable in early spring. The causeway was weathered and grey with lichen, but perhaps it had once been black and made of freshly cut slate, perhaps accounting for the name. Behind it the Moelwyn Mountains loomed, a truly impressive backdrop in which to cast a line.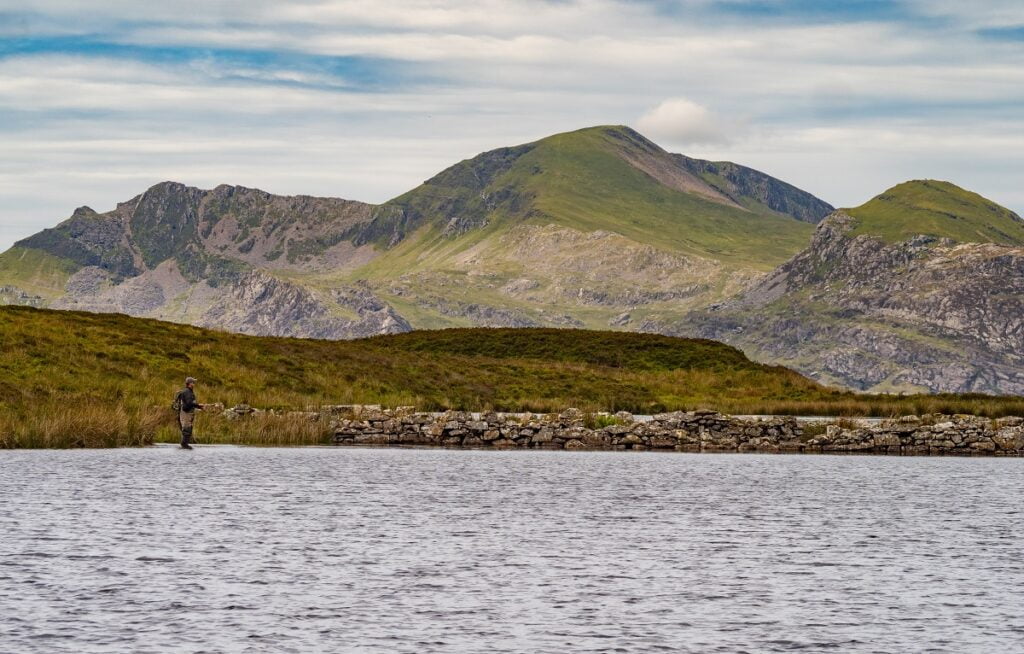 It was now about 2pm, sunny and calm. What rises there were had stopped. Should we carry on or go somewhere else? With plenty of time and surprisingly high energy levels; thanks to these lakes being quite easy to access, we decided to head back to the car and try the Llynnau Gammallt, a pair of lakes said to be the jewels in the crown of the Cambrian Angling Society.

Going back down the mountain was quick. Within 20 minutes we were in the car, 15 minutes later we were on a track which led us to the parking area for the Gamallt lakes. From there we headed out across an open moor, an easy walk of about 20 minutes with no great change in elevation or tire us out.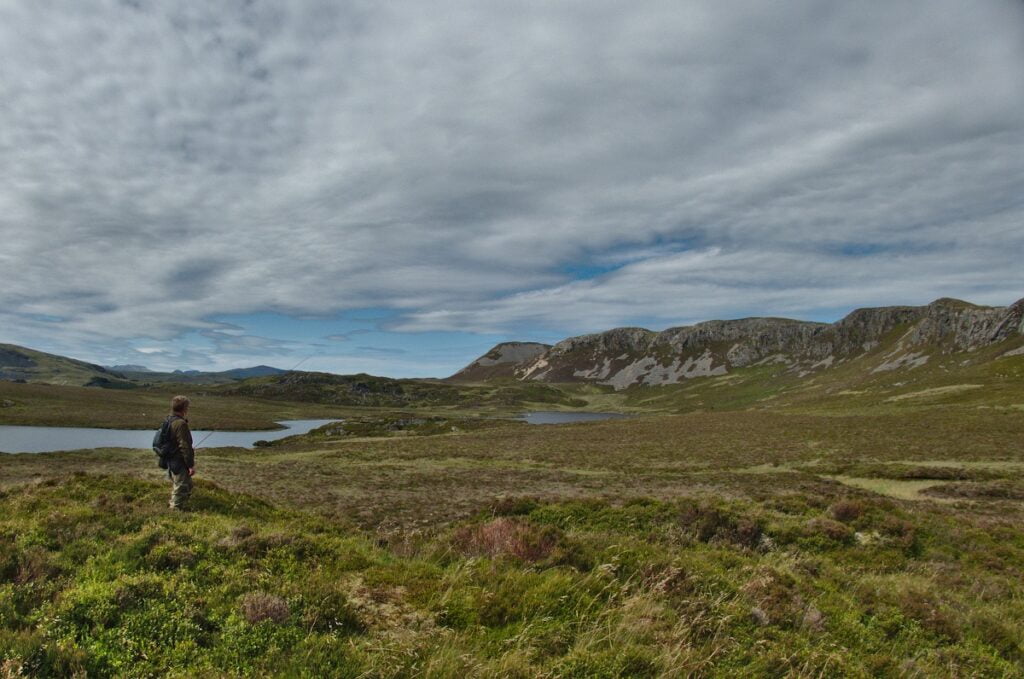 Llynnau Gamallt was a fantastic location, with a high rock wall dominating the lakes. The larger 24 acre Gamallt Fawr was peaty in nature, its tanin stained waters had a bottomless, inky look to them, but we suspected it was actually quite shallow. It looked very 'fishy'.

It took a while for things to happen, despite the cloud cover increasing and the breeze picking up to a good blow, although Alan had a few small ones, hand sized. We spoke to a local angler, who was on his way out. He had experienced a good day, with 11 fish up to nearly 1lb all on a long line and 'brown flies'. Indeed, there were a few sedges skating about, one of which was slurped down in a big swirl off some reeds. Apparently casting far was the key. The angler carried an 11ft Hardy rod with a long butt extension; this appeared to be a switch rod set-up of some kind, complete with a salmon sized reel. To demonstrate, he stripped off some line and made an impressive cast of over 30 yards with it before he headed home.

Things picked up as the afternoon wore on into evening, with noticeably nothing doing in the margins. I had one nice fish of about 12oz take a small black leech pattern fished at range. But still, the action was not frantic.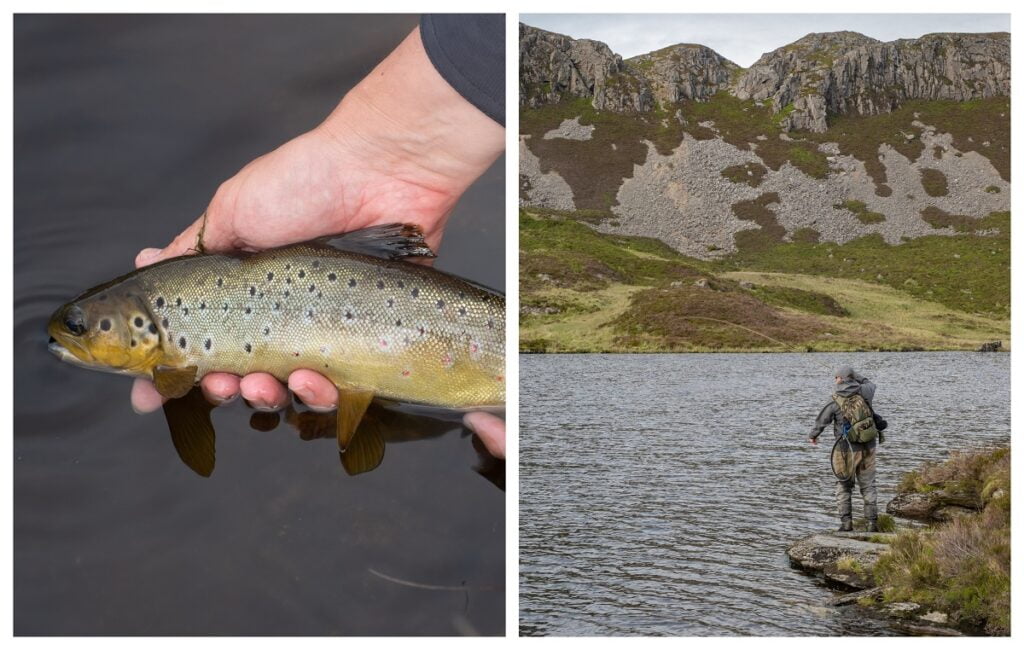 I remembered reading a Moc Morgan article, where if there were two Welsh lakes together, then the smaller one was usually the better, with often larger and finer quality fish in it.

So once again, a switch to another lake was made. Gamallt Bach, the smaller of the two at 5 acres, was just a short walk from the top end of Gamallt Fawr. It hadn't been fished by the local angler on account of the wind direction, so there would be fresh and undisturbed fish there for us.

In my eyes this llyn was even more of an idyllic spot. A ruined boat house lay at the far end, and above it a fisherman's house, dating back to when these lakes were stocked in the 1880's for the local quarrymen, who were all keen fly fishers. Still intact and in use over a century later, this 'Ty' was used to provide shelter and as a place to stay after night fishing, as well as being a social gathering place, where flies were discussed and new patterns invented by Cambrian Angling Association members.

The small Gamallt lake had much clearer water, tinted slightly with peat but not gin clear. For some reason I always feel more confident when the water colour is 'just right' and it was the case here. From the off it fished much better; around half a dozen came to hand for each of us, to nearly 1lb in weight. They were dark looking fish, but strong and very pretty, with white edges to the fins and big black velvety spots. The takes would all come at extreme range, nothing much in close, just as the local angler had said.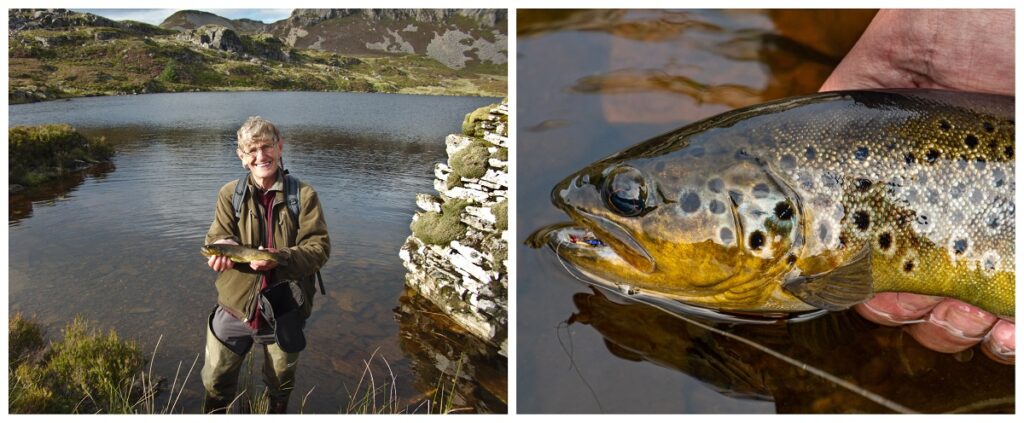 At about 8pm we had to drag ourselves from the water and head for home. We had enjoyed yet another great day out in the mountains of Yr Eryri (Snowdonia) in wild, unspoilt surroundings. Accessible angling with a truly wild feel. But what does Gamallt mean? Allt can mean 'steep' and Gam can mean 'step' so almost certainly a reference to the dramatic ridge running high above the lakes.

Flies for Cambrian AA waters: We used mostly traditional patterns for our llyn fishing. Coch-y-bonddu, Bibio, Black Pennell, Zulu etc. plus small black 'leech' imitating lures. Fly images below courtesy of Fulling Mill. Special 'Ffestiniog' flies have been developed for these lakes by local anglers. These have been catalogued in ''Plu Stiniog – Trout flies for North Wales'' a book by Emrys Evans, which offers a fascinating insight into the heritage of the Cambrian Angling Association and of the flies used to fish the lakes.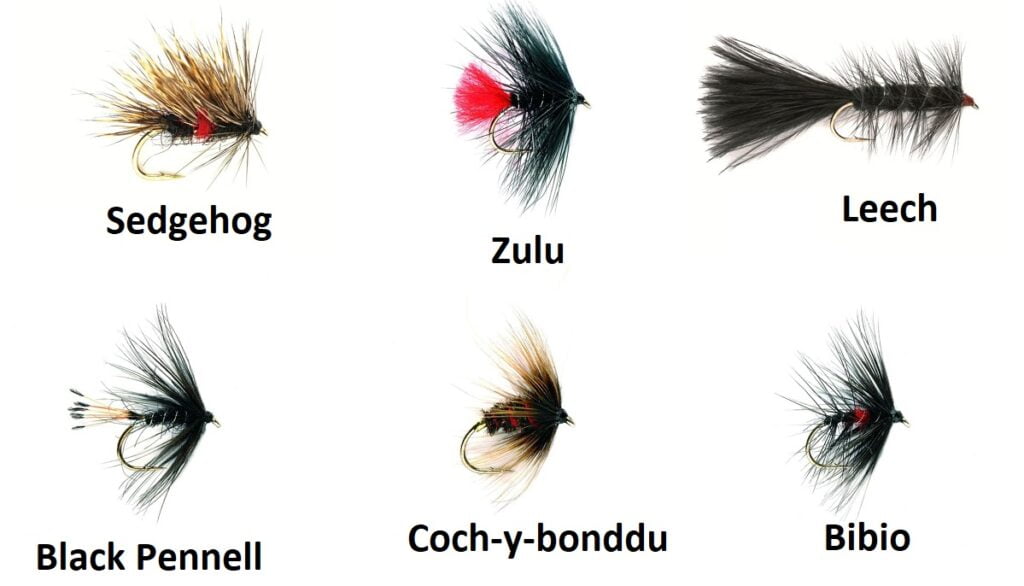 Tickets for Cambrian Angling Association lakes: These are available online through the WUF Fishing Passport or the Cambrian AA website www.cambrianangling.com. The season runs 20th March to 17th October for the higher lakes, and 3rd March to 30th September for the lower elevation ones.

Words: Ceri Thomas
Images: Alan Parfitt
Why should I buy a
rod licence?
If you have ever wondered what freshwater rod licence money is spent on, and why you need to buy one, then check out our in-depth article that looks at the benefits of buying a rod licence. Read the article here.