Easy Access Sea fishing in Wales

Wales has a multitude of easily accessible sea fishing spots where anyone can enjoy a productive session for a wide variety of species. In this article sea fishing journalist Dave Lewis looks at easy access sea fishing opportunities in Wales and how best to tackle them.
Areas that offer quick and easy access for a couple of hours are perfect for many fishermen, and for a multitude of different reasons. For example, not all fishermen are able to easily access some of the more remote and wild stretches of coastline, indeed not all fishermen 'want' to access the more remote and wild areas of coastline. Fishermen who are are less able than others are happy to fish places that offer easy access, while certain areas of the coast are unsuitable for taking very young children fishing. And, let's be honest we don't always have the time available to be able to put in a full day fishing, and when this is the case marks where we can grab a couple of hours with a rod are perfect.
All around the Welsh coastline you'll find a variety of marks that are easy to access, places that can be fished by anyone. These include piers, harbour walls and breakwaters, and some developed areas such as marinas and coastal walks along with other similar venues that offer easy access and can be fished by anyone. Best of all many of these marks really do offer the opportunity for experiencing excellent fishing, giving everyone the opportunity to catch some really special fish.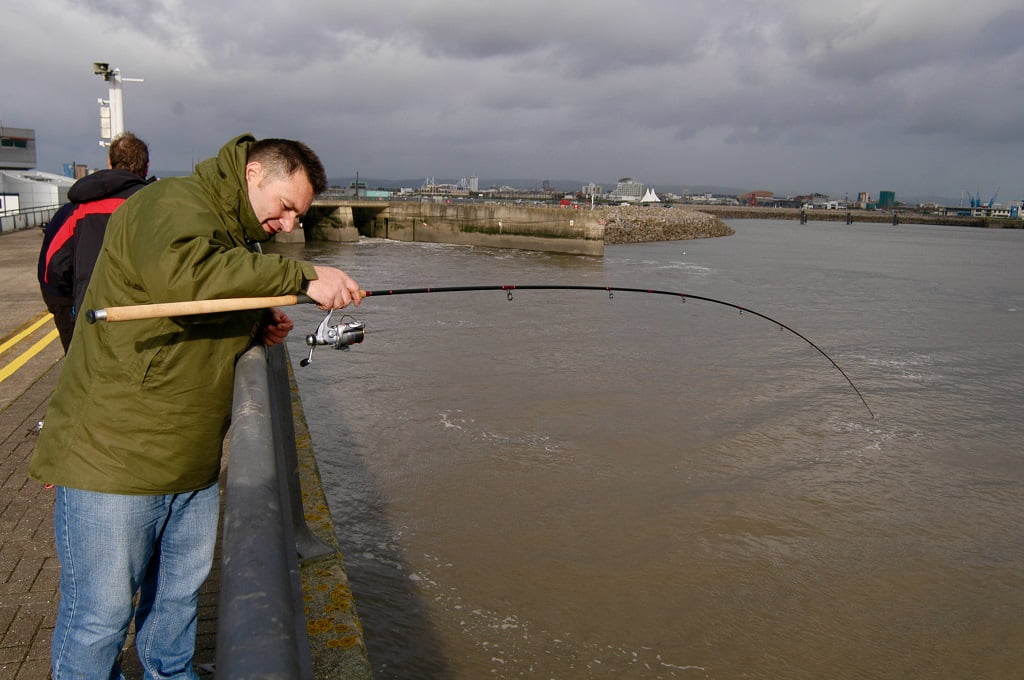 You'll find a fishing tackle shop located at or at least near many of the coastal communities in Wales. In addition to providing tackle and bait, tackle shops are undoubtedly the very best source of information when looking for the most productive local marks to fish. A Google search for your location will undoubtedly reveal lots of useful information, and don't forget to visit the Fishing Wales website where every sea fishing location is listed.
Aside from offering easy access the type of marks we are discussing here offer numerous other advantages, too. Modern sea angling is not all about using heavy tackle to catch big fish, as many of those who do not regularly fish in the sea often imagine. Light and very light tackle, exactly the same tackle as that used by coarse anglers, is often ideal for a session fishing a pier or breakwater. By scaling down your tackle and targeting small to medium sized fish you'll have a lot of fun; float fishing, for example. Float fishing is a popular and often hugely effective technique along the coast, a technique which can be practiced from pretty much any mark that offers access to the sea. Depending on your location you should expect to catch mullet, mackerel, bass, pollack, coalfish, garfish, various species of wrasse and a plethora of other species.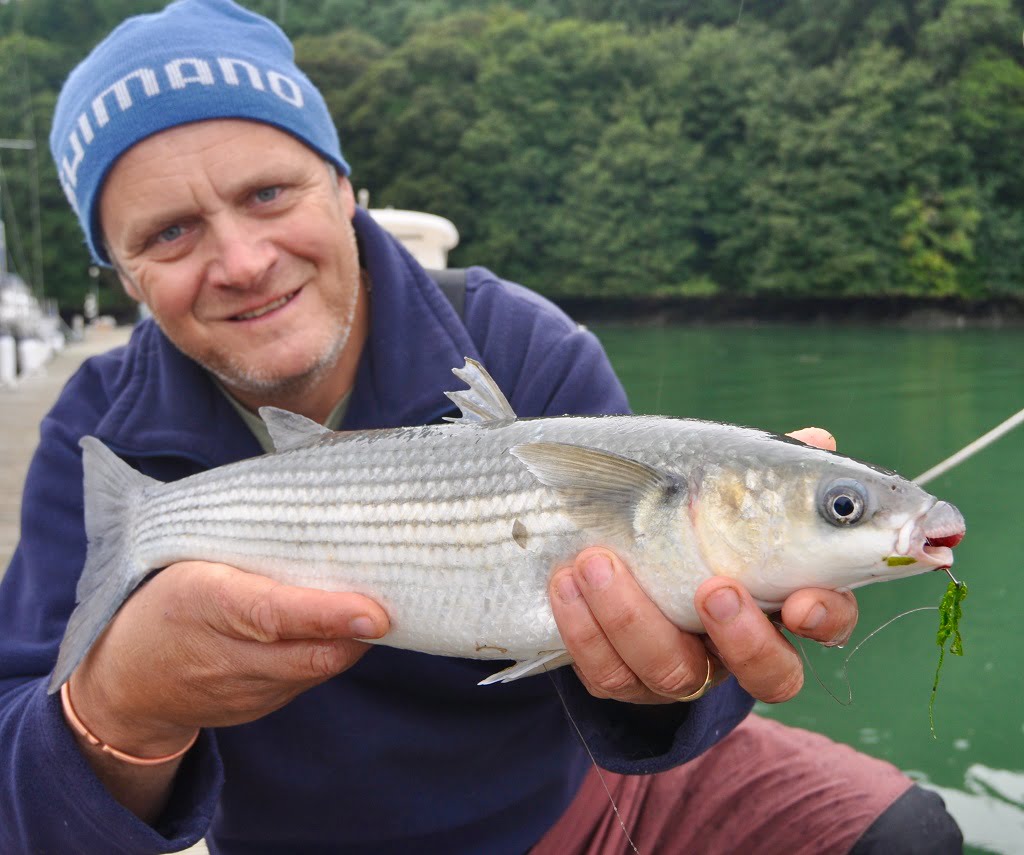 Pound for pound mullet are probably the hardest fighting fish caught around the UK coastline; they certainly are here in Wales! Given just a little thought and preparation the chances of catching a few mullet is high, especially during the warmer months of the year. Bread is an excellent bait, it's perfect to use both on the hook and as a ground bait to attract the fish. Baiting up an area for a day or two prior to actually fishing will really help improve your chances of success with mullet. To achieve this you can either loose feed an area with bread for a day or two, or depending on the location tether an old onion sack onion sack loaded with bread adjacent to where you intend to fish. As with so many other forms of angling mullet fishing is best early and late in the day.
Bass are a species most anglers would love to catch on their holidays. Like so many other species bass often turn to scavenging, and harbours, piers and breakwaters are prime hunting grounds. Various types of fish bait, squid, peeler crab and shellfish will all catch bass, but few baits are as effective as a live prawn, and once again our light float fishing tackle will be perfect for presenting these for bass. Live prawns can be collected in rock pools at low tide, you'll need a small aquarium net to catch them. Alternatively a drop net baited with fish oval and lowered down the side of a harbour wall or amongst the barnacle encrusted stanchions of a pier will usually produce enough prawns for bait. And this is when bait collecting can be fun and involve all of the family, with children catching the bait for you to catch their dinner!
LRF, Light Rock Fishing, is one of the fastest growing techniques in saltwater angling in the UK, and Wales is recognised as being a superb destination to practice this light tackle speciality. You can buy specialist LRF tackle but in all honesty a light spinning rod or even a short quiver tip rod will be perfect. You'll be targeting a variety of mostly mini-species including the various types of goby, blenny, wrasse, rockling, smelt, dragonets and many more, all of which are a huge amount of fun to catch on light tackle.
All of these species can be caught on a variety of different natural baits, obviously used in conjunction with hook sizes more akin to fishing for roach and perch. Tackle shops sell specialist LRF baits which can be fished on ultra light jig heads. One of the big attractions with LRF fish is that compared to other techniques yours chances of success are high. What's more LRF fishing is often effective at any time of the day. Areas that do not completely dry out over low water are usually the most productive for LRF fishing, with the most productive hooking zone invariably being directly down the side of the harbour wall or pier.
All of the more commonly used sea angling techniques can be used from piers, harbour walls etc, including bottom fishing at long range, spinning, and that summer holiday speciality for catching a few fresh mackerel for the barbecue; feathering. As to which technique and baits work best locally, once again a call or visit to a local tackle shop is highly recommended. And don't forget to check the tide times, many harbours dry out completely over low water!
Fishing in not permitted within some harbours and marinas, and those areas that are out of bounds are typically well sign posted. Access to some piers is only available at certain times of the year. In some areas parking is free of charge, at others you'll have pay a fee. As is usually the case you'll be able to find all of this information and much more with a quick search online. The bottom line is that regardless of where you are based around the Welsh coast, you can be sure there will be very good sea angling close by!

WORDS & IMAGES: Dave Lewis