Wales has around 1,680 miles of coastline, a rich and varied environment that features countless beaches and hidden coves, many tidal creeks and estuaries, and vast areas of remote rock strewn coastline.
Start shore fishing in Wales
Words & Images: Dave Lewis
When you include the island of Anglesey Wales has around 1,680 miles of coastline, a rich and varied environment that features countless beaches and hidden coves, many tidal creeks and estuaries, and vast areas of remote rock strewn coastline, much of it fringed with an imposing backdrop of high cliffs.
Considering these statistics you would assume that the shore based angler would be well catered for in the Principality, and of course you would be right. Wales really is an ideal destination for novice and experienced anglers alike, meaning whatever your ability and location you can be certain of locating a suitable mark that will produce fish.
Wales is also noted for the incredible diversity of species which can be caught here. These include all of the most popular saltwater species including bass, cod, smoothounds, flatfish, mullet, rays, bream, huss, wrasse and many, many more. At certain marks at certain times of the year anglers can even target shore caught rarities including tope and spurdog, with a high probability of success.
Faced with such a plethora of angling options the novice or visiting angler could easily be faced with something of a dilemma, when it comes to deciding exactly where, when and for what to fish? Good up-to-the-minute local information is the key to solving this conundrum and deciding when and where to fish, and this is readily available. Of course you'll find masses of valuable information on line but nothing beats recent locally sourced intel which is easily obtained by contacting a local tackle shop. You'll find a tackle shop in close proximity to almost all harbours and coastal towns along with several in or larger town and cities, and of course these are also the perfect place to call in and purchase the freshest bait, along with any last minute items of tackle you might need.
If you are new to shore angling you should choose where you fish very carefully. While many venues are suitable for novice, elderly, less able or junior anglers, many others are not. For example there are numerous areas that are productive for bass which can only be accessed following a long and arduous hike, backed up with an intimate knowledge of the local topography if you are going to stand any chance of success. Thankfully there are an equal if not larger number of venues that are easily accessed. It is worth noting that there are several excellent professional, shore-based bass guides based in Wales, with whom you can be certain of experiencing the very best of what we have to offer.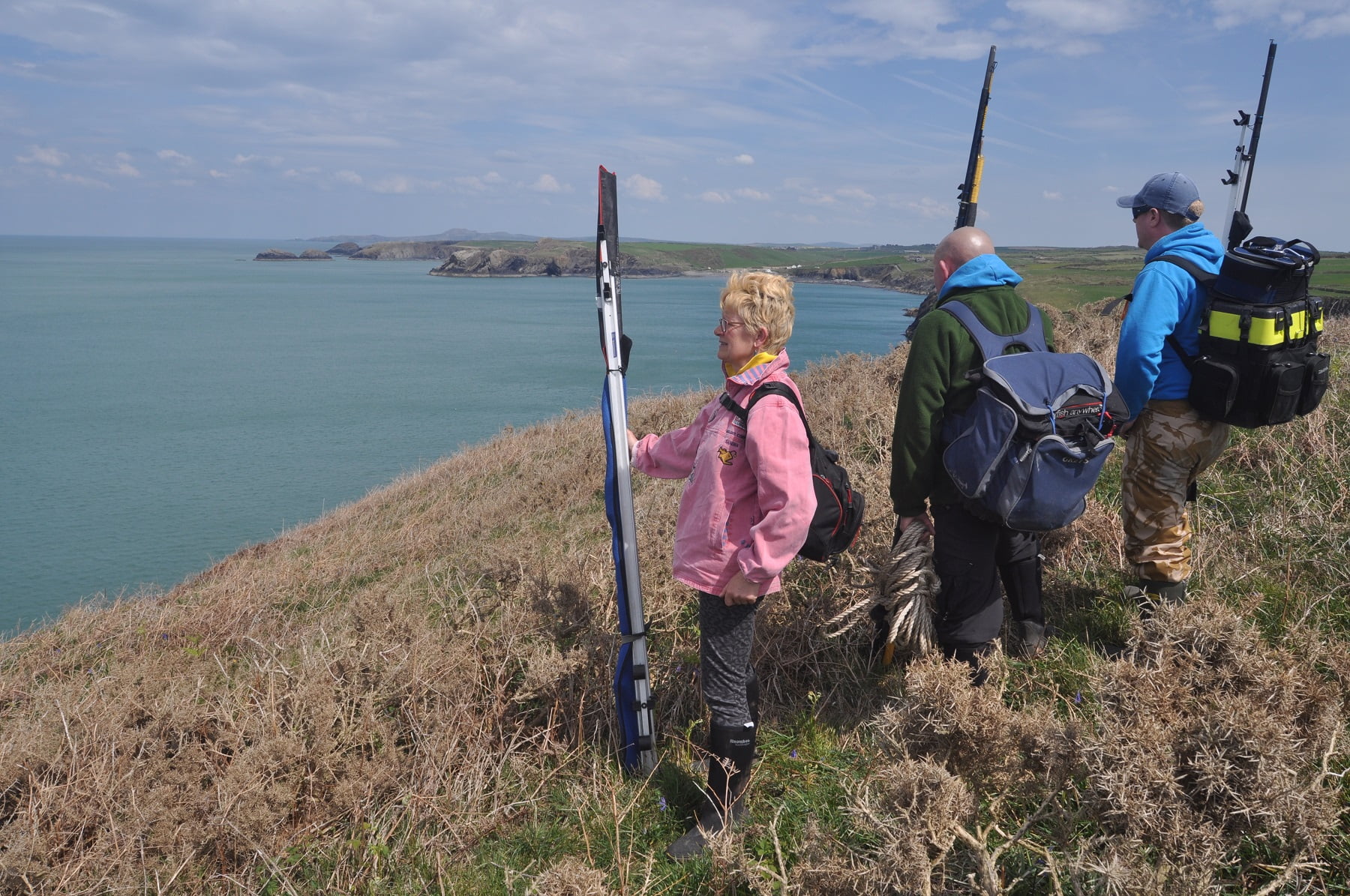 SANDY BEACHES:
For many shore anglers fishing an open sandy beach, especially a classic west facing Atlantic 'storm beach,' is the absolute cream of shore angling. Standing waist deep amidst the foaming surge and pull of a lively surf while holding your rod in tense anticipation of a hard bite pulling the rod tip around, is a magical experience. Bass are the classic species of fish caught from such beaches, and throughout Wales you will find some of the finest and most productive surf fishing for bass found anywhere in Europe. Other popular species you can expect from open sandy beaches include golden grey mullet, flounder and various other species of flatfish, rays, dogfish, smoothounds, whiting and even codling at certain times of the year.
The optimum time to fish varies considerably from beach to beach, but choosing a small to mid range tide as apposed to a larger spring tide, and starting fishing at low water then following the flooding tides progress up the beach, is a good rule of thumb. Most sandy, surf beaches are at their most productive when fished immediately following a good onshore blow. The heavy wave action created by such events having dislodged thousands of worms, shrimp and shellfish from their burrows in the sand. Fish instinctively know these are times of great opportunity, and move inshore to feed.
A light 2-4oz beach rod will once again be the perfect rod to fish a beach, as will most of the heavier coarse fishing rods designed for carp or barbel. Effective baits include marine worms, especially harbour ragworm which are widely referred to as mudworm in Wales, along with many types of shellfish. Frozen sandeels fished at relatively short range in a steady surf can be deadly for bass. An increasing number of anglers are starting to use lures on sandy beaches, often with great success. Heavy metal lures that can be cast a long way, or soft plastics worked closer to shore, are often effective for bass.
SUGGESTED VENUES: Oxwich Bay Gower, Llangennith, Cefn Sidan, Pendine Sands, Freshwater West, Whitesands, Llanrhystud, Barmouth, Aberdaron.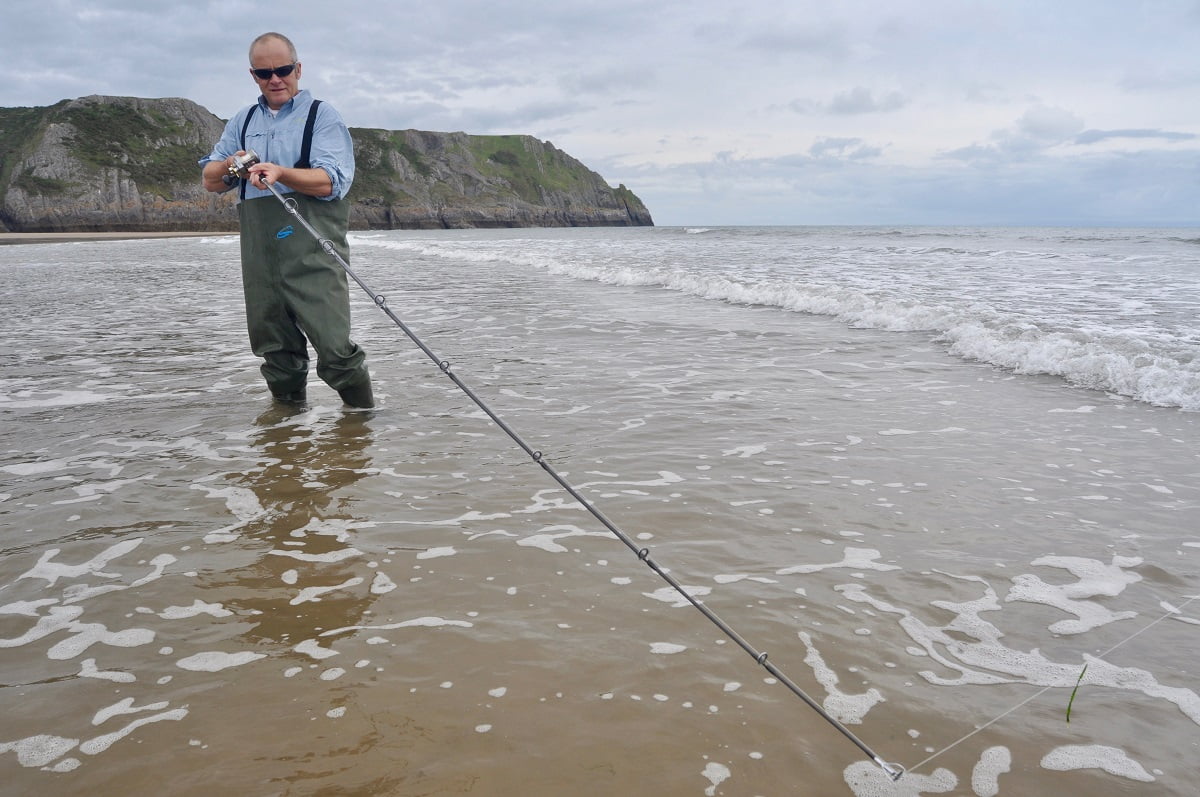 ESTUARIES:
Tidal estuaries are another hugely productive and often easily accessible venue. Once again many of these are perfect for novice as well as more experienced anglers, and if you enjoy fishing quiet, remote and invariably tranquil areas of unspoiled coastline then I am sure you'll enjoy the experience of fishing an estuary where. In many areas, you'll likely spend an entire day without seeing another angler.
Welsh estuaries range in size from the vast sprawl of the Bristol Channel off the coast of south-east Wales and the mighty Dee in the north, to much smaller tidal rivers where you could cast from one bank to the other with ease. Wherever you decide to base yourself in Wales you'll never be far from an estuary. Key species include bass, flounder and mullet, but in many of the larger estuaries you can successfully target  numerous other species too including cod, whiting, rays and smoothounds. Light tackle is very much the order of the day, and often similar outfits as recommended for surf beaches will be perfect. When fishing the larger estuaries such as the Bristol Channel, you'll need a strong beach casting rod, and up to 6oz grip leads, in order to hold bottom in the fast lateral run of tide.
Lure fishing can be particularly productive in many estuaries,  especially for bass. Fly fishing is an increasingly popular way to fish within an estuary, notably for bass and mullet. You don't need to invest in relatively expensive specialist saltwater fly fishing tackle, a decent reservoir trout outfit rated 7-9wt and fished with a weight forward intermediate or sink tip line is perfect. Saltwater is very corrosive so don't forget to thoroughly wash off your rod and reel using freshwater as soon as possible after use.
SUGGESTED VENUES: Various sea wall marks east of Newport, Ogmore Estuary, Lougher Estuary, Laugharne and Ferryside, upper reaches of Milford Haven, Teifi Estuary at Cardigan, Aberdyfi, Clwyd Estuary, River Dee.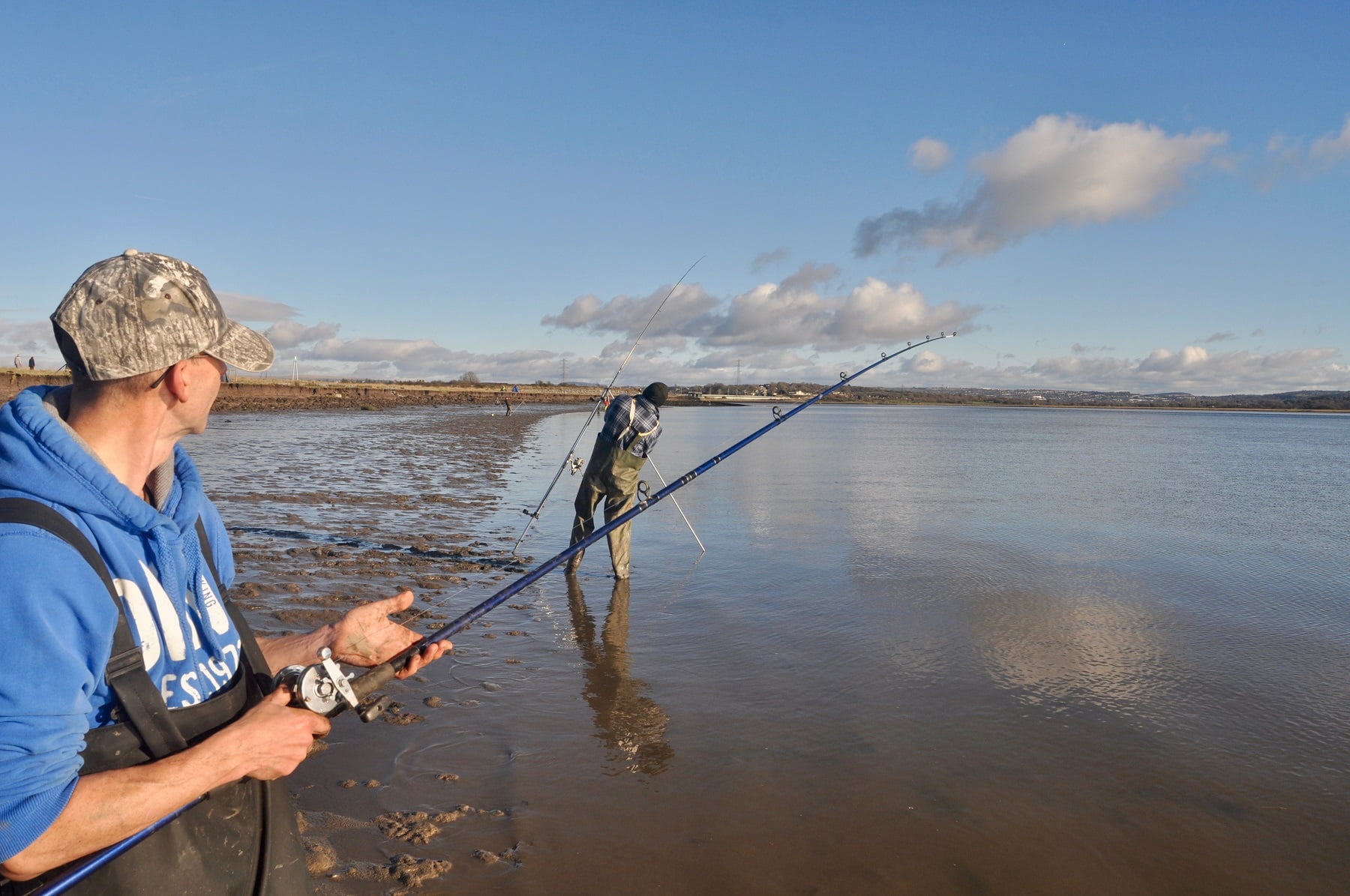 ROCK MARKS:
Rock marks are probably the most productive kind of ground a shore angler can fish, and from a shore angling perspective can be considered in two distinct categories. Firstly there are those areas where you can stand on rocks or rock ledges and cast into relatively deep water, and fish over rough, broken or possibly even relatively clean sandy ground. Such venues are common throughout south west and North Wales, though some of the better ones are not easily accessible. Fishing from rocks that offer convenient casting platform into deeper water can be very productive.
Using various different types of bait is a popular technique, and is ideal for many anglers as being able to cast a great distance is not always a prerequisite. Often a lob of 40-50 yards is all that is required to catch fish, which include conger, huss, cod, rays and in some areas, tope. In certain areas some of the very best wrasse and pollack fish will be found more or less under the rod tip. A medium or heavy beech aster will be necessary at many rock venues, especially when targeting the larger species.
Rock marks are also perfect for float fishing, and of course LRF tactics can be put to very good use to catch a huge variety of different species including the likes of topknot, tadpole fish, gobies, rockling and the smaller species of wrasse. Both lure fishing and fly fishing are hugely productive when fishing from rocks, with target species including bass, pollack, coalfish, mackerel and garfish.
The other type of rock mark can be described as a rocky beach, an area where vast areas of inter-tidal terrain are exposed at low water. Many of the most productive marks in South Wales fall within this category, by virtue of the fact that the Bristol Channel experiences the second highest tidal range found anywhere in the world. Target species here include conger eels, bass, cod, various species of ray, smoothounds, dogfish and huss.
Many of these venues demand a reasonable level of experience, notably the ability to be able to cast a large bait a fair distance and anchor it firmly in place given the strong tides using a heavy grip lead. For this you'll require a suitable beach caster rated to cast up to 6oz. That said the fishing at many of these beaches is often nothing short of spectacular, which is way so many of Europe's top sea anglers regularly travel to fish the beaches of South Wales.
SUGGESTED VENUES: Inter tidal marks between Penarth and Swansea Bay, Gower Peninsula, Castlemartin Peninsula, St David's, Lleyn Peninsula, Anglesey.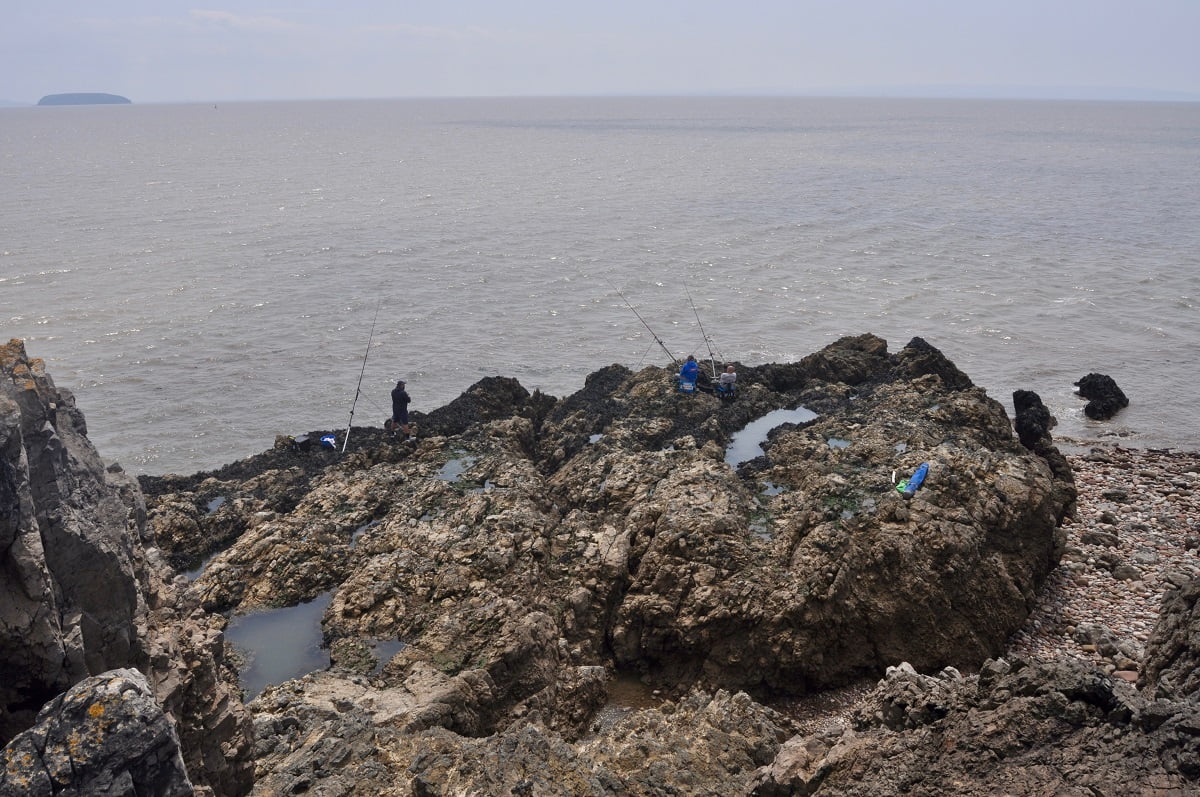 PIERS, BREAKWATERS AND HARBOUR WALLS:
Piers, breakwaters and harbour walls have long been a popular choice angling venue with novice and holiday anglers alike, which is hardly surprising as many of these can be hugely productive marks that consistently produce a wide variety of species. As an added bonus visiting freshwater anglers will often find that much of their own tackle can be suitable, indeed perfect for tackling these marks, while the novice angler will be able to set themselves up with a suitable outfit without having to spend vast amounts of money.
The most effective technique to use on the day at any particular venue will depend on your location, the time of year and the species you intend to target, which might include bass, mackerel, mullet, whiting, dogfish rays and many of the smaller or mini species, Ledgering various baits such as marine worms or cuts of fish is popular and effective for a wide variety of different species, while lure fishing can provide excellent sport for bass or mackerel. Float fishing is yet another very effective technique anglers use when fishing from piers and harbour walls, especially during the summer months when mullet, garfish and mackerel are often available. It is worth noting that fishing is often most productive around high water, especially when this coincides with dawn or dusk.
A medium or medium heavy spinning rod, or a rod designed for carp fishing, would be suitable for fishing most piers, breakwaters and harbour walls, whereas an 11-12ft light beach caster/bass rod rated to cast between 2-4oz would perfect. In those areas subjected to strong tides a more substantial beach casting outfit capable of casting up to 6oz will be necessary.
Marks such as these are also perfect for exploring with an ultra light weight LRF, light rock fishing, outfit. Designed to fish micro jig heads rigged with either bait or very small soft plastic lures, LRF fishing is the perfect way to enjoy hours of fun catching a wide variety of rarely seen mini-species. Also, LRF is the perfect technique to introduce junior anglers to sea angling as not only is it a lot of fun, but you can be pretty sure you are going to catch something!
SUGGESTED VENUES: Cardiff Bay Barrage, Porthcawl Breakwater, Knab Rock Swansea Bay, Tenby Harbour Wall, Hobb's Point along with numerous other similar locations throughout Milford Haven, New Quay Harbour Wall, Garth Pier Bangor Menai Straights, Holyhead Breakwater.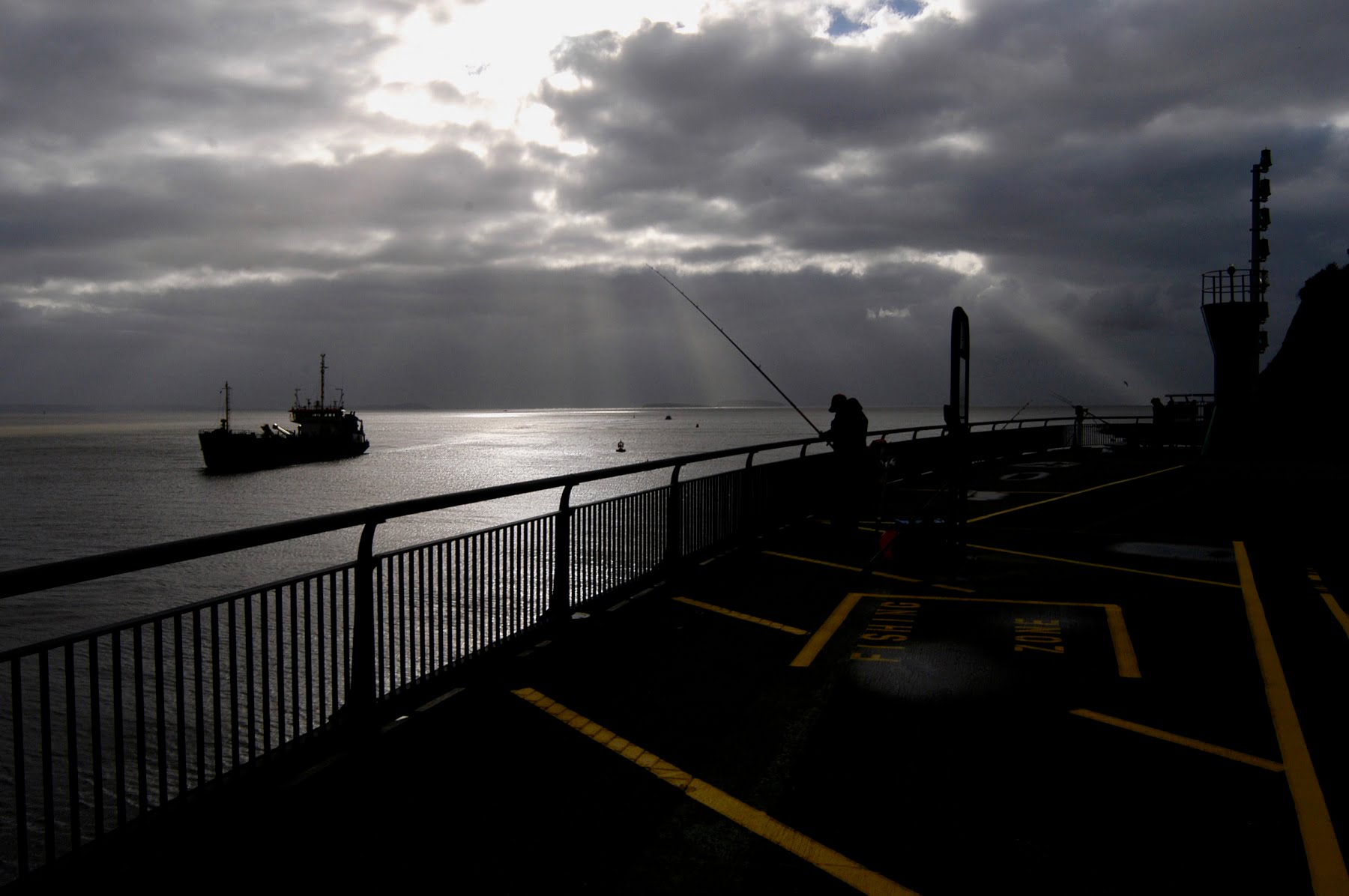 10 TOP TIPS FOR VISITING SHORE ANGLERS:
Always confirm the exact times of both high water and low water on those days you intend to fish. Not only is this information essential for success, but your safety often depends on being aware of tides, too. Some marks, including several islands, are cut off at certain stages of the tide, which would leave you stranded for many hours.
Always try to visit a new mark at low water before you fish it. This will give you the opportunity to note a key features such as rock gullies, ledges and patches of sand, identifying both snags and possible areas that will attract and hold fish when the tide returns.
The importance of obtaining good local advice can't be overstated. It will improve both your chances of success, as well as ensure your personal safety.
Check the weather forecast before you fish, especially if you intend to visit remote areas of the coastline.
Good quality, fresh bait is essential in most forms of angling. Either buy bait locally, or find out where you can dig or gather your own.
Wear or carry appropriate clothing, and plan for the worst weather you're likely to experience. Waders are essential on most sandy beaches and estuaries, a good pair of hiking boots are recommended for rock fishing. Consider wearing a life jacket, it might just save your life.
Always tell someone exactly where and when you intend to fish, and when you expect to return. Many areas of the coastline have poor or no mobile phone reception.
Never fish exposed marks such as rock headlands when they are subjected to a heavy onshore swell.
Never fish directly beneath high cliffs. These are constantly eroding and there is always a risk of being hit by falling rocks.
Take great care when climbing down rocks to land fish or free snagged terminal tackle. It is never worth risking your life for a big fish, are or a terminal rig.