10 Top Flies of a Welsh Fishing Guide
Any fly fishing guide needs to ensure clients catch fish! To achieve this, having the best flies for the target species and type of water is simply essential. In this blog fly fishing guide Rob Redman shares his 10 deadliest patterns for use on Welsh rivers – for brown trout, sewin (sea trout) and grayling.

1. The Quill Emerger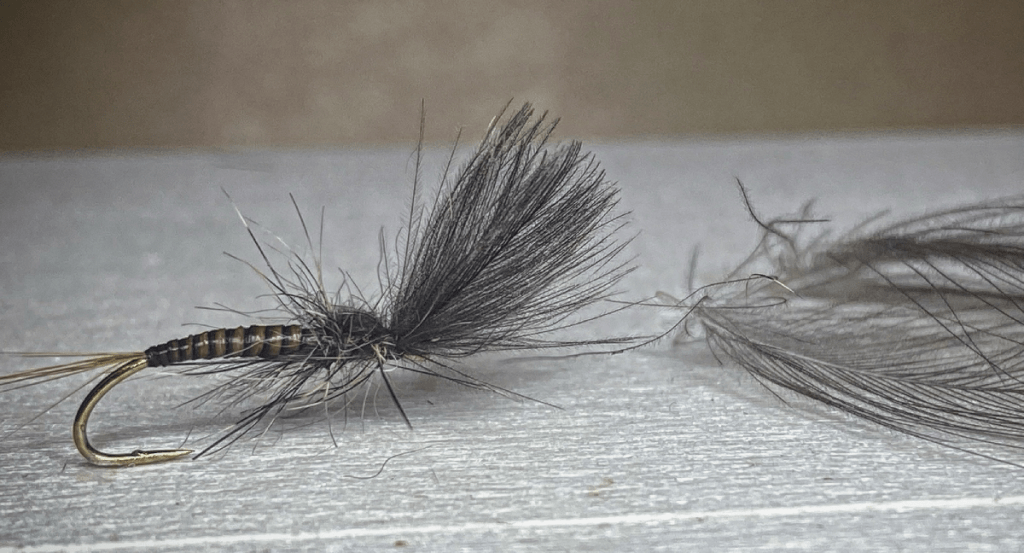 There is no better way to take a fish than on the surface, this is a pattern that I favour when fishing for wild browns, as it represents a number of emerging upwing fly species when tied in different sizes, from large dark olives (LDO) to march browns early season. The emerging stage of an upwing fly is an easy meal for a trout, as it sits just in the surface film as it hatches out, so it is vulnerable to a hungry trout .

When tying dries I believe that if you can achieve the correct segmentation, and profile of the emerging dun you are trying to imitate then you are half-way there, but the second most important thing is your presentation and approach to get your rising target to react and eat your fly.

When tying emerging patterns in smaller sizes I try to tie the CDC in different colours to suit different light conditions so the fly is easy to track, so darker brown to a white CDC, also making sure to use a spiky dubbing for the thorax to represent the insects legs for a more accurate imitation.
2. Olive Spinner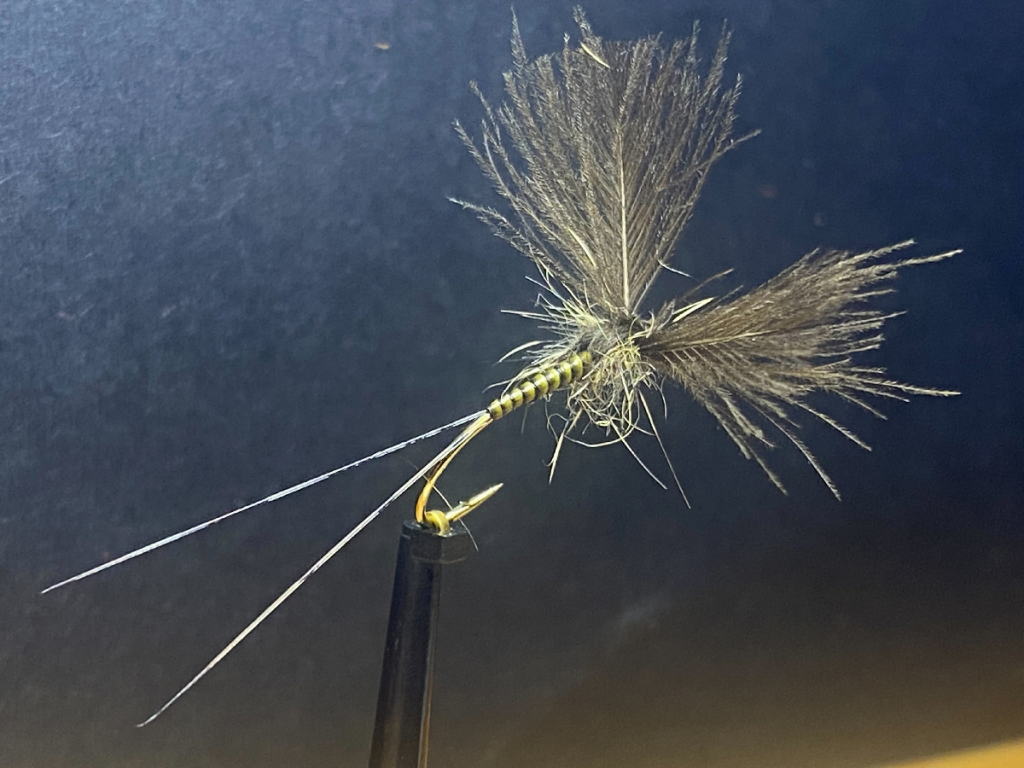 If you are a keen river trout angler then a spent spinner pattern is a 'must have' in your fly box, when it happens an evening spinner fall is a very magical and exciting moment, it could last for while or could be over very quickly depending on the conditions, so it's important to be ready for hungry trout waiting for spinners to fall on the surface. These spent flies are easy pickings for trout, being trapped in the surface and unable to move, so they will be confident to commit themselves to such an easy target. This is the pattern I use often, and has bought me luck for this occasion on many times. It can be tied in various sizes to cover a wide range of upwing fly species.
3. Hot Orange Quill Bug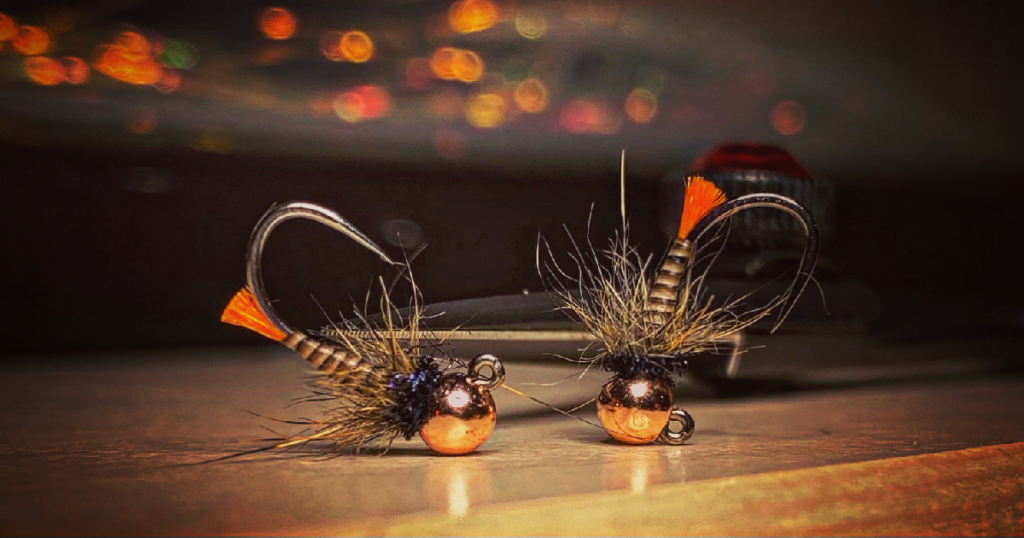 A sub-surface pattern that has worked well for me over the previous seasons. Trout love a bright tag or hot spot! This nymph also works well in coloured water when visibility is reduced; orange seems to be the most productive tag colour for me while fishing for brown trout, but it can also be tied with different colour tags, but the orange comes up favourite. The tag is hot orange Uni floss doubled over ,followed by a natural quill body and pine squirrel, then a black spectra collar. I tie this pattern in different sizes and bead weights to cover different water conditions.
4. PR Nightspider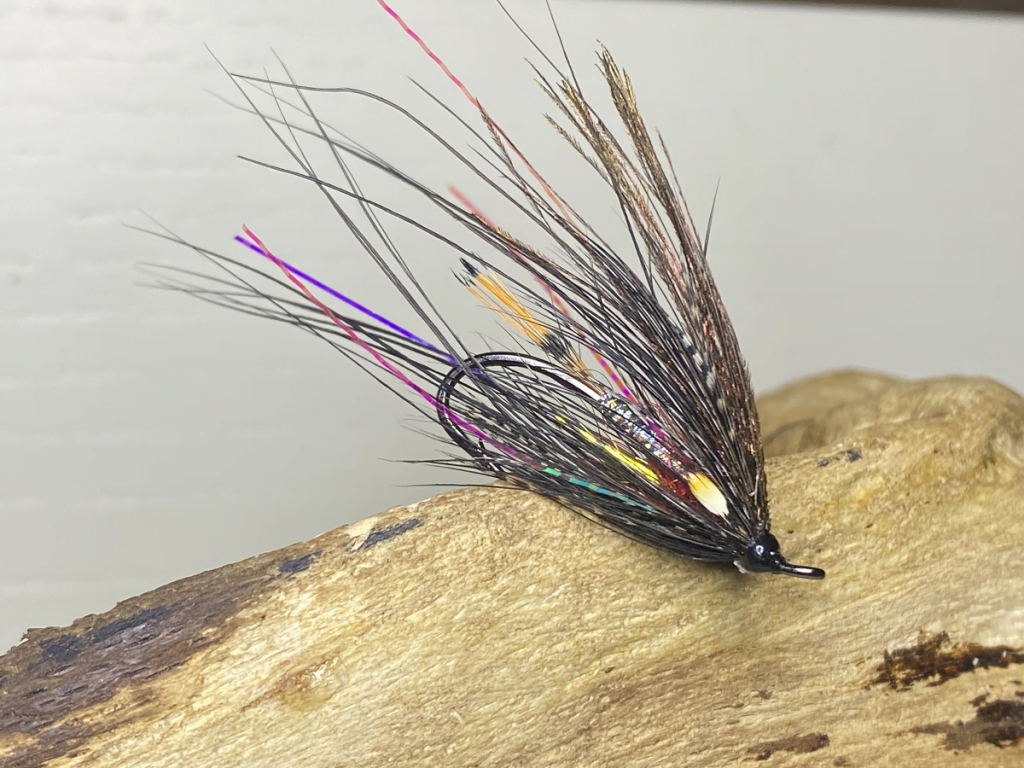 This is one of my most productive sea trout (sewin) patterns, designed in 2018 and released from my box in 2021. The pattern is based on a Peter Ross, as you can see on the body. The rest then was utilised by myself as a variant. I'm very fond of the original Peter Ross, but I wanted to add more movement to the pattern by including mobile materials to maximise the pulsation effect for a change in silhouette whilst retrieving, such movement and change in profile can make a sea trout react and take, by triggering feeding habits from the fishes life at sea. This fly can be fished on a dropper or solo, tied on a 6 to 8 hook.
5. Royal Blue Widow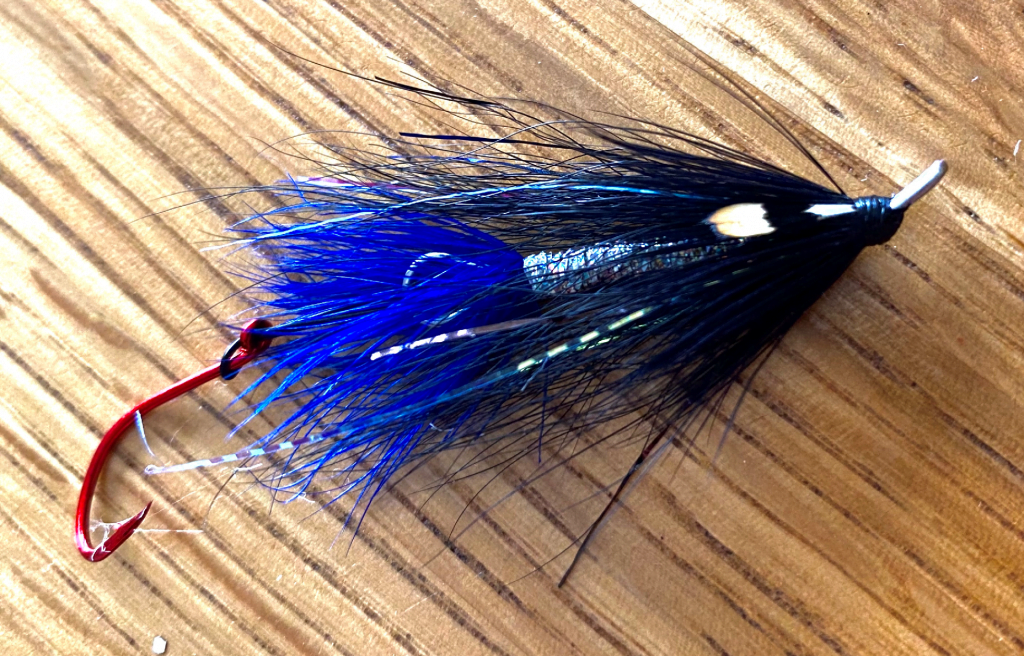 The blue widow is one of my most successful point flies. I'm a big fan of blue in my sewin patterns, from light kingfisher blues to darker royal blues, the combination between the black and blue really works well on this pattern. I fish this fly on an intruder shank and a single hook in smaller sizes and also in a tube format.

The original is tied on an intruder shank which is very similar to a Waddington shank, the original purpose of the intruder was to cut through the water column and sink the fly quicker, being tied with materials that get less water logged, so although this actual type of fly is dressed on an intruder shank it is not classed as an intruder pattern. The tying of this pattern can be found on my YouTube channel.
6. The Sewin-Victa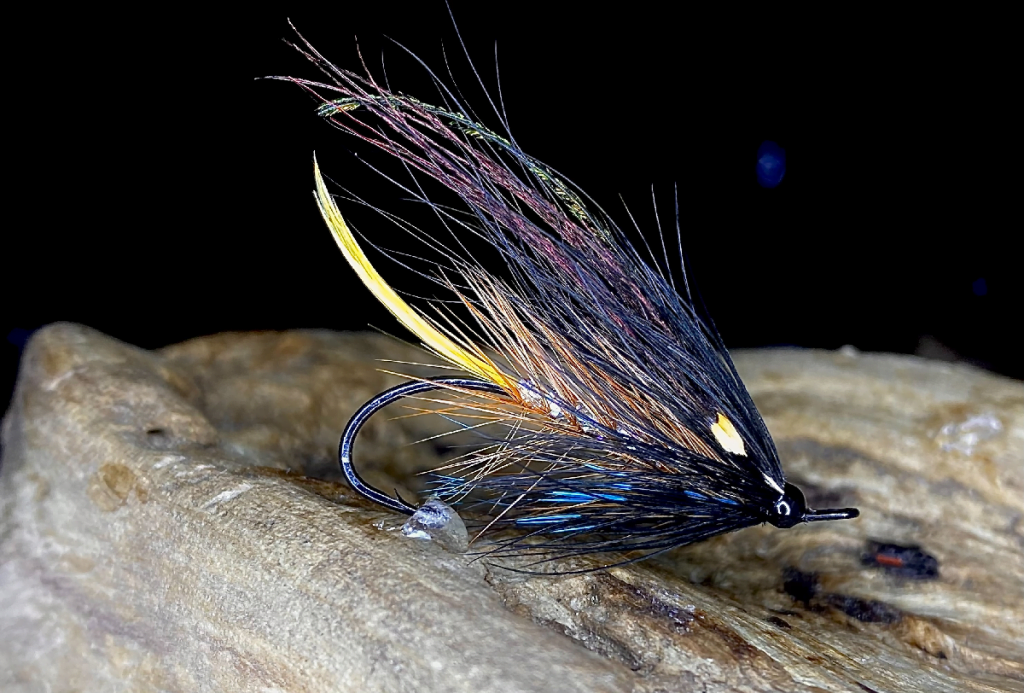 The Sewin-Victa is a concoction derived from the famous silver Invicta wet fly. The only difference between the two is my own twist on the fly, to improve it as a sewin pattern. The idea behind it came from my earlier years of night fishing for sea trout, when I had a lot of faith in the invicta, as it had brought me much success. So I played about with a more pronounced silhouette by adding more materials that hold the shape better, so the fly will not just collapse. This can be a great pattern in the correct conditions, it is typically tied on a size 6 to 8.
7. Munro Killer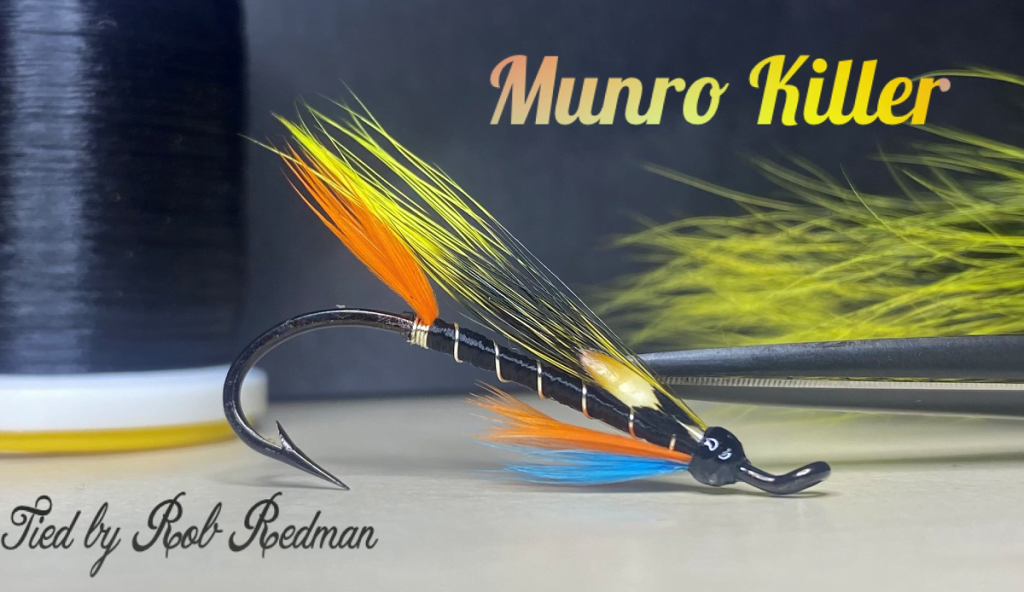 The Munro killer is a personal favourite when it comes to daytime salmon fishing. This comes up favourite to be fished on a dropper, I have caught good numbers of both salmon and sea trout on a falling spate, especially on my home rivers of north Wales as the clarity of water changes to a peat stain. It's a great colour combination and works well for such conditions, it's definitely a pattern to have in your box and has lasted the test of time for sure.
8. The Haslem (Variant)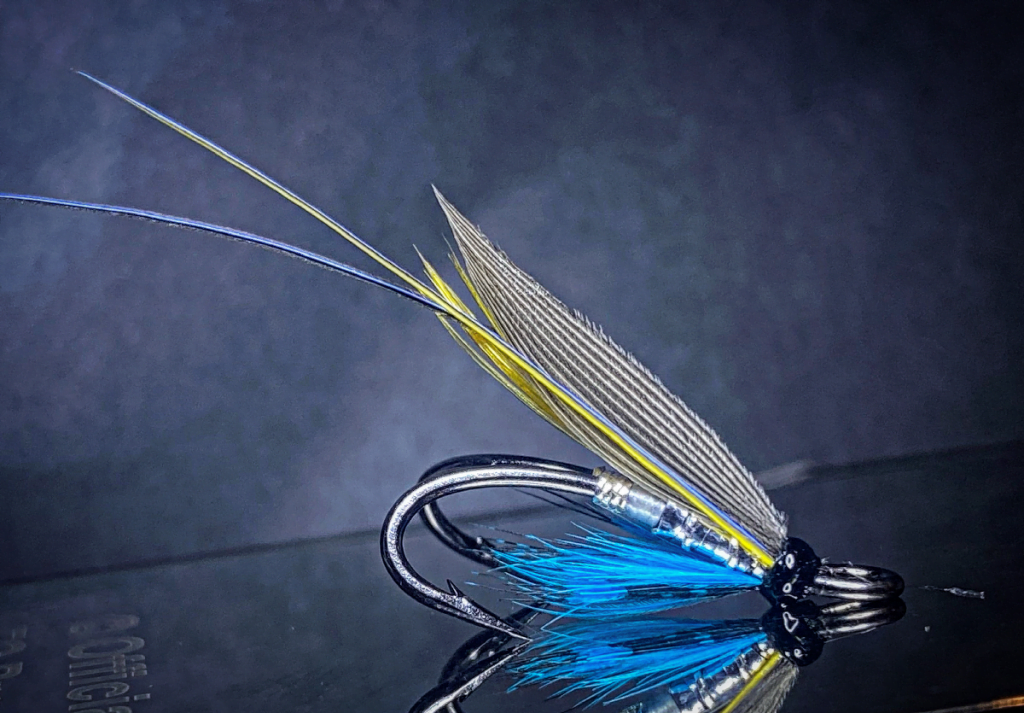 This is a famous fly here in Wales but has travelled well, it takes its fair share of salmon and sea trout for me. The original would have been hen pheasant wing, but in all honesty it's a case of just having a simplified wing for me. I tie this pattern in some cases with a squirrel wing dyed brown, or with other wing substitutes. Besides that all the key elements are present, the horns are the main element as the bring a lot of movement to the fly, almost a shrimp type profile which are curved inwards so the left and right side cross at the rear, so when the fly is drawn through the water it gives an effective action. Blue macaw is a great material to use to achieve this.
9. P.V. CDC Quilled Bug (Pink/violet)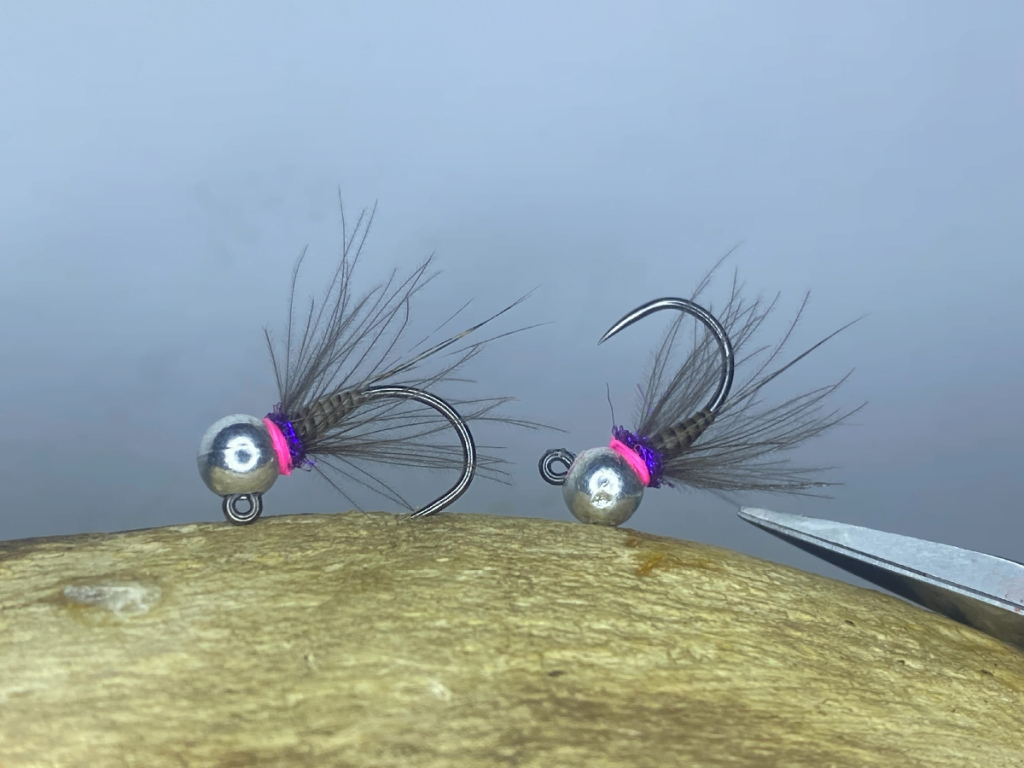 The Welsh grayling have taken a fancy to this pattern over the last few seasons. Both pink and violet colours are very effective – as every grayling angler knows they love a bit of pink! The CDC is also very effective in grayling nymphs as it produces micro bubbles and adds the illusion of life to nearly any fly pattern. The fluidity of the fibres creates a gentle, slimy movement, creating life even when fished in the slow currents near the bottom. This also can represent legs to add a further lifelike action to the pattern. I fish this fly on a slotted bead or countersunk in different weights and hook sizes.
10. Pink Shrimp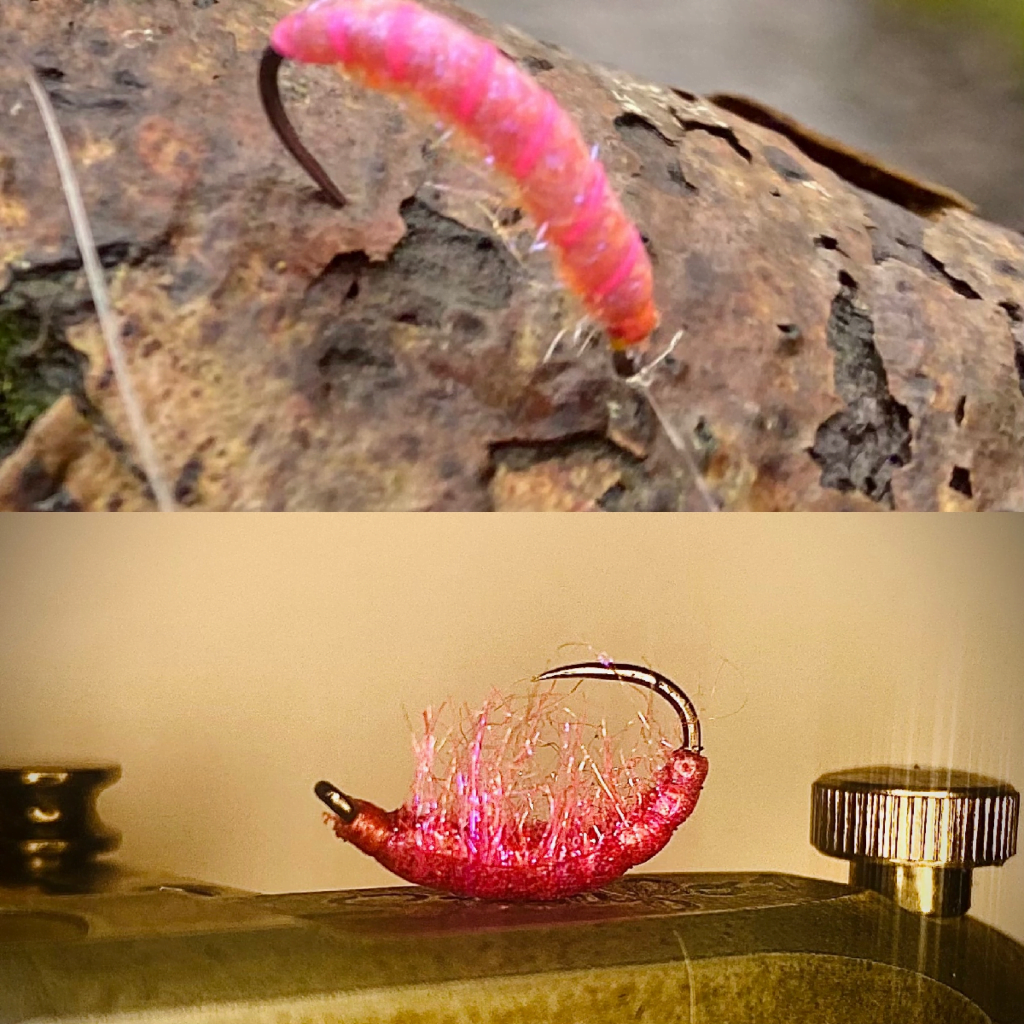 The pink shrimp should be in every grayling anglers fly box. Not a lot I can say about this fly, as it speaks for itself when the grayling lock onto them. Again they just love pink and when they are in the mood they simply can't resist it, a deadly pattern and one you should definitely have in your winter grayling selection.
Further Reading
For tips and tactics for Welsh sea trout, check out this excellent sewin fishing article written by Rob.