Night Time Sea Trout: Tackle & Tips
In this blog fishing guide Rob Redman of 'Welsh Wild Waters' looks at the tackle you'll need for sea trout fishing in Wales; and gives away his essential tips and tactics for capturing this iconic Welsh species.

Sea trout (locally known as sewin) are an enigmatic fish found all over Wales. Sea trout are brown trout that migrate to the sea to feed, returning to Welsh rivers to spawn. It is on this migration that anglers are able to fish for them, and being a shy fish night fishing with fly fishing methods are the favoured and often most effective techniques. But what equipment do you need to catch sewin?

The Rod:

Nothing new here but I would reiterate what many have observed before me – keep it simple. In most instances and for most rivers standard reservoir tackle will suffice, a medium fast actioned rod 9 -10 ft rated 7/8 should be able to control a large powerful sewin. These are basically the same fly rods you would use when fishing for trout on a large reservoir.

This general advice can be modified to suit individual rivers depending on their width, flow, terrain and bankside obstructions such as bushes and trees which seem to get closer at night. Where bankside vegetation makes the back cast difficult it can sometimes pay to go up one line size as it will help load the rod quicker in a tight spot and cut down on the number of false casts needed to present your fly.

The Reel & Fly lines
A word about your reel: this should have a smooth and easily adjustable clutch mechanism with low start up inertia as some takes can be rod wrenching, also have plenty of backing as you never know when the "big one" will hit and in the dead of night you will be grateful for it!

My "go to" night time set up is an intermediate line for medium to high water as the line will sink uniformly at an equal rate and give a better presentation when covering fish. For low summer flows I would still have my intermediate on standby for some of the deeper pools but would switch to a floating line coupled with a poly leaders in various sink rates. One of the most exciting ways to induce a take from sewin is to skate a surface a lure across a pool so the floating line is an essential part of your armoury.
Flies & Leader Material:
Like any branch of fly fishing there is an array of flies out there from the traditional to the more exotic made possible by the many innovative fly tying materials on the market. My advice again is to keep it simple paying more attention to the shape (silhouette) and size of the fly than any fancy "bells & whistles". In recent years tubes, needle tubes and intruder style patterns have become popular but unsurprisingly black, silver, blue, purple and red still feature highly in any sea trout fishers box.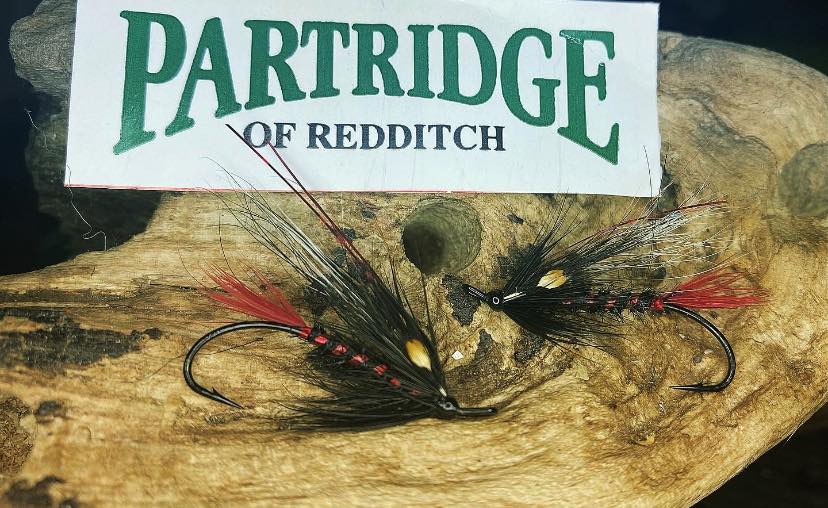 As for leader material my personal preference is Maxima ultra green in 10 -12b, whilst sea trout aren't line shy by any means you will always be happier fishing with kit you have confidence in. Maxima mono gives great knot strength and is a little more forgiving if you get that sudden take.
Landing Net :
What you need is a sufficiently large net that is easy to use and not a chore to carry. My preferred landing net is the McLean sea trout Specimen HD Weigh net- 24 x 20 Inch, as it's very practical, yet effortless to handle with a quick release strap, this comes in value when playing the fish. There are plenty of other 'gye' style nets on the market.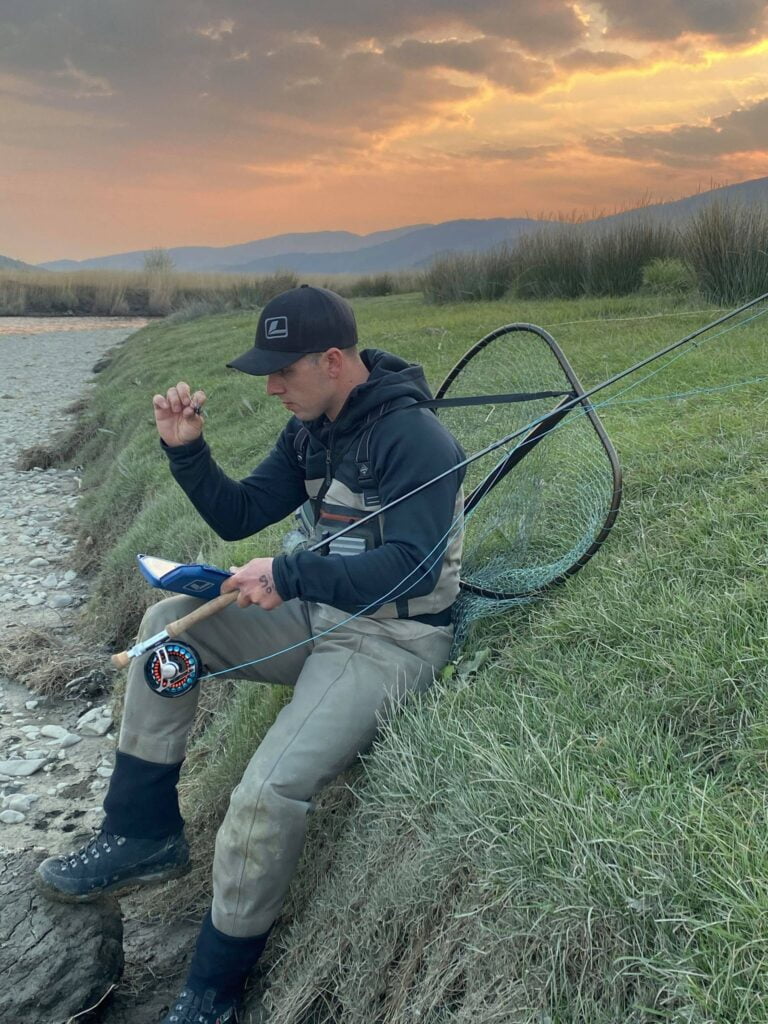 Head Torch:
As for a torch, this can be your preference of brand, my advice would be to invest in a multi setting LED torch , this will cover all situations at night , walking to your chosen location, dimmer (red filter) for when changing flies, and always remembering to turn away from the water at all times, but if at all possible keep your torch off when near the water.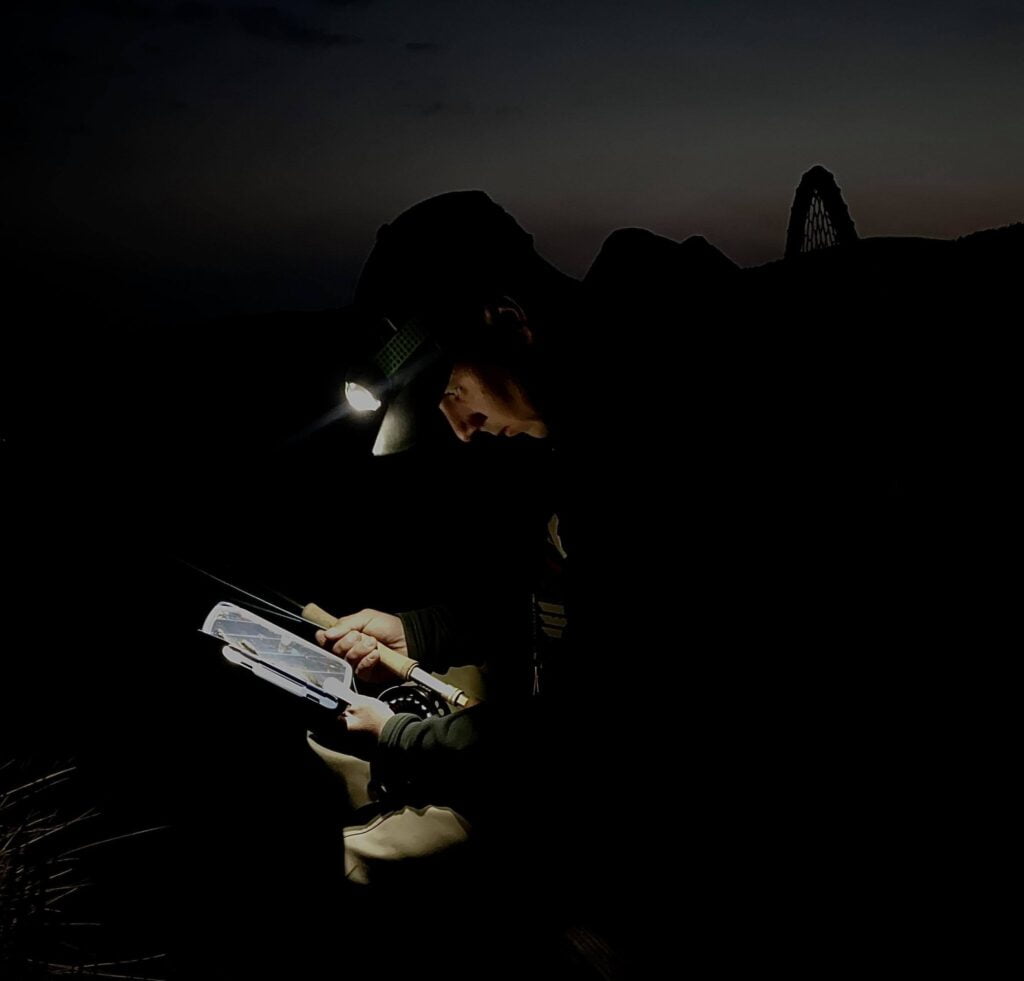 Rob's Top 5 Sea Trout Tips and Tactics
1 Assess the pools prior to fishing
Before you head out into the dark you need to visualise the beat and the chosen pools you will be fishing, as much as for your own safety as anything. Make sure you check where you can enter and exit pools, so wading can be done in a safe manner. Also looking for obvious places you might expect to find sea trout at night, looking for good daytime cover where the fish can find security, also tail ends of pools etc. Over hanging trees might also be a problem on some beats, so bear in mind that the trees behind or on the opposite bank will appear a lot closer at night and come out and grab your fly.
2 Do not enter the water before dark
It's very important to wait before you cast a line and enter the river, sewin in low summer levels hide away during daylight hours in deeper pools, or in the undercut banks or roots, then they emerge as darkness falls into their night-time lies, as they feel more secure under the cover of darkness. A word of advice would be once all light reflection has left the water surface and the light has left the sky this would be the correct time to begin fishing. Always fish the water closes to you before casting a line across, as most anglers will think the fish are on the opposite bank, this is not always the case, they are sometimes right under your feet so bear this in mind before wading into a pool.
3 To strike or not to strike?
This is a question I get asked a lot by anglers, the correct answer is soon as you feel the take with no hesitation, you strike immediately, don't wait for the fish to turn away, as this is not always the case. I'm a firm believer that the swift pulls you receive out of nowhere are school fish as they intercept your fly aggressively and you may miss them if you are not quick enough to strike, then on the other hand the bigger sea trout are not quite as swift, the line will pull away at a slightly slower speed but all the same should be struck immediately for a good hook set.
4. Water conditions

When night fishing the water fishes better when the water is clear for the simple reason that the sea trout can see the silhouette of the fly better than when the water is coloured, as the light can pass through the water layers better. When coloured by sediment you will need to make changes, a larger fly will be more effective in this matter.
5 Retrieving your fly

The most effective retrieve when night fishing is the well-known Figure of eight which most anglers will be familiar with. I use the figure of eight but vary it , slower the better and tweak the fly to entice a better chance of a take. Depending on water pace your retrieve may vary, for example if the water pace is a slow moving glide and the water is low then a faster retrieve is a more effective way to entice a take and allows more movement in your fly, but if the water is running rapidly, less movement in the fly is needed. This applies both in the day and night.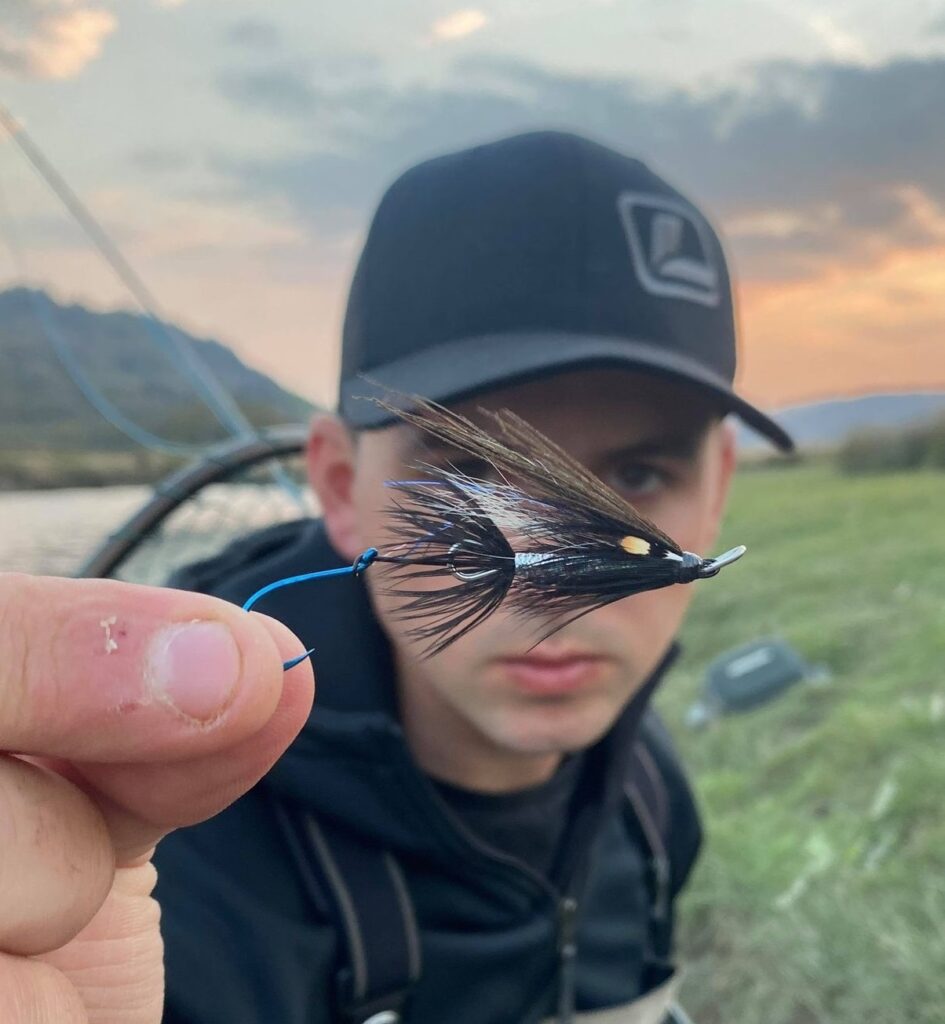 As a final word the advice given above is only a general guide but should hold true for most of our medium sized sea trout rivers. Getting to know your own rivers well is key, observation and learning the access points by day will help immensely. And if you are just starting out then seek local knowledge and adjust your tackle to suit your particular river. If in doubt sea trout guides are available in all parts of Wales that have good sewin runs, you can find a full directory here.

Tightlines, Rob

About the author:

Rob Redman grew up next to the rivers Wnion and Mawdach and lives in sight of the famous junction pool. At 24 he already has an impressive tally of large Sewin to his name with several doubles amongst them. An accomplished fly tyer, Rob has created several patterns including his Wnion Blue Widow which, in August 2020, accounted for a magnificent sea trout of 13lb. Whilst Rob enjoys fishing further afield his intimate knowledge of his home waters have enabled him to grow his guiding service – Welsh Wild Waters; guided nights with Rob can be booked via the email and contact details on his website.