Welsh Secrets – Modern fishing flies for the thinking angler
Wales has a long history of producing highly effective fishing flies – from the 'Grey duster' and the infamous 'Diawl Bach', to the 'Usk grub' and 'Coch y bonddu'; Welsh fly patterns have been on the world fly fishing stage for decades, with Welsh fly tying innovators continuing to develop specialist flies for use on Welsh waters and beyond.

Here, Welsh fly fishing international Kieron Jenkins shares 10, ultra-effective modern patterns for 21st century fly fishing in Wales. Many of these flies – until now – have been classified as 'top secret' on the competitive angling scene.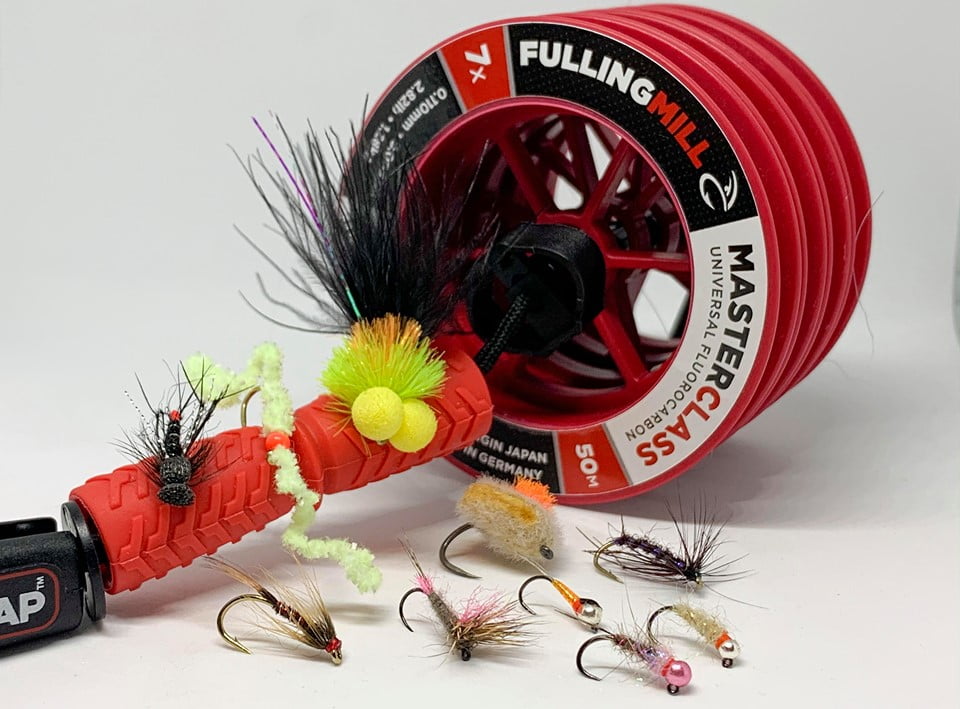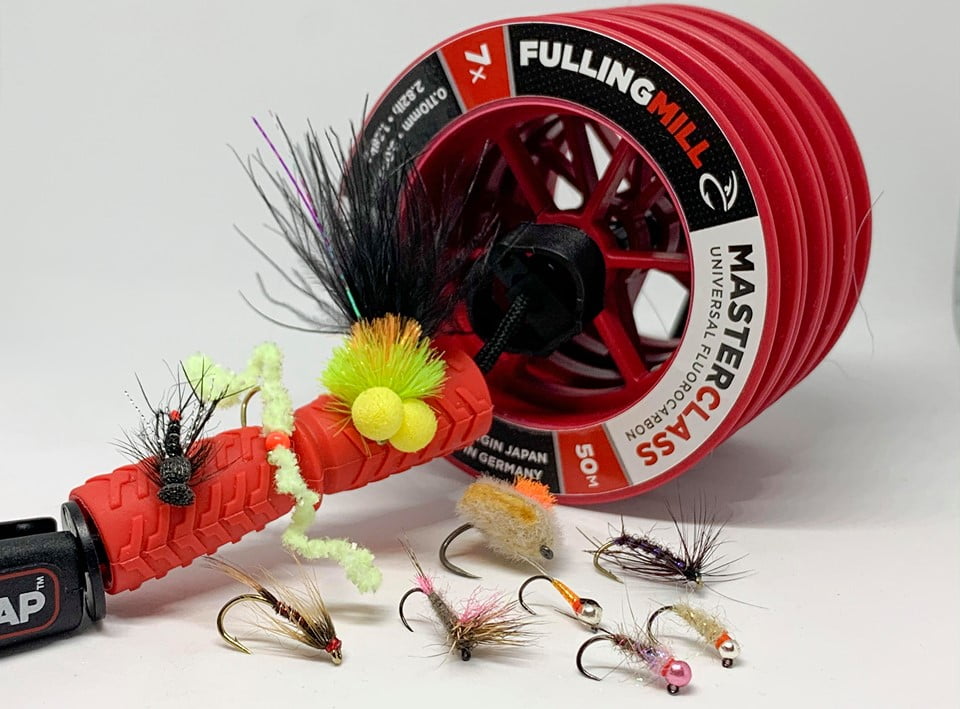 1.Sexy Walts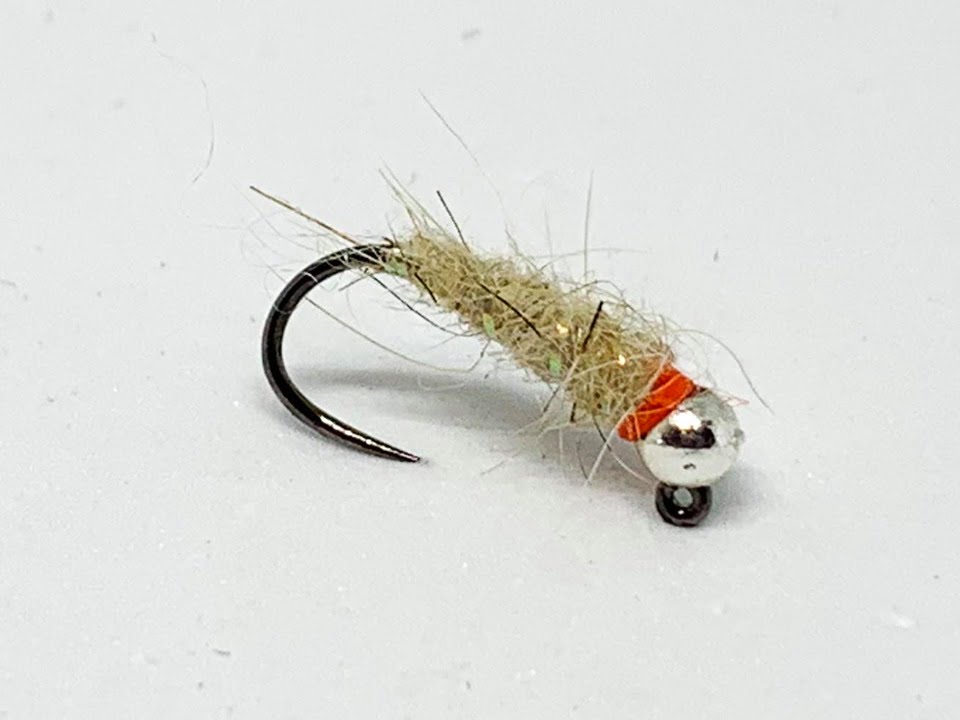 When it comes to river fishing, hands down, the hare's ear is the most effective nymph there is. This particular fly is just a variation on a theme, but it's a very good pattern for imitating cased caddis. This simple fly has accounted for numerous trout and grayling and is always on my cast when fishing the lower Taff in the spring where cased caddis are in abundance. This fly is also one of my favourite river patterns due to being so simple to make – it literally takes one minute to tie – and you can rattle out numerous variations in a very short time.
2. Firestarter Perdigon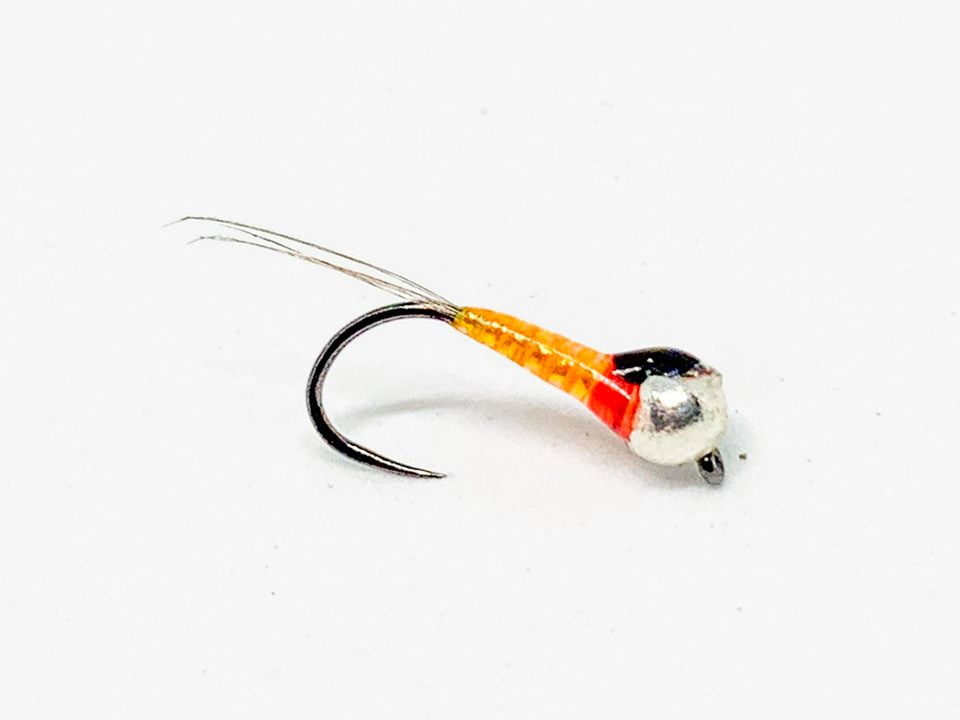 One of my favourite welsh rivers has to be the river Wye, from the upper reaches near Rhayader right down to below Erwood it boasts excellent trout and grayling fishing. The Wye varies massively in short sections with various depths and speed changes, something that keeps river anglers on their toes… The Perdigon nymph is an excellent style of fly to use on fast flowing rivers, the slimline design allows the fly to cut through the water quicker than nymphs tied with dubbing. It can be tied in almost any colour, but I find this Firestarter version a very effective fly, especially in slightly coloured water.
3. Cheese Chewing Gum Worm
Over the past couple of year Chewing Gum worms have become the norm on our small stillwaters, and for good reason… they are deadly fished under an indicator. The Chewing Gum material itself is slightly buoyant, forcing it to move under the water when suspended below a bung. Any slight ripple on the surface will make the fly 'dance' under the surface, or alternatively if it's flat calm a slow tweak back with a figure of eight retrieve can provoke takes. There are numerous colours which can be used, although I find the colour Cheese a great pattern for heavily pressured stockies, a firm favourite of mine when fishing at Garnffrwdd.
4. Fenton Cat Booby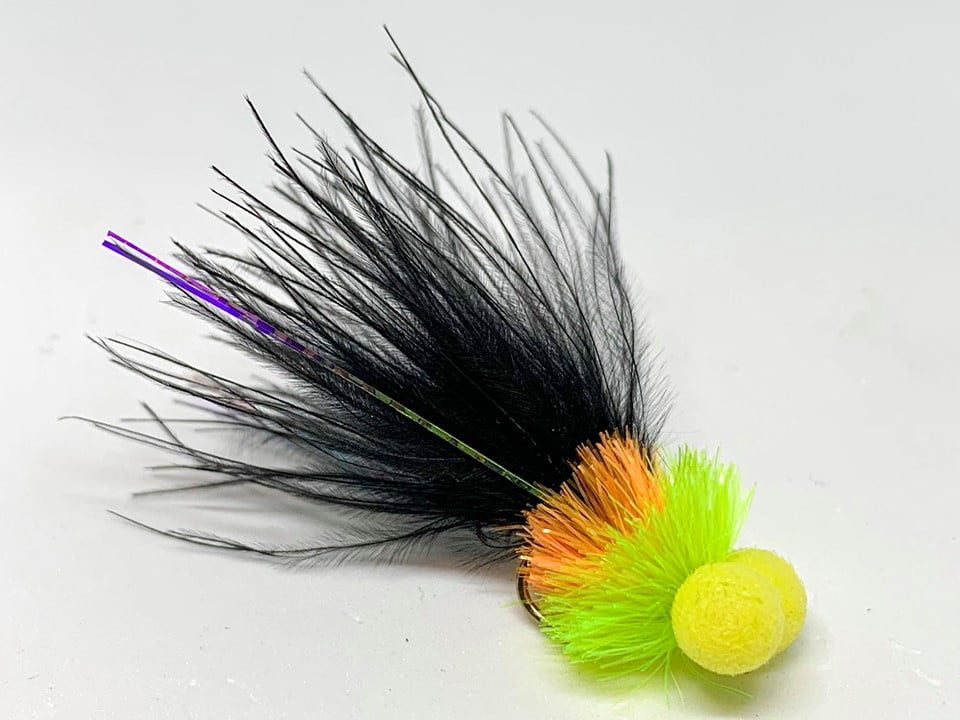 The Fenton Cat has been my go-to fly for fishing deep for many a year, the black, green and orange colour combination is a great mix for targeting stocked trout that are laying deep in the water column. When the weather gets cold, trout will almost always hit the deck in search of a more comfortable feeding temperature. I find this fly is best fished very slowly on the point of a two-fly setup on the Airflo Booby Basher, with a maximum leader length of around 15ft. An exceptional fly for the likes of Llyn Gwyn and Eglwys Nunnyd. The Fenton Cat is also a pattern that I've head featured in many magazine articles and within the Fulling Mill range for a number of years.
5. Black Popper Hopper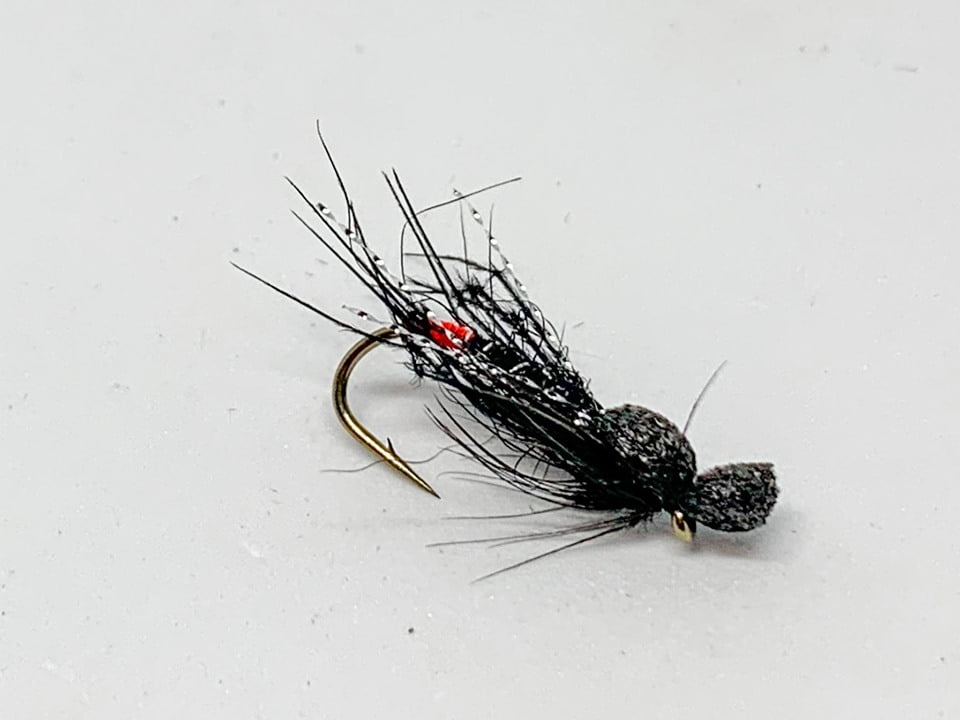 Llyn Clywedog is one of Wales' premier trout waters, featuring brilliant top of the water fishing from May through to the end of the season. It's one of my favourite boat fishing waters anywhere in the U.K and I try to spend as much time afloat there as physically possibly throughout the year, and for good reason… When many other U.K venues suffer from the heat of summer, Clywedog is the opposite and the fish come on big style with the abundance of terrestrial insects that thrive on the heat. This Popper Hopper has been super effective on the point of a dry fly or washing line set-up when targeting rising fish. The foam head pushes plenty of water when pulled across the surface whilst the silver crinkle flash and black hopper legs give the illusion of a hatching insect.
6. Disco Biscuit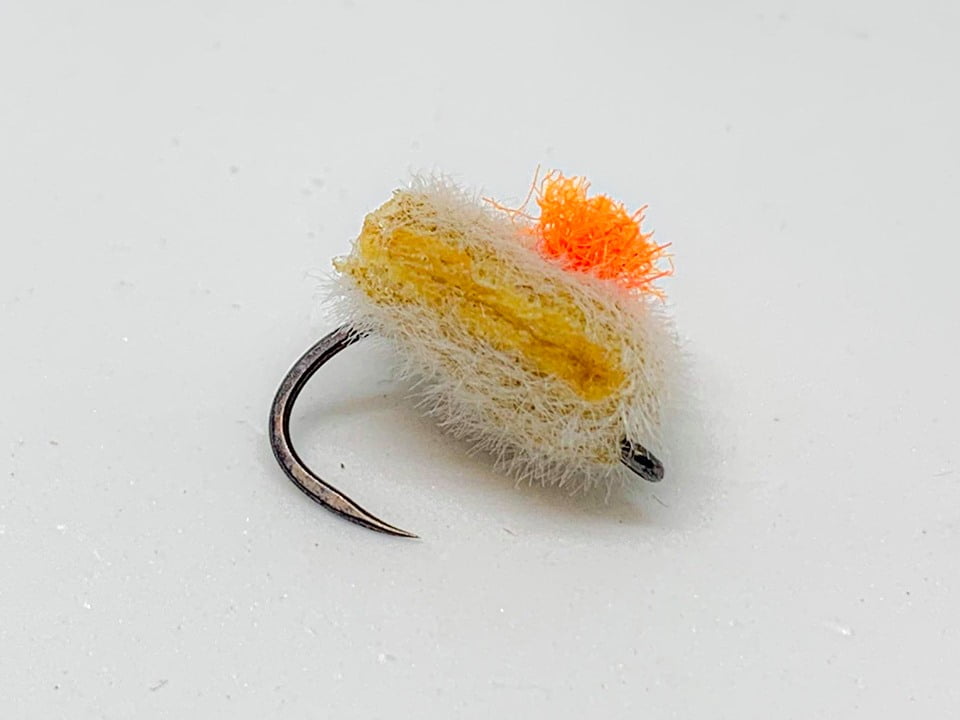 Carp are fickle creatures, they may seem dumb at first, but they learn quick and hardly make the same mistake twice. This pattern was given to me around 10 years ago and has been kept very quiet ever since, except for the occasional handout to good friends. As far as Carp flies go, this is probably the best I've ever used. It closely mimics a 'mixer' dog biscuit (roughly 4-6mm) and performs the same once wet… Most imitation dog biscuits are tied with deer hair or lots of foam, making them super buoyant forcing them to float high on the surface. The Disco biscuit is the opposite, it sits slightly sub surface, and the smallest ripple can often sink it making them 'semi-buoyant'. The positives to this is that when a fish comes near the fly and sucks it in (a carp can inhale a fly from more than 3 inches away!) it will simply follow the vortex of water into the fishes mouth – if the fly was too buoyant, it often dips and pops back to the surface, without even entering the fishes mouth. A great pattern that deserves a place in anyone's carp box – Now available direct from Fulling Mill.
7. Claret UV Hopper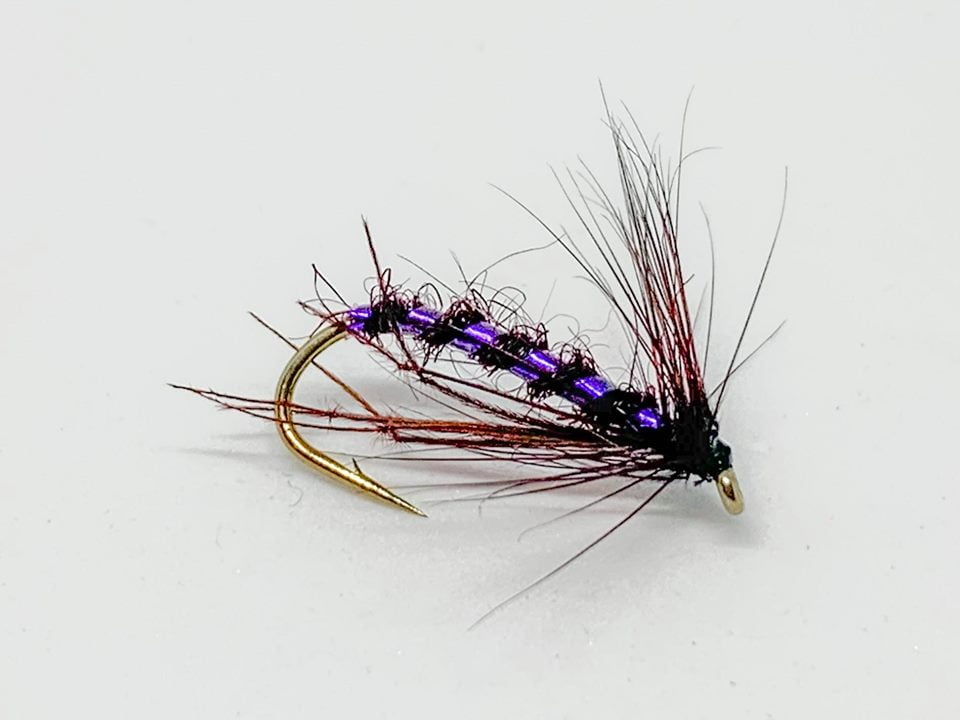 Llyn Brenig is a wonderful top of the water venue for those looking to fish dry flies. Unfortunately for me it's a 6-hour round trip, so I don't fish it as much as I'd like to, although, I always try to put the effort into take a handful of boats each year during the early part of August. This time of the year Brenig is mostly all surface fishing, whether you're fishing the washing line on a tip or flicking dry flies. This Claret UV hopper is a great pattern to use with both techniques, either ginked up and left static or twitched through the surface. This pattern is great in overcast conditions, the dark claret seals fur mixed with UV tinsel gives an extremely enticing hue… Other colours such as black, amber and olive also work very well depending on what may be hatching…
8. Pink Ear Jig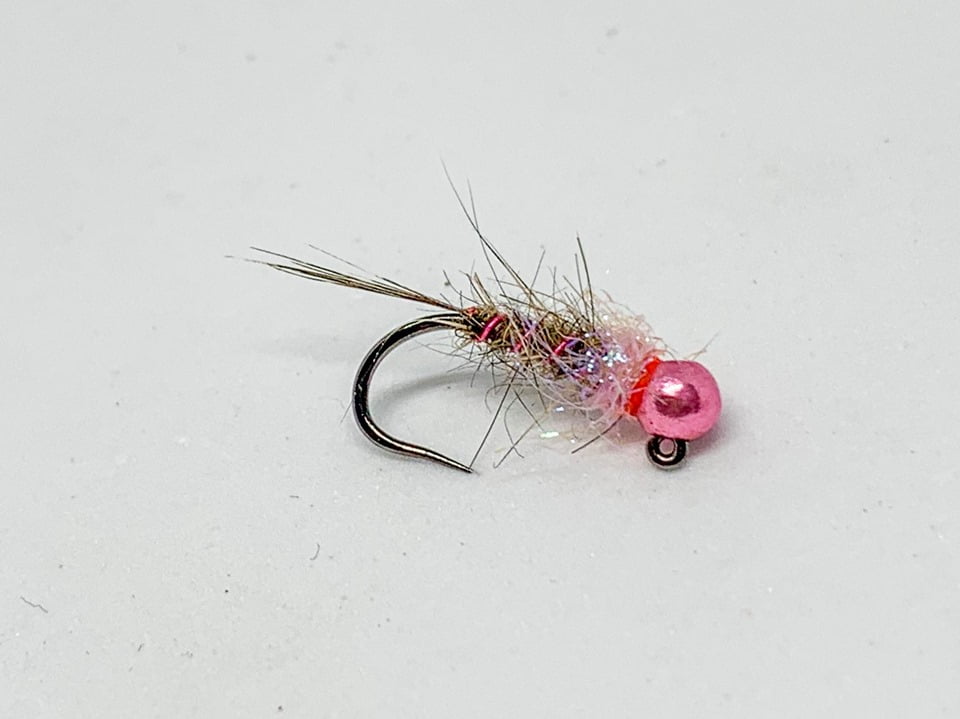 Grayling LOVE pink. They simply can't get enough of it. By incorporating pink into any river nymph, be it the rib, dubbed body, hotspot or tungsten bead, you're mostly onto a winning grayling fly that's for sure. This pattern is nothing special, it's simply a hare's ear ribbed with pink UTC wire featuring and a fluorescent pink anodised tungsten bead at the head. In my eyes, the size and colour of this bead is what makes this fly stand out from any other 'pink nymph', especially on larger rivers such as the Welsh Dee. There are many reasons as to why pink is so successful for grayling, but my theory is that the grayling pull up on the back of salmon redds and mop up their eggs whilst spawning, giving them a taste for 'pink'…
9. Hi-Float Comparadun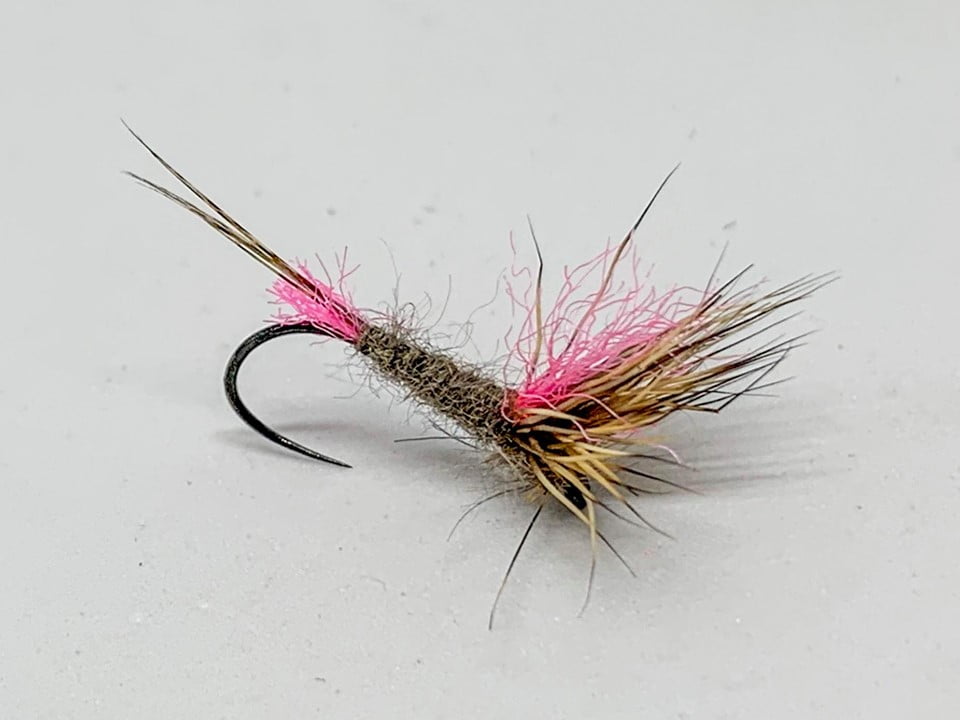 Let's just get this out there – in no way am I a purist – but I must admit dry fly fishing is one of the most relaxing and exciting (and often frustrating) methods to use and I will often choose to target a single rising fish in a glide, rather than rush to a pool with a decent run to catch more nymphing… I feel the satisfaction I get from tempting a fish up to eat a dry fly much more rewarding than catching three or four in a run where you've basically thrown some tungsten and let the river do the rest…
Anyway, this comparadun has been a go-to dry fly for me since experiencing the effectiveness of this style of fly first hand at the rivers international on the Taff in 2009. I don't get sucked into 'flies' easily and feel there is a lot more to the effectiveness of a fly, such as its presentation, rather than just how it's tied… but this hi-float comparadun is an exception. The Aerodry front and back ensures this fly sits flush to the surface, and the stacked deer hair comparadun wing gives it the buoyancy in anything from flat to extremely turbulent water, making it a versatile pattern for all types of water.
10. Nemo Cruncher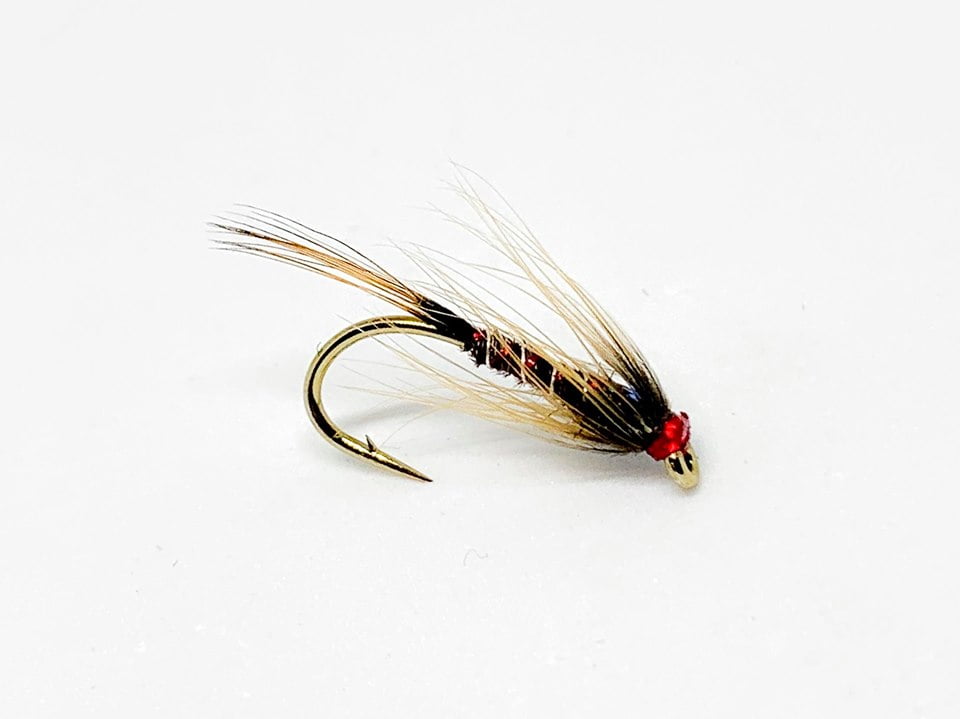 The nemo cruncher is a fly which has found fame from its creator, Rob Edmunds, and off the back of helping win many competitions all over the country. As much as this fly has made the midland waters it's home, I've found it to be a super effective fly almost anywhere in Wales during a buzzer hatch. The cruncher is a great pattern to use when the fish are high in the water.
It's hackle slows the decent rate allowing it to hold in the feeding zone longer, whilst the red holographic/silver wire colouration is a great representation of a hatching buzzer where the insect fills with blood close to emerging. I tend to fish the nemo on the top dropper of a buzzer cast so it's the closest fly to the surface, allowing the daylight to bring the fly to life.

Words & Images: Kieron Jenkins