The Match Fishing Scene in Wales – By Clive Branson
In this guest article match angler Clive Branson (World Champion 1987) looks back at the history of match angling in Wales over the years. He also talks about the thriving modern scene and the many opportunities available at Welsh venues today.
I first started fishing as a young lad on the lower reaches of the River Taff in Cardiff. It was a river that ran black with cold dust, washed out of the mining villages of the Rhondda valleys above. Yet this river in the 1960's was recognized not just as one of the best fishing rivers in Wales for its roach and sewin runs, but the rest of the UK.
On many occasions, anglers from England would come and compete in a competition that was held below Blackweir in the centre of Cardiff. This is where it all started for me and I became interested in Match fishing. During the late 1960's, match fishing was at its peak in South Wales, boasting of over 1000 anglers that would fish the winter league competitions.

Teams of anglers from Swansea, Newport, Ebbw Vale, Rhondda, Cardiff, and more would compete regularly on various venues throughout south Wales. East Dock, Roath Park in Cardiff, Pontsticill Reservoir, Butetown Pond in Merthyr Tydfil, Morgans Pond Newport, Brecon & Mon canal and the lower river Wye would be just a few of the venues that were fished.

During the 70's and 80's Welsh anglers flourished, by then north Wales had joined forces with the south where they competed in World Championships, accumulating in not just myself becoming a World Champion but the Welsh Team also becoming World Champions in 1989. I would like to think that because of the excellent venues we have in Wales we produced many good anglers as a result, ensuring Wales as a nation became so good on the international match scene. Below: Success in the 1980's for Clive and Wales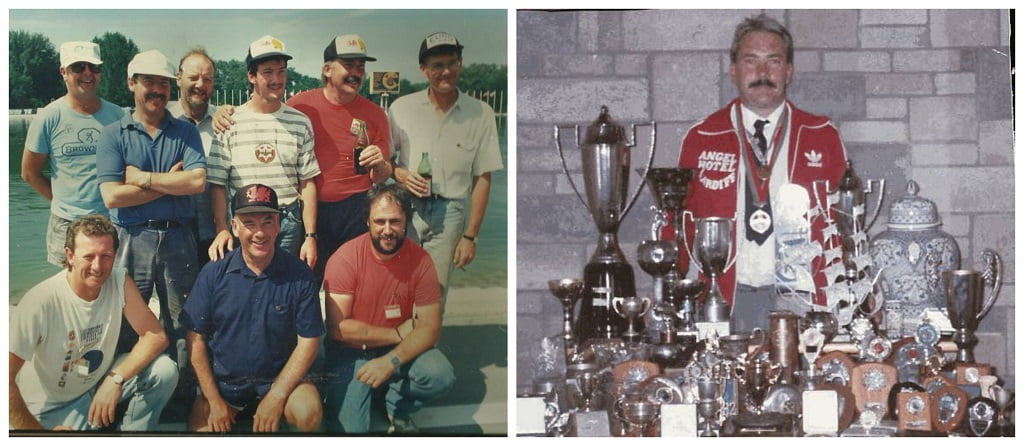 During the early 1990's social circumstances changed with the advent of computers, fewer young people took up the hobby of fishing and match fishing decreased in Wales. Nevertheless, it was during the late 90's that carp fishing became popular and a new type of fishing venue developed, we now call them commercial fisheries.

Farmers and landowners saw the potential and realized that there was a market, therefore an abundance of fisheries was created and in a way, commercial fishing became the salvation for new anglers to take up the sport. With easy access and short walks combined with venues stocked full of fish, it was no accident that they have become very popular, and we now enjoy a large amount of commercial match fishing venues throughout Wales.
With younger anglers now taking up match fishing, Welsh anglers came to the front and once again shone through by winning the European Cup in Croatia 2016. As an overview, Welsh match fishing is very good at the moment, with more people taking it up.

As for myself, I fish a wide variety of venues throughout the country, and I generally prefer the natural venues that Wales provides.

Port Talbot Dock – Is one of my favourite places as there are several methods to use, Feeder fishing for Bream using a special mix produced from my groundbait company www.goldmedalgroundbaits.co.uk black fishmeal and aniseed. With many weights of over 50lb. There are also an abundance of roach to be caught on the whip close in, although my best weight was 53lb caught on the waggler up in the water 6ft deep in 22ft of water, throwing in sloppy groundbait to attract them to the surface.

River Taff – On the lower reaches can produce good weights of dace and roach during the summer, and an 8 BB stick float is best with loose fed maggots. I also expect to catch a few grayling and the odd big chub. My best match weight was 51lb, mostly grayling near the Canton bridge.

Another favourite is Pontsticill & Dolygaer with some great matches being run by Merthyr anglers, the feeder works best here for bream and skimmers. Double red maggots or small red worms are the best baits to use, some anglers catch on the sweetcorn. My best weight is 31lb, although some huge weights have been caught in Dolygaer by the road side.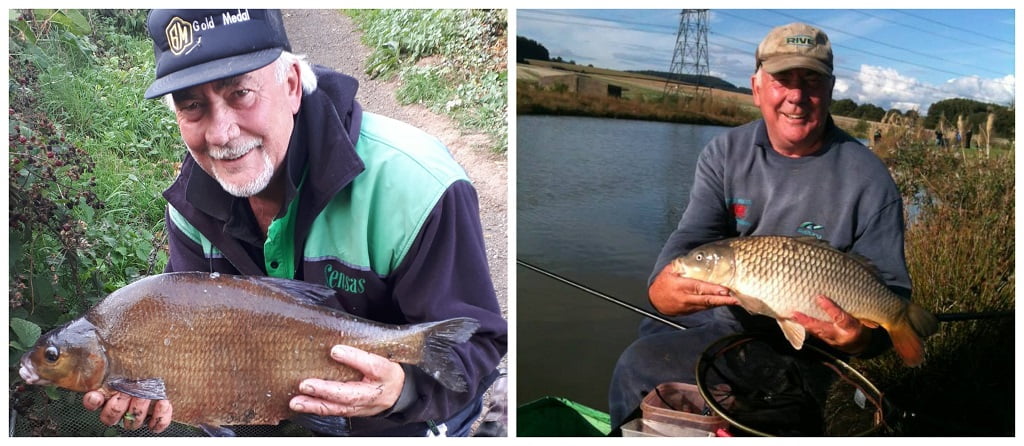 Commercial Fisheries

When I do venture onto the commercial fisheries, the places I like to go include White Springs in Llanelli. It was here that I first started to fish the paste, and it worked extremely well when I won a couple of matches using a short pole to hand. Elasticated with a number 14 hollow elastic and a 4 x 14 pear-shaped float. Lately, I have seen some great catch reports coming from the venue.

Dyffryn Springs in the Vale of Glamorgan was a great place to fish our evening matches and some great weights of carp up to 10lb to be caught using soft cat meat down the edges.

Seven Oaks in Cowbridge Vale of Glamorgan is a good place to fish for carp using pellets and fishing with a pole. Weights of 50lb plus would win most matches

Warren Mill Vale of Glamorgan was also a favourite of mine where we fished our evening competitions, mainly from the boardwalk end catching a mixture of Bream, Tench, and Carp. Maggots worked well, with my continental groundbait.

Redhill fishery has become one of the popular venues in South Wales, renowned for its 100lb bags of Carp and the designer fish F1 carp. Fishing down the margins works well, using paste or pellets. The Welsh National championships are held here, something I have yet to enter in recent times.

Cefn Mably Cardiff, The Match lake was one of my favourite venues during mid-week and various methods work. One of the most productive methods is the method feeder and pellet, and the fixed bomb with a short hook length. Fished across against the Island. Luncheon meat also works well. My best weights have been over 80lb with 100lb match weights commonplace.

Concluding my report, I have to mention the healthy angling club match fishing scene now present within Wales.

Newport has regular competitions on their Morgan and Woodstock ponds, where most matches are well attended, with some great weights are being caught.

Pontypool Angling has regular competitions on the Brecon & Mon canal at Llanover with some good catches.

Festival Park in Ebbw Vale holds some great matches regularly with a great youngster population fishing. Cwmcelyn AC can also boast of a young fishing contingent with regular matches on their club waters, Grange springs.

Cefn Forest Angling Club has regular matches on the Newbridge canal, they also have a youngster division. Sirhowy AC has regular matches on various venues.

There are possibly many more that I could list, and I apologize for not including them in this article.

Clive Branson
Angling News
www.angling-news.co.uk

Looking for places to go coarse fishing in Wales? Then take a look at our venue map here