Tenkara fishing in Wales
Wales is a veritable Mecca for wild brown trout and grayling fishing and is already enjoyed by many experienced anglers. Many more are attracted to it and would like to try but put off by the apparent complexity of casting and the expense of learning. These may be novice adults, lapsed adults, youngsters or female partners who wish to enjoy the sport and wonderful countryside with their partners.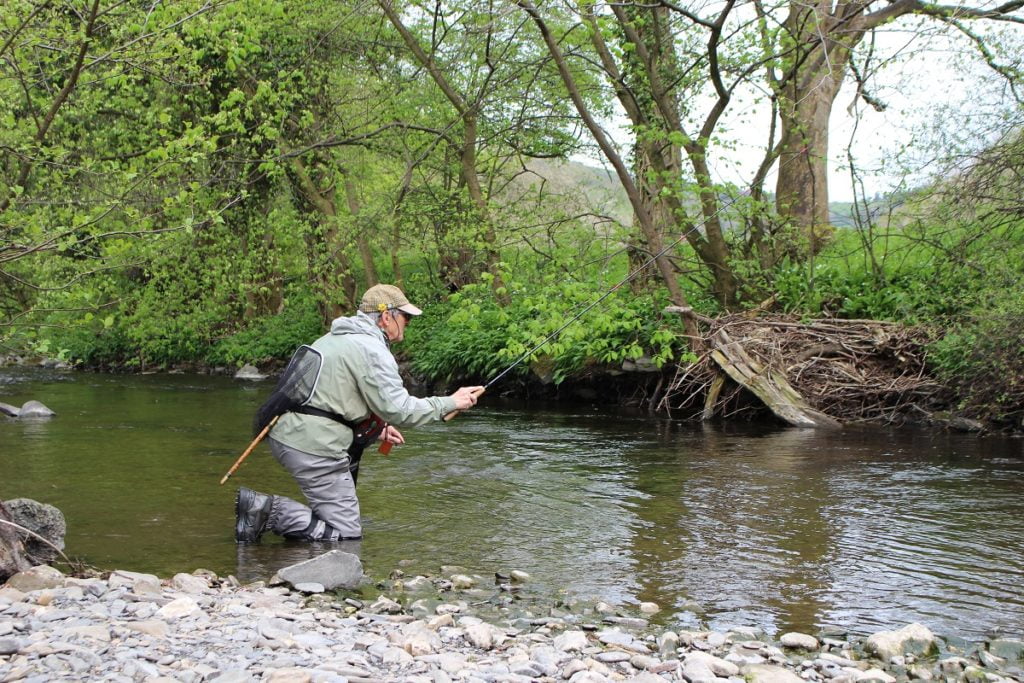 Fortunately help is at hand, in the form of Tenkara – a traditional style of fishing used centuries ago in Japan to catch small trout from turbulent mountain streams for the purpose of either feeding the family or to sell for income. The translation is literally ' from Heaven' or 'from the skies' but it's certainly a God given technique to help beginners and still widely practiced in Japan. It's only been popular for a few years in UK but has several advantages. The tackle is low cost, the learning time can be less than an hour, the light tackle isn't tiring to use, the choice of flies can be very simple, the total concept is easy to understand but most importantly – it's highly effective. It's said that a skilled tenkara angler can out fish a conventional fisher by a ratio of 5:1.
The main criteria is that the long rod and relatively short line can help to keep practically all of the line off the water thereby allowing the fly to drift unhindered, just as a natural insect would do. It allows us to present a fly naturally in the roughest of water which wouldn't be possible with conventional tackle where the fly line is laid on the water at the mercy of the currents and the fly then behaves un-naturally. It's a perfect method to use on the smaller fast flowing Welsh waters as well as in difficult places on large rivers. It's normally more effective to cast upstream or upstream & across. Imagine being able to hold a fly in those pockets and slacks where the fish are lurking!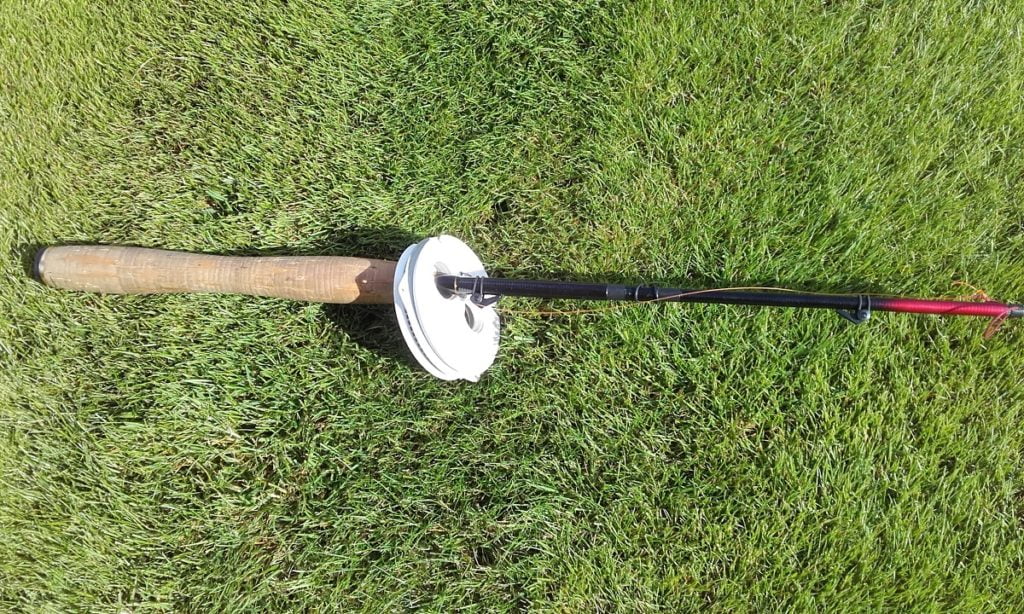 The technique is very easy to understand. The rod is held in one hand only and the fly is effectively flicked into those places where a fish may be lying. Because you're usually casting upstream the fly will drift towards you so a new cast is made before it reaches you, often only after a few seconds.

Casting is in the form of a gentle accelerating tap backwards and then forward with the rod kept quite high which allows the fly only to fall to the water, not the full line as with conventional fly casting. It's actually easier to do than visualise. Considering the short casting distance it's surprising how many offers you get but you're creating no disturbance – no constant false casting or pulling a heavy line off the water as with conventional fly fishing. You do however need to wade quietly.

On small streams where you're closer to the fish it's an advantage to fish from a kneeling position but wear knee pads to protect both your knees and waders. Learning would be easy from the Internet as there are many videos, or you could look for a qualified instructor from GAIA ( game angling instructors association).
The tackle is very basic: a telescopic rod of typically 11 – 13 ft, an equivalent length of highly visible nylon line to which is attached a metre of fine clear tippet nylon. No reel is used as the line is simply attached to the rod tip which has no line guides. The rod is very thin and flexible at the top which makes it easy to cast such a light line. Rods are available as short as 6 – 8 ft which are ideal for very small streams or small children.

Models called 'zoom rods' are also available which will adjust to three different lengths, perfect for shortening the rod if you need to fish temporarily in confined places. The rod is only approx' 16" long collapsed, ideal for hiking or cycling perhaps. When moving sites on the river it's advisable to collapse the rod, winding the line around a line holding spool. It only takes a moment to extend the rod again and unspool the line.
The whole concept was originally simplicity to such an extent that people would fish all year using only perhaps one or two patterns of fly, the accent being on presentation rather than imitation. Fish in fast water will normally be happy to accept a basic imitation of a fly if it looks and behaves naturally. I myself use mainly one pattern, a wet Gold Ribbed Hare's Ear. You can fish tenkara style with either dry, wet flies or nymph and exactly the same patterns as you would with conventional tackle. However, the traditional Japanese fly called ' sakasa kebari' was made differently to our modern patterns and it's great fun to use them. The traditional anglers liked to introduce movement into the fly and their style of hackling gave the appearance of a struggling insect, deadly.
There are several Internet companies selling tenkara equipment but I would recommend that you visit www.esoterictackle.co.uk based on the Isle of Man who sell top class tackle at competitive prices. (Other brands are available).
Other than its convenience and ease of use one of the biggest assets of tenkara is the fun you can have with even small fish. A trout of only a few ounces can be great fun, feeling much bigger on the light rod. Many of the smaller Welsh streams have an abundance of smaller trout which will give superb sport. Much bigger fish can easily be controlled and these give added excitement. It's a particularly good way in which to introduce youngsters to fly fishing so why not get a taste of the Orient !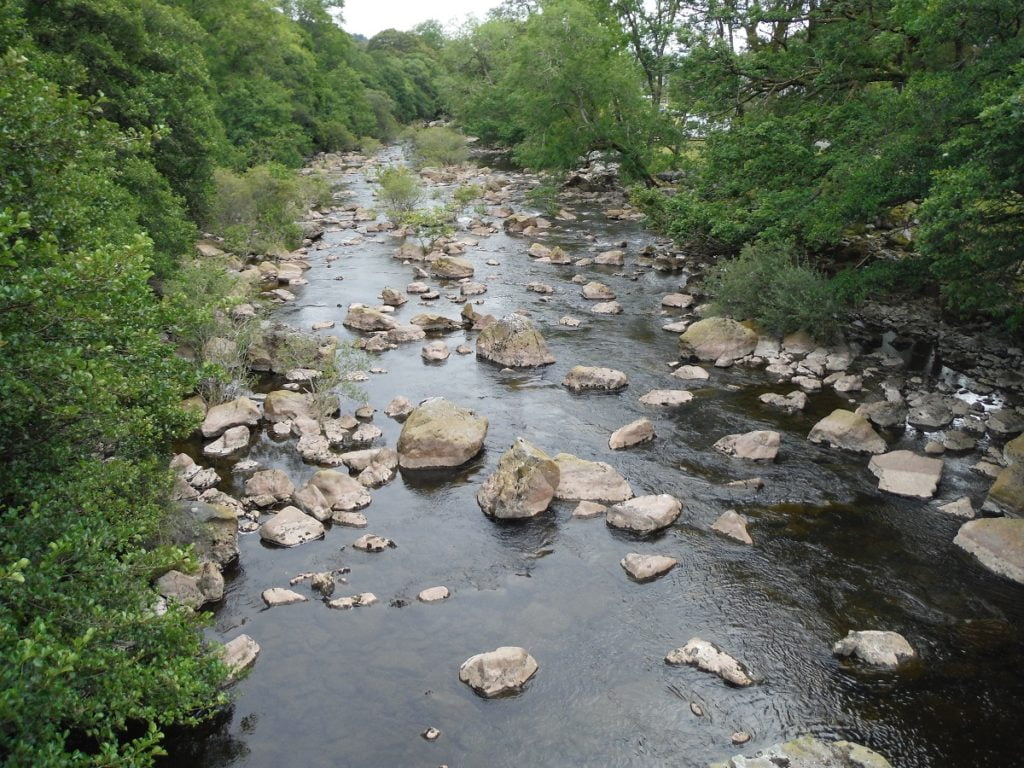 Word & Images: Louis Noble, Advanced Professional Game Angling Instructor.

Louis offers Tenkara fishing instruction – You can contact him here: gameangling@aol.com