Sea Trout Fishing In Wales
Wales is renowned for it's sea trout fishing – sea run brown trout known locally as 'sewin'. Here expert fishing guide Steffan Jones talks about sea trout fishing in Wales.

Whilst salmon runs in the rivers of Wales have become sporadic at best, we still have prolific rivers that produce annual sea trout catches above a thousand on rod and line every season. This sport should not be overlooked and sea trout are certainly regarded as the most emblematic of all fish to be found in Wales.
The three principal sea trout rivers are the Dovey, Teifi and Towy. However, virtually every river around the Welsh coastline has a run of some description, and a small, largely unknown river will often produce a surprise catch. Other rivers worthy of a mention would include the Conwy, Glaslyn, Mawddach, Rheidol, Ystwyth, Cleddau, Loughor, Neath and Ogmore.

The catches on these rivers vary considerably, so it is worth undertaking a little research to gather insight from previous seasons and to gauge expectations. However, local fishing pressure, or the lack of, can skew such findings, so do take that into account.
Wherever you choose to target sea trout you will undoubtedly find yourself in beautiful surroundings. Sea trout have made a habit of running in the most picturesque parts of our country, which supports the adage of 'there's more to fishing than catching fish'. When you choose to visit will largely be dictated by run timings – there's no point concentrating your efforts before the run has arrived in earnest. There are indefinitely variances from one river to the next and these local intricacies are best uncovered through local knowledge.

Whenever possible do make contact with a local tackle shop, a local fishing club or a local fishing guide. Such information is invaluable and often forms the foundation to success. However, as a rule most rivers see their main run arrive in late June, then continue throughout July and August. The larger fish (4 lbs+) tend to arrive first (as early as March and April), followed by the smaller (school) fish throughout the summer months, which provide the mainstay of the sport on these rivers.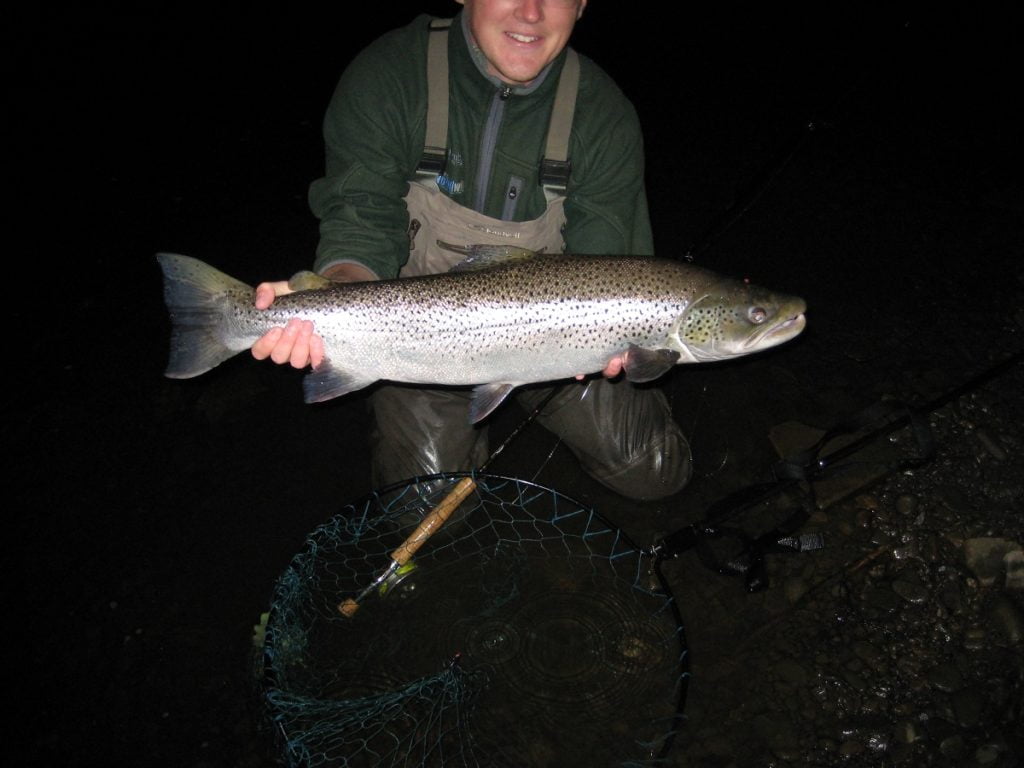 Fortunately, most anglers already have suitable tackle to target sea trout within their arsenal. A lake, reservoir of light salmon rod is ideal for targeting sea trout. Some of the smaller rivers will call for shorter rods, but for the majority something around 10ft for a #7 line is perfect. I would not recommend fishing much lighter, for the simple reason that you may struggle to present some of the flies commonly used for sea trout. Lines are not complicated either, with a floater and intermediate forming the backbone of what's needed. In addition, a selection of salmon strength polyleaders are a great addition, ideally in lengths no longer than 10 ft.
Sea trout can most definitely be caught by day. Smaller sea trout feed in freshwater, contrary to popular belief, and can often be targeted with dry fly or nymph very much the same as a resident brown trout. Prolific sport can be had on a falling spate, which will bring in a new push of fish but also encourage those already residing within the system to venture further upstream. When faced with such conditions, swinging wet flies will bring the most success. Traditional patterns such as silver stoat, peter ross, mallard and claret.
Faced with a low, clear river, sea trout can be a saviour in terms of summer sport. As long as the water temperature does not question the likelihood of fish survival upon release, great sport may be had in the lowest of summer conditions. For this, however, you must venture into the glooming, as daytime sport is unlikely.
Sea trout become active as the light fades and become easier to tempt at night. Such fishing is not without its challenges and one should always familiarise oneself with the water to be fished. Daytime reconnaissance is essential, making note of any hazards along with casting distances and currents. Never venture into the slow, glassy section of the pool until it is sufficiently dark – a good indication is when colour is lost from bankside foliage. Not doing so will likely spook the wary sea trout and diminish your opportunities as a result. Do, however, begin fishing the faster water at the head of the pool or smaller, faster pools unlikely to be fished at night as the light begins to fade, as sea trout will often be tempted in such areas before full darkness.
Never fish with less than 12 lbs line at night; the fish are not leader shy and the extra strength will enable larger flies to be turned over easier, tangles to be unpicked easier and less flies lost when placed in trees, which is inevitable. Carry an array of patterns, with size and silhouette being the two key variables to consider. Colour is immaterial, with black appearing in the majority of sea trout patterns as that is the colour that casts the strongest silhouette.
Sea trout fishing at night is immensely enjoyable, as long as you keep things simple. There is nothing quite like the take from a sea trout at night and I am confident once experienced you will be hooked. There is a reason they are seen as the most emblematic of all fish in Wales with the tug most certainly becoming the drug…
Some places to target your first Welsh sea trout:

> RIVER TEIFI – LLANDYSUL ANGLING ASSOCIATION
> RIVER TOWY – LLANDEILO ANGLING ASSOCIATION
> RIVER OGMORE – OGMORE ANGLING ASSOCIATION
> RIVER NEATH – NEATH & DULAIS ANGLING CLUB
> RIVER CONWY – LLANRWST ANGLING CLUB
> RIVERS MAWDDACH & WNION – DOLGELLAU AA
Looking for a fly fishing guide to get you started? There are some fantastic guides across Wales specialising in sea trout fishing. Here are a handful of suggestions:

> Jamie Harries on the Golden Grove Estate, River Towy.
> Steffan Jones and his team, River Teifi.
> Rob Redman, Rivers Mawddach & Wnion.
> Illtyd Griffiths, River Dovey.
> Lyn Davies, River Lougher.
Steffan Jones released his book 'Sea Trout Tips, Tricks & Tribulations' last year, which is an invaluable resource for those looking to target and understand more about the species.

For more information on how to order a book please contact Steffan directly at: book@sea-trout.co.uk