River fishing for grayling in Wales
In this article Trout & Salmon magazine contributor Louis Noble talks about his love of grayling fishing in Wales.
If there's one fish that typifies the great fishing that Wales has to offer then for me, it has to be the grayling, or 'The Lady of the Stream' as we know it. Technically a coarse fish, recent years have caused it to be classed as ' the fourth game fish', partly due to the adipose fin it shares with salmon and trout but also due to its superb sporting qualities. One of its greatest attributes is that it offers practically all year-round sport with autumn and winter being the prime times. Fish will then start to shoal up as temperatures fall and good catches can be made.
Grayling numbers have been growing steadily each year in Welsh rivers which is an indicator of excellent water quality, as like trout they are intolerant of heavy pollution. The healthy invertebrate population is another factor of both density and size – Welsh grayling of over 2lb or more are not unusual with a healthy average being around 1lb. In most seasons a specimen of 3lb will be caught which is outstanding.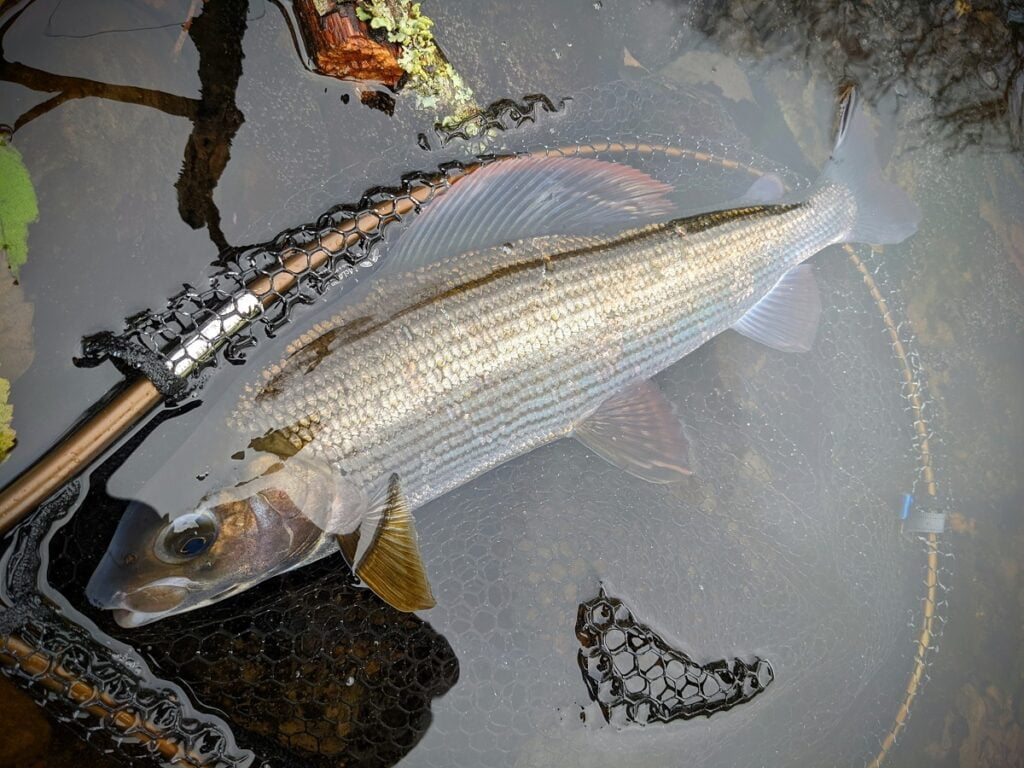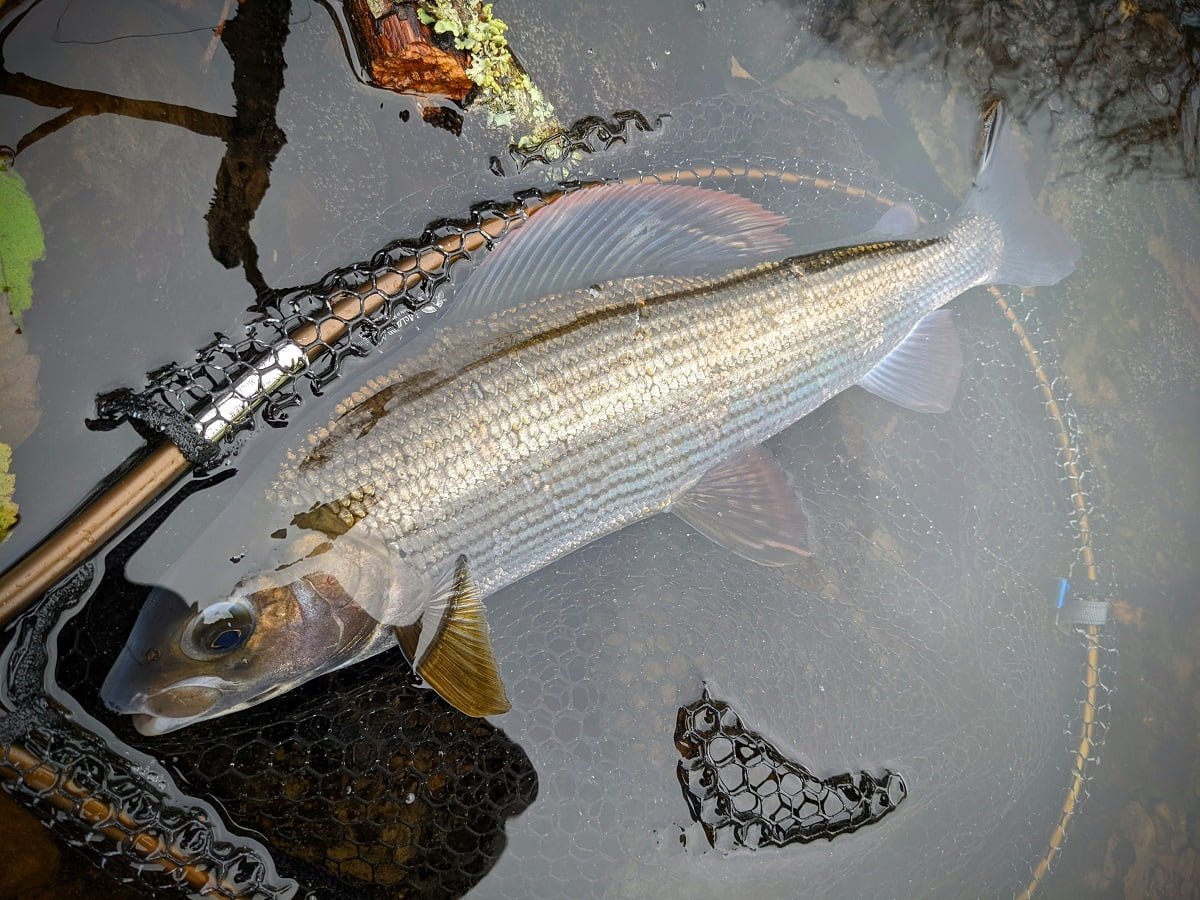 Where to fish for grayling in Wales
Many Welsh rivers and streams offer first class grayling fishing, but certain ones are notable. In the north we have the Dee which following the World Angling championships in the late 1980's was classified as one of the best grayling rivers in Europe. The Hanak European Grayling Festival is held each December and over only two days over 20 teams of 3 anglers from all over the world will expect to catch and return up to 1300 grayling which is an indication of the considerable population.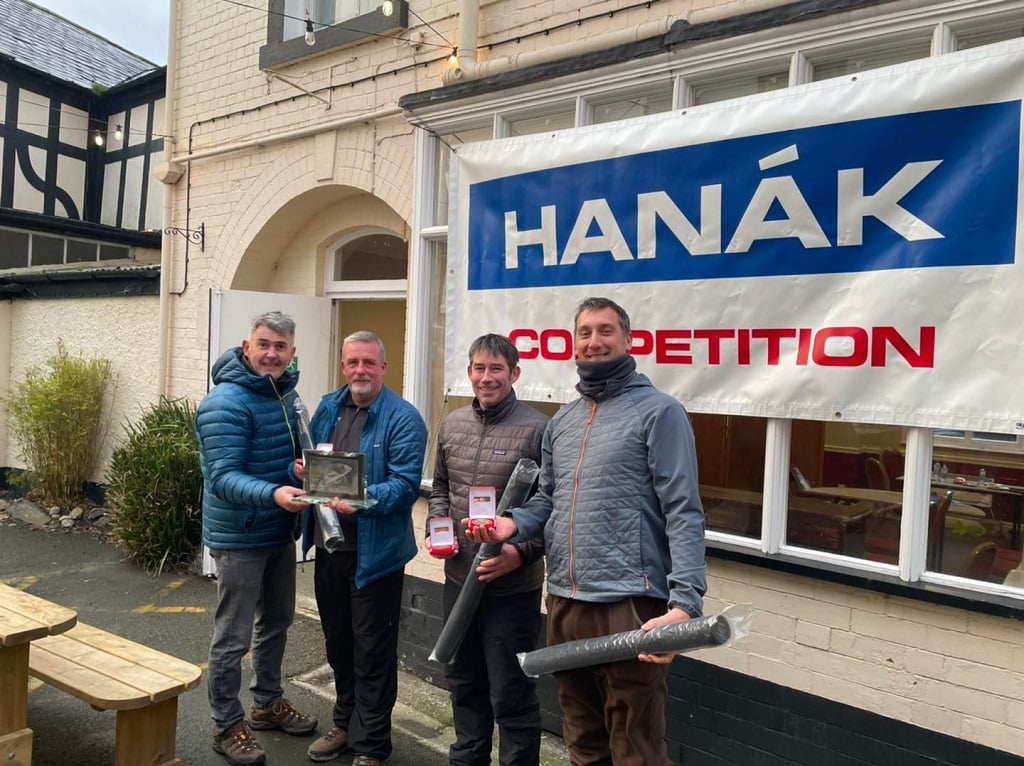 What a terrific river the Dee is, rising in the mountains above Bala it runs through Llyn Tegid (Bala lake) quickly attaining a fishable size below the town. This is undoubtedly home to very large grayling! It then meanders through the areas of outstanding beauty and significant fishing passing Llandderfel, Corwen, Carrog, Llangollen, Trevor, Erbistock and Bangor on Dee where a never ending variety of shallowish streamy water is to be found. Day ticket fishing is available in all of these places. Below Glyndyfrdwy the river bed becomes increasingly stony so wade with care – a wading stick is advisable.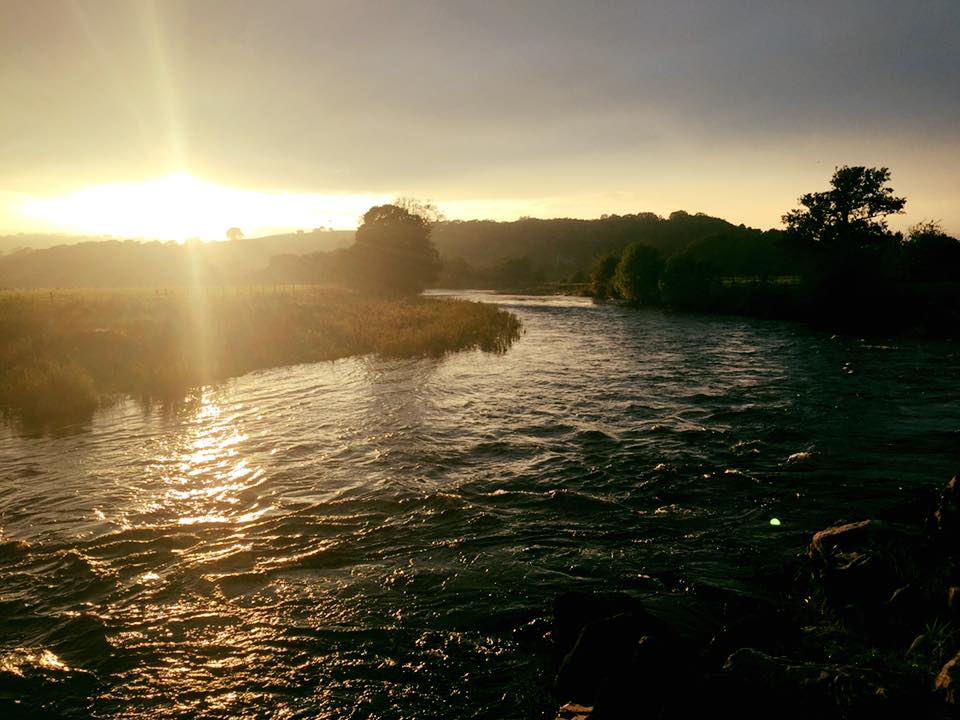 Bala lake itself offers a unique opportunity to catch grayling in a stillwater – it is quite possibly the only lake in the UK where a population of grayling is well established. They prefer the shallower water so catching them isn't as difficult as you might think. January to March would be a good time to try.
Of equal significance is the mighty Wye of Mid Wales which has some of the finest fly fishing of any river. Productive grayling fishing starts at Llangurig, improving as the river flows towards Rhayader and grows in importance past Builth Wells until Hay–on–Wye. Again, you'll need to take care when wading due to the current's strength and rocky bottom. In my opinion some of the best fishing is on the beats below Rhayader and Builth Wells, with Erwood particularly good – all accessible through the Wye & Usk Foundation's Fishing Passport. In favourable autumn conditions I've known of catches up to fifty grayling from the River Wye, outstanding by any standard. This exciting and challenging river is suitable for all techniques. Fly life is particularly good which clearly contributes towards the density and quality of the fish.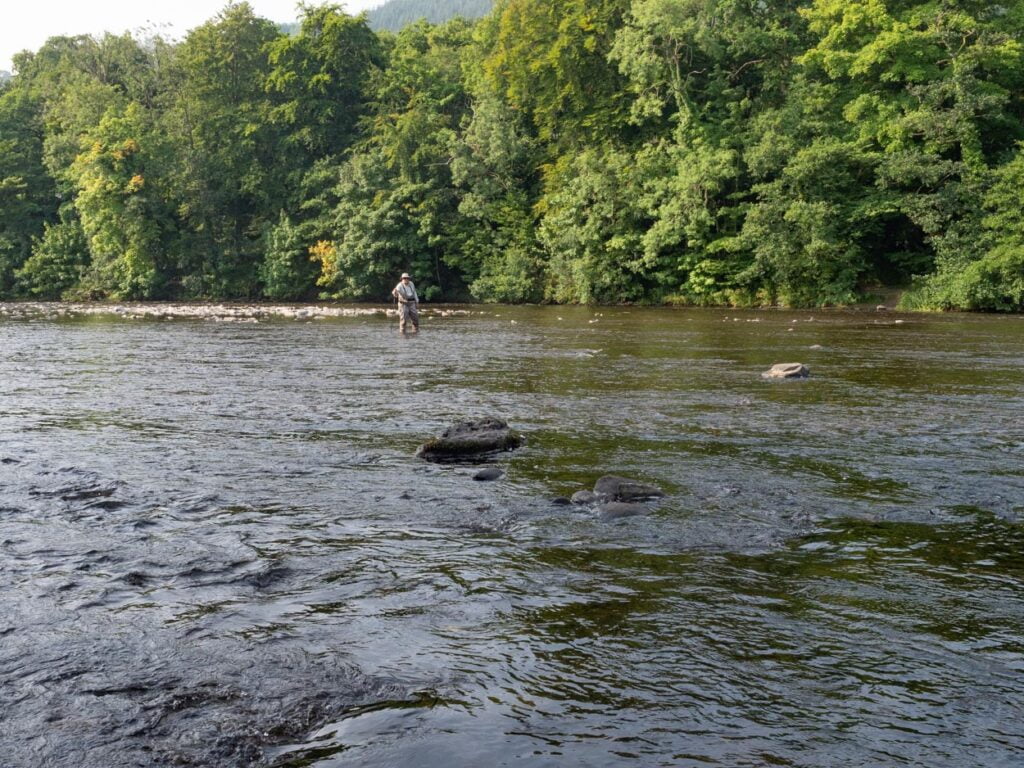 The River Wye's main tributaries hold grayling and are important graying fisheries in their own right. The Elan and Ithon are excellent grayling rivers, but the most important must be the Irfon, joining the Wye near Builth Wells. This beautiful intimate river is 30 miles long, but the lower and middle miles are of particular interest for grayling fishing. An October day with dry fly can be a revelation, although it's suitable for all methods. Long trotting is excellent in the winter months and higher flows. Several excellent day ticket beats are available and it's very much a jewel in the crown of Welsh grayling fishing.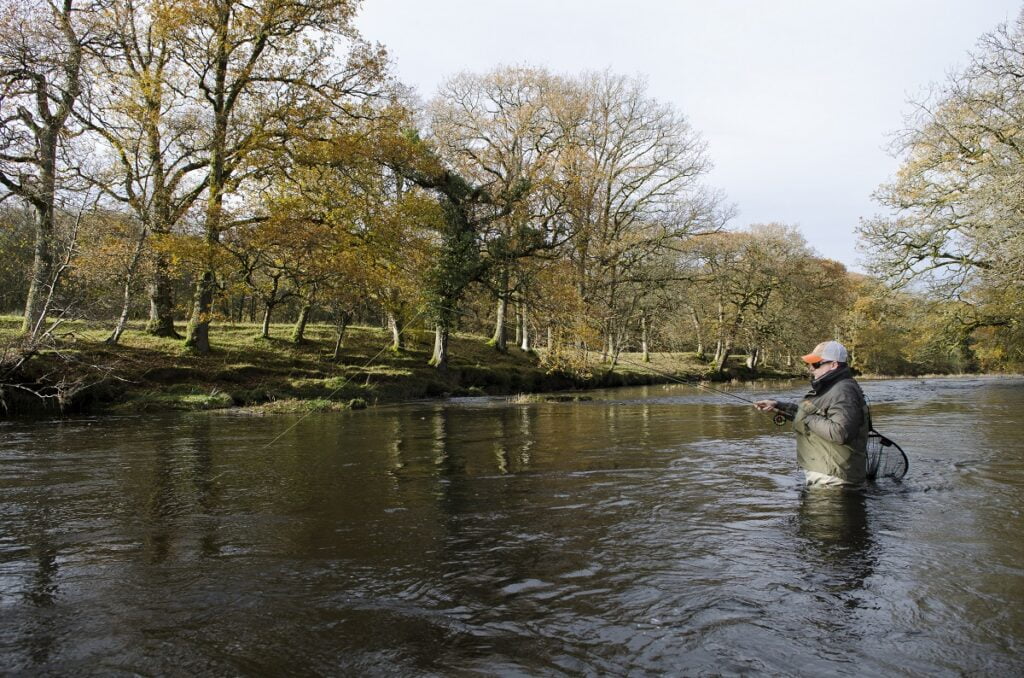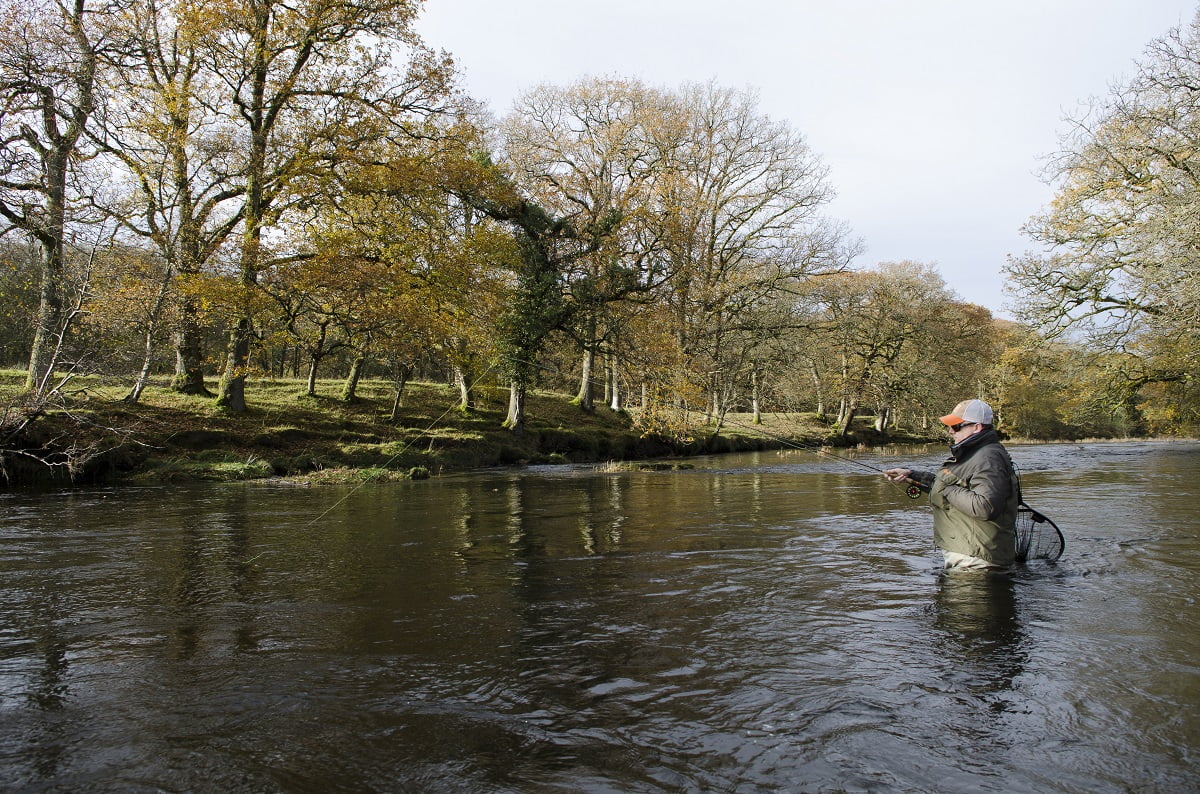 Another grayling river of major importance is the Severn which can offer outstanding fishing. After rising in the Plynlimon Hills alongside the Wye, it runs swiftly until it reaches Llanidloes where it is joined by the Clywedog. Serious grayling fishing starts here and as it reaches Caersws it twists and turns through flat plains, passing through Llandinam, Newtown and Abermule, everywhere offering excellent fishing on the long sweeping glides interspersed with pools. Day tickets are available on all of these places and there is even free fishing of good quality just below Newtown. Much of the Severn is tree lined, so wading is frequently necessary. One advantage is that the river bed is generally gravel so very easy to fish.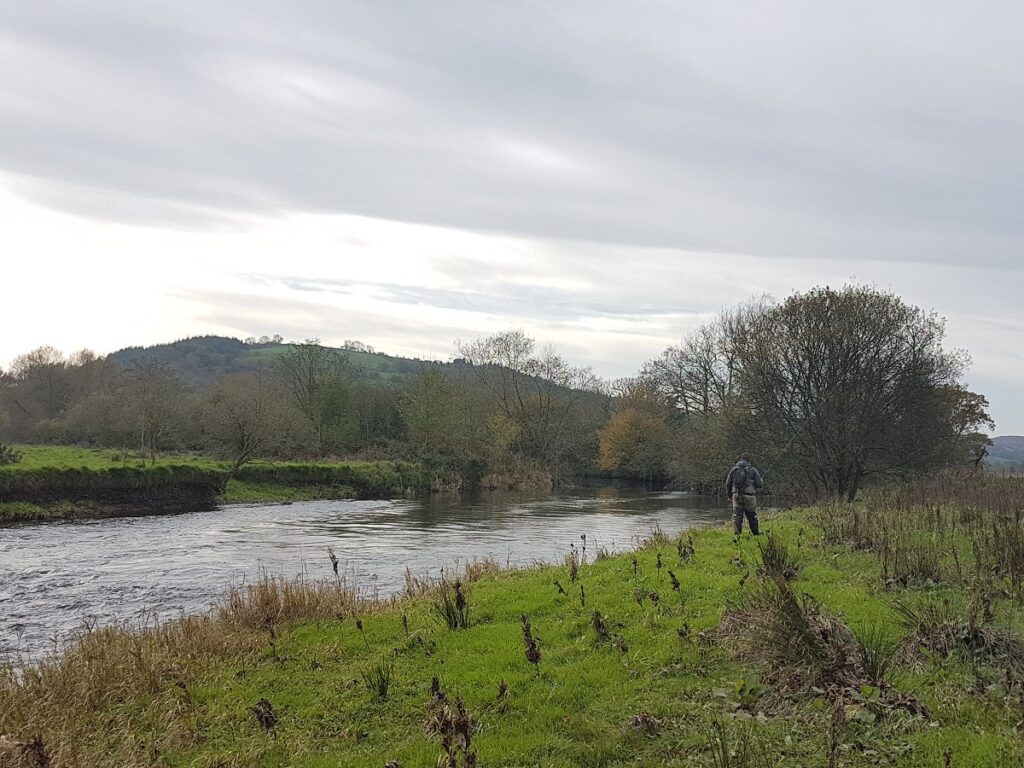 We can't leave the Severn without mentioned its most important tributary the Vyrnwy. Above Meifod there are several miles of quality fishing with a good head of grayling and the scenery is magnificent. Some access is only available through club membership but there are farms offering day tickets at exceptional value.
South Wales is blessed with exceptional grayling fishing as well. Many Welsh valleys rivers now have large stocks of grayling up to 3 lb. The River Taff is a perfect example and grayling can be found from Cardiff Bay to Quakers Yard gorge, with the river running through a mixture of both rural and urban settings. This is fishing of the highest quality and strongly recommended – the head of grayling in the Taff is prolific, with 2lb plus fish regularly caught. Several clubs offer inexpensive day tickets including the Ospreys at Pontypridd and Glamorgan Anglers in Cardiff. The Taff's major tributary, the Cynon, has a growing reputation as a grayling fishery.
Another significant grayling river is the nearby Rhymney and quality fishing can be found from the A48 in St Mellons all the way up through Caerphilly and then just past Llanbradach. Cheap Day tickets are available in all areas, with Tony's Tackle shop in Caerphilly a great place to purchase them or via Caerphilly Angling Association online. Tree lined for the most part, this is a very attractive river and well worth a visit. A prolific population of grayling awaits, with almost every pool holding a very large shoal. It is not uncommon to catch dozens of grayling here on a winter afternoon, with fish averaging about 12oz with plenty of bigger grayling to 2lb plus in the catches.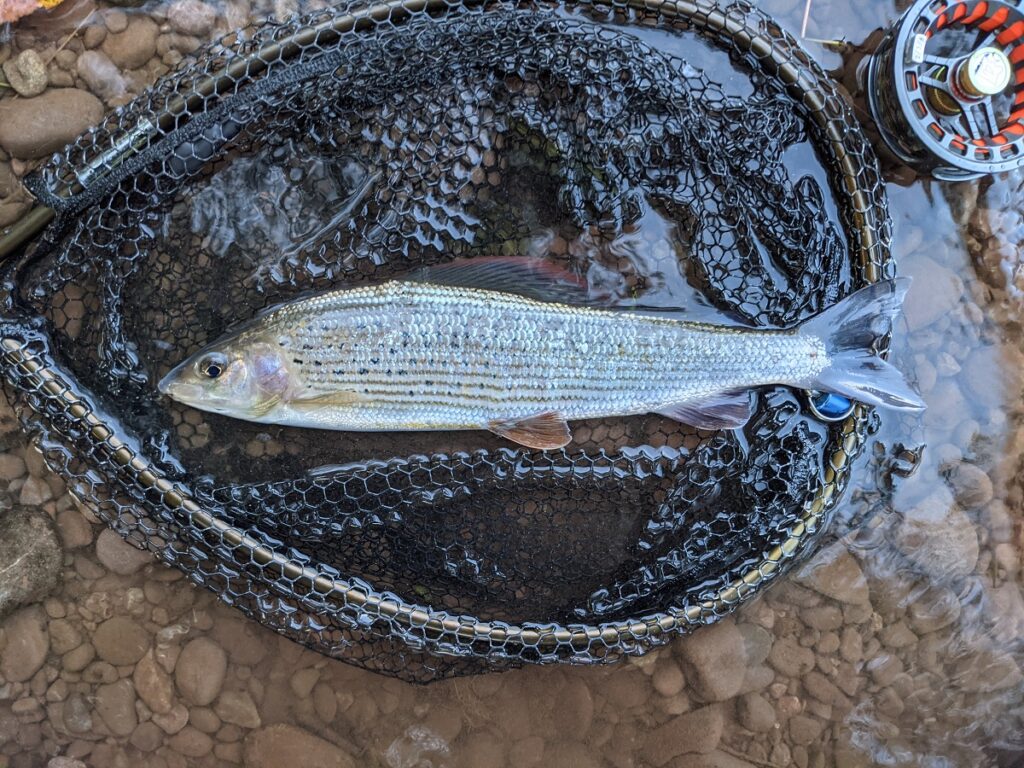 We should mention the Ewenny, a tributary of the River Ogmore which has excellent grayling fishing on a day ticket in the higher reaches. Flowing through the fertile Vale of Glamorgan, it has gin clear water and rafts of ranunculus weed making it resemble a chalk stream. The Ogmore river itself now has good numbers of grayling in its lower sections, as has its major tributary the Llynfi, both of these can be fished on a season or day ticket basis.
The Monnow, a significant tributary of the Wye is a celebrated grayling river, with fish from 2lb to 3lb caught every year. Beats are available to fish via the Fishing Passport, with some angling club access also available on this usually strictly preserved river. On it's day the Monnow can be considered one of the best graying rivers in Wales.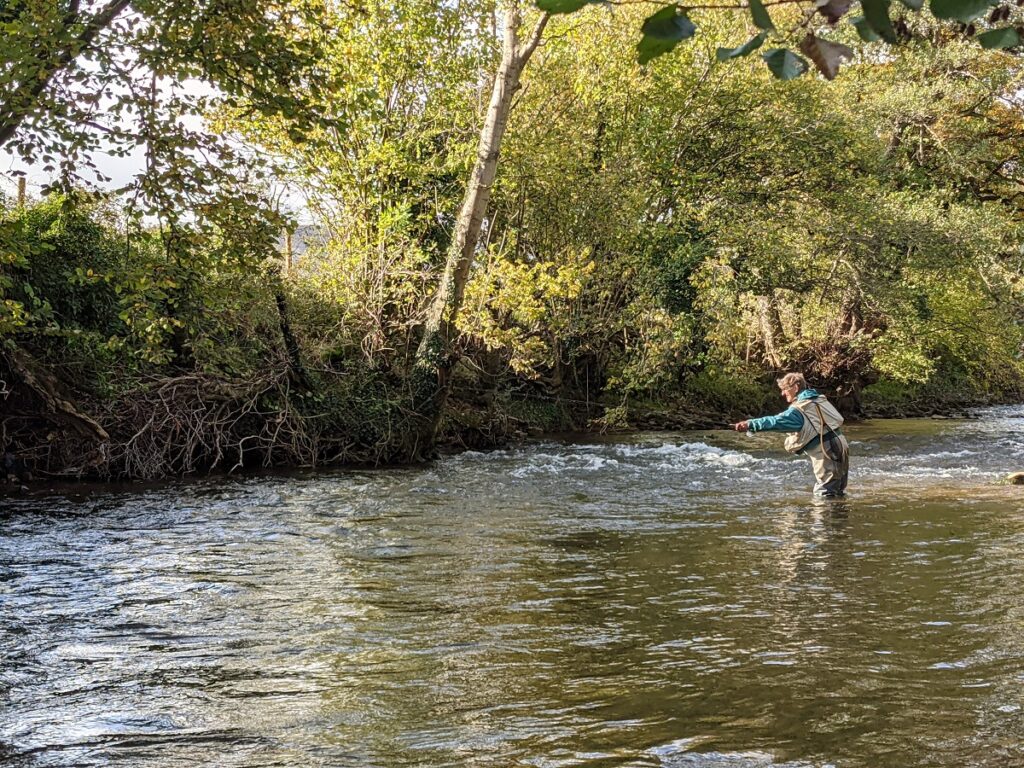 Catch and release of grayling is now the norm on Welsh rivers and I encourage all visiting anglers to do the same – Welsh fish stocks need to be conserved so our fishing continues to be world class.
Fishing for grayling – timing, techniques and flies
In many people's opinion the cream of grayling fishing is in September, October and November when dry fly comes into its own. As the leaves change colour and frosty mornings start, the sport can be superb with grayling rising enthusiastically to both modern and traditional patterns. Small sizes are usually best, from say 16 – 20 and the popular CDC F flies and split wing olives are an excellent choice as olives will still be hatching. On days when they're not then a traditional pattern such as Grayling Steel-blue can score heavily, not forgetting old favourites like Red Tag and Sturdy's Favourite.
In less favourable conditions an alternative technique is the ' duo', often called New Zealand style or 'Klink & dink' where a tungsten headed nymph is suspended below a fairly heavily hackled dry fly. The indicator pattern isn't critical and from the numerous nymphs available today good choices would be a flash back Pheasant Tail nymph or Gold Ribbed Hare's ear. Sizes 16/14 are the norm and fished on a tippet approx' a metre long for typical depths of water. Don't be surprised if the indicator fly is taken! The combination should be fished in the same way as a single dry, upstream or up and across and a strike made if the indicator falters or disappears.
On those rough often wet days which make dry fly or duo impractical it's good to revert to a team of three wet flies which, although now out of fashion are still efective when fished across and down the faster runs. Flies are spaced approx' three feet apart on a 12ft tapered leader, attached to droppers of no more than 3". Because olives will still be hatching one of the most effective patterns is the Waterhen Bloa in the top position. Another very successful spider pattern is the Partridge & copper, fished perhaps in the middle position and the point fly could be a traditional fancy fly such as Red Tag, Grayling Steel-blue or even a simple Black Spider. I find no need to get too complicated.
Despite the effectiveness of the previous three techniques the most popular style of fishing for grayling these days is nymphing – either Czech or French, the catch-all term being 'Euronymphing'. This will catch fish all season, especially in true winter conditions. Grayling feed predominantly on or near the bottom so weighted nymphs are in their target zone. The dominant natural insect is the caddis, (or sedge) and many of the most successful nymphs look similar. In addition to the more natural looking patterns there are countless fancy ones, often with pink/red or purple incorporated which are highly attractive to grayling. Tungsten beaded heads are the norm, with gold, silver and copper all effective. Czech nymphing generally uses 3 quite heavy patterns approx' 20" apart and fished on a relatively short line in the heavier, deeper flows. French nymphing typically only uses 2 much smaller weighted nymphs but on a considerably longer leader. Both nymphing styles use a bite indicator, spaced according to the depth. Casting in the conventional sense is impossible as the line is normally nylon so a special technique is used, effectively 'lobbing'. A long light rod is necessary for this method, for example a 10 foot 3 weight with a parabolic action.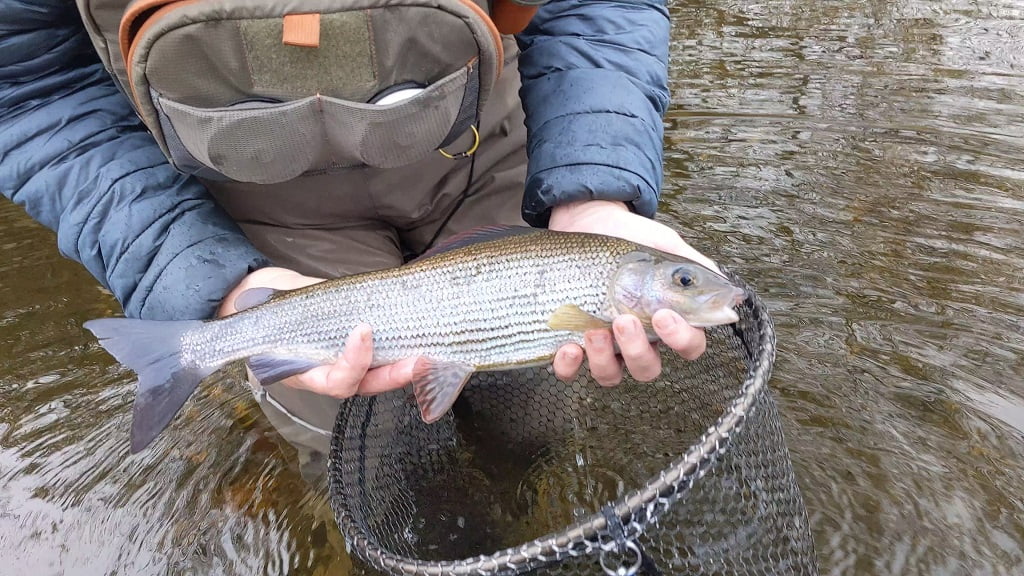 Top 5 grayling rivers to fish in Wales
It would be difficult to recommend the best grayling venues as all the waters mentioned are excellent and worthy of a visit. However, I would personally pick out the following as my favourites:
River Dee: from Bala down to Llangollen offer any miles of prime grayling fishing.

River Severn: Caersws to Llandinam. Caersws Angling Association.

River Wye: Below Rhayader, recommended beats include Doldowlod, Dolgau and Craig Llyn. Below Builth Wells; Abernant & near Erwood – Ty Newydd, Gromain & Lower Glanwye
River Irfon: Among others, Cefnllysgwynne is a very good beat which also allows trotting. It can be booked online via the Wye and Usk foundation's Fishing Passport.
River Taff: The best grayling fishing is undoubtedly with the Osprey fly fishing club, from Treforrest industrial estate up stream to the junction of the Cynon at Abercynon. Day tickets are available from the Royal Café in Pontypridd.
If asked to name my favourite fish it would be the grayling, and my favourite place to catch them, Wales!

Hopefully the information in this article will tempt you to visit and enjoy the excellent grayling fishing that Wales has to offer.
Louis Noble, Advanced Professional Game Angling Instructor