Ray Fishing In Wales
Dave Lewis reports on ray fishing in Wales and the superb sport that can be found around our coastlines in summer, autumn and winter.
There's something about catching rays, a species group that many call ugly, though I would argue are really pretty 'cool' looking, in a funky prehistoric way.

When talking in terms of providing sport on rod and line most species of ray provide what could be described in any way as a scintillating fight, and few anglers I meet ever eat them. That said rays are strong fish, and even a modest specimen is capable of putting a healthy bend in an anglers rod, and from my experience an angler with a bent fishing rod is a happy angler indeed, and here in Wales late summer, autumn and even winter months are prime times to hook a ray!

The ray family, raja, appears to bridge the gap between the sharks and 'true' species of flatfish. Various species of ray can be caught the length and breadth of the British Isles, with the waters off the Welsh coastline being widely regarded as among the most productive anywhere, regardless of whether you fish from a boat or the shore.

Ray species in Wales
In Wales we commonly catch four species of ray; thornback, small-eyed, blonde and spotted ray, with an occasional stingray turning up to add an exotic touch.

Each of the different species has its favourite type of ground, and this is the key in locating them. Thornback ray, for example, typically favour mixed ground consisting of mud and sand along with patches of rougher ground, especially in the vicinity of mussel beds. They also like coloured water encountered towards the mouth of tidal estuaries, notably at the eastern end of the Bristol Channel. Small-eyed ray, also known as painted ray, love clean water running over sand and shingle banks, and are commonly caught from flat sandy beaches. Blonde ray favour similar ground and while in most areas in the UK where these immensely powerful fish are caught they are associated with deep water offshore, here in Wales blonde ray are regularly caught by shore anglers. Spotted, or homelyn ray (the smallest of the common ray species) can and often do show pretty much anywhere, but they do seem to favour rough ground.
Where to fish for rays in Wales

Rays can be caught around the entire Welsh coastline starting from the Severn Bridge and ending at the Dee Estuary. Starting at the Second Severn Crossing and heading west, the many miles of mud and peat ledges backed by the sea wall you'll find here are noted for thornback ray, all the way west to Cardiff Bay. Continue a few miles in a westerly direction around Sully Island and the stretch of coastline running down to Swansea Bay is certainly one of the most productive ray venues, boat or shore, you'll find anywhere in the UK. West of Swansea continuing towards St David's you'll discover more fine ray marks. Though increasingly local knowledge, as always, will be a huge advantage in locating exactly where and when.

Cardigan Bay along with the spectacular Lleyn Peninsula and the island of Anglesey also produces respectable numbers of ray, mostly thornback and small-eyed, while thornback ray are predominant species caught off the coast of North Wales.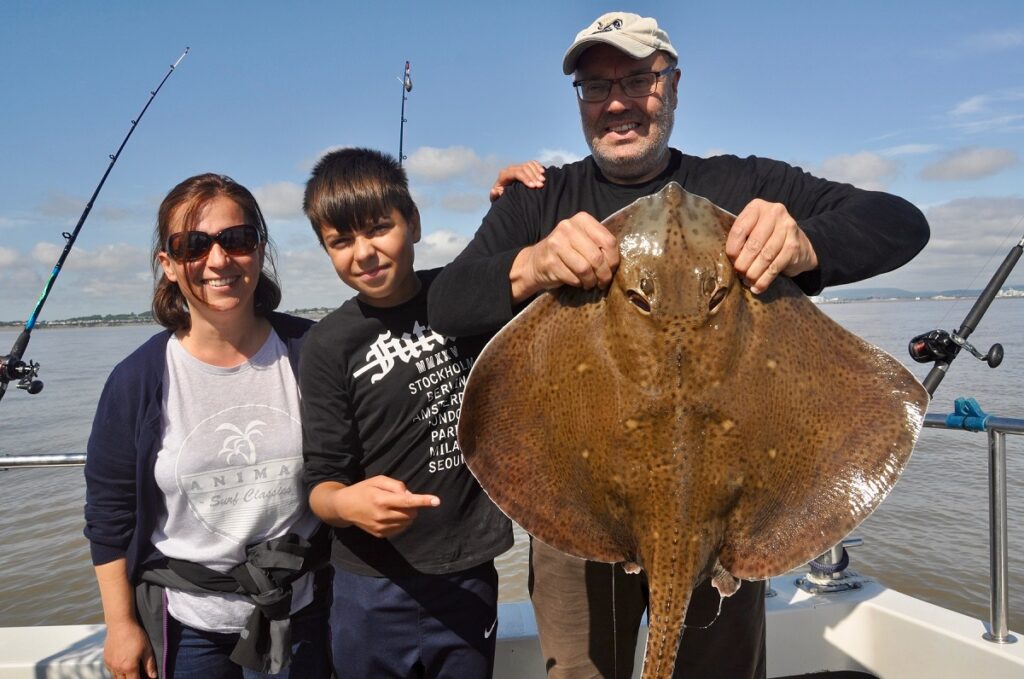 What bait to use for rays?

Talking of bait, rays can, an often are, caught on pretty much any of the usual baits sea anglers use. That said there are a few 'must have' baits you should pack into your cool box when setting out to catch ray. Mostly these will be fish based with frozen sandeel's probably ranking as the number one all-round bait. Pretty much any other fish bait, notably mackerel and herring, also work well.

Squid is another exceptional bait, either fished whole for larger species such as blonde ray, or cut into strips and presented as a cocktail with another bait, typically sandeel, for all other species. Peeler crab can be deadly, especially for thornbacks, as can most types of shellfish. Ragworm and occasionally lugworm will also catch fish, but rarely anything like as consistently as those baits listed above.
As always local knowledge is everything in sea angling, and as I have already eluded is an especially important consideration when trying to locate rays. Today the internet is undoubtedly a rich source of valuable mark information, but I would argue that for the very best up-to-the-minute local information, any one of the many coastal tackle shops you'll find throughout Wales will be able to point you in the right direction, plus supply the necessary bait and any items of tackle you require.

Ray fishing rigs
Terminal rigs need not be overly complicated when ray fishing, but need to be well tied. The straightforward running leger rig will cover almost all boat fishing, while various forms of a single snood paternoster work well from the shore. Many of the best shore based ray specialists I have fished with use the tried and tested pulley rig.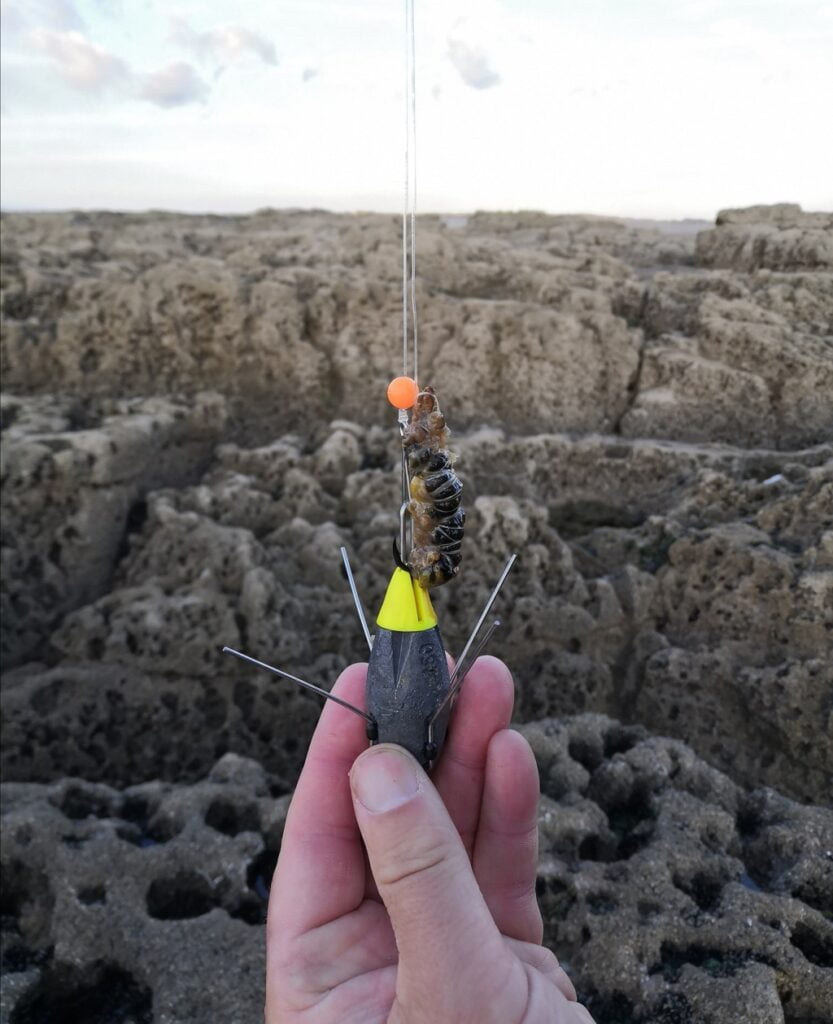 What is important is that you use quality rig components that are up to the task in hand. Rays do not have sharp teeth, but they do have immensely powerful crushing jaws. Consider 50lb monofilament as being the minimum for tying your hook lengths, upgrading to 80lb if fishing afloat in strong tides or when targeting blonde ray.

A two hook pennel rig is invariably the best choice, tied using strong, sharp hooks typically between size 2/0-6/0, depending on the size of bait. Ray fishing is all about patience If you are the sort of angler who strikes and reels in at the first sign of a bite then you will catch very few rays. It used to be said that at the first sign of a ray bite you should pour yourself a cup of coffee and drink it at your leisure, waiting for the rod tip to bend over before attempting to set the hook, which is still good advice.

Rays have an underslung mouth and many of the initial rattles and tugs you'll see on the rod tip will be caused by the fish steadily manoeuvring itself over your bait. Give the fish time, then reel the line tight before attempting to set the hook by lifting firmly into the fish. Provided you have followed the guidelines I have offered you too could soon be enjoying successful ray fishing in Wales.
Words & Images: Dave Lewis
This feature was originally published in the 'Wild Fishing Wales E-Zine'. Reproduced with permission of NRW.
New to the sport? If you are looking to try sea fishing in Wales for the first time, then check out our beginners guide to shore fishing.
YouTube Channel
Did you know Fishing in Wales has a YouTube channel?? With over 40 game, coarse and sea fishing videos ready to watch, we will be uploading many more videos showcasing the best of Welsh angling over the coming months.

So why not SUBSCRIBE HERE to keep up to date with video content as it lands…