Llyn Cwellyn and Tal-y-llyn – Boat and bank fishing in North Wales
Angling writer Wynn Davies shares his experience of fly fishing in spectacular North Wales over two eventful days, where camaraderie, breath-taking views and great fishing figure highly…
There are encounters in your life that you regret and there are encounters you celebrate. It is always a double-edge sword to meet other anglers for the first time, especially in the close confines of a boat. To share a boat can be very unforgiving, as it magnifies the divisions and differences and can be intolerable. However, it can be one of the greatest joys and experiences that you will forever treasure.
One such encounter occurred recently, when, as part of the Monnow Rivers Auction. I was guiding Dave Smith and Lee Evans on lakes in North Wales. Two very experienced anglers and avid wild trout fishermen. It does not matter how experienced you are, it can be daunting hosting anglers of this ability, but being on familiar territory is a huge advantage.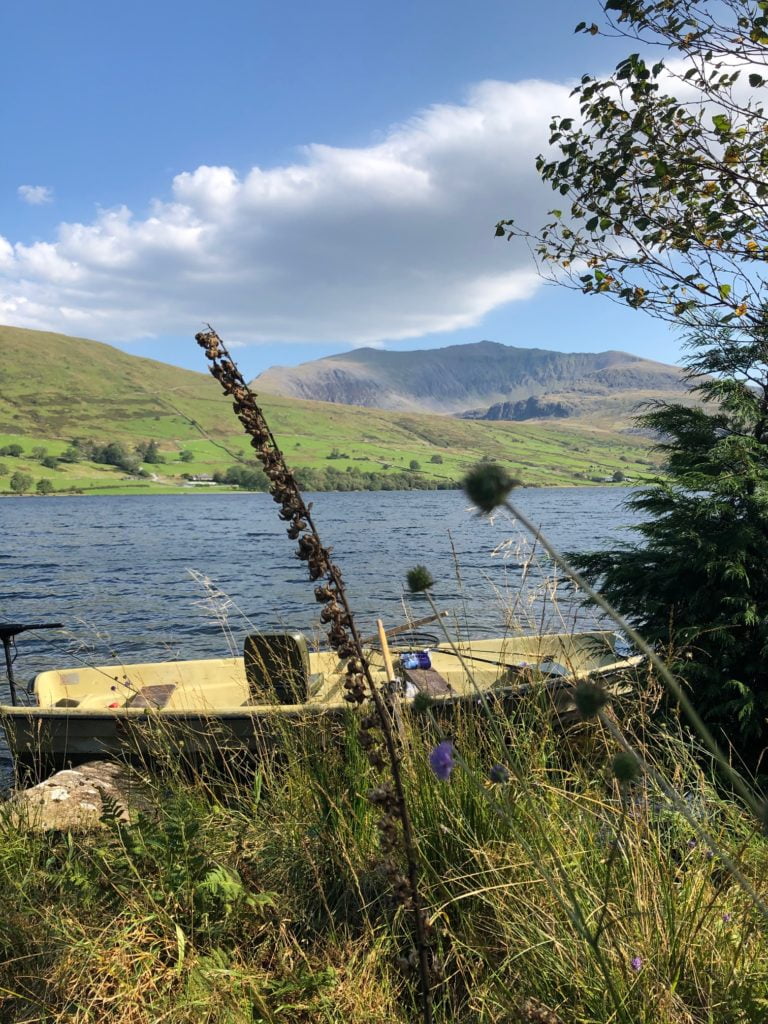 The first day was boat fishing on Llyn Cwellyn, this 215 acre lake is special, as it holds wild brown trout, char, sea-trout and salmon.
Admittedly populations of the latter species I am unsure of, but you never know what you might encounter and it has the added bonus of being in a stunning location, After a good evening in the Black Boy Hostelry in Caernarfon and an eventful time picking keys up from the Cwellyn Arms, we were finally afloat on Cwellyn.
The lake is an intriguing challenge. Each area has its own characteristics, the roadside bank holds the larger fish, the far bank has much smaller fish. Whilst the areas where the river enters, at this time of year could hold char, sea-trout and salmon, where they might pause before they run upstream. So, you never know what you might catch, which causes a strike timing conundrum.
It was a cloudless bright day with an easterly wind so the portents were not good. We started to drift from the boat jetty, fishing the classic short line loch style, and drifted through the top end of the lake and onto the roadside bank, we did not encounter a single fish or see one rise. Even though the conditions were not on our side, we had a good wave and I was surprised that we had not risen a fish.
As we drifted down tight to the far bank, things began to change Dave and Lee started rising and catching fish, it was not the frenetic action you sometimes see in Cwellyn , they were very localized, which is unusual , as the bank usually fishes well throughout the drift. Once the productive areas were fished, they would not fish again, it seemed that the trout were sulking in the bright sun.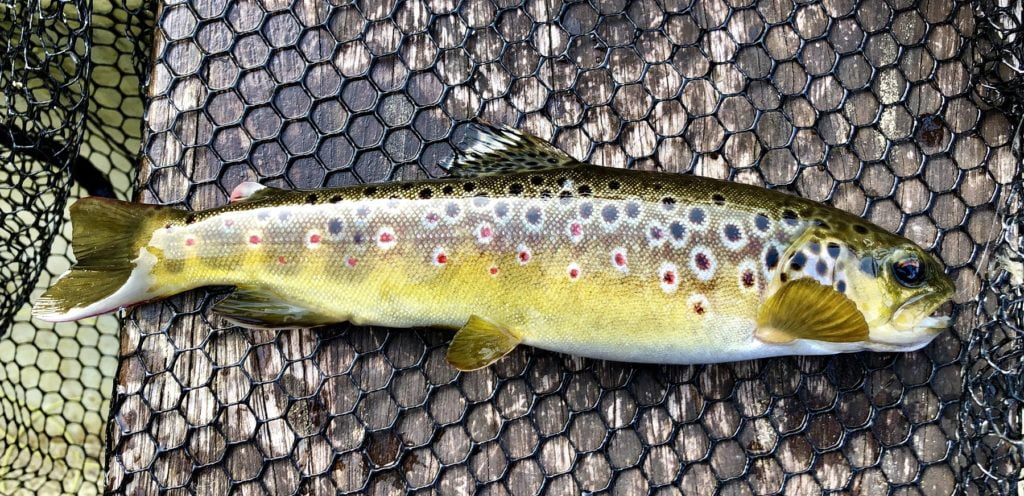 Since the fish had gone quiet we decided to try the other bank, and yes fish were caught but they were smaller than before, which is typical of the lake, however, as is always the case with wild trout, what they lack in size they more than make up with their agility and energy. Then all of a sudden it was lunchtime, the bonhomie and laughter that ensued, is what makes fishing such a special sport.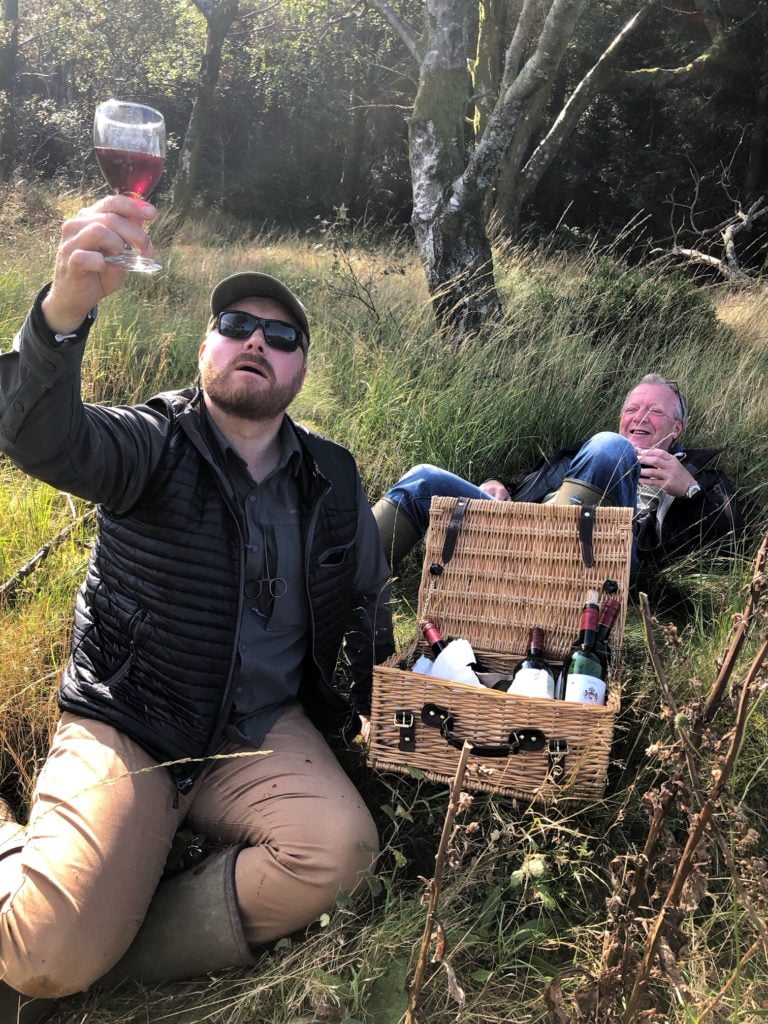 Sharing great food with a nice glass of red wine on the bank of a beautiful Welsh lake is something that lingers long in the memory.
Dragging ourselves slightly reluctantly to the boat we finished the drift and then decided to head back up to the top of the lake to see if we could encounter some of the lake's other residents. Sadly we did not, though it no way detracted from the enjoyment of the day. Time had come to pack up and travel to our next location, Cwellyn, had given us a first day to remember.
Now the Llew Coch in Dinas Mawddwy is one of those no-nonsense country pubs I love, where we enjoyed great beer and food, before retiring happy and sated, to dream of what the next day might bring. The day dawned and I was high with anticipation, the lake would be, for me, something of an exploration of my past. Talyllyn or Llyn Mwyngil is a lake I have loved ever since I first set eyes on it many, many years ago, It was once one of Wales' foremost wild brown trout waters, until it was taken over by Welsh Water and stocked.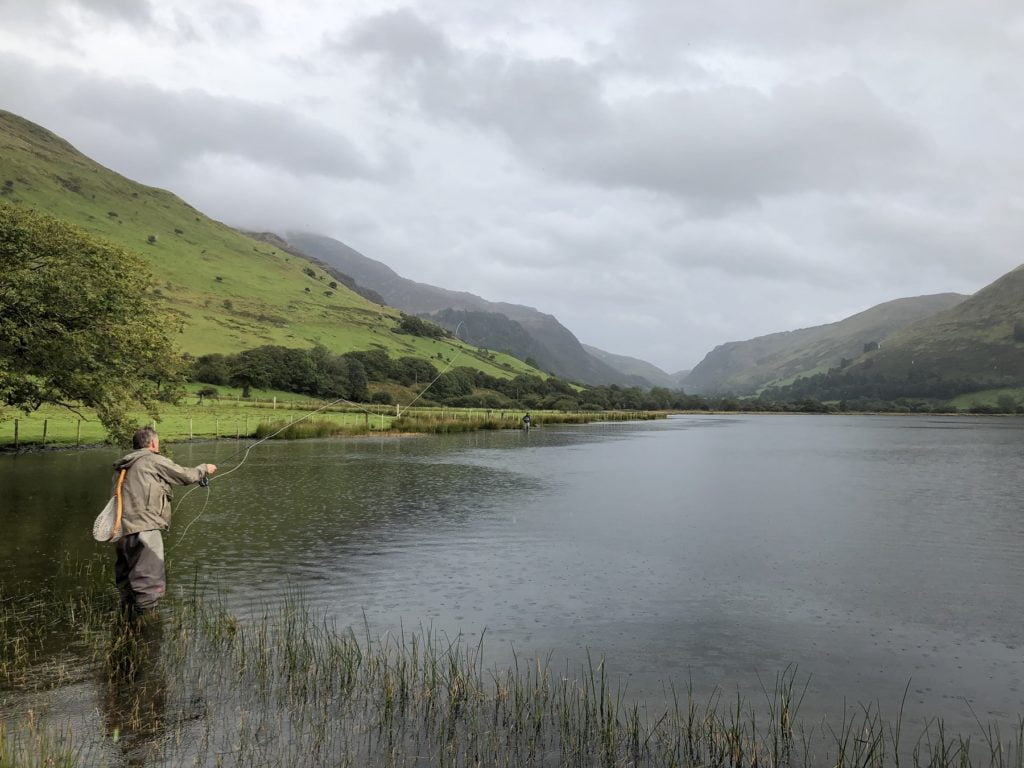 After going through tumultuous times, the present owners are committed to restoring it's fertile 220 acres as a wild trout fishery, therefore it has not been stocked for over 4 years. To fish it was going to be very interesting and to spice it up even further it has a good run of sea-trout and salmon and had hardly been fished. I also had the joy that my son, Huw was joining us for the day, the lake has captured his heart equally.
Although the owners only allow bank fishing at the moment, they are planning to allow boat fishing and float-tubing in the near future. Arriving at the lake and having a reconnoiter, two problems immediately become apparent, there are areas of the lake that has a significant weed problem, and the farmer on the far bank has erected fence with double barbed wire, to within a yard of the waters edges. Not ideal but not insurmountable.
As the near bank borders the road we braved the far bank, climbing gingerly over the barbed wire, as one slip meant a ruined pair of waders, we walked down the bank to the areas Huw and I knew to be very productive, when it was a wild fishery. As the day was cloudy with the occasional squall, I had a good feeling in my bones and so it proved. Dave, Lee and Huw were catching , with fish to 1 ½lb coming to the net.
As lunchtime beckoned, Lee gave a huge shout and the reason was all too apparent, his rod had a mighty bend. We rushed over to watch the battle, it was a great fish, Lee after a few anxious moments with the fish diving into the weed, finally netted a super fit wild brown trout of just 1oz short of 4lb, which was released with a flourish.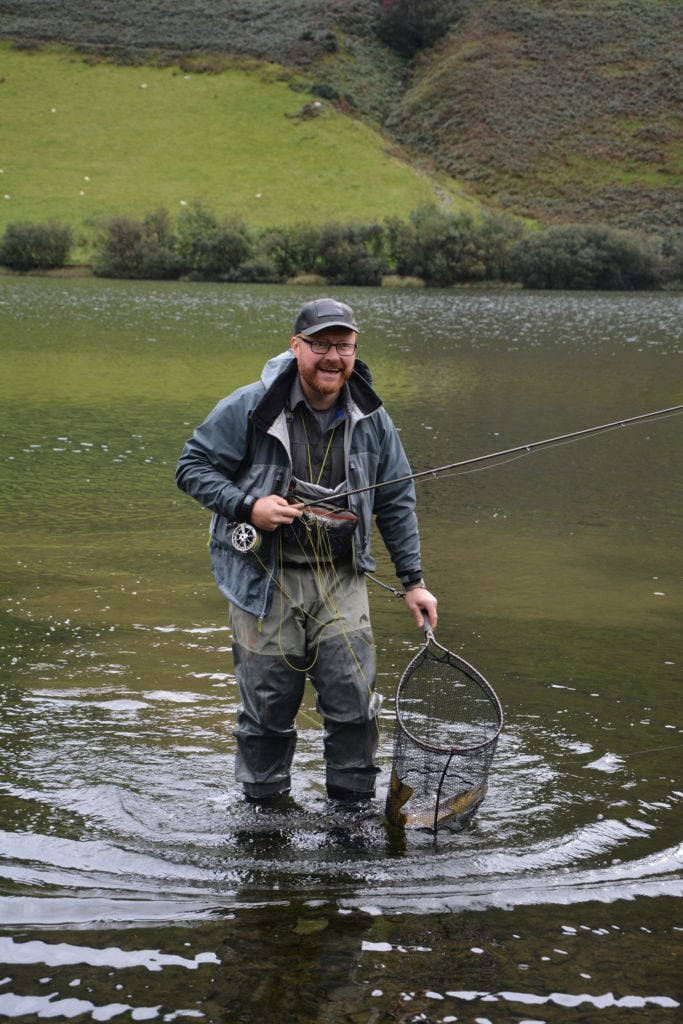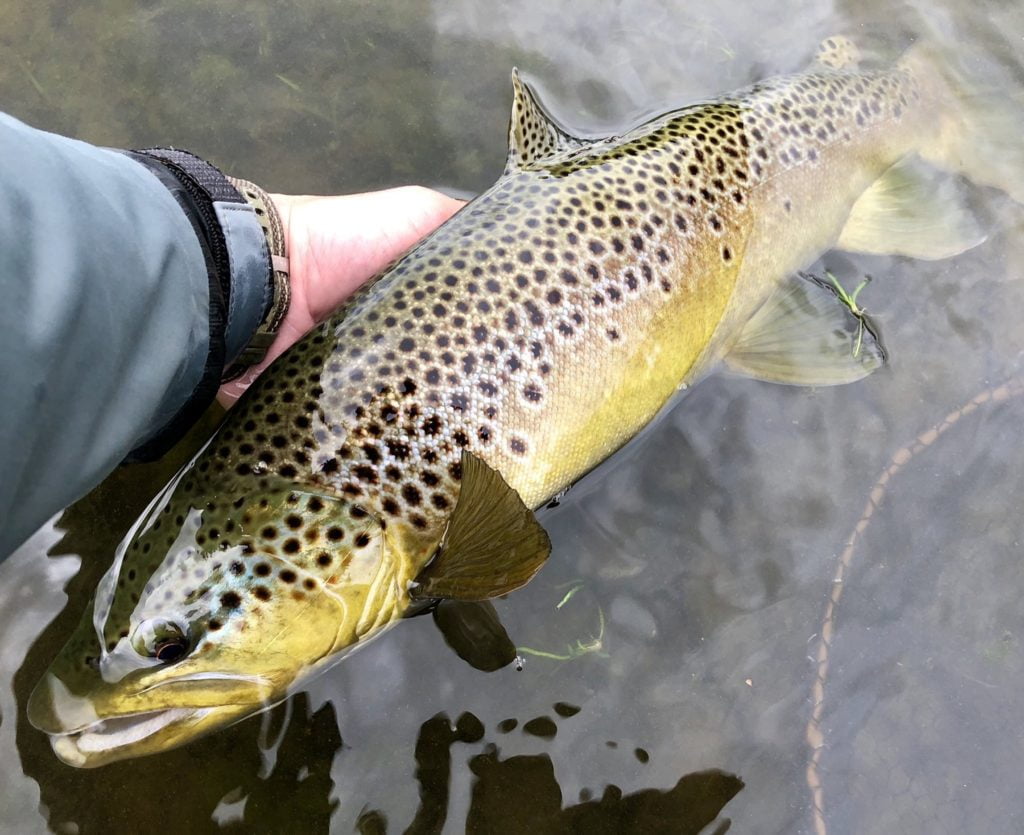 There was only one thing to do after such a great capture and that was to break for lunch. There is nothing and I mean nothing, that gives pleasure as much as like minded people enjoying beautiful scenery, and toasting the capture of a beautiful brown trout with a glass of red wine.
Lunch finished we resumed fishing and caught fish, but decided to pack up early as there was a long drive ahead. For me it was a special weekend, met two great people, fished with my son, encountered superb wild fish and laughed, it does not get much better than that.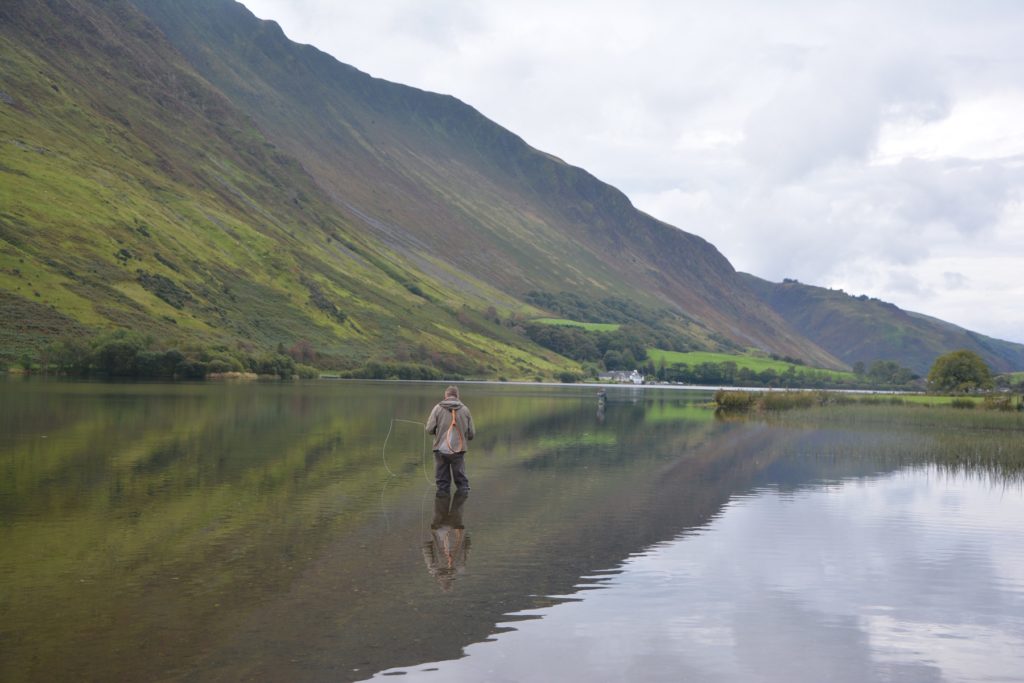 As for the flies we used they were mainly, Daddy Longlegs, Red Arsed Kate Hoppers, Sedgehogs and a Dirty Filthy Sooty (one of Dave's flies), most tinged with some claret in the body. Fished on the surface they worked on both lakes, especially on Talyllyn, as with the weed present it would have been foolish to go sub-surface.

Words: Wynn Davies
Images: Wynn Davies & Lee Evans