How to use a river gauge for fishing success
A successful fishing trip can be heavily dependent on river level. A river in raging flood is quite useless for fishing, at the other extreme a drought-stricken river at low summer level wouldn't be much good either, especially when targeting migratory fish.
River gauges are easily accessible tools which will help you decide on whether it is worth going fishing or not, or to simply pick the best day where your chances will be vastly increased.
Whether you are a local angler, or a visitor, checking the river level before you make the journey to fish in Wales can pay serious dividends.
Where to check river levels in Wales
There is a fantastic free resource provided by Natural Resources Wales (NRW) where you can check the level of hundreds of rivers and streams in Wales. Click on the bar below to view.

It has an interactive map so you can locate river gauges near, or at the location you wish to fish. Once you have found a river station by searching location or browsing the map, simply click on the pin. You will then see station details, a river level graph and a Station navigator, which allows you to move up and down the river or within the catchment.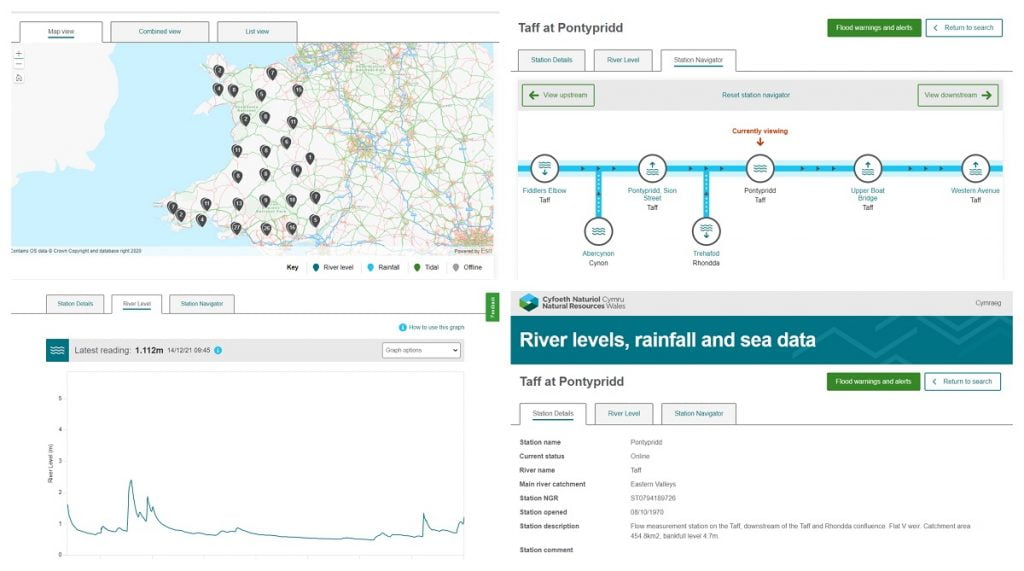 How to read a river level and interpret a graph
When viewing the graph, you will see the latest river height reading, with the blue line on the graph plotting river levels chronologically, with oldest reading on the left to the latest reading on the right.
The high, climbing peaks are when the river has risen, very steep spike spikes are when the river is in spate, water is likely to be heavily coloured and the current very strong during these flood peaks.
On a falling slope the river is dropping and is likely to be clearing, so would be a good time to fish (e.g spinning for salmon). When the river drops down and almost levels off a few days after a flood event, this is likely to be an excellent time to try, especially in summer.
Without rainwater levels will continue to fall gradually and plateau, sometimes low levels will continue for months in summer. Exceptionally low prolonged periods of drought are often challenging.
The NRW site allows you to scroll back in time and view previously recorded river levels months, or even years in the past. Thus, allowing you to compare the current level with previous dates that you may have fished.
Let's look at the graph below, which shows a 1 month view of the river Irfon at Cilmery.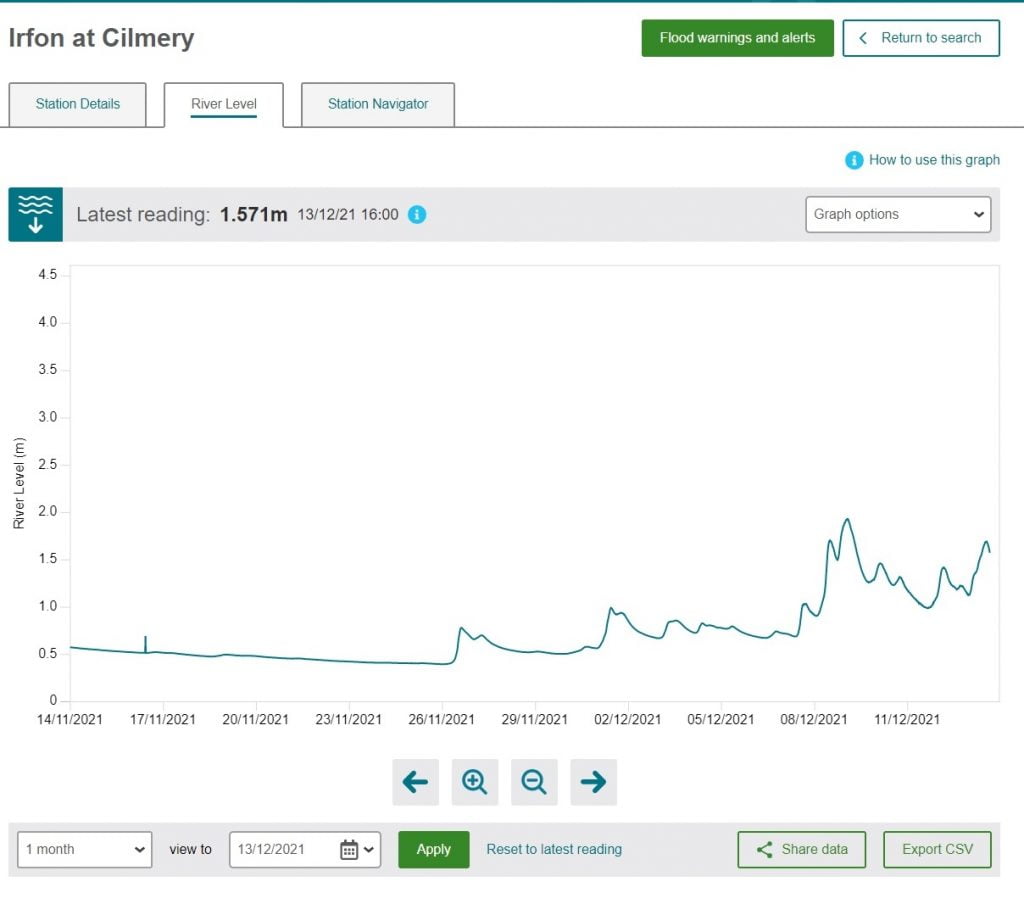 You can see:

– Current River level is 1.57m. This is in spate and will be unfishable. Note the peak has just been reached and level is just starting to fall.
– The river has been high since 27th November and has likely been unfishable since 8th December.
– From 14th November to 26th November, the river level was low and a stable level. Likely a perfect level for fishing ranging from 0.6 to 0.45m
Learning the best levels for the rivers you fish regularly will make it much easier to decide whether the river is worth fishing or not. Based on previous visits it is also possible to work out (through trial and error initially) when levels are 'normal' or at their best for successful fishing, or indeed for particular methods.
When we filmed our Irfon grayling video on the 8th November, the level on the Cilmery gauge was 0.55m which was a perfect height.
River gauge tips
– Always check the gauge before you go fishing.

– Look back at past levels to learn what typical ranges are for that river.

– Navigate upstream to find upper reaches of rivers or tributaries that may have lower levels, and are therefore more likely to be fishable after rain.

– After a good day, make a note of the date and gauge level so you can plan to return when conditions are similar.