Fly fishing for Grayling in Wales
Game fishing guide Steffan Jones takes a look at fishing for Grayling in Wales and discusses the fly fishing tactics required to catch them.
When the tree-lined rivers of Wales don their autumnal hues the silver tourists that we've been chasing frantically throughout the summer are left in peace and allowed to undergo their rituals before falling into a slumber in their leaf-lined-lairs.
For the angler, however, these can be frustrating times, as reliving memories of the season past and deliberating and salivating over the forthcoming season has limited mileage. Replenishing our exhausted fly supplies becomes a welcome sedative, where new creations are born and tangents of past favourites explored, many of which, alas, will turn out to be mere hoaxes.
Soon enough the itch becomes unbearable, and a fishing fix MUST be found. Regardless of where in the world you live anglers as a 'species' can be classified as retiring souls; we make the most of what we have available, regardless of the prospects and size of the quarry. Such is the case with us in Wales, where we, thankfully, have the grayling to divert our attention to at such times.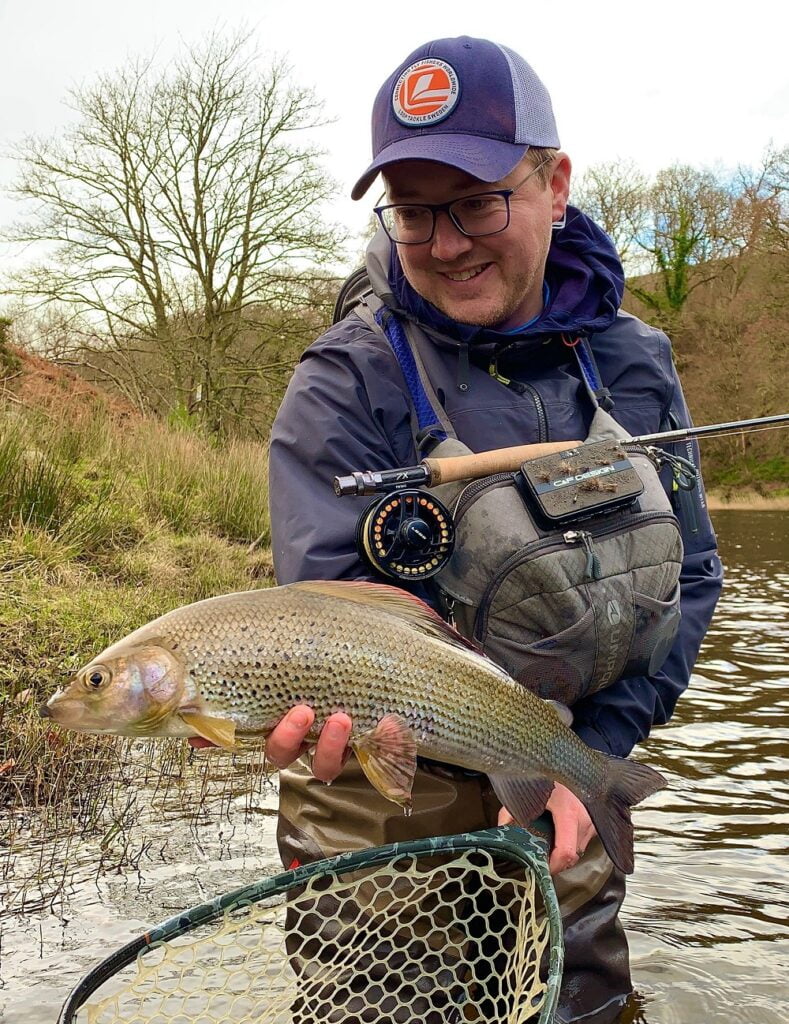 Grayling form a most obliging and welcome distraction, keeping many Welsh rivers open for a full twelve months of the year, making them not only great value but also perfect avenues for venting and releasing some winter cabin fever. When the trout season begins then the grayling season ends, and when the trout season ends the grayling season is in full swing, forming a perfect partnership and helping us retain a modicum of sanity.
The majority of the Welsh rivers did not have had an indigenous population of grayling, with their stocks originating largely from the days when the famous English chalkstreams would see them as pests, with the Welsh rivers reaping the benefits of these culls and ethnic cleansing exercises! Nowadays grayling can be found in virtually all regions of Wales, from the mighty Dee in North Wales, the majestic Wye and its many tributaries, to the lesser known but spectacular rivers of South Wales such as the Taff and the Rhymney.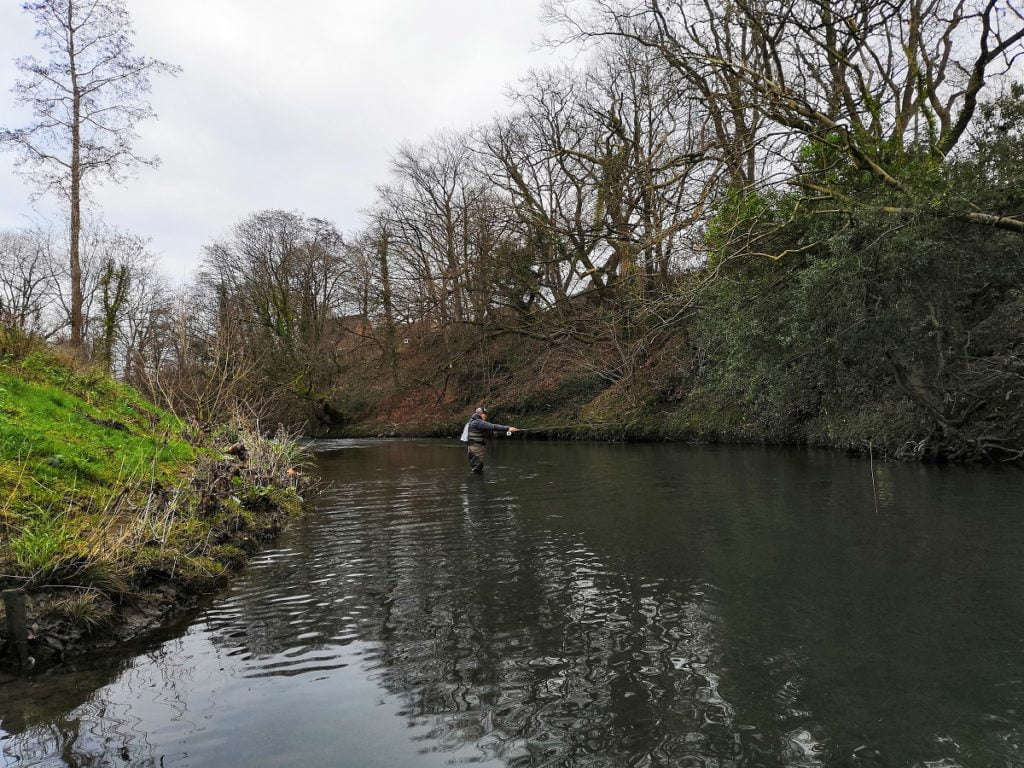 Grayling are certainly a fish that has received increased interest in the past few years, gaining in popularity immensely, and with good reason. However, they are still, to a certain extent, viewed as a secondary or inferior species to trout on many rivers, including the prestigious chalkstreams that have held them in disdain for generations.

This is, however, not such a bad thing as this 'low profile' has equated to the grayling fishing being some of the cheapest and best value fishing available to us on our shores – to put this into perspective, a season permit (12 months of the year) on many of our rivers would cost as little as £20! About 18 Euros…
We are presented with a plethora of angling opportunities in Wales during the summer months, and at this juncture the grayling take a backseat with our sea trout and trout taking a primary role. It is in the late autumn and winter when the grayling fishing is undertaken in earnest and many of the tactics and theories deployed to catch them are dictated by this trend. Let me talk you through the typical set-ups, techniques and flies we utilise to seduce the ladies of the stream.

Fishing methods and tactics for Welsh grayling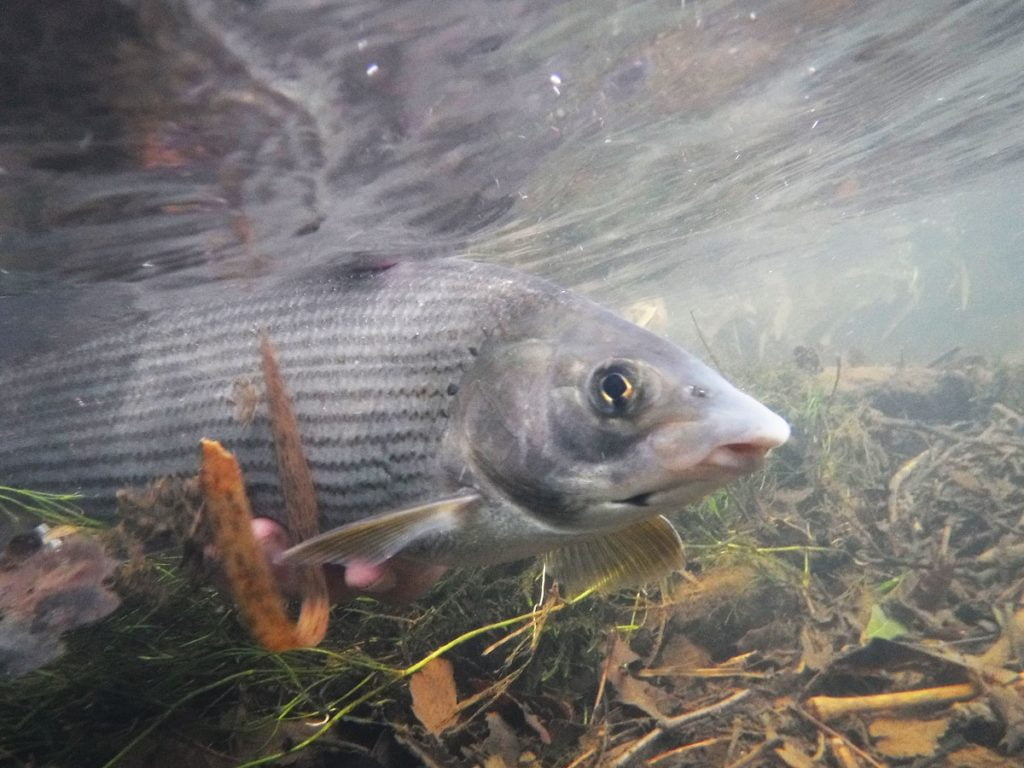 Grayling keep things interesting. Two identical days (to us) can dictate drastically different tactics and approaches when it comes to catching grayling. One day they can be tightly huddled in small undulating pots, the next they are sporadically dotted across shallow tails and rifles working the surface layers frantically.
With these varying conditions and changeable haunts the angler needs to possess a wide range of skills and techniques to accurately target and maximise their fish catching potential. This is partly down to the flies used, of course, but the techniques deployed can also be a key attribute, especially knowing what technique to use where and it is only when the right fly fished at the right depth on the right technique that the best results are seen.
When discussing flies the key is to carry a handful of tried and trusted patterns in a few key colours, but then carry these in various sizes and weights – I firmly believe that this holds you in better stead than carrying an array of patterns without a formula to their end use. This is an overarching theory that I carry into most of my fishing, regardless of the target species. Granted, your key patterns may vary from season to season, and tangents are often explored, if not our thought processes and creative licence becomes stagnated. However, the underlying theory and practice remains intact.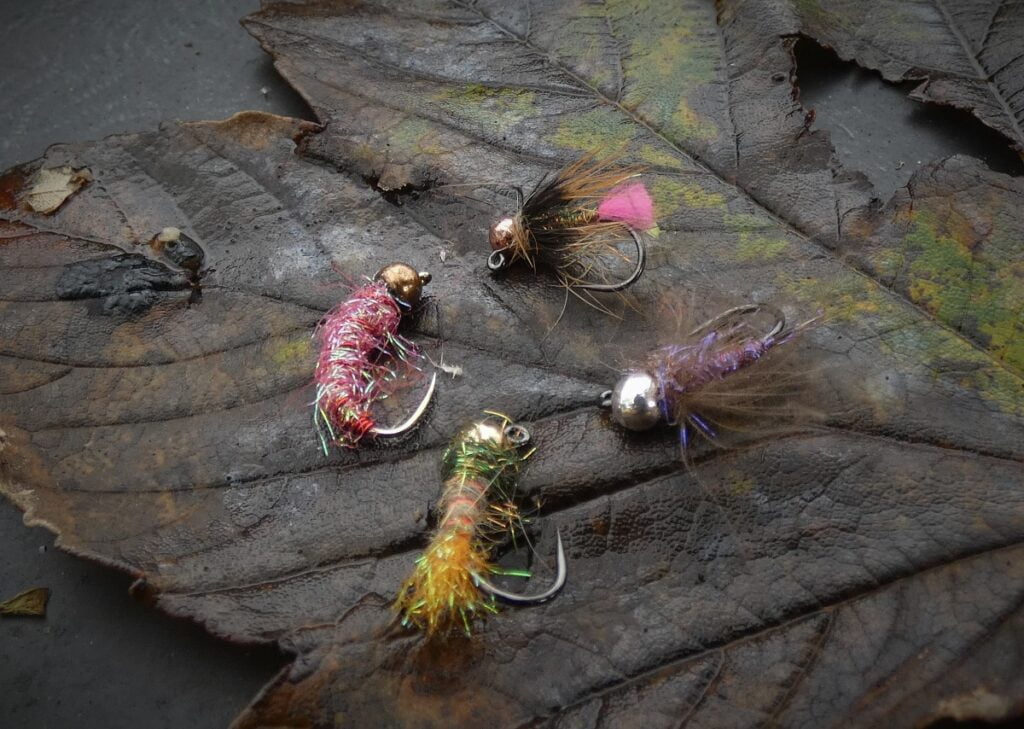 Beyond the more conventional down-and-across with wet flies, upstream spider pattern fishing, dries etc. our angling brethren, who rank in the top quartile at each and every World championships, namely the French, Spanish, Czech's and the Polish, bring us some innovative and revolutionary techniques that when perfected outperform all others, as a rule. Firstly there was Czech (Polish) nymphing and more recently there is French/Spanish nymphing. Both of which offer extremely different approaches, and both suit very different water structures and depths.

Czech Nymph fishing for grayling
Czech nymphing is mainly utilised in pocket water and faster water, be that in runs, riffles or necks of pools. This tactic becomes largely redundant in slower water due to the natural, dead-drift nature of the fishing. You can, however, jig the flies in such water utilising the Czech nymph technique. To compliment the tactic, French nymphing is best used in water that may be deemed unsuitable for Czech nymphing i.e. shallower water, tails, main body etc. forming the perfect partnership.
When Czech nymphing I would always utilise the heaviest fly on the point. With a pattern such as the goldhead grub fitting into this role well. However, and it should be noted; the Czech nymphing technique does not need to be all about bottom-bouncing, which is often the impression people have of the technique, often fishing far too heavy a point fly that fishes unnaturally and has to be dragged through the water, rather than fishing dead drift at the optimum depth. Indeed, lightly weighted or unweighted patterns can be fished Czech nymph style, and this is largely dictated by the depth of the water being fished and the feeding depth of the fish – people often fish under the grayling.

Grayling are opportunists and will pick off surface offerings on the coldest of days. As such, I am a firm believer in that fishing slightly higher in the water rather than continually having to draw an over heavy fly through. However, the cast would normally have 2 or 3 flies as part of the leader, where all the fished flies would be of varying weights, enabling all layers to be fished and covered.

The key, as always with Czech Nymphing, is leader control; the flies should be fished through naturally, not drawn. Also, the leader must be kept taught without lifting the flies, but taught enough to keep contact and control without loose sections developing that would inhibit bite detection. Very little 'casting' is done, as it's more of a swipe than a cast, and a mere 2-3ft of line protrudes outside the rod tip. This tactic, however, is not just for grayling and trout, as salmon are readily hooked and taken on this tactic – I saw this to the full extent in Iceland to amazing effect. After classical tactics were fished through without effect, the Czech nymph style, albeit on a slightly longer line and a single fly (conehead Francis), virtually emptied the pool! It was amazing to see and witness.

French leader fishing for grayling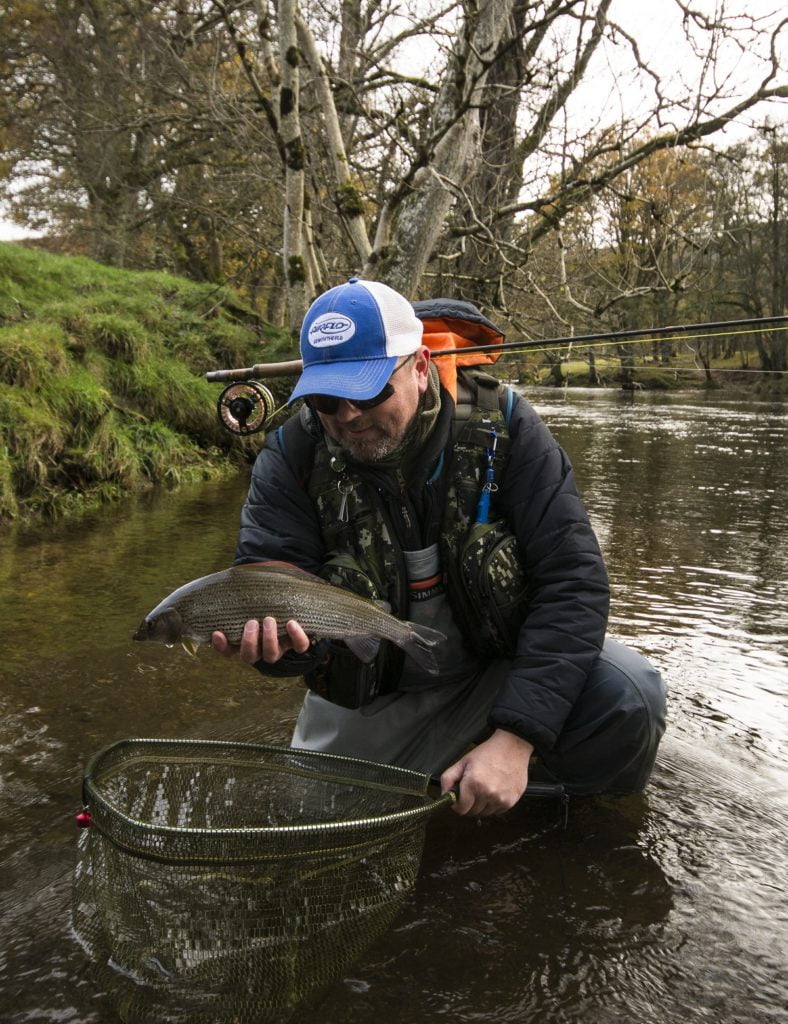 With French nymphing it is more about finesse. Fine and far off would be a suitable summarisation of the tactic. Leader lengths can be anything from 15ft to 30ft, tapering from a 20lbs+ base through to a 1.5-3lbs tip. The tapering is critical to enable turnover of the leader, and I would advise beginners to the tactic to utilise a great length of the heavy nylon at the base, rather than tapering too soon, which can be difficult to handle and turnover, especially in windy conditions. You may also utilise the readymade tapered French leaders that can be found in lengths of 9m tapering down to 8lbs or so. On the end attach a bright curly or indictor leader, and then the finer nylon tippet is attached to the other end of the curly leader.

The fishing leader beyond the curly leader/indicator should be around 4ft long, and 2 flies fished on the leader 2ft apart. Very small nymphs are usually fished (18-24s) but with the thicker curly leader sections heavier flies may be supported. The entire length of the French leader is outside of the rod tip, along with some fly line, as needed. The flies are fished upstream, or up and across, controlled and presented dead-drift. Casting can be problematic, and a through action or medium action rod creating larger, open loops are crucial. The casting should be slowed down and the casting loop opened up as much as possible. When the curly leader slides under you should strike, and hopefully a fish will follow. If the leader is sinking then mucilin floatant should be applied to everything except the fishing leader beyond the indicator leader – it is also wise to apply some to the final 3-4 metres of your fly line.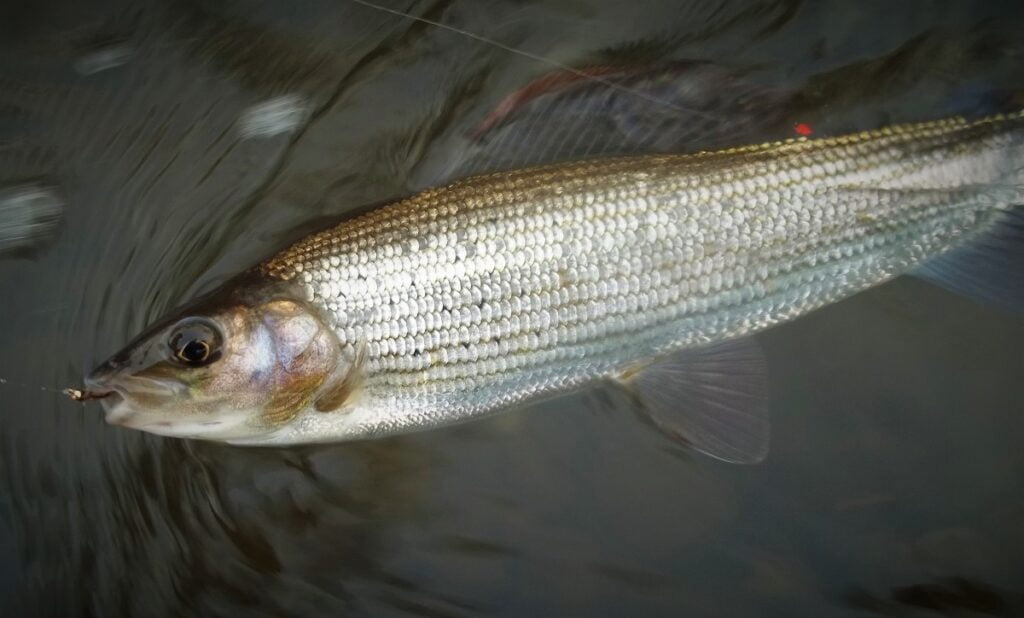 With both methods I tend to utilise coloured or curly indicator leader sections for bite detection. These are fluorescent pieces of monofilament that serve as a strike indicator. Virtually any fluorescent monofilament can be utilised. Custom made spools of French leader indicator material can be purchased online or you can make your own. I tend to carry a few different colours, and a few different diameters – certain colours are easier to see in certain lights, and varying diameters can support different weights of flies when fishing the French Nymphing technique.

Words: Steffan Jones
Images: Tim Hughes & Ceri Thomas