Exploring the Fishing Passport Wild Streams
Wild trout angler Joe Alexander looks at the fantastic small stream opportunities provided by the Fishing Passport in Wales.
We are spoilt hugely in Mid and South-East Wales, with some sixty superb tributaries of the Wye, Usk and Severn to choose from on the Fishing Passport's 'Wild Stream' scheme. These can be fished with either a season permit at £85, or on a day ticket, which is usually around £10 – £15. Both options off incredible value for money on a huge selection of waters.

The Passport allows those like me with a busy lifestyle of work and family commitments to look quickly at the beats online, see which one takes my fancy, check availability, book it and then get going – fantastic!

All of the wild streams have their own secrets, and some are like being transported slap bang into the middle of Belize. You'll need some patience and climbing in and out of the river a good few times in order to get to that next sumptuous, trouty pool.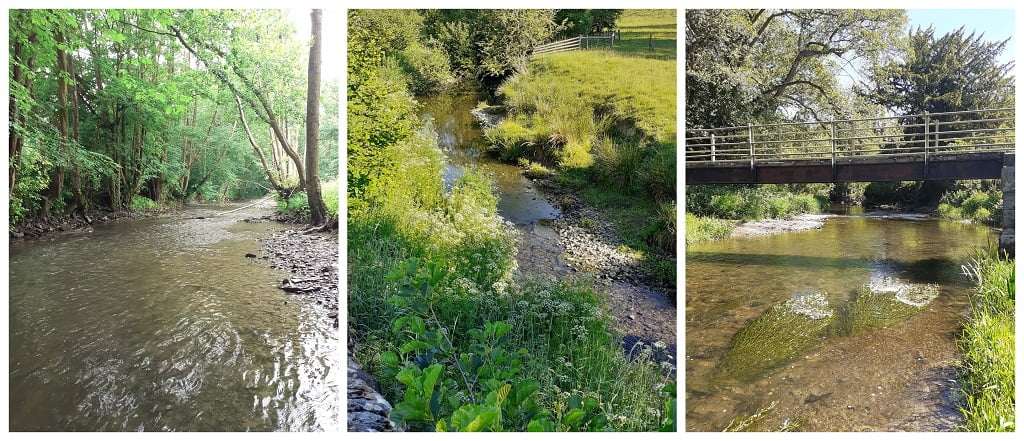 The wild streams are sometimes kind to you. Bags of twenty or so brownies are possible in the right conditions. But wild brownies can be fickle little fish and even a couple brought to a wet hand is still fun. Just being there, on your own, mooching about and trying to pit your wits against a wild fish is what it's all about!
These little brownies may often only be eight to ten inches long, but sometimes you'll be in for a real surprise and you never know when that'll be – fish over 2lb are a possibility. You'll need to be lightening quick as well. Takes can be as quick as a puff adder and your little dry will be rejected long before you've struck – connecting with nothing except a good sized dose of fresh air and usually then with the overhanging alders. Get used to that in many of the wild streams.
Some of the small brooks look deceptively unkempt and although they are a little wild, do hold some superb trout. Winkle your way carefully in and present your fly, be it a small Parachute Adams or a tungsten nymph flicked tight under the shadowy alders, and be prepared for a tussle on a six foot rod!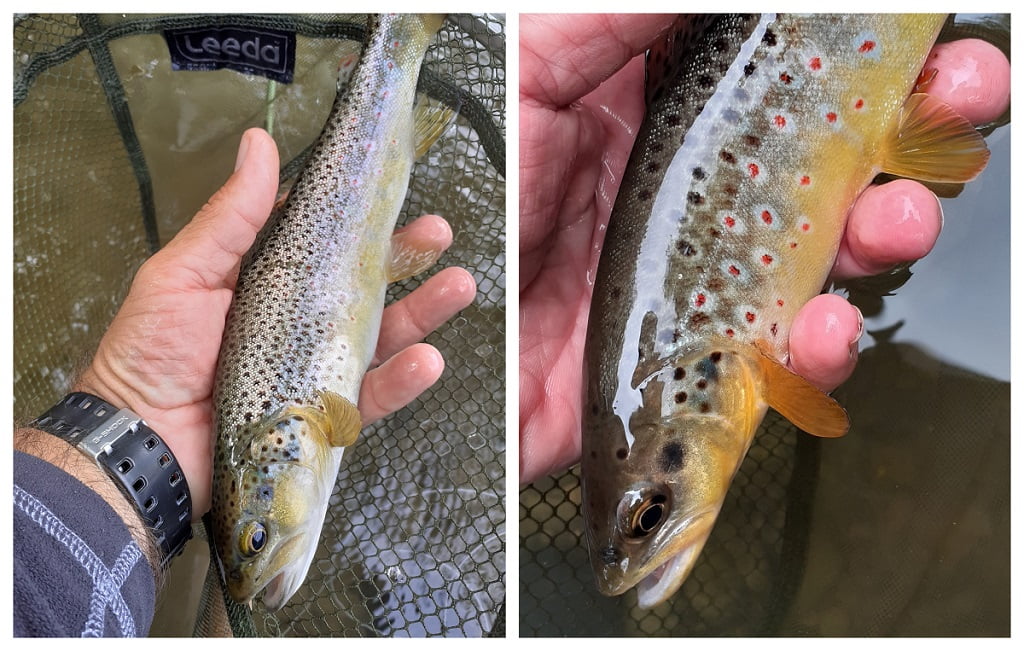 Joe's top tips for wild stream fishing
The wild streams can be fun and also fickle – so the following advice should see you make the most of the wonderful trout fishing they can offer.
Have a back-up beat
The Fishing Passport allows you to book a day ticket beat online; and after 6pm the ones that are left unbooked become displayed to season permit holders who can then turn up and fish on them the next day; making it a very efficient system. Just to be on the safe side, what I tend to do, if it's a popular stream, say for example, Edw Hergest, if when I arrive I notice a car parked in the designated spot with a season permit car I.D. displayed, I'll always have a back-up beat in mind, so a quick about turn, no harm done and park up back down the road at Edw Cregrina…. Spot on!
Let somebody know where you are going
Most of the wild streams each hold their secrets, some are hard work and require or working up a sweat negotiating obstacles such as trees, deep pools and bedrock that's like ice to wade on. Digressing on this, make sure someone knows exactly where you are going as some of the wild streams, such as the Clettwr , Duhonw or the upper Cilieni are pretty remote with some tricky wading in an area where phone reception is pretty much non existent!
More Stealth leads to more fish!
Sport can be great fun on these streams and if a stealthy approach is made, dry fly tactics can really be rewarding on a balmy summers evening. Slowly working your way upstream is done at a snails pace. I've learnt that brownies aren't daft and you'll cause alarm. If you think that wading as per the Usk in April will suffice…. no no no! These fish are a different ball game, their environment is more closed in, more vegetation and more of a need to keep survival at the top of their priority.
Wade like a ninja
Wading carefully for me is one of the top tips to succeed on a wild stream. The catchment area on both the Wye and Usk are huge covering a vast area, this means the streams and rivers run over different ground, bedrock and gravel. Some of the rivers are easy to wade, others require a surreptitious approach and some hold some very deep pools, so chestwaders with studded boots and a cautious foot stride are a must.
Watch and learn

Listening to the river is key, watch it, look and observe; Are there rises? Can you see any fish moving and what's hatching? It still rings true that bubble lines, heads of pools and streamy water are still areas to target just as they are on the bigger rivers.

Effort equals reward
Most streams, like the Llynfi, Lugg, Edw and Cilieni are really good fun, but like all the streams will require some effort . Remember folks these aren't your nicely tendered chalk streams with mowed banks and no overhanging trees. You'll have to catapult cast, keyhole cast and learn all sorts of obscure ways to get your dry fly right under that awkward alder tree, where you have seen two lovely splashy rises. Get thinking folks – what's he taking? I can't see anything hatching? Are the insects falling out of the overhanging tree? Lots to think about… so get immersed, it's the joy of this type of fishing… it'll reel you in in no time!
Fish light

I always use my trusted 6ft two weight; sometimes on a stream I know , I'll use my 5'6" 0 weight s-glass, which is so much fun with tiny size twenty dries. On the larger streams you can use 7ft to 8ft rods, handily there is often a guide to recommended rod sizes on the beat description.
I fish small, I like to use a furled leader also, then generally 3ft of 5lb mono coming down to another 2.5ft of 3lb tippet. Simplicity itself… ohhh and I'm fussy about my dry fly presentation, very fussy, I like it bang on the money when it sits on the water. I favour Parachute dries in the summer, klinkhammers and also various sparkle duns, along with the usual seasonal dries that work well on different streams, B.W.O , Iron Blues, Greenwells they all work well on their day! So there you go, that's my bit on the Fishing Passport. It's great fun, and we're truly spoilt by the fishing in this area. There's nothing like heading to a new stretch of water, seeing it for the first time, maybe even spotting a rise to get that excited delirium setting in!
If you've got two, four or six hours spare my advice is: book a brook, take your six foot rod and a box of dries and nymphs, fill your flask, put a bit of scoff in the old day sack, and get out there and explore. Life's too short hey! And on a final note, keep these precious fish wet folks and use barbless hooks. Enjoy the wild streams.
Tightlines

Joe Alexander

Escape the mainstream guiding

If you are looking for an experienced guide to the wild streams, then Joe has just launched a new venture offering his services. Check out 'Escape the mainstream' for further details. Joe has been fishing small streams since he was fourteen, up in the hills of North Shropshire and the Borderlands, learning his skills on small brooks like the Cynllaith, Carno, Cain and the Vyrnwy to name a few. In addition he has fished almost all of the streams on the Fishing Passport.