Escape to the Irfon – Grayling fishing in Mid Wales
A graying trip to mid-Wales must be the perfect escape to help banish the mid-winter blues. In this article Ceri Thomas of Fishing In Wales heads to the beautiful river Irfon, along with Tim Hughes of Airflo.
Here in Wales we are blessed with a multitude of grayling Rivers. From the post-industrial Rhymney and Taff, to the Vale of Glamorgan's tranquil Ewenny, not forgetting the mighty Dee of North Wales; there are streams and rivers of all types abounding in grayling. But the jewel in the crown must be the Wye system, with the tributaries Monnow, Ithon and Irfon all of which are excellent grayling fisheries in their own right.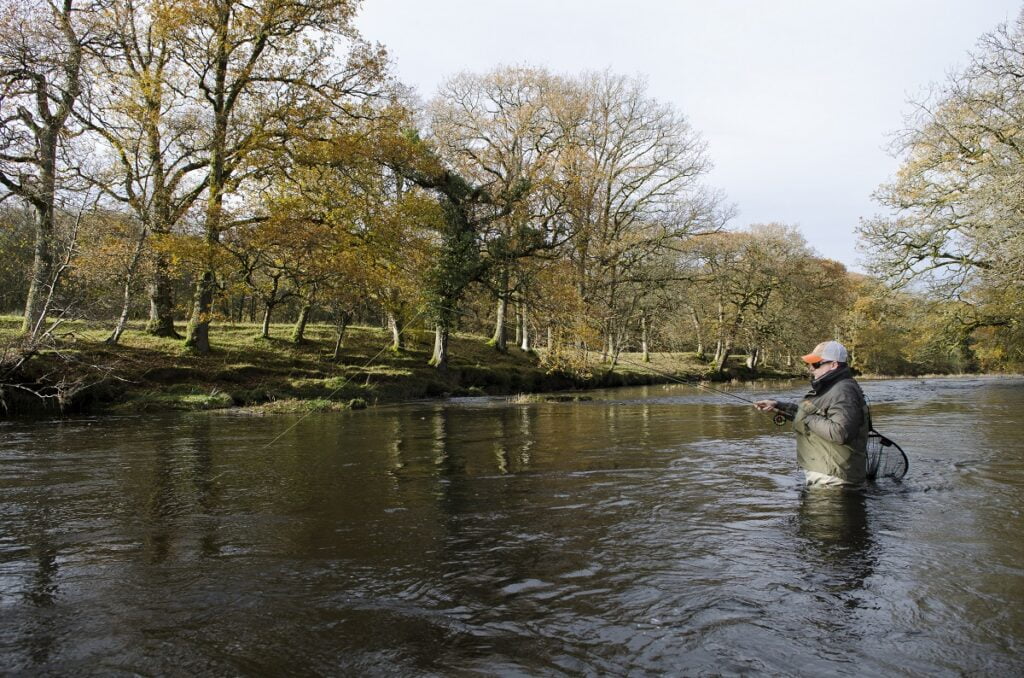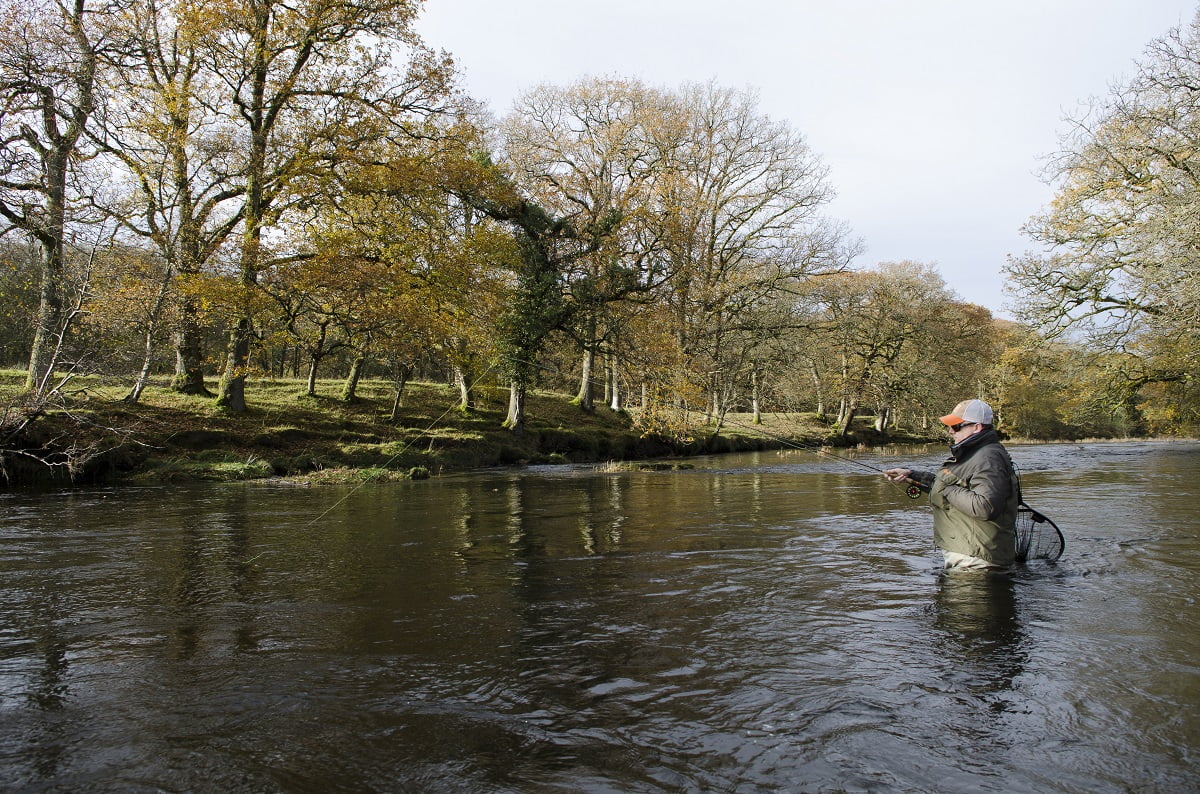 As much as I love fishing the urban rivers of south Wales, with their prolific fish stocks and easy access, it's hard to beat a cold, crisp winters day on the Irfon, surrounded by ancient deciduous woodland and beautiful unspoiled countryside; well worth the extra effort at just an hour 20 minutes drive from the M4 at Cardiff.
The Fishing Passport
The Irfon (and the Wye catchment in general) has really been opened for visiting anglers over the past few years. This is mostly due to the hard work of the Wye and Usk foundation. The beauty of their Fishing Passport online system is the vast choice of beats and the ease of booking them.

Simply browse the site, take your pick of venue, read the reports and then enter your credit card number. The beat map is emailed to you so you can either print it off, or download direct to your phone – simplicity, and you can book at any time of day you wish, thus allowing you to make a quick trip or a very early start. Fishing Passport beats can also be booked through the Fishing In Wales website's 'Book fishing' which links through to the Fishing Passport.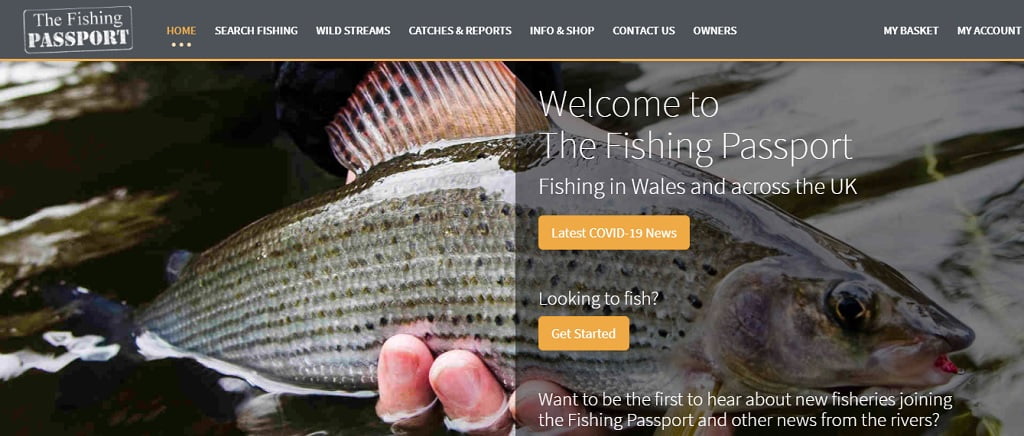 Fishing Passport beats offer superb value for money, and in many cases exclusivity. For (on average) £15 to £20 will grant you access to several miles of prime grayling water for a whole day.
Recently myself and fishing buddy Tim Hughes visited the Cefnllysgwynne beat, one of the most popular fishing passport stretches on the Irfon. With 2 miles of double and 1 mile of single bank, there is plenty of room to roam here. This beat also has comfortable holiday cottage accommodation available onsite, perfect for those looking for a longer fishing break.
Recent online reports indicated prolific catches of grayling, including some larger specimens to a sizeable 17 inches. Full of anticipation, we headed to the middle part of the beat, down a farm track until we were a field away from the river. The conditions were ideal with no wind, slightly overcast skies and a frost still thick on the ground at 9.00am – a perfect December grayling day.
Even with a full day ahead tackling up seemed to take an age – the more eager you are to get stuck in, the slower time goes…. It probably only took about 15 minutes, but we finally got the kit on, wrestling the thermals and almost frozen wading boots onto our feet with numb fingers.
Setting up for grayling nymphing

We had a variety of of suitable fly rods with us, including a 9' #3/4 and a pair of 10 '#3/4's ready for action. With softer actions, we'd chosen rods that were well suited to modern nymphing methods.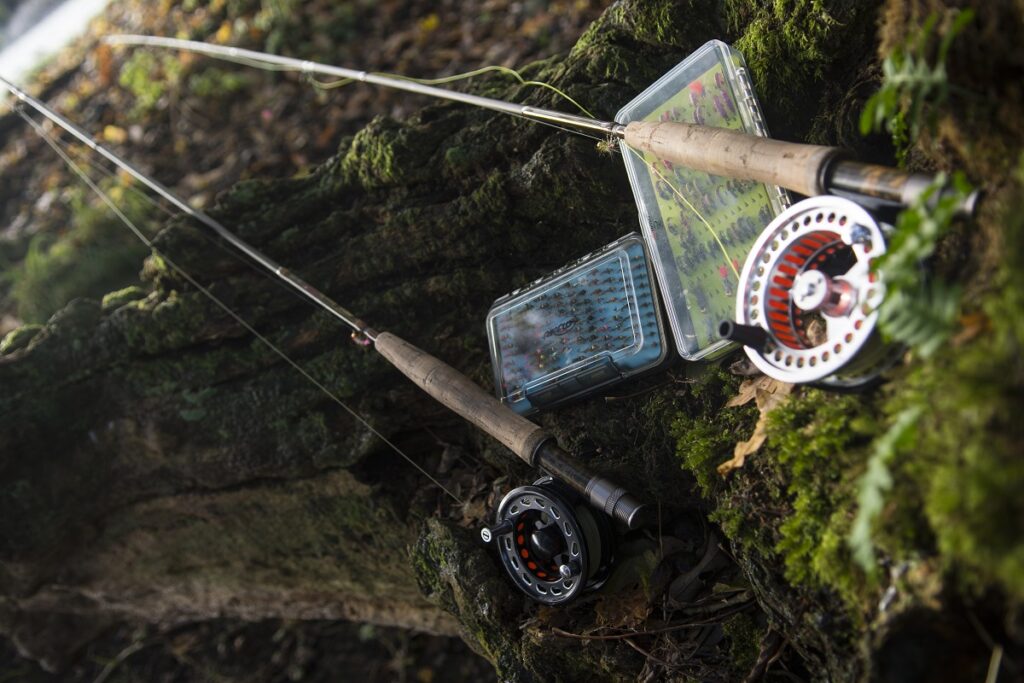 I set up the 9' #3/4 intending to use it 'French leader 'style, adding a few inches of coloured indicator and a brace of flies onto a 9m long tapered mono leader, while Tim rigged up a 10' #3/4 with a team of three flies, intending to fish 'Czech nymph' style using an Airflo Euronymph fly line.

These two methods are fished on a short line, with the flies worked only a rod length or so out, no real casting involved, just a flick of the weighted flies slightly upstream.
The other 10' #3/4 rod was set up with a strike indicator (aka a bung!) on a 3 weight fly line for use on the longer flats and runs, where long line indicator fishing would surely come into its own.
Flies, flies, flies…..
My flies were the usual grayling suspects – various generalist tungsten bead 'bug' patterns complete with trigger points of pink, red and purple, whilst Tim selected a team of old school Czech nymphs, including the obligatory 'pink shrimp'. Incidentally, Tim was one of the first anglers in the UK to have extensively used pink in his grayling flies, with a string of big fish under his belt on pink patterns including a former Welsh record grayling from the river Severn.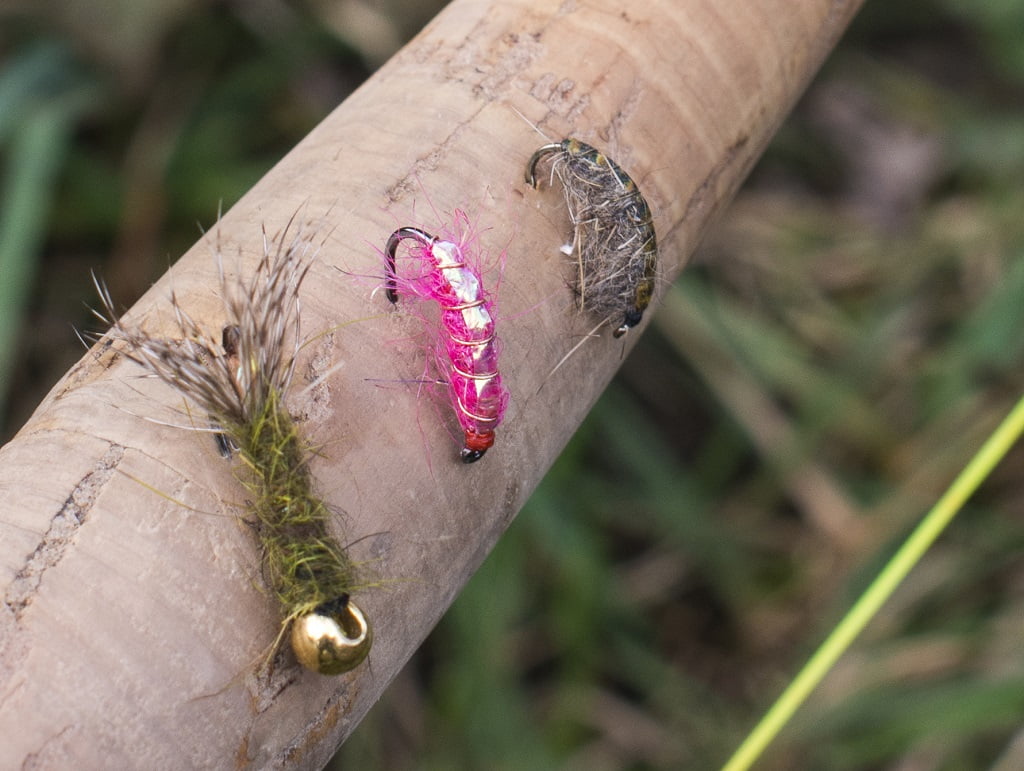 With a textured icy crunch under foot, we headed down to the river and along the banks. The river was running fast, up a bit more than we would have liked due to some heavy rain over the days before. However it was certainly very fishable, with the Irfon catchment usually being OK about 24 hours after a spate. If in doubt there is a very useful online river level gauge that you can check before leaving home.
The top of the first pool we tried had split into an island, with a massive fallen tree bisecting our bank. It screamed grayling to us. Tim waded out first, flicking the Czech nymphs into the heavy flow. I mooched around and took a few pictures, watching the master at work. After 10 minutes or so, nothing was happening, so I decided to make a cheeky cast a yard or two directly above where he was wading. The strike indicator dipped on the first cast, and a nice Irfon pounder came to hand, having inhaled a 4.5mm tungsten bead bug. Two more casts and two more fish followed – from literally right from under Tim's feet!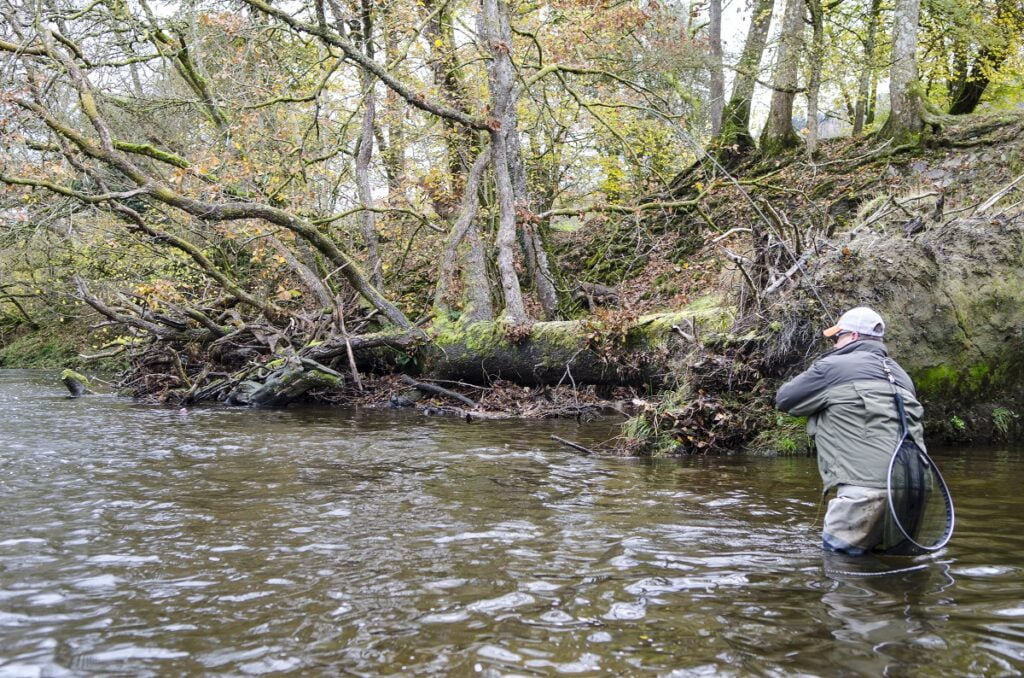 It always amazes me just how tolerant grayling are of anglers, Tim must have passed through the shoal which obviously didn't bother them in the slightest. Another cast and the rod pulled over into something better – a decent fish plunged away in the current. At 16 inches she was a long and lean specimen, but hard fighting and fully finned.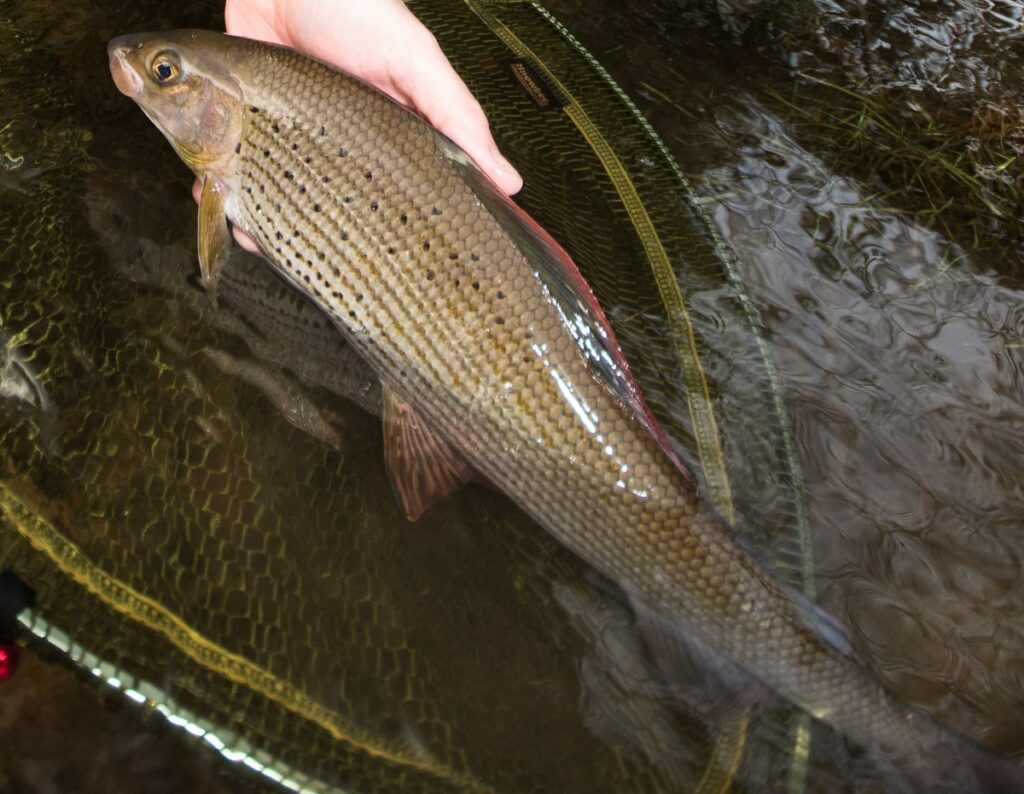 It's rare that I get a head start on Tim – and true to form Tim, who had moved a bit further upstream, had located a pod lurking in the slower water in a narrow channel. He soon caught up with me, watching the Euro nymph line stop with eagle eyes as he stayed in touch with the weighted nymphs trundling away on the river bed.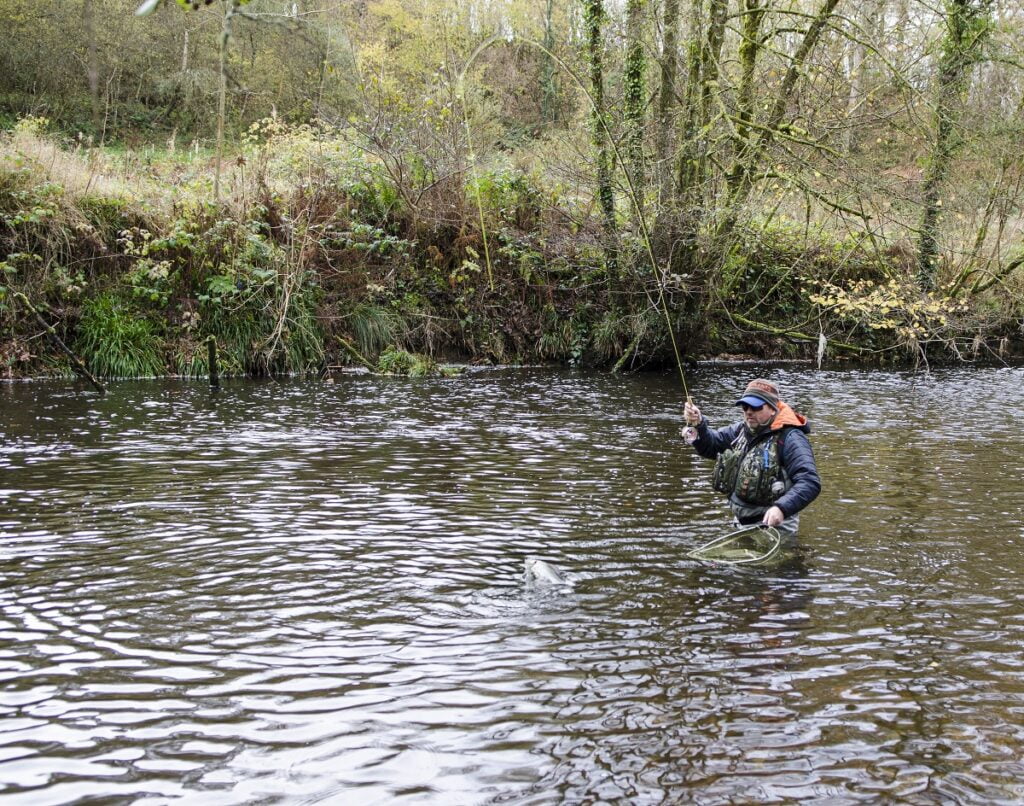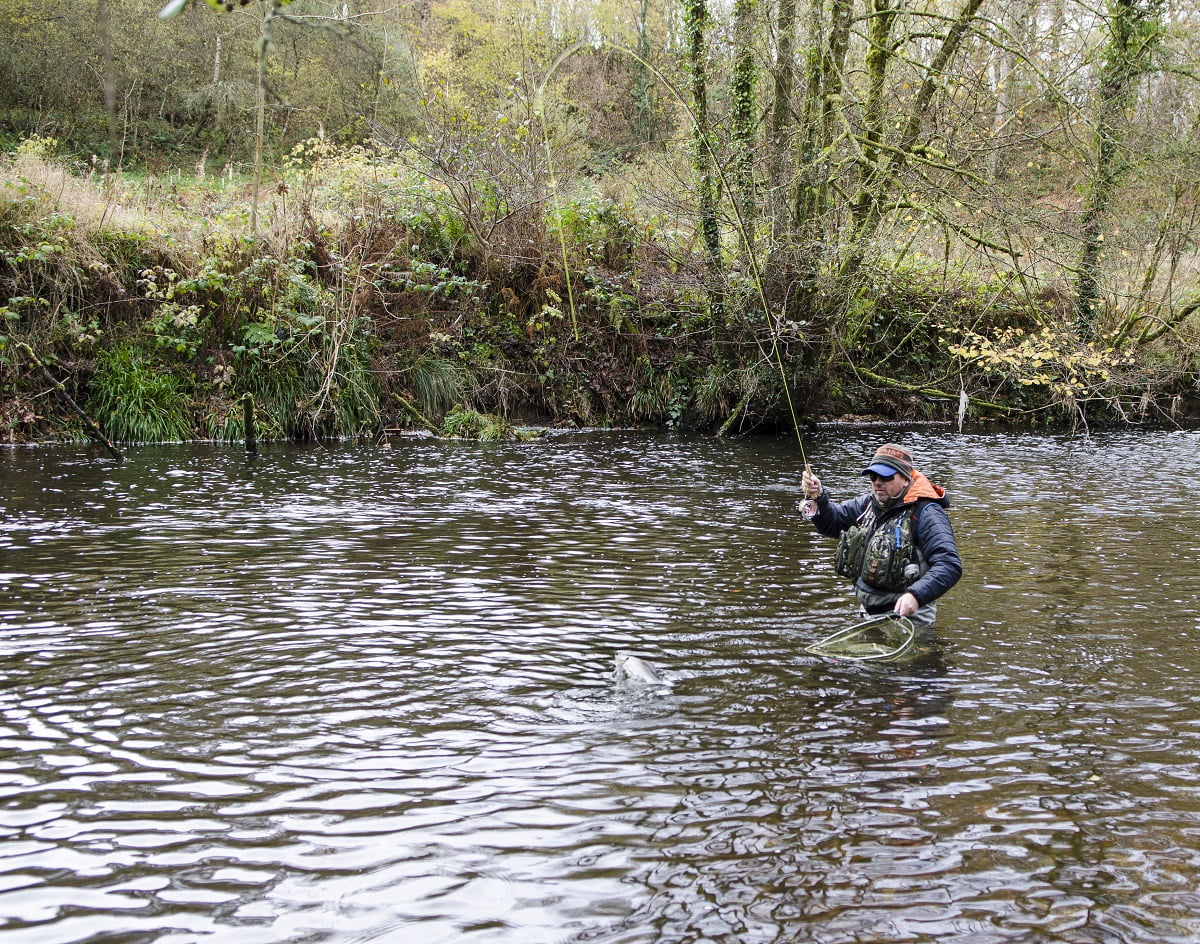 After a flurry of rod bending action, things slowed down, as often happens when members of the shoal have been caught. So we walked upriver, trying a few likely stops as we went. We fished several lovely long gravel runs that were perfect for grayling, with a steady flow and even depth of about waist height. Here we picked up some small fish to 3/4lb, but strangely none of the better stamp of grayling that must have been there.

We strolled the length of the beat looking for likely spots; this was such a scenic beat, resplendent in late autumn colours that we took our time to admire the surrounds as we went. There really was some cracking water, with rocky gutters and deep pools galore for salmon and trout in season. For grayling though, a patch of gravel is often the best place to try for them, no matter how small.

We spotted a short gravel bar at the back end of a pool – it looked like it could hold a few fish, so we had a speculative few casts which resulted in half a dozen nice ones, including a cracking specimen of over 16 inches that fell to a natural hare's ear shrimp, fished expertly by Tim in water that I had just fished over.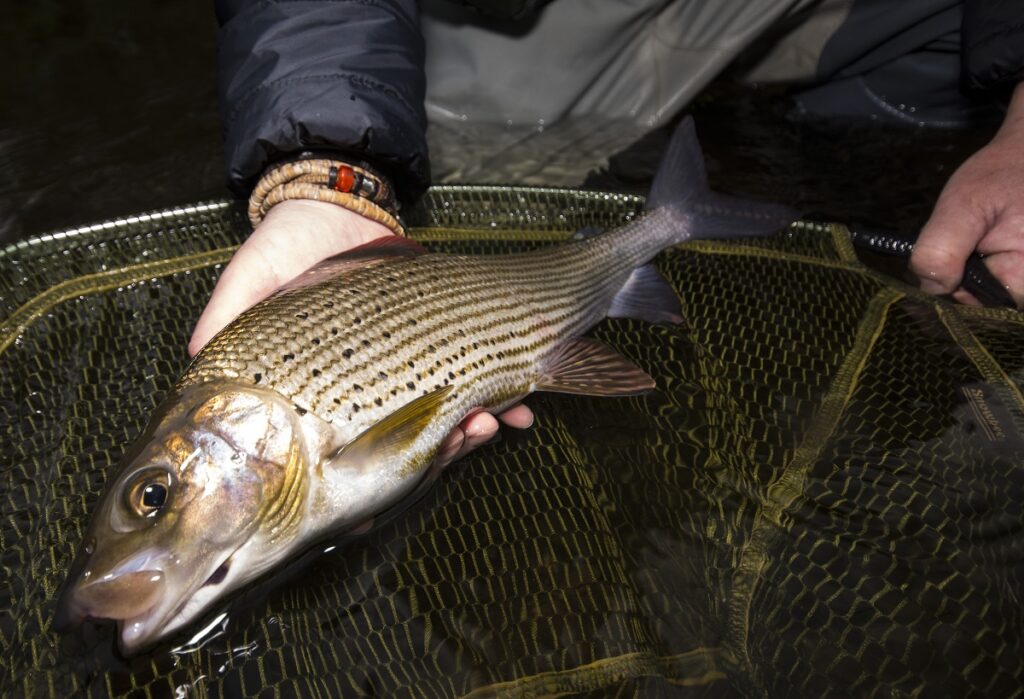 Time on the river bank simply flies, and even more so on a short, cold winters day. Before we knew it the day was over and we reluctantly had to hit the road; with the obligatory stop at a Welsh country pub for a well earned calorie hit.

Another great day on the water in a wonderful part of Wales done and dusted. We'll be back soon!
Words: Ceri Thomas
Images: Tim Hughes

A version of this article originally appeared in Todays Fly Fisher magazine.