Autumn Grayling Fishing in Wales: A Seasonal Delight
As autumn takes hold of the Welsh countryside, anglers across the country eagerly await one of the most rewarding and challenging fishing experiences of the year: grayling fishing in Autumn. The crisp air, colourful foliage, and the shimmering rivers make Wales an ideal destination for anglers seeking to test their skills against the elusive grayling.
In this article, we will explore the unique charm of grayling fishing in Wales during Autumn and provide you with tips and insights to make the most of this exceptional season.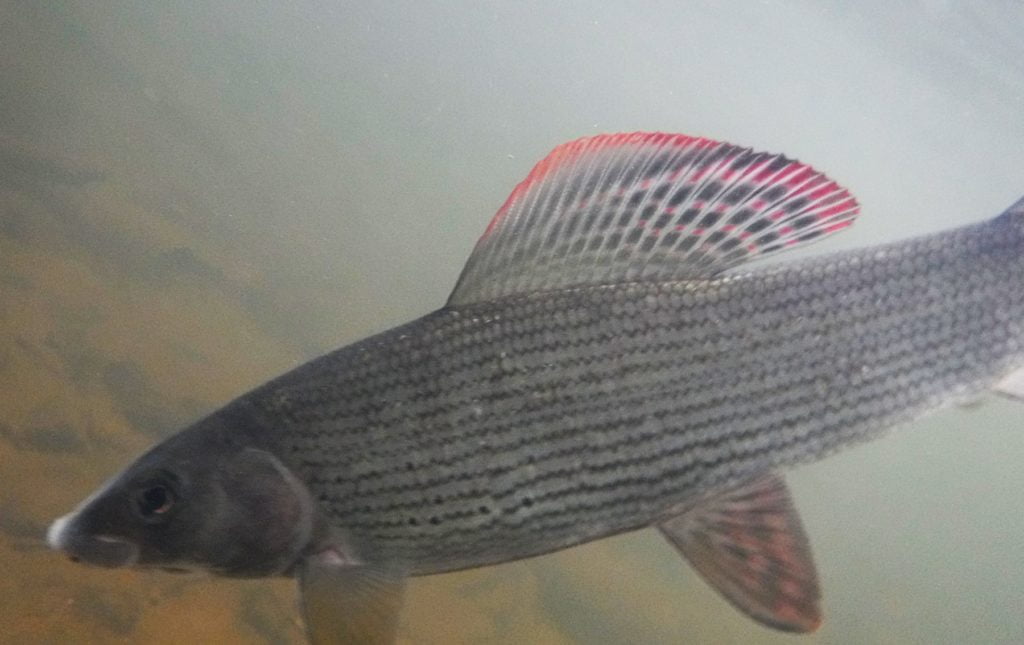 The Enigmatic Grayling
The grayling (Thymallus thymallus) is a fish species that thrives in clean, fast-flowing rivers and streams. They are known for their striking dorsal fin adorned with vivid hues of orange and red, with pearlescent scales in hues of silver and pewter grey. Grayling aka 'the lady of the stream' are known to be sensitive to water quality and are often considered a strong indicator of a healthy aquatic ecosystem; the fact that they are found in so many Welsh rivers is a really positive sign.
Why Autumn?
October and November are prime months for grayling fishing in Wales. The temperatures begin to drop, leading to cooler water conditions that grayling prefer, triggering them to feed more actively. A true cold-water species, grayling will provide great sport on even sub-zero temperature days, but action can be confined to a few short hours in the depths of winter. In October and November, with more daylight and often better 'fishing weather', you can expect to catch grayling all day long, and not feel like you need to de-frost after half an hours wading.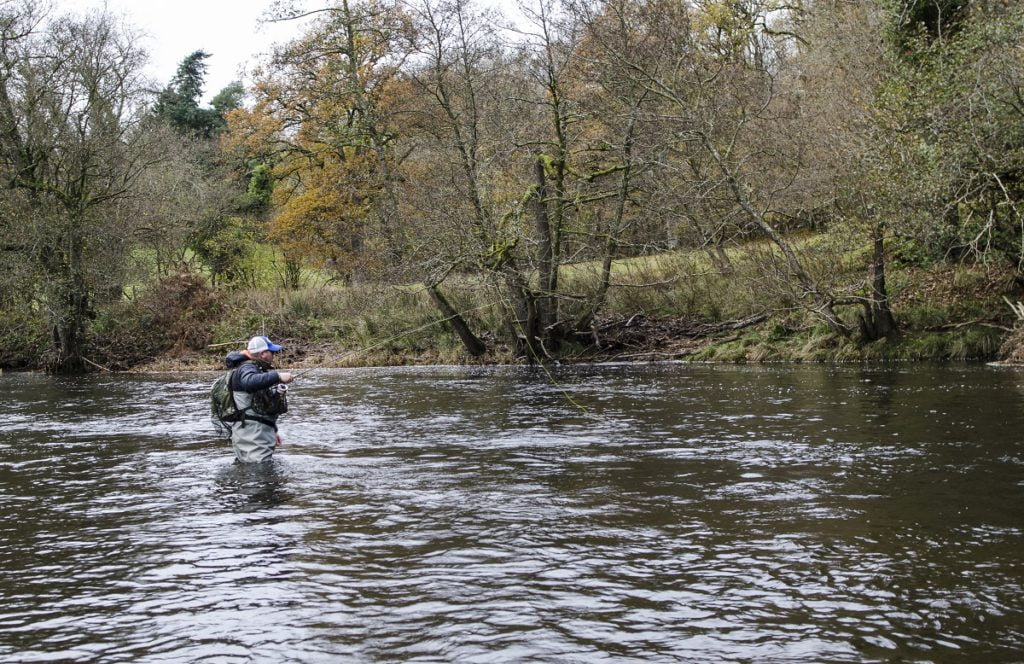 Where to Fish
Wales boasts an array of rivers and streams renowned for their grayling populations. Some of the top destinations for Autumn grayling fishing include:
River Wye: The upper River Wye is famous for its abundant grayling population. The picturesque surroundings and crystal-clear waters make it an excellent choice for fly fishing enthusiasts and for anglers who enjoy trotting. Grayling can be found in the Wye from Llangurig all the way to Monmouth, however the best grayling fishing tends to be from Rhayader to Hay on Wye, with the Builth Wells area being a good base to explore, with water available to fish with local angling clubs and on the Fishing Passport scheme.

River Irfon: The almost unspoilt Irfon Valley in Mid Wales is home to some superb grayling fishing opportunities. This celebrated river Wye tributary has fast runs, bed rock channels and deep pools that are perfect for anglers looking for a challenge. The Irfon has some of the largest grayling in Wales, with fish of 2lb to 3lb captured regularly. Much of the river is available to fish with the Fishing Passport, local clubs or via private owners such as the Cammarch Hotel.   
River Dee: In North Wales, the River Dee offers a unique grayling fishing experience. This large river is known for its strong, abundant grayling, and the stunning scenery adds to the overall appeal. The annual Hanak grayling festival is held on the river in the Llangollen area for good reason – there are vast numbers of graying to be caught and many of specimen size of 50cm and above. Day ticket access is freely available with several angling clubs, such as Corwen and Bala & District.

Upper Severn: The River Severn, one of the UK's major rivers, begins in Wales and offers excellent grayling fishing opportunities. Its meandering sections, gentle gravel runs and pools provide ideal habitat for grayling. Fishing in the picturesque upper Severn Valley during autumn can be a memorable experience, with angling clubs providing access around Llanidloes and Caersws. There are even free sections for rod licence holders in Llanidloes and Newtown.
River Rhymney: The River Rhymney, located in South East Wales, is a hidden gem for grayling fishing. It's known for being a post-industrial river yet offers anglers a surprisingly tranquil setting in which to pursue grayling. The river's diverse sections, from urban areas with fast runs to deep pools in woodland and agricultural fields, cater to different fishing techniques, making it suitable for anglers of all skill levels. Much of the fishing can be accessed via Caerphilly Angling Association or Royal Oak Angling Club.

River Taff: The River Taff, which runs from Merthyr Tydfil to Cardiff is another fantastic destination for grayling fishing. This river is known for its thriving grayling population from Abercynon downstream to the Capitol City. It's improving water quality and varied stretches cater to both fly and trotting enthusiasts, with bait fishing allowed on Glamorgan Anglers, with the fly the permitted method on the Osprey Fly Fishers.
Tactics and Gear
Fly Fishing: In early Autumn, grayling often feed on emerging insects and nymphs, making fly fishing a popular choice. Patterns such as the Pheasant Tail Nymph, Pink Shrimp, Red Tag and Hare's Ear Nymph are effective choices, especially when heavily weighted with a tungsten bead. Getting down to the feeding zone can be crucial. Light to medium-weight fly rods (3-5 weight) are recommended, with the most popular choice perhaps being a 10' #3 set up, which is perfect for 'Euronymphing'. Below: A few grayling flies.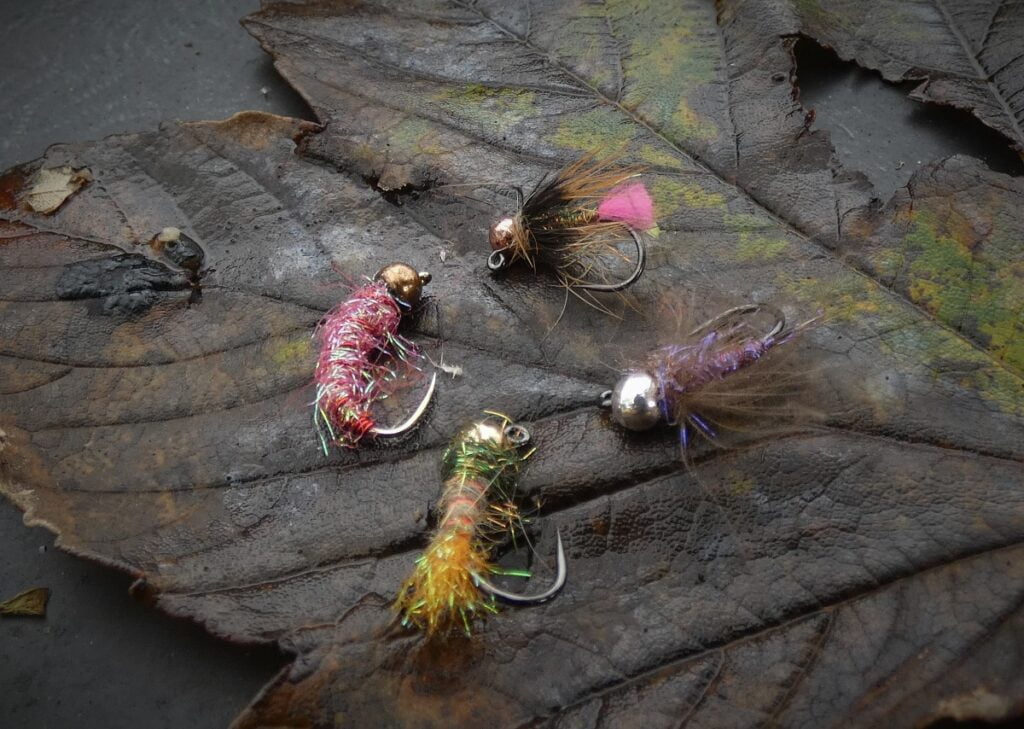 Coarse Fishing: If you prefer bait fishing, small brandling worms and maggots are very successful, when fished using a light float rod setup (12 to 14 foot, with 2000 to 3000 reel) and trotted downriver. For more information on 'trotting' check out our article here. When bait fishing always check the rules and regulations for the venue, as sometimes they are prohibited by bylaws or by the club controlling the water.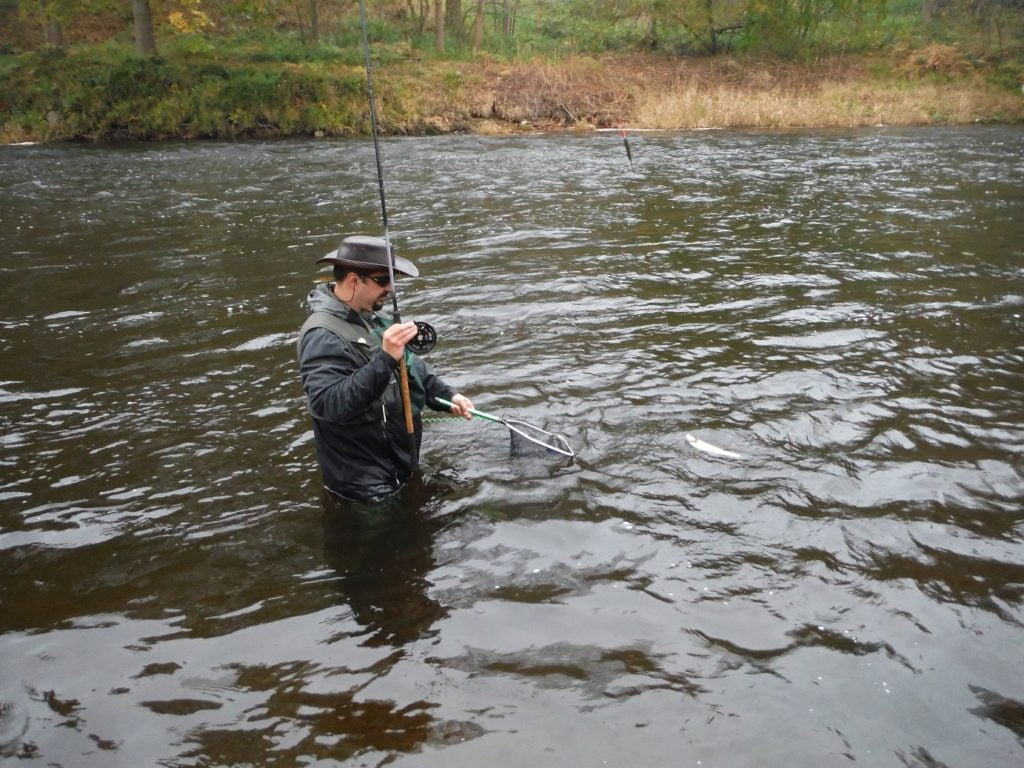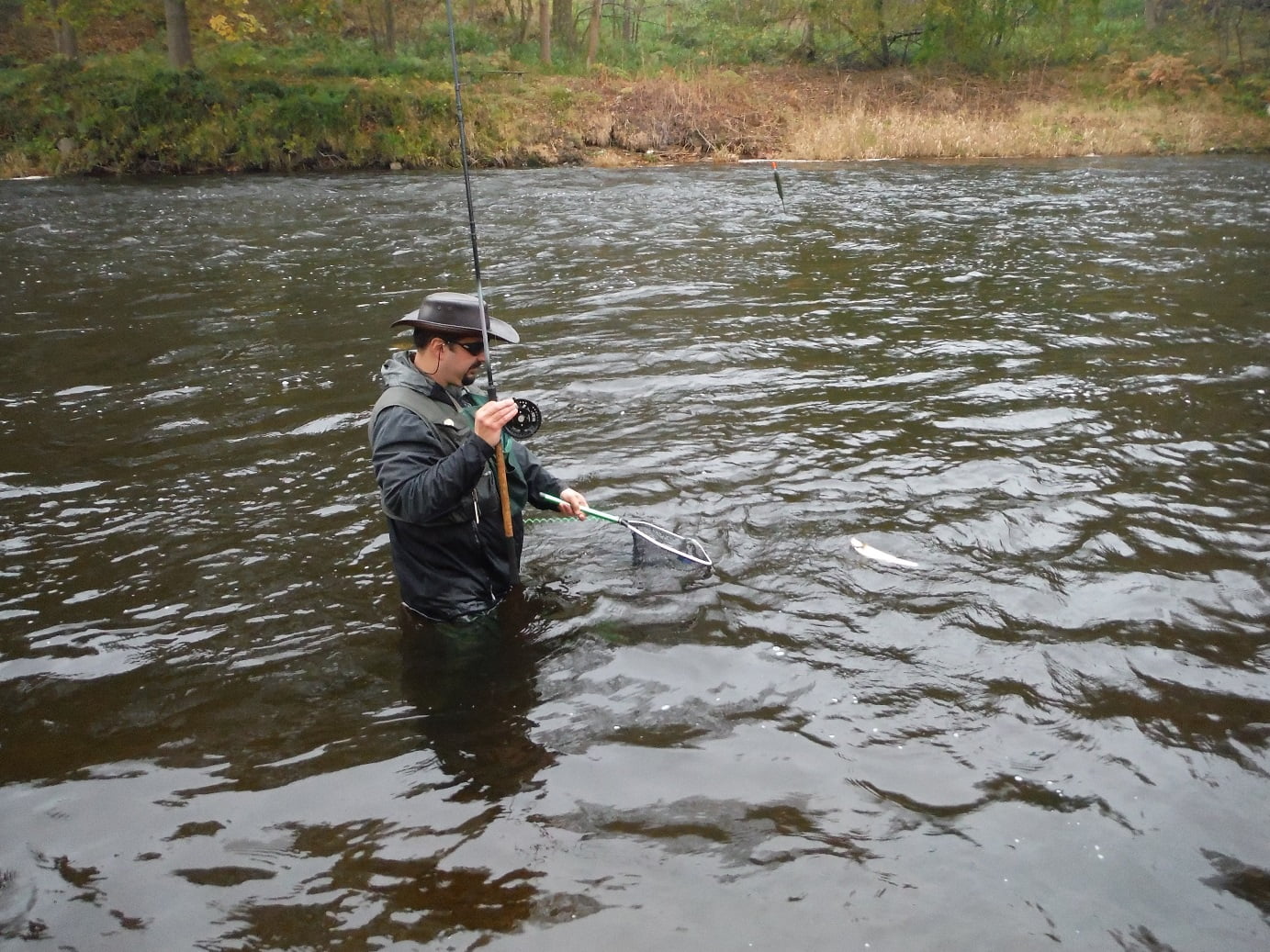 Fish care
Grayling are a fragile species and are intolerant of bad fish care. To ensure their conservation and the sustainability of this unique fishing experience, it is crucial to keep handling to a minimum, especially in warmer weather. Use barbless hooks and handle these beautiful fish with respect, keeping them as wet as much as possible.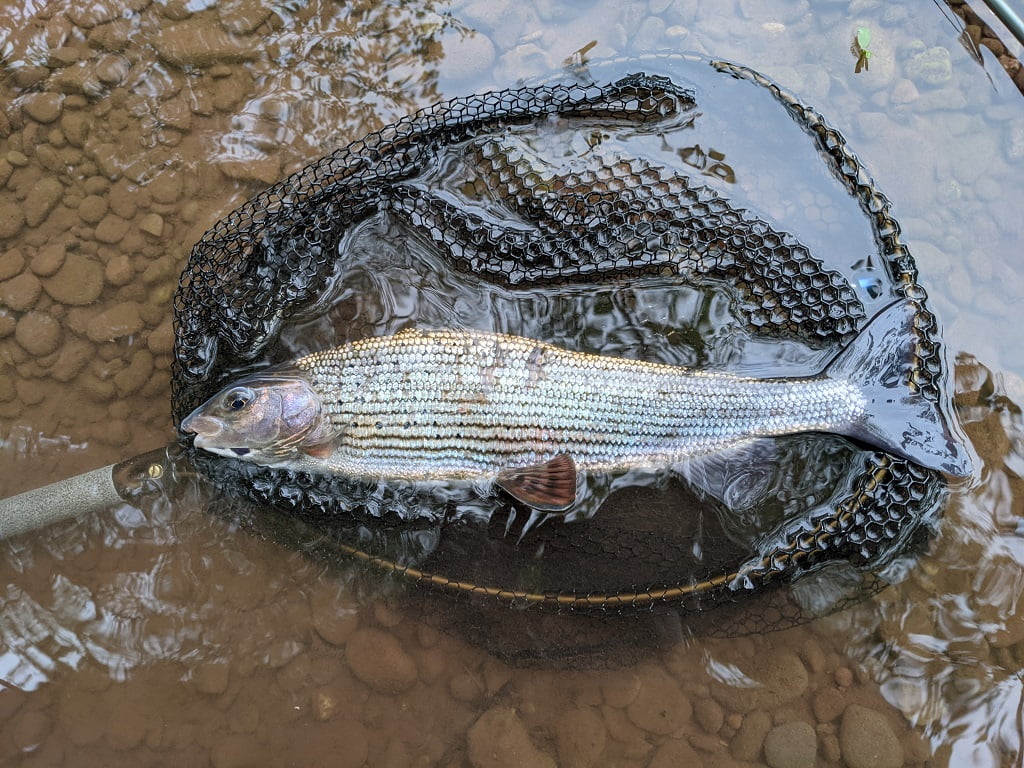 Autumn grayling fishing in Wales offers anglers a chance to connect with nature, enjoy the stunning autumn landscapes, and challenge their skills against a captivating and elusive species. Whether you prefer fly fishing or coarse fishing, the rivers of Wales provide ample opportunities for an unforgettable angling experience.