Fishing In Wales at the BFFI show – 11th and 12th February 2023
'Fishing in Wales' will be attending the British Fly Fair International (BFFI) at the Staffordshire County Showground on 11th and 12th February 2023!
With a wealth of experience our Marketing Manager Ceri Thomas, along with Alan Parfitt, our photographer, will be on-hand to help you discover the many and varied game angling opportunities we have in Wales.
From remote mountain lakes to rainbow trout fisheries, wild trout streams and grayling rivers, there are hundreds of incredible venues in Wales. We'd love to share our knowledge with you, so you can plan your visit to Wales for an unforgettable fishing experience.
We look forward to seeing you there!
FIND US IN HALL1 – Next to Coch-y-Bonddu Books and opposite Corwen & District AC.
For more details on the show – which has a record number of exhibiters this year – visit www.bffi.co.uk
BFFI 2023 show floor plan: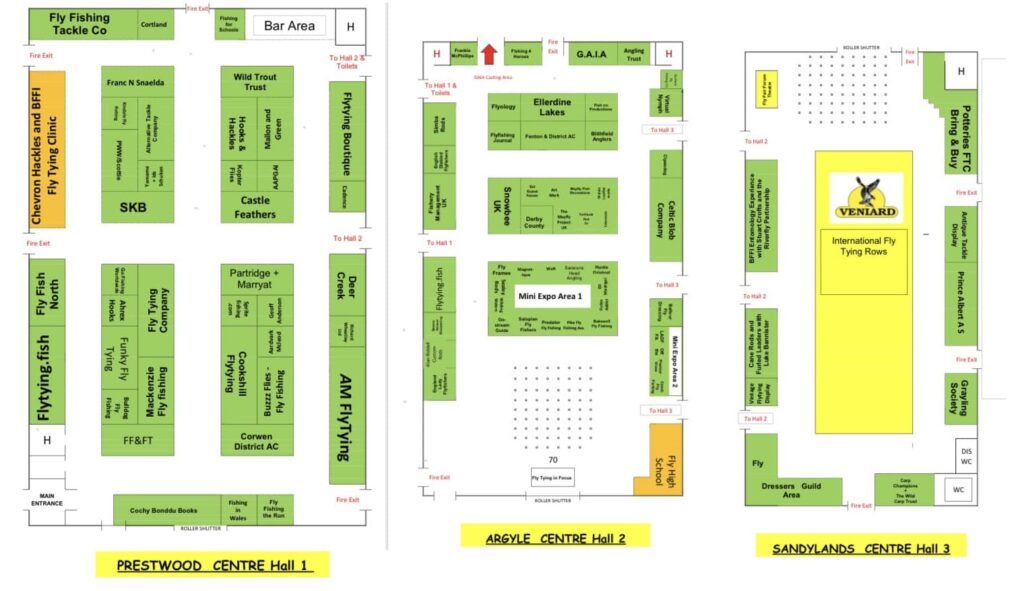 Pike Anglers Club Night - with John Horsey 18th Jan 2023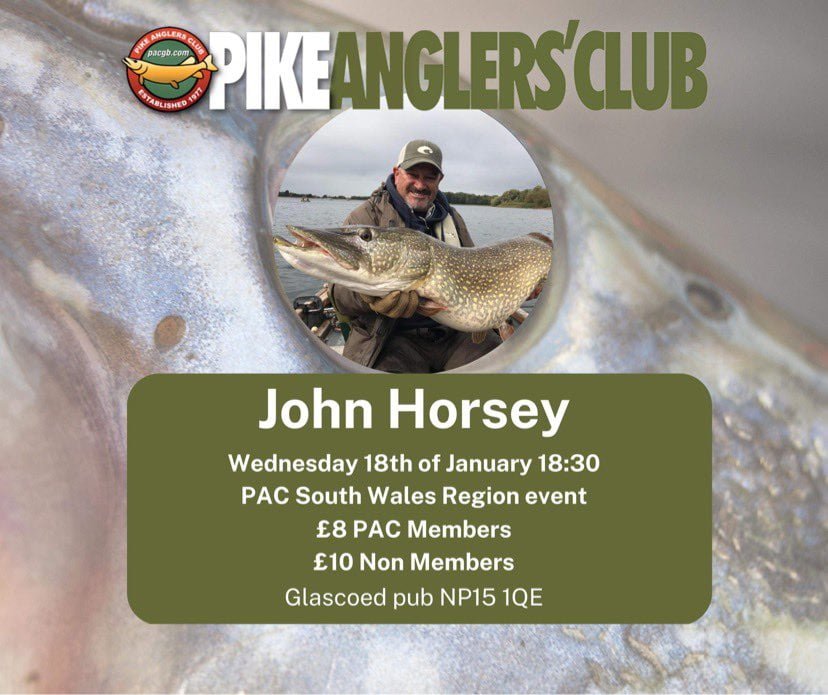 Fishing Film Evening - April 22nd 2023 - Ffwrnes, Llanelli
Steffan Jones is organising a fishing film night for April 22nd 2023 in Ffwrnes, Llanelli. 
Through his global contacts as a fishing guide and destination tour operator, Steffan has sourced a number of exciting fly fishing films which will be shown through the evening.
The event will also be an opportunity for local Welsh angling clubs to appear and represent themselves, prior to the film evening starting, with a view to promoting their waters and encouraging membership uptake for the season ahead.
Cost will be a modest £10, under 16's free of charge. The evening is anticipated to start at 5pm.
This is a non-profit event, with any surplus revenue invested into youth fishing initiatives.
For more information and ongoing updates for the event, head to the dedicated FACEBOOK GROUP or contact Steffan directly at info@Fishing-Wales.com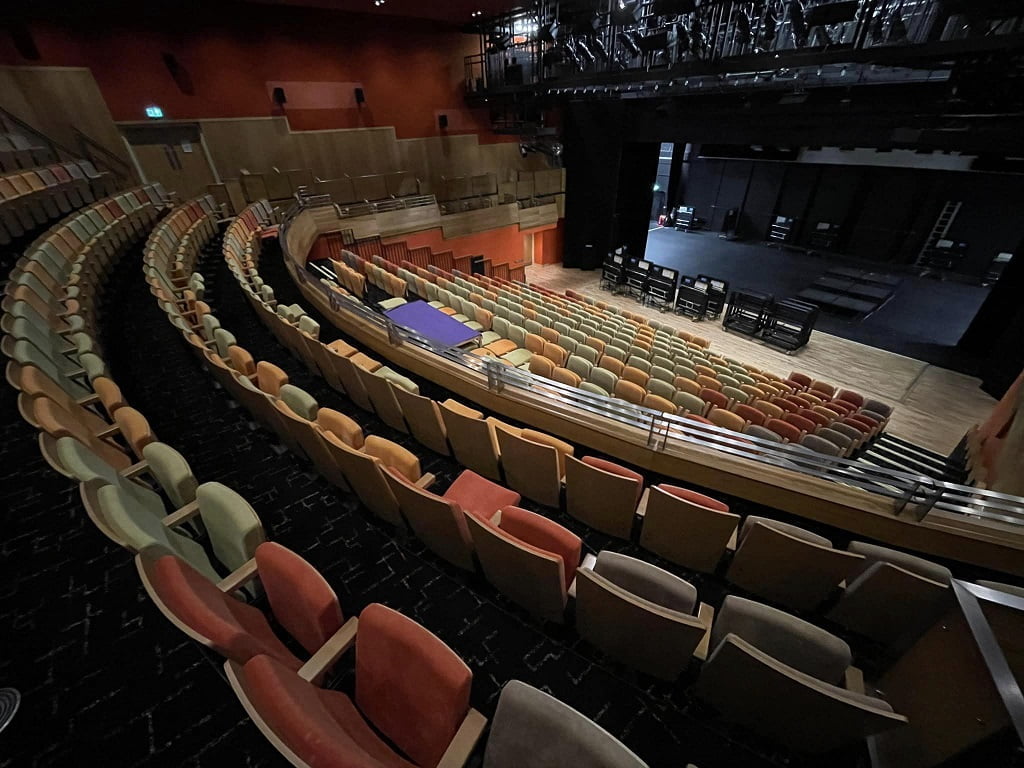 Fly tying nights with Pontardawe and Swansea Angling Society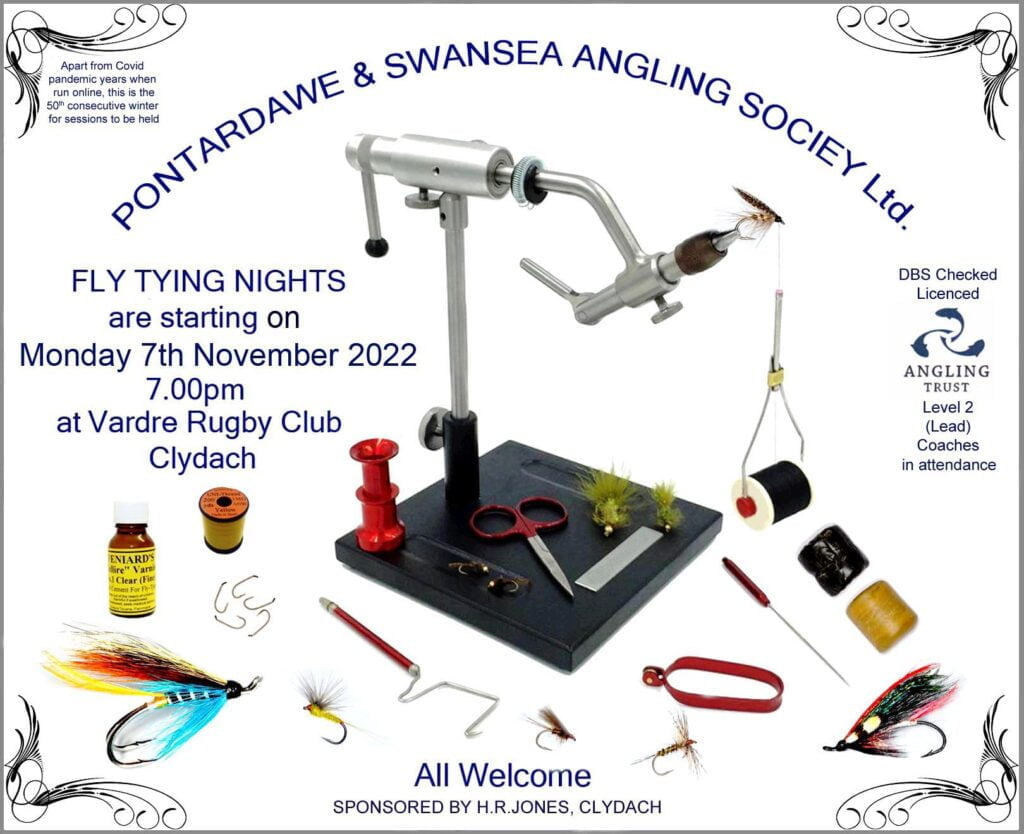 PIKE ANGLERS CLUB NIGHT - ALL WELCOME
PIKE ANGLERS CLUB NIGHT
The PAC South Wales region will be holding a night with Neville Fickling on Monday 17th October, at the Kings Head public house in Usk.
6.30pm for a 7pm start
Members £3
Non members £5
There will be a raffle and a trade stand on the evening with Martin Mumby from Catch Cult also in attendance.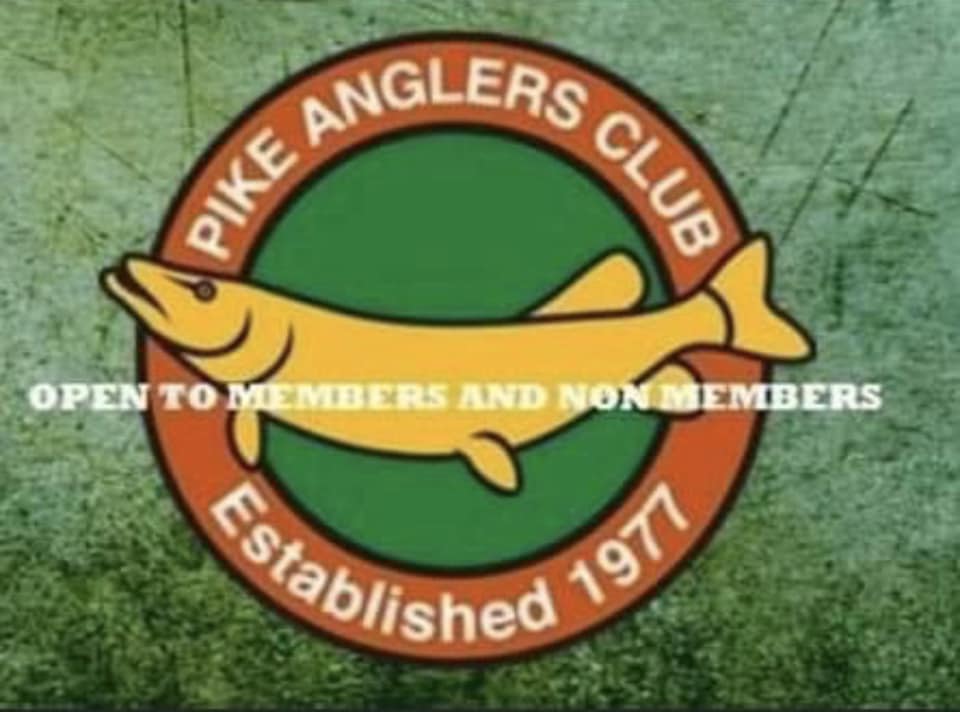 Learn to fish for free!! With Llandysul Angling Association - Every Friday in August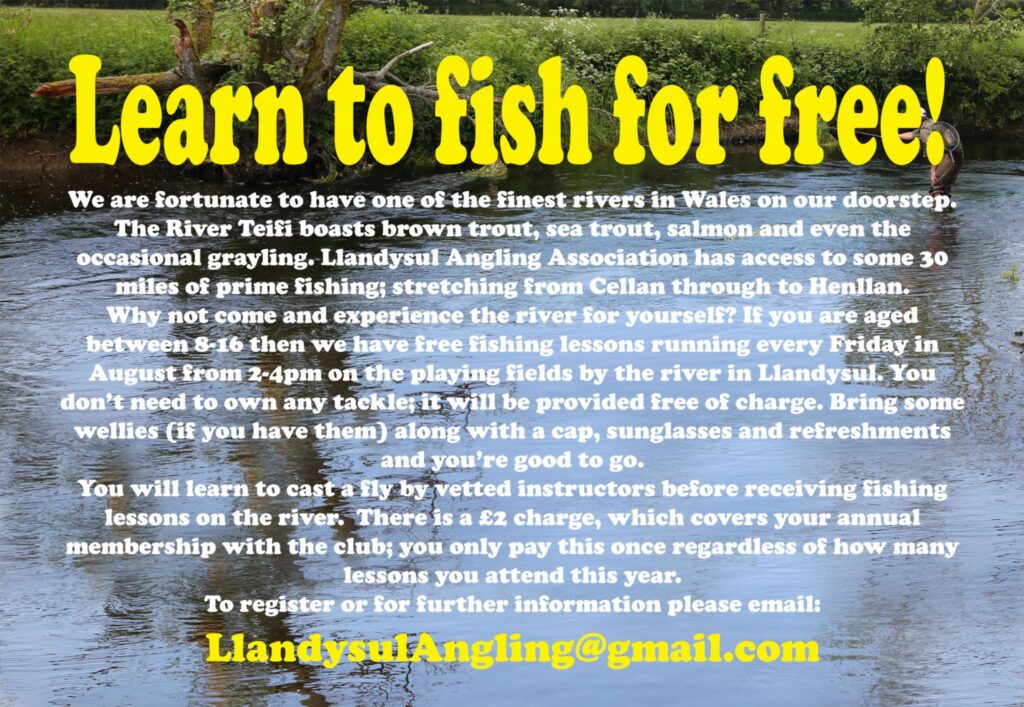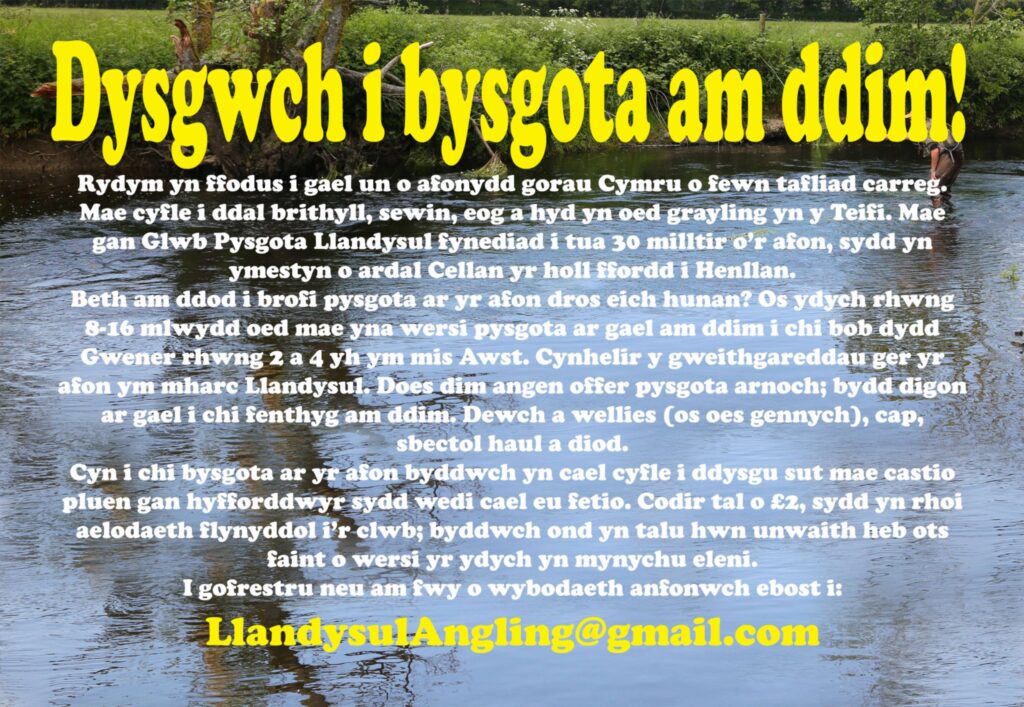 Game Fair Parc Y Fro Field - Aberaeron - 6th August 1.30pm to 5pm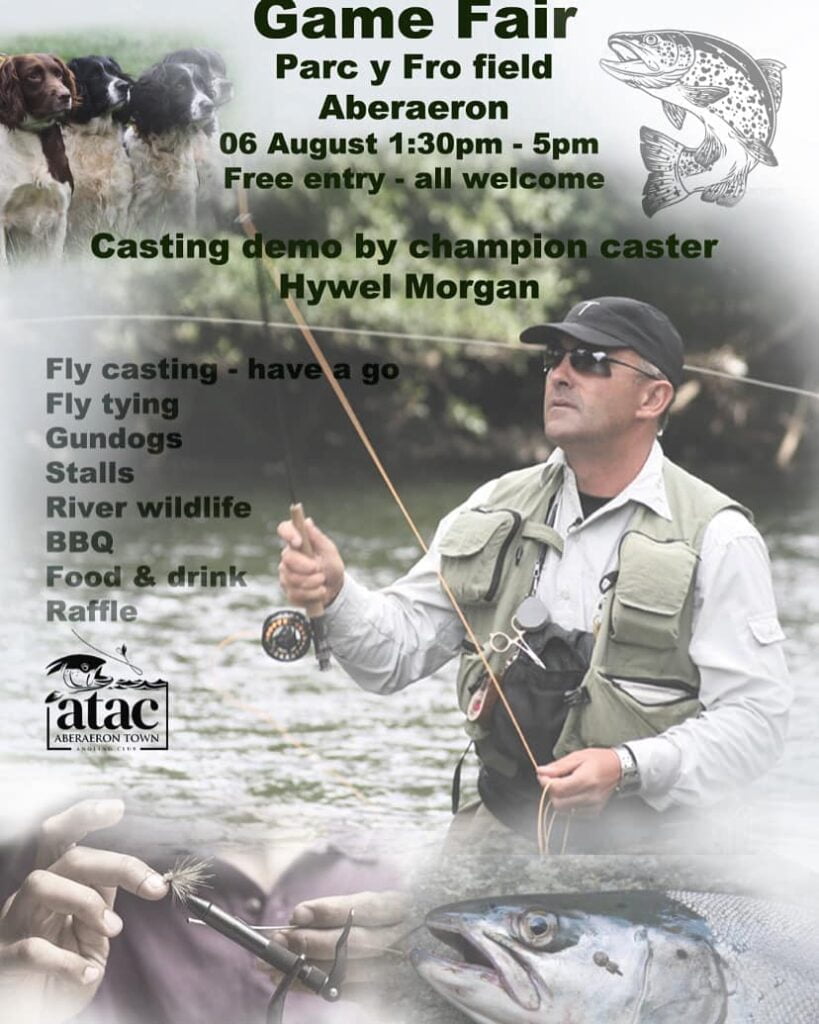 The GWCT Welsh Game Fair: 9th to 11th September 2022
The team behind The Game Fair and The Scottish Game Fair, hugely popular annual gatherings for people passionate about the countryside and country pursuits, is delighted to announce the launch of the first ever GWCT Welsh Game Fair. The event will take place from 9-11 September 2022 at the historic Faenol Estate near Bangor in northwest Wales and is being organised in partnership with leading conservation charity The Game & Wildlife Conservation Trust (GWCT). The landscape of the Faenol Estate, which includes a beautiful, large lake in front of the main mansion for casting displays, is perfect for this celebration of all things rural. The event will raise money to support the GWCT's charitable work and give a welcome boost to the region, with tourism and visitors contributing to the local economy.
The GWCT Welsh Game Fair will feature fishing, clay shooting, gundogs, game cookery, falconry, horses and hounds, as well as rural crafts, food and drink.
Currently for Fishermans Row there will be Fly Fishing and Fly Tying Magazine, who will be taking a Marquee with a mix of traders and Fly Tyers . There will be a Fishing competition held over the three days culminating in a Game Fair Championship.  World fly casting champion Hywel Morgan will be demonstrating at the show. Visitors can look forward to a wide range of attractions, displays, live debates, shopping at hundreds of trade stands and family entertainment, all with a countryside theme. The Clay Shooting Line and Gunmakers Row, both extremely popular elements of the Scottish and National Game Fairs, will feature alongside a wealth of Welsh produce.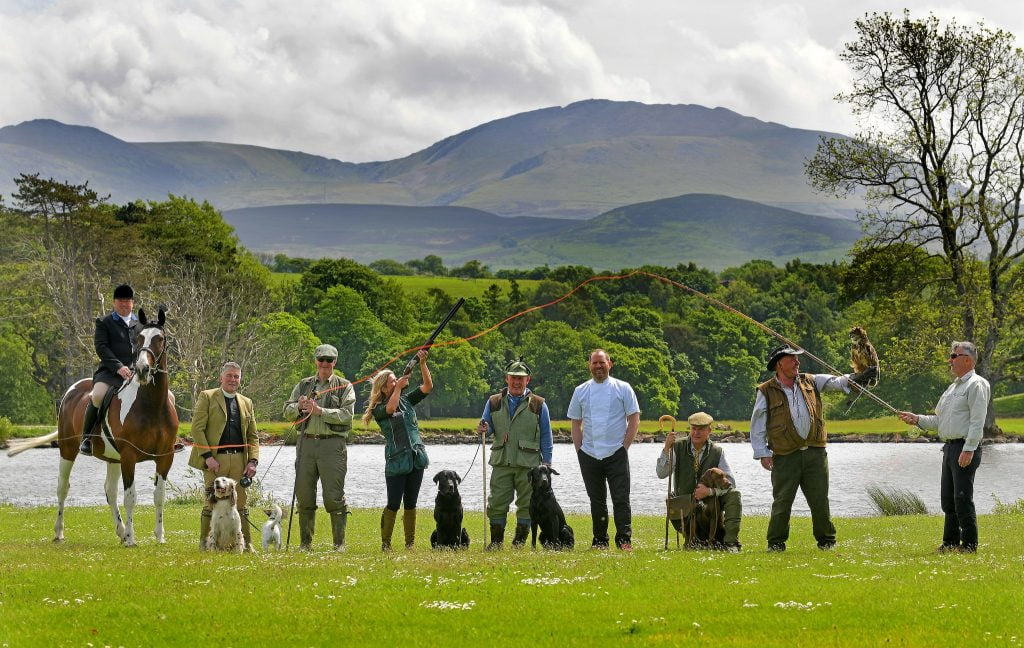 The event is set to be a fantastic shop window for the Welsh countryside and will promote the unique culture and heritage of Wales. The Game Fair will also bring together representatives from a range of conservation, farming, field sports and fishing bodies for debates on Welsh rural issues. The aim is to foster greater communication and cooperation between sectors and promote the benefits of country pursuits and conservation to a wider audience.
For more information click HERE

Gwent Angling Society Casting Clinics - Starting Mon 20th June 2022
Gwent Angling Society fly casting clinics in conjunction with the Game Angling Instructors' Association will be taking place fortnightly throughout the summer, starting Monday 20th June, 6pm – 8pm. The sessions will cover everything from the basics to advanced techniques and will include single and double-handed fly casting. These sessions are perfect for ironing-out any issues and will help to improve your fishing and presentation by improving your underlying knowledge.
The evenings are open to both members and non-members, so feel free to share, bring along your friends, etc. Simply bring your rod/reel/line outfit if you have one, or we may be able to provide a kit depending on demand.
Single-handed will take place in the upper field, with double-handed down on the river. As such, please bring appropriate clothing, waders, etc.
There is a small fee required to cover our instructors' travel and is payable via cash on the evening. Under-18s are welcomed free of charge.
Members – £5
Non-Members – £10
Under-18s – Free of charge
The location will be our Usk beat at Ty Mawr, the best SatNav destination for which is Gilwern Outdoor Education Centre, Ty Mawr Rd, Gilwern, Abergavenny NP7 0EB. Once there, the gate to our beat will be open, and you can simply follow the track down and park in the upper field. Please do not park in the beat car park, as this will be needed for any members fishing during the evenings.
Any queries, as always, please reach out.
Best wishes,
Gareth Lewis
Secretary
Gwent Angling Society
Tel: 07540 813399
Email: garethlewis1805@outlook.com
Web: www.gwentangingsociety.co.uk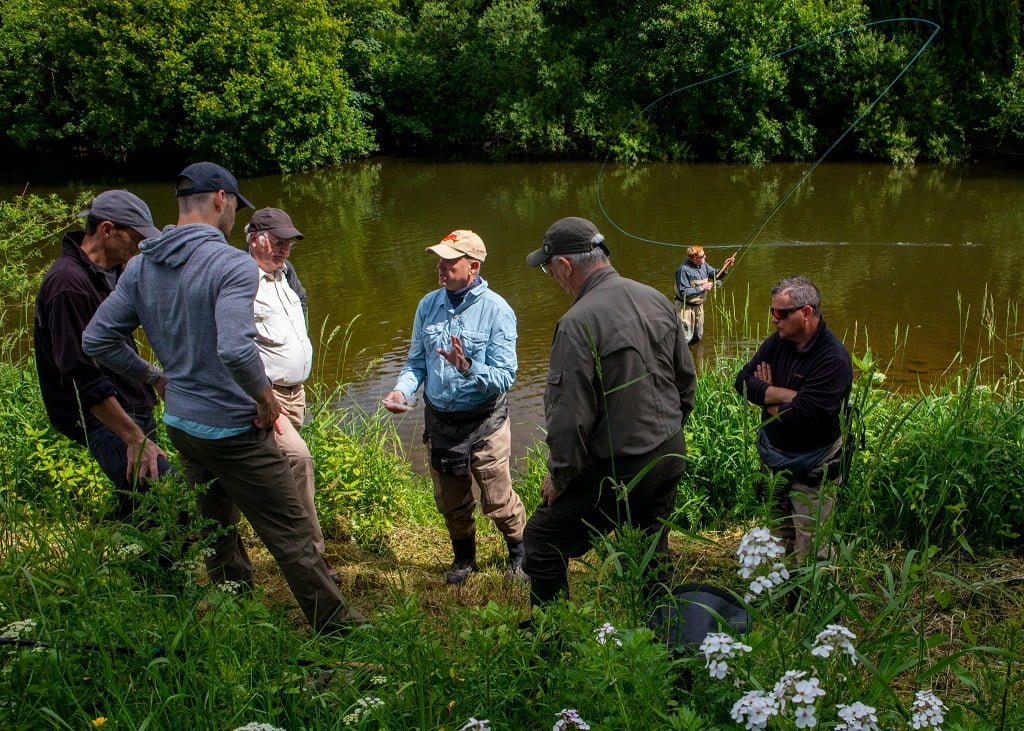 Glynneath & District Angling Club Comp - 18th June
Are running a fishing competition on Saturday 18th June 2022. Please see details below.
Come and have a great day Children under 16 Free and Adults competition £10 entry fee to fish for the competition day only for non members. Members £2 entry fee.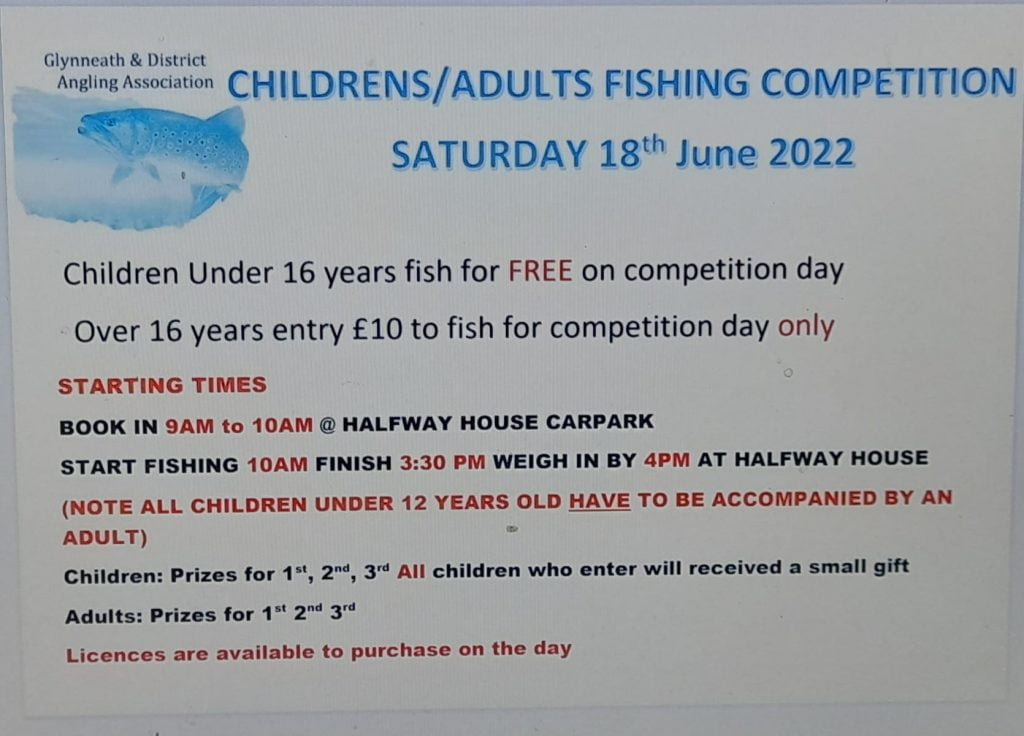 Rhyl and St Asaph Angling Association Introduction to fly fishing days
INTRODUCTION TO FLY FISHING EVENTS
Rhyl and St Asaph Angling Association "Introduction to Fly Fishing" days are popular events hosted at the club trout lake near Denbigh.
The next two events will be held on:
Saturday April 30th 2022
Saturday July 9th 2022
Full details and a link to registration form is on the website.
Rhyl and St Asaph Angling Association are keen to get more people, especially youngsters, involved in the sport of angling.
Places are limited and allocated on a first come first served basis.
Tuition is given by our experienced instructors and the events are open to all ages and abilities.
It is free for all members and for junior non-members (u-16).
The cost to adult non-members is just £10 which is refunded if they later decide to join the Association.
The days usually start at 10.30 a.m. and finish about 3 p.m.
Following initial casting tuition, you will then be fly fishing for our feisty rainbow, blue and brown trout in a spring-fed lake. One rainbow trout (if caught) may be taken home. Bring suitable clothing and lunch – but all fishing equipment is supplied. There will be a further Intro Day in September date TBA.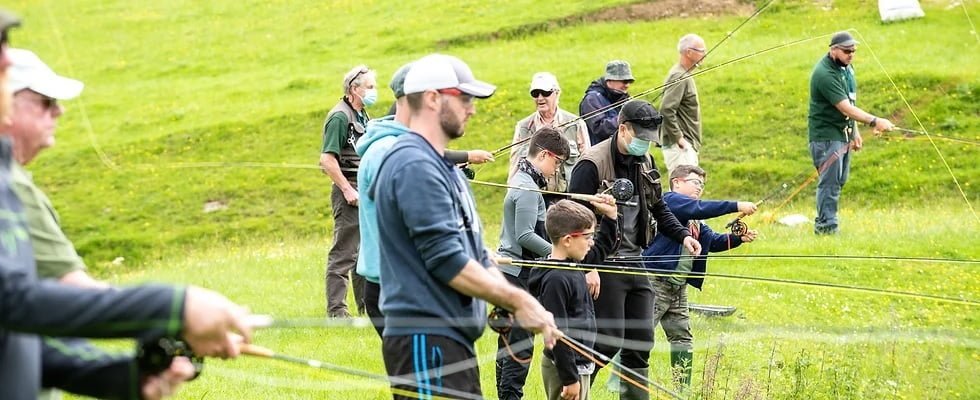 Gwent Angling Society Open Day - 11th June 2022
Gwent Angling Society Open Day 2022
After several years of delays due to Covid-19, Gwent Angling Society are so excited to be once again able to announce the launch of this year's open day.The event will take place at the club's Usk water at Ty Mawr, Gilwern, on Saturday 11th June 2022, from 10:00 – 16:30hrs, and will boast professionally-led river skills and casting demonstrations, some of the UK's best fly dressers, and a whole lot more! The last open day took place in 2019 and was a truly wonderful day for members and non-members, anglers and non-anglers, and families looking to enjoy a day in the sun, in great company and glorious surroundings, and with a host of events, activities, and great food.
To read more about the event, to see what the club has planned throughout the day, or to purchase tickets, simply visit Gwent Angling Society Website
HERE
.

Image C: Gwent Angling Society
Canal and Rivers Trust Angling Events - Wales 2022
Canal and Rivers Trust 'Lets Fish' Events at Llangollen
28th May 2022 – Trevor Basin Llangollen
04th June 2022 – Trevor Basin Llangollen
06th August 2022 – Trevor Basin Llangollen
13th August 2022 – Trevor Basin Llangollen
20th August 2022 – Trevor Basin Llangollen
27th August 2022 – Trevor Basin Llangollen
For more information on 'Lets Fish' events, head to the Canal and River Trust's website.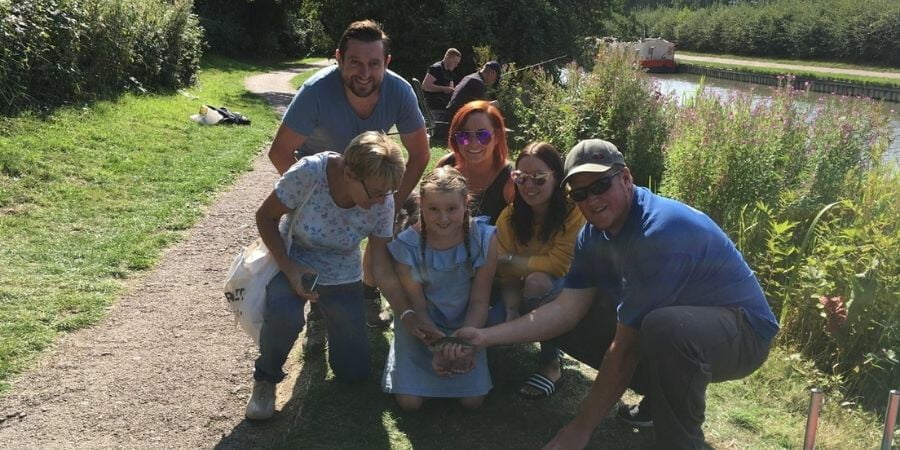 Image C: Canal & River Trust
FREE Coaching sessions for junior members of Corwen & District Angling Club

Do you have children under 16 who want to try fly fishing or get some coaching to help improve their fly casting or fly fishing skills?
If so, I (Matt Clarke) and England International fly fisher Gary Hedges are providing coaching sessions to members of Corwen and District Angling Club (CADAC) between April and October. The sessions are funded solely by CADAC and are FREE for junior club members.
For many years, CADAC has provided FREE membership and instruction to junior fly fishers. Many children and grandchildren of club members have caught their first fish on the fly at coaching sessions, or have picked up new skills and made new friends. Over the past few years, several regulars have even won places on Wales and England Youth Fly Fishing Teams.
Coaching sessions are held at Llandegla Fishery in North Wales (where there are toilets, ample parking, and great food) with a session planned for the River Dee during the summer months (weather permitting).
Provisional dates are as follows:
Sunday April 3rd, 2022 (Llandegla Fishery)
Sunday May 8th, 2022 (Llandegla Fishery)
Sunday June 12th, 2022 (Llandegla Fishery)
Sunday August 7th, 2022 (TBC)
Sunday September 18th, 2022 (Llandegla Fishery)
Sunday October 9th, 2022 (Llandegla Fishery)
Sessions start at 10am and finish at 2pm and will cover a range of topics to suit fly fishers of all ages and levels. Equipment is provided. Food and drink is available from the cafe. Juniors will need to be accompanied by a responsible adult at all times. For safety reasons, anglers and their guardians must wear a cap and sunglasses to protect themselves from airborne flies!
You'll need to be a member of Corwen and District Angling Club (membership is FREE for under 16s). Please contact Barry Cubbins via the CADAC website: https://www.corwenanddistrictanglingclub.co.uk/contact-us/
Juniors aged 13-16 will additionally need to apply for a FREE rod licence. https://www.gov.uk/fishing-licences
To book a place, please contact Matt Clarke at matt@flyandlure.org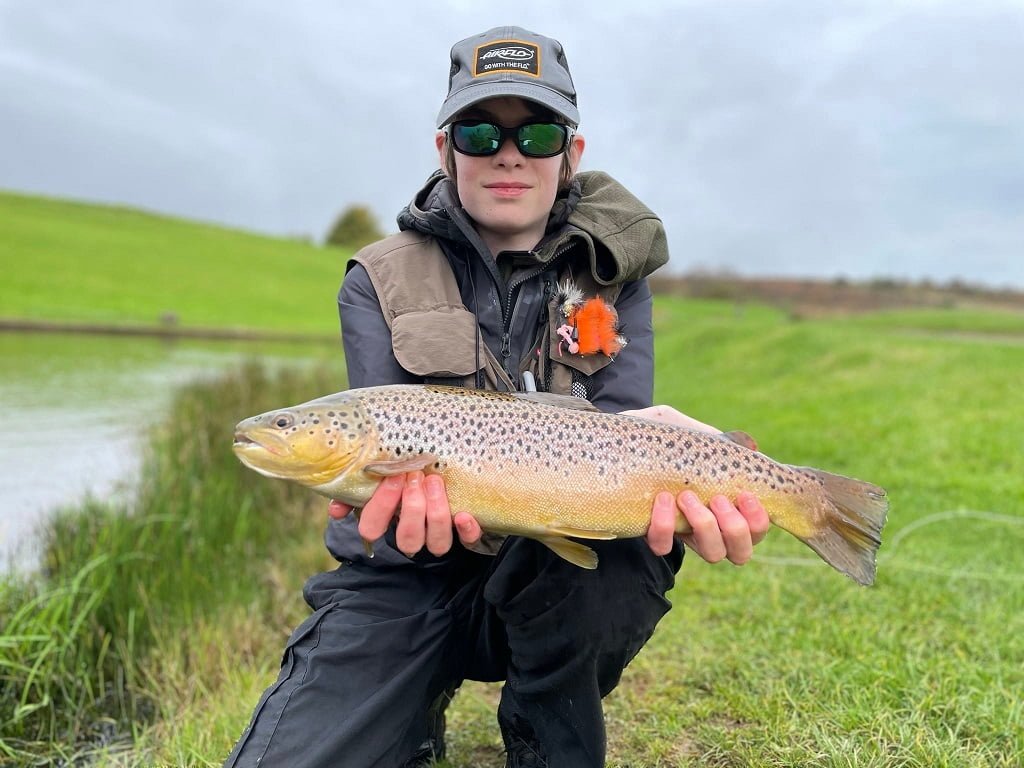 Image credit: Matt Clark 'Fly and Lure'
Ladies Team Fly Fishing Competition Llyn Gwyn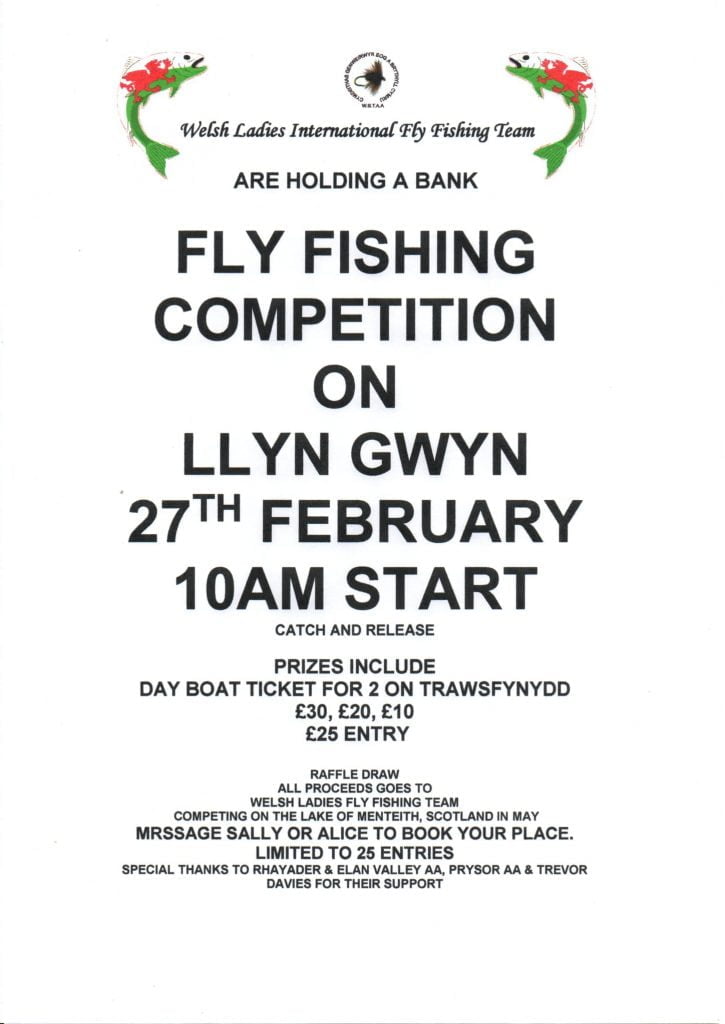 Dolygaer and Pontsticill Match Calendar 2022
Merthyr Tydfil Angling Alliance have announced a match schedule for 2022 for the popular Dolygaer and Pontsticill reservoirs.
Fixtures can be found here: https://www.mtaa.co.uk/pontsticill-and-dolygaer-fixtures/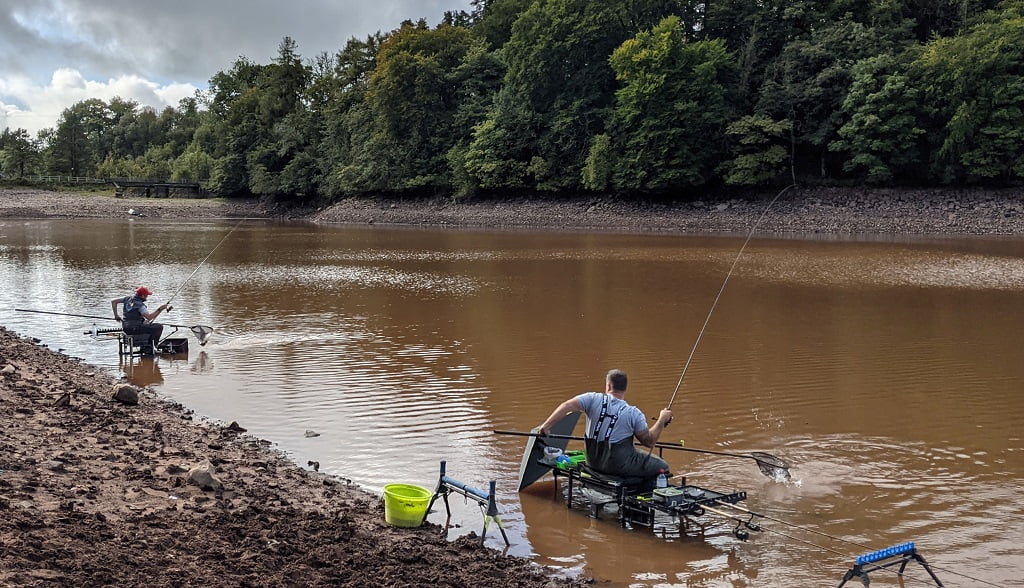 Angling Events Wales - Winter 2021/2022
17/12/21 to 02/01/22 – Take A Friend Fishing this festive season
Between Friday 17th December 2021 and Sunday January 2nd 2022 (inclusive), existing rod fishing licence holders in Wales can register for a FREE one-day Natural Resources Wales rod licence worth £6 so they can take someone they know fishing. More information here.

15/12/21 – Merthyr Tydfil Angling Alliance fly tying sessions.
These will start this week on Wednesday 15th December at the ex service mans club in Merthyr Tydfil at 7pm.
This weeks session we will be going back to basics looking at tying techniques, tools and sharing our experiences.
The two patterns that we will be developing our techniques are a pheasant tail nymph variant and Olive Emerger. Both are must have patterns for the river Taff and Usk.
The cost for the session is £5 for members and £10 for non members.
If you are interested in attending please email the secretary sec.mtaa@gmail.com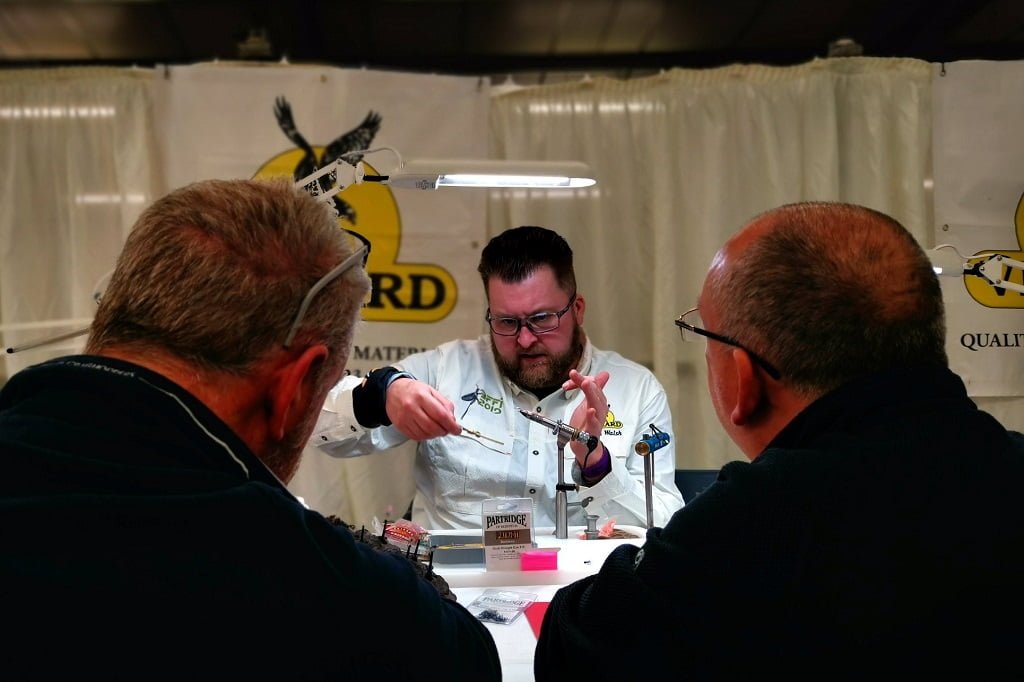 October 2021 to April 2022 – Fly Dressers Guild Cardiff
The Cardiff branch meets on the first Monday of every month. Details below: