Trout Fishing in the Brecon Beacons – 5 Fly fishing lakes
The Brecon Beacons National Park includes some of most iconic upland areas in south Wales, with their distinctive rounded hills, flat topped mountain peaks and steep valleys, which are clothed in every conceivable shade of green and brown.

The Beacons really are an incredible place to spend your time outdoors and what's more, they are just a 40-minute drive from Cardiff and the M4 corridor. Better yet, they offer superb fishing for brown and rainbow trout in many cold clear lakes.

But why is this? Throughout the Brecon Beacons flow numerous small rivers, which are the headwaters of Welsh river systems such as the Taff, Tawe, Usk and Neath. In the Victorian era many of these streams were dammed to form large water supply reservoirs and lakes, which in turn has created some fantastic opportunities for stillwater trout angling.

With nearly 20 lakes in the Beacons area you will be spoiled for choice when it comes to places to fish, but here we have picked out five of the best fly fishing venues, with an emphasis on their tranquil location, scenic appeal and importantly the beautiful, free rising trout that inhabit them.

1. Tal-y-bont reservoir

The majestic, two-mile-long windswept expanse of Tal-y-bont reservoir is home to a large head of indigenous brown trout. With a geology of old red sandstone, not dissimilar to the nearby river Usk, it is well known for producing quality trout that thrive in the fertile water. The wild trout average around a pound in weight, with many ranging to 2lb or more. The lake produces fish to over 4lb every season and with a catch and release policy recently introduced, the fishing in improving every year.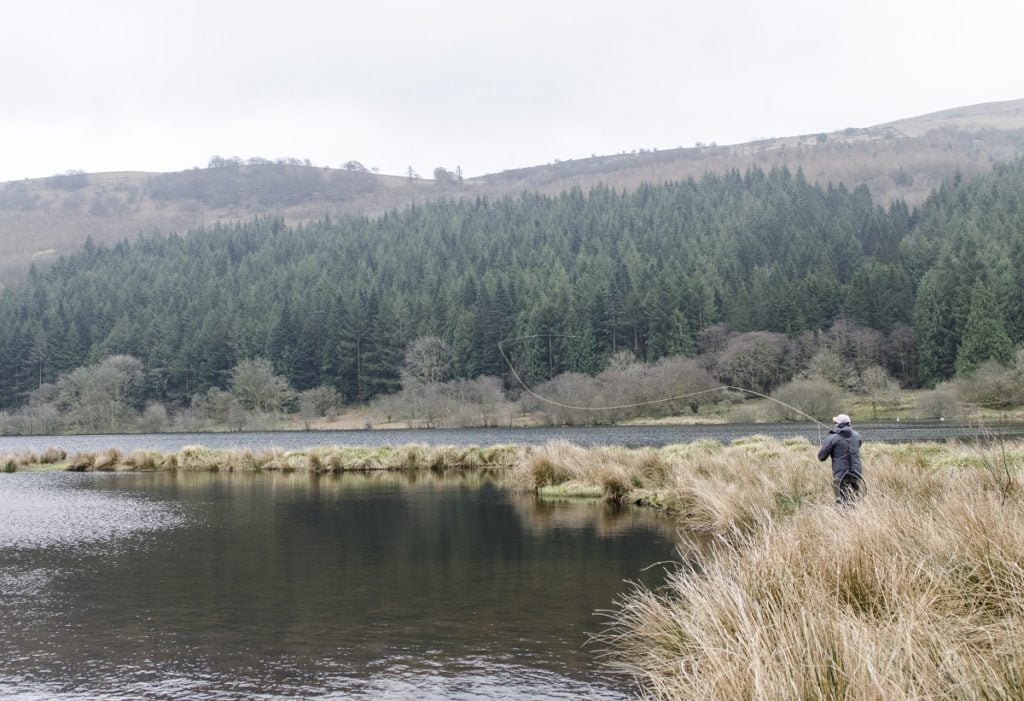 Tal-y-bont's 622 feet elevation means spring arrives here just a little earlier than other upland lakes and reservoirs in the region. Tal-y-bont also has large areas of shallow water, which heat up quickly, ensuring it fishes well from opening day on March 20th. So, it's a great place to enjoy some early season sport. In the summer, evenings are the best time, when hatches of buzzer and terrestrial insects bring hundreds of rising trout to the surface. 
 
Tip: Roam and fish. At 320 acres you will need to move about to find the fish. Look for river channels and gaps next to weed beds. Once you find the trout, sport can be hectic! 
 
How to Fish: Day tickets are £13. Season runs from March 20th to 17th October. Fly fishing is the only method permitted. Book day tickets online with the Fishing Passport HERE. 
 
2. Cantref Reservoir – Cwm Taf 
 
If you have ever travelled along the A470 in South Wales, you may have noticed some lovely looking reservoirs in the Brecon Beacons on your way to, or from Cardiff. This scenic chain of three are known as the Cwm Taf reservoirs, built in the Victorian era as a water supply for Cardiff and the South Wales valleys. 
 
At 40 acres or so Cantref is a perfect size for bank fishing, with a mix of easy and difficult shoreline access making for interesting and engaging fishing. Being fed by two decent feeder streams including the embryonic river Taff, it has a decent head of naturally producing wild brownies. These native fish can run upwards of a pound, although 10 oz is usually the norm. On a fine summer evening you can often find these fish rising at the neck end of the reservoir to prolific hatches of black buzzer, or to terrestrial insects being blown off the neighbouring hill sides.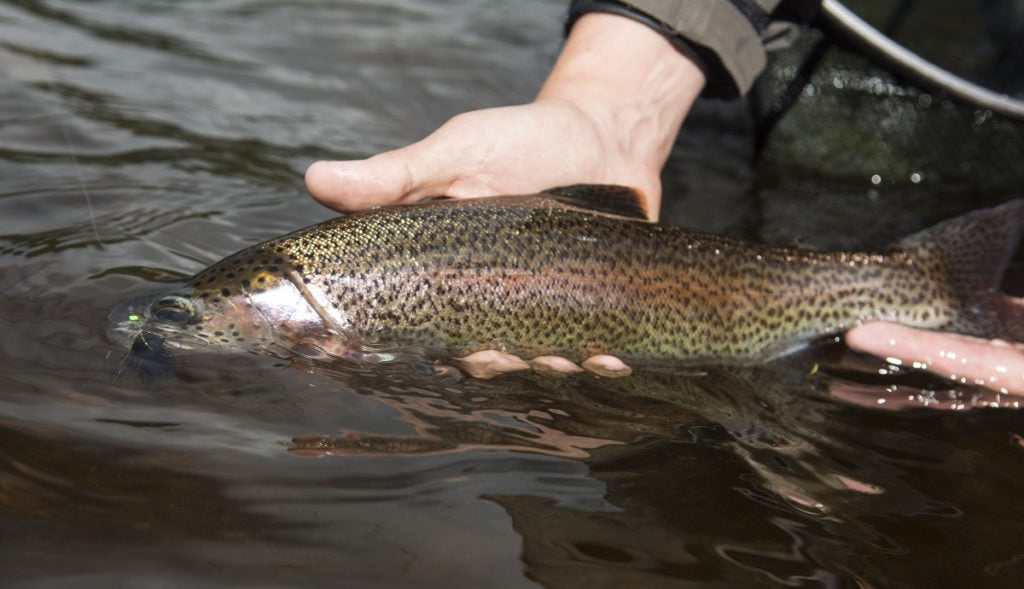 Cantref is also trickle stocked with 600 quality rainbow trout over the season, allowing the reservoir to remain open all year, thus providing decent 'back end' sport in an area of south Wales where many other large stillwaters have shut their doors. The rainbows are not just any old stock fish – they come from the llyn y fan fach hatchery and have to be seen be seen to be believed, they are razor finned and heavily spotted, in fact they could pass as wild fish.

Tip: The fish are never far out on Cantref, concentrate on fishing a short line and watch out for takes right under your feet. Weighted black lures work well fished on floating lines.

How to fish: The fly fishing only reservoir is run by Merthyr Tydfil Angling Alliance. Catch and release is encouraged and all brown trout must be returned before the 20th March or after the 17 th October in any year. No day tickets are available, but anyone can join the club at just £65 a year and fish Cantref and also Talybont on a season ticket. Join through the Merthyr Tydfil AA website.

3. Crai Reservoir – Sennybridge

Situated on the way to the Swansea valley from Sennybridge, Crai (or Cray as its anglicised form) is a large water supply reservoir in an incredibly scenic spot high in the western Beacons. From the road above the reservoir the views are something special. Rounded mountains sweep far above, and with banks festooned with blossoming hawthorn trees it's simply idyllic. It certainly has a remote feel – and has been listed as a top ten place to go stargazing in Brecon on the Brecon Beacons National Park.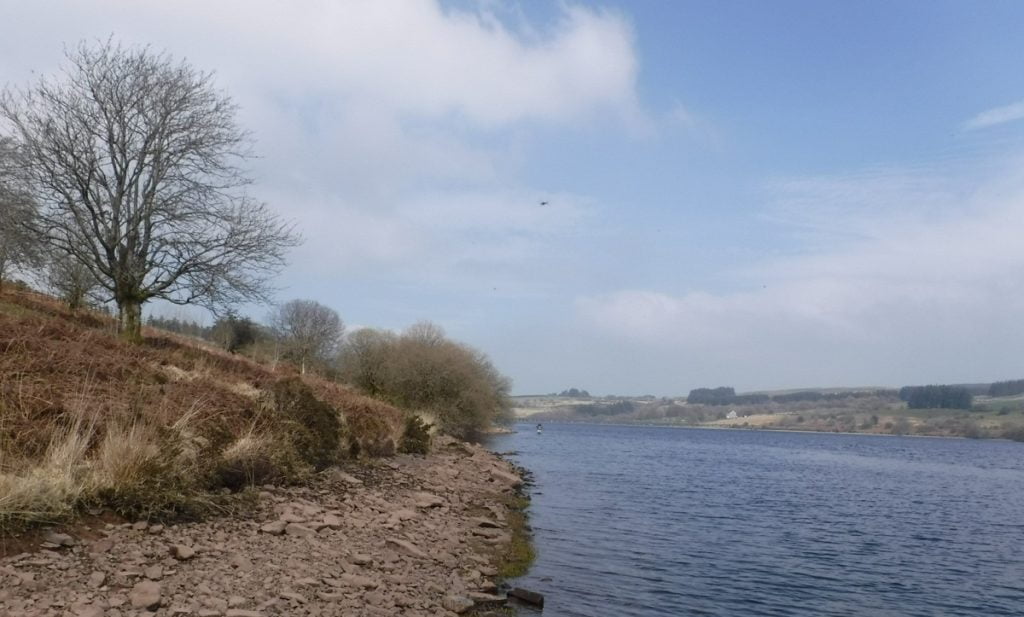 From a fishing point of view Cray is completely wild – the trout are natural and indigenous. Beautifully marked, these wild trout are free rising and average about 3/4lb. There are plenty of pound plus fish with specimens to over 2lb caught frequently. There are rumours of 5 and 6lb fish, which could be possible as the lake has plenty of food in it, again thanks to the local geology of red sandstone. 
 
If wandering the banks in isolation, with fresh air and wildlife for company is your thing, then Crai reservoir is the place in the Brecon Beacons to get outdoors with the fly rod and enjoy. 
 
Tip: Try each corner of the dam and use small black nymphs, crunchers and cormorants. These areas trap a lot of food due to wind and currents. The far bank between the trees is also well worth the walk. 
 
How to fish: Fishing is open from the 1st April to the 30th September and is by fly fishing only. Cost is £15. Pay for your ticket at the nearby Cnwer estate farm – simply go into the farmyard and post the money into an honesty box in the courtyard. There is holiday accommodation on site which offers FREE fishing – a great place to combine a family holiday with some fly fishing. 
 
More info: https://cnewrestate.co.uk/brecon-beacons-holiday-rental 

4. Usk Reservoir – Trecastle 
 
One of the largest reservoirs in the Beacons, the Usk is named so because it dams the infant headwaters of the mighty River Usk. The 280 acre Usk reservoir is located in dramatic, remote countryside surrounded by pine forest and moor in the far west of the beacons, the Black Mountain range. The venue is regarded as one of the best reservoir trout fisheries in Wales, with the scenery to match.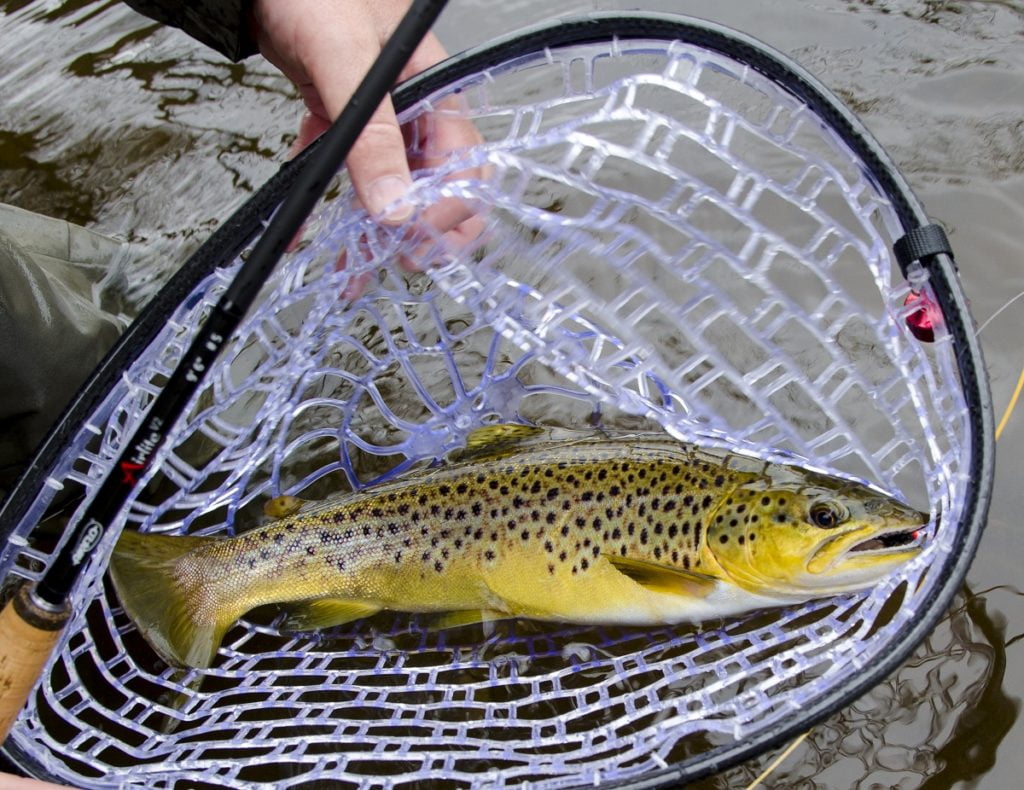 The Usk reservoir holds plenty of stocked rainbow trout, wild brown trout and also perch. It can be fished with the fly rod, or by spinning, or worm fishing making it a great venue to try if you are a beginner or with the family. 
 
Tip: Small spinners including mepps and tobies work well. Remember to fan cast the water and move spot if the takes don't come. 
 
How to Fish: Adult Day ticket prices range from £22, including an adult and child ticket which enables you to keep 6 fish. Season runs from March 20th to 17th October. Book day tickets online with the Fishing Passport HERE 
 
5. Beacons Reservoir – Pen-y-Fan 
 
The Beacons reservoir is the highest in the Cwm Taf chain, just a stone throw from Pen-y-fan, South Wales highest mountain. Although on the side of the A470, its arguably one of the prettiest reservoirs, with its pine covered island and wooded banks.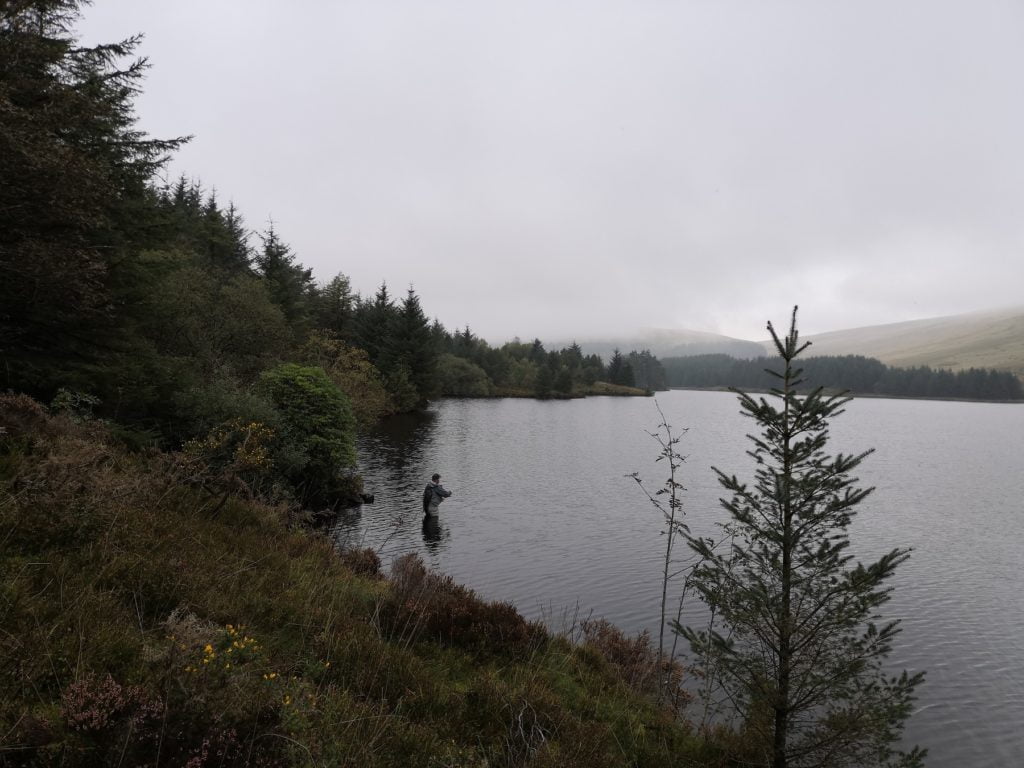 When you are fishing the far side, you feel like you are well away from civilisation – its well worth the short walk. Fishing wise, Beacons is full of wild brown trout and is run as a wilderness fishery on a catch and release basis. The pretty trout average about 3/4lb, and the lake has the potential to produce larger fish – between 2lb and 4lb are a genuine possibility.  
 
Why not do a bit of fly fishing, then hike to the to the top of pen-y-fan for some spectacular views of the reservoir? The parking laybys on the side of the Beacons allow for easy access, from here  you can walk to Pen-y-fan, and avoid the carp park traffic. 
 
Tip: The bays on the far bank are very good, especially where small streams enter the reservoir. Expect to find fish close into the banks. Dry flies such as black hoppers can work well here in summer.   
 
How to Fish: Fly fishing only. Day tickets are £13. Season runs from March 20th to 17th October. 

Book day Tickets online with the Fishing Passport HERE  or join the Osprey Fly Fishers club.

Words: Ceri Thomas
Images: Ceri Thomas & Tim Hughes