The Fishing Literature Of Wales Through The Ages
Thanks to its natural beauty and abundant fish stocks Wales has been a popular angling destination for hundreds of years. These early visitors often wrote about their experiences with poetic flair, producing literature that would inspire for centuries to come. Wales also has a rich heritage of home grown angling writers, who have written about diverse angling subjects.

Here Paul Morgan of Coch-y-bonddu books explores the varied and prolific fishing literature of Wales.
1. The Trout of the Mountains
"At the first cast I took a trout of three pounds; at the third, one on my stretcher and second dropper, and landed both. All the fish in the pool seemed collected round the place – the fools! The moths were irresistible in their attractions…The day broke, and found us with eighty-one fish; none small."
That was Captain Thomas Medwin describing a night's fishing on Llyn Bugeilyn near Machynlleth in his book, The Angler in Wales, in 1834.

Medwin was a romanticist and seems to have got rather carried away on his visit to Bugeilyn. He was on an angling tour of Wales with his friends, Shelley and Byron, so maybe their night on the mountain involved magic mushrooms as well as large trout!

Medwin purported to have written the book while staying at Pennibont (Pen-y-Bont) on Tal-y-llyn, and his descriptions of Tal-y-llyn trout are much more believable, stating that they averaged less than half a pound. I like his cast for the lake, "A cocobundy, a grouse hackle, and a blue gnat: but all larger than the natural fly."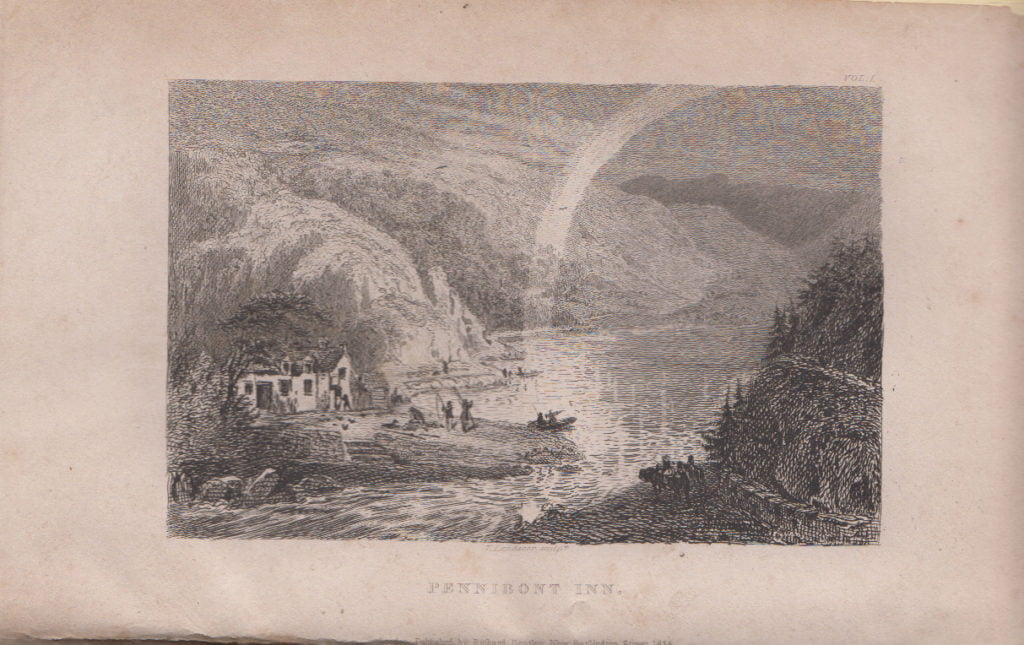 In 1860 John Henry Cliffe published Notes and Recollections of an Angler, sub-titled "Rambles among the mountains, valleys and solitudes of Wales. With sketches of some of the lakes, streams, mountains and scenic attractions in both divisions of the Principality."

Cliffe's descriptions, based on his own experiences, the fishing in the lakes and streams of North and Mid-Wales, with much detail on Tal-y-llyn, Bugeilyn, the Tal-y-bont and Cadair Idris lakes, Ardudwy and all of Snowdonia, with three short chapters on the Teifi and the Teifi Pools. This is still a valuable and practical guide to the mountain lakes.
Cliffe's book is small, and certainly useful enough to slip into the pocket on a fishing trip, though maybe a little expensive for that purpose.

The book that I most often turn to is Walter Gallichan's Fishing in Wales, published in 1903. Gallichan, who lived in Llandrindod Wells, was an angling journalist (one of the first!) who wrote much for the angling press, and also much publicity material for the railway companies and others. His book covers all kinds of fishing throughout Wales, but I find him especially interesting when he describes his walking tours to the hill lakes, often fishing several lakes in a day.

Most of the waters fished by Gallichan around 1900 and Cliffe in 1860 seem to have changed very little over the past 150 years. The cloth binding of Fishing in Wales sports a handsome gilt design of an angler, based on a studio portrait of Gallichan himself (itself used as the frontispiece). In the 1980s the image was adopted as the logo of angling booksellers and publishers, Coch-y-Bonddu Books. I hope Walter would have approved!
Another great reference book is The Lakes of Wales, published in 1931. The author, Frank Ward, though not an angler, listed and described all of the lakes in the country, together with some information on their fish and fishing.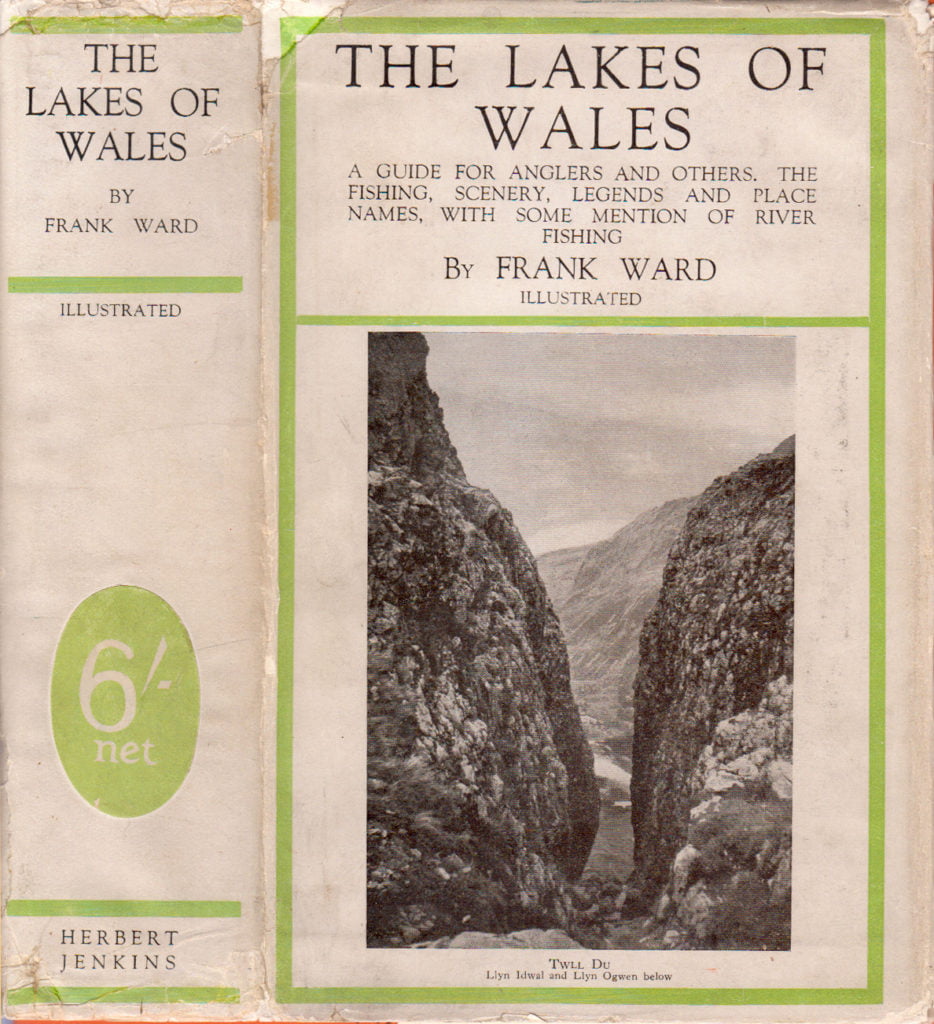 Ian Niall was a wonderful writer. His Trout from the Hills, published in 1961, and again in 1991, tells tales of fishing the high mountain lakes of North Wales, though some of them, like much of the best in literature, are a little far-fetched.
2. Fly Patterns for the Rivers and Lakes of Wales
George Agar Hansard, writing in the same year as Captain Medwin, listed fishing stations throughout the country, on both lake and river, as well as giving a very useful list of fly patterns. In Trout and Salmon Fishing in Wales he lists the natural flies "peculiar to the Welsh rivers, with the best mode of imitating them." Although Hansard's flies have English names, they are based very much on feathers from wild birds and natural materials.
"It will be quite sufficient here to observe, once for all, that any fisherman, possessing even the most ordinary skill, will find sport even to satiety in one or other of these lakes, and the streams flowing out of them. The Welsh brown or cob-fly, dressed lighter in proportion as the season advances, the blue dun, in all its various shades, from dark to bright; the indispensable coch y bondy, the wren's tail, the orl, the sky-blue, and the black gnat, form a list of flies sufficient, as old Walton observes, to condemn every trout in these waters. Those who do not tye their own, will do well not to make a selection until in the neighbourhood where they intend to sport, as long experience enables the native angler to adapt his colours to the waters of his neighbourhood with a precision to which a fly-maker less favourably situated could not be expected to attain."
It was not until 1899 that we got our first book on flyfishing in the Welsh language. Like Hansard, William Roberts of Bethesda based all of his fly patterns on materials readily to hand; however Roberts named his flies after the materials used to tie them. His booklet, Llawlyfr y Pysgotwr, (or Fisherman's Handbook), lists fly patterns for his immediate locality, the Ogwen Valley in Caernarfonshire. All of his flies have names like Pluen betrisen ar gorph o flewyn clust ysgyfarnog (Partridge and Hare's Ear), and he makes no reference to those English patterns which had long been used in Wales. Original copies of Llawfyfr y Pysgotwr are exceedingly rare, but there is a new translation due to be published in 2021.
In 1984 Moc Morgan produced Fly Patterns for the Rivers and Lakes of Wales, which brought together all of the recorded flies for salmon, trout and sewin. It was revised in 1996 as Trout and Salmon Flies of Wales, with exactly the same fly patterns but with much better photographs of the flies.
Emrys Evans, Manod, a well-known North Wales fisherman and a keen historian of Welsh angling, formed a collection of 133 fly patterns used in the multitude of hill lakes in the area of Blaenau Ffestiniog, together with extensive manuscript notes in Welsh. After his death in 2008 his family published these notes, together with excellent photographs of all of the flies, taken by Emrys's son-in-law, Gareth Tudor Jones. Plu Stiniog was initially only published in Welsh, but in 2010 Coch-y-Bonddu Books of Machynlleth published an English translation. Like the flies of William Roberts, Emrys's flies were tied with local materials, and most have Welsh names.
There is more to Wales than just the mountains and valleys of the north and west. To the east lie the great salmon rivers of Dee and Wye, both of which had their own salmon fishing writers. Jack Hughes-Parry wrote of the Dee, and J. Arthur Hutton and H.A. Gilbert of the Wye. However in the twenty-first century the rivers of the Welsh borders, Usk, Severn, Wye and Dee, and their tributaries, are best known for their trout and grayling fishing. The fly patterns of the border rivers were collected by Shropshire farmer, Michael Leighton, who published Trout Flies of Shropshire and the Welsh Borderlands in 1987. This remained the definitive listing of trout flies for this area until Roger Smith brought together all of the previously published material in Flyfishing the Welsh Borderlands (2011). As fly fishermen from all over Europe now visit the Welsh borders in pursuit of Usk trout and the specimen grayling of Dee, Severn and Wye, these patterns have become more and more popular.
3. Sewin and Salmon
In literature, and in practice, sea-trout (or sewin, as they are known in Wales) were historically fished for using stepped-up trout flies and methods. Although I am sure that locals had more effective methods, these were little-known to the visiting angler until the publication of Sea Trout Fishing: A Guide to Success by Hugh Falkus in 1962. Primarily written about his local river, the Cumbrian Esk, the revolutionary methods that he recommended (primarily night-fishing with sunk line and large lures) were also perfect for the sewin rivers of Wales. This, and Falkus's later book, Salmon Fishing: A Practical Guide (1984), are beautifully written and both are first-rate introductions to salmon and sea-trout fishing in Wales – or almost anywhere.
Two leading Welsh anglers collaborated in Successful Sea Trout Angling (1989). Dr. Graeme Harris, a principal fisheries officer with Welsh Water, and well-known angler and writer Moc Morgan, both sewin-fishers of huge experience, especially on the west coast rivers, Tywi, Teifi and Dyfi, teamed up to produce a book which was wider ranging than Falkus, and even more applicable to Welsh sea-trout fishing.
Right up-to-date is Sea Trout Tips, Tricks & Tribulations (2017) by Llandysul sea-trout guide, Steffan Jones. With contributions by Moc Morgan and many others, this is the most comprehensive book on sea-trout fishing, especially in Wales, covering all methods and all types of water.
4. The Fisherman's Choice Series
I'll finish with two attractive and collectable books published in the Fisherman's Choice series about sixty years ago. A Snowdon Stream (The Gwyrfai) and How to Fish It by novelist W.H. Canaway (1958) is a passionately written book on fishing for salmon, trout and sea-trout on the Afon Gwyrfai, a North Wales spate river that runs from Llyn Cwellyn to Y Foryd, near Caernarfon. It is beautifully illustrated by Denys Watkins-Pitchford ("BB").

Also illustrated by "BB" is Trout Fisherman's Saga (1959) byIeuan D. Owen. This is the story of the famous angler Dai Lewis, "the wizard of the Teifi," and includes recommended flies for the Tregaron area. Incidentally, in 1967 Moc Morgan also wrote a book, in Welsh, about Dai Lewis: Yng Nghysgod Dai which translates as In the Shadow of Dai.
There are many more books that just contain a chapter or two on fishing in Wales, or which include fly patterns for Welsh lakes and rivers. So, when the river is showing its bones, or bank-high with flood-water, don't despair. Go fishing for angling treasures in the second-hand bookshops of Wales!
© Paul Morgan, Coch-y-Bonddu Books Ltd., 1st December 2020.