Sharing flies with a stranger – my look back at 2020 by Gayle Marsh
Now that the year has turned we can start looking forward to the start of the brown trout season again and reflect on an incredible 2020. I will remember it as the year I learned what fishing really means to me as we lived with the threat of Covid-19.
No sooner had the season started in March we were put under national lockdown. Travel was restricted to essential journeys only, fishing and was not allowed. By the end of May First Minister Mark Drakeford announced an easing of measures. Anglers in Wales could now drive to go fishing within their local area. At last there was an opportunity to escape even if it was to venture no further than five miles from home.
Not being able to get to my favourite waters in mid Wales I found a little piece of heaven on the river Tawe just a mile from home. It was where it all started for me as an eight year old. The Lion pool in Abercrave.
The angling skills of an eight year old me were much sharper than the 56 year old. My first two visits to the river drew a blank, that however didn't seem to matter. I was happy just to get out, pull on my waders and find some solace close to water. I began to appreciate the benefit to my mental health. The effect of lockdown had taken its toll. We were now living through a pandemic in a world where social distancing had become the norm. Human behaviour was being forced to change and I was finding that difficult to cope with.
Thankfully after some words of encouragement and advice from a couple of club members my catch rate started to improve and I couldn't wait to get to the river at the end of each working day. The magic number was nine. However long the fishing session was I always seemed to have caught nine fish. But it wasn't about the number of fish being caught it was more about the peace and tranquillity. I progressed from fishing a team of nymphs to targeting rising fish with a single dry fly. I learned a lot during those few months the fish were always one step ahead. They were the best teachers and that time was precious.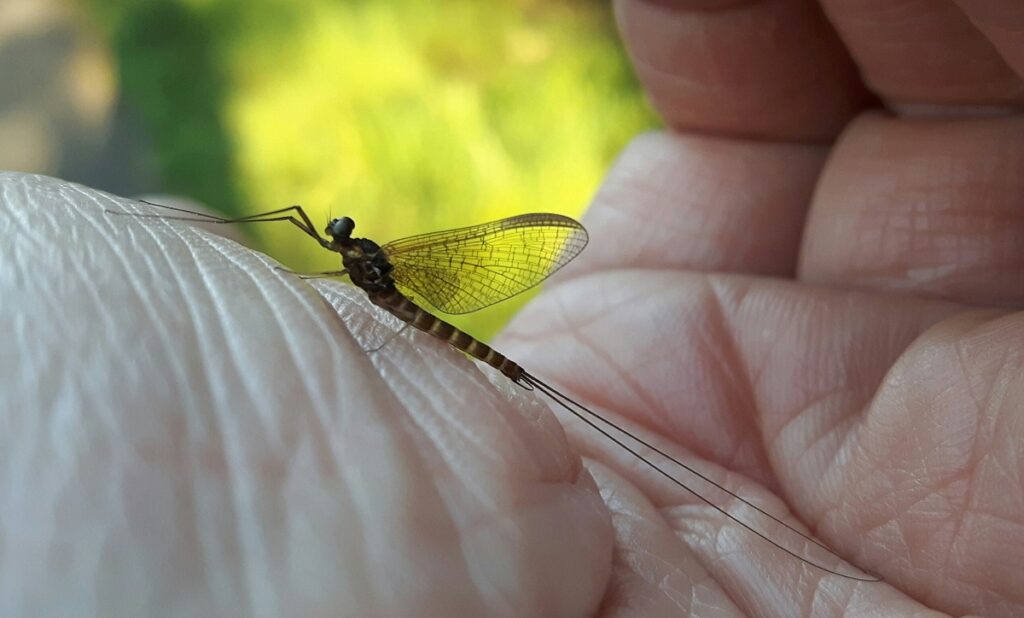 By the middle of July we were able to travel again. Crai reservoir was my nearest wild brown trout water and I was soon back into my comfort zone. I love this place. There is something special about driving over the cobbles through the arch into the farmyard at Cnewr Estate and posting your envelope with your payment into a letterbox fixed to the stone wall. As you drive down to the dam you have to make a decision as to which bank you are going to fish. If the water level is high then you are restricted to fishing between the trees which hug the bank and hang out over the water. There is always a good fish to be found hanging around there and it's always worth a cast or two.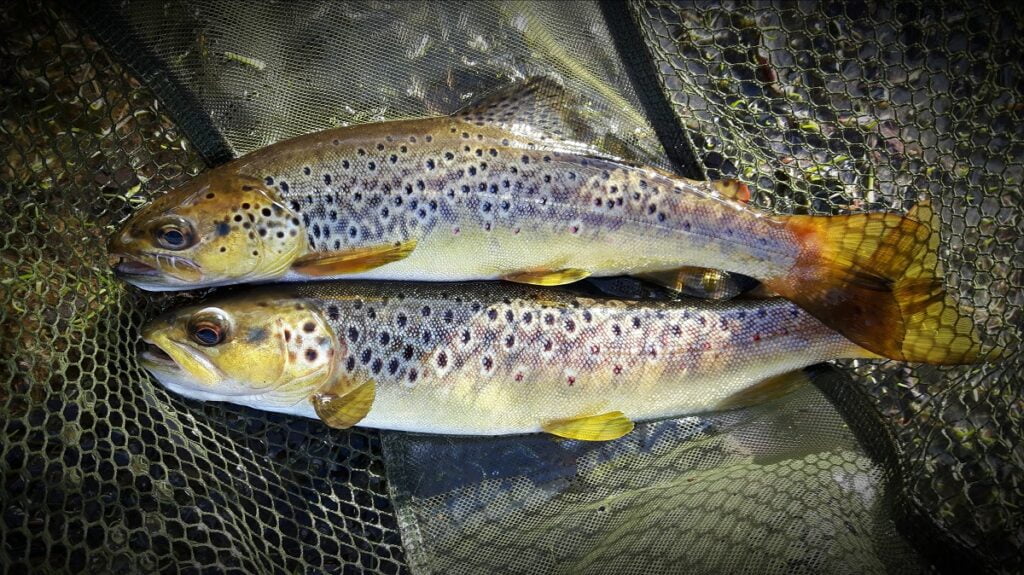 When the level drops the reservoir opens up and you can cover a lot of water. My cast of three flies would be Kate Mclaren, Bibio, Mallard and Claret. These wild brown trout are lightning quick and will take your fly a few feet from the bank. At the end of the day the dries go on. It's my favourite time of the day, targeting rising fish during the evening rise as I work my way along the bank back to the car. I can lose track of time and have on occasion found myself having to walk back to the car in the dark using the torch on my phone to find my way.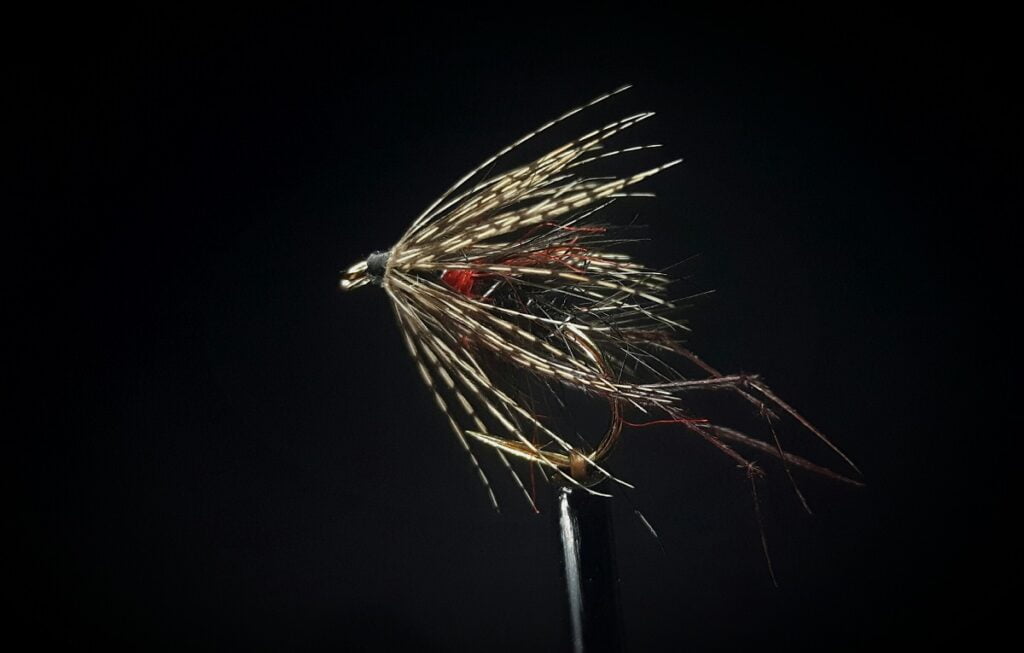 It's not often you bump into another angler but when you do it's nice to stop and chat about methods and fly patterns. We all have our own favourite go to pattern and although the pattern might differ the colour combinations tend to be the same. One evening as I was leaving Crai there was another angler packing up after a days fishing. He had been fishing the opposite bank to me, I stopped to ask how he had got on. It soon became apparent that we had met at the BFFI. It's a small world.
During August and September I was back again fishing in Mid Wales. Keeping a watchful eye on the weather forecast during the week the wind direction would help decide the fishing venue. It's a two hour drive to Teifi pools and I had asked my brother if he would like to join me. Chris is a passionate pike angler and this would be an introduction to wild brown trout fishing for him. Our first stop was the Talbot hotel, Tregaron to pick up our permits and enjoy a coffee. I made a mental note to book into the hotel and enjoy a long weekend fishing in mid Wales sometime.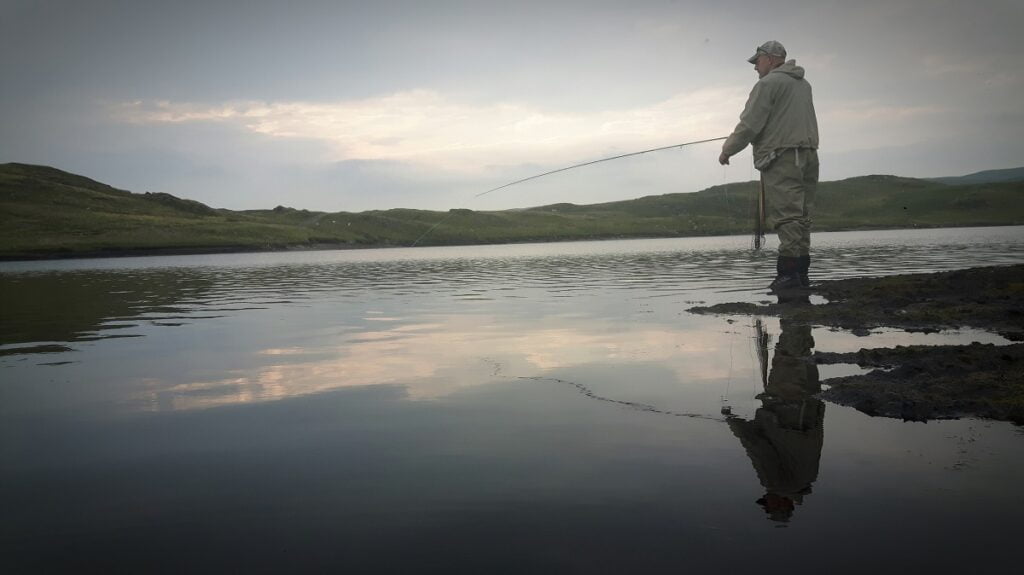 As we drive up from Pontrhydfendigaid turn right in Ffair Rhos the road begins to narrow and soon it's a single track, it twists and turns as it climbs up to the "Great Desert" of Wales. From the road we catch our first glimpse of Llyn Teifi and then Llyn Hir before we turn down the track and we get to Llyn Egnant. It's like seeing an old friend again.
After quickly tackling up we head down to the water keeping a good distance apart working our way along the bank. My way of fishing a mountain llyn is to cover the water quickly, keep moving step and cast. It focuses your mind as you search the water waiting for that tug on the line. It's a bright day with little cloud cover and the conditions are not ideal. The fish are not in a taking mood. With just a couple of fish coming to the net we head back to the car for lunch.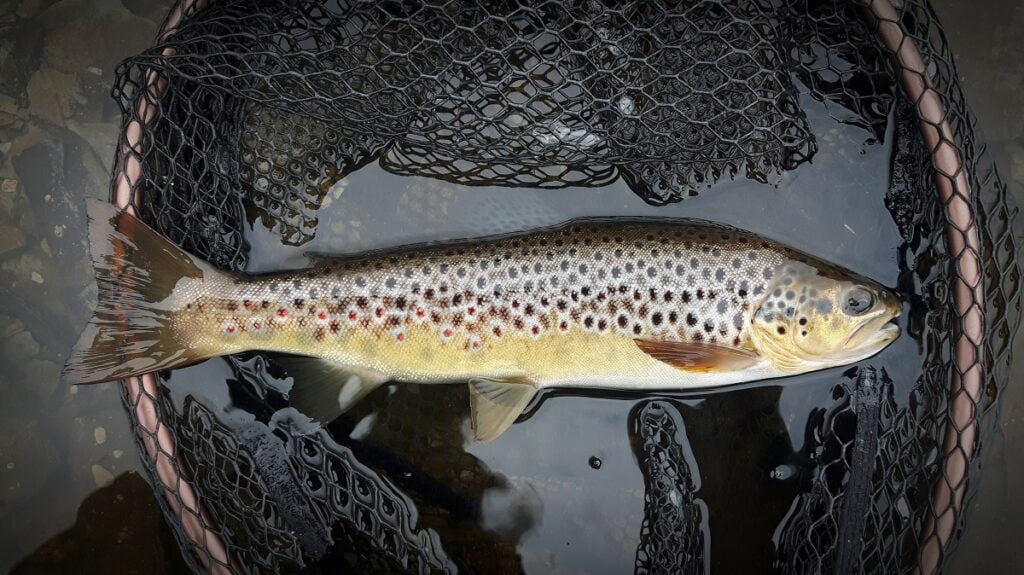 Soon a local angler pulls up and asks how we are getting on. He tells us that the fishing has been tough for a few weeks and he's right about that. It's not long before we have our fly boxes out and are exchanging flies. He has tales of catching big pike locally and my brother's interest rises. Soon mobile phones are out and images of monster pike are passed around before he wishes us tight lines and heads off to fish Llyn Teifi.
Late in the afternoon fish start to move on the edge of the ripple. Chris ties on a bibio hopper and it's not long before he has his first fish. I had great pleasure watching the joy on his face as I slid the net under the fish for him. He suddenly had a sense of purpose and was targeting rising fish. We ended the day with a respectable catch rate despite the unfavourable conditions. I think he was hooked and will be back again.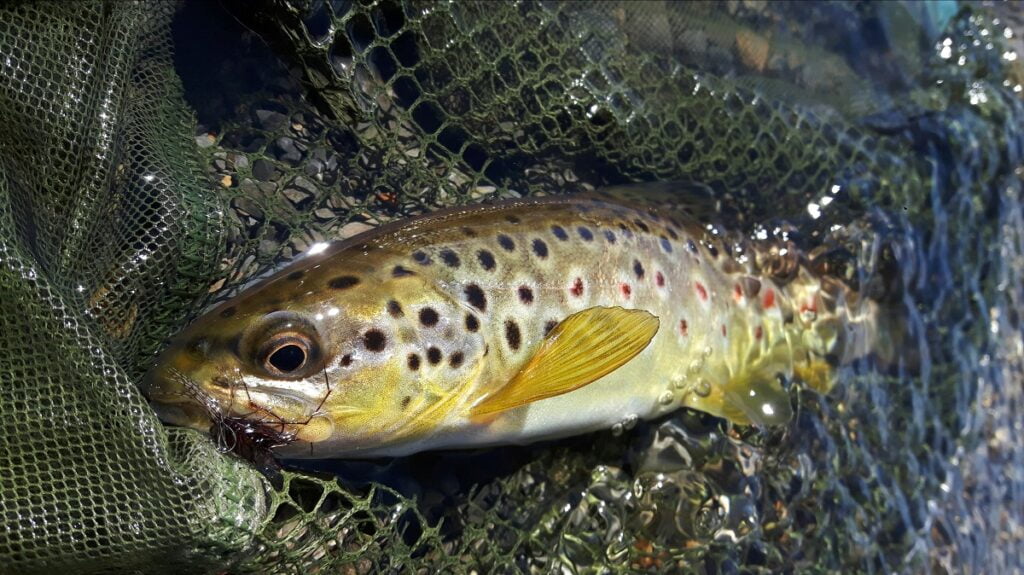 The end of my season was mostly spent in the Elan Valley. I love it there. I'm in my comfort zone and for those few hours I can lose myself completely. First stop is the newsagents to pick up my permit. Claerwen would normally be my first choice of water but this year the water level has been so low due to maintenance work being carried out on the dams I didn't get to fish it.

I spent most weekends on Craig Goch. There is always something to be learned about fishing a stretch of water no matter how well you think you know it. It never stays the same, I guess that's half the attraction. And so it was, those bays and points where I have caught good fish in the past have changed. This means searching for new holding spots it helps to keep you sharp and fit you can walk miles. Finding fish in those new areas just adds a new chapter to be revisited another day when the fishing is hard.
At 56 years old I still have a childlike sense of excitement about a fishing trip. I've been known to get up in the middle of the night to tie up half a dozen flies for the day ahead. There is nothing more satisfying than catching a fish on a freshly tied fly. I'm sure we all agree on that. When I'm trying to outwit a wild brown trout I think of nothing else in the pursuit. Looking back at 2020 fishing has been my salvation, my escape from what has been a world full of change.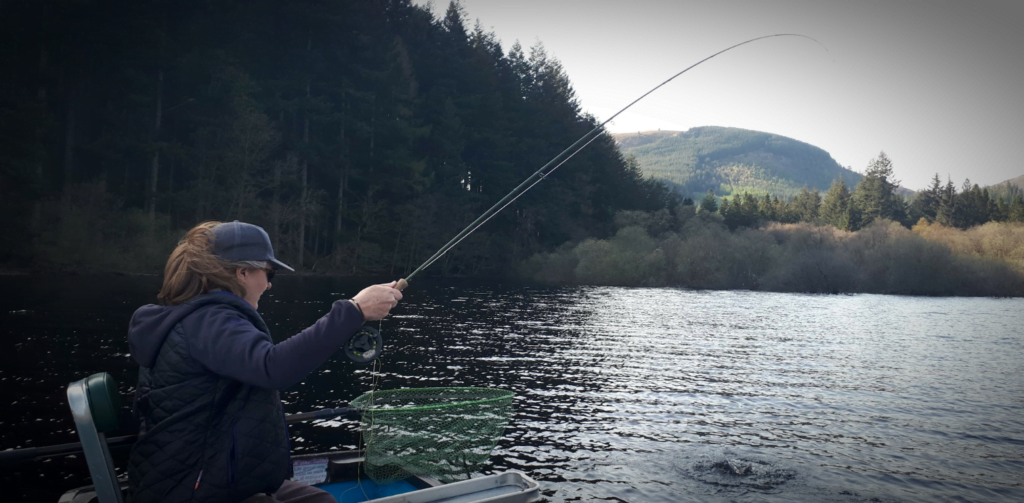 Looking ahead to the coming season I for one can't wait for it to start. It's been a long winter and I need to get back to the familiar rhythm of stepping and casting. I'd like to find some new wild brown trout venues and share a few flies with a stranger I don't think that's too much to ask.
Words & Images: Gayle Marsh