Reservoir bank fishing in Wales – Back end bonanza
Autumn is a fantastic time to fish our larger reservoirs for trout. Here Ceri Thomas samples the great bank fishing sport on Llyn Clywedog fishery, with tips and tactics for bank fishing our larger waters.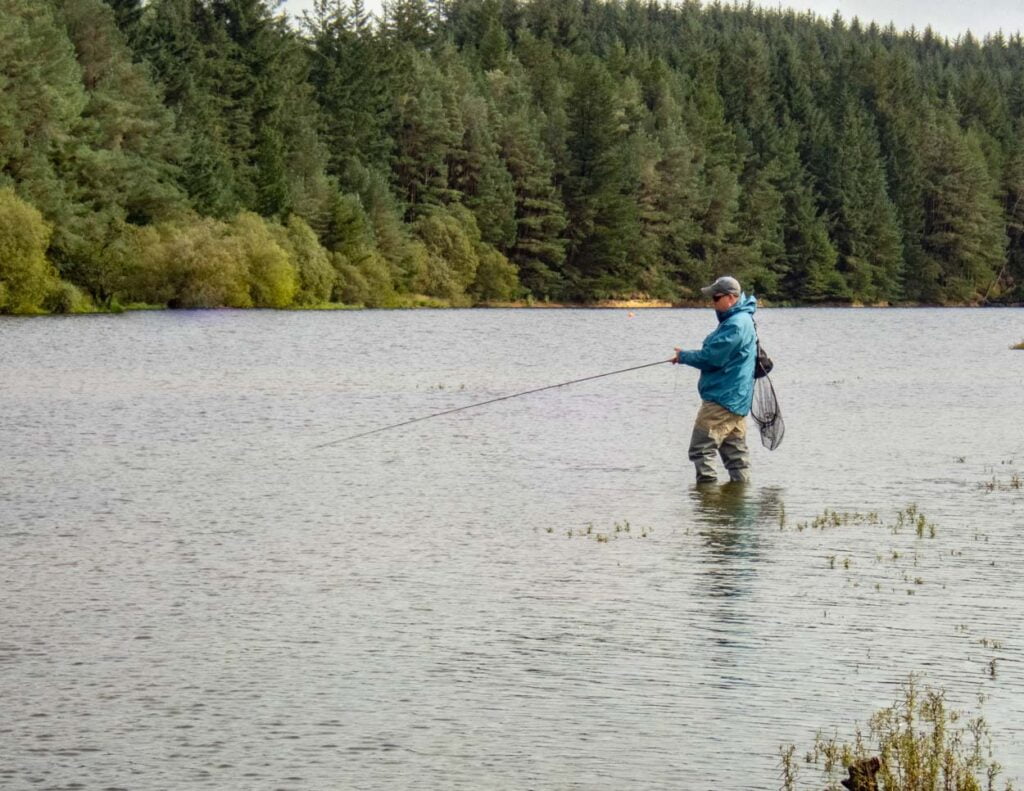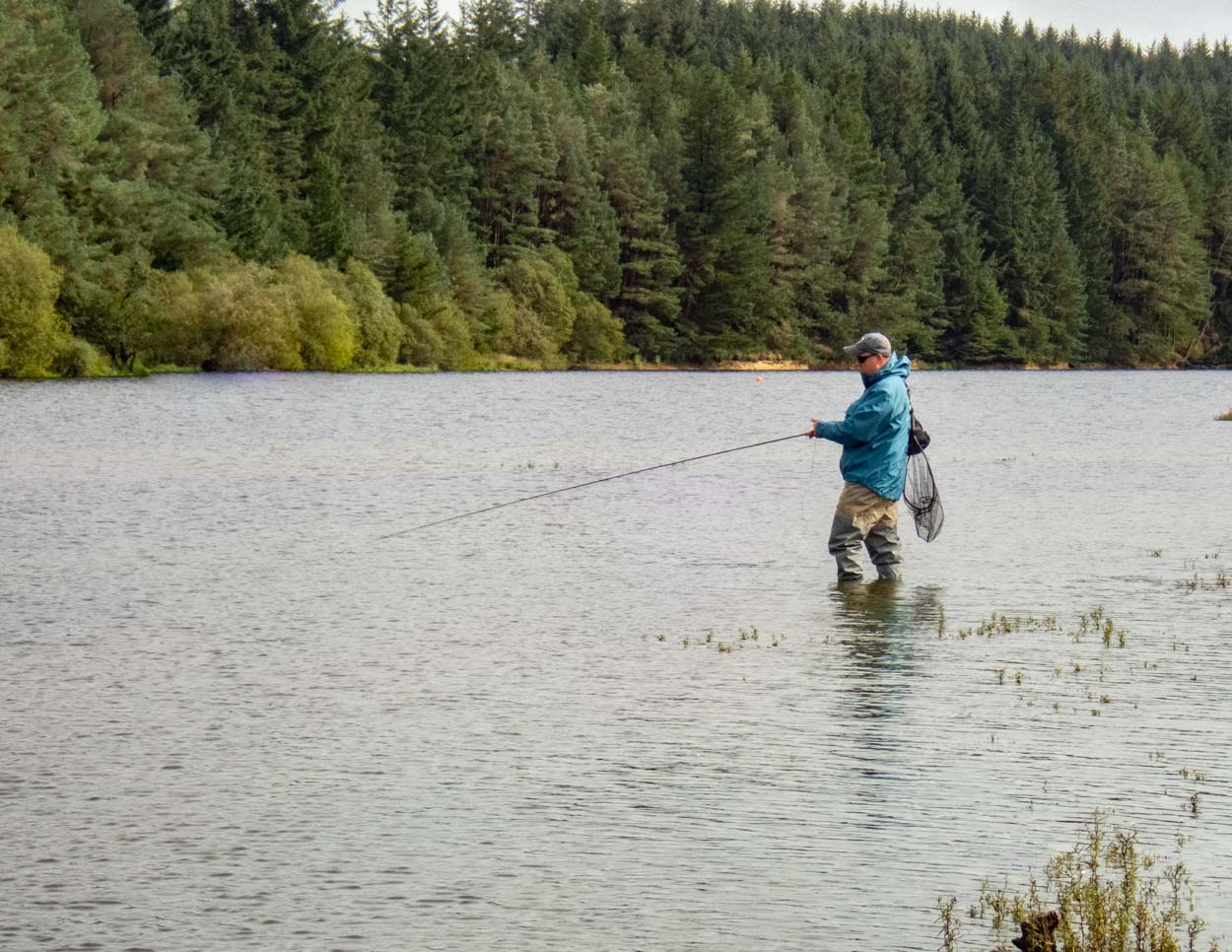 There are many reservoirs in Wales which offer superb bank fishing opportunities, but of them all Llyn Clywedog must be one of the best for hard fighting rainbow trout.
Clywedog is a 615 acre reservoir in the upper Severn catchment that was built in the 1960's. Set in a dramatic steep sided valley the lake winds itself around precipitous hillsides clothed in bracken and stunted trees.
In the skies above, ospreys and red kites wheel, adding to the wild feel of the place. It's a beautiful, breath-taking sheet of water and more easily accessible than you would think. Being well placed mid Wales, it attracts anglers from both the North and the South, and also the Midlands. These anglers are drawn not just by the scenery, but also the fantastic fishing.
From the outset, Clywedog has always been run by anglers for anglers , and over time the fishing has got better and better as the years have gone by. This is due to the superb hard work and management skills of the local Llanidloes and District AA club. The fishery is headed by former world champion Russell Owen and his team of dedicated rangers – many of whom are also leading competition anglers.
The fishery isn't run in a corporate way – everything is done for the anglers benefit by people that know and recognise what they want. All profits are put back into the fishery itself, and in recent times Clywedog has seen a total revamp including an upgrade to petrol boat engines, a much larger and improved boat fleet, a new modern boat jetty and an on-site cabin where you can purchase permits, fishing tackle, snacks, and use toilet facilities.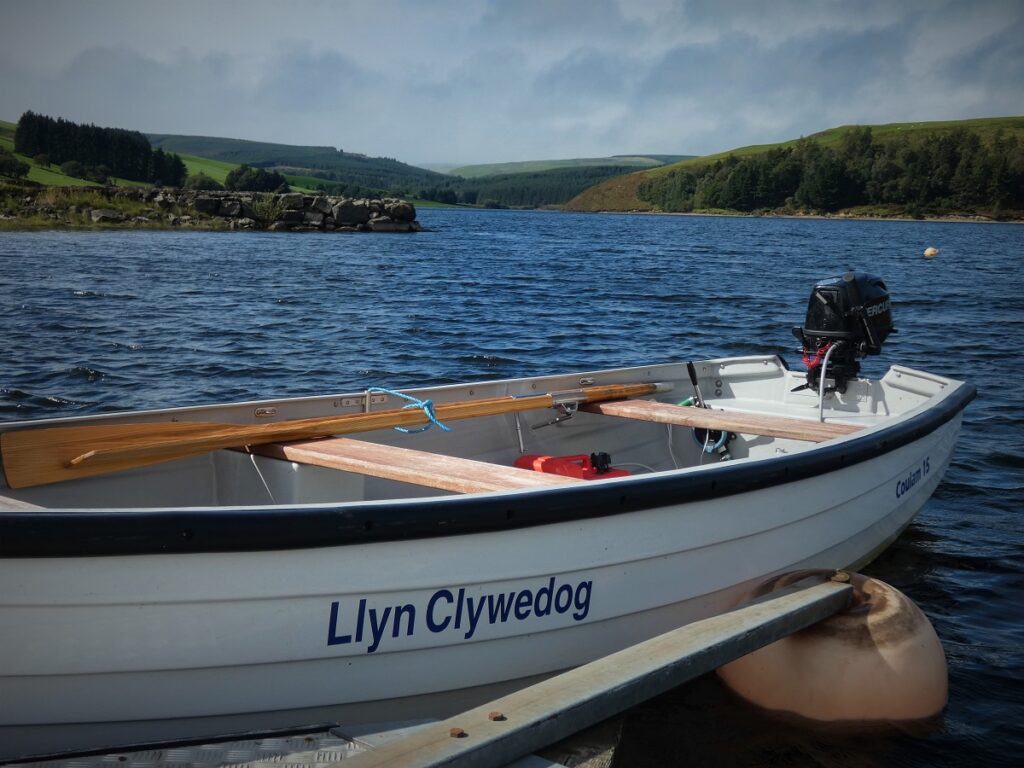 Fish rearing facilities have been upgraded to state-of-the-art modern PVC cages, where the vast majority of the stock is brought on and graded. Being primarily reared in the lake the trout are already acclimatised and fighting fit upon release. This year 38,000 fish went into Clywedog, including rainbows, browns, blues, goldies and tigers, plus there is a head of native wild brown trout – so you never know what might come along and take your fly.
The fishery is also home to some real giants – grown on fish that usually lurk under the cages or by the boat jetty (Gazza's pets) some of these can go over 20lb.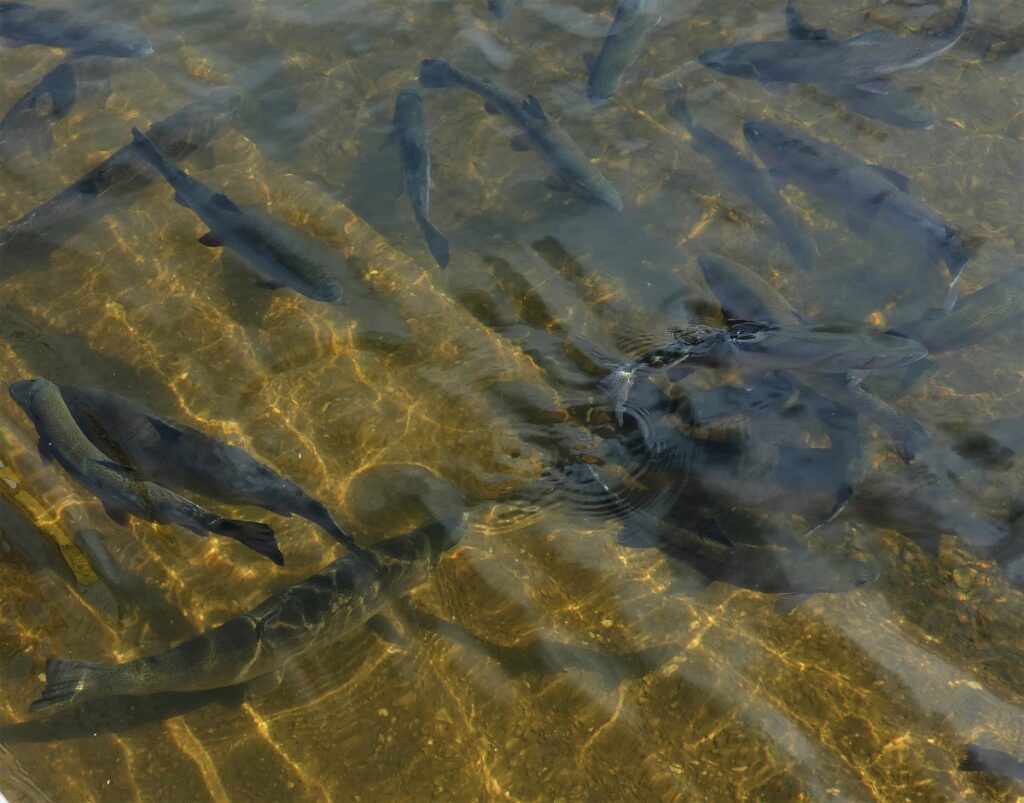 I've been coming up here on and off for over 20 years and although the boat fishing is great there is something about the bank fishing here which gives you a true sense of solitude, with literally miles to explore well away from the crowds. The autumn in particular is a great time for it, with the fish being well up in the water and feeding hard in readiness for the winter ahead.
A hot spot I've always enjoyed is up in the Bigga arm, where the fish like to cruise up and down the old river channel. On this crisp autumn morning this was exactly where we were headed, armed with 10' foot #7 fly rods and floating lines only – all you need at this time of year.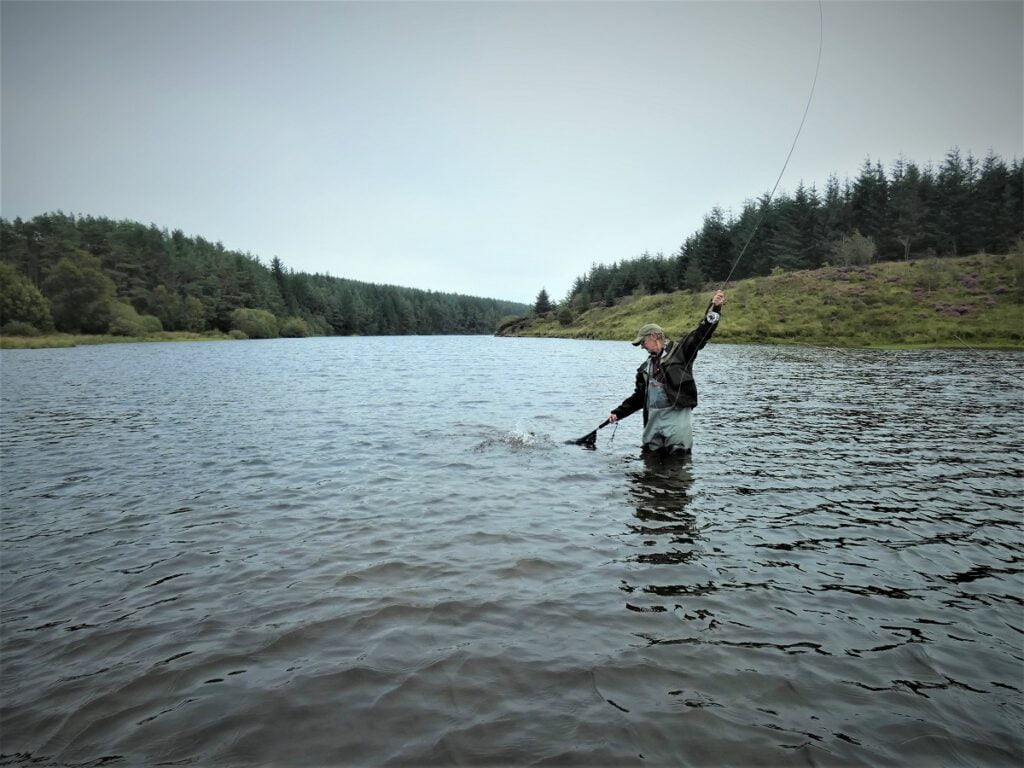 We made our way up the road to the Bigga arm and walked down to the waters edge, near to an old river channel at the top of the arm. To start we tried weighted lures (humungous/black nobblers) fished on a long leader, but nothing took. Whilst we fished I noticed some rising fish, so I switched over to a foam heather fly on the point and a CDC hopper on the dropper.
Letting these drift naturally in the breeze proved to be instantly successful, with fish after fish gently taking our dry fly patterns off the surface. I even had 'double header' at one point – it was truly fantastic fishing.

With October still to come, make sure you get and and enjoy dome 'back end' reservoir fishing in Wales – you wont regret it!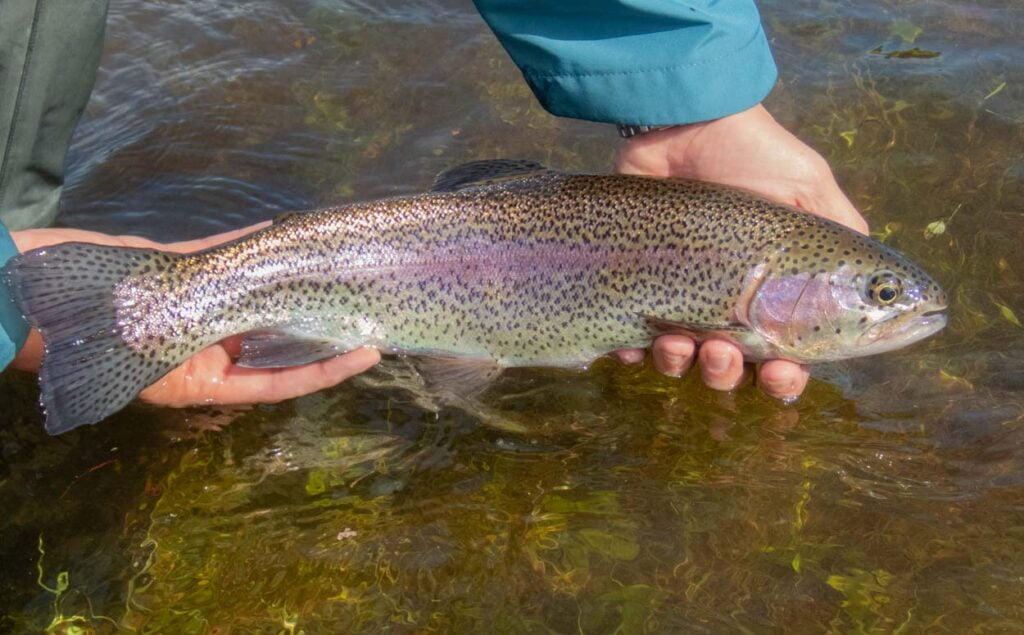 Tips for fishing a large reservoir from the bank
Fishing a large water can be daunting at first, where do you start? Thankfully when fishing Welsh reservoirs this is often made easy; due to their shape and size our waters often have numerous bays and points, allowing you to easily work out where the fish should be.
Features mean fish – If you head for features then the fish will always be nearby, river channels, old roads, submerged buildings, points and drop offs in particular. (Note: be careful when wading)
Ambush with dry flies – In the case of rainbow trout they cruise and patrol areas, so unlike browns you can lay in wait in a likely spot and ambush. One of the best ways to do this is with dry flies, once you have located a spot where fish are moving through its a case of parking the flies out there and waiting.
Afternoons are best – Very early and late tend to be times to avoid when air temperatures plummet, resulting in fish sulking out of reach in deep water. That brief spell of mid afternoon warmth can trigger fly hatches and feeding activity, so concentrate your efforts for when the water is alive and the fishing at it's peak.
Brave the wind – Autumn winds can be strong and unpleasant to fish in, BUT they can also concentrate the fish within easy reach. It is well worth casting right into the teeth of the wind, or fishing a bay where the wind is blowing in and funnelling terrestrial food, such as daddy long-legs. In windy conditions don't worry about distance (the fish could be just a few yards out!) try your best to get turnover. Make your leader shorter and your casting loop tighter, in order to punch your cast under the wind.