Freshwater Byelaws
Freshwater Fishing in Wales is subject to national and local byelaws, which govern when, where and how you can fish for various species; this is in order to protect the future of fisheries and to provide better fishing opportunities for you, the angler.
Angling byelaws apply to all rivers and lakes – whether they are owned by angling clubs, local authorities or private individuals. 
All angling bylaws in Wales can be found on the Natural Resources Wales (NRW) website HERE.
Please read these before you fish in Wales!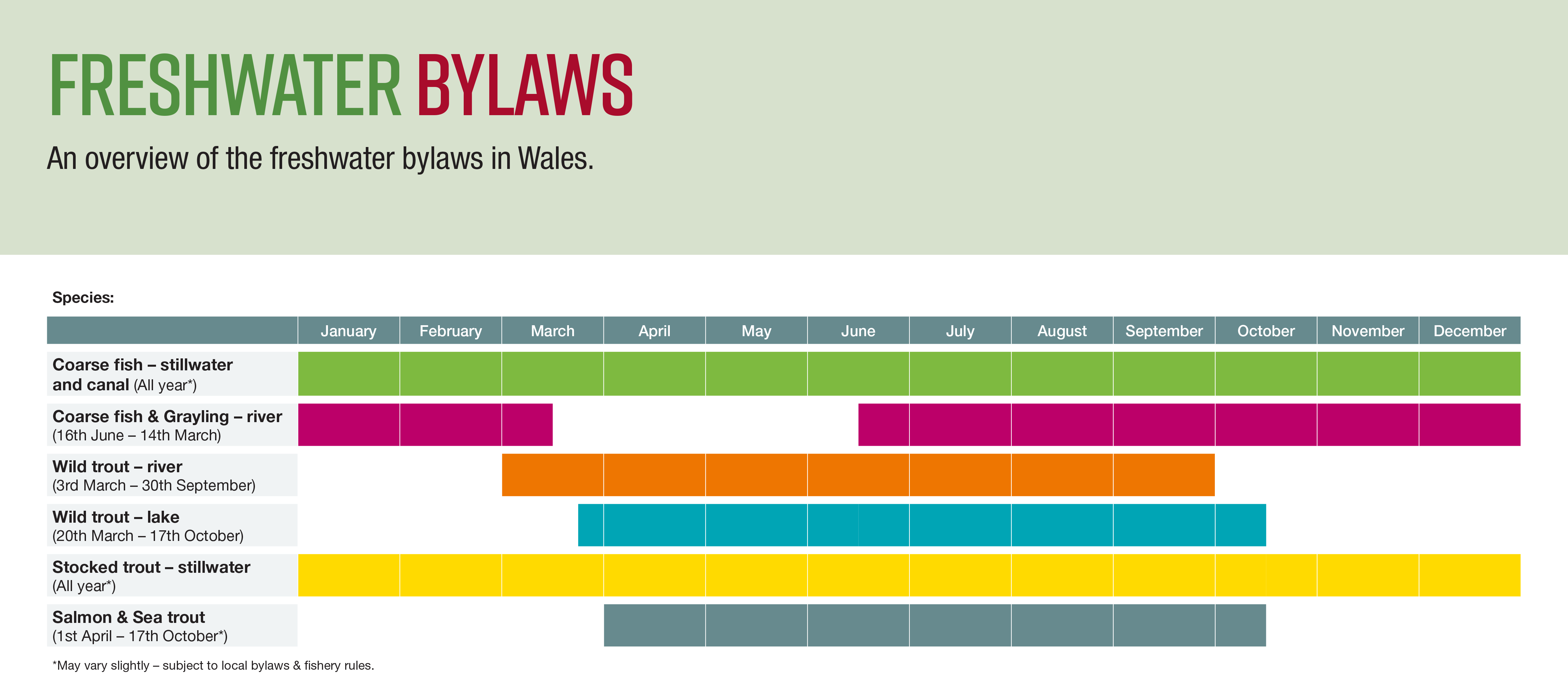 Please note: Game fishing seasons in Wales may be subject to local variation. Click here for full regional details.
Migratory salmonid fish – Atlantic salmon and sea trout – there are new, specific bylaws which must be adhered to when fishing in Wales.
From January 2020 new byelaws came into force to help protect vulnerable salmon and sea trout stocks throughout Wales. 
The byelaws can be summarised as follows: 
Salmon 
All salmon must be released with minimum injury and delay

 

No worm fishing for salmon

 
Fly and spin only

 

Shrimp and prawn fishing allowed from 1st September to the end of permitted baits period (note; the end date varies from river to 

river, shrimp

 and prawn baits are not allowed on the River Wye and tributaries at any time)

 
Sea trout 
All sea trout must be released with minimum injury and delay before 1st May on the rivers: 

Tywi

, 

Taf

, Western 

Cleddau

, Eastern 

Cleddau

, 

Teifi

, River 

Dyfi

,  Rhymney, 

Usk

, Tawe,  

Loughor

,  

Gwendraeth

,  Aeron,  Ystwyth, 

Dysynni

, Taff , Ely, 

Afan

, Neath, 

Artro

, Glaslyn, 

Dwyryd

, 

Seiont

,  

Nevern

.

 
No bait fishing for sea trout during this period  
All sea trout greater than 60cm (approx. 5lb12oz) must be released with minimum injury and delay on all catchments all year.

 

Bait fishing for sea trout allowed only outside catch and release period, with small hook gape size 8mm  (approximately size 8) and a single worm

 
Hooks 
All hooks for salmon and sea trout 

must be

 barbless or 

debarbed

 

No

 trebles on spinners. spoons or plugs (singles only with a maximum 13mm gape)

 

Up to 3 barbless singles may be used on a plug

 

Flies – small trebles allowed up to 7mm gape (approximately size 8)

 
If larger singles or doubles must be 

debarbed

/barbless

 

Tandem and 'secret' weapon flies are allowed – up to 4 points, trebles must be less than 7mm, all hooks must be barbless




 
Further information can be found on the NRW Fisheries web pages: HERE

Please read these bylaws before you fish for salmon and sea trout in Wales!
Sea fishing byelaws and size regulations: 
Sea anglers may take their catches home to eat in Wales – there are no minimum sizes or bag limits for the vast majority of sea species in Wales (apart from bass). This is due to a recent change in EU law, where minimum sizes no longer apply to fish captured during recreational fishing.
However Angling Trust, Fishing In Wales, Angling Cymru and the Welsh Federation of Sea Anglers (WFSA) have always supported minimum sizes – as a tool to conserve juvenile fish and improve sport for anglers. Therefore, we support voluntary size limits at a minimum size where the species has at least one chance to spawn before capture. Click the link below to see a list of WFSA recommended sea fish size limits for Wales: WFSA Minimum sizes
Sea bass restriction: Bass have a size limit of 42cm and a daily limit of 2 fish from 1 March to 30 November (catch and release the other 3 months)