Go Wild in Eryri – Llyn fishing for brown trout
There is nothing better than a fishing road trip, especially with good friends. Our marketing manager Ceri Thomas heads to the wild mountains of North Wales for an epic escape, with some llyn fishing in mind.

It was with much anticipation that myself, Alan 'Parf' Parfitt and Mark Evans headed up from Cardiff, South Wales on an autumnal September morning to the Eryri (Snowdonia) National Park, where dozens of spectacular wild brown trout lakes awaited, many of which barely see an angler through the season.

Our main motivation was to simply find out more about them – to satisfy that innate curiosity that drives us to fish wild and far off places. What are the lakes actually like? What are the fish like that inhabit them? And of course, to enjoy the scenery, while ticking off several more fabulous Welsh waters from our ever-growing list, which at the last count was just over 120 natural lakes and reservoirs.

First stop was the romantic Llyn Cwellyn, a large glacial llyn on the Caernarfon to Beddgelert road, dominated by the majestic 'Mynydd Mawr' (big mountain) on the far side. Cwellyn means 'six lakes' perhaps a reference to five other lakes in the area which form a connected chain, with Cwellyn being the sixth and by far the largest of them.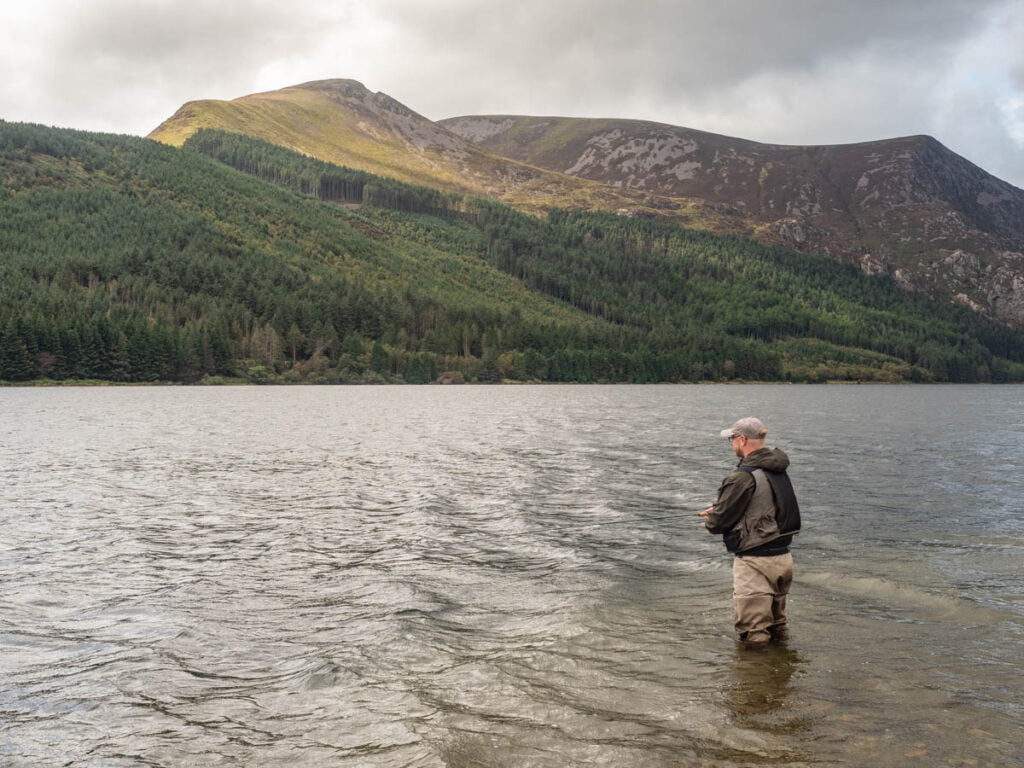 Of 215 acres and over a mile long, the immensely deep Cwellyn holds 'Torgoch' (red belly arctic char) in addition to brown trout, and sometimes salmon migrating into the lake from the outflowing Gwyrfai river. A water of the Seiont Gwyrfai and Llyfni Fishing Society (SGLL) It can be fished by booking tickets online with The Fishing Passport, which for us has made fishing the lakes of North Wales all the more easy.

A 3.5 hour drive later, we were at last at the lake and in this case grateful that we could park right on the waters edge, rather than hike for several miles before we could start fishing. After kitting up in the lakeside National Trust 'pay and display' car park we made our way down to the llyn, where we were greeted by crystal clear water and relatively easy wading in the south east corner of the lake, over a mossy, weedy bottom which shelved gently out. Conditions were perfect with a nice ripple and a gentle breeze from the south.
The tackle we had chosen were 10ft #6 weight fly rods, floating fly lines and a cast of around 15 feet of 5lb leader, to which were attached either 2 or 3 wet flies, such as Bibio, Coch-y-Bonddu, Claret dabbler and Zulu, a set up which has proved itself to be ideal for wild brown trout. A small black tadpole lure, with a red bead is also a good bet as a point fly, especially in rough conditions.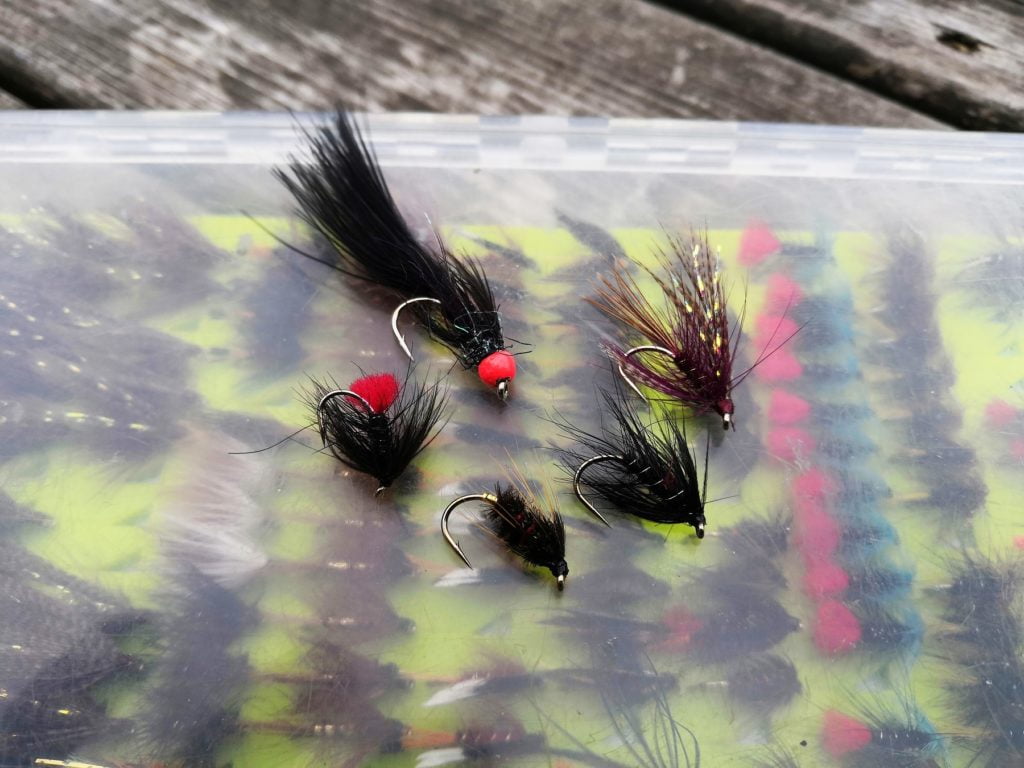 It wasn't long before the rods were bent over, with several pretty golden trout coming to hand. These free risers took our various traditional wet flies with gusto, stripped fast through the marginal shallows and over the weed beds, sometimes in water just knee deep.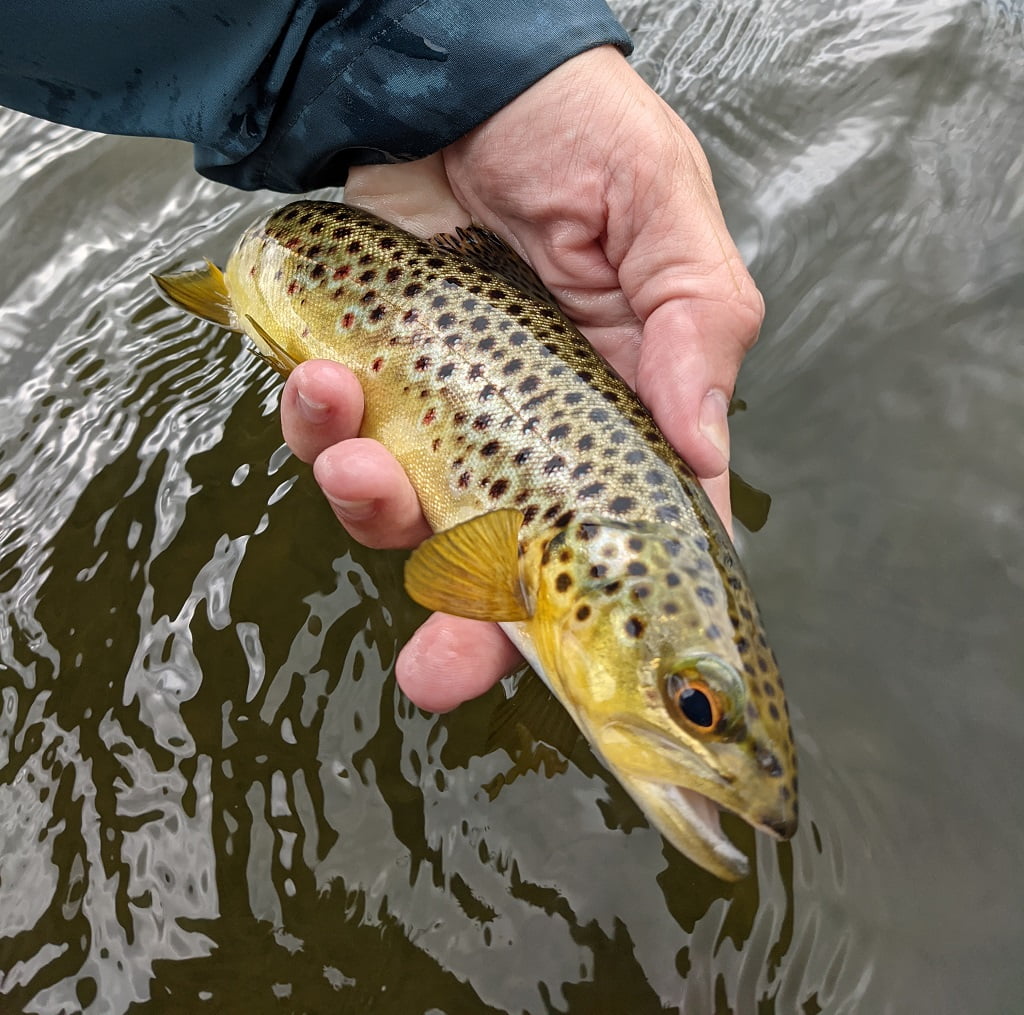 The key thing to do was 'wade and cast' ensuring water was covered efficiently. On such lakes a mobile approach will far outfish the static angler, since the trout are often territorial in nature.

Over the course of a few fun hours, perhaps a dozen or so golden jewels were landed between us, giving us a fair indication of what was living in the llyn. Generally small fish, from around 6 to 10oz, but all in excellent condition and of course all truly wild. No doubt larger fish were present, but not feeding today. A boat may have provided an advantage and indeed they are available for hire here, at the Cwellyn Arms which is located near the southern shore of the lake.
With Cwellyn fished and with energy and time still to spare, we decided to try another venue which was on the same ticket; the twin Cwm Silyn lakes – which were located in a westerly direction towards the Llŷn Peninsula.

After a 30 minute drive past the romantic Llyn Nantlle (which looked fantastically fishy) we wound our way through narrow lanes to the parking spot below Llynnau Cwm Silyn. From here a rough track led the way to this wild pair of lakes. We really didn't know what to expect – these lakes are not well known and seemingly seldom fished. It was a climb to the lakes, but quite a gentle one, and after just over a miles walk following the track, we came upon a path which took us the lower-most llyn, where a lone cormorant worked the water.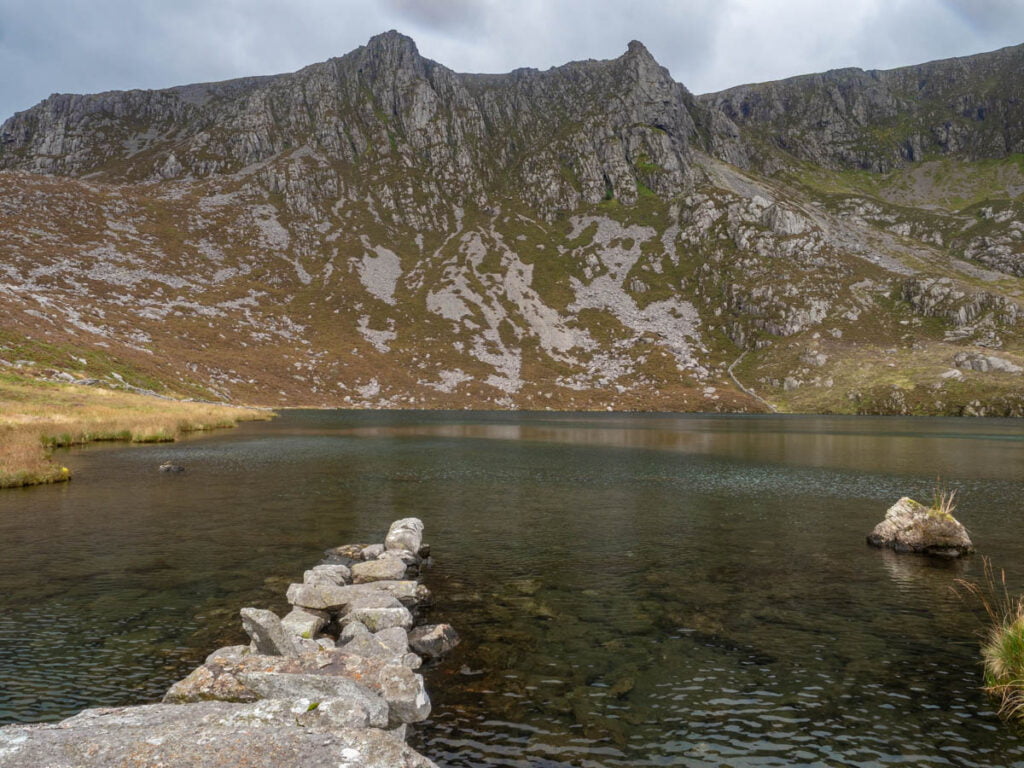 Dominated by a massive rocky crag, Cwm Silyn was truly breath-taking, an almost mythical place with the feel of Tolkien's 'Middle Earth' to it. With a bit of imagination, you could even make out the face of a giant, complete with wizard hat, beard and clenched fist wrought of grey stone high up on the mountain slope. Quite something.

We decided to split up, Parf and Mark heading to the upper lake, whilst I started fishing on the lower, taking the hint from the cormorant, which flew off as I approached the rock jumbled shore.

Cwm Silyn Isaf (lower) had noticeably clear water and at first appeared completely devoid of life. But the cormorant gave me hope – he must have been fishing for something! Where I started the lake was a fair depth right off the sides, I could see submerged boulders with patches of weed deep far below the surface. Walking and fishing from the many shoreline rocks, it wasn't long before a good few fish came to my net, not stunted fingerlings as feared but fish of 9 to 10 inches, each one pretty as a picture.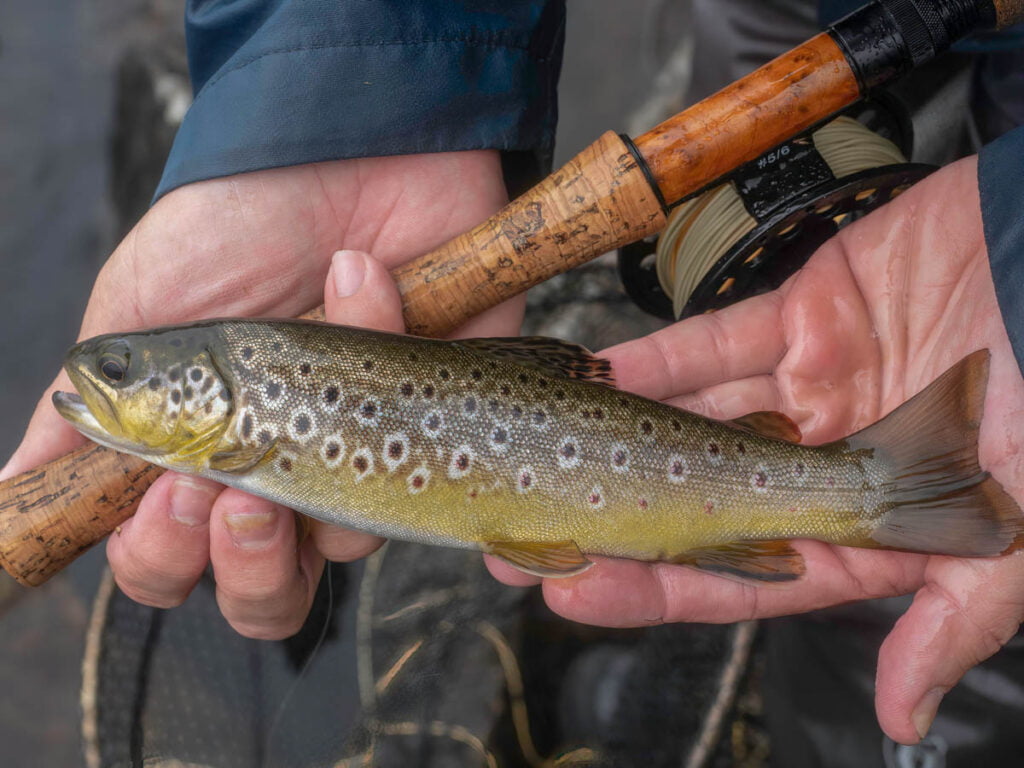 After an hour I joined the others at the upper llyn, which although connected by a small stream of a few hundred yards to the lower was remarkably different in character, being completely dominated by the vast crag above it.

Cwm Silyn Uchaf (upper) appeared to be much shallower and had even clearer water than the first, almost like thin air. You could see bottom boulders and algae beds many, many yards out, in water probably 10 foot deep that looked like it was 2 feet, the clarity was startling. It was very likely that the fish could see us in greater detail too! With deeper water well beyond range, it was hard going. We spotted a few tiny dimples and had a pluck or two, presumably from very small fish, but the trout of Cwm Silyn Uchaf evaded us.

With early evening arriving the weather changed markedly, with rain and drizzle coming in quickly from the coast. From 'perfect conditions' the mood changed, and the lakes became dour and atmospheric, with the cry of ravens and drip of water on the rock escarpments enhancing the brooding feel.

I really love fishing in weather like this and before leaving we tried the lower pool again, where I was surprised by landing a 'double header' from a simultaneous take. The Cwm Silyn pools are well worth going to, if not for the scenery alone.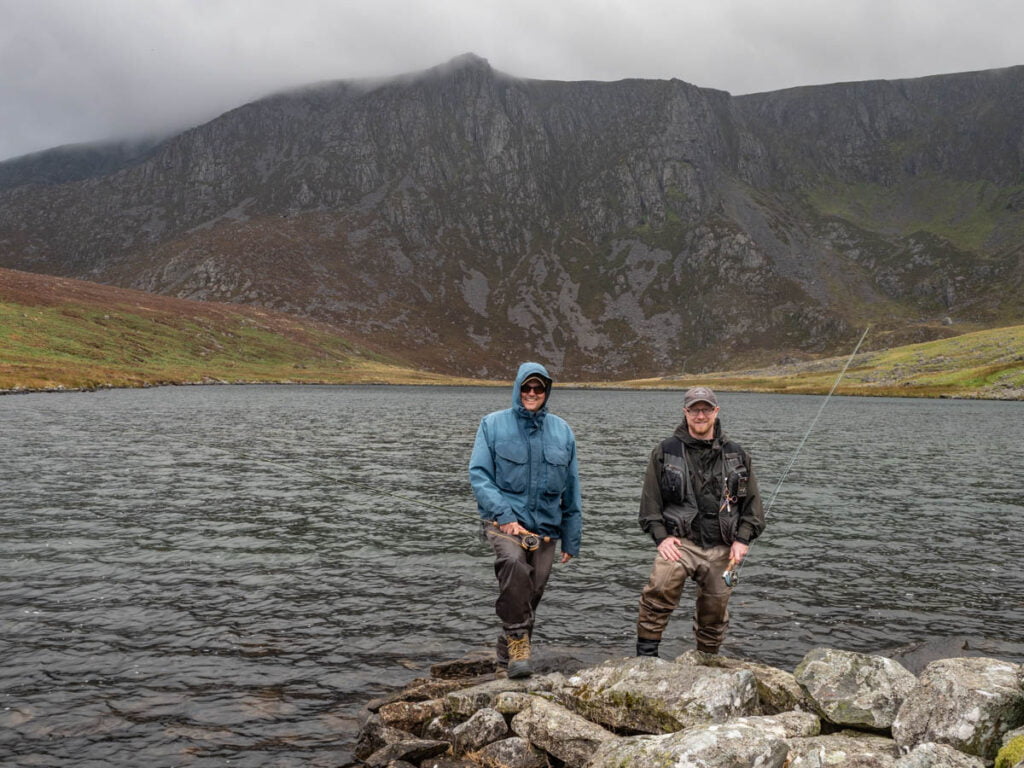 Wet through, but happy, we left the water at dusk, footsore but aglow after an action-packed day in Eryri. We'll be back next year for sure, with the other SGLL waters in mind. These include Llyn Padarn, a lake famous for its Char, Llyn Y Dywarchen, for its specimen trout, including rainbows and stocked browns, the Afon Seiont, for its sea trout and salmon and Llyn Nantlle, celebrated for it wild trout boat fishing. The new season can't come soon enough!

The SGLL Lake fishing season runs March 20th to October 17th, with exception of Llyn y Dywarchen, which stays open till 30th November.

Words: Ceri Thomas
Images: Alan Parfitt