Fly Fishing For Wild Trout In Natural Lakes and Reservoirs – Which Waters to Fish?
In the second part of a series of articles by George Barron, the author shares a few of his personal favourite places to fish in Wales.

We all have favourite waters we like to fish. For the wild trout anglers resident in Wales, it likely took them many years of trial and error, and often a fair bit of hiking, before they decided on their own chosen few.

Quite obviously, the visiting angler isn't blessed with, or privy to insider knowledge like this, so they have to rely on other sources to help them with a choice of possible venues. This will also be dictated by the individuals physical condition – while our mind may still function like a twenty year old, more often than not, our body knows differently, so access to a few waters is always worth serious consideration.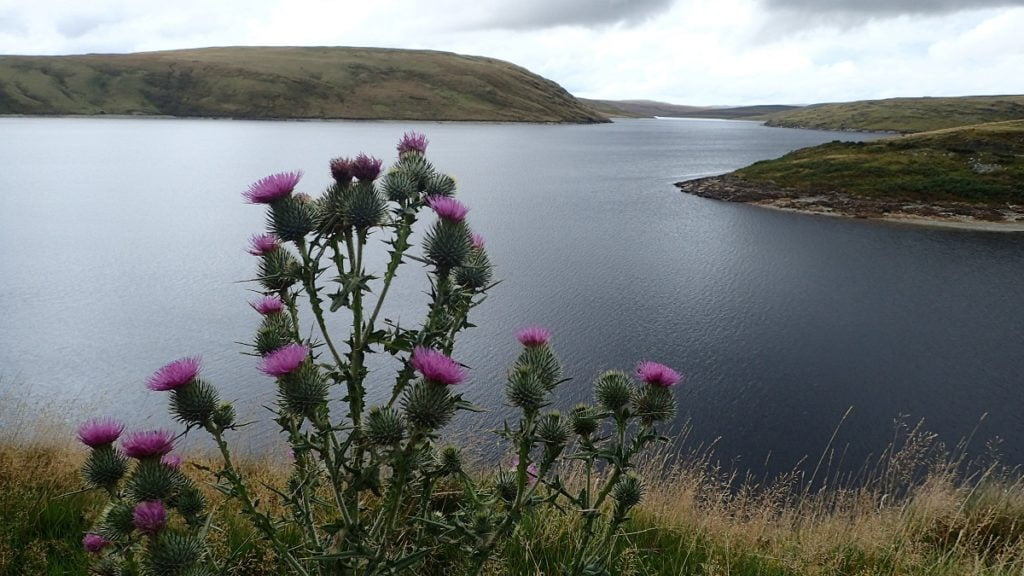 That said, the majority of wilderness or moorland waters holding a decent head of wild brown trout do have good access by road, though one or two might be better tackled with a 4 wheel drive where a slightly higher undercarriage clearance in some areas, where the tarmac ends will be stress free.

Personally, I happy to park up and enjoy the walk-in to most of my favourite waters, which often entails no more than a two minute stroll before the first cast, but it can be half an hour if you really want to reach what is quieter, less fished water. The extra effort will usually produce better fish and fishing.

One other point worth taking into account is, that in quite a number of areas on the hills, mobile phone reception isn't great, or even non-existent, so make sure if you are going solo and off road – let someone know you plans.
I would likely suggest the most obvious base for anglers intending to stay a few nights when visiting Wales, would ideally be somewhere in the central to mid Wales area, simply because the bulk of the wild trout waters are to be found in a swath between Snowdonia and the Brecon Beacons, ensuring that within an hours drive at most, the choice of dozens of waters, both large and small, are to be found.

From a boat – Lake Vyrnwy.

Before we cover the real nitty-gritty of which wild waters to fish, let's first consider fishing for wild brown trout from a drifting boat, something which is fairly limited in Wales. A few member club waters that issue visitors permits do have them and there are a few private boats on some waters in Snowdonia that can be accessed. One venue I would seriously recommend to anyone hoping to go afloat to catch wild brown trout would be Lake Vyrnwy. There are two boat stations on this four and a half mile long water holding six boats each, one situated in the boat pool below the hotel and the other at the top end known as Whitegates. Electric engines and batteries are supplied at the Lake Vyrnwy hotel and are included in the day's fishing.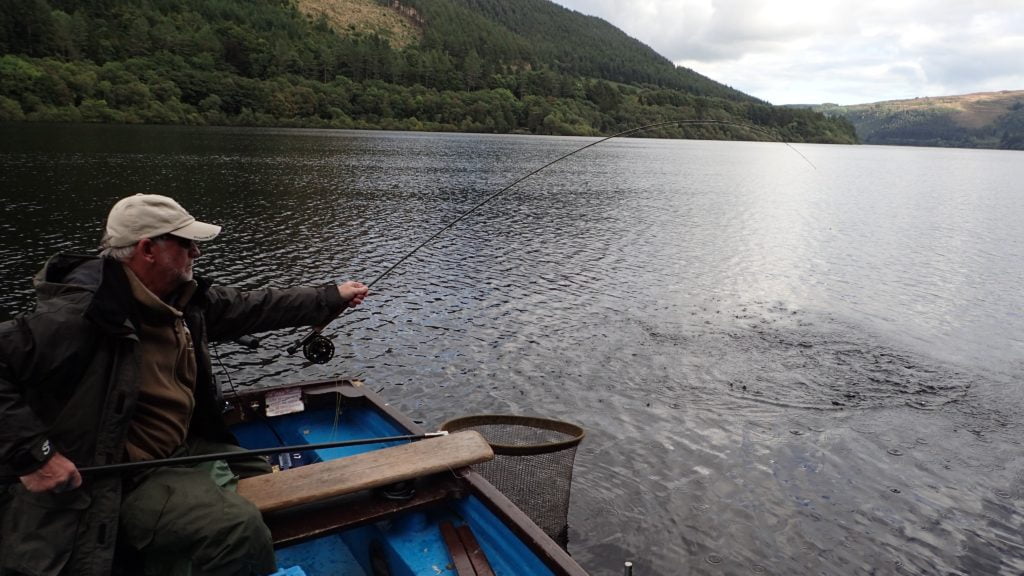 The best of the fishing is usually concentrated around the margins and at the Whitegates end where the water is a lot shallower and is fed by two feeder streams. Traditionally, my first day afloat each season is on Lake Vyrnwy, it's usually weather dependant and normally happens during early to mid April. Unlike bank fishing on the higher mountain lakes, a big wind doesn't really make for a comfortable day, partly because of the limited power provided by the electric engines.

Even early in the season this water provides great sport for wild brown trout. In fact, I believe it fishes best during the first few months of the season and again from late August till the end of the season. This scenario works well for me because during June, July and September the better fly and beetle hatches take place on the more upland hill waters. I've fished Vyrnwy each year since the early 1980s and rarely have a bad day there. In fact, I often refer to the water as the best kept secret in Wales for wild brown trout. Lots of fish around the three-quarter to a pound mark, plus the occasional bigger one and plenty of smaller fish to liven up the day. I taught both my kids to fish there while they were still at primary School – a lively and very visual fishery, in beautiful surroundings.

From the bank.

I genuinely feel I'm spoilt by the amount of quality wild brown trout waters available to me within a short drive from my house. On many of the smaller lakes I may only pop up and frighten the natives for a couple of hours, once or twice a year. These small lakes can often prove difficult during conventional weather but they come alive and can provide some amazing sport during a prolonged fly or beetle hatch or, as I much prefer to fishing them, when the weather is overcast, often wet but definitely windy.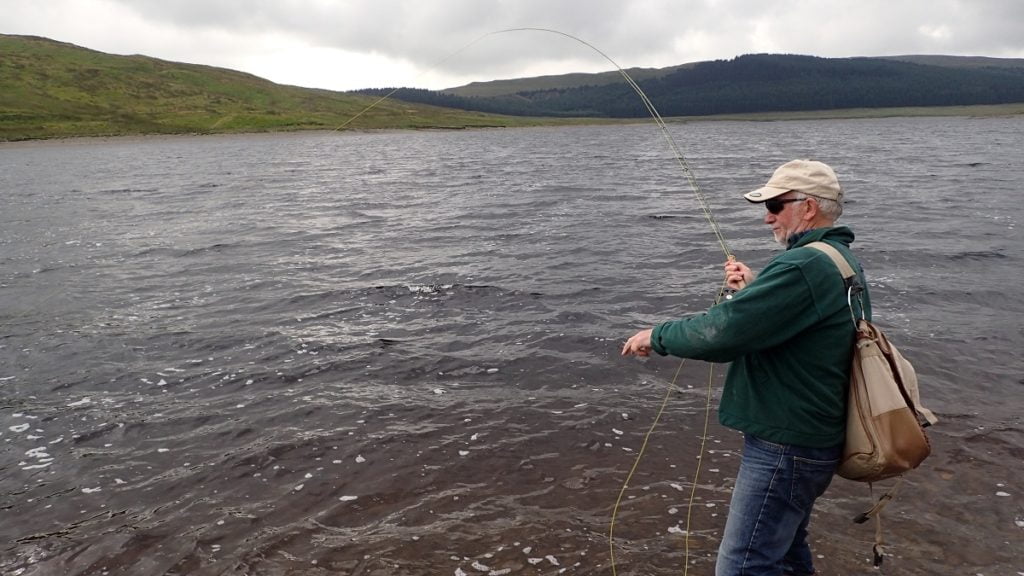 Wild weather, big and breaking waves are, as far as I'm concerned, a recipe for better fishing and better trout. These are the conditions that really seem to make the fish throw caution to the wind (excuse the pun) and produce great sport for the angler.

The Elan Valley lakes, the Teifi Pools, the Cambrian mountain waters, plus the dozen Aberystwyth waters, the Talybont lakes and numerous other local waters provide enough choice for the most demanding angler.

My own particular favourites would likely be the larger waters where, depending on wind direction there is always huge expanses of virgin bank to fish, with the added plus that should another angler be there I can still find plenty of un-fished shore to escape to.

Claerwen reservoir.

Up in the Elan valley I'd normally plum for either Claerwen or Craig Goch reservoir based simply on the years of great fishing I've enjoyed there. I would suggest these waters do fish a wee bit better when the levels are constant or dropping, but I couldn't give a specific reason why that is.

The road that snakes and climbs along one side of Claerwen brings around 3 miles of bank access but care should be taken. A 4 wheel drive is best or, as I often do – hoof it. To fish the opposite bank, cross the dam and park up, then either content yourself to slowly fish away from the dam, which does hold decent numbers of good trout or, bite the bullet and head up and over the hill towards the top end. The bay at the top end traditionally is home to the bigger trout and the walk will be well worth the effort, especially during the yearly coch-y-bonddu beetle hatch and later when the daddies appear.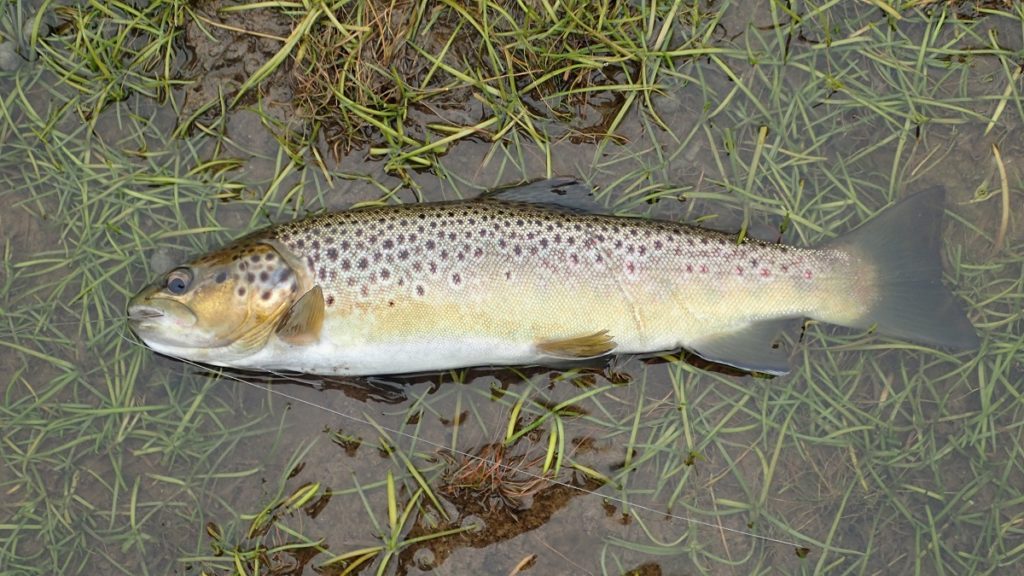 Craig Goch.

This is the topmost water in the ribbon of four other Elan waters. Once again you have two choices of bank to fish, both a lot easier to access than Claerwen. If you cross the dam and park up you can fish the bank all the way to the top end in reasonable comfort with fairly easy walking. Trout can be caught at almost any point. Should you decide to fish the opposite shore – drive past the dam till you cross a small bridge then park up. Depending on water levels this bank may require a bit more hiking effort but fishes equally well.

Another alternative on Craig Goch is to drive all the way to the carpark at the top end, then you have a choice of two banks to fish. This is a nice option if the wind is blowing down the lake. The secret is just to relax into the day – if you're fishing as a pair – leapfrog each other in hundred yard jumps to get continual fresh water to fish and keep moving. Standing still on a wild trout water is a complete waste of time.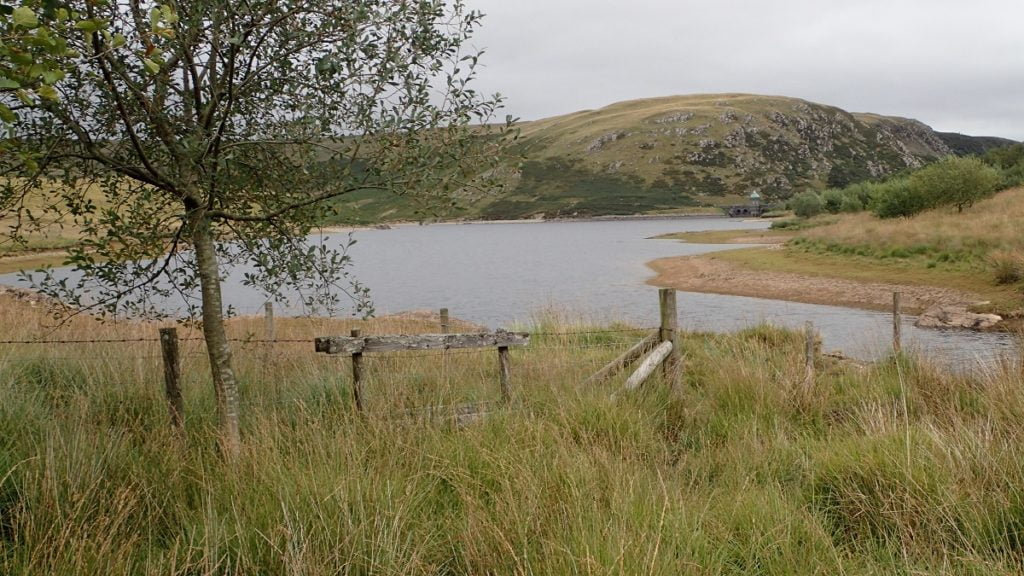 Nant-y-Moch.
The stream of the pigs is the literal translation. My most local and my go to water any day of the season. The road to the reservoir from the north or south meets at the dam. A big carpark area is there, and you could do worse than just fish up the right hand side bank and be pleasantly surprised at the fish return.

If you want fun, fish the shallower reaches of the water, these nursery areas hold mostly smaller trout, where they are safer from predation from above and below the water. Fish where the blacker, deeper water is close to the bank and you will catch bigger trout. Not necessarily bigger in numbers but definitely bigger in size. Fishing the roadside shore gives you four miles of bank to play with, and undoubtedly it will be very lively with lots of six to ten inch trout. But once again, if you are prepared to walk a mile for better fish and fishing, the opposite more rugged bank is the place to be.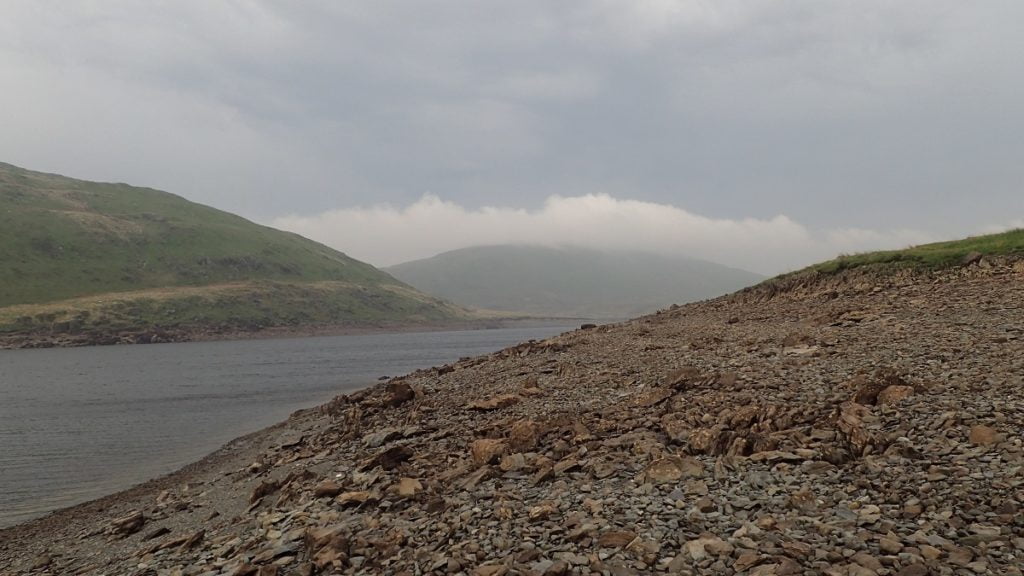 The four venues I've highlighted may be the mix that I prefer, but as I wrote earlier, there are literary scores of similar waters in this general catchment area. Keep an eye on the weather and if the sun shines, head for the beach with the family, but if it blows a hoolie and the family don't want to venture out of the holiday accommodation any further than the local Mc Donald's – grab the fly rod, the wet weather gear and the flies and head for the hills.

Tightlines,
George Barron

Words & Images: George Barron
Missed part 1? You can read it here.

For further reading pick up a copy of "At The End Of The Line " and "A Fine Line" , both excellent angling books by George Barron, who has fished Welsh waters for over forty years.

Available from George at: george_barron@btinternet.com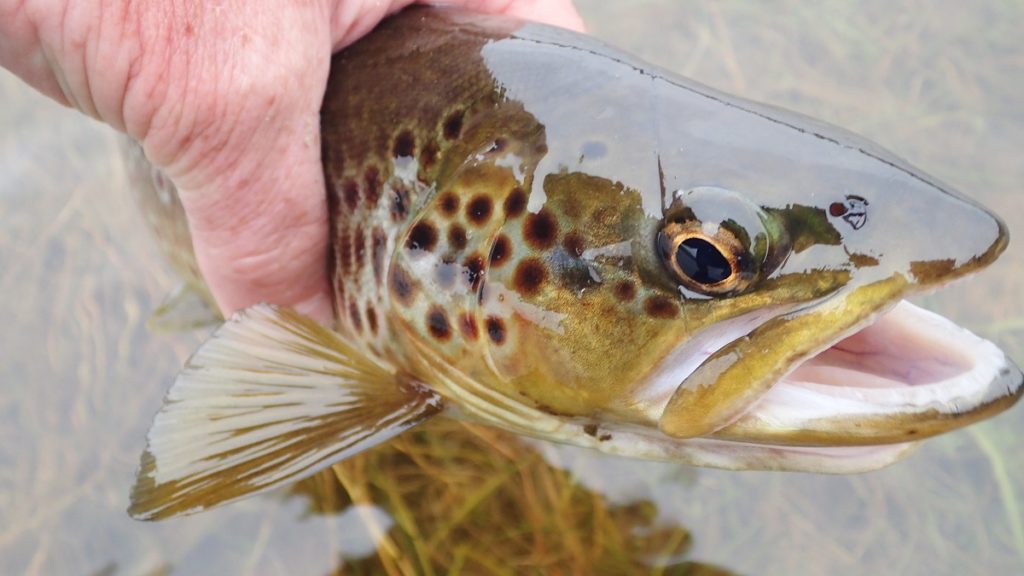 YouTube Channel
Did you know Fishing in Wales has a YouTube channel?? With over 40 game, coarse and sea fishing videos ready to watch, we will be uploading many more videos showcasing the best of Welsh angling over the coming months. So why not SUBSCRIBE HERE to keep up to date with video content as it lands…