Fly fishing for Carp in Wales – Steffan Jones
In this article fishing guide Steffan Jones looks at fly fishing for carp in Wales – including tips, tactics and where to fish for them!

Anglers are often a product of their environment. I have never understood species snobbery, because where you start your angling journey is often as a direct result of what you have access to. At the end of the day we are all under one giant fishing umbrella, with what drives us largely remaining constant, regardless of what we dangle for.
I was brought up in west Wales, an area that was rich in game fishing opportunities. As such, my early years were spent chasing brown trout on small streams with a trotted worm. However, if I was born in a city and was drawn to fishing then chances are I would have started life on a park pond or nearby canal. Either way, I would be enjoying what our sport has to offer.
Unlike most other sports, fishing allows you to concentrate on one method and one species throughout your angling life, should you wish. Conversely, it also allows you to pursue a myriad of different species utilising a myriad of different methods. Personally, I love the challenge that different species present and the intricacies of different feeding habits, seasonal variations, moods etc. Each species can be like learning the sport all over again and that's what keeps it fresh and appealing for me.
There are many crossover species. These are species that blur the lines between e.g. coarse and game or sea and game. For example, bass and mullet, which appeal to both sea and fly anglers. In the freshwater arena you have pike, which appeal to both coarse and fly anglers. I love when this happens as it helps break down barriers between these worlds, helping us understand and appreciate that underneath it all we are just enjoying a day's fishing.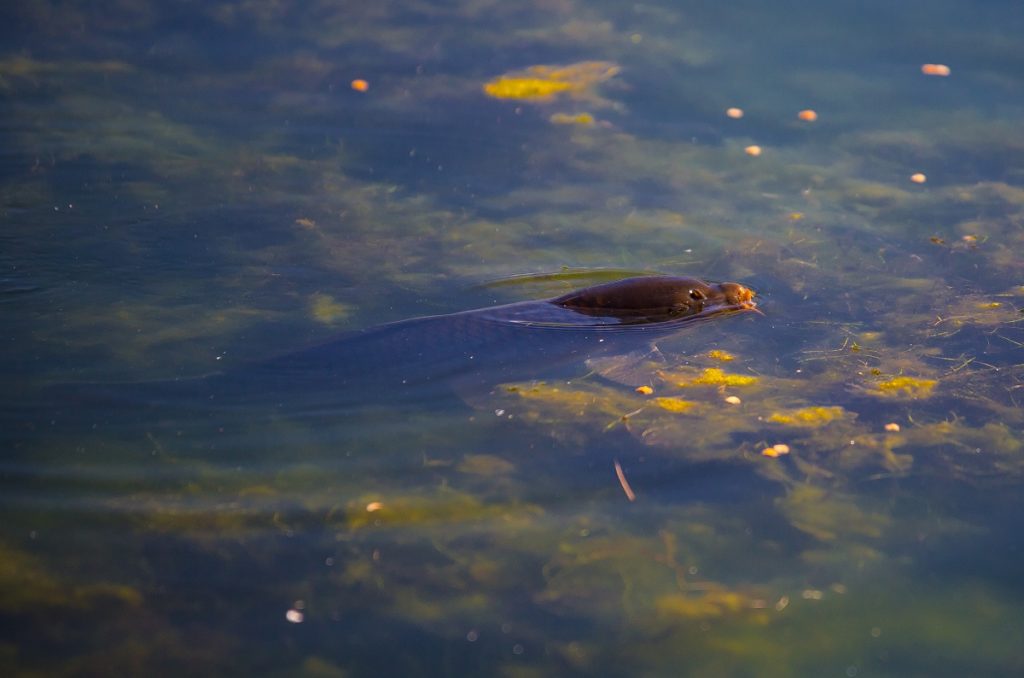 Another species that is helping break down the barriers, especially over the last few years, is carp. They are an unbelievable sporting species. They are often as wily – if not wilier – than the most educated trout. They are incredibly strong and educated fighters, testing your tackle to the limit. They are more than willing to take a fly – invertebrates, terrestrials etc. would be their natural food source – not only that, but they will readily take a fly off the surface. In addition to all of these traits, the carp fisheries in Wales are numerous and also cheap to fish, with day tickets often being less than £10.
Carp are a relatively new species for me to pursue. However, few have captured my imagination and attention to the same extent. It has been a steep learning curve and I am still only scratching the surface.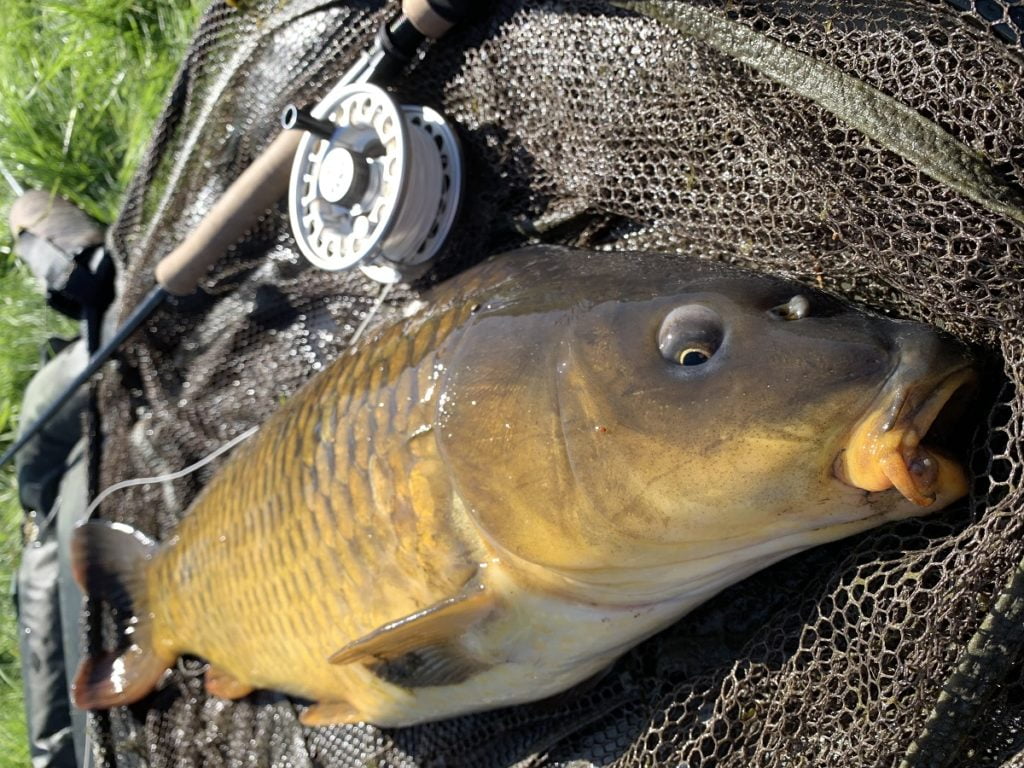 Carp are first and foremost a coarse fishing species. As such, expect some strange looks when you turn up with a fly rod. Indeed, it is best to check whether the fishery will allow fishing with a fly rod in the first place, as many do not. I have been met with a few closed doors, which has been disappointing, especially when no reason was given or the reasoning shows lack of knowledge regarding fly fishing in general. As such, when a fishery opens its door to you, please see yourself as an ambassador for all fly fishers. Help break down barriers and help merge different worlds. A good starting point with this is educating yourself about how to handle the fish.
When you understand that carp are worth hundreds of pounds, with fish of over 25 lbs worth thousands, you start to appreciate why utmost care and respect must be given to the fish. These fish are the owner's livelihood. The rules can vary between fisheries, so you should familiarise yourself prior to visiting. However, as a starting point it would be wise to invest in an unhooking mat (preferably walled), and a dedicated carp/coarse fishing net that has a bigger span and finer mesh, as a rule. Some will call for carp care kits too, which are cheap and easy to source – this is a kit that you use to apply to wounds on the fish.
Beyond the aforementioned considerations, you are likely to have what you need to for fly fishing for carp. Find out the general size of the carp and adjust the tackle accordingly – exactly as you would when game fishing. If the lake holds carp up to 8lbs or so, then a #6 fly fishing rod will be fine. However, if you are targeting larger specimens then a #7 or even a #8 would be better and more appropriate.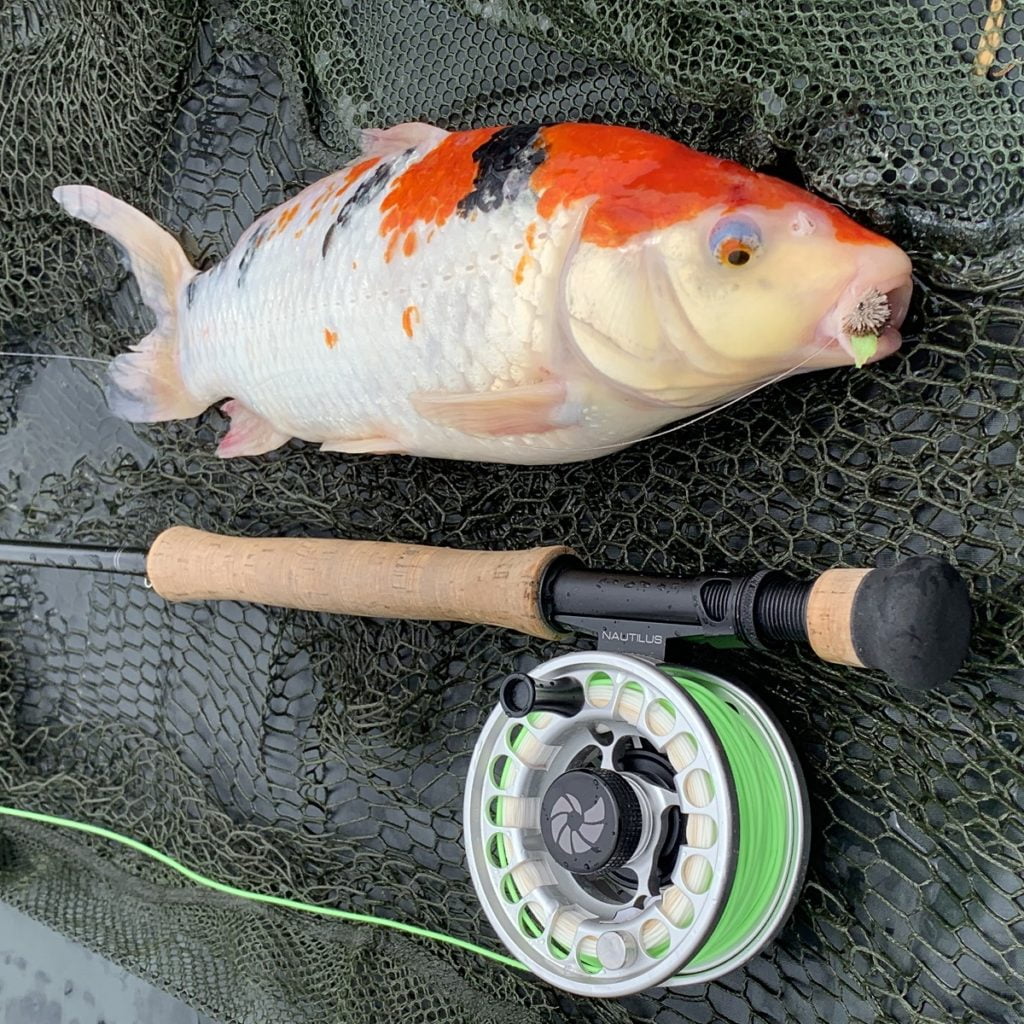 These fish pull, really pull! A good, smooth drag on your reel is a godsend. Something with enough stopping power to discourage a lunge towards the lily-pads. Make sure you have backing on the reel, as you are likely to need it on the larger waters. Beyond that, just a floating line is needed and some 10, 12 and 15lbs leader material.
Polarised sunglasses are a must. They will help you see the cruising carp, but also monitor their actions as they approach or investigate your fly. Some Mucilin is also a must; this will help your leader float, which is essential when fishing floating flies to stop you from lining the fish.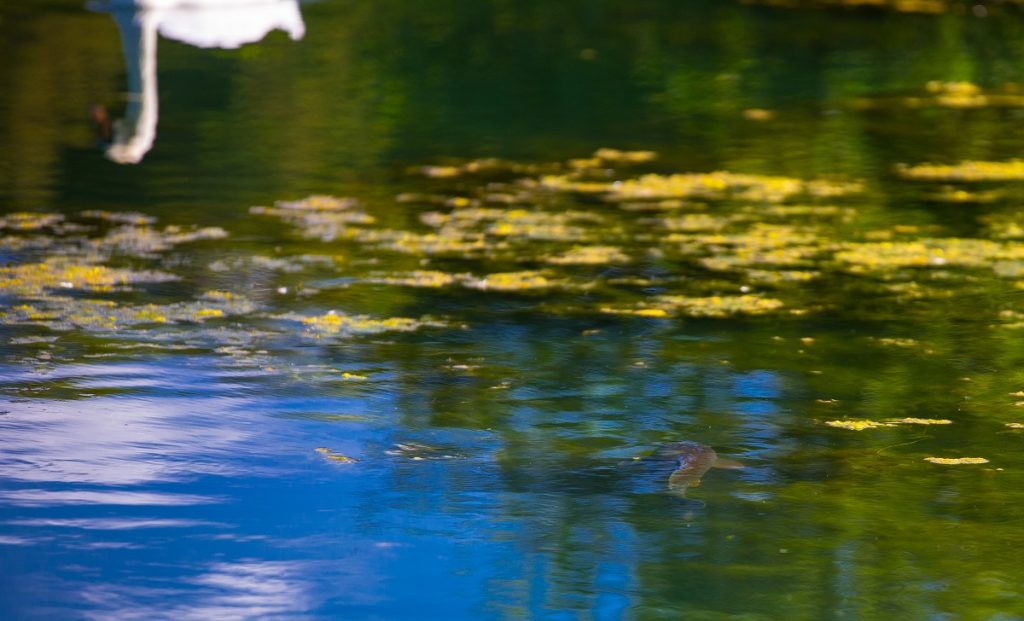 When fly fishing for carp make sure your hooks are strong – they are likely to straighten standard trout hooks. Make sure to also read the fishery rules on this front; some may be barbless only, whilst some are micro-barbed only. Always best to check and make sure you're representing fly anglers in a positive light.
The flies themselves will vary, quite simply because their food varies. Carp will gladly feed on snails, corixa, bloodworm, even baitfish and nymphs – they are opportunists. As such, carry some patterns to represent these food sources, but also some mudding patterns if you are fortunate enough to have enough water clarity to stalk the fish. Something like a Crazy Charlie tied with soft materials and rubber legs will work.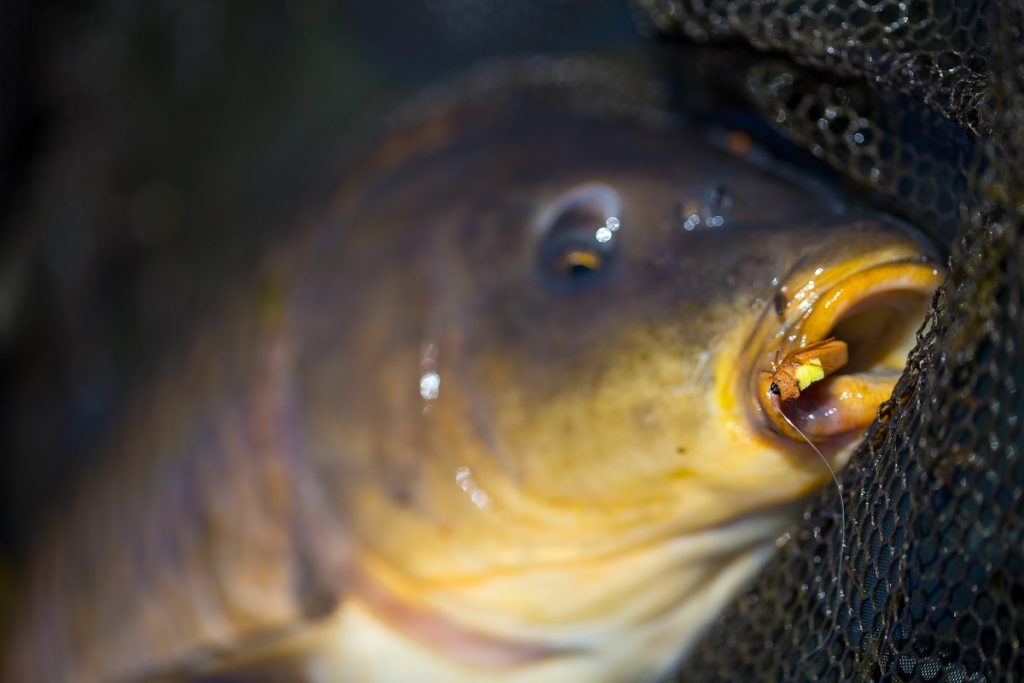 However, to find your feet and to understand more about the species – this is still very much the stage I am at – do not be afraid of using bait imitations. Either loose feed some bread then fish a sinking or floating bread imitation or feed in some dog mixer biscuits and fish a suitable imitation. There are flies on the market to represent both, for those that do not dress their own flies.
Feed in the natural food little and often. The carp will soon pay attention and will soon gain confidence. The beauty of fly fishing is that you can choose your target and reposition your imitation very quickly. When the fish are feeding confidently, cast your imitation into the mix and wait for the result. You may find the carp investigating your fly, often refusing it. Don't get too trigger happy. Sooner or later one will slip up. When the carp are cruising near the surface and looking up, they can be tempted with all manner of flies; from beetle, crane fly and even shuttlecock style patterns, so feel free to experiment accordingly.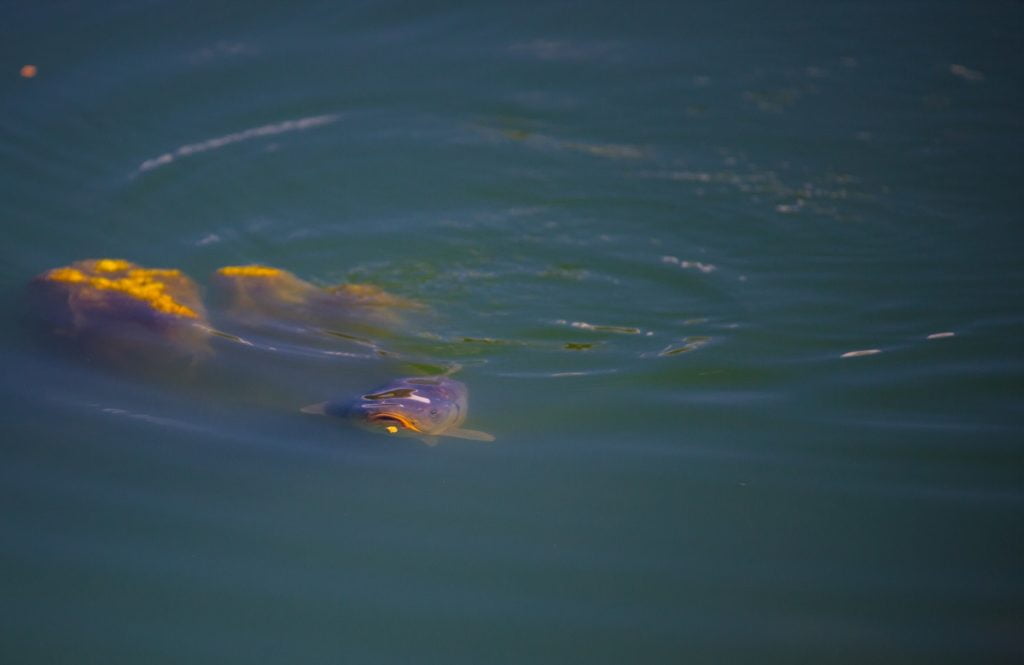 Some fisheries to try that welcome fly anglers (always best to reconfirm before visiting):
Words: Steffan Jones
Images: Steffan Jones