Early season on Welsh rivers  – Dry fly fishing for wild trout
Here in Wales we are blessed with hundreds of miles of wild trout rivers, many of which have good fly life and trout that run to 'trophy' size. Early spring is a great time to visit Welsh waters, when hungry trout stir from their long winter slumber in search of food. If you hit it right, then excellent fishing can be enjoyed, including world class dry fly action.
The trout season in Wales begins early, with many rivers opening on March the 3rd (Check which ones are open here). This gives us a massive head start over our neighbours in England, who must wait several more weeks before they can fish.

Whether you live in Wales or England, there are no better places to begin your season than the easily accessible rivers of South and Mid-Wales, such as the upper Severn, Usk, Taff, Ebbw, Tawe and Wye, to name just a few. North Wales waters such as the Dee, Alyn and Clywd are also good spring trouting rivers. All have something in common – abundant wild trout populations, great fly hatches and easy day ticket access.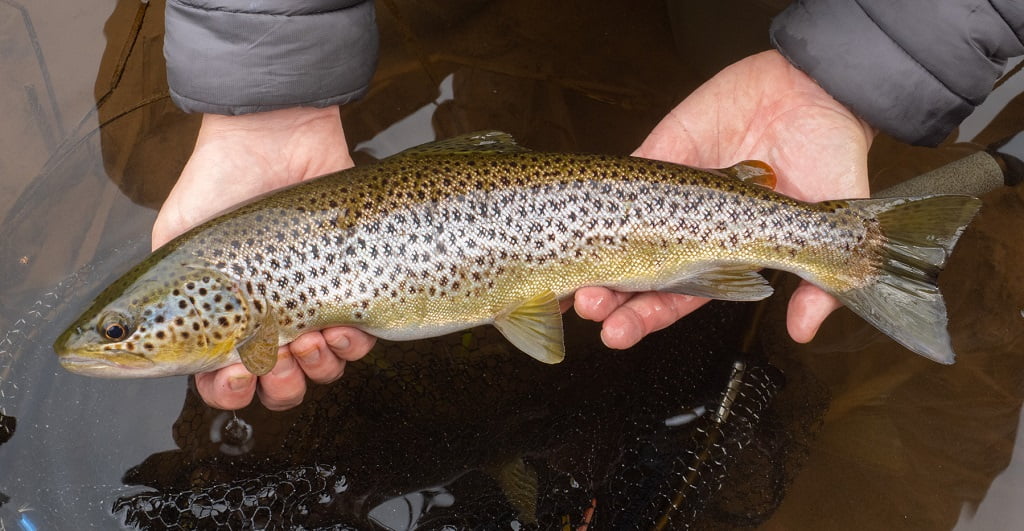 Location, location – Which part of the river should I start?
Welsh rivers fish exceptionally well early season; however, you need to take care when selecting your beat. I have fallen into the trap of fishing the upstream, upland stretches too early in the year, where things rarely get going in March or even April. Read the many reports on the Fishing Passport website and you will see the same thing – don't start too high up in the river catchment.
The reason for this is in early spring trout tend to hold up in the slower, deeper and larger pools, where they overwinter in large numbers. Fast flowing upper stretches and small tributaries are rarely good early season, so the middle to lower reaches of Welsh rivers will always be your best bet.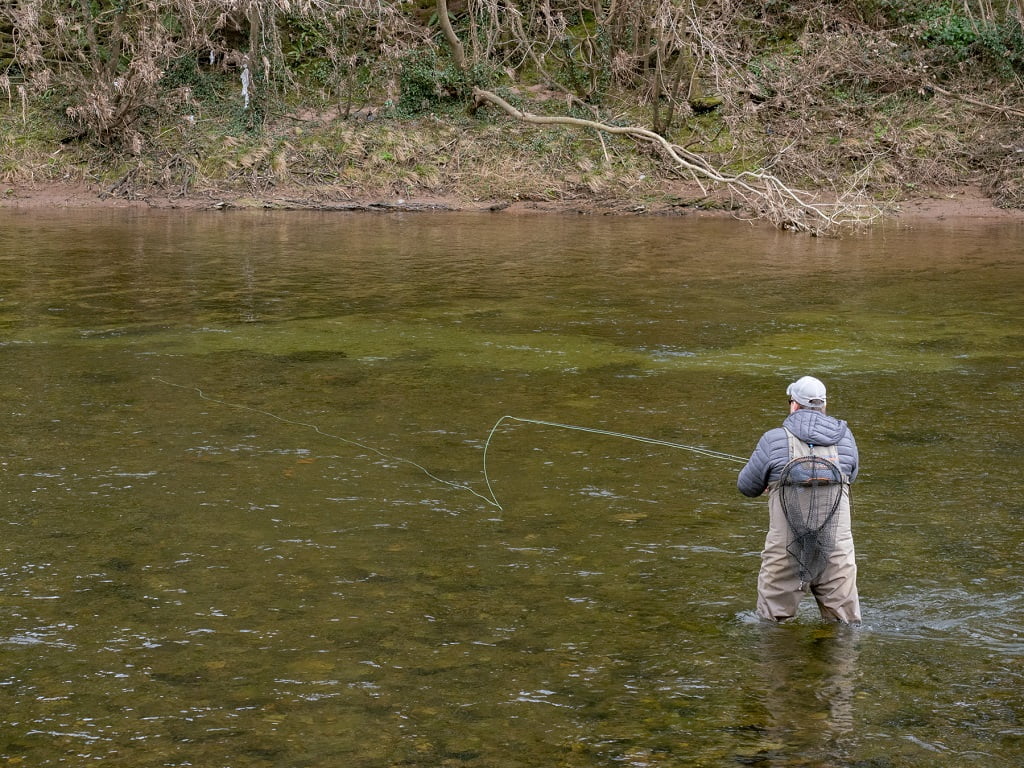 It's all about timing….
It is possible to catch just as many fish on a dry fly in the spring as other methods including nymphing; but you must get your timing right. The best surface activity in early spring is at lunch time, so make sure you are ready on the bank and not enjoying a pub lunch or a cup of coffee when things could really switch on (or off!). Between 11am and 3pm are the best times to concentrate your efforts. This is when you are most likely to encounter a hatch of fly and rising fish. Outside these times you can quite easily spend hours and hours scratching away with nymphs, for often just a few fish and cold numb hands.

A fly hatch can begin quite quickly, so when the surface action begins a change over from nymphs can often waste valuable time. Therefore it pays to be ready with a dry fly already rigged up. I find it more productive to focus on the midday hatch window itself, when a quick succession of dry fly caught fish, often specimen sized, can grace your net.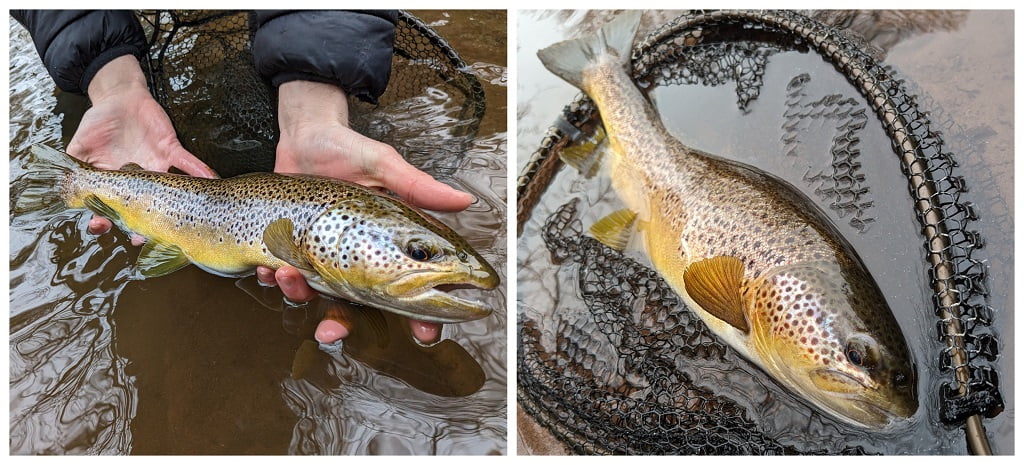 The Insects

Spring hatches have been pretty consistent on Welsh rivers for many seasons now and in my opinion are getting better year on year.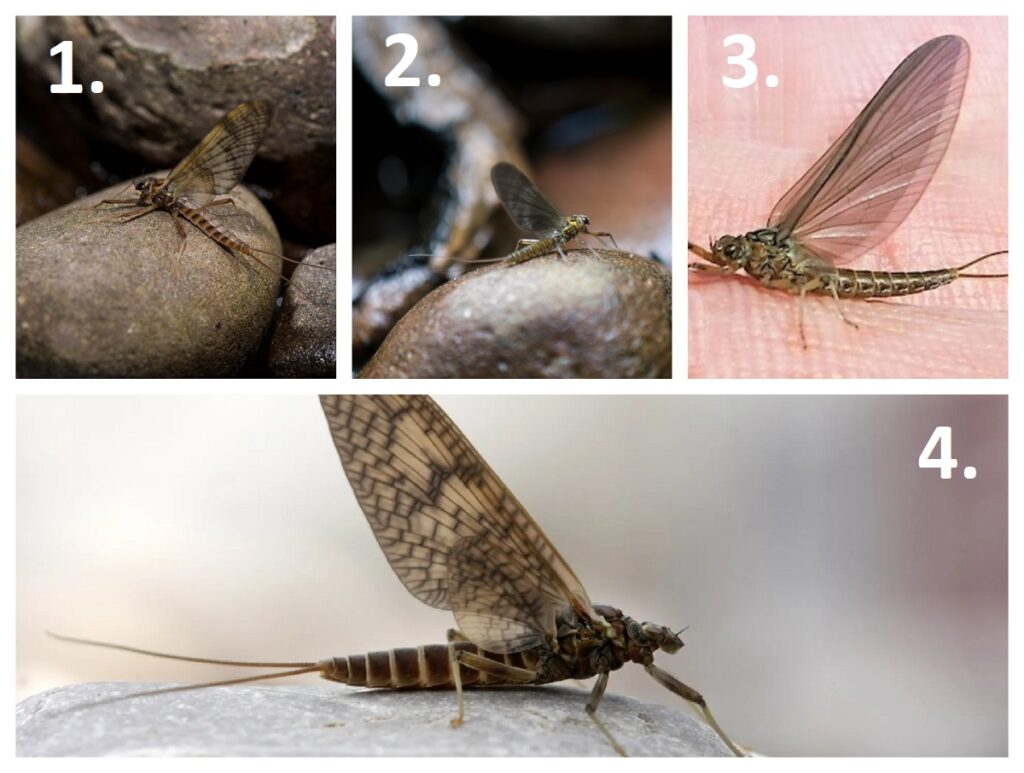 1: Brook Dun. 2. Olive Upright. 3. Large Dark Olive. 4. March Brown.

One of the earliest hatches to look out for is the March brown, as the name implies this large, brown, upwing species is one of the first to hatch out. It is very abundant on the Usk, also common on the Taff, Sirhowy, Tawe and Ebbw. It is easy to imitate, and when it appears in large flurries the trout simply go berserk for them.
The bread and butter hatch of the Welsh spring must be the large dark olive. This appears right from the start of the season, often alongside the March brown. It tends to trickle off steadily over a period of a few hours. It's a small fly, but easy to imitate using a size 14 or 16. Trout love taking olives, and an olive hatch will often bring large trophy fish to the surface. Almost all of the rivers in Wales have this hatch, which continues right through the spring. Olives like to hatch on cold, rough days so brave the weather if you can!
As the March brown hatches tail off in mid-April, another large fly takes their place. The large brook dun, which is a similar sized insect that hatches off from the edges of the river in steady trickles. The brook dun hatch is one of my favourites, it lasts for many weeks and the trout simply love them. I've caught some of my largest river trout on brook dun patterns, the better fish seem to seek them out and will often venture into shallow water, making them easier to target. Brook dun hatches are very prevalent on the Taff, Ebbw, Tawe and parts of the middle Usk. It is also being found in increasing numbers on the Teifi.
From mid-April various other upwing flies join the party, including Olive uprights, Iron blues and the Yellow may. Danica mayflies also occur at the end of May on some of the deeper and slower reaches of Welsh rivers, including the Usk. Throw grannom (a small caddis that hatches in huge quantity) into the mix and it can be bewildering… a veritable smorgasbord that can all happen at once if you are on a Welsh river in spring. So where to start with imitation flies?
Match the hatch or be general?

To be truthful, exactly matching the hatch isn't necessary. It's about presenting the trout with something that gives the impression of a food source that they are used to, at the right time. I believe early season trout are not that picky, so an exact match is usually not necessary. They do however often express a preference for flies in the surface film rather than on it – a cripple or emerger rather than dun. This must be down to energy conservation, a simple law of efficiency when food is plentiful and drifting past in quantity. It is simply easier for a trout to take something stuck in the surface meniscus, with no risk of the prey being able to make an escape. So I tend to focus on flies that sit in the film especially if the hatch is heavy and the fish are steadily rising.
A few flies for early season dry fly fishing: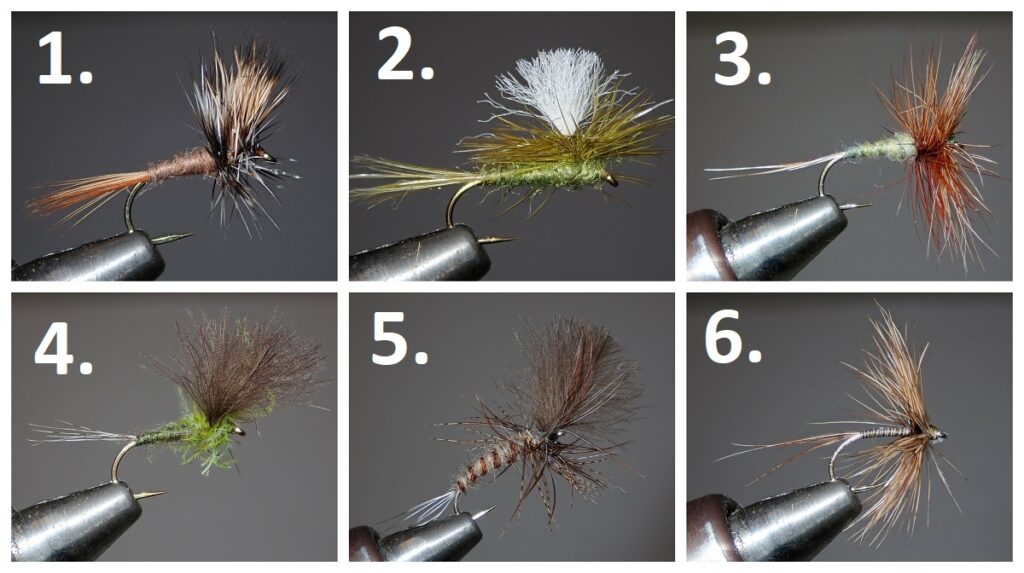 March brown upright – Size 12 (1) Perfect for imitating a March brown or Brook dun. Trim the bottom of the hackle so its sits flush to surface film.

Parachute Olive – Size 14 or 16 (2) A general olive imitation pattern that has been tried and tested.

Wingless brook dun – Size 12 (3) A simple, hackled dry fly that dumps itself in a mess on the surface, just like a struggling natural fly.

CDC Split wing olive – Size 14 to 18 (4) Imitating a variety of smaller upwings, notably the LDO, this fly in a size 16 or 18 is a great choice for when the fish are keyed in on smaller stuff.

Tim Hughes MB emerger Size 12 and 14. (5) A messy emerger pattern that proves to be irresistible to feeding fish.

Quill body Jingler Size 12 to 16. (6) Straggly, suggestive and just fishy the jingler imitates 'something' stuck in the film. Don't be afraid to use it in smaller sizes too.
To summarise, stick with generalist patterns, match the approximate size and colour of the fly on the water and you cannot go far wrong.
Watch and be ready

To make the most of early season surface sport I like to rig up with a dry fly ready for action, pick a likely spot and simply wait and watch. Or unobtrusively walk the banks whilst waiting for a hatch to begin. A prime area would be a pool tail, or a long, steady riffle leading into a deep run. When it happens the trout will often quickly move out of their haunts and into the shallows, sometimes in quite spectacular numbers as if in answer to a dinner bell.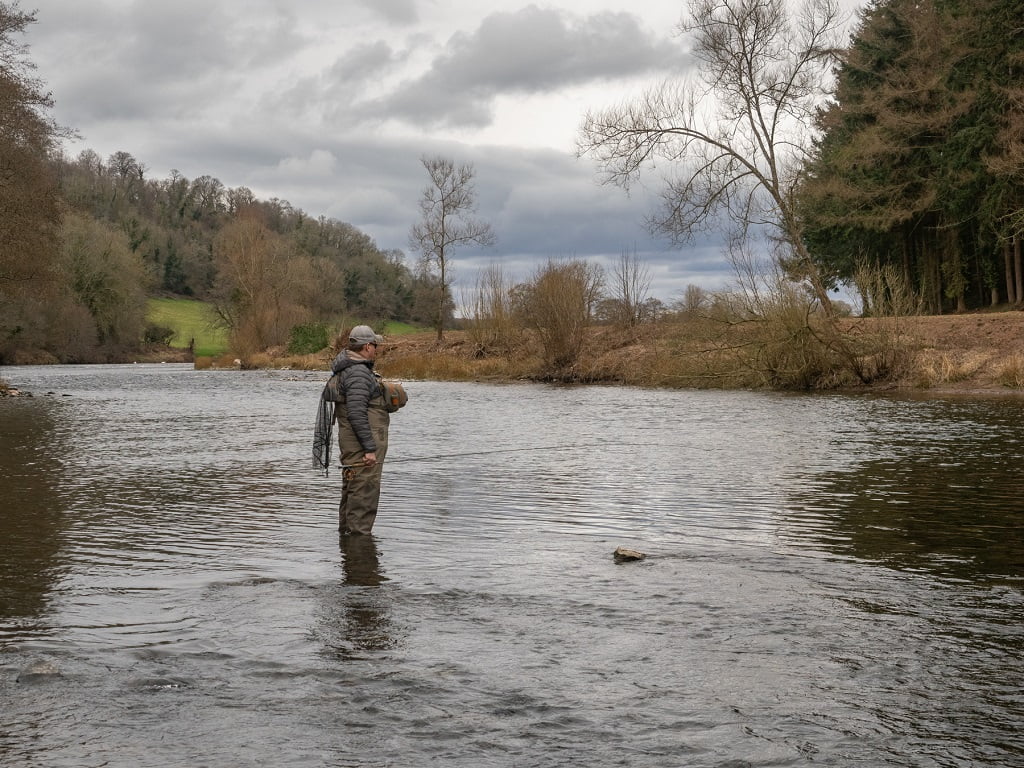 Areas that looked dead and fishless can suddenly become alive with surface feeding trout. If you are not ready and have to change over from nymphs you could well miss out – a dry fly trout is worth several on the nymph, isn't it?
This is also an opportunity to look for specimen trout, which feed well at the start of the season. Looking for rising fish is a good way of picking out the better ones, which can be identified by the deliberate, less splashy rise forms and other tell-tale signs such as a large dorsal or tail fin breaking the surface. It is possible to locate and catch Welsh river trout exceeding 20 inches in this way, and trophy fish to over 25 inches (5lb) are caught each year from Welsh rivers.


In terms of tackle a 9' #4 fly fishing rod is perfect for the middle and lower reaches of most Welsh rivers, with a 4 weight fly line being my choice, to help combat any downstream wind. A long leader length is important – a 12 foot tapered leader, with 4 – 6 foot of 5x or 6x tippet added ensures delicate presentation at range and helps with a drag free drift.
The Weather – don't let it stop you!
Don't worry so much about cold conditions in early season, some of the very best dry fly fishing can happen on cold, blustery and even snowy days. From experience changeable conditions can be the key. Rapid fluctuations in temperature and light seem to act as triggers for fly to hatch. So brave the elements if you can.
Excessive spring rain can sometimes be an issue, so make sure you check the forecast or the NRW River level gauges. Even so, slightly high levels can still fish well.

5 Welsh river picks for early season sport:

River Teifi – Llandysul AA. Abundant LDO olive hatch and then olive uprights. 20 inch trout now possible. (Note, lower Teifi stretches open on 1st April, water above Lampeter bridge is open from 3rd March)

River Tawe – Tawe Angling & Pontardawe and Swansea Angling Society. Great early season fly hatches of all fly species, has very large fish to 25 inch plus. A mix of stocked and natural fish.

River Taff – Merthyr Angling Alliance & Osprey Fly Fishers. March brown, LDO, and Brook duns galore. Specimen trout here, exceeding 20 inches with a high average size.

River Usk – Fishing Passport beats. Abundant early season March brown, Large dark olives and Grannom. Many other fly species are plentiful. Excellent density of wild trout, plenty in the 12 to 19 inch range,

River Ebbw – Islwyn Anglers. Fantastic LDO hatches, March browns and Brook duns. The Ebbw and main tributary (Sirhowy) have some of the most abundant wild trout populations in the UK, fish exceeding 22 inches are caught each spring, upper reaches have many smaller, but very sporting fish.
All of these rivers mentioned (and more!) are very reasonably priced to fish, with day tickets typically ranging from £10 to £20. Compared to English Chalk stream fishing especially, Welsh river fishing is very inexpensive with the benefit most of the fish being truly wild.
Getting here:
The prolific rivers of South Wales can all be accessed from the M4, just a 2 hour drive from London. The Severn bridge is now toll free, making it even easier and inexpensive to get to Wales.
Getting a ticket:
The Fishing in Wales Website has a full list of Welsh angling clubs and details of where to buy day tickets. The Fishing Passport is another great place to look and book tickets online.
Words: Ceri Thomas
Images: Ceri Thomas/Tim Hughes/Alan Parfitt/Terry Bromwell