Camp and fish – Short breaks on the bank in Wales
Wherever you can pitch a tent in Wales you won't be far from water – our rivers, lakes and seas are simply full of fish, just waiting to be caught.

With so many opportunities to camp and fish in Wales, we've narrowed it down to 5 wonderful places, where you can wake up close to the sound of lapping water and jumping fish, before grabbing the rod and making some early morning casts.

1. Black Mountain fishing and camping

Trout fishing and camping combine in the wilds of the Brecon Beacons national park. Newly opened (July 2019) Black Mountain fishing offers a 'back to basics' outdoors experience where you can rock up, pitch your tent, catch a trout then cook it for supper on the BBQ.

The tranquil fishery is in the Western side of the Beacons, with long mountain walks and stunning views nearby. Facilities are limited (as is the phone signal!) but this is all part of the appeal – a wilderness getaway where you can focus on enjoying the fresh air and good fishing.

The fishery is regularly stocked with a wide variety of exotic trout species – including golden and spartic, as well as brown and rainbow. A coarse fishing lake is coming soon, adding to the already diverse variety of fishing on the site. Any method is allowed, fly fishing, worm or spinning, making the venue ideal for family visits.
Teepee style tents are available for hire at the fishery, should you not wish to bring your own.

2. Springwater lakes

Located in the rolling green foothills of the Cambrian mountains high above Lampeter, Springwater lakes has a total of 5 fishing lakes where you can catch anything from carp, bream and tench, to trout, roach and perch using whatever fishing method you choose.

You can camp (or park your motorhome) right next to the lakes, allowing you to make the most of the fishing, which for sheer variety in a bucolic rural Welsh setting is hard to beat. The perfect place for combing a short break with angling, Springwater has plenty of facilities on-site and offers easy access for anglers of any age or mobility.
3. Three Cliffs Bay

This hidden gem in the Gower peninsula has some of the best sea fishing in Wales – bass and mullet can be found here in quantities, attracted by the freshwater channel of Pennard pill. As well as these species, flatfish, whiting, mackerel and dogfish can be caught here. Fly fishing and spinning are favoured methods for bass, while bait fishing for mullet and other species works well.

Overlooking the breath-taking vista of the bay is a well facilitated campsite, a perfect place to stay and fish. From the site a path gives you direct access to the beach in just a few minutes, allowing you to take full advantage of the best tides, or if you simply want to fit in a couple of hours fishing alongside a weekend getaway.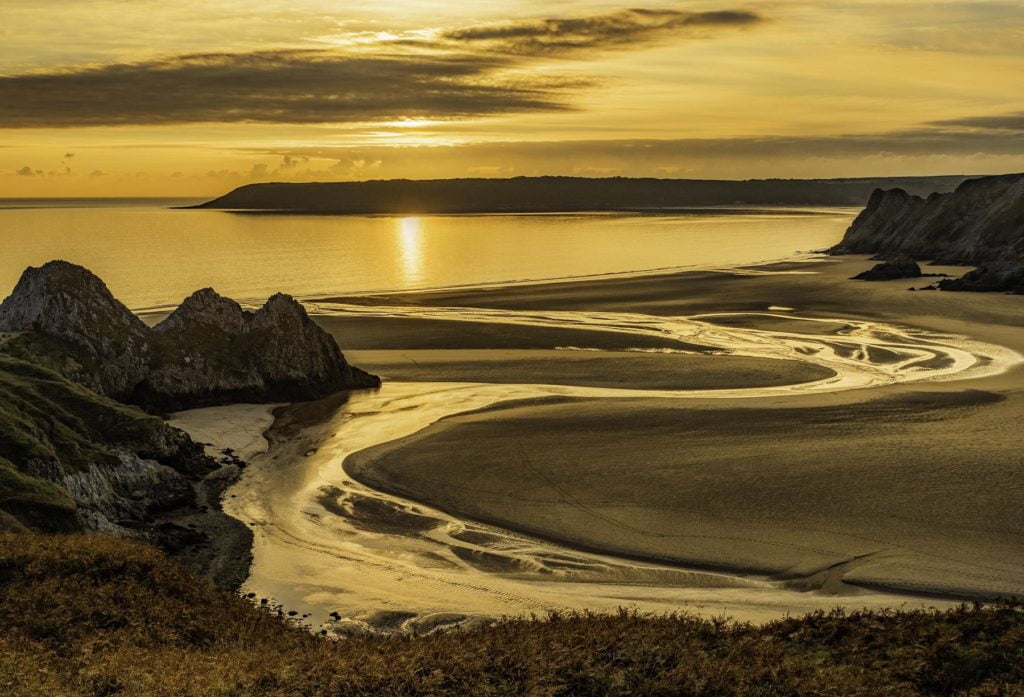 4. Wild fishing in the Rhinogs

If really getting off the grid is your thing, then this North Wales fishing and camping experience must be the ultimate getaway from it all.
The rugged expanse of the Rhinog mountains above Harlech offers excellent fishing for brown trout, the native species of our cold, clear streams and lakes. This spectacular area is literally peppered with glacial lakes, or llyns as we call them, which make a perfect habitat for wild trout.

Most of the lakes can be fished if you purchase a day ticket with the Artro & Talsarnau Angling Association. These are available in local outlets, a list of which can be found here.

The Association allows fly fishing or spinning, which are fishing methods that suit long treks and travelling with minimal gear – the lakes are often a long walk, but that is all part of the fun. One of the best lakes to visit in the Rhinogs is llyn Eiddew mawr, where beautiful spotted trout rise freely to dry flies on summer evenings.

These remote and wild llynoedd can be accessed from a perfect camping spot at the edge of the Rhinogydd – The Barcdy caravan park & campsite, where you can roam directly into the hills from your tent to enjoy a day's fishing in one of the most spectacular and remote parts of Wales.

Find out more: https://www.barcdy.co.uk

5. Rhossili beach

One of the top-rated beaches on the planet, Rhossili is an almost endless crescent of golden sand that has a hidden secret – its bass fishing is also world class.

You will also find flounder and mullet in abundance. The beach is accessed via a lane running through Pitton Cross Caravan & Camping Park, which is a great place to stay overnight in a tent or camper van.

With nothing but sand dunes, the crash of the waves and the promise of a late evening bass, it's a sublime spot to combine sea fishing with an overnight stay.

Find out more: www.pittoncross.co.uk