Offering easy access to deeper water, piers and other man-made structures provide great fishing for beginners and experts alike.
A Beginner's Guide to Fishing Piers, Harbours and Breakwaters
Words: Dom Garnett Images: Dave Lewis
Offering easy access to deeper water, piers and other man-made structures provide great fishing for beginners and experts alike. Here Dominic Garnett of the Angling Trust shares his top tips for getting the best from these venues. 
Like many other sea anglers, I have a soft spot for piers and other structures. It was at a harbour many years ago, in fact, that I really caught the sea fishing bug. Having had precious little luck from local beaches, the vantage point of the sea wall proved a revelation. No longer was I hampered by my limited casting skill and basic tackle; a ragworm lowered close-in led to rod-rattling bites and species I had never caught before. It was a huge confidence boost and without this breakthrough, I may well have abandoned sea fishing altogether and stuck to fresh water. 
Since those early days, I have fished a wide range of piers, marinas and sea walls. I love the variety they offer. I also love being able to fish close in, because with the shelter and structure provided you can often ditch the broom handle rods and get maximum sport with much lighter tackle. In short, these venues offer big advantages and something to catch all year round.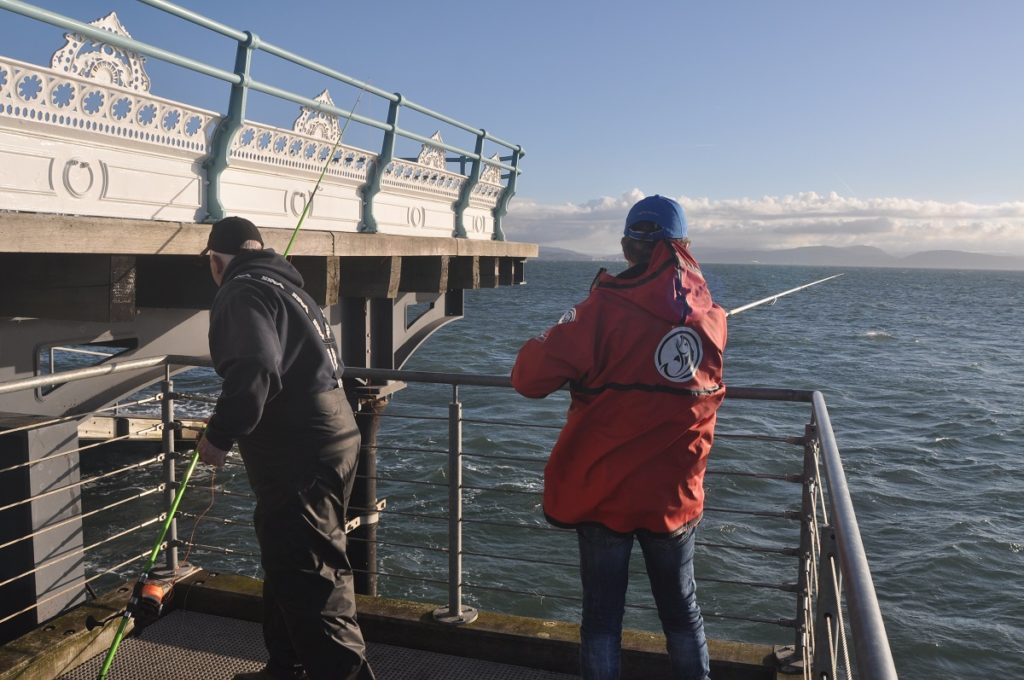 Piers, promenades and other man-made hotspots
While my main focus will be piers and breakwaters, I should start by saying that the same rules apply for various spots on the coast. Sea walls, harbours and any marks that offer depth and shelter are ideal. Most of these venues offer free fishing, although some piers require a modest day ticket fee. 
You can expect to catch a variety of fish. The summer months are busiest, as mackerel, bass, pollack and other species come close in to hunt fry and sand eels. Winter months bring shoals of whiting, pout and sometimes codling. But there are also species you'll find more or less all year round, such as wrasse and various rock fish (see the Fishing In Wales Sea Species chart for a general guide to catches by season). 
Besides online resources, the local tackle shop is probably the best place to pick up advice. However, there's no substitute for just heading out to test different methods and talking to locals. As these venues tend to be public, the locals may well have friendly advice and be willing to share their 'insider' knowledge. 
Typical tackle for piers and structure fishing
The gear used to fish man-made venues can vary from the toughest beachcaster to ultralight lure fishing tackle. As there's little need to thump a lead out to the horizon, it's usually possible to use lighter tackle than usual. 
Starting with basic tackle for traditional methods, you can scale down the typical beachcaster for a shorter pier rod or even a carp rod (Leeda produce some ideal affordable rods, including a sea fishing pier model, for under £30). This will suffice for bottom or float fishing. If the sea is rough or the bottom is snaggy, you might err on the side of caution and start with 10-15lb line. 
For much of the time though, lighter tackle will suffice and I often use a lure fishing rod. Dropshot or LRF tackle is an absolute delight for mini species (typically with 5-6lb braided mainline and a 4lb fluorocarbon trace), while a medium lure rod, typically coupled with 10lb mainline, will handle larger lures, longer casts and harder fighting fish. 
On the subject of larger fish, you would also be well advised to include a dropnet or long handled landing net (Daiwa make an LRF net handle that extends to 5.9m), if you are to safely land that three-pound wrasse or surprise bass!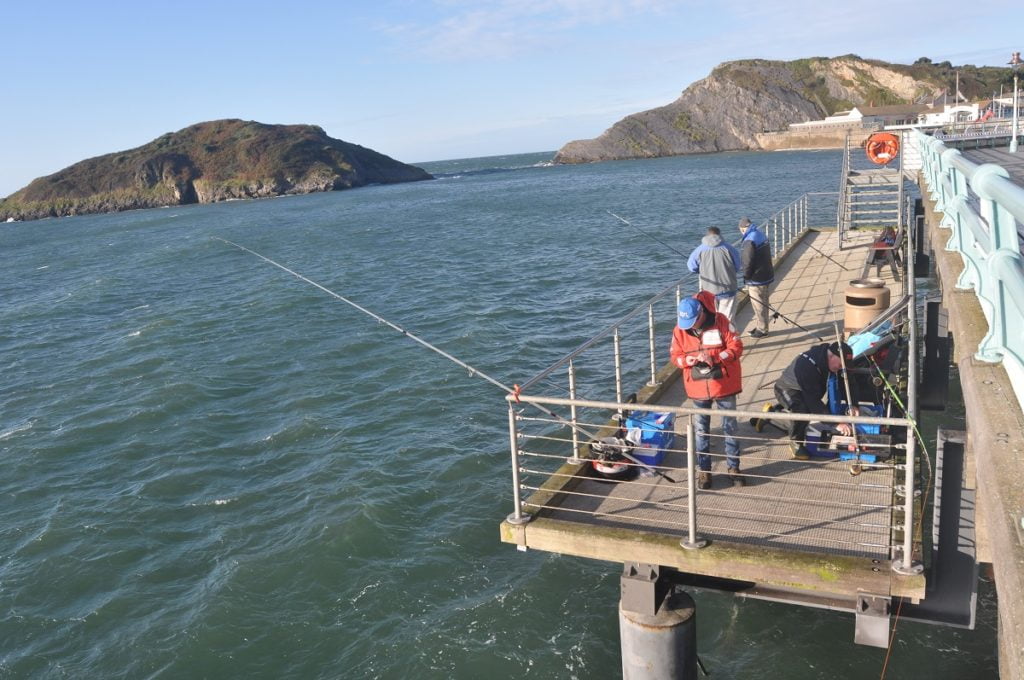 Common tactics and catches 
For many shore anglers, the main event each summer is mackerel – the perfect beginner's fish. Beachcaster and feathers work a treat, but I find it crude and quite wasteful. After all, how many of us really need to take more than half a dozen mackerel home? Much more fun is a light spinning rod, with a float rig or spoon or metal lure such as the classic Dexter Wedge. These fish are a revelation on light tackle. Try different depths until you find the level of the fish. 
Pollack and bass can also be caught from piers, which is another great reason to pack a spinning rod. In fact, I often use a 9-10ft rod in the 10-40g bracket for either lure or float fishing. The sliding float is a classic method (head to britishseafishing.co.uk for rig diagrams), with a strip of fish for mackerel and garfish, or perhaps a ragworm section or live prawn for wrasse, bass and other species. 
I tend to fish standard beach gear and leger tackle less from piers and structures, but this depends on the location. If there are lots of snags, losses can be high. Nor is it always necessary to use big leads and hooks – and you will get far more bites on light tackle. In fact, when I do ledger I find smaller hooks and lighter traces much more productive. I would only step up my traces above 10lbs if I was targeting larger bass, wrasse or conger. 
Perhaps the most common mistake I see, is the use of crude tackle. The brutal truth is that sea fish are not as big as they once were and you will get far more bites on lighter lines and hook sizes from 1 to 8 (carp hooks are excellent) than you will on old fashioned shore rigs and hooks of 1/0 or bigger (although I would make an exception for large baits and night fishing for the big stuff). 
Last on the list, but often my first-choice method, LRF (Light Rock Fishing) tackle is a joy to use for all manner of smaller species. Pack plenty of smaller worm style lures and little shads and you might catch anything from pollack, to wrasse, pout and sea scorpions. 
Tides and locations
Walk along most piers and you will find two typical habits: anglers tend to fish at high tide and head straight for the end of the pier. There is nothing wrong with this, but you will catch along most parts of these structures so there's no need to fight for a space at the end. 
A rising tide is a good time to fish as the rising water brings in bait fish, followed closely by predators. The top of the tide is ideal for mackerel, garfish and other species; look out for shoals of prey and fleeing fish. If high water falls at dawn or dusk, even better. 
Besides the fish we could class as "invaders", which may only be present to feed for a spell, there are also many "residents" that live around the structure at all states of tide. As the tide drops you can still catch these fish, although you might need to scale your gear down. 
The best spot is often right under your feet, tight to the structure, whether that means the legs of the pier, or the rocky bottom of a sea wall. In fact, it often amazes me how far anglers will cast when there are so many fish that lie closer in. Fry, crabs, shrimps and other prey all love the sanctuary of cover, so why not cast where the fish expect to find dinner? 
That said, you will also find patches of sand and broken ground around manmade structures that are worth casting to. Clean sand may well provide habitat for flounders, plaice and other species less keen on rocky ground.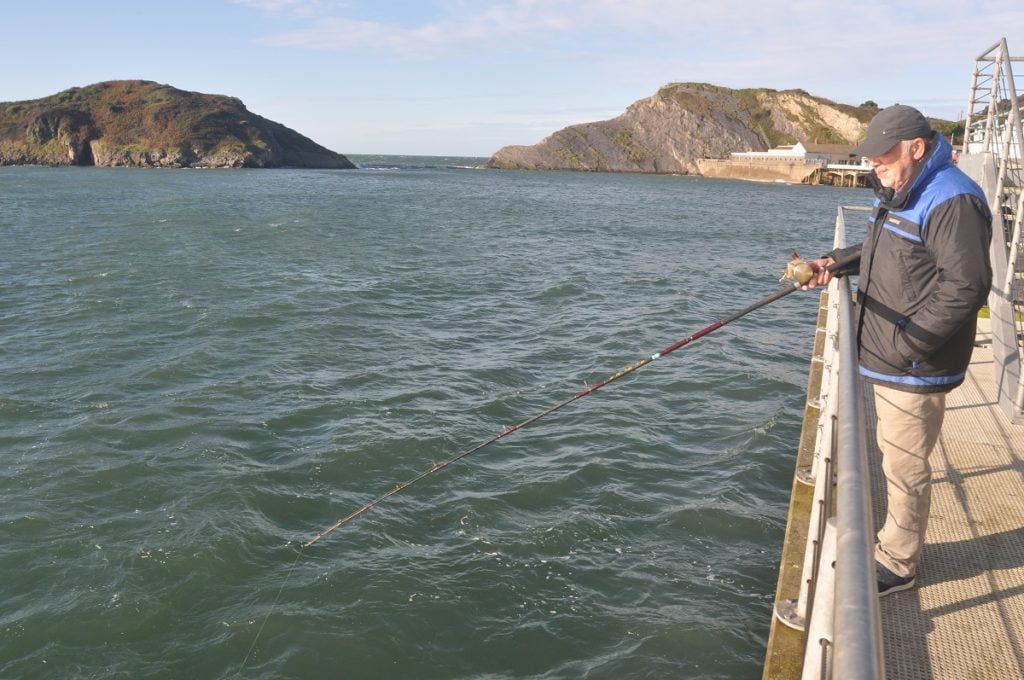 Further tips for piers and manmade structures
You will only realise the full potential of any venue by fishing at different times and states of tide. Be bold and try different rigs and conditions. On busier venues, do watch out for others' lines and respect fellow anglers. If you're courteous, you will quite often pick up tips and advice from locals. For some species, night fishing is superior to daytime hours. This is certainly true for fish like bass, dogfish and conger.Mackerel and garfish are often easy to catch if they are present, but depth is crucial. Experiment until you hit them; typically mackerel will be at ten to fifteen feet, garfish a little shallower. 
We've said nothing of mullet so far, but these are another worthy quarry- and a nice way to enjoy using your coarse fishing tackle at sea. 
Jetties and the sides of boats are also very much worth targeting, but do be considerate and mindful of other water users. 
Light tackle is ideal to get kids and beginners catching, right under their feet. Avoid crude tackle though and scale down to hooks from size 4-10. Barbless patterns are much kinder to the fish, and easier to remove if wolfed down. Drop shotting with a section of worm or Isome can be especially deadly.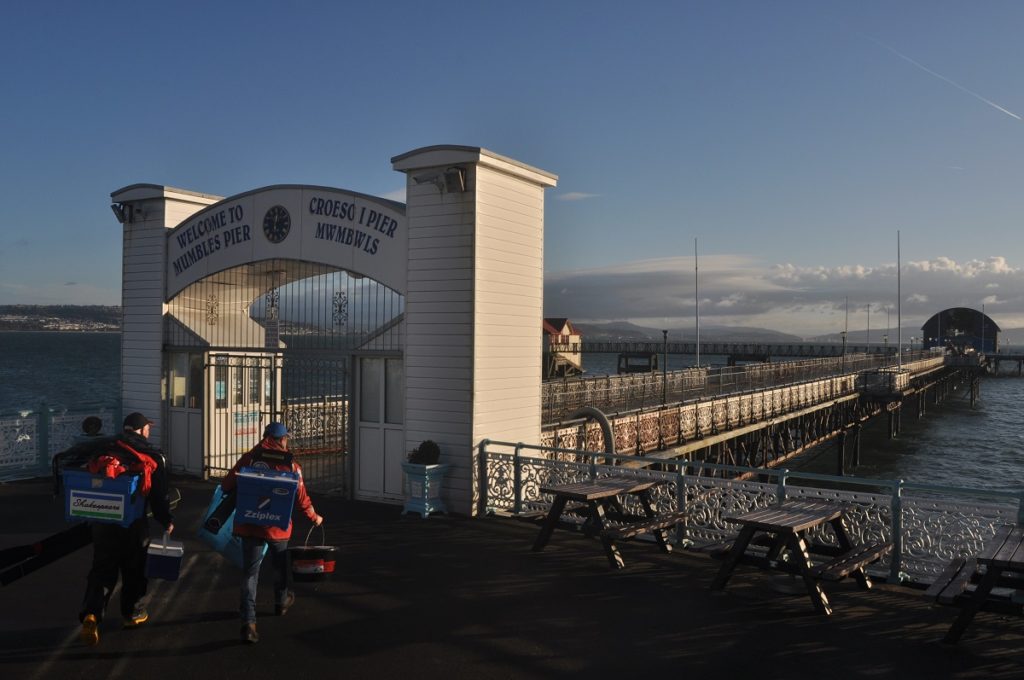 Seven venues to try in Wales:
Penarth pier – This Victorian pier offers great access to Bristol channel species, including rays, cod, whiting and smooth-hound. Free access.
Aberavon beach breakwater – Aberavon beach has a breakwater which allows you to fish into deeper water. It has good fishing for bass, rays, smooth-hound and cod. Access is easy and free.
Mumble's pier – Situated in Swansea, a ticket is required to fish. But for the small fee it is worth it. With dedicated fishing platforms, you have a great chance of catching bass, garfish, mackerel and many other species.
Cardiff bay barrage – Accessed via Penarth marina, the barrage allows easy casting into the rich waters of the Bristol channel. Expect cod, whiting, bass, flounders, dog fish and smooth-hound.
Aberystwyth Harbour & breakwater – A great spot for dogfish, flatfish, mackerel, whiting and sometimes bass. Free fishing with easy access.
Llandudno pier – Llandudno has great fishing, with casting onto mainly clean ground. Fish caught around and off the pier include whiting, dogfish, coalfish, plaice and codling. Good parking nearby.
Saundersfoot harbour – A great location for summer species such as bass, mackerel and garfish. Also expect flounder and dogfish.
For more piers, breakwaters and harbours in Wales check our list of sea fishing locations: here.