Thanks to a huge variety of habitats and species, Wales offers year-round sea fishing action. What's more, sea fishing from the shore is free.
GET INTO SEA FISHING 
About sea fishing 
The Welsh coastline offers up one of the richest opportunities for sea angling to be found anywhere in the world. Thanks to a huge variety of habitats and species, Wales offers year-round sea fishing action. What's more, sea fishing from the shore is free. Here are some tips on how to get into sea fishing… 
Ask Your Tackle Shop 
Your local tackle shop will be able to give you advice about what tackle you will need to get into sea fishing. Some expert anglers might spend hundreds of pounds on rods and reels, but you could buy a basic fishing setup for less than £50. The key to getting started is to keep things really simple and try and get a friend or family member who has been fishing before to show you how to begin. 
Join a Fishing Club 
Joining a local sea fishing club is a great way to learn how to fish and to get access to places to fish and charter boats near to you. A lot of fishing clubs will arrange fishing sessions for new or young anglers. If you are interested in competitive match fishing where you might win prizes, your local club will be able to help you get started. You can find sea fishing clubs in Wales here or by contacting the Welsh Federation of Sea Anglers via their website.
Fish on a charter boat
A charter boat is a great place to learn how to fish for sea species. Charter boat skippers can often supply bait, tackle and tuition as part of a package, often at a very reasonable rate. Charter boats offer a much higher chance of catching a large quantity of fish. We have listed every charter boat we could find in Wales here.
Sea Fish Species
A survey carried out by the National Federation of Sea Anglers showed that the species of most importance overall to sea anglers in Wales were, in descending order; bass, cod, plaice, rays, smooth-hound, mullet, pollack, flounder, and conger eel. There are some differences between the most important species caught from boat and those caught from the shore. In addition to those species listed above mackerel, whiting, all other members of the ray family, tope and other sharks can all be considered to be highly popular catches by sea anglers.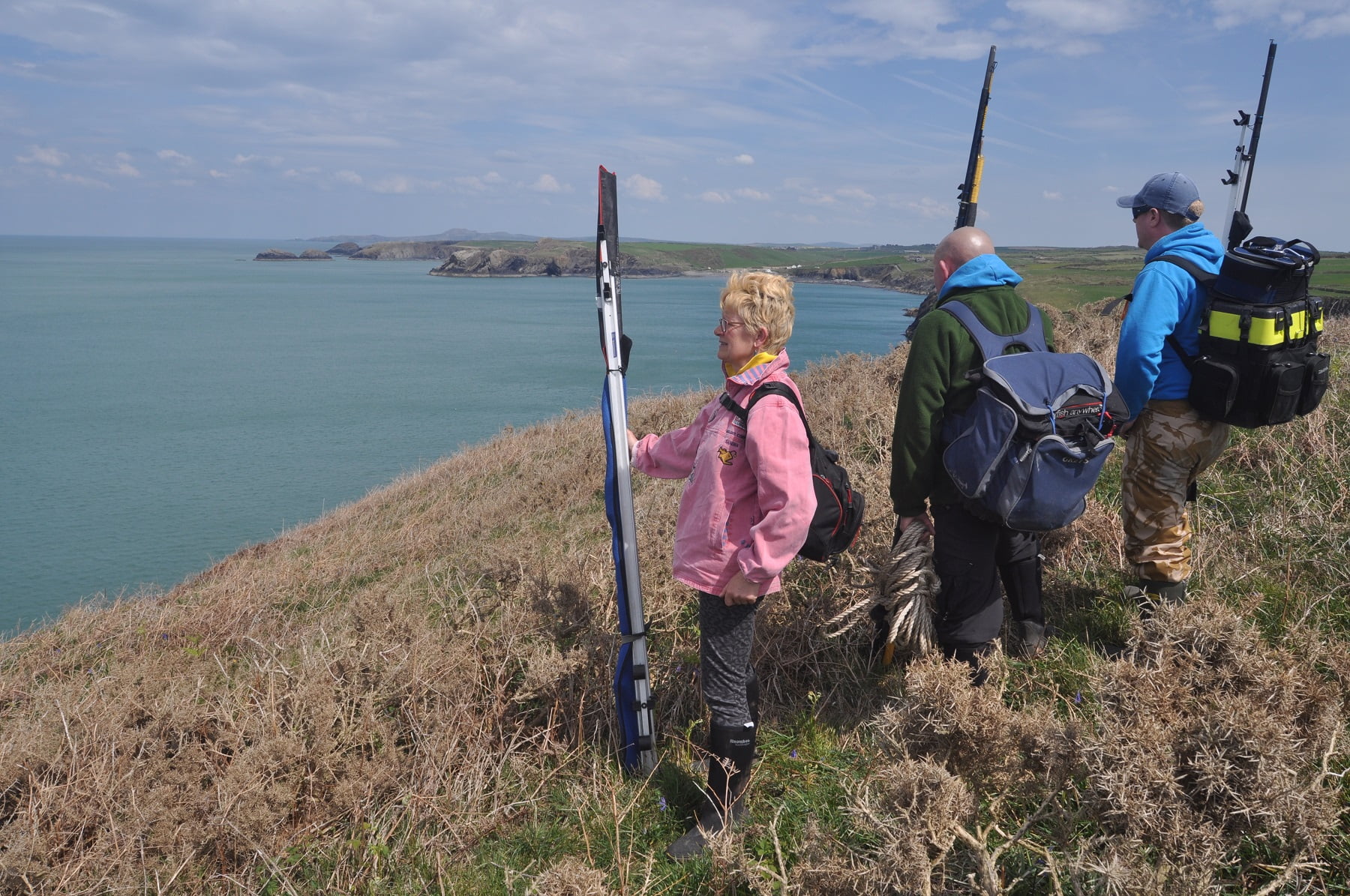 Sea fishing techniques – the basics 
These species can all be caught using a variety of methods but in general there are three techniques used in the UK to catch sea fish. These are: 
-Bait fishing
-Lure fishing or spinning
-Fly fishing 
Although bait fishing is probably still the most widely practiced method for catching most species there has been a surge in interest over recent years in saltwater fly fishing and fishing with artificial lures – the latter of which has been largely influenced by angling techniques in both the USA and Japan. Bait used in sea angling commonly includes lugworm and ragworm, fish baits such as mackerel and sandeels, shellfish such as razorfish and squid and cuttlefish. 
Tackle: The tackle and equipment needed to fish at sea can be very specific. Boat rods and reels must, for example, be able to cope with very large fish in deep water. Likewise beach fishing rods may require casting distances in excess of 150 meters. Generally, sea angling equipment tends to be tougher, more resilient to corrosion and more powerful than other forms of fishing tackle. However, there are also circumstances where coarse and game fishing tackle can be used, such as when light lure fishing or fishing for mullet, bass or flatfish like dabs and flounder.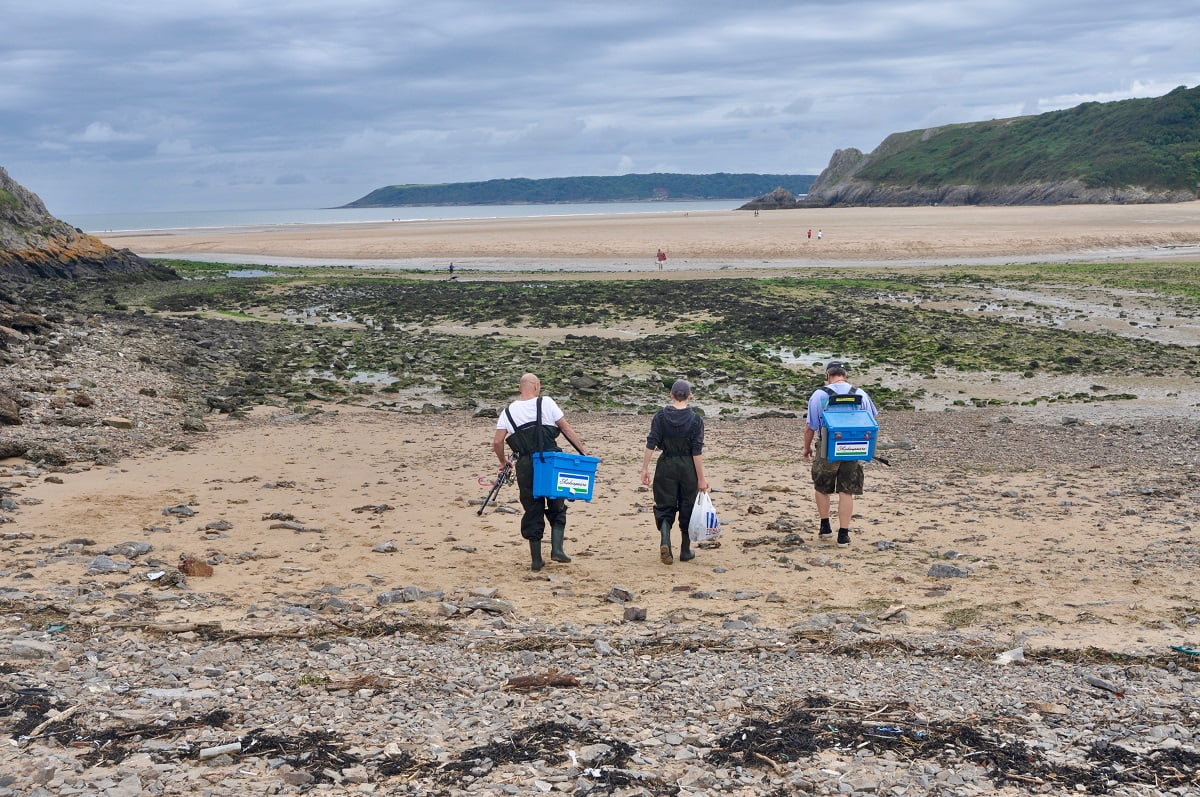 Watercraft 
As with any other form of angling watercraft (or understanding the marine environment) can have a dramatic effect on your success – arguably even more so with sea angling. To many this watercraft and developing an understanding of the natural environment and its interactions, is one of the great pleasures of angling. 
Many different factors affect the presence and movement of sea fish. Understanding the influence of the main ones listed below is essential to being a successful sea angler. 
Tides – the impact of tides on fish movement and feeding patterns cannot be overestimated.
Weather fronts – wind strength, wind direction and water temperature can all have a significant impact on your chances of finding, and catching, fish.
Light – bright sunshine can be very bad for fishing while many fish often feed and come closer to shore in the hours of darkness.
Seasons – fish migrate on a seasonal basis. Knowing these migration habits is essential to sea angling.
Features – gullies, rocks, seaweed beds, groynes and different depths of water are all features that sea anglers look out for at low tide because they act as holding areas for either fish or their prey. 
Conservation 
There is a growing interest among sea anglers in marine conservation and the sustainable management of our sea fish stocks.  
While one of the great pleasures of sea angling is being able to eat the fish that you catch, there is a growing movement towards 'catch and release' angling which allows unwanted fish to be returned alive to the environment. In addition anglers and clubs should adhere to any legal minimum sizes that exist. We have published recommended minimum retention sizes for most species and can provide more information on minimum landing sizes for more conservation-minded sea anglers. 
Shore, Boat or Even Kayak… 
Sea angling is generally split into shore fishing and boat fishing. Shore fishing is by far the most widely practiced but there are an ever growing number of privately owned boats with anglers fishing considerable distances from the coast. In addition the charter boat fleet around the country provides anglers with the opportunity to pay for access to boat fishing with experienced and knowledgeable charter skippers. Charter boats are also great places for beginners – tackle, bait and tuition are often provided as part of the package. In recent years kayak fishing has become increasingly popular because it allows anglers to get onto the water with relative ease compared to owning a boat and provides a new dimension to the sport. Boat fishing and kayak fishing offer the opportunity to target species that may be unavailable to the shore angler. 
Habitats 
The Welsh coastline has a phenomenal variety of marine habitats that support a huge range of recreationally important angling species. From the shore; sandy or shingle beaches, estuaries, rocky outcrops, shellfish beds and man made structures such as piers, breakwaters, groynes and harbors are all excellent habitats in which to find fish. 
From a boat; sandbanks, reefs, wrecks and other natural and man made underwater structures provide excellent habitat for fish of different species.
Thanks to Get Fishing for help with this page. Get Fishing is the Angling Trust's campaign to get more people fishing more often and spread awareness about the physical and mental health and wellbeing benefits of angling – www.getfishing.org.uk
Images by Dave Lewis