Excellent for a huge variety of bottom-grazing fish, the swim feeder is a useful tool for any keen coarse angler to master.
A Beginner's Guide to Feeder Fishing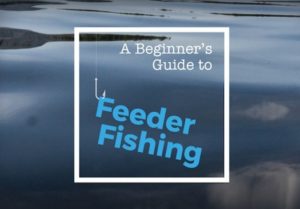 Excellent for a huge variety of bottom-grazing fish, the swim feeder is a useful tool for any keen coarse angler to master. Dom Garnett's handy guide to feeder fishing is packed with useful tips, rig diagrams and years of practical knowledge that he's picked up on the bank from other legendary anglers…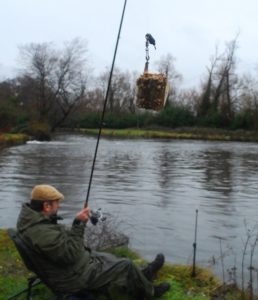 Choose the correct swim feeder for the conditions.
Image source: Dominic Garnett 
In the evolution of coarse fishing, the swim feeder must be one of the all-time greatest angling gadgets. In a nutshell, the feeder attracts fish to your hook, helping you to land real net-fillers like bream, tench and carp. 
But what exactly is a swim feeder (often shortened to just "feeder")? The original swim feeder was simply a plastic capsule filled with holes, designed to release free bait down near the fish as efficiently as possible. Feeders are also used to overcome challenges such as ugly weather and deep or distant swims, where throwing in bait accurately or fishing a float are impossible. 
Let's start our guide by looking at the basic types of swimfeeder and what they are designed for. 
Basic types of Swim Feeder  
THE MAGGOT FEEDER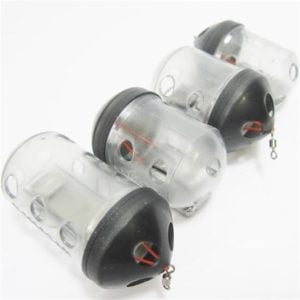 Maggot feeder 
Ah, the good old "plastic pig". These come in various sizes and designs, but all do the same job: they release free live bait on a sixpence, right next to the maggots on your hook. Sometimes also called a 'blockend feeder,' the ends are blocked up to prevent the grubs escaping too early. Still mighty effective after all these years.
 THE OPEN END OR GROUNDBAIT FEEDER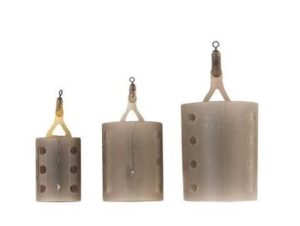 Open-end feeders. Be sure to balance your rod and tackle with the feeder size 
These feeders are ideal for accurately introducing groundbait into your swim. You simply squeeze your crumb mix in place and cast out. They come in various designs and sizes, from great big beasts that will hold in a current, to miniature models suitable for more cautious winter fishing.
THE CAGE FEEDER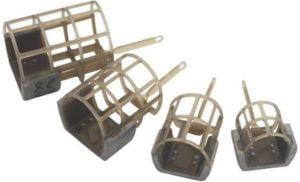 Larger holes release bait quickly creating an attractive cloud for shallow swims
Quite simply, this is a groundbait feeder with bigger holes. When would you use it? Well, there are times when it is an advantage to release your free bait more quickly, rather than hard on the bottom. This feeder will do just that, creating an attractive cloud to draw the fish in. Ideal for shallower swims and summer fishing, these work beautifully with mashed bread as well as crumb type groundbait.
THE METHOD FEEDER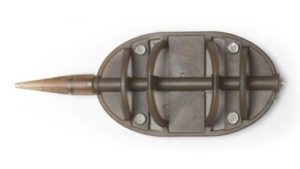 This can be lethal for most larger bottom grazers
An ingenious development, this feeder works quite differently to the others. The flatbed design is fixed in place rather than running freely on the line. Simply shape your sticky groundbait (look for a special "method mix" or add an egg or two to render your usual favourite crumb stickier) around your Method feeder. Then you can either bury your hook bait inside or let the hook sit just an inch or two away from the mix. The fish attack the feeder to dislodge the food, unwittingly pick up your bait and tend to hook themselves. It's a fairly foolproof way of fishing; in fact the only thing that can go wrong is your rod getting pulled into the lake if you're not right on it.
FURTHER SPECIALISED FEEDERS…
The feeders we've covered so far are more than enough to keep you busy. However, if you've got the bug and want to try some more, there are a few others that are worth a mention.
The  pellet feeder is mainly used for commercial fisheries and offers a perfect little scoop of pellets to the fish. The banjo feeder, named because of its shape, is similarly designed to accurately present a tidy little nugget of freebies with your hookbait right in amongst it. Some of these feeders are elasticated, which helps cushion the impact of carp takes, which can be quite savage.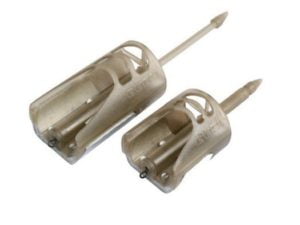 Guru pellet feeders 
And finally – the biggest brutes of the lot – specimen or specialist feeders. These cater for more extreme scenarios, like when you want to deliver a much bigger payload and leave it there for longer periods. They're also good for big rivers and fast currents. A three or four ounce model that clings flat to the bottom is just what the doctor ordered. You'll need to make sure you've got the right rod and tackle to cope with one of these though – correctly balancing your rod, line, feeder and hook size is the holy grail of feeder fishing.

Feeder fishing tackle 
Once you have a rough idea of the type of feeder that will suit your favourite venue, you'll need to decide which rod and tackle to use. Sadly there isn't one rod that will do the lot, although most of your feeder fishing will be with a quiver tip rod – the one with the brightly coloured tip section to help spot the bites when you're legering (fishing right on the bottom with something weighty like a lead or feeder, as opposed to float fishing). Here are some of your options. 
THE LIGHT FEEDER OR "PICKER" ROD

At the lighter end of the spectrum there are some neat little rods of 7-10ft with nice fine tips. These are spot on for shorter range fishing, on both commercial pools and natural venues. You'd typically match one with a smallish reel loaded with 3-5lb line for roach, chub or bream fishing, and perhaps slightly heavier line for carp and tench. If you want to flick a feeder out 20 yards with perfect accuracy, this is the puppy. Sadly, with the modern stranglehold of carp fisheries, this style of rod is getting harder to find- so be prepared to look around. 
MEDIUM/ALL ROUND FEEDER ROD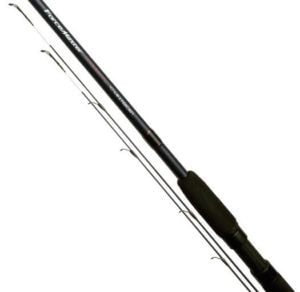 Next up, we have a longer all rounder. This could be a fair bit longer, say 12 or 13ft, if you're aiming for the horizon on a big lake or river. Lighter models are ideal for classic species like roach, bream and chub. They work well with lines of 4-6lbs and a good range of feeders, excepting the very heaviest.
HEAVY OR METHOD FEEDER ROD
If you're going to smash out a beefy method feeder or an extra large helping of groundbait, this is the rod for you. It can cast weights that would smash lighter tips, not to mention coping with those savage bites you get from carp as they bolt against the weight of a feeder. 
You wouldn't think twice about combining one of these with a bigger reel loaded with lines from 8-10lbs. Heck, if you're casting big payloads a long way, you may want a shock leader – a thicker last few yards of line to handle the strain of casting big weights without the dreaded crack-off (not a city in Poland but that horrible moment when your line breaks on the cast.) 
WHICH QUIVER TIP?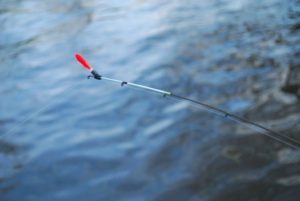 A typical quiver tip; this one has an isotope added for night fishing. Image source:
Dominic Garnett. 
Just to confuse things even more, most quiver tip or feeder rods come with a selection of interchangeable tips. Like a full rod, they often have a test curve rating, in ounces. Obviously the higher the number, the stiffer the tip is. Use your common sense to pick the right one: a flat calm lake and shy biting fish would call for a slender, highly sensitive tip. A powerful river and heavy feeder would call for something much stiffer. 
Feeder rigs 
RUNNING FEEDER, LONGER HOOK-LINK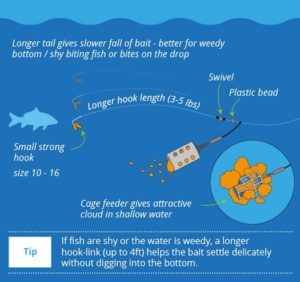 Image source: Fishtec 
Best suited for:Traditional species (roach, dace, bream, tench) and weedy/ clear waters. 
For fish that don't always charge off with the bait, a longer, finer hook-link is the way to fish. This could be as little as a foot to 18" (30-45cm) over a clean bottom. But if fish are shy or the water is weedy, a longer hook-link up to 4 feet helps the bait settle delicately without digging into the bottom. Sometimes using a longer link and bait like bread will earn you extra bites while the bait sinks through the water too. 
SEMI-FIXED FEEDER, SHORT HOOK-LINK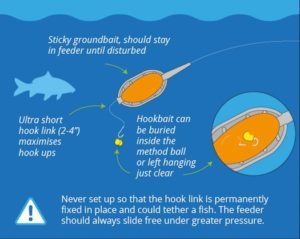 Image source: Fishtec
Best suited for:Bigger fish that tend to hook themselves (carp, tench, bream, barbel.) Commercial fisheries & carp lakes. This is the modern, more typical way to fish on stocked fisheries or natural waters with a good head of bigger fish. To maximize this effect, try a really short hook-link (as little as 2-3"!) Hair-rigging gives the best presentation and hook-up rates, and with a big feeder, heavier line and a bait such as double boilie, this type of rig can also work for larger carp.

Warning! Is your rig safe? 
Please beware. This rig comes with two dangers: the rod getting pulled in, or dodgy setups leading to breaks and tethered fish. This is why we call this a "semi" fixed rig. Most modern feeders have a sleeve that will snugly lock your hook-link in place via a swivel. Secure enough to hook fish, this makes the feeder easy to dislodge for a fish should you break off! 
THE 'IN-BETWEEN' RIG (RUNNING FEEDER, FAIRLY SHORT HOOK-LINK)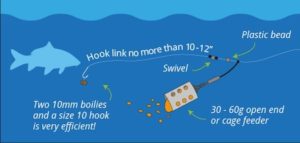 Image source: Fishtec 
Of course, we can make good general rules, but there are always exceptions. Some specialist roach anglers use a heavy feeder and short hooklink for distance fishing, just as canny carp anglers will try a longer trace for spooky carp that have wised-up to the classic heavy weight and short hooklink combo. 
I was shown this rig by legendary specimen angler Bob James, and it has seldom let me down. It's dead simple, provided you get the proportions right, and is simply brilliant for barbel, tench and all the bigger species. It's not as crude as a method-type rig, allowing fish to move off a little more with the hookbait. It tends to work a little like a "bolt rig" – a common set up where the fish feels the weight, "bolts" and hooks itself. 
The combination of double mini-boilie and small specimen hook is extremely effective – often far better than standard specimen rigs. I believe this is because smaller hooks, such as a 10 or a 12, penetrate with far less force than a carp-sized hook such as a heavy gauge 4 to 8. I'm not sure why, but two smaller boilies often work better than one big one, too. 
There are many more specialised feeder rigs you might also try, once you've got the hang of it. The  helicopter rig is good for tangle-free long range fishing. Heck, some anglers have even used floating feeders, or used a pole to drop a method feeder in the margins for carp. I'm not going to dictate how it's done; but I would recommend getting familiar with the basics before going too crazy.

Practical tips 
CAST ACCURATELY, CAST OFTEN

The whole aim of fishing the feeder is to attract the fish to your hookbait. Two things are really important. The first is to recast on a regular basis to build up the feed and draw the fish in. It's no use casting out and doing nothing for hours; the fish will just lose interest. Keep recasting at least every five to ten minutes. 
The other vital thing to remember is accuracy. If you send free bait in here there and everywhere, the fish will disperse rather than gather in one spot. By all means, try the odd cast on the edge of your feed area. Sometimes the bigger fish are cagier and don't muscle right into the thick of it. But my best advice is to line up with a marker on the far bank and concentrate on casting repeatedly to the same area. See our tips section below for more advice here.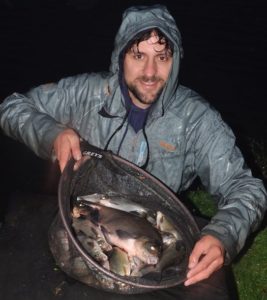 A nice bag of fish on the feeder in wretched conditions! With heavy wind and rain, it would have been impossible to float fish. 
HOW TO SPOT BITES ON THE FEEDER

We've already looked at quiver tips, which, as the name suggests, will shudder and twitch as you get interest from the fish. But when should you strike? In my experience it's best to avoid the tiny little shivers and shudders; these are just nibbles and fish that are testing the bait. Instead wait for the tip to pull round a little further, or to pull forward and hold. 
The truth is that you should play it by ear. One day, say when fishing for roach and skimmers, you might hit quite gentle bites and find success. However, if there are big bream or tench in the swim, it's usually best to follow the classic advice and "sit on your hands" until the tip whacks right round. A lot of the earlier shudders and taps will just be fish disturbing the feeder and brushing the line. 
Of course, if you use a semi-fixed rig or shorter hooklength, there is often no need whatsoever to strike! Just stay vigilant, ignore the smaller taps and be ready to pick up the rod when a fish hooks itself. You can't really miss it – and don't leave your rod unattended or you'll feel a right plank if it gets dragged into the lake. 
Top 10 Feeder Fishing Tips 
1. Stay vigilant and hang on to your rod. Get in a comfortable position so you're ready to pick up the rod in a flash (try resting the butt of the rod in your lap). 
2. Always bait the hook first, then fill up your plastic when using a maggot feeder. Otherwise you'll have maggots falling into your lap as you bait the hook. 
3. Get into a routine of casting accurately and often (you could even set a stopwatch!). Each time you send the feeder out, you are in effect ringing the dinner bell again. Active anglers catch more than the lazy brigade! 
4. Do you suffer from tangles on the cast? If so there are two things you could try. One is the loop rig. Another answer is to use a little anti-tangle sleeve. These slip over any small swivel and help keep everything straight and tangle-free. 
5. Use a snaplink so you can change feeders through the session. This way you can go heavier if the wind picks up, for example, or perhaps switch to a smaller model or a straight lead if you want to cut back on the free feed.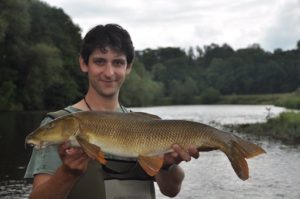 A nice barbel on the feeder; a two ounce model was needed on this occasion to tackle a wide river swim with a strong current.
Image source: Dominic Garnett. 
6. Try the feeder for carp and barbel in place of the usual leads. It could save you a fortune on PVA bags and is often the better method, because it encourages you to keep casting and attracting fish, rather than just plonking a rig out and waiting. 
7. Your reel's line clip is the easiest way to keep hitting the same mark with the feeder. If big carp are about this could be a bad idea though… you could try tying a marker with braid or whipping silk to keep track of the distance instead. 
8. A bit of DIY can be handy for improving your feeders. You could make the holes bigger, or tape them up for a slower release of bait. You could also add extra weight. Tinker as you see fit. 
9. So far we have not discussed when NOT to use a feeder. At close range, or in shallow water it could be the wrong method- especially when the fish might be easily spooked. 
10. Last but not least, don't assume swim feeders are only for general coarse fishing. Virtually every fish likes free food, right? Bigger feeders are also good for sea and pike fishing. Think outside the box (or should that be feeder?) and the results can be brilliant.