A Beginner's Guide To Commercial Fisheries 
Words: Dom Garnett
Images: Dom Garnett & Adam Fisher
A great advice and top tips article on fishing day ticket lakes from author and Angling Trust content creator, Dom Garnett  – read on to get you started!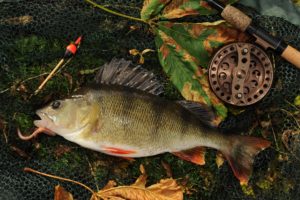 Perch are plentiful in many commercial fisheries – image Adam Fisher
Commercial fisheries provide accessible sport for a whole range of popular species, while offering consistent fishing for everyone. Wales has nearly 200 commercial fisheries, dotted around the whole country, making them some of the easiest and most accessible fishing locations of all. This is especially true for those who are newer to the sport, or returning to angling after an absence. 
But even experienced anglers will visit them for a bite-filled day out. When rivers are flooded or the going is tough on so called "natural" waters, day ticket lakes provide welcome and consistent sport.
Accessible, bite filled fishing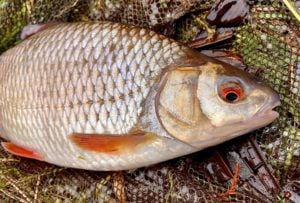 Roach are present on most commercials and offer sport all year round – image Adam Fisher
There are many kinds of day ticket fishing lakes across Wales. Many "commercial fisheries" have certain characteristics in common. They're generally man made, relatively small in size and with high stocks of fish, from small roach and perch to larger carp. They often have better access than natural waters, with well-marked pegs or platforms to fish from. 
'Traditional' anglers may scoff, but these safe and relatively easy fishing lakes have several advantages. For one thing, you tend to pay by the day. There's no special membership is, and discounts are often available for juniors and pensioners. Anyone can fish these waters, often at a very reasonable day ticket price. 
They have plenty of smaller fish to keep kids happy, while those less mobile won't have to carry gear for half a mile to get a decent spot. Many anglers (and their families) also appreciate the fact that a lot of them have toilets, shelter and even somewhere to buy tackle and a cup of coffee on site. 
However, in our discussion of "commercial" lakes, we should also add that there are a great variety of other venues that also share similar characteristics. The same tactics and advice discussed here will also ring true for many other locations, including park lakes, village ponds and small stillwaters run by fishing clubs. 
How to fish a typical commercial style fishery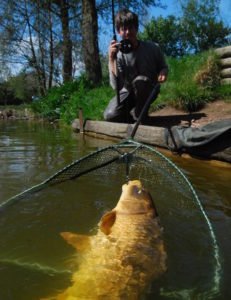 You should have no problem finding fish in a commercial lake – image Dom Garnett 
Perhaps the best thing of all about day ticket lakes is the sheer number and variety of fish present. Unlike on a river or a big reservoir, you should have few problems finding the fish and getting bites. But just because there are plenty of fish to catch, it doesn't mean that you can simply turn up and cast anywhere. 
The first step to tackling a commercial lake is to do a little homework and have a good look round. Chat to the owner and other anglers; these fisheries tend to be friendly places where regulars will share advice. Sources such as www.fishingwales.net, fishing Facebook pages and forums are also handy. They can tell you a lot about the best areas to fish and which baits and tactics to use. 
Hot Spots and Features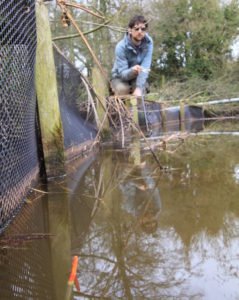 You needn't fish far out on a commercial. Sometimes the bank itself is a good feature – image Dom Garnett 
Not all "swims" (the term anglers use for individual spots on the lake) are equal on any lake, so it's always a good idea to have a walk round and a think before you set up. 
It's true that some lakes can look rather bare or uniform, but many have tempting features such as islands, overhanging trees or lily beds. All of these will hold fish. You may also see obvious signs on a quick walk round, such as fish cruising or clouding the bottom as they feed. 
Other features are invisible at first glance. For example, the depth can vary greatly- and areas that offer something different or a sudden change can help you find the fish. The shallows or "margins" can be a great place for summer fishing, for example, when fish such as carp and tench will come very close into feed. But when it's colder, the fish might be holding a little further out where there's deeper, warmer water. 
Ready, steady, fish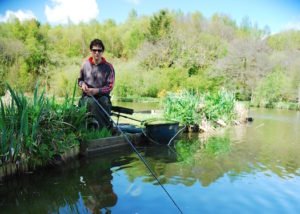 There's no need to cast miles out from the bank on a commercial lake – image Dom Garnett 
So you've found a spot you like the look of. You might already have seen signs of fish. But how should you start fishing? Another nice thing about commercials is that various different techniques will work. Nine times out of ten, however, my advice would be to try float fishing first, whether you try rod and line tactics or bring a pole. 
The float is a great way to get plenty of bites. It's also an ideal method to test the water's depth. This is the most important task of all. See our 'Beginners guide to float fishing' to learn how to do this correctly, along with other useful float fishing skills. 
The fish will seldom be far from the bank on most day ticket lakes, so don't feel you need to cast miles out. Often, you will be fishing within two or three rod-lengths of the bank. 
Many lakes have shallow water at the edge and then a shelf or slope where things get deeper, dropping from say two feet to four feet of water. This is an excellent place to start, because the fish love this "drop off" where food tends to collect. 
Which Tackle is Best for Commercial Fisheries?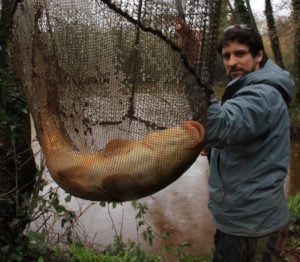 With balanced tackle, you'll still land that bonus net filler. Image Dom Garnett 
A common mistake I see on commercial lakes is anglers using thick line and large hooks. These can make the fish suspicious. By far your best bet is to tackle up with balanced tackle with the finesse to get plenty of bites, but enough power to do battle with bigger fish. 
For most pleasure fishing I would recommend a float or match rod, 4-5lb strength main line, and a finer hook length of 3-4lbs strength. For pole anglers, a size eight, or light to medium hollow elastic would be sensible to deal small carp as well as bread and butter species like roach and perch. 
Hook sizes will depend on bait, but typically you won't want to go much smaller than an 18 or bigger than a 12. Most commercials insist on barbless hooks – and that you have a soft unhooking mat to lay larger specimens on without damaging them. 
What are the Best Baits for Commercial Fisheries?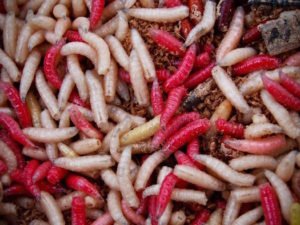 Maggots will bring plenty of bites. Image Dom Garnett 
Another great thing about day ticket lakes is that many baits will work, including many that are cheap or even free. The first I would try is the humble maggot, simply because no other bait will get you more bites from all species. A few worms from the compost heap are also a great shout, because fish of many kinds, including the bigger ones, love them. 
Other baits high on the list would be sweet corn and bread. Pellets are convenient, and ideal to use both thrown in to attract the fish and to catch on. Hard pellets don't go on the hook though, so you'll want some soft pellets for the hook or a packet of "pellet bands" to hold the harder baits in place. 
It's always a good idea to bring more than one type of bait, because you might find one works better than the rest. It's also sensible to take a few bigger baits, like larger pellets or chunks of luncheon meat, in case you are getting lots of tiddlers and want to try something that only a bigger mouth can manage. 
Whichever choices you make, be sure to throw in some bait too, besides just using it on the hook. Anglers call this "loose feeding" and it can make the difference between getting the odd bite and catching fish all day. The reason is that bait thrown into the water will attract more fish than just casting out with a single offering. 
You don't need to go crazy, but it is worth throwing in small amounts of bait every few minutes. If you do this often, the fish will start to compete for the bait and you'll get lots of them in your swim. 
Do try and be accurate and keep casting and adding bait to the exact same spot, because this will draw the fish to one area, rather than scattering them everywhere. 
8 top tips for fishing commercial lakes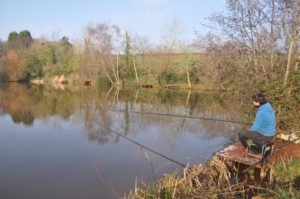 Late afternoon when everyone else has gone home can be a great time to fish. Image Dom Garnett 
Float fishing is a great method, but one common mistake is to have too much float showing. You should apply shot until just the coloured tip is showing. If too much float is sticking out of the water, the fish will struggle to pull it under and will often reject the bait before you have a chance to strike.




 

Many anglers will find a comfy spot and sit in it all day. This is fine if you're getting bites, but never be afraid to move if you're not catching. It might take you a little trial and error, and several sessions, to work out the best spots on any lake.




 

Always test the drag on your reel BEFORE fishing. The drag is the mechanism adjusted on the back or front of your reel that controls how easily line will be let out when a fish pulls hard. 

Avoid making it very loose, but it should start to click and give out line well before you risk getting broken off. The worst time to adjust it is when you've just hooked a big fish!




 

In case you get that surprise monster, never leave your rod unattended on the bank. If you're several yards away, or not paying attention, your rod could be pulled into the lake. I have seen this happen more than once!




 

A lot of anglers will pack up in the late afternoon and go home for tea, but the best time to fish on many commercial lakes is the last hour. As the light drops, the fish tend to feel safer and more confident. They also get used to anglers throwing their leftover bait as they leave! In fact, I've seen locals turn up just as the regulars are leaving, and go from swim to swim catching lots of fish where others have just finished.




 

If there are two of you fishing, try different baits and methods side by side. It's a sociable way to fish, and great for working out the best tactic on the day.




 

Be gentle with your catch. On commercial lakes, fish could be caught several times in their lives. They deserve our respect. Always handle them with wet hands and never hold them while standing up or walking around. The safest way to return a lively fish is often to simply lower it back in the landing net, so there is no risk of dropping it.




 

Whether you read paper magazines or online articles, there is plenty of handy information out there. However, little beats a session with a coach if you're starting out or returning to the sport. In the space of a few hours you can learn good habits and techniques that might take you several seasons to figure out on your own!

 
More from our writer: 
The author of many articles and acclaimed fishing books, including Canal Fishing: A Practical Guide and his latest collection of angling tales Crooked Lines, Dom Garnett is a qualified angling coach based in Devon. Find more words, photography and fishing tips on the Angling Trust 'Lines on the water' blog.
All images copyright Dom Garnett/Adam Fisher (Angling Dreams)